It's beginning to smell like fall and I have a long list of fall foods to create, but my fridge is still bursting with stone fruits from the summer: peaches, nectarines, and plums. Since fall implies comfort foods, rich and warm, spiced to perfection, I jump to the thought of a spiced custard pie featuring peaches. I think this is a good compromise between summer and fall. In my mind, I picture a pie that features summer fruit nestled in a warm bed of custard, spiced with cinnamon and nutmeg. The best of both worlds, in my opinion.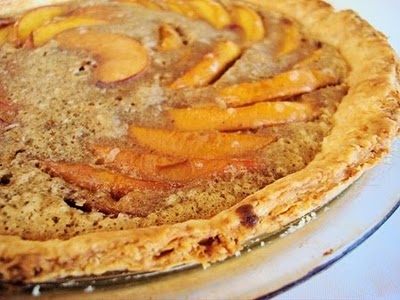 I used the recipe in Joy of Cooking
, the 75th anniversary edition to be exact.
Here is what I did. I started with an all-butter recipe for single crust pie dough, the one I used for the peach crumble pie. I blind-baked the crust for about 15 minutes at 425°F with a sheet of parchment and the bottom of a tart pan to weigh it down, then for another 5 minutes at the same temperature. At that point, the crusts were quite golden. I let it cool on a rack.
When the pie shell was cooled enough, I brushed some egg at the bottom to seal it so that it doesn't get soggy with the fruits and custard. I sliced the peaches and arranged them "artistically" at the bottom of the crust.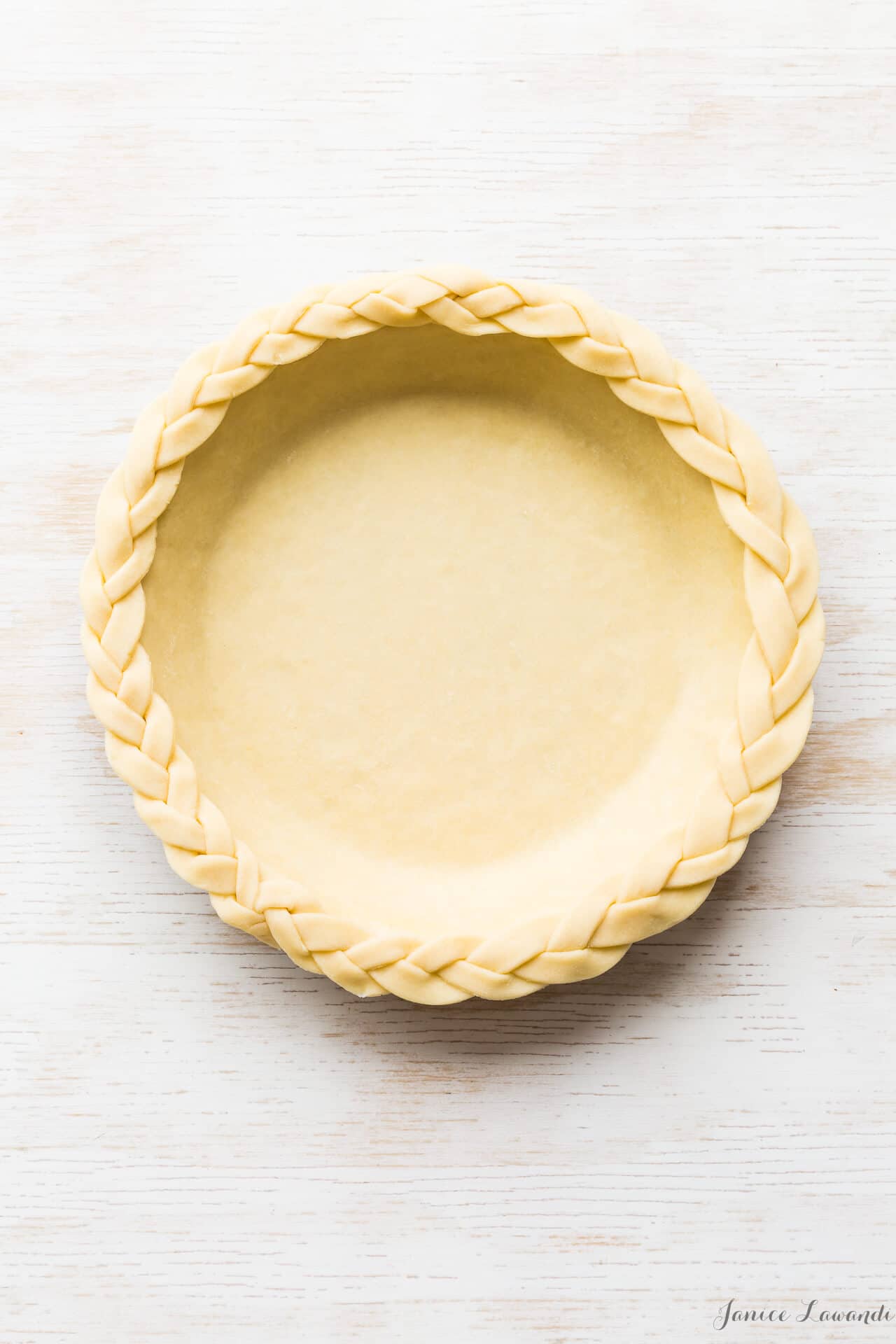 I prepared the filling using the recipe for the open-faced peach custard pie on page 679. As I prepare the custard, I noticed that this custard filling is a little different from the usual definition of custard.
Most vanilla custards are prepared like this vanilla bean pastry cream, using eggs, sugar, flour (or starch), vanilla, and milk. This custard filling has no milk, and instead has melted butter! Yet it still works like a charm!
I baked the filled pie, first at 400°F for 10 minutes, then reducing the temperature to 300°F. I baked it for another 45 minutes at the reduced temperature (instead of the 60 minutes the recipe called for). I think reducing the temperature is important to avoid making a custard filling that resembles scrambled eggs.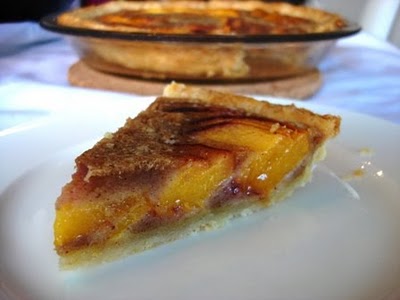 I sampled a slice when it was still warm. The custard is luscious and comforting. This pie is definitely a nice dessert as fall creeps into my kitchen. You can also serve it cold, but it's best eaten in 24 hours. I'm sure you can manage that!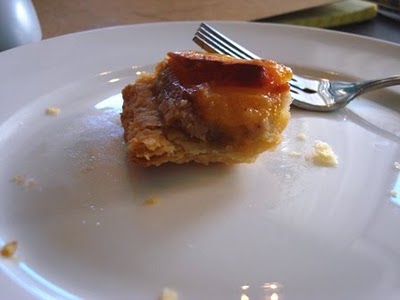 Spiced custard peach pie
Ingredients
1

blind-baked 9-inch pie shell

3

large peaches

sliced

1

large egg(s)

80

grams

(

⅓

cup

)

unsalted butter

melted

70

grams

(

⅓

cup

)

granulated sugar

24

grams

(

3

tablespoon

)

bleached all-purpose flour

10

mL

(

2

teaspoon

) vanilla bean paste

2.5

mL

(

½

teaspoon

)

ground cinnamon

2.5

mL

(

½

teaspoon

) Diamond Crystal fine kosher salt

0.625

mL

(

⅛

teaspoon

)

ground nutmeg
Instructions
Preheat the oven to 400°F.

Arrange the peaches at the bottom of the pie shell.

Whisk all the ingredients together.

Pour into a blind-baked 9-inch pie shell.

Bake at 400°F for 10 minutes, then reduce the temperature for another 45 minutes, or until the filling is set, even in the middle.

Serve warm.
Nutrition
Calories:
250
kcal
|
Carbohydrates:
28
g
|
Protein:
3
g
|
Fat:
14
g
|
Saturated Fat:
7
g
|
Cholesterol:
42
mg
|
Sodium:
217
mg
|
Potassium:
135
mg
|
Fiber:
2
g
|
Sugar:
14
g
|
Vitamin A:
463
IU
|
Vitamin C:
4
mg
|
Calcium:
16
mg
|
Iron:
1
mg