If you like cornmeal fritters, you will love these spicy jalapeño hush puppies. They are crispy on the outside and soft and light on the inside, and you can make them with any chilli pepper or even chopped red Bell pepper (if spicy isn't your thing)!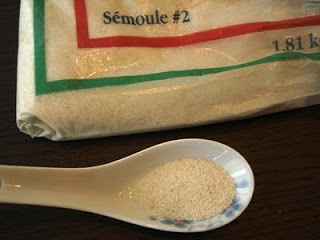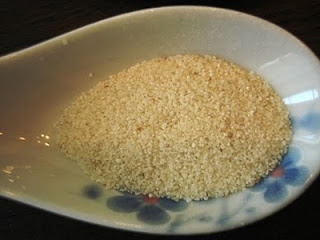 This jalapeño hush puppy recipe comes from Bon Appetit. The original recipe calls for stone ground cornmeal, but I've also tested it with a combination of coarse cornmeal and fine cornmeal, and I've also tried a combination of coarse cornmeal and fine semolina (to replace the fine cornmeal when I don't have any). Both work!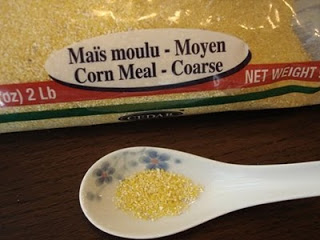 I like to mix fine and coarse cornmeal in the hush puppy batter because the coarse cornmeal adds a lovely crunch to the hush puppies, while the finer cornmeal helps bind the batter so that it doesn't fall apart when you scoop and fry the hush puppies. Fine semolina also works to bind the batter together and replace the fine cornmeal, if you have that on hand!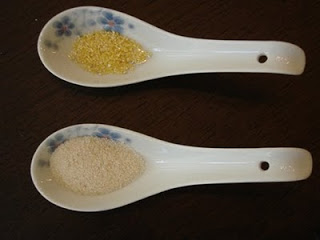 Bottom photo: The 2 corn meals
Top spoon: Maïs moulu moyen
Bottom spoon: Sémoule #2
Making hush puppies at home is very simple: mix the dry ingredients, mix the wet ingredients, add the wet to the dry, along with the cheese and chopped chilli pepper (jalapeño or a red chilli pepper, in this case). This two bowl method is one of the easiest mixing methods for making batter. No special equipment required.
Top: Perfect hush puppies
Bottom: Not-so-perfect hush puppies made with a batter that was too loose to fry
The type of chilli pepper to use for this recipe
I've tested this recipe with cherry peppers, red chilli peppers, and jalapeño. I find the jalapeño peppers that we get in Quebec aren't always very spicy. So I opted to try peppers with more kick. I've enjoyed adding red chilli peppers to these chilli cheese cornbread muffins.
According to my local grocer, a jalapeño is a 2 (not very spicy) on a scale from 1 to 8, while the cherry pepper is a medium spiced pepper, scoring a 5 on the scale (for reference, a habanero is an 8—use with caution!). Avoid using a chilli that is too spicy for your tastebuds. And if you hate spicy food, incorporate chopped red Bell pepper into the batter instead. It'll be just as great!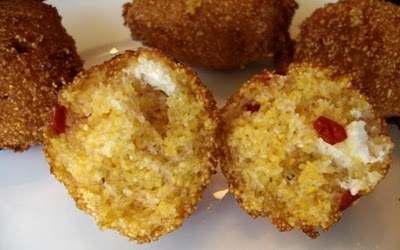 These hush puppies are crisp on the outside and light on the inside. Not at all oily. The key is to use a thermometer so that you can monitor the temperature of the hot oil to make sure that it is hot enough before dropping dollops of batter in it. Also, I only fried 3 or 4 hush puppies at a time so that the oil temperature would remain constant.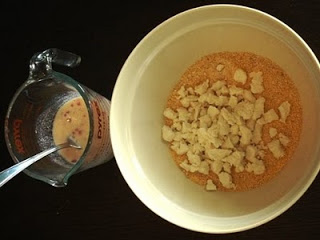 Jalapeño hush puppies
Make these jalapeño hush puppies with corn meal or semolina with lots of goat cheese for a fine texture that can't be beat!
Ingredients
1

cup

(

159

g

)

cornmeal

medium

½

cup

(

80

g

)

fine cornmeal

or semolina

1½

tablespoon

(

17.5

mL

)

bleached all-purpose flour

1½

tablespoon

(

17.5

mL

)

granulated sugar

½

teaspoon

(

2.5

mL

) Diamond Crystal fine kosher salt

½

teaspoon

(

2.5

mL

)

baking powder

¼

teaspoon

(

1.25

mL

)

baking soda

½

cup

(

125

mL

)

buttermilk (1 % fat)

2

tablespoon

(

30

mL

)

beaten egg

½

jalapeño

seeded, and finely chopped (or you can use your favourite chilli pepper depending on how spicy you want it)

4

ounces

(

115

g

)

goat cheese

coarsely crumbled, about 1 cup

canola oil

for deep-frying
Instructions
Whisk together the dry ingredients in a medium bowl.

Whisk together the buttermilk, egg in another bowl.

Add the goat cheese, the chopped jalapeño to the dry ingredients, along with the wet ingredients. Stir well to form a thick batter.

Preheat a medium–large saucepan, filled half-way with canola oil, to 350°F.

Spoon 1 tablespoon of batter into the hot oil (carefully!).

If the batter is too loose and spreads in the oil, add to the remaining batter 2 tablespoons more of fine cornmeal to the bowl and stir. The batter should be thicker.

Once you get the right consistency, you can fry 3–4 hush puppies at a time.

Fry them for about 3 or 4 minutes, until they are golden brown. Make sure to turn them a couple times as they fry to be sure that they are evenly cooked.

Serve for breakfast with coffee or as an appetizer or a fun snack!
Notes
You can vary the cheese in this recipe and you can vary the type of chilli pepper. The fritter is your base and you can get creative with what you add, as long as whatever you add isn't too wet because that would mess with the consistency of the batter.
Nutrition
Calories:
80
kcal
|
Carbohydrates:
12
g
|
Protein:
3
g
|
Fat:
2
g
|
Saturated Fat:
1
g
|
Cholesterol:
10
mg
|
Sodium:
148
mg
|
Potassium:
68
mg
|
Fiber:
1
g
|
Sugar:
2
g
|
Vitamin A:
89
IU
|
Vitamin C:
1
mg
|
Calcium:
23
mg
|
Iron:
1
mg