French pastry shops often sell viennoiseries that include brioche, croissants, chocolatines, and pains aux raisins. Find out what they are below!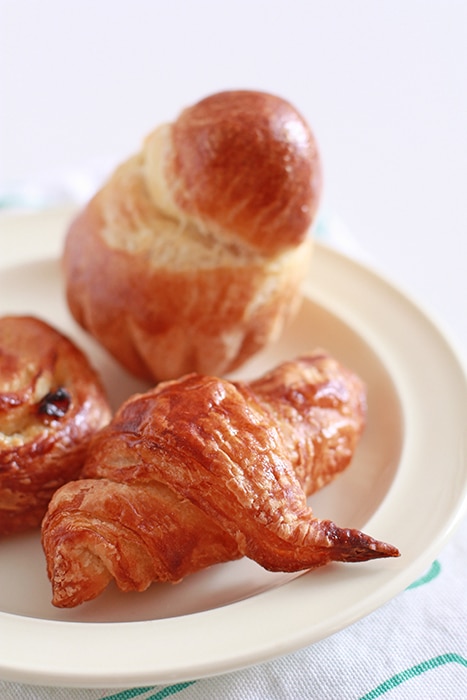 Traditional yeasted products sold in French bakeries, include brioches and flaky croissants:
Brioche is a butter yeasted bread. It is very light and fluffy, especially considering how much butter is used to make the dough!
Croissants are made from a yeasted dough that is "laminated," meaning it's rolled out and folded repeatedly to create very thin alternating layers of dough and butter, creating a very flaky, buttery product.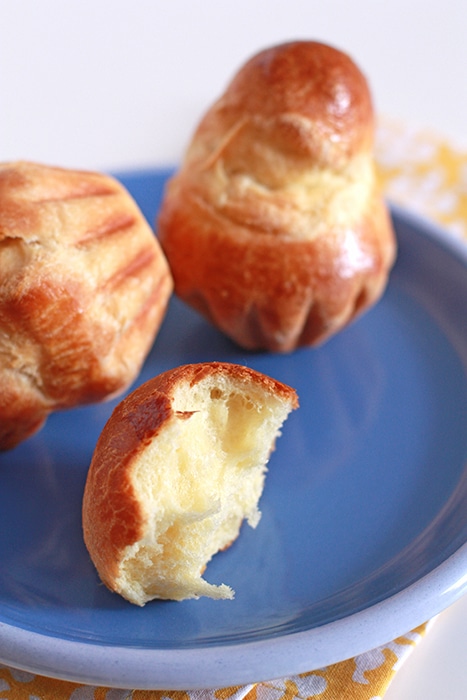 You can make brioche at home with a stand mixer instead of kneading by hand. Brioche takes more time to knead and is usually kneaded in two stages:
the dough is kneaded before adding butter to build up the gluten network and give the dough strength
the dough is kneaded again after adding butter to re-build the gluten network
These two stages of kneading result in an extremely light and fluffy bread that is a real treat. Leftover brioche can be transformed into bostock or even bread pudding or stuffed French toast. The shaping of brioche leads to different names. When brioche dough is shaped into two balls and baked in a fluted mold, it's referred to as a brioche à tête, which is what you see pictured here. You can also shape it into a loaf and break it in a bread pan, or shape it into buns.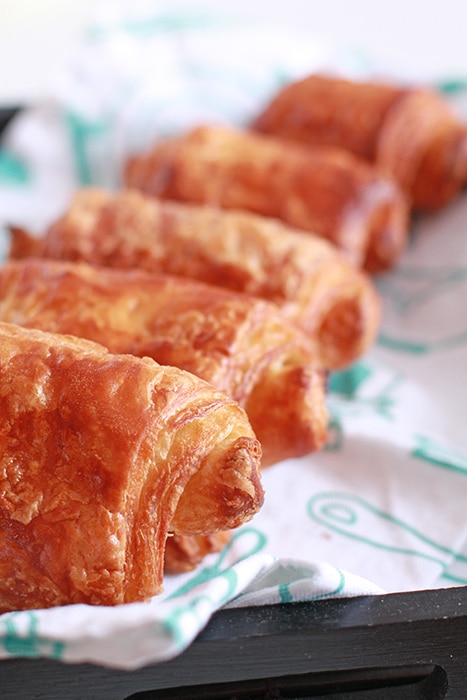 Croissants are not to be confused with puff pastry (pâte feuilletée is the French baking term for it). Puff pastry is made without chemical leaveners or yeast, and the puff that happens in the oven comes purely from layering butter within thin sheets of dough to create steam when the pastry bakes and the butter melts. Both croissants and puff pastry can be made at home, though it is a bit laborious and takes quite a long time because there are many chilling steps that prolong the process significantly. For this reason, it's easiest to stretch these recipes over a couple of days. Once you've mastered making croissants, you can use the dough or the leftover croissants to make a number of viennoiseries, including:
chocolatines (also referred to as pains au chocolat): squares of rolled out croissant dough are folded to enclose thin bars of chocolate
pains aux raisins (or roulés aux raisins): these look like flat cinnamon buns. Rolled out croissant dough is filled with a thin layer of pastry cream and raisins, and rolled into a log before slicing into swirly bun shapes that are baked and glazed before serving.
pains aux amandes: a leftover croissant is split in half and filled with frangipane before baking a second time.
pains au chocolat et aux amandes: where a leftover chocolatine is split in half and stuffed with frangipane before baking a second time.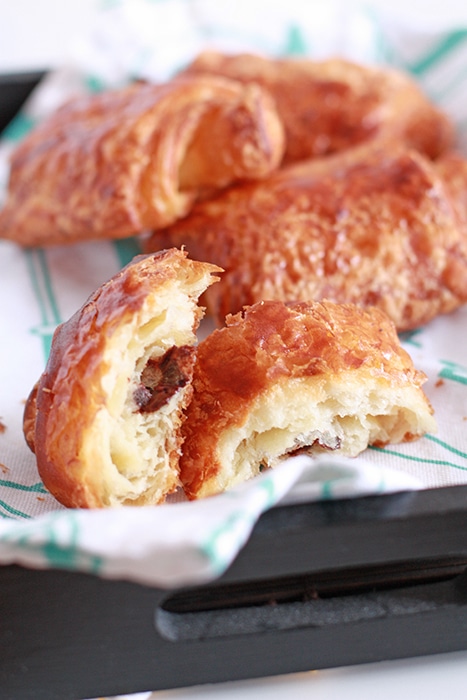 Here's
a video
showcasing how to hand knead bread dough the French way to give you a rough idea of the technique we learned to knead dough in pastry school.