This decadent rhubarb chocolate tart is made with a chocolate cookie crust and has a layer of roasted rhubarb compote tucked beneath the dark chocolate ganache.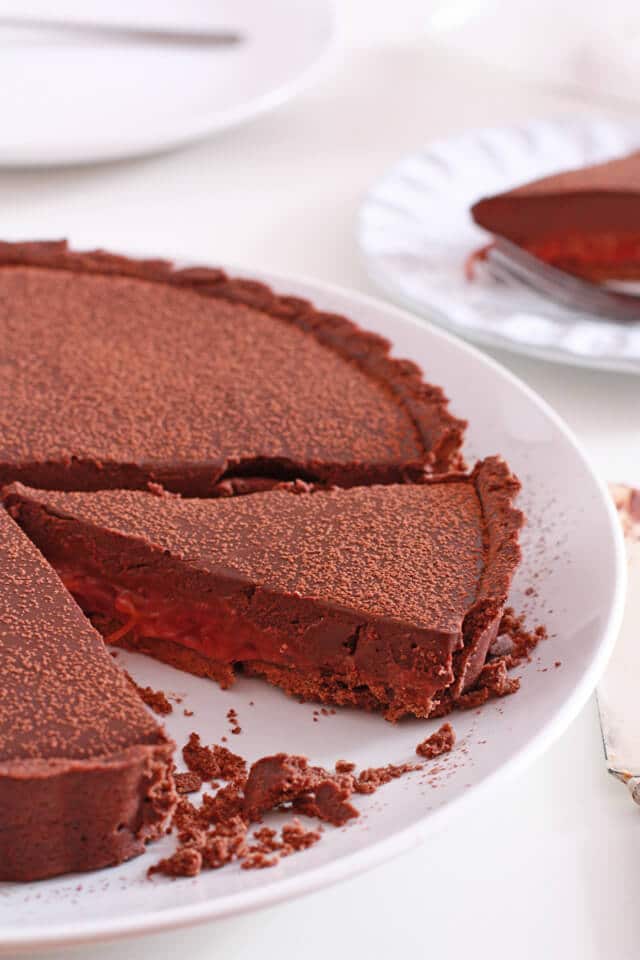 Disclosure: As an Amazon Associate, I earn from qualifying purchases.
This tart is sinfully good and a great change from the usual rhubarb recipes with its unusual pairing of dark chocolate and rhubarb. Of course, if you don't love rhubarb, just make the tart without it, or layer some homemade salted caramel on the bottom before topping it with ganache!
If you would prefer milk chocolate, try this raspberry chocolate tart which is filled with a milk chocolate ganache and topped with fresh raspberries before serving.
Jump to: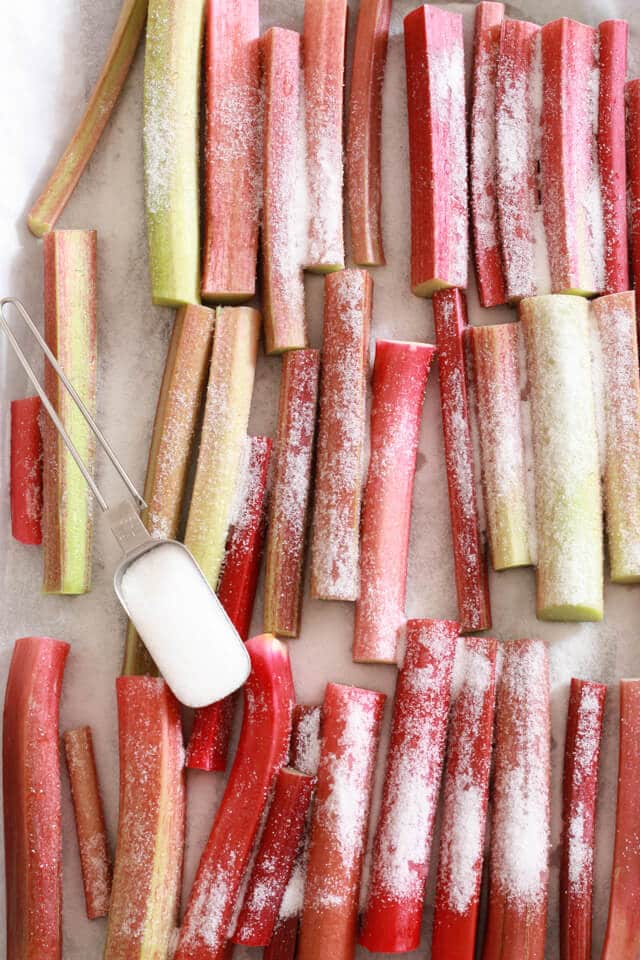 What you need to make this dark chocolate tart
There are three major components to this chocolate dessert that you will be making: a sweet chocolate cookie crust (like a sablé dough), a dark chocolate ganache filling, and the roasted rhubarb garnish. For this recipe, you will need the following ingredients:
butter, preferably unsalted, though salted could work here!
icing sugar (also called powdered sugar)—icing sugar will yield a more tender crust, though granulated can work in this recipe too and yield a crust with a more sandy texture
cocoa powder—use Dutch-processed cocoa powder for the best flavour. Natural cocoa will give the crust a more muted appearance and flavour.
egg yolks—to help bind the dough together and make the crust a little more tender
flour—bleached all-purpose though unbleached will work as well
water or whole milk (3.25 % fat)—to bind the crust along with the yolk
70 % dark chocolate—I like to use Ocoa dark chocolate from the brand Cacao Barry. It's not as sweet as some other dark chocolate products
whipping cream (35 % fat)—please use full-fat whipping cream
fresh rhubarb—trim the leaves and use just the stems
granulated sugar—to roast the rhubarb. Natural cane sugar can also work for this step
rose water or vanilla bean paste to flavour the roasted rhubarb, optional but adds a lovely flavour to the fruit layer
See recipe card for quantities.
Remember to please use good quality chocolate for this recipe because ganache is half chocolate. Get the best type of chocolate you can with a fairly high percentage of cacao that isn't overly sweet and that will make the ganache so much better. I used 70 % dark chocolate from Cacao Barry. Ocoa chocolate works great in this recipe, for example!
Tips for perfect dark chocolate ganache
Use one type of chocolate to make ganache: What I discovered from making this tart is that, though it was very convenient to use a mixture of dark chocolates to use up the odds and ends in your cupboards, the combination of chocolates makes it more difficult to achieve a perfect ganache and the ganache may split or break if you use a mixture of chocolates. 
A 1:1 ganache is the easiest ganache to make: if this is your first ganache, make it a 50/50 ganache that is half cream, half dark chocolate, by weight. You will have an easier time melting the chocolate and emulsifying the mixture than a ganache with a higher ratio of chocolate.
Tip for what to do if your chocolate ganache breaks or separates: if you make your ganache incorrectly, you will find that as you stir it, the fats begin to separate from the creamy chocolate mixture and it just won't look right. If this happens, the emulsion of the ganache is broken, but you can fix it! Simply add a couple of tablespoons of cold milk (or even water), stir, et voilà: silky smooth chocolate ganache. It works. Trust me. This tart is proof!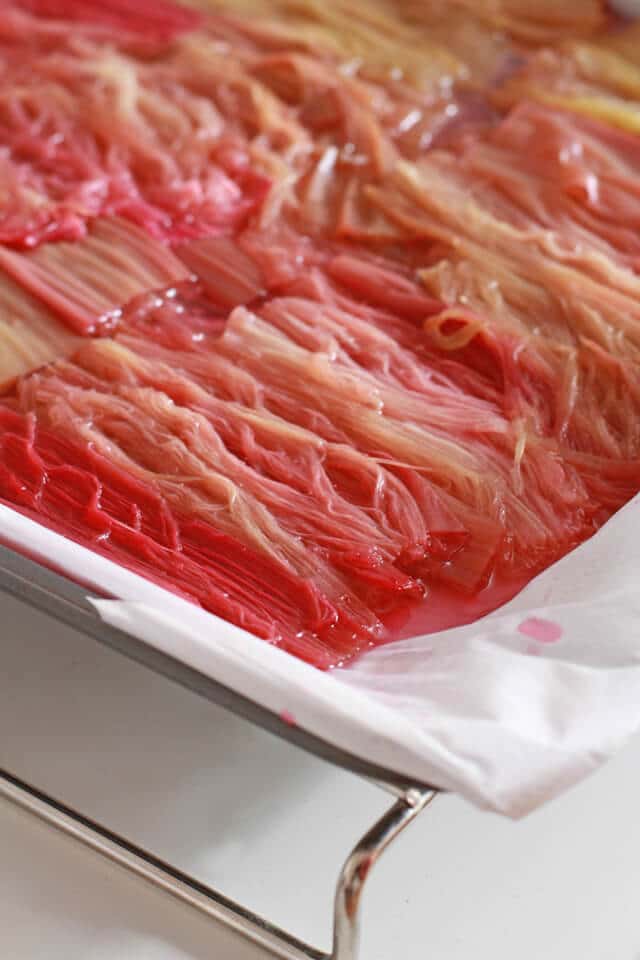 Roasting rhubarb
For this recipe, I roasted a pan of rhubarb with sugar to make a soft rhubarb compote. You want the rhubarb to "fall apart" into a compote that will fill the bottom of the tart shell snuggly. This is different than the roasted rhubarb that was roasted in a poaching liquid in the oven just until soft but not falling apart.
Of course, if this rhubarb tart seems like a lot of work, but you still want to bake with rhubarb, you can always make strawberry rhubarb crumble muffins, rhubarb jam, or even a mini strawberry rhubarb crumbles or blueberry rhubarb crisp.
Special equipment
You will need a tart pan with a removable bottom to make this recipe so that you can easily get the tart out of the pan to serve it on a plate.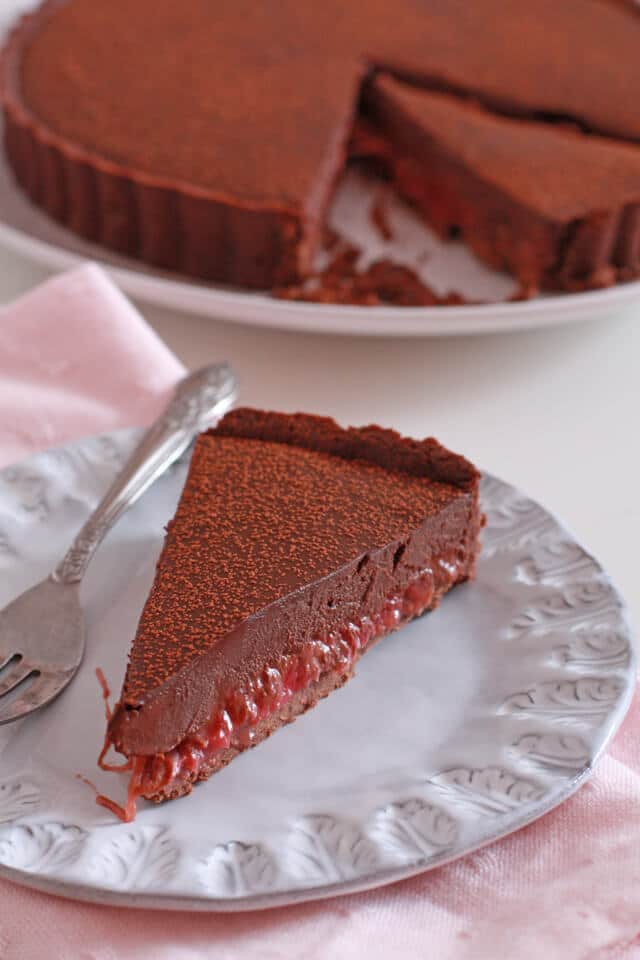 Variations
The chocolate cookie crust for this rhubarb chocolate tart is similar to a pâte sucrée but where part of the flour is replaced with cocoa powder. It's baked in a tart pan with a removable bottom. To unmold the crust, check out my tips for how to remove a tart from a tart pan.
If you want an easier crust, consider making a crust from graham cracker crumbs, as in this Earl Grey chocolate tart.
📖 Recipe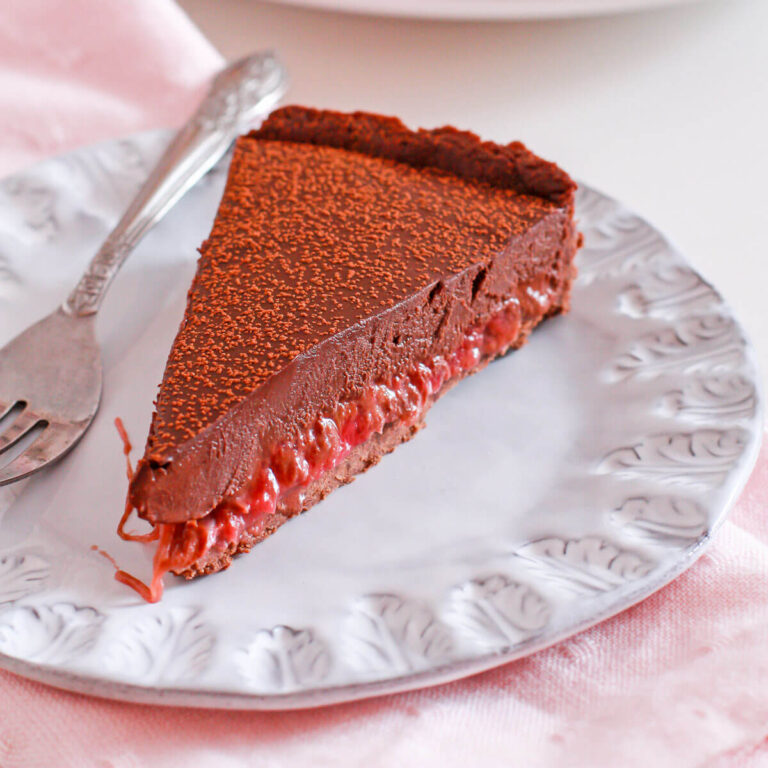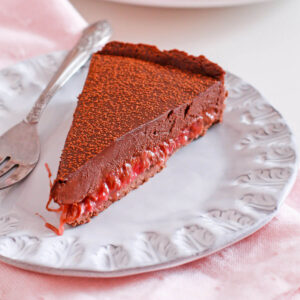 Roasted Rhubarb Chocolate Tart
A decadent rhubarb chocolate tart filled with a layer of roasted rhubarb compote and topped with chocolate ganache 
Ingredients
Chocolate dough
185

grams

bleached all-purpose flour

80

grams

icing sugar

25

grams

Cacao Barry extra brute cocoa powder

115

grams

unsalted butter

cut into small pieces

3

large egg yolk(s)

30

mL

cold water

optional, depending on texture of dough
Roasted rhubarb
225

grams

fresh rhubarb

washed and trimmed, and cut into 10 cm lengths

30

mL

granulated sugar

15

mL

rose water
Dark chocolate ganache
300

grams

Cacao Barry Ocoa 70% dark chocolate

chopped

250

mL

whipping cream (35 % fat)
Instructions
To make the chocolate dough
Sift the flour, cocoa powder, and icing sugar into a large bowl.

Add the cold butter and work it into the flour mixture by rubbing your palms together through the mixture until the mixture resembles fine breadcrumbs.

Make a well in the center and add the yolks. Work the yolks into the dough with a fork or even your fingers.

If the dough is slightly dry, add a spoonful or so of cold water until the desired texture is obtained.

Form the dough into a disk and wrap it in plastic wrap. Refrigerate for at least 1 hour or until firm.

Preheat the oven to 350 °F (175 °C).

Roll out the disk of dough between two pieces of parchment until it is 3 mm thick.

Line a 9-inch removable bottomed tart pan with the dough and work it into the corners and edges. Trim and neaten it up.

Freeze the unbaked tart for half an hour or until very, very cold.

Dock the pastry with a fork and with a 6 mm piping tip, cut out a whole in the center of the tart to allow steam to escape (make sure to cut all the way through and remove the piece).

Place the tart on a baking sheet and blind bake the tart for about 15–20 minutes until the pastry is fully cooked and appears dry (not glossy).

Remove the tart from the oven. If there are any bumps of air under the surface of the tart shell, press down very gently with a clothed hand (beware of steam) to release the steam. Let cool before unmolding it carefully and placing it on a plate.
To roast the rhubarb
Toss rhubarb with the sugar and rosewater and bake it in a glass ovenproof dish until the rhubarb is tender (about 20 minutes). Let cool completely before using.
To make the chocolate ganache
Heat the cream in a small saucepan and when it is steamy, pour it over the chopped chocolate.

Wait a minute, then begin to stir it from the middle, out, until you obtain a smooth, silky ganache. (if all else fails, see above for my ganache saving tip!). Let the ganache thicken slightly before using.
To assemble the tart
Line the bottom of the baked tart shell with the rhubarb.

Top with ganache, and let the tart set in the fridge for a couple of hours.

When you are ready to serve the tart, sprinkle the top with some cocoa powder to make it pretty.
Nutrition