Learn how to make Easter brownies with Mini Eggs with this easy bar recipe. These Mini Eggs brownies have chewy edges and a slightly fudgy centre with crunchy bits of chopped Mini Eggs mixed into the batter and sprinkled on top for a colourful Easter treat!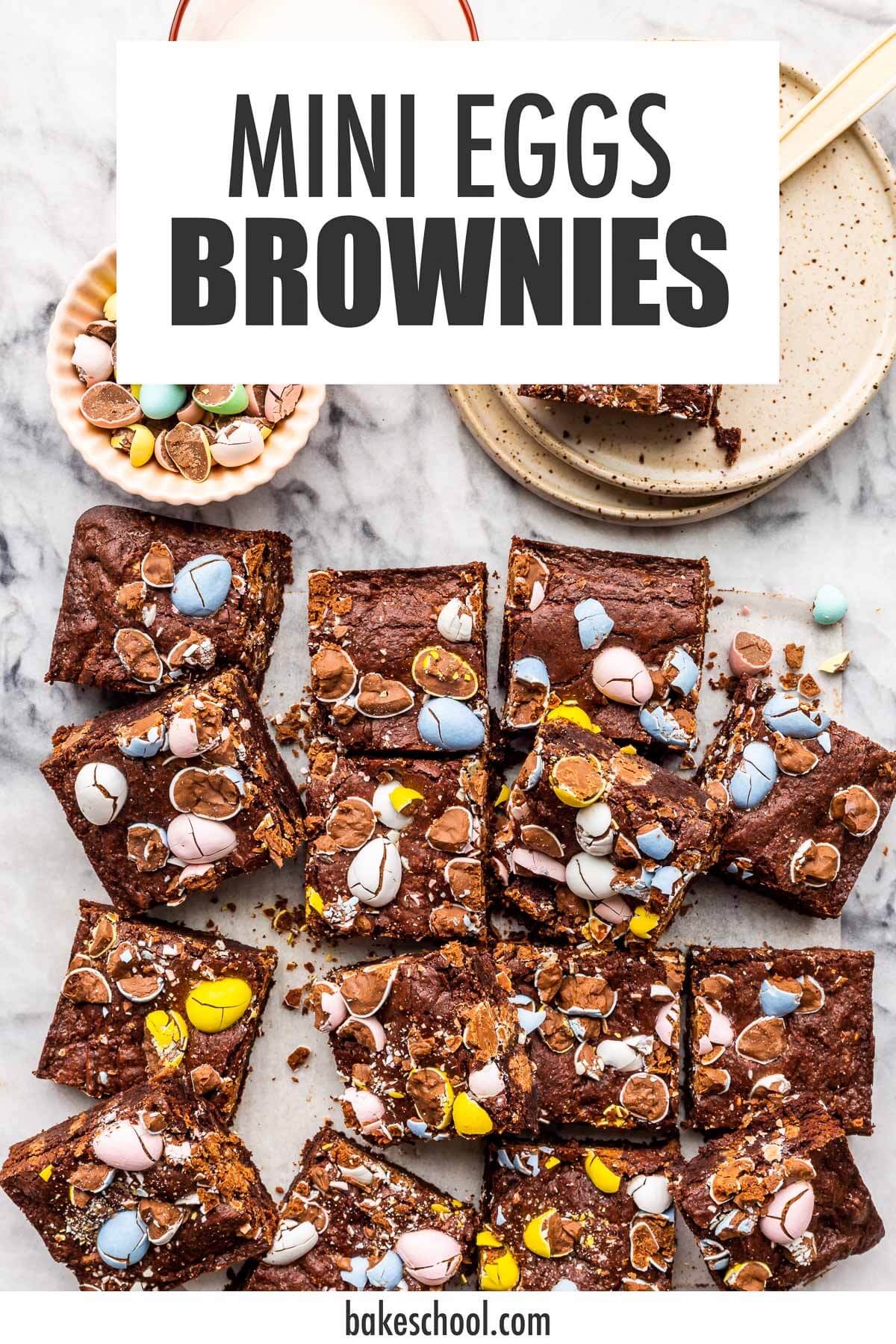 Looking to do more baking this Easter holiday? Check out these Easter baking recipes! If you prefer cookie bars to brownies, try these Mini Eggs blondies!
The fun thing about baking with Mini Eggs is that they are now available year-round. You can almost always find them at the dollar store in small bags or even in the candy aisle of grocery stores after Easter is long gone.
Jump to:
Ingredients
If you want to make a batch of Easter brownies with Mini eggs from scratch, you will need the following ingredients: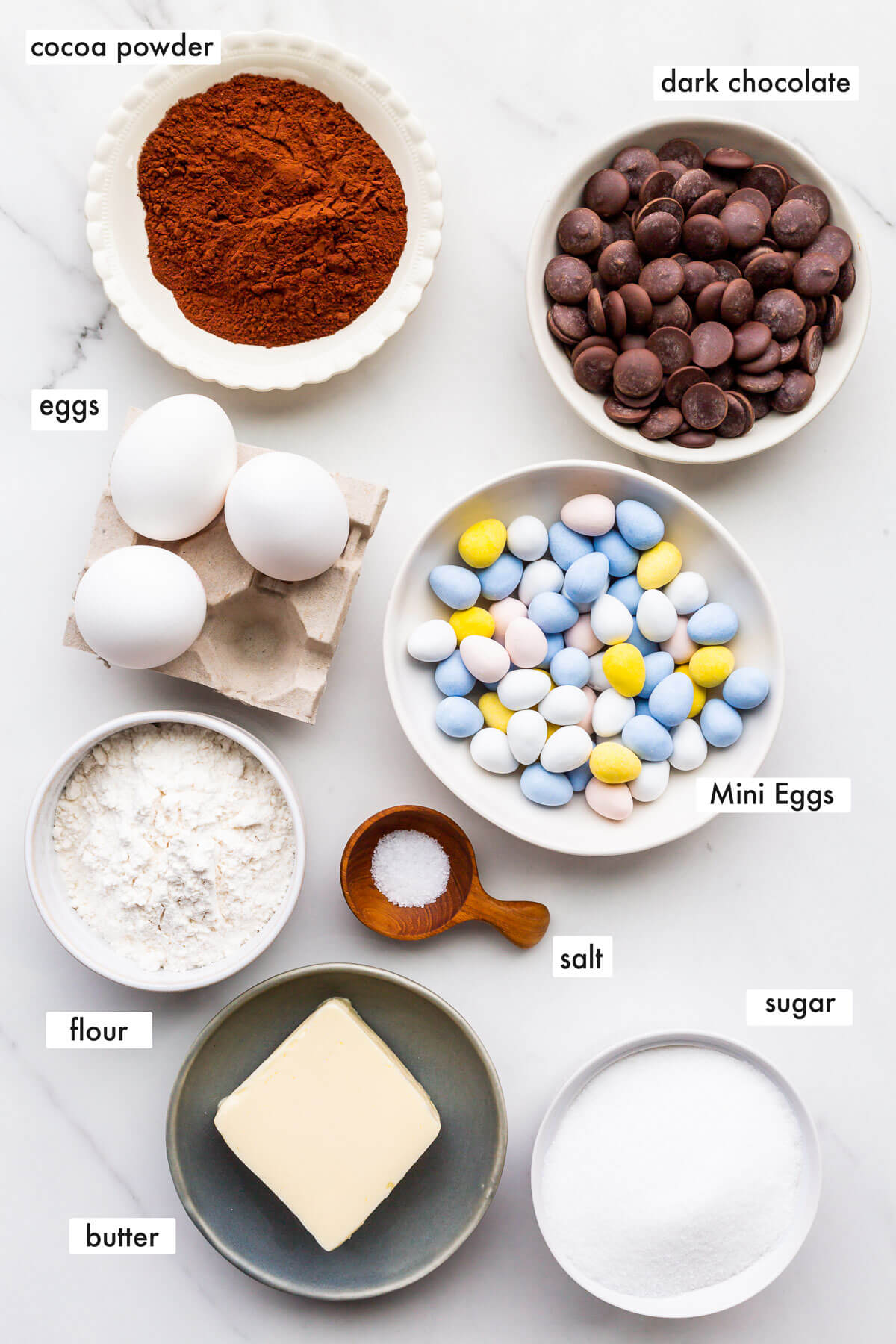 Disclosure: As an Amazon Associate, I earn from qualifying purchases.
butter, preferably unsalted butter because you will add salt to the batter, but if you have salted butter, it will work. Just adjust the salt in the recipe accordingly, otherwise, your bars may be too salty
dark chocolate, like a 70 % semi-sweet or bittersweet chocolate
granulated sugar gives these brownies crispy/chewy edges
large eggs, don't use smaller eggs because your cookie dough may be too dry and your brownies may be crumbly but don't use extra large eggs because they could cause the batter to separate
all-purpose flour is needed to bind all the ingredients together and give the brownies structure, contributing to the chewiness of the bars as well. If you don't use enough flour, your brownies may be overly fudgy and dense
cocoa powder—use Dutch-processed cocoa powder. Most grocery stores sell it and it might not even be marked as such, but it probably is. Don't use natural cocoa powder in this recipe, which doesn't have the depth of flavour that Dutch processing brings. If you aren't sure what this means, please read all about the different types of chocolate for baking
salt is really important to balance out the sweet chocolate flavour, especially since these brownies feature quite a bit of candy chocolate. Please don't skip it. I like to use Diamond Crystal fine kosher salt, but table salt will work, though the bars will be saltier and you may want to halve the salt in that case
candy-coated Easter chocolate candy eggs like Cadbury Mini Eggs or Hershey's Eggies
See the recipe card for quantities.
Substitutions
Brownies are made from a simple list of ingredients and your substitution options are limited. Here are some places where you can deviate:
dark chocolate: I used 70 % dark chocolate from Cacao Barry. This is a semi-sweet chocolate verging on bittersweet. If you don't have access to this brand of chocolate, feel free to use Lindt chocolate or any high-quality chocolate with at least 50 % cocoa content. If you are unsure, read about the different types of chocolate for baking.
cocoa powder: I used a Cacao Barry brand cocoa powder called Extra Brute. It is a Dutch-processed cocoa powder. You can replace it with any brand of Dutch-processed cocoa powder. I don't recommend a natural cocoa powder because the flavour will be weak.
sugar: I used granulated sugar (white sugar), but feel free to use a combination of brown sugar and white sugar if you prefer. Do not use icing sugar.
Mini Eggs: you can use any candy-coated chocolate in this recipe if you can't find Mini Eggs. M&M's and Canadian Smarties work perfectly in this recipe. So do Hershey's Eggies.
Variations
This is a great brownie base recipe and you can incorporate any of your favourite Easter chocolate and the leftover Easter candy you have after the holiday:
Cream Egg - while I don't recommend trying to fold chopped Cream Egg into the brownie batter (they're too gooey for this purpose!), you can top it with miniature Cadbury Cream Eggs before baking for a fun variation on this recipe.
Peanut butter - chop up Reese's peanut butter egg candy and incorporate them in the brownie batter before baking for a peanut butter version.
Nuts - forego the candy and incorporate chopped nuts instead
See this walnut version of this recipe on my website!
Instructions
This Easter dessert recipe is made following a one-bowl process, meaning all the ingredients are assembled in the pot (or bowl) you use to melt the butter at the beginning.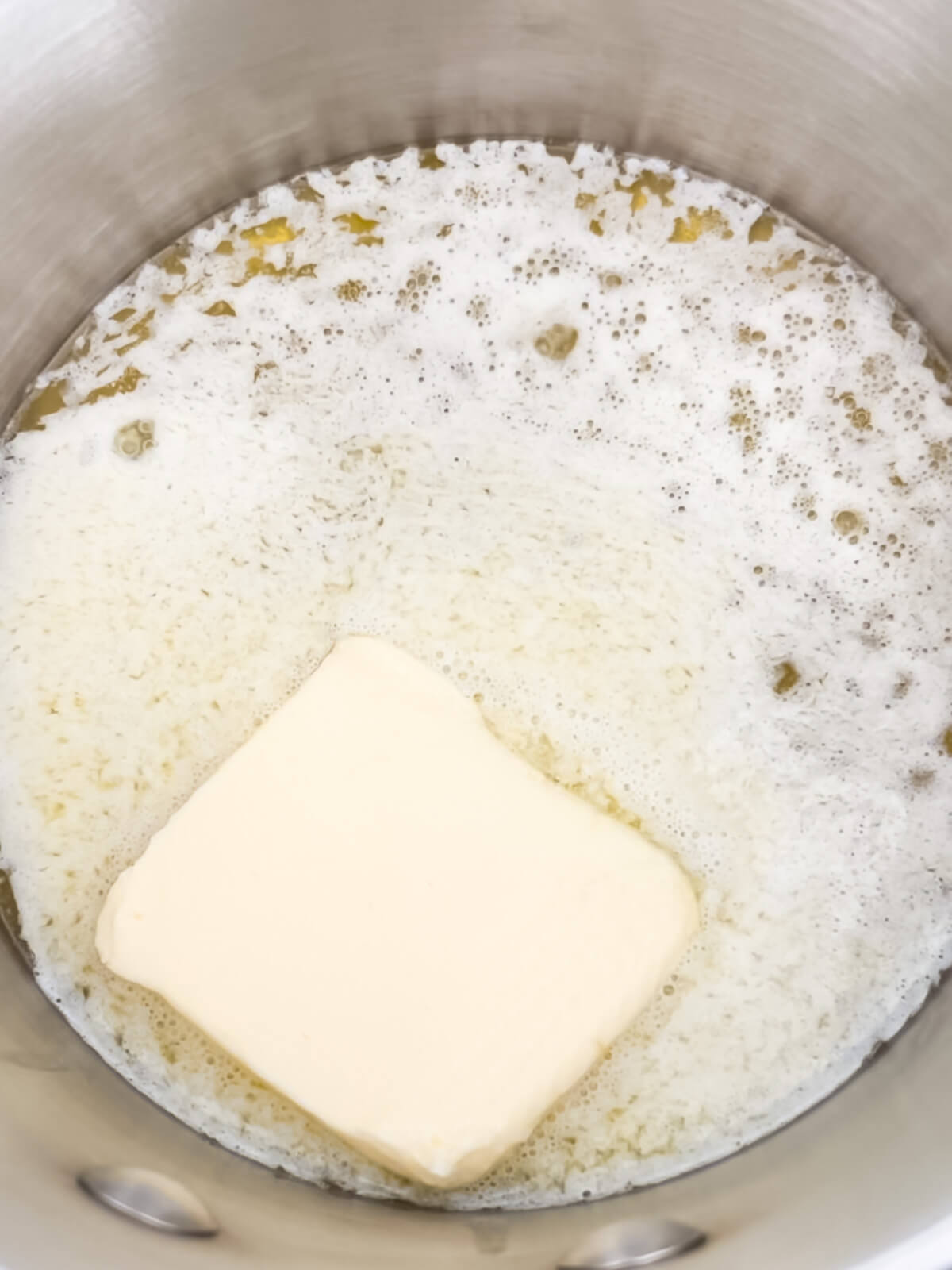 Melt the butter in a large bowl over a water bath on the stove or in the microwave.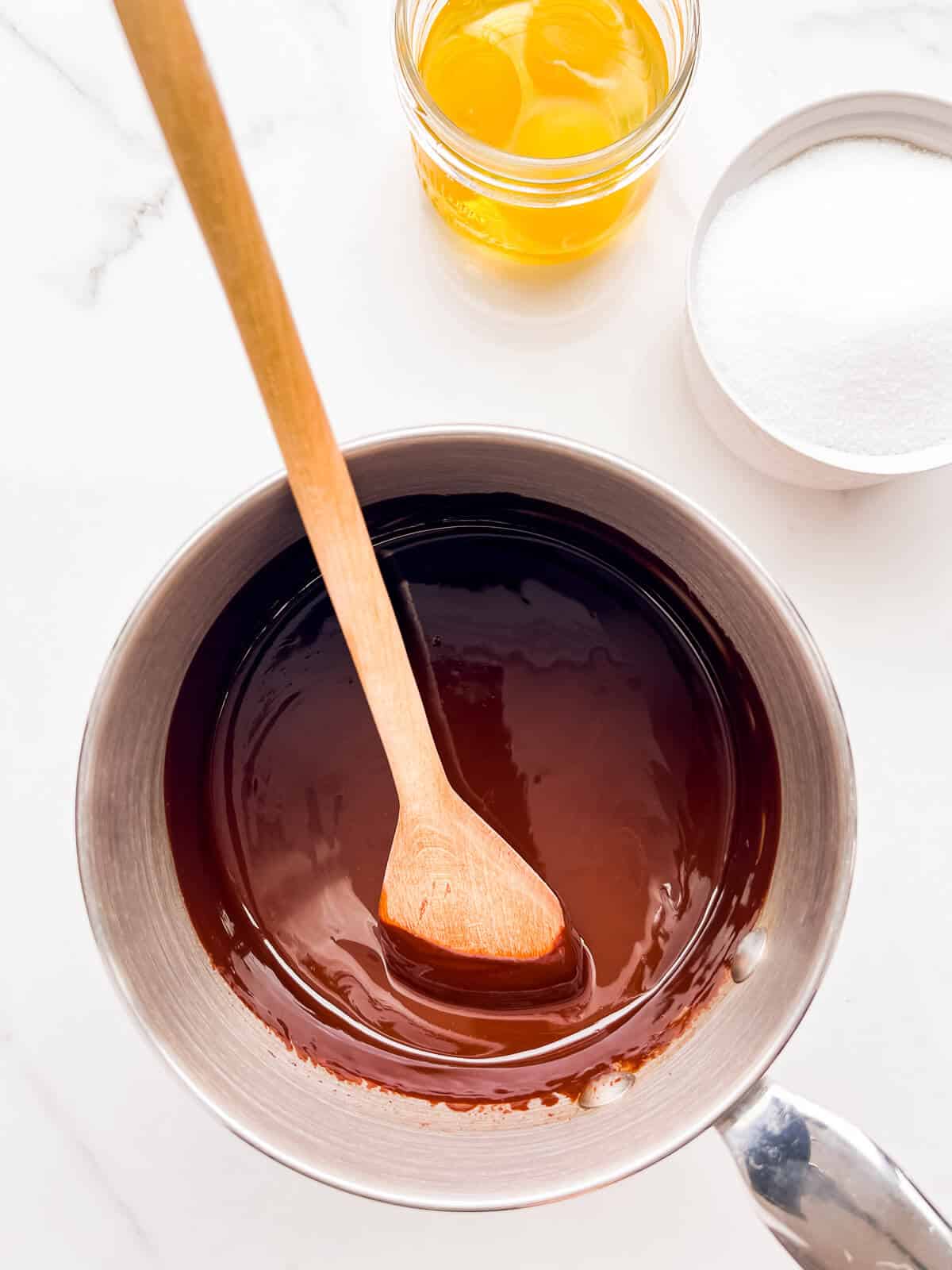 Add the chocolate and stir it in until it's all melted and glossy/smooth.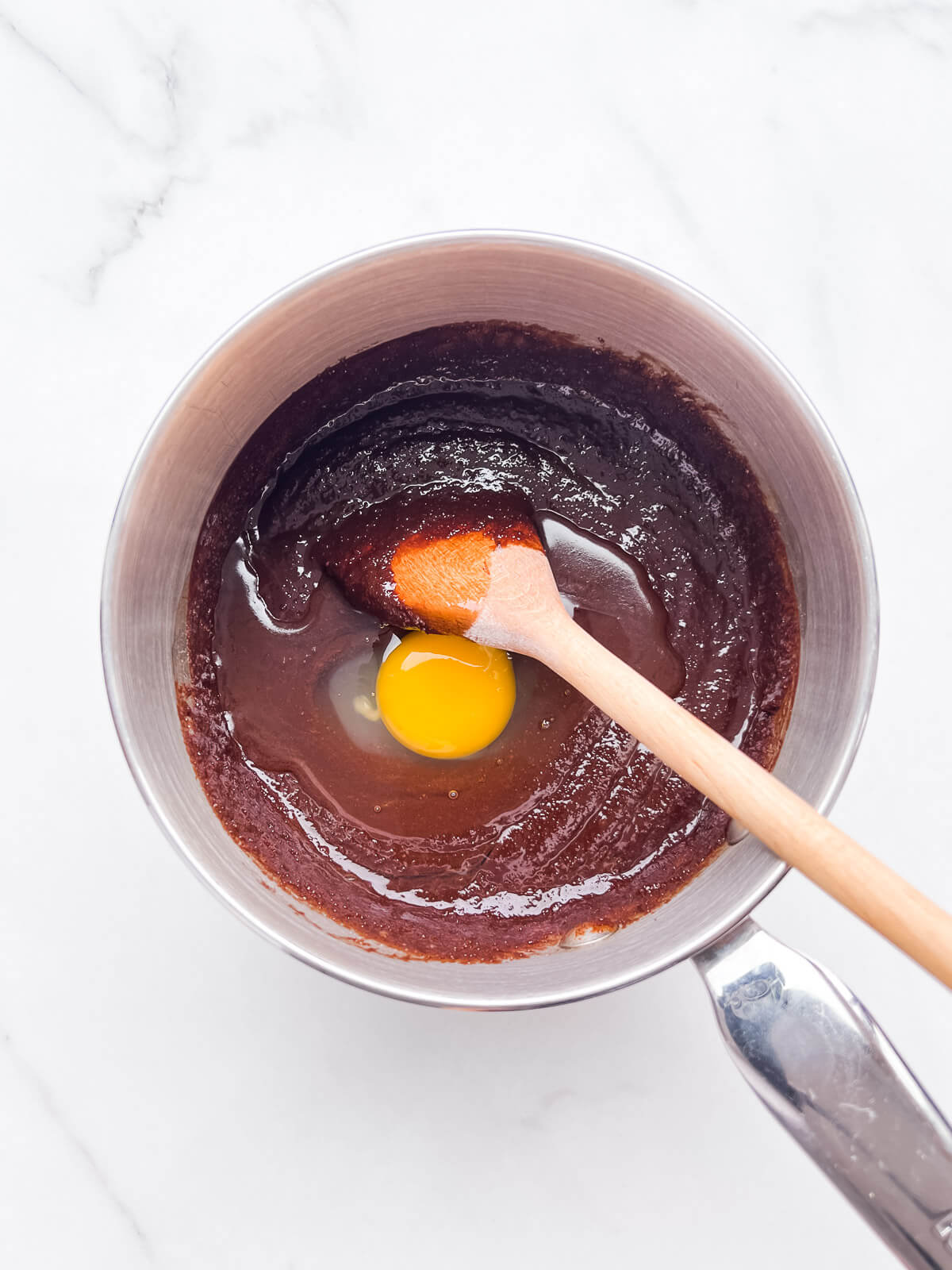 Stir in all the sugar, then add the eggs, one at a time, mixing between each addition.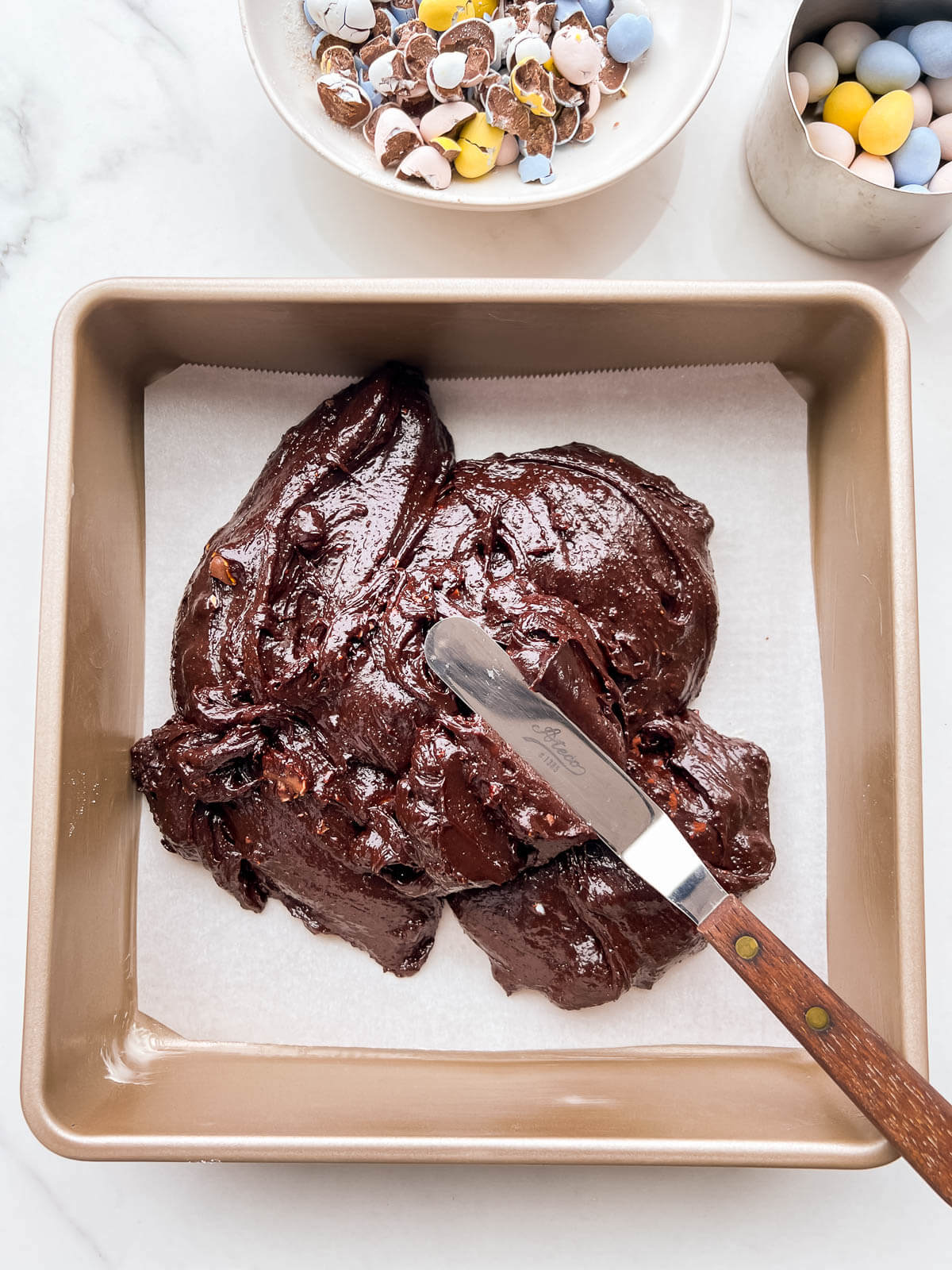 Use a mini-offset spatula to spread the batter in a greased brownie pan lined with parchment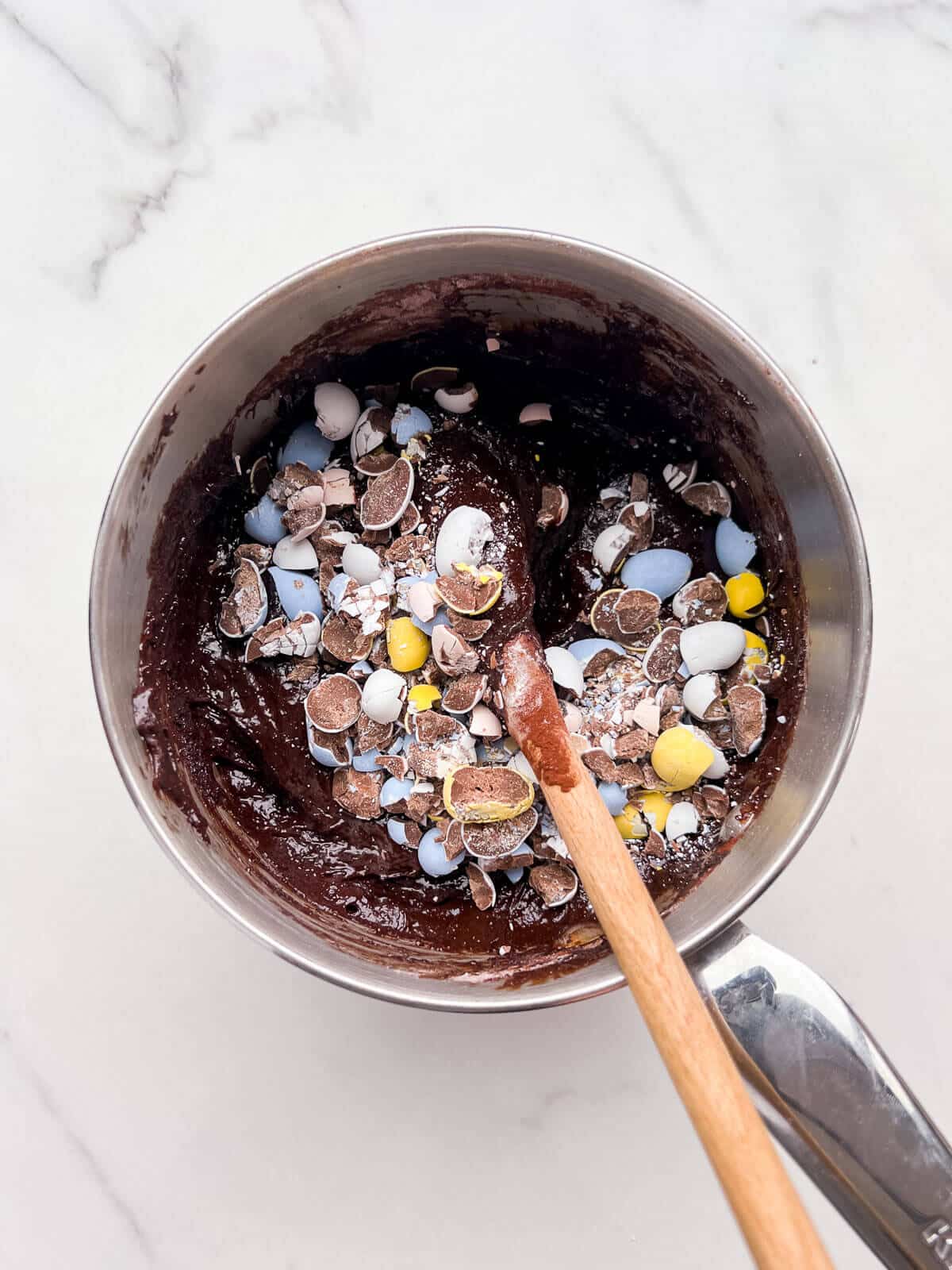 Stir in the dry ingredients (flour, cocoa, and salt), then fold in the chopped Easter egg candy.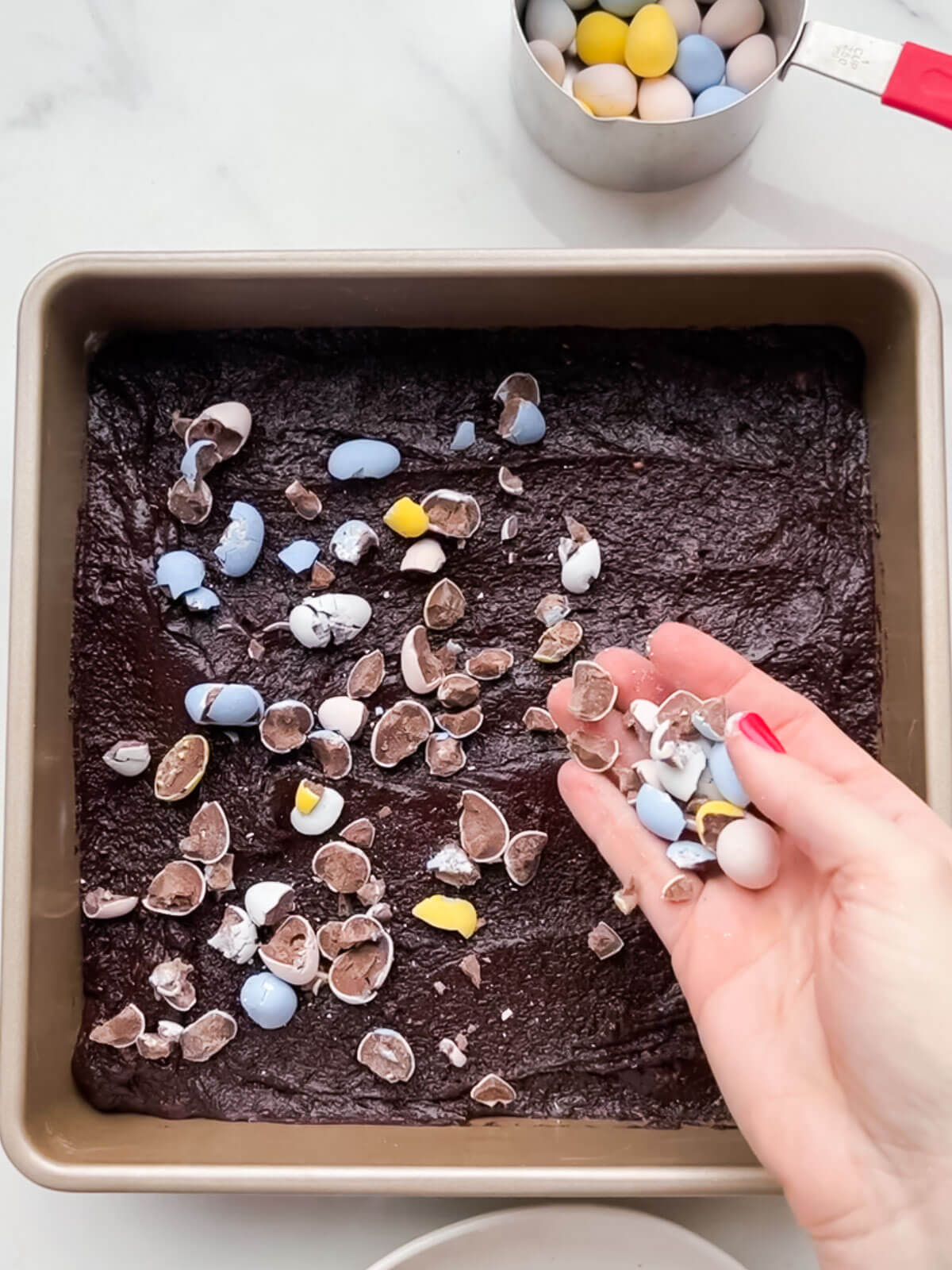 Sprinkle the brownies with more chopped Easter eggs if you'd like to decorate them before baking.
Hint: If you don't have enough leftover Easter candy, consider folding some into the brownie batter, and reserving a portion to decorate the top of the brownie batter before baking.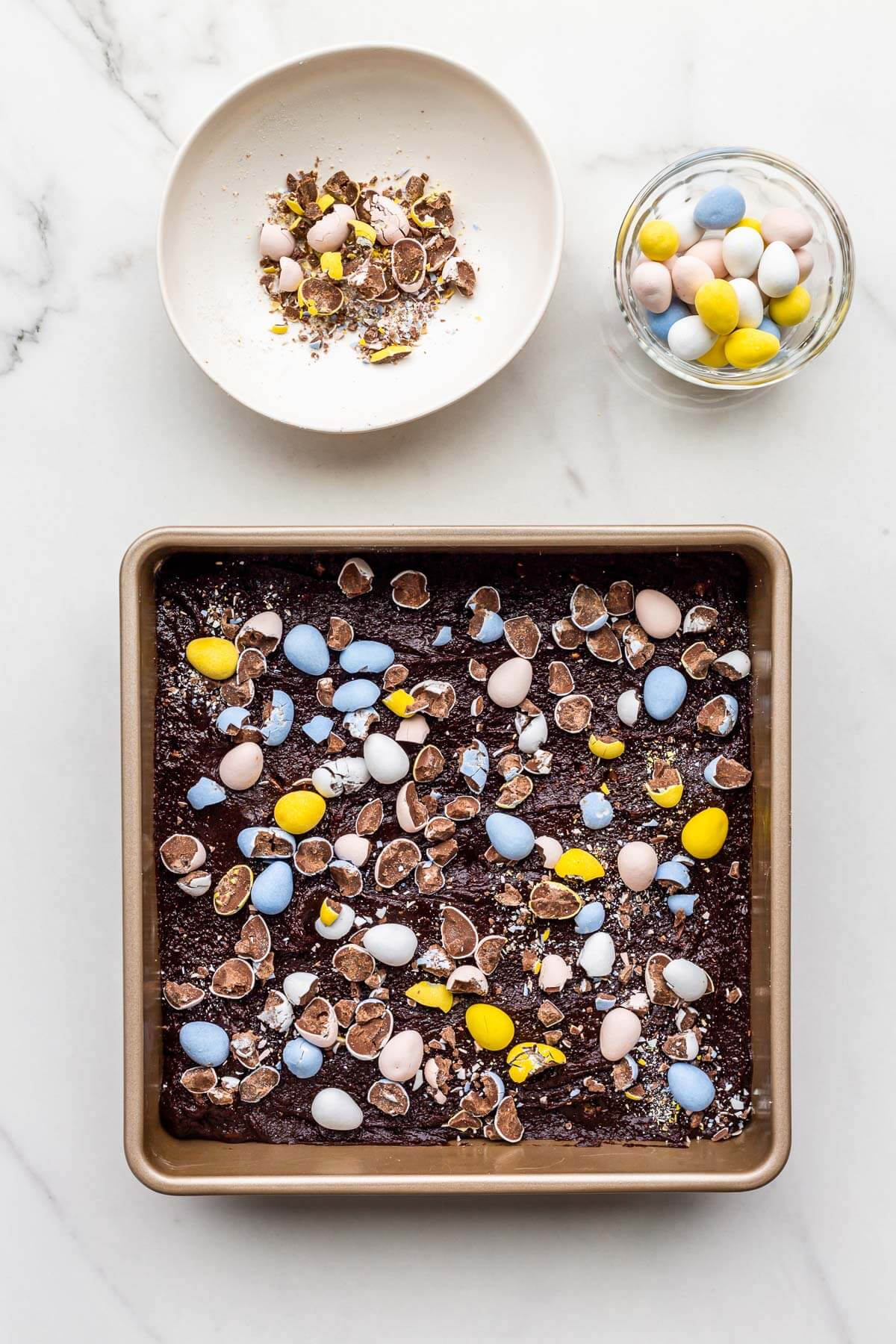 Equipment
I used a metal brownie pan to bake these brownies. Usually an 8x8 pan or a 9x9 pan. Brownies baked in a glass pan may take longer to bake. Remember that not all baking pans behave the same and you need to account for the material of the pan when adjusting baking times.
The trick for cutting brownies neatly
If you struggle to cut brownies because they stick to your knife, try using a plastic knife instead of a metal knife! The plastic cuts cleanly through brownies without sticking. You can also use the straight edge of a plastic bowl scraper.
You can also chill the brownies in the refrigerator, which will also make cutting them easier.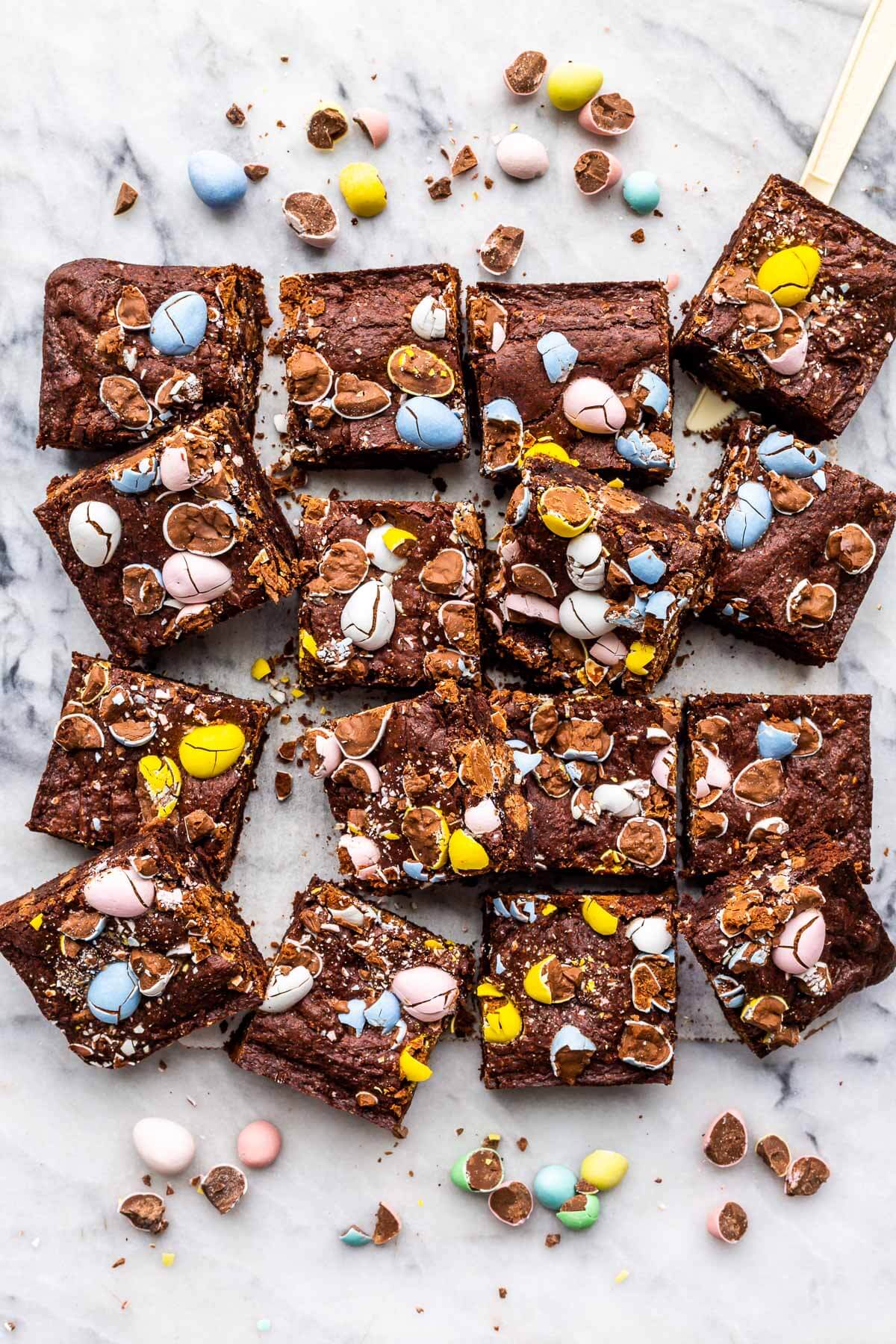 Serving suggestions
Brownies are great as is, but you can also eat them à la mode, topped with vanilla bean ice cream or dark chocolate ice cream. Another favourite of mine is to serve these with Oreo ice cream or mint chocolate chip.
Storage
I store brownies in the pan I baked them in. Make sure to cover the pan tightly with plastic wrap or aluminum foil. You can store brownies for up to 3 days. They will dry out the longer you store them so either eat them within the first few days or freeze them for later.
Got leftover brownies? I like to chop up any extra brownies into bite-sized pieces and freeze them in freezer bags. Frozen brownies are extra chewy and make a great snack, or save them to incorporate in the most delicious chocolate brownie ice cream recipe!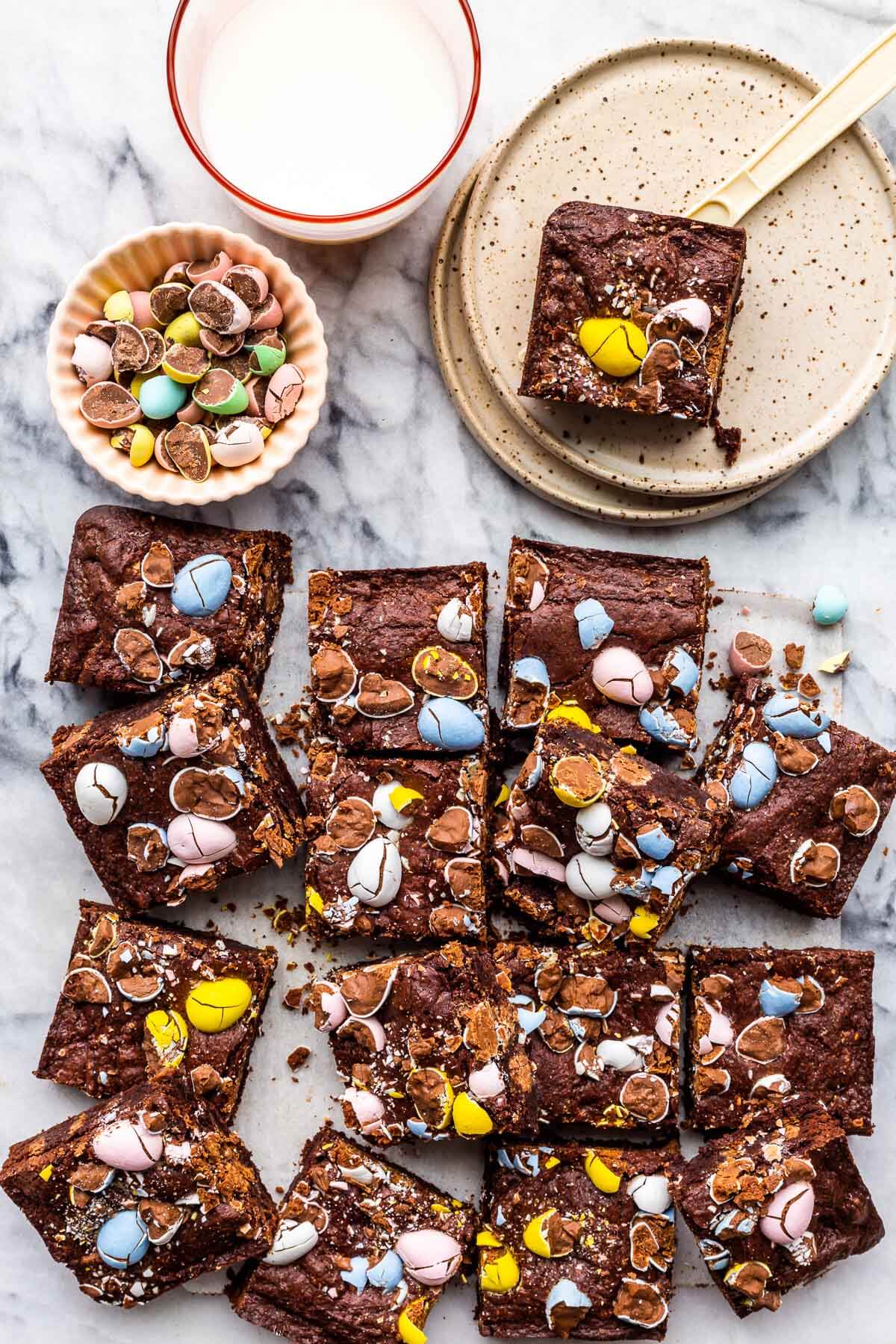 Frequently asked questions
What are Mini Eggs made of?
Cadbury Mini Eggs and Hershey's Eggies are candy-coated milk chocolate, similar to M&M's and Canadian Smarties chocolate candy (not to be confused with pastel Smarties candy that is called Rockets in Canada). They are a chocolate candy product. The candy coating of Mini Eggs is mostly sugar, covering a solid milk chocolate egg.
What makes brownies fudgy?
I prefer a chewy brownie, but if you want to make fudgy brownies, make sure to under-bake them. You want to bake fudgy brownies until a cake tester inserted in the middle comes out with a few crumbs from the batter that is "not quite baked." This will ensure that the brownies will be more moist and fudgy, and denser because they will settle as they cool down.
What is the secret of a good brownie?
What makes a "good brownie" is quite subjective, but the best brownies are made with dark chocolate and good quality Dutch-processed cocoa powder, which combined give these bars the most chocolate flavour. Using a chocolate that is higher in sugar and lower in cocoa content will yield brownies with a more muted flavour, as will using natural cocoa powder, which doesn't have as strong a flavour.
Related
Looking for other bar recipes like this? Try these:
📖 Recipe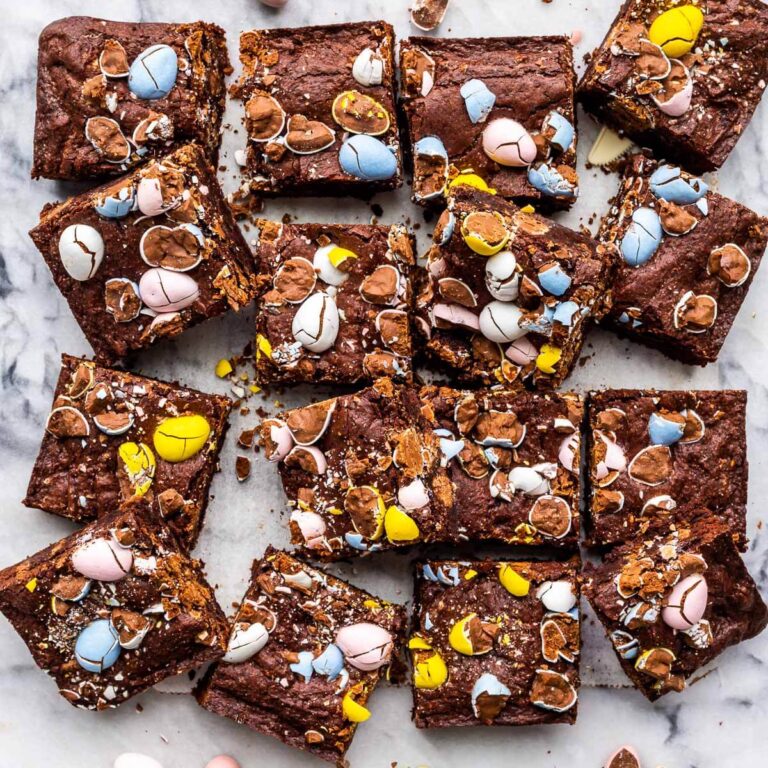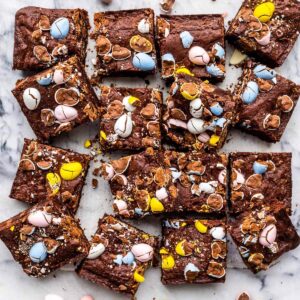 Easter Brownies With Mini Eggs
These easy Easter brownies with Mini Eggs start with a one-bowl brownie recipe made with melted chocolate and cocoa powder, and topped with chopped Easter eggs for a super chocolaty Easter treat!
Ingredients
115

grams

unsalted butter

175

grams

Cacao Barry Ocoa 70% dark chocolate

or your favourite semi-sweet or bittersweet dark chocolate

250

grams

granulated sugar

3

large egg(s)

95

grams

bleached all-purpose flour

45

grams

Cacao Barry extra brute cocoa powder

or your favourite Dutch processed cocoa powder, sifted to remove lumps

200

grams

Mini Eggs

plus a little extra for garnishing, coarsely chopped
Instructions
Preheat the oven to 350ºF (175 °C). Butter a 9x9-inch (23x23-cm) brownie pan. Line the bottom with parchment. Set aside.

In a large bowl, melt together the butter and the chocolate. You can do this over a pan of simmering water or in the microwave at power level 5, pausing from time to time to stir a little so that the mixture heats evenly.

Add the granulated sugar to the bowl of melted chocolate and butter, and stir it in.

Add the eggs, one at a time, mixing well between each addition. Dump in the flour, cocoa powder, and salt, and stir it in.

Fold in the chopped Mini Eggs.

Pour the batter into the prepared pan and smooth the surface with a mini offset spatula. Sprinkle with extra chopped Mini Eggs, if desired.
Notes
This brownie recipe fits in a metal 9x9" square pan.
Use a metal pan which is a better heat conductor than glass. Brownies baked in a glass pan may take longer to bake but also may overbake after removing them from the oven as the glass retains the heat for longer.
To cut the brownies easily and cleanly into squares, use a

plastic bowl scraper

or a plastic knife

! Don't use a metal knife because it may stick. Chilling the brownies before cutting helps.
Nutrition
Calories:
281
kcal
Carbohydrates:
34
g
Protein:
4
g
Fat:
16
g
Saturated Fat:
9
g
Polyunsaturated Fat:
1
g
Monounsaturated Fat:
3
g
Trans Fat:
0.2
g
Cholesterol:
48
mg
Sodium:
100
mg
Potassium:
141
mg
Fiber:
2
g
Sugar:
25
g
Vitamin A:
260
IU
Vitamin C:
0.4
mg
Calcium:
45
mg
Iron:
2
mg