This sweet spicy jalapeño jam makes a great accompaniment for cheese boards or charcuterie boards. It's perfect for serving with grilled meats, on burgers, and even slathered on toast. Try this pepper jam with cream cheese as a sandwich!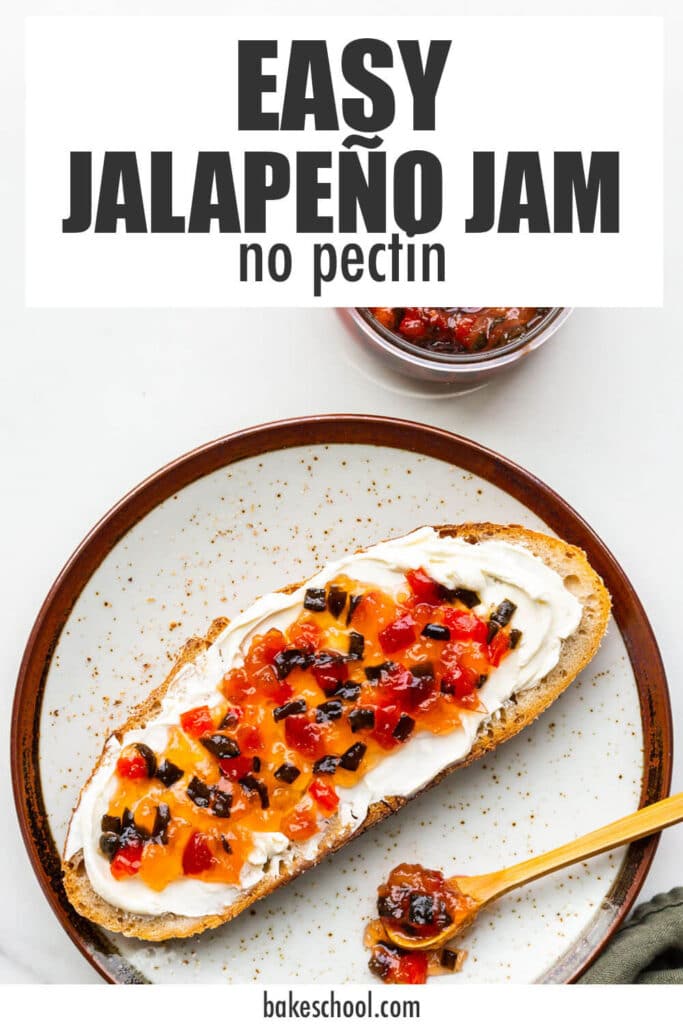 Disclosure: As an Amazon Associate, I earn from qualifying purchases.
Jalapeño jam, also called pepper jam, is made from a combination of spicy jalapeño peppers and Bell peppers. It's tangy, sweet, and spicy, all at once and it's a favourite of mine.
Jalapeño jam is similar to pepper jelly in terms of taste, with a few differences in texture:
pepper jelly is usually clear with no fruit pieces, whereas you can see. the fruit in the jalapeño jam, usually finely diced sweet peppers and hot peppers.
pepper jelly is usually set and gelled with added pectin, like liquid Certo, whereas this jalapeño jam is thickened by cooking it with high pectin fruit up to the jam setting point.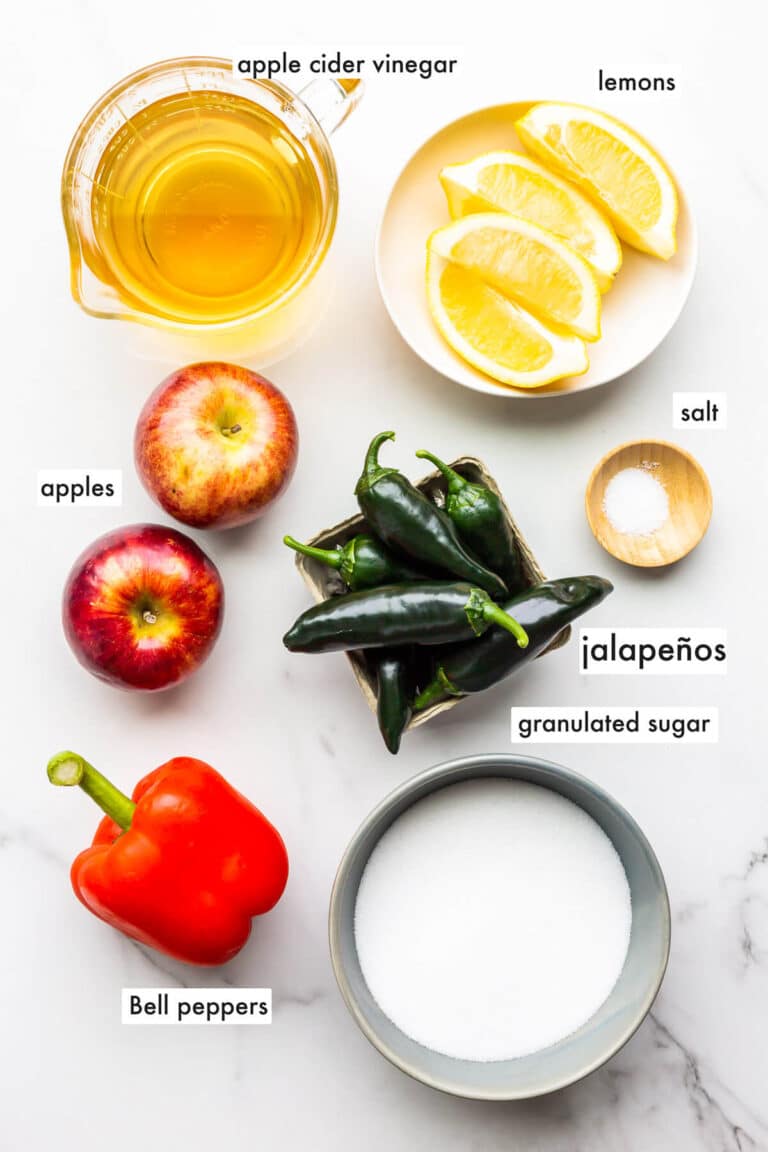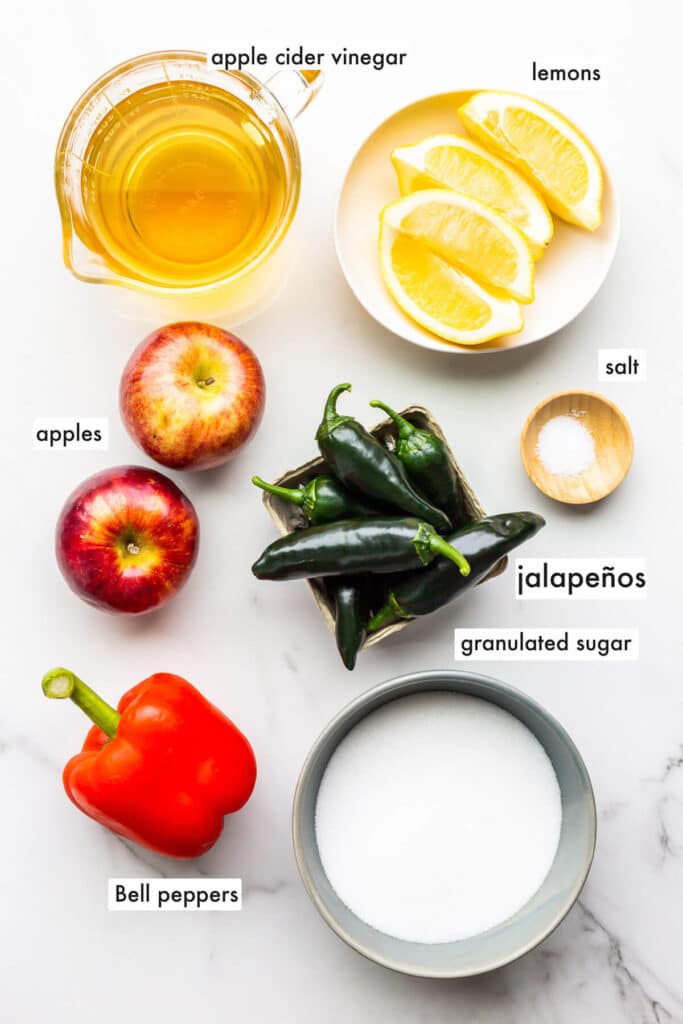 Ingredients needed
If you want to make a jalapeño jam without pectin, you will need:
jalapeño peppers: I used green jalapeños but if you can find red ones, that would give the jam a nicer colour! Pick peppers that are firm and unblemished and as fresh as possible. You could substitute more Bell pepper for a regular pepper jam, or you could opt to replace a portion with a more spicy pepper, but remember a little goes a long way with some varieties!
Bell peppers: I have made this with red and orange Bell peppers, which are sweet. You can also use yellow Bell peppers. Any sweet pepper will work here. Again pick them firm and unblemished. Check the stems to know if they are fresh.
apples: the addition of apples to this jalapeño jam recipe is very smart because they are full of pectin, which helps the jam set up so that it is thick and not runny.
lemon: lemon adds a ton of flavour and in this case, whole lemon wedges are used, so that again they can contribute some pectin, which is predominantly in the peel of the fruit.
sugar: you cannot make this jam without sugar. You could use a combination of brown sugar and regular granulated sugar if you want to add more flavour, but the sugar is essential for balancing the acidity and spice in this jam, and also for ensuring the jam will gel properly and set nicely.
apple cider vinegar: you could use a regular white or distilled vinegar, but I love the flavour of apple cider vinegar. The vinegar, like the lemon, will bring down the pH of the jam and ensure that you can safely can this recipe and also to ensure that the pectin will form a gel network so that the jam will set.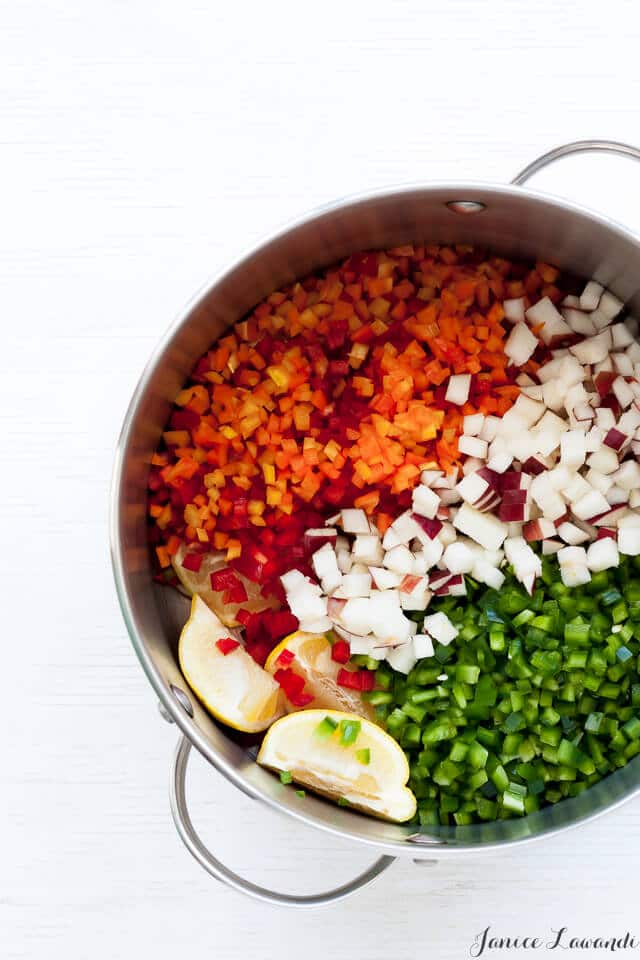 Ratio for pepper jams
Like with most jam recipes, I do not recommend deviating from the quantities listed. You can play with the type of sugar, the type of vinegar, the variety of peppers (both Bell and jalapeño), substituting and replacing weight-for-weight.
If you have more or less fruit to work with, adjust the recipe accordingly in order to respect the ratio of fruit to sugar, keeping it consistent. I have successfully halved the recipe without issues, making a small batch of 2 jars of jalapeño jam.
This recipe isn't hard, but it does take a lot of chopping. Camilla suggests using a food processor to make things go a little faster, but I decided to do all the prep by hand, making tiny cubes out of the apples, red peppers, and jalapeño. Your arms will get tired from all that chopping, but I think the texture is better and the chunks more even if you chop everything by hand.
Pepper jam that sets without pectin
For this recipe, you combine low pectin jalapeño peppers and Bell peppers with fruits that are higher in pectin (lemons and apples) to help with achieve the perfect set. It's very smart! The lemons and apples provide plenty of pectin to do the job, but you also need to make sure to boil the jam sufficiently:
The set can be loose if you boil it to just above the boiling point but not further (around 101–102 ºC or 214–216 ºF).
The set will be more firm if you boil the jam to 103–104 ºC (217–219 ºF). It will have a more gelled, soft jelly-like texture.
Decide the texture you want before you begin and watch the pot of jam as it boils: the bubbles will be less volatile and more stable as the jam thickens.
You can also use a frozen plate test to see how the set is. Make sure to place a few saucers in the freezer before you begin: when you think you're close to the set you want, you can verify it:
dollop a small amount of the jam on a frozen saucer
place the saucer back in the freezer to cool down the jam for about 30 seconds to a minute
take the plate out of the freezer and nudge the edges of the dollop with your fintertip.
if the jam wrinkles when pushed, you've definitely boiled down the jam enough that it won't be soupy.
decide if you want to thicken further for a firm set or if you want to can it right away
Remember whenever you do a plate test like this, take the pot of jam off the burner and turn off the heat. Otherwise, you risk overcooking the jam!
Special equipment
If you want to seal your jars using a boiling water bath, you will need a few tools to make the job easier:
A canning kit for processing jars, with jar lifter, canning rack, canning pot, magnet for picking up sterilized lids, and a tool for checking headspace (this is a kit from Ball on Amazon that is perfect for most of your canning jobs)
A wooden spoon or non-reactive spatulas are essential. Make sure if you are using a spatula that it can withstand higher temperatures as you will be stirring the boiling jam with this tool on the stove.
Mason jars (I like Ball or Bernardin jars like these on Amazon) with new rubber seals (get a stash of these on Amazon) to make sure the vacuum seal will hold over time.
A fast-reading or instant-read thermometer, which you can use to monitor the temperature of the jam as it boils. This way you are sure your jam will set if you boil it up to the jam setting temperature. I own a pink Thermapen which is very fast at registering temperatures and temperature changes, but it's hand-held. The ChefAlarm is a probe thermometer with a cord and would be even more appropriate for making jam!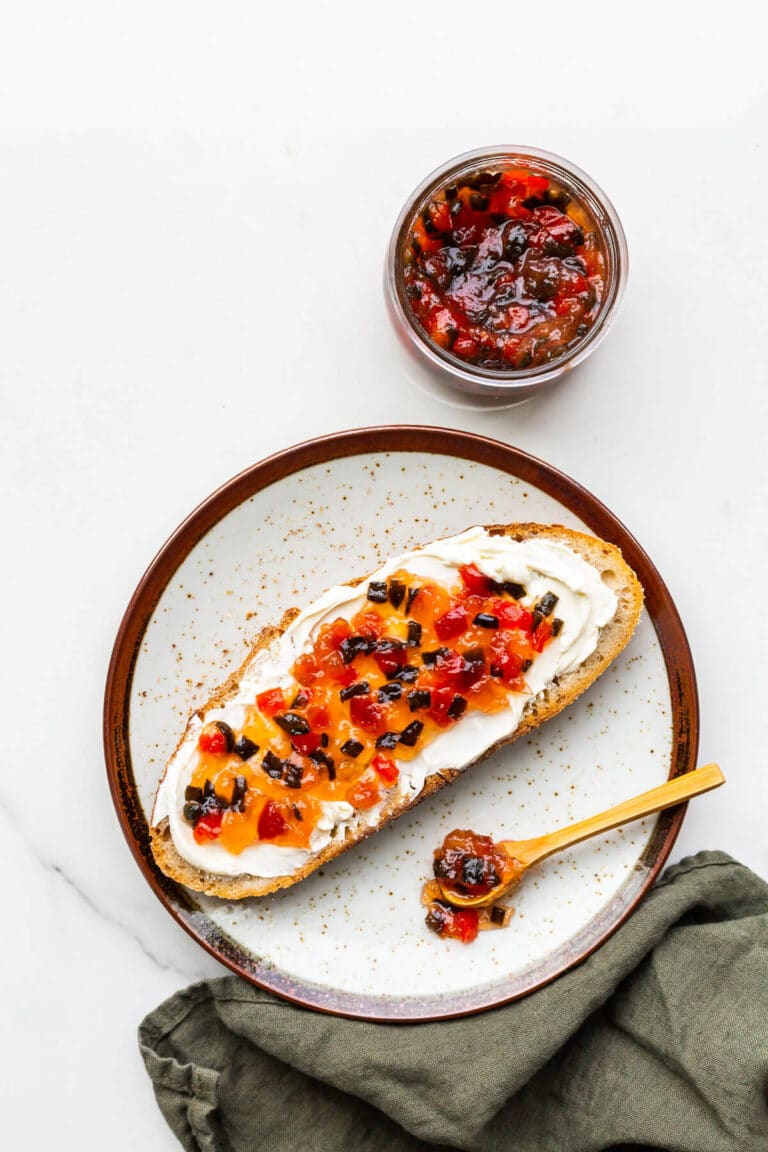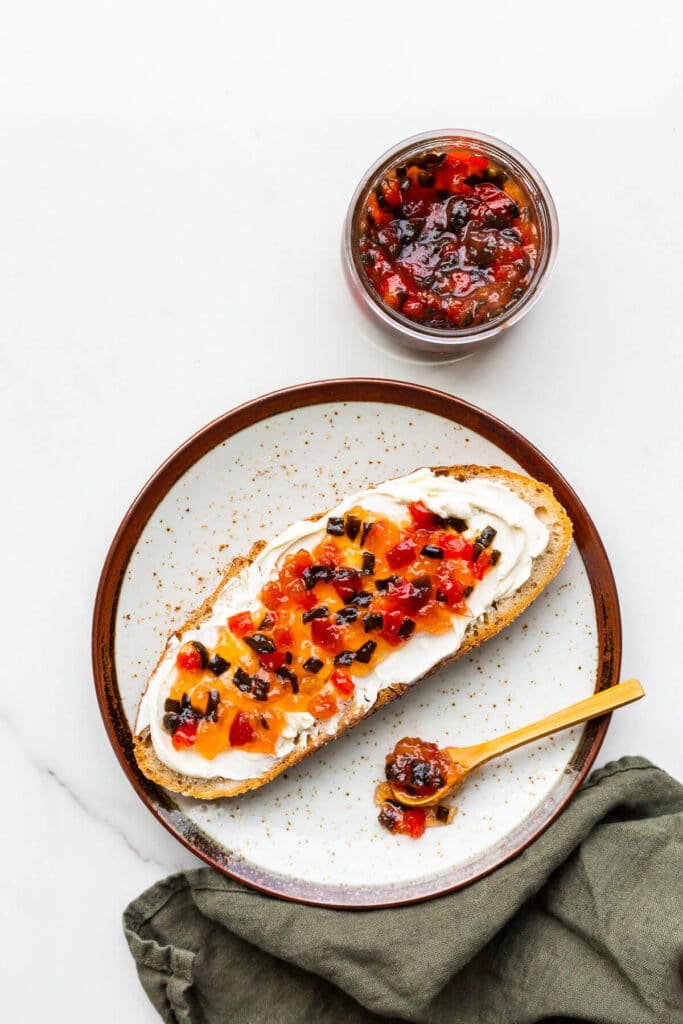 What to serve it with
Jalapeño jam is great served with meat, so steak, chicken, pork or even lamb because of the combination of spicy, vinegary, sweet flavours it provides. It goes with everything.
Another popular way of enjoying it is to make pepper jam and cream cheese sandwiches with bread, or you can serve it on matzoh or crackers. It's sweet and vinegary, and I love it.
If you love making preserves, be sure to check out the spiced apple jam for late fall canning, three fruit marmalade in winter, plum jam in the summer, and rhubarb jam without pectin in spring.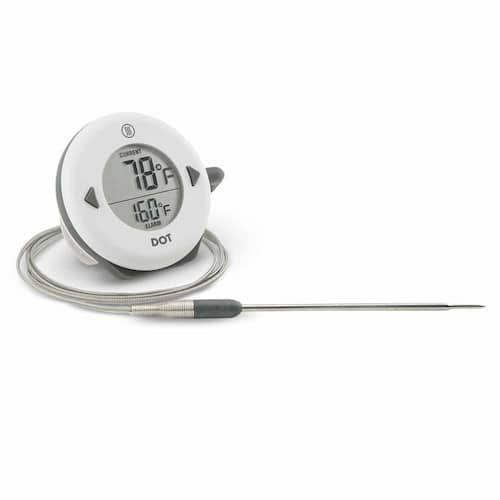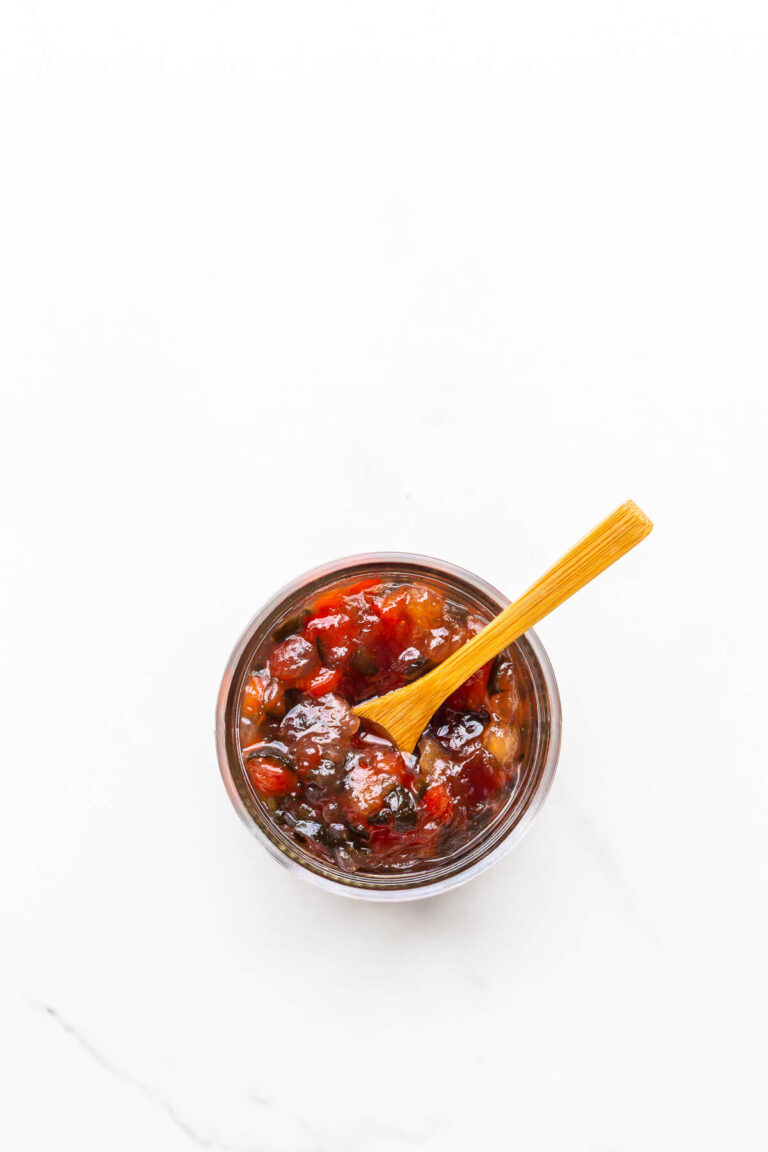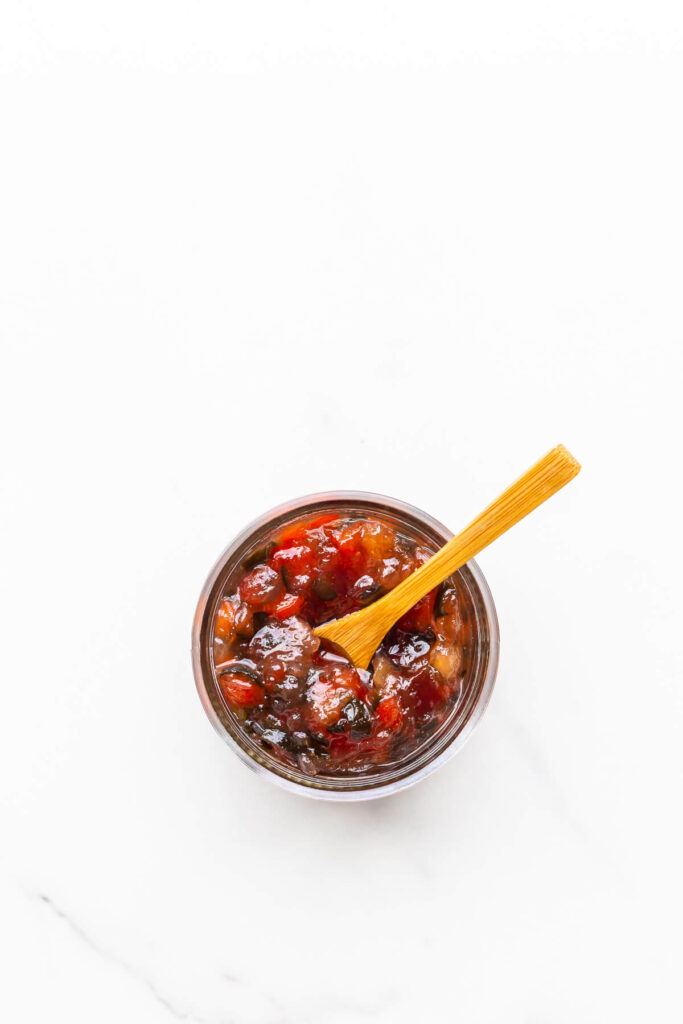 📖 Recipe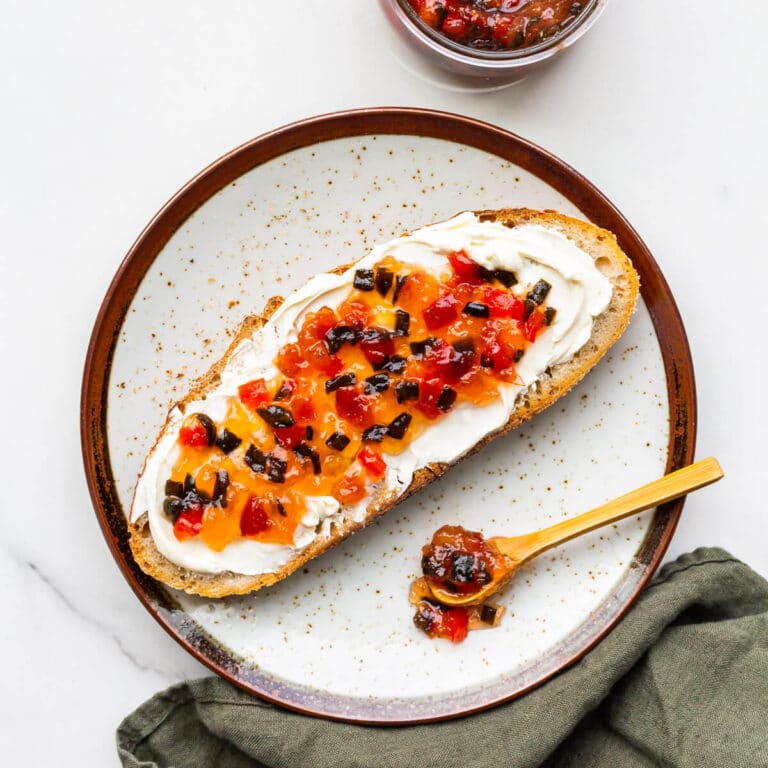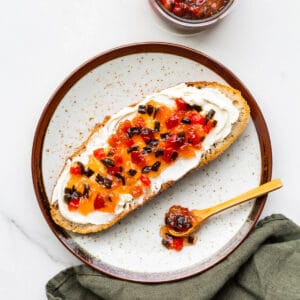 Jalapeño Jam
This jam is the perfect combination of spicy, sour, sweet. It tastes great on toast with cream cheese, or as an accompaniment to a bbq steak or meat.
Ingredients
2

lemons

quartered, seeds removed

540

grams

Cortland apple(s)

finely chopped (I used Cortland apples)

350

grams

red bell peppers

finely chopped

350

grams

jalapeño peppers

seeded and finely chopped

600

grams

granulated sugar

750

mL

cider vinegar
Instructions
Prepare jars and lids.

In a large pot, combine the lemons, apples, red peppers, jalapeños, salt, sugar, and vinegar. Bring to a boil over medium–high heat. Reduce heat and simmer, stirring often and reducing the heat as necessary, until thick. Remove from heat and fish out the lemons, which will now just be soft pieces of peel; discard lemons.

Ladle jam into the hot jars to within ¼ inch of the rim. Remove any air bubbles and wipe rims. Place the lids on the jars and screw the bands on until fingertip-tight. Process in a boiling water canner for 10 minutes.
Notes
This jam is quite vinegary in taste but make sure to boil it sufficiently, not only to thicken it but also to mellow out that vinegar taste. Acetic acid is quite volatile and so boiling will cause some of that to evaporate.
For this jam to set, you need to boil it to the jam set point, at 220 °F (114–115 °C) at sea level. I've found with some batches, boiling up to the set point can even result in a fully gelled preserve, much like a pepper jelly and without having added any extra commercial pectin!
For a spicier jam, use less Bell peppers and use more jalapeños. Just make sure that the total weight of peppers is the same (~700 grams). You can also opt to incorporate spicier peppers in the mixture, but be careful as some hot peppers are quite spicy and too many may make the level of heat unbearable for some people.  
If you find your yield is much higher than the yield in the recipe (meaning you end up with more jars of jam than expected), it could be that you didn't boil the jam for long enough. The set may also be more loose because there is more water in it.
Nutrition
Cookbook source
This recipe was adapted from Camilla Wynne's book, Preservation Society Home Preserves: 100 Modern Recipes. What I love about Camilla Wynne's book on preserves is that she takes the worry out of canning, and a lot of the sugar too.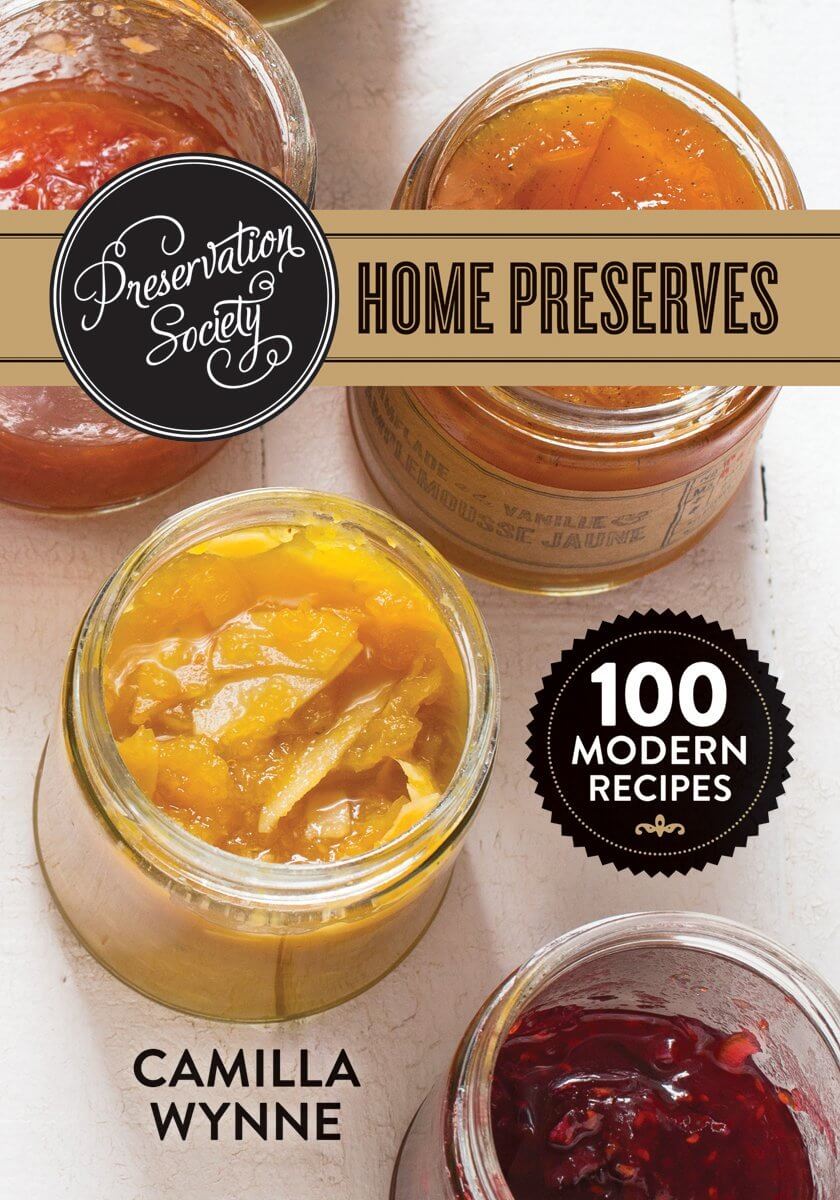 Her jams and marmalades really taste like the fruit that's in them. Her preserves are fruit with just the right amount of sugar, not sugar with some fruit. There's still a lot of sugar that goes into her jams, don't get me wrong, but there is so much less in her recipes than in some of the older jam books and recipes I've come across.
Since I already own the French version of this book (Les Conserves selon Camilla, available on Amazon Canada), published in 2013, I've had a few years to test a lot of recipes in the book and adapted others. I've tried the marmalades several times (remember when I explored how to use the setting point to ensure your jams and marmalades set properly?). Some of the jam recipes are inspired from boozy cocktails or made with the addition of fun spices. There are fruit syrups and pickle recipes too. Lots of unique, tasty treats in this book and I want to try them all! For this post, I went with something new: the jalapeño jam from the Chutneys, Relishes and Savoury Jams" chapter. Basically, this book review was an excuse to make myself jalapeño jam.
Robert Rose Inc. sent me the cookbook to review. Thanks for supporting the companies that allow me to create content for Kitchen Heals Soul. As always, please know that I wouldn't work with a sponsor nor recommend a product if it wasn't worth it.