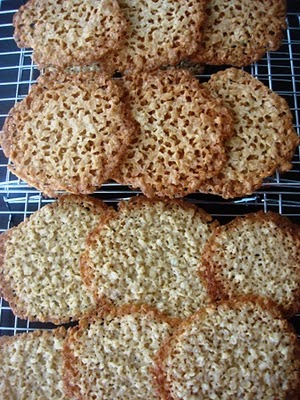 You can make traditional florentine cookies with candied fruit and sliced almonds, or you can make them with oats, to make lace oat cookies that are thin and crispy!
Oat florentine cookies
These oat florentine cookies are thin oat lace cookies that are great for serving with coffee or crumble them over ice cream, panna cotta desserts, or even chocolate pots de crème.
Instructions
Preheat oven to 375 °F.

Prepare a baking sheet by lining it with parchment paper or a Silpat.

In a medium saucepan, melt the butter on medium heat. Continue heating until the butter has browned. Remove from heat.

To the saucepan, stir in the oats, sugar, flour, maple syrup, milk, vanilla, and the salt. Stir well until all the ingredients are incorporated.

Drop tablespoons of the dough on the prepared sheet (no more than 6 per baking sheet), leaving a couple inches between t. Bake for about 15 minutes, or until the cookies are evenly golden brown.

Let them cool completely before transferring.
Notes
The brown butter and maple syrup enhance the caramel flavor of this crispy cookie.