When I told the people around me that I was going to spend a week in Prince Edward Island (PEI) at the end of August, pretty much everybody followed up my comment with the same response: "PEI is on my list of places to visit, but I've never been." It really amazed me that the responses were so unanimous, but I am no different: I have a list of places that I want to explore across Canada, yet when it comes down to planning a vacation, somehow I tend to visit other countries, usually the US or somewhere tropical. I suppose the major hurdle for travelling within Canada is that getting from one province to another can be cost prohibitive when you look at the price of a plane ticket: a sale price for a trip to PEI from Montreal seems downright "cheap" at four hundred bucks, so you can imagine what that price is like when it's not on sale. I'm here to tell you that it's worth every penny of the air fare (plus, given the horrid exchange rates, it's actually more sensible to travel within Canada, right?).
I have travelled to PEI a couple of times over the last decade, but this was the first time I planned the trip myself (with lots of welcome help from the lovely people at Tourism PEI). The Tourism PEI website is a great resource for finding restaurants and activities, and their "ask an islander" section is perfect for getting the inside scoop from the locals.
I worried a little about the driving when I was planning this trip because I'd be renting a car and driving all over the island. Honestly, I hate driving. Turns out, driving in PEI is nothing to stress over: islanders are patient people and they also know how to yield (unlike Quebecers who plough forward without paying any attention to the drivers and traffic around them). In the end, driving through the rolling hills of PEI turned out to be an important part of the whole "island experience" and an amazing way to take in the gorgeous landscape, from farmers' fields to grazing pastures, and of course, the breathtaking sea.

The beaches are among my favourite things about PEI. I live for sandy beach walks, barefoot, and somehow, it had been a very long year since I had last stepped foot on a beach. Too long. The beaches of PEI are quite different than the white sandy beaches we are most accustomed to visiting because PEI's beaches have a reddish tinge (iron oxide) to them. In some areas, the red sand and soil are hardly noticeable, but there are spots where the red sand is quite striking. The best part of the beaches of PEI: they are fairly quiet, especially if you visit later in the summer and if you are armed with a Parks Canada pass to get you into areas near the Dalvay.

One of my favourite parts of my trip, besides finally spending time at the beach, was the lobster fishing tour I took with Top Notch Tours, which takes you out to sea so that you can learn about lobsters and lobster fishing. I honestly didn't know what to expect of a lobster fishing tour, and it was more than I imagined it would be. I learned so much about the lives of lobster fisherman, how much they work, the seasonality of the business, the licensing and conservation measures in place to prevent overfishing. The Top Notch Tour was a beautiful experience and I will probably take the tour again. It was so relaxing to be out on the water, chatting with Captain Mark and his brother about their career paths. They both love their work and are really proud of what they do. It really shows. The tour made me want to become a lobster fisherman (well, except for the fact that I'd probably have a complete meltdown if I had to be out on the water at 4:30 in the morning every day).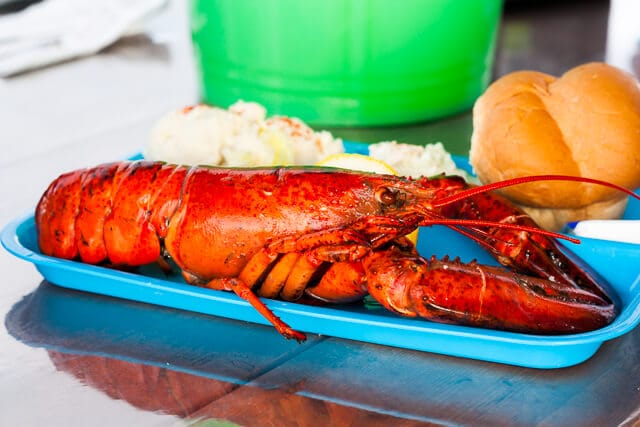 I will leave you with pictures of the green grass and the red sands of PEI so that we can all dream of a vacation in Prince Edward Island. I loved my last trip so much, I'll be returning at the end of June.
If you want to hear more about my last trip to Prince Edward Island and where I ate (plus where I bought 3 wheels of awesome gouda cheese), stay tuned because I'll be posting a run down of my faves soon!
Best places to visit in PEI
Places to stay in PEI
Places to eat in PEI
Richard's Fresh Seafood If you ask around, the locals will most probably send you to Richard's to eat a lobster roll, and the fish & chips, and even a lobster burger. The nice thing about Richard's (besides the awesome seafood) is that it is right on the water, near the lighthouse in Stanhope, so you can walk around and enjoy the gorgeous surroundings while walking off all that seafood
Leonhard's for a fabulous breakfast
Fun activities to do in PEI
Top Notch Tours I cannot emphasize enough how great this lobster fishing tour is: it's educational, it's fun, it's relaxing AND you get to eat lobster on a fishing boat at sea as the sun sets. Need I say more?
Visit the Charlottetown Farmer's Market: it is a fantastic market filled with fresh local produce, as well as local crafts people, and even some prepared food stands so that you can enjoy a Lebanese falafel pita, Polish pierogies, and a fabulous Montreal bagel sandwich with PEI smoked fish.
Tourism PEI partially sponsored my stay on the Island. All opinions expressed are entirely my own. Thanks for supporting the sponsors that allow me to create new content for Kitchen Heals Soul. As always, please know that I wouldn't work with a sponsor or product if it wasn't worth it. I really want you to visit PEI!