Want to go straight to the recipe? Click here to go to the raspberry champagne granita recipe.


I've procrastinated writing this post for a long while. I avoided this post to the point where I decided that maybe it wasn't worth posting a New Year's dessert over the holidays because nobody's reading. That's justification at its best.
Then I made this granita, and it was a game-changer. This granita might be THE best way to enjoy champagne (or a good bottle of prosecco). It's light and refreshing, and fruity. And since New Year's celebrations call for a bubbly of some sort, I decided to share this with you. Granita is so festive, even with watermelon.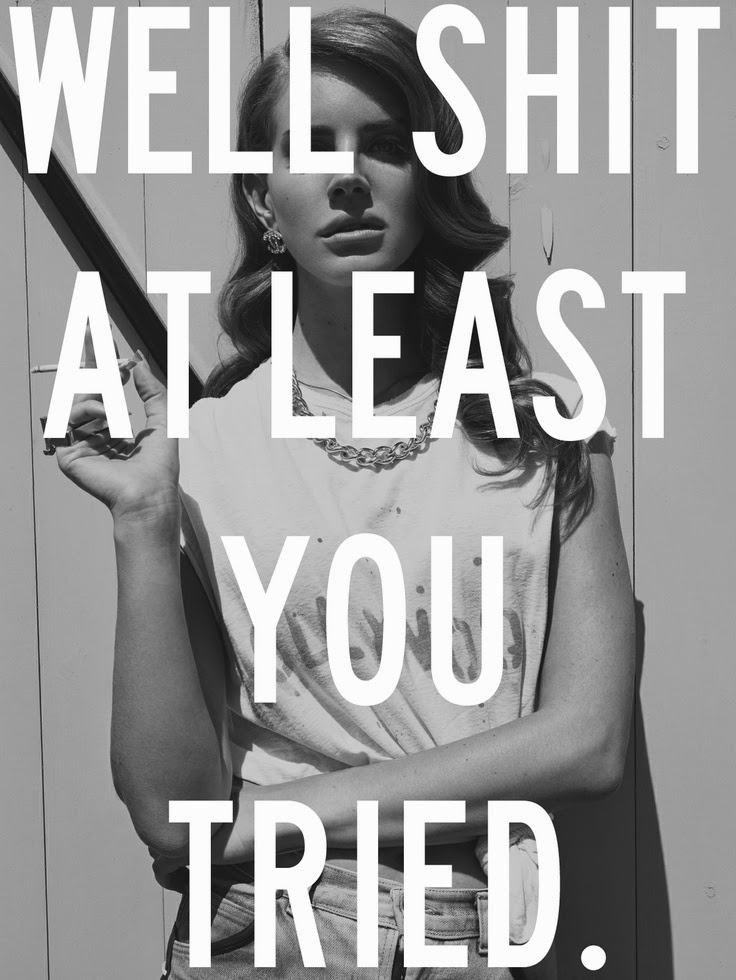 image source: http://craving-you.blogspot.ca/
I guess my 2013 can be summed up with the image above and the quote: "Well shit, at least you tried." And tried I did. I tried a lot, and I tried to do so many new things. I said "yes!" to new projects when I was afraid, and when all I wanted was to go the safe route and answer "no." I am really proud of myself for that. It's not easy to say yes when you are scared.


Of course, not everything could go according to plan, and not all of my efforts were rewarded. Actually, a few of my projects crumbled in a teary pile of dust at my feet, but let's not dwell. I lay in that pile of dust for a good long while (in other words, I vegetated on my couch for days and days, watching every available episode of Vampire Diaries and Gossip Girl—yes, I realize that's hundreds and hundreds of hours of television), and I cried it out. Now, folks, I really have to move on. I somehow manage to laugh instead of punching people in the face when they exclaim that 2013 was an amazing year: ummm, no.
Suivant, next!


I have no idea what 2014 will bring. I choose to not look forward because I don't want to be disappointed, again, so I will live in the moment. I will take what comes, and I will adapt accordingly. I am not setting goals for 2014, and there will be no resolutions. Can you blame me?
I guess the most important thing is that I keep trying and, when I stumble—because let's be honest: I will stumble again, and again, that's for sure—to get up off the floor, and try again. Oh, and maybe to read more books in 2014. That's always a good goal.


Now that we've gotten that whole New Year's thing out of the way, let's focus on this granita. This is super easy to make. And, if you are panicking to find a last minute New Year's dessert that tastes and looks nothing like a last minute New Year's dessert, then this is it! It's elegant if you serve it in pretty goblets, and it takes 5 minutes to make the raspberry syrup base. Then, you just cool the syrup, mix with champagne and freeze it for an hour before stirring. The hardest part after that is remembering to set the timer every 30 minutes to stir.
Serve it with leftover Christmas cookies or some simple shortbread.


Here's hoping that 2014 will be a little kinder to some of us, and if it's not, well, at least you can always drown your sorrows in buckets of champagne granita.
Recipe adapted from Williams Sonoma.
Rose champagne granita recipe
Raspberry champagne granita
Granita is very easy. For this champagne granita, you need to make a raspberry syrup base. Then, you just cool the syrup, mix with champagne and freeze it for an hour before stirring and scraping.
Ingredients
375

grams

water

1 ½ cups

100

grams

granulated sugar

½ cup

20

frozen raspberries

or strawberries or blackberries

1

bottle

chilled champagne or prosecco

1

tbsp

fresh lemon juice
Instructions
In a small saucepan, mix the water, sugar, and raspberries. Heat on high, mashing the raspberries so that they infuse the syrup. Bring the mixture to a boil, then take it off the heat and strain it into a large heatproof bowl. Chill for 1 hour or until completely cooled.

Combine the raspberry syrup (all of it) with the bubbly and lemon juice. Transfer to a 9×13″ Pyrex and freeze for 1 hour.

Stir the slushy granita base with a fork, scraping down the sides and mashing any big clumps of ice. Put the pan back in the freezer, stirring it every 30 minutes.

Continue stirring and freezing for about 2 hours or until you have what looks like shaved ice. Keep the granita frozen until you are ready to serve
Nutrition