Learn how to make strawberry rhubarb jam with this easy recipe. Combine fresh rhubarb and strawberries to make this easy jam with the perfect set without pectin following the tips and tricks!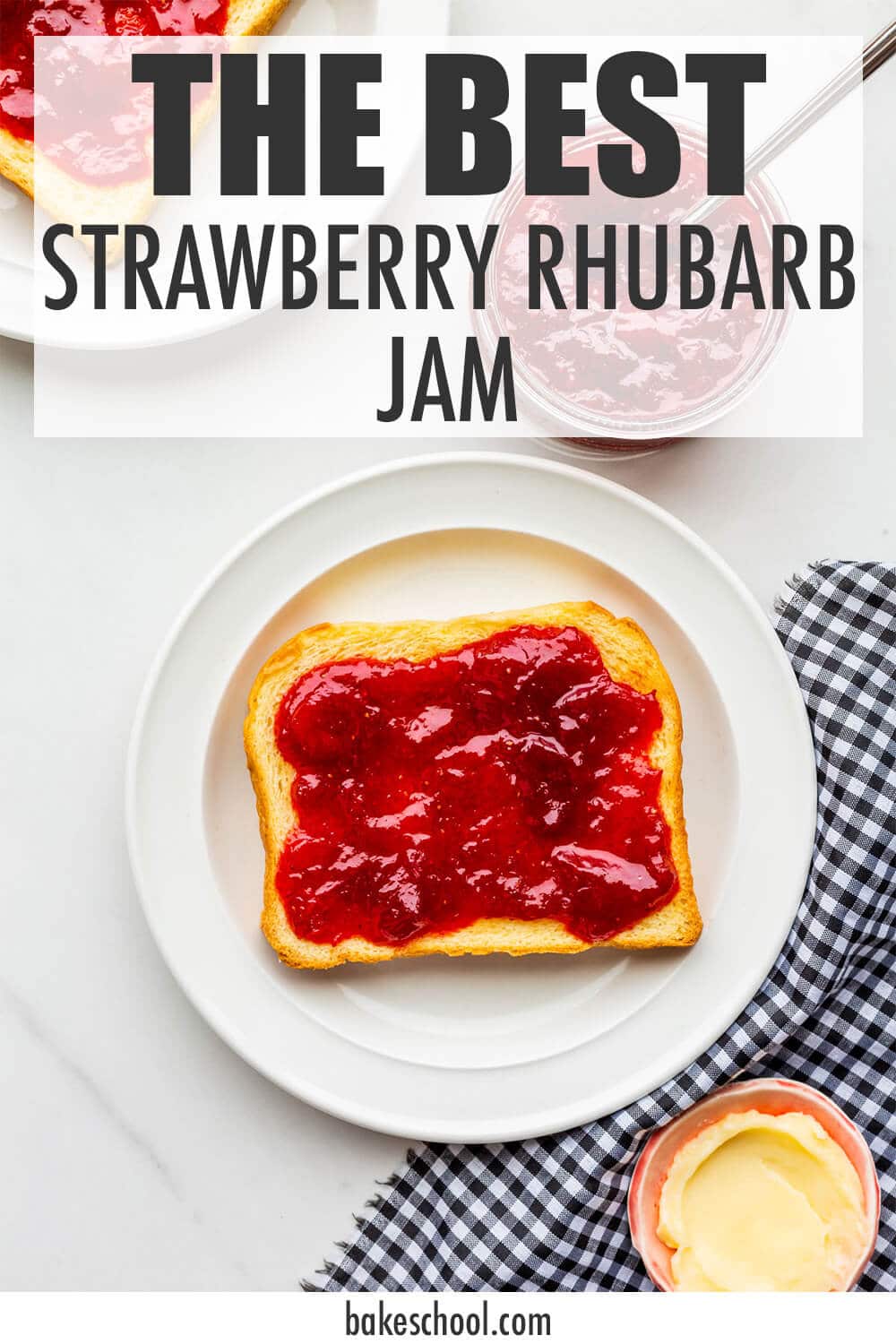 Disclosure: As an Amazon Associate, I earn from qualifying purchases.
The classic combination of strawberry and rhubarb is ever-present in the late months of spring and early summer. Sure, you can bake them into recipes. Make these strawberry rhubarb muffins or these strawberry rhubarb crumbles and you will not be disappointed. But you should also turn them into homemade jam so you can enjoy them together year round!
Before you dive into making this recipe, please read all about the jam setting point so you know all the tricks to determining if your jam will set.
Jump to: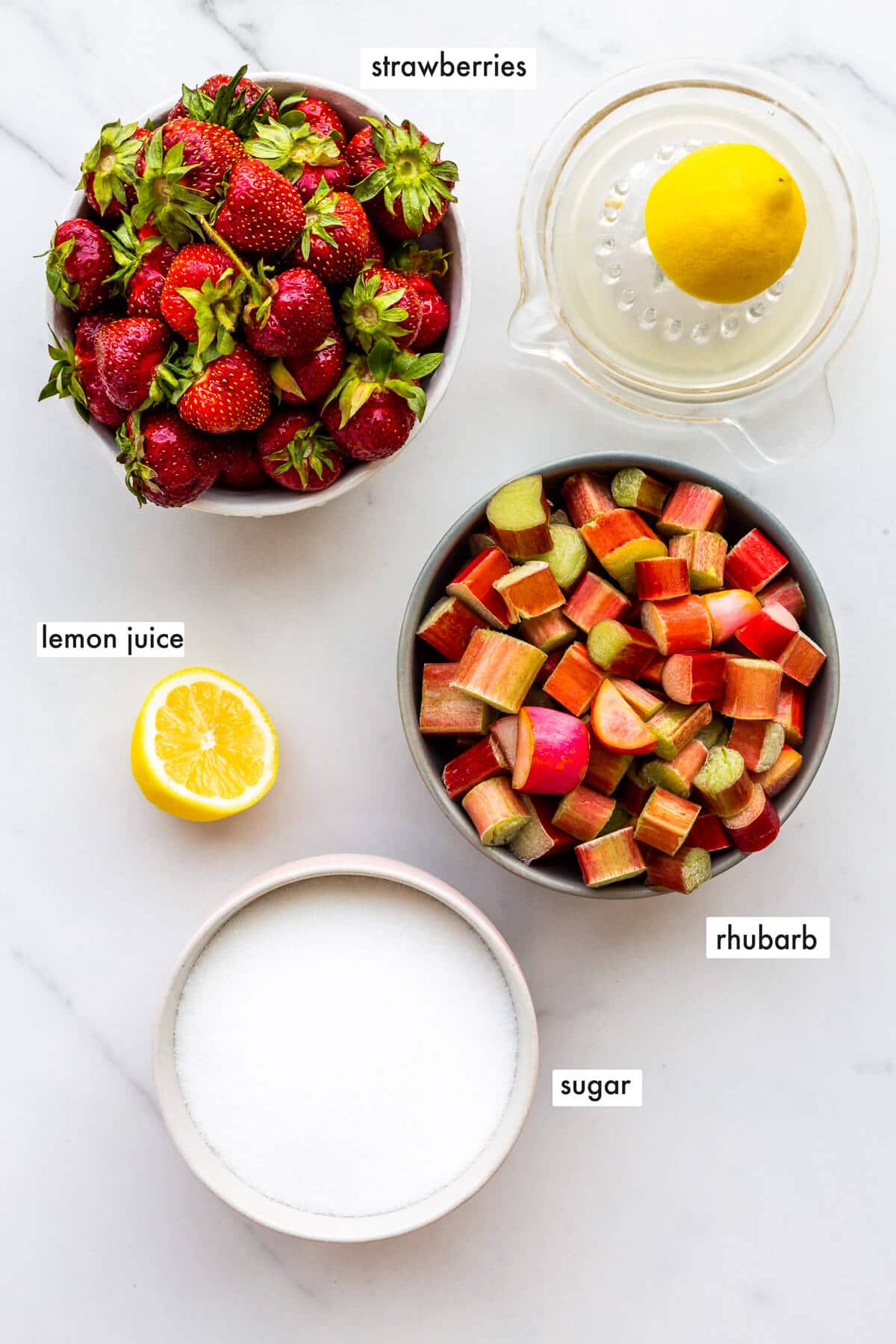 Ingredients
You only need a short list of ingredients to make strawberry rhubarb jam, and they are very simple and easy to come by:
strawberries—use a combination of ripe and slightly under-ripe fruit (like 75 % ripe and the rest under-ripe) so that you have enough pectin from the fruit to achieve the perfect set
rhubarb—remove the leaves and discard them, and wash and trim the rest
sugar—I use regular white granulated sugar, though evaporated cane sugar can also work. Don't use a coarse sugar and avoid sugars with too much flavour, like muscovado, unless this is the flavour you are going for
lemon juice—to make sure the pH of your jam is below 4.5, acidic enough that botulism won't be an issue
See recipe card for quantities. If you want to explore other flavours with this base recipe, visit the sections below on variations and substitutions.
For the weight of fruit in this recipe, make sure to weigh what you have left after doing all the washing and trimming. You want the weight of fruit that is going into the pot, not the weight of strawberry and rhubarb with the tops and leaves.
Instructions
Before making jam, make sure to wash your fruit carefully. Trim and discard any leaves or damaged parts. Weigh the prepared fruit and use that weight to determine how much sugar you need to use.
The rule of thumb for most jams is to use two parts fruit for one part sugar, by weight, so if you have 1 kilogram of washed and trimmed fruit, use 500 grams of sugar.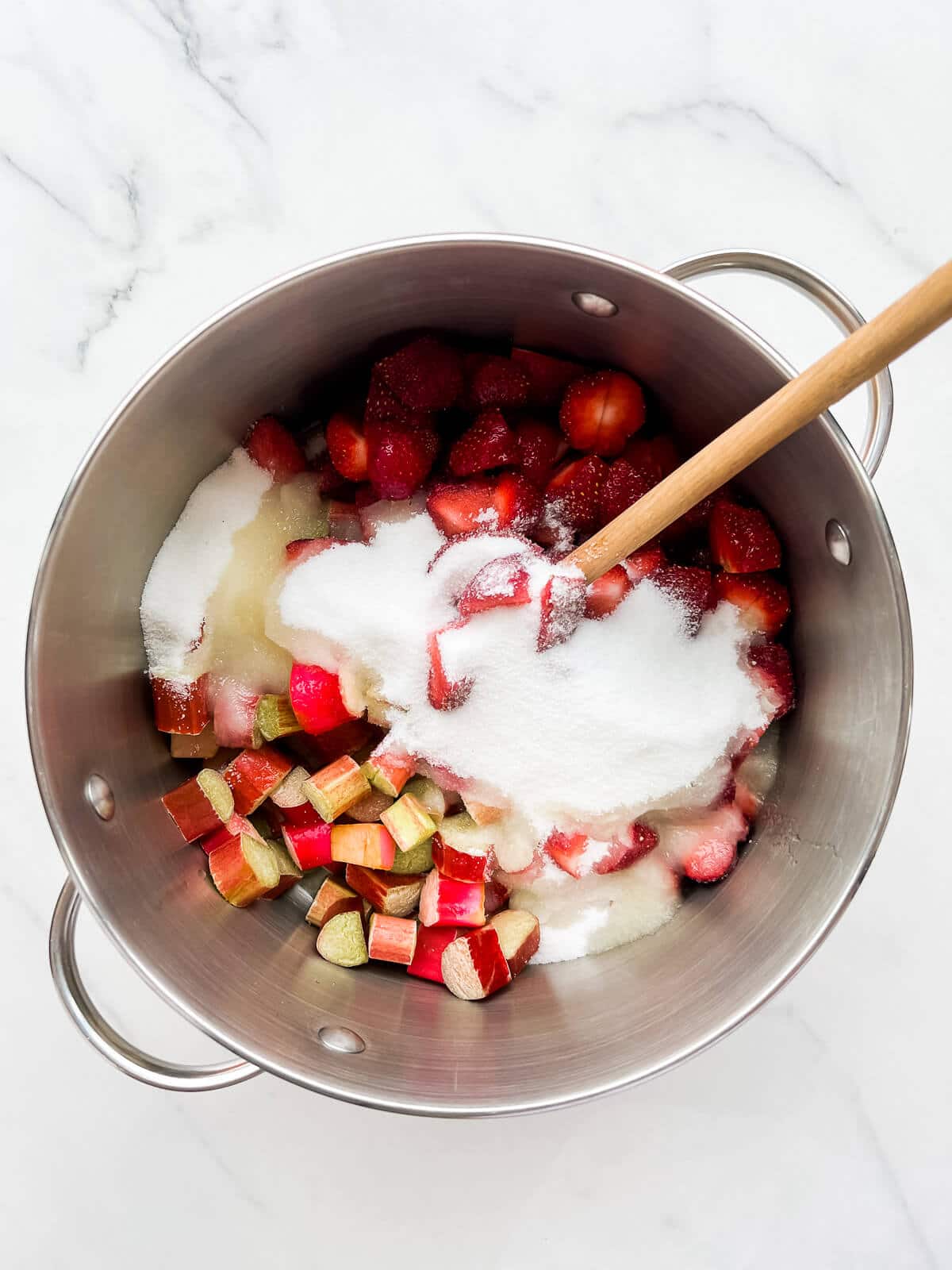 Combine the fruit, sugar, and lemon juice in a big pot. Stir it well to evenly distribute the sugar.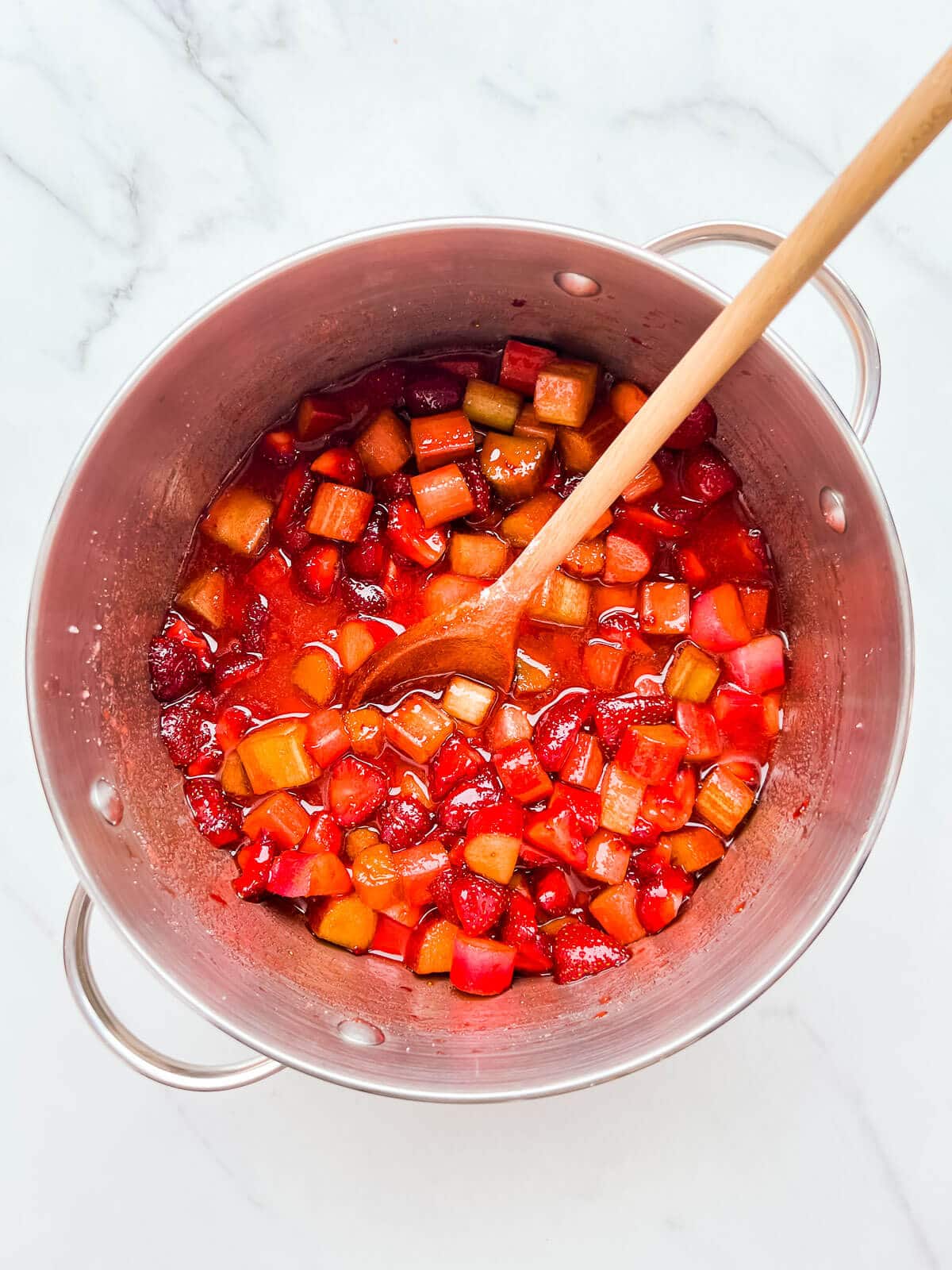 Let the fruit macerate for 30 minutes until syrupy. The sugar will have dissolved.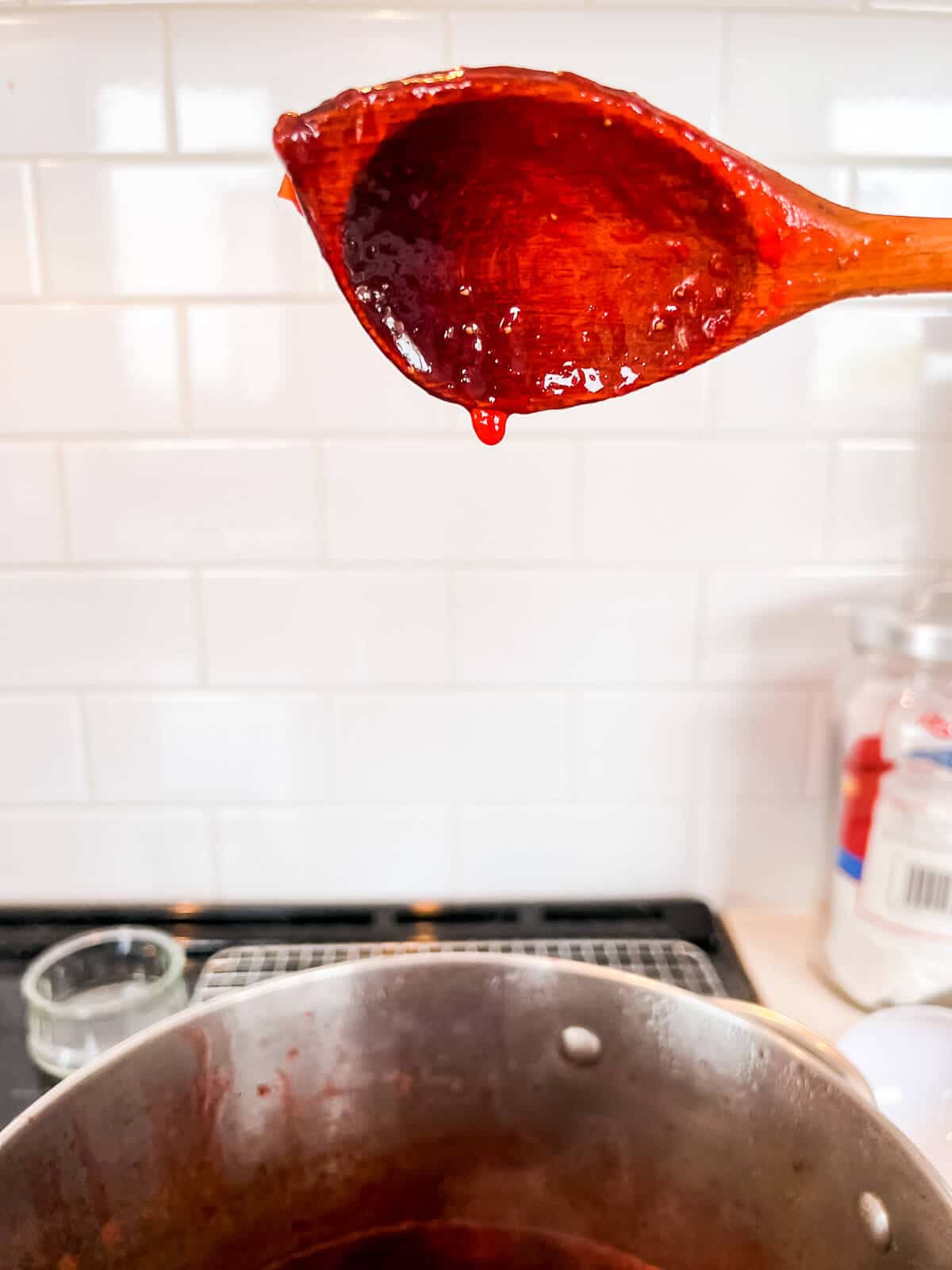 Cook the jam on the stove until you reach the jam setting point. Double check the set with a freezer plate test and check if it sheets off of a spatula or spoon.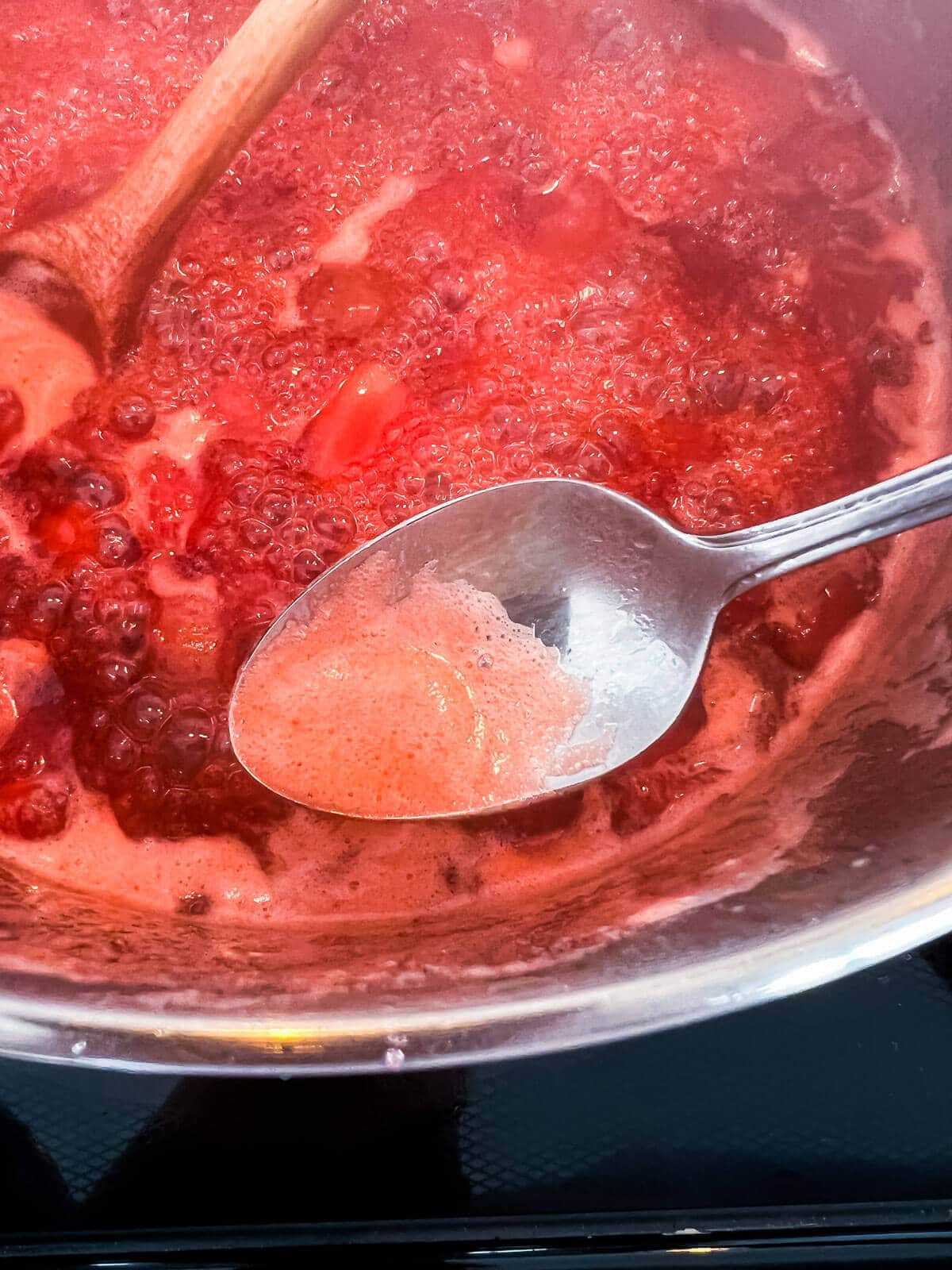 Skim foam off the surface of the jam before transferring to jars if the foam doesn't disappear by itself.
Hint: Use two or three techniques to check the jam set. I like my jams to be thick and so I tend to boil them longer sometimes, but you may like to boil a little less for a looser texture. Always make sure to boil above 217 °F to make sure the jam will gel nicely.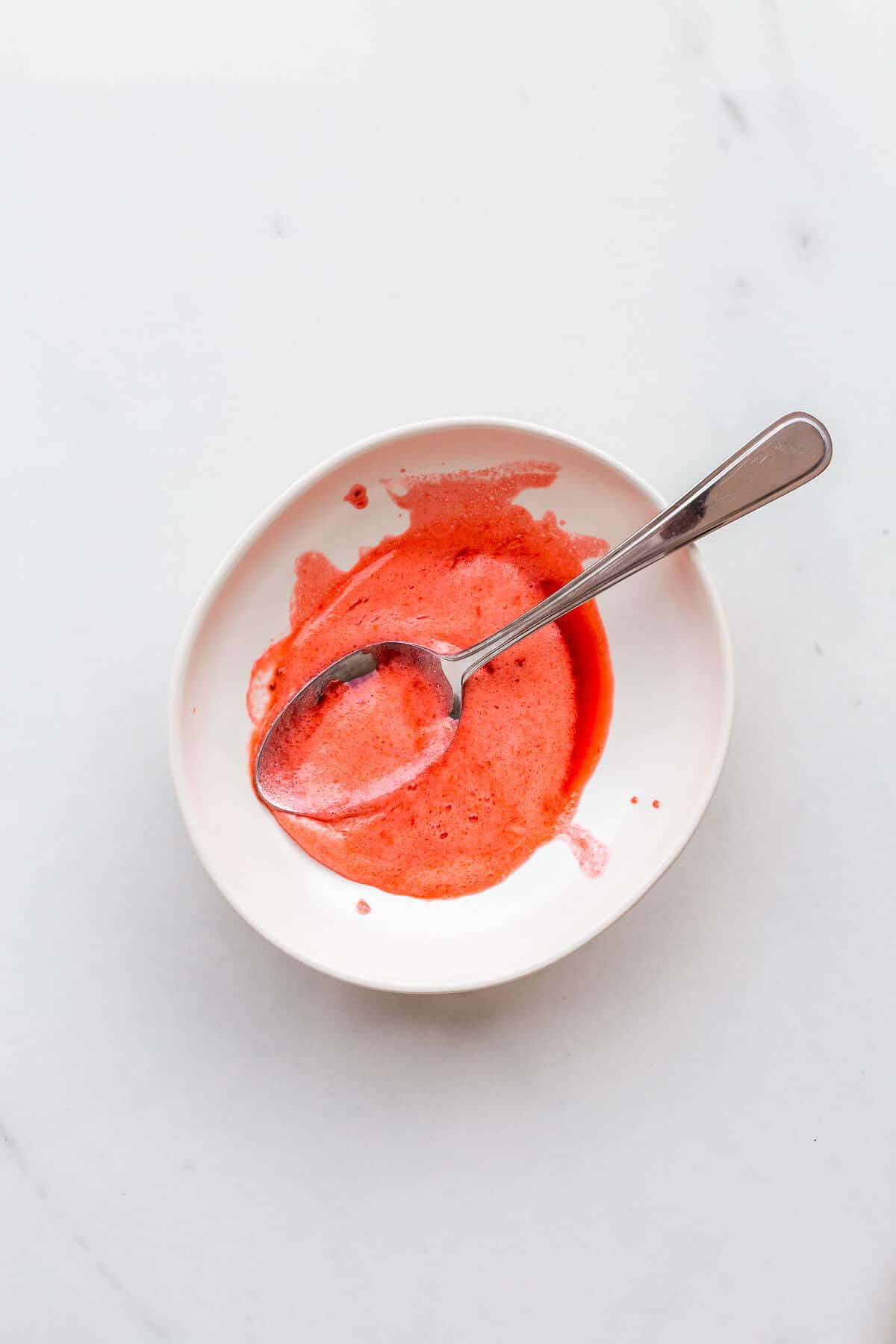 Foam on surface of strawberry jam
With certain berries and fruits (strawberries, notably), you will notice as the fruit and sugar boil, a stable foam forms on the surface of the jam, and it doesn't always go away.
The foam is air bubbles. It's harmless, but it doesn't look great. To remove the foam:
Skim the foam by pushing it to the edges of the pot
Use a long handled spoon to carefully scoop it off the surface
Transfer the foam to a bowl
Repeat the process to remove as much of the foam as possible
Follow these steps and you will have a clearer jam in the end.
For some jams, like rhubarb, blueberry, and apricot jams, the foam disappears on its own as the jam boils. It seems to depend on the type of fruit.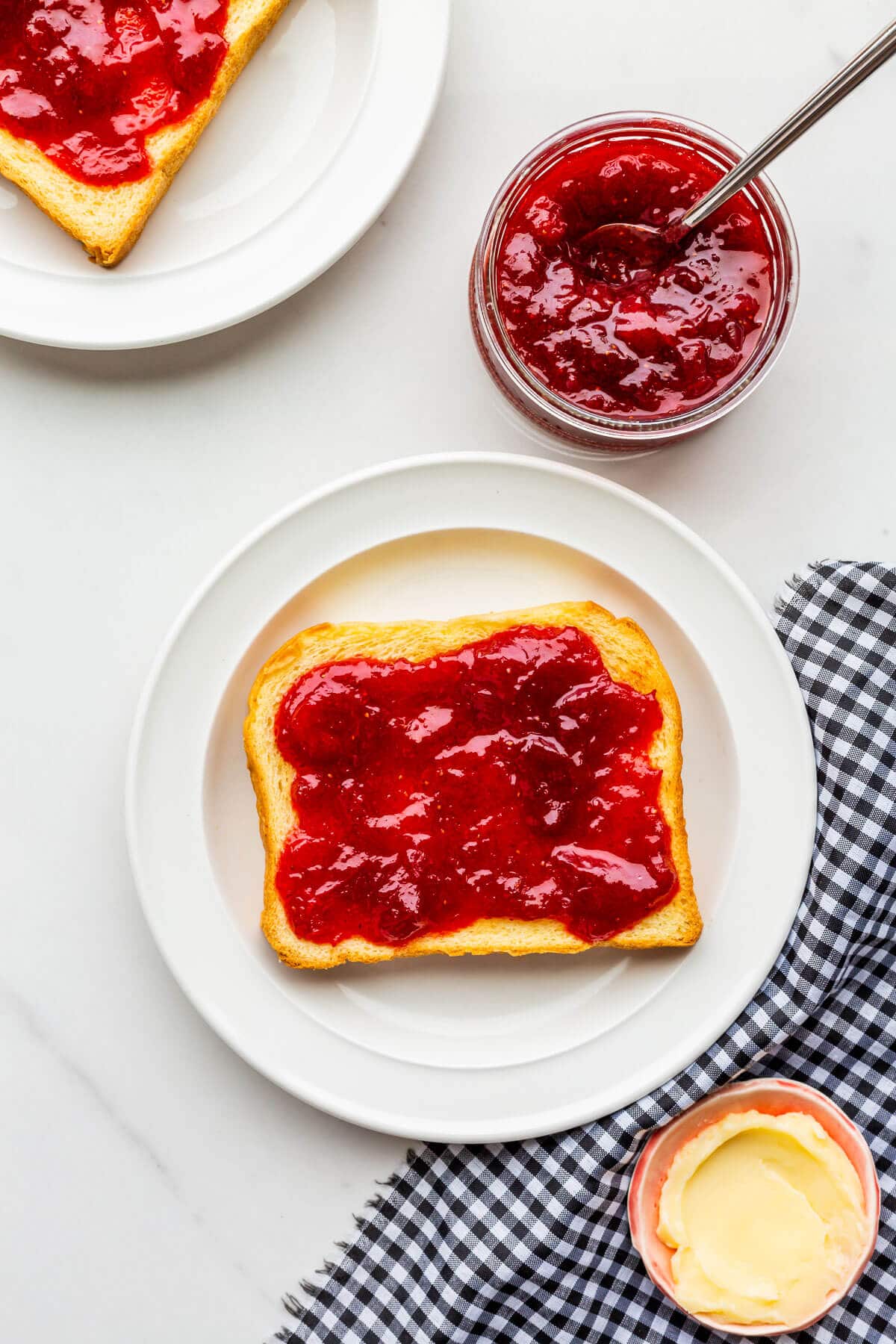 Substitutions
Substitutions are few because of the short list of ingredients:
Sugar: you can replace regular granulated sugar with cane sugar. You could replace a portion of the sugar with honey. Just remember that honey and other sugar sources will impart a strong flavour that may distract from the taste of the berries.
Fresh fruit: you can replace the fresh strawberries and fresh rhubarb with the same weight of frozen fruit. Weigh them before thawing them, then mix them with sugar and let them thaw.
Lemon juice: you can use fresh or bottled, though I prefer the taste of fresh lemon juice
Strawberry rhubarb jam flavour variations
If you want to jazz up plain strawberry jam with rhubarb, try these variations:
Vanilla—add half of a vanilla bean (or even a full) to the pot to infuse the jam with vanilla flavour
Juniper berry—add a couple of teaspoons of crushed juniper berries to give this jam an herbal hit (I did this with rhubarb jam and it was really good!)
Anise or cinnamon—add a few teaspoons of crushed anise seeds or a cinnamon stick and it will completely transform this jam, in a good way.
I encourage you to explore flavour pairings with this jam. As long as you don't make any changes that have an impact on the ratio of fruit to sugar, you can try anything, really!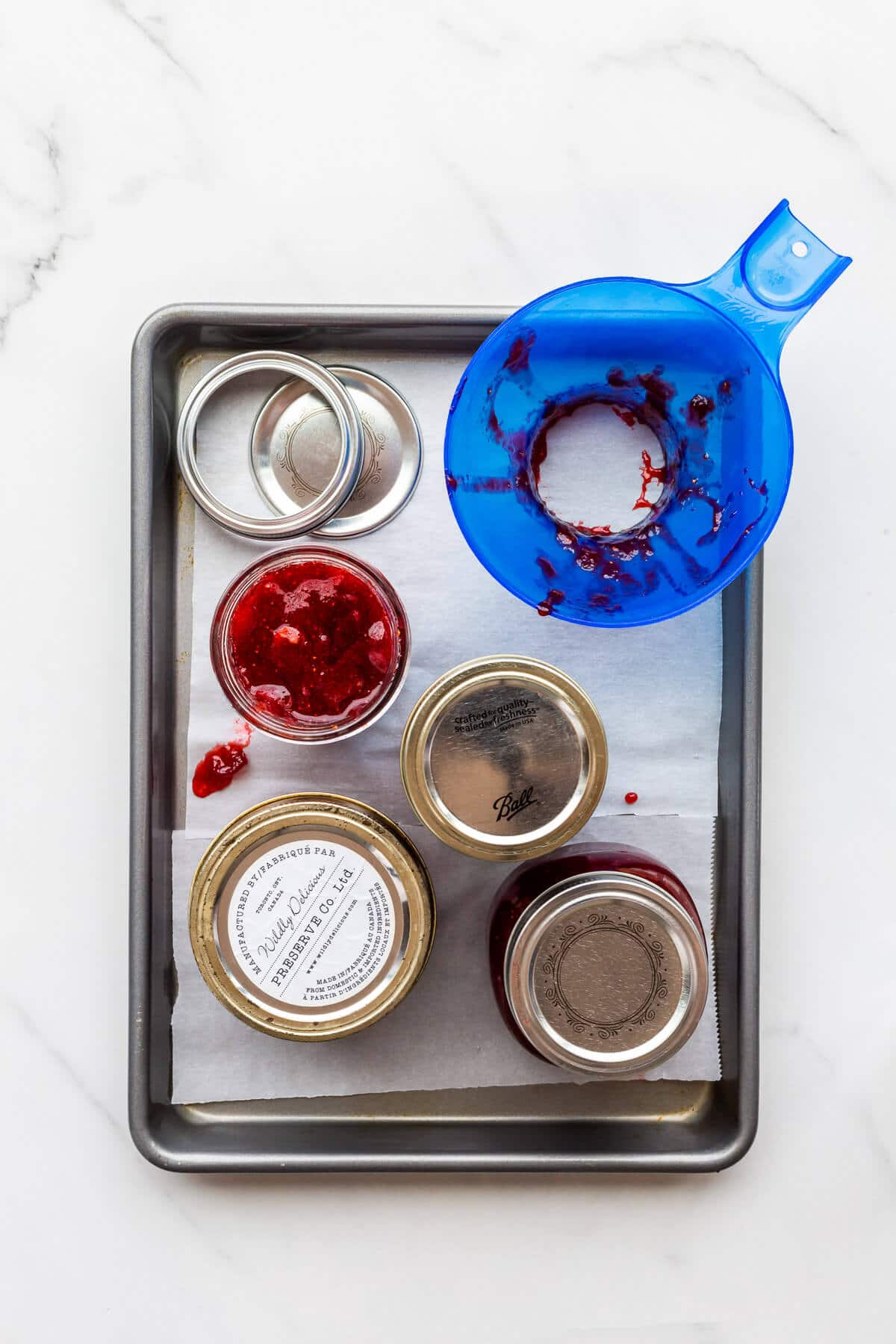 Equipment
To make homemade jam, you don't need much! Here's a rundown of the tools you need to make this jam and other preserves:
If you choose to process the jars to seal them, you will need a canning kit. A typical canning kit comes with a jar lifter, a helpful tool to measure headspace and remove air bubbles, among others. You can actually skip the step of boiling the closed jars to seal them and instead, invert the closed jars of hot jam and let them stand upside down for 2 minutes before flipping right side up. This will create a vacuum and seal the jars too.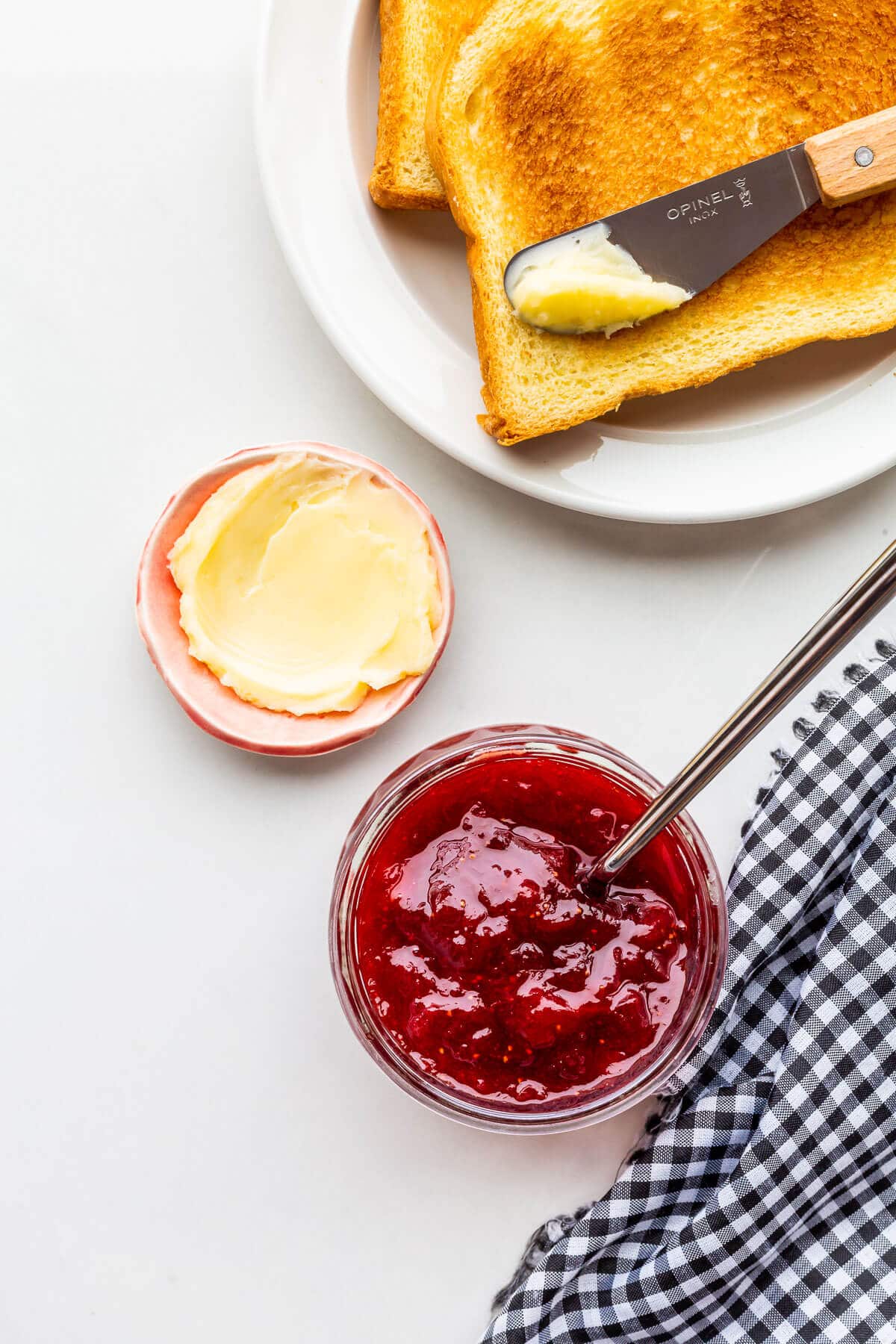 Storage and food safety
If you have gone through the process of sealing the jars properly, then you should be able to store this jam for a year in a cool, dry, dark place. After this time, you will notice the jam loses its bright, vibrant colour. It will still be good enough to eat, but it won't be the same.
Note that if you don't seal the jars properly, or if you have a doubt, just keep the jars in the fridge.
When it's time to use your jam, always use a clean spoon or knife to take out a serving and don't double dip into the jar of jam because you will contaminate it. Once the jar is open, you must store it in the refrigerator. Otherwise, mold may develop.
After the jar of jam is open, you must store it in the refrigerator and according to most professional canners, an open jar of jam will last up to one month if stored in the refrigerator.
One common misconception is that you can reboil a jar of jam that has developed mold. I would not recommend this. I also would not recommend removing the layer of mold from the top and eating what's below. The mold you see is a fraction of what exists below and it's better to be safe: toss the contents of jar, wash and sterilize the jar, and reuse it to make a fresh batch of jam.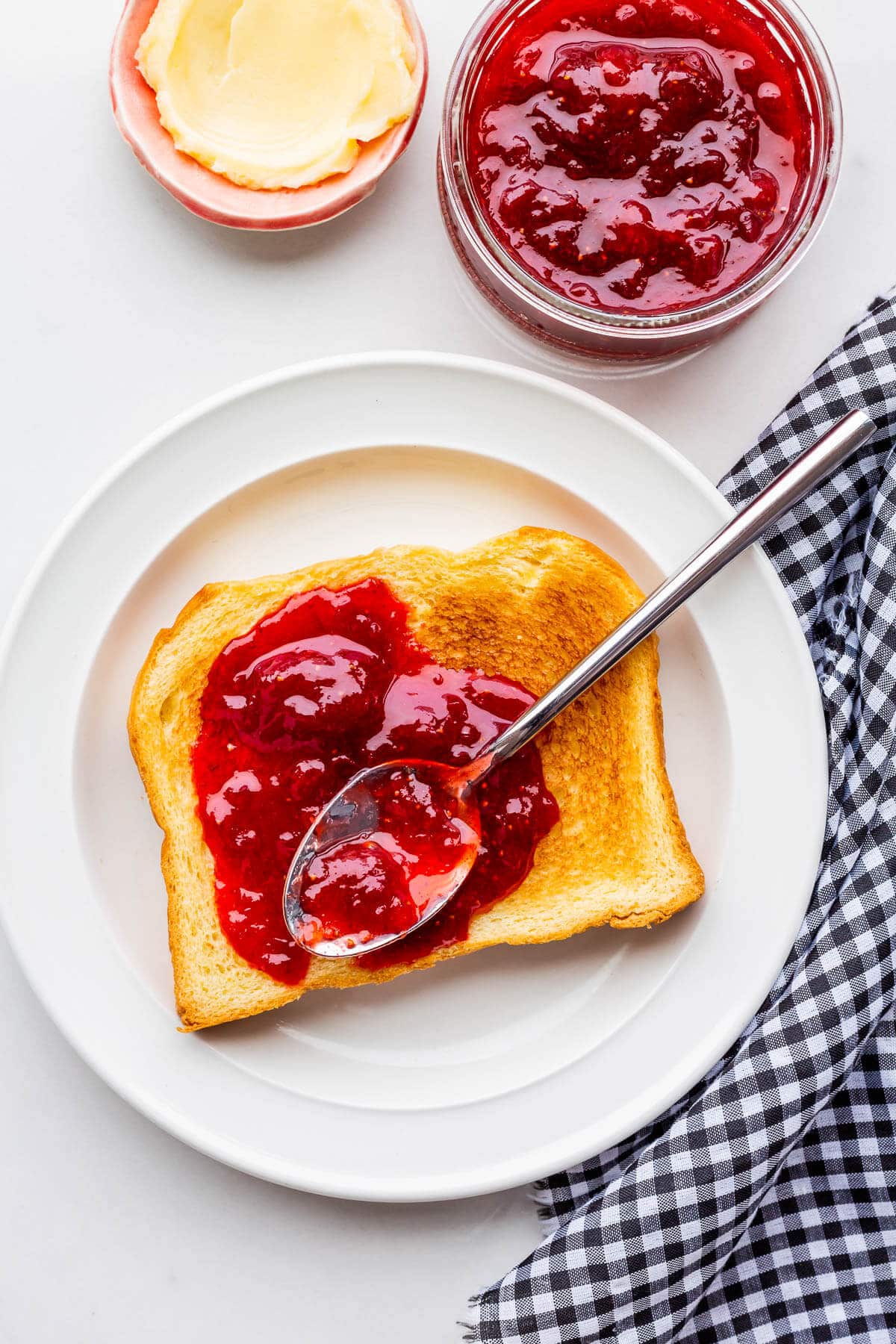 Top tip
To sterilize your jars, start with clean, washed jars. Place them on a rimmed sheet pan and bake them in the oven, set to 250 °F for at least 30 minutes. I put my jars in the oven just before I start making jam, this way they are ready when I need them.
It used to be a common practice to boil the jar tops (with the rubber seal) on the stove for 10 minutes in a water batch, but I don't do that anymore.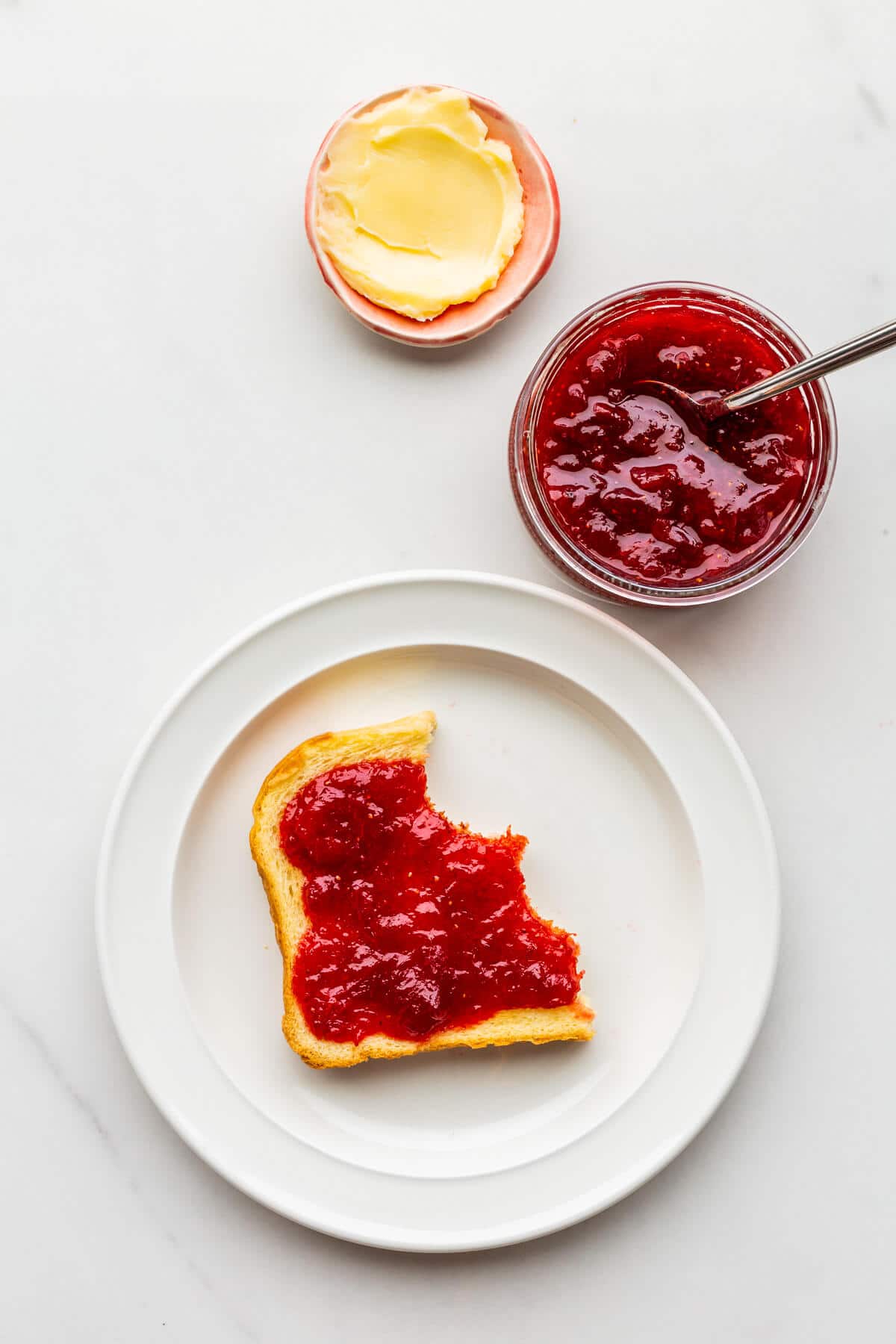 What to make with strawberry rhubarb jam
When you start making jam at home, you will inevitably wind up with many jars of it. It makes a great gift, but you should also keep some for yourself to enjoy and to bake with! Here are a few ideas of what you can bake with your batch of strawberry jam with rhubarb and what to serve with it:
📖 Recipe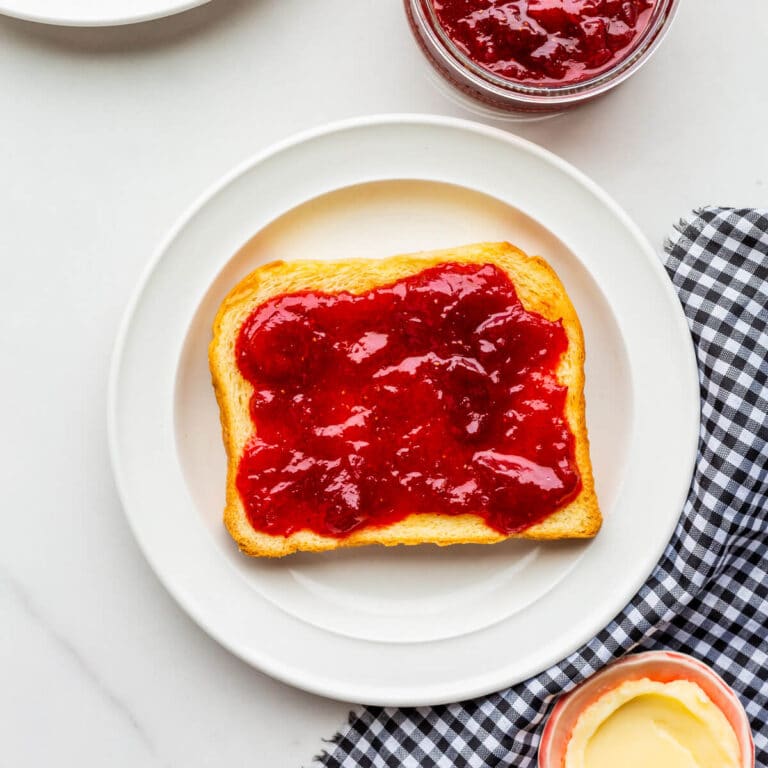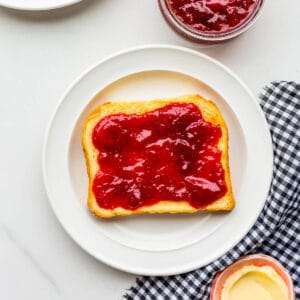 Strawberry Rhubarb Jam
Learn how to make the best strawberry rhubarb jam with this easy recipe. You can achieve the perfect set without adding pectin as long as you follow the ingredients quantities listed below and boil to the jam setting point.
Ingredients
500

grams

fresh strawberries

weigh after washing and hulling the berriies

500

grams

fresh rhubarb

weigh after washing, trimming, and removing leaves

500

grams

granulated sugar

45

mL

fresh lemon juice
Instructions
Sterilize jars in the oven at 250 °F while you make this recipe. Store the jars in the oven. Have the lids on hand and ready. See notes below for details..

Chop the berries in half or quarter if they are large. Slice the rhubarb into 1 inch pieces (more or less).

Mix the berries and rhubarb with the sugar, lemon juice, and the split vanilla bean (if using) in a big pot.

Cover the mixture and let the fruit macerate at room temperature for 30 minutes, stirring every 10 minutes with a wooden spoon to help the sugar dissolve.

Place the pot on the stove, uncovered and bring the mixture to a boil, stirring occasionally. If you notice that a stable foam forms on the surface of the jam as it boils, you can skim it off the top with a spoon to remove it. This way your jam will be clear and free of too many air bubbles.

When the jam comes to a boil, continue cooking it until it hits the jam setting point, around 104 ºC (220 ºF). For a softer set, you may boil until the jam reaches 103 °F (217–218 °F).

Remove from the heat. Let the pot of jam stand 5 minutes off the heat to cool slightly and thicken, then stir to distribute and suspend the fruit more evenly.

Divide the jam among the jars, leaving a ¼ inch headspace. Remove air bubbles, wipe the rims clean, then cover with the lids, fingertight. If any of the jars aren't filled full, don't seal them. Instead you can cover them and enjoy them right away, storing in the fridge.

Seal the closed jars according to the manufacturers recommendations, by inverting the hot jars for 2 minutes before placing upright or use a water bath canning kit to seal the jars.

Let sit 24 hours undisturbed before storing them in the pantry.
Notes
This recipe makes 4–5 jars (of 250 mL (1 cup) each)
To sterilize your jars: wash them well with soap and water if they aren't clean or are new, then place on a sheet pan in the oven, and heat them at 250 °F for at least 30 minutes. Leave them in the hot oven until you are ready to use them.
If you notice that a stable foam forms on the surface of the jam as it boils, you can skim it off the top with a spoon to remove it. This way your jam will be clear and free of too many air bubbles.
Nutrition
Calories:
29
kcal
Carbohydrates:
7
g
Protein:
1
g
Fat:
1
g
Saturated Fat:
1
g
Polyunsaturated Fat:
1
g
Monounsaturated Fat:
1
g
Sodium:
1
mg
Potassium:
30
mg
Fiber:
1
g
Sugar:
7
g
Vitamin A:
8
IU
Vitamin C:
5
mg
Calcium:
7
mg
Iron:
1
mg
Further reading on jams and jellies
Read up about the jam setting point. This article includes the different techniques for checking the set of jam.
On the subject of adding fat to jams and jellies to prevent foam, read about more from the USDA: https://nchfp.uga.edu/publications/usda/GUIDE07_HomeCan_rev0715.pdf
Recipe books on making preserves and jams: