Here's a recipe for rhubarb jam flavoured with juniper berries that bring a unique twist to this classic jam. This rhubarb jam recipe works well with frozen rhubarb too, if that's all you've got!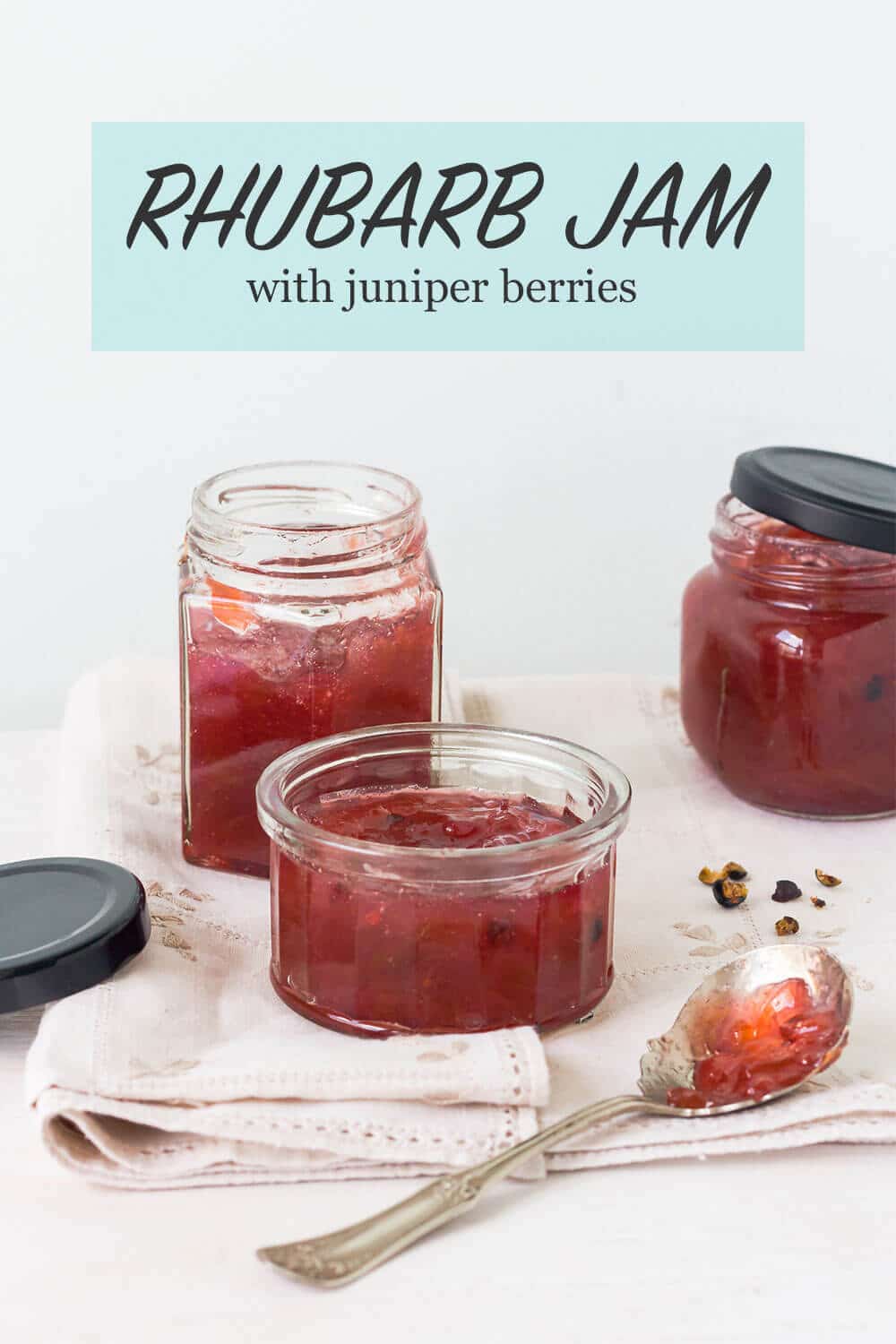 I spend a lot of time thinking up recipes, working and baking for this blog. But I hardly ever do that just for me. It's odd. The only time I really, selfishly make a recipe for me is when I make jam. I've made a fair bit of jam over the years, with different ingredients like apricot jam, jalapeño jam, spiced apple jam, plum jam with tea... Because I love jam and I wish jam were a food group so that I could better justify my jam consumption. I made this jam for me because I think rhubarb jam is the best, and in my head, rhubarb and juniper berries make sense together. So I just went for it because if there's one thing I deserve to give myself, if I can't always manage to make myself a home-cooked meal, it's jars and jars of sweet, homemade jam.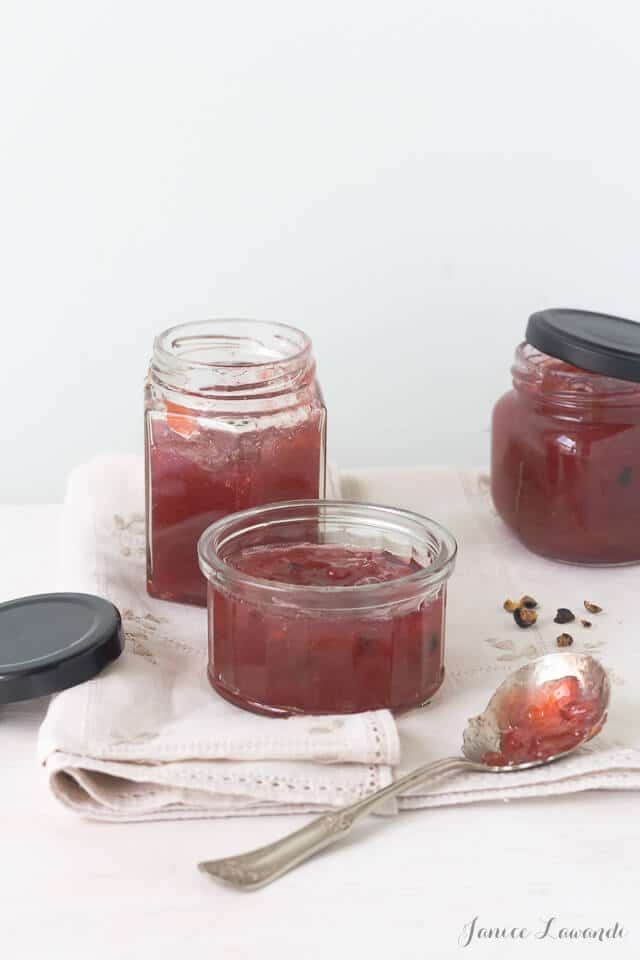 Rhubarb jam without pectin
Rhubarb is low in pectin, and pectin contributes to jam set. This doesn't mean that your rhubarb jam won't set if you make a batch of rhubarb jam without pectin. But the fact that rhubarb is low in pectin does mean that you must make sure to hit the jam setting point, temperature wise. I make sure that every batch of jam sets properly by using a thermometer to check the temperature as it cooks: this way I know I've hit the jam setting point, ensuring that it will set when it cools! For jams, I aim to boil the mixture above 215 ºF (102 ºC). The wrinkle test or frozen plate test is another method you can use to ensure jam set. After all, nobody wants runny, watery jam! This is one of the best rhubarb recipes on this blog.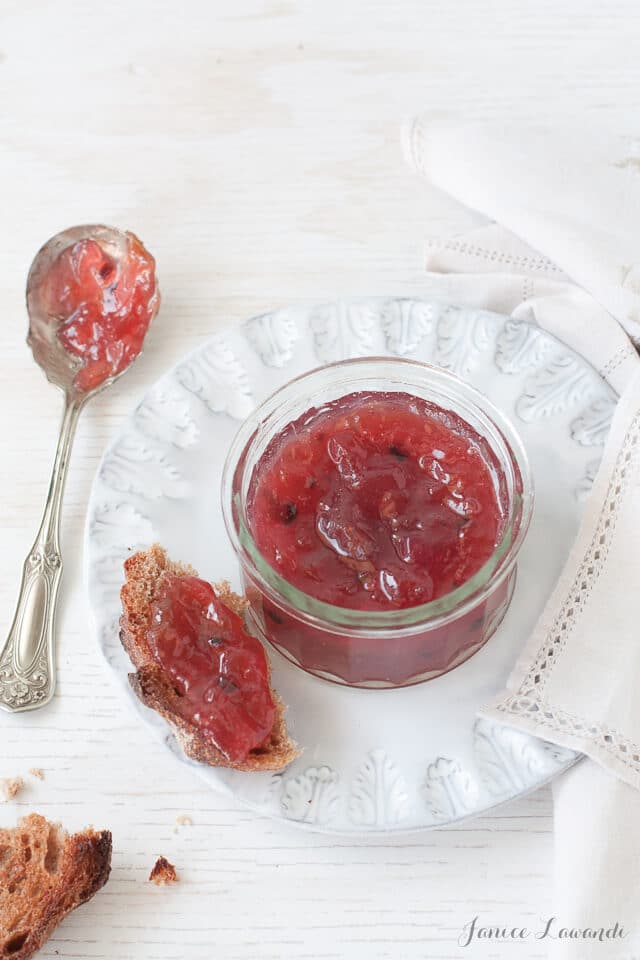 To measure the temperature of the jam as it cooks, I use a pink Thermapen which is very fast at registering temperatures and temperature changes. This is a handheld model, and the Thermoworks Dot probe thermometer with a cable would be better suited for making jam because you can use it hands-free!
If you are new to canning, make sure you have a big pot with a rack to set at the bottom to seal the jars. A home starter canning kit comes with everything you need, including the pot. You can buy them on Amazon!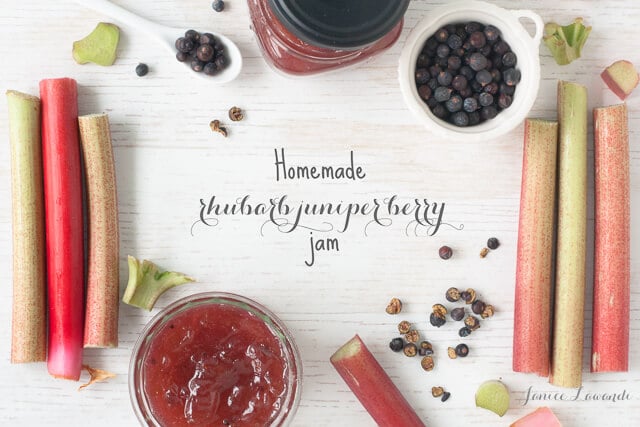 This small batch rhubarb jam recipe is made without pectin and features canning instructions so you can preserve rhubarb jam throughout the winter. The jam is flavoured with juniper berries, but you can omit them if you prefer! Make sure to serve these with these super cute mini rhubarb scones or the strawberry rhubarb muffins. Use leftover rhubarb jam to make this bostock, which is slices of brioche toast smeared in rhubarb jam and topped with frangipane !
Rhubarb jam (no pectin)
This easy rhubarb jam is flavoured with juniper berries for a beautiful way of preserving rhubarb without pectin (includes canning instructions). This way you can enjoy this rhubarb jam throughout the year.
Ingredients
900

grams

(

2

lb

)

fresh rhubarb

about 8 to 9 stalks, chopped

750

grams

(

3 ¾

cups

)

granulated sugar

1.5

teaspoon

(

1.5

teaspoon

)

dried juniper berries

roughly chopped
Instructions
Have 4- or 5-250 mL jars and lids sterilized before hand. Keep the jars in a low heat oven and the lids in a small saucepan of simmering water.

Combine all the ingredients in a large, deep pot. Cook the jam on medium–high to first dissolve the sugar and then boil.

Skim the jam to remove foam as needed with a metal spoon. The jam will bubble up high in the pot and then eventually settle again. Continue cooking the jam until it reaches about 220ºF (the jam setting point).

Divide the jam among the jars, leaving a ¼ inch headspace. Remove air bubbles, wipe the rims clean, then cover with the lids, fingertight. If any of the jars aren't filled full, don't seal them. Instead you can cover them and enjoy them right away, storing in the fridge.

Seal the closed jars according to the manufacturers recommendations. I used Bernardin jars and I boiled my jam jars for 10 minutes to seal them.

Let sit 24 hours undisturbed before storing them in the pantry.
Notes
I like to check the temperature of the jam as it cooks to ensure that jam reaches the jam setting temperature point so it sets properly in the end. A probe thermometer with a longer cable like the Thermoworks Dot would be great for this purpose!
If you are looking for an awesome cookbook dedicated to homemade preserves, the Preservation Society book on preserves is my favourite and  it's available on Amazon.
Nutrition
Reader Interactions