Learn how to make a small batch of rhubarb jam without pectin with this easy recipe. You can infuse the jam with juniper berries that bring a unique twist to this classic jam, or classic vanilla beans will also work beautifully here. You can even use frozen rhubarb to make this, if that's all you've got!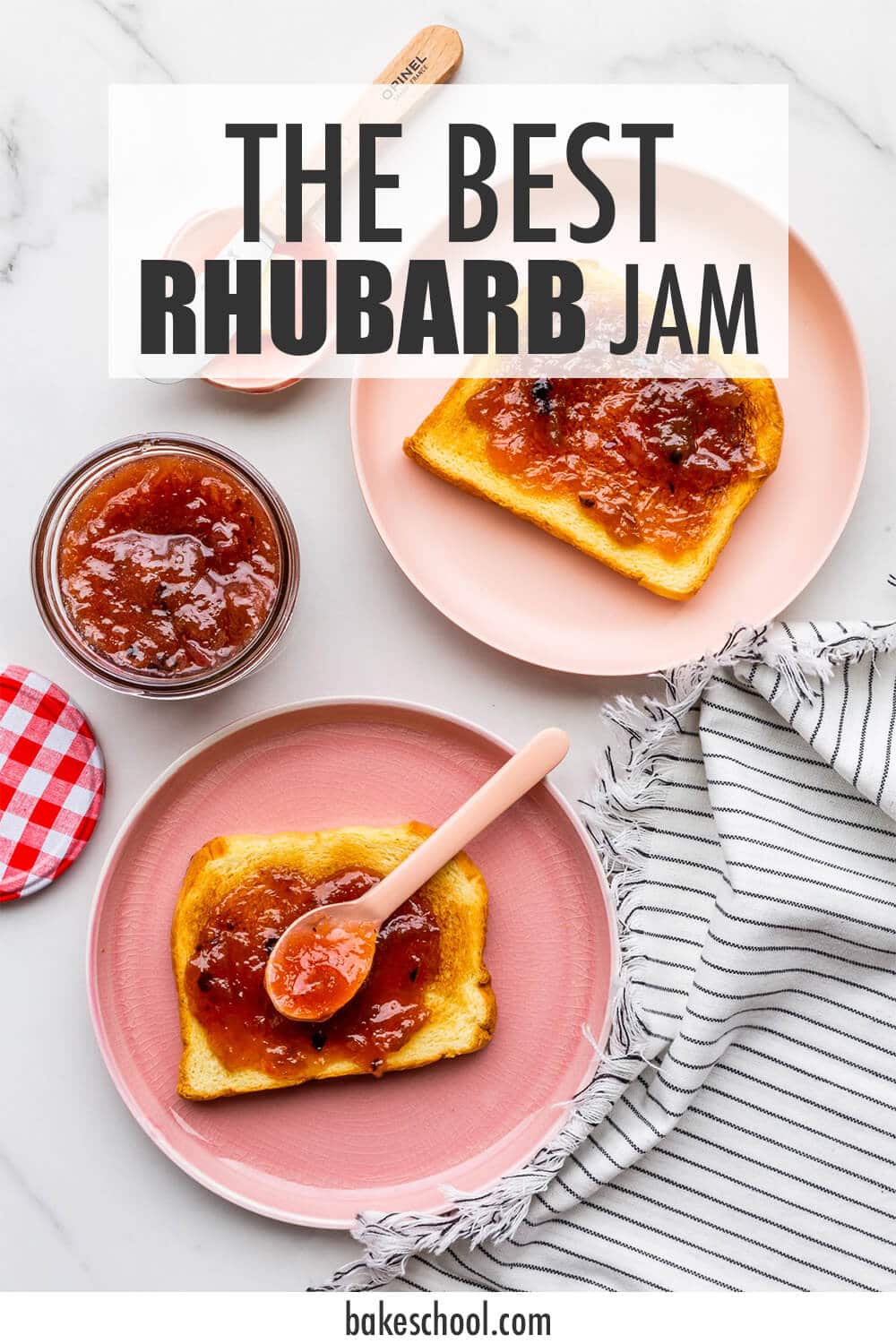 Disclosure: As an Amazon Associate, I earn from qualifying purchases.
I like to dedicate the late spring and summer months to preserving the season, making small batches of jam whenever I have the chance. In the late spring, I usually make honey apricot jam and this rhubarb jam, whereas later in the summer, I focus on blueberry jam, strawberry and red currant jam, plum jam, and even jalapeño jam.
Jump to: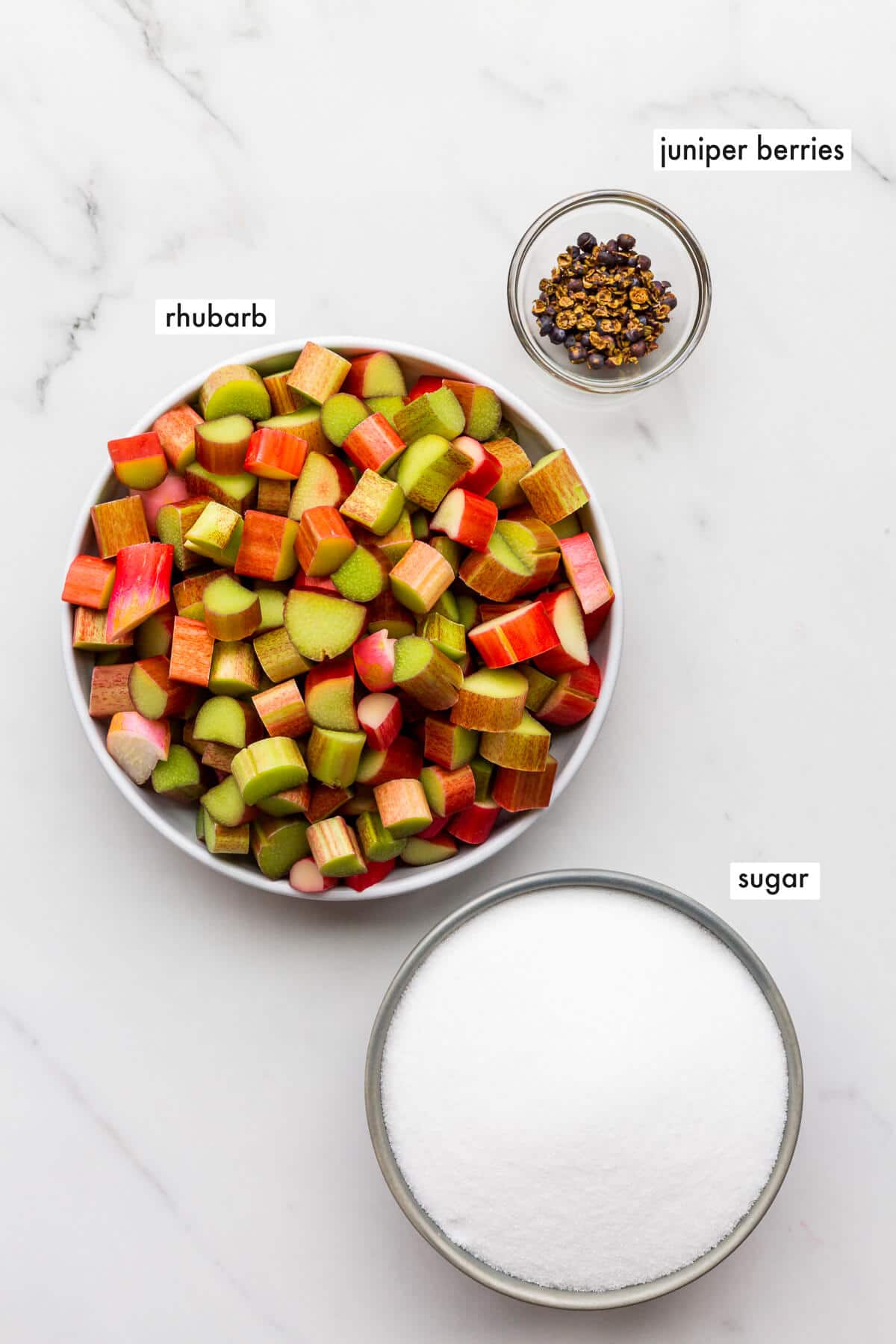 Ingredients you need to make this small batch jam
The beauty of making jam at home is that all you need are two ingredients: fruit and sugar:
Use either fresh or frozen rhubarb, chopped into 1–2 inch pieces.
Use granulated sugar for the cleanest rhubarb flavour. Brown sugar, honey, or maple syrup would alter the flavour quite a bit and I don't recommend using them.
Add a vanilla bean, sliced open so that the seeds infuse the jam OR add some crushed juniper berries, which is what I did this time.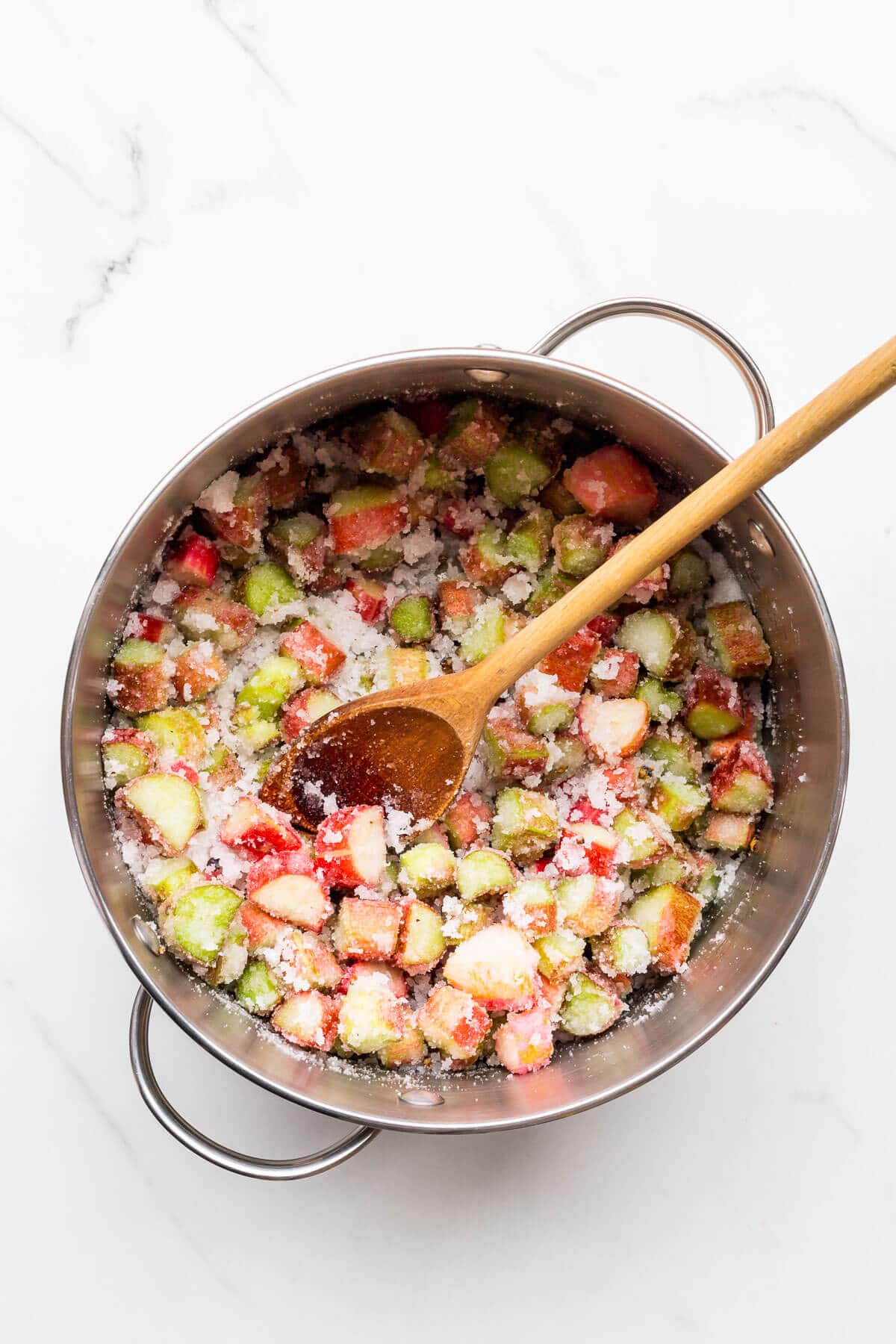 The set of pectin is pH dependent as is the ability to preserve and store jam. Some recipes will call for lemon juice, but I don't think it's necessary given the acidity of rhubarb. Before you dive into making this recipe, please read all about the jam setting point so you know all the tricks to determining if your jam will set.
Variations
You can replace half the weight of rhubarb with the same weight of strawberries to make strawberry rhubarb jam. Follow the same directions. If your strawberries are sweet or if you prefer your jams to be less sweet, you may drop the amount of sugar to 500 grams (1 pound), which is half the weight of fruit in this recipe. Do not reduce the sugar more than this. Otherwise, you will reduce the shelf life of the jam and also the set may be looser.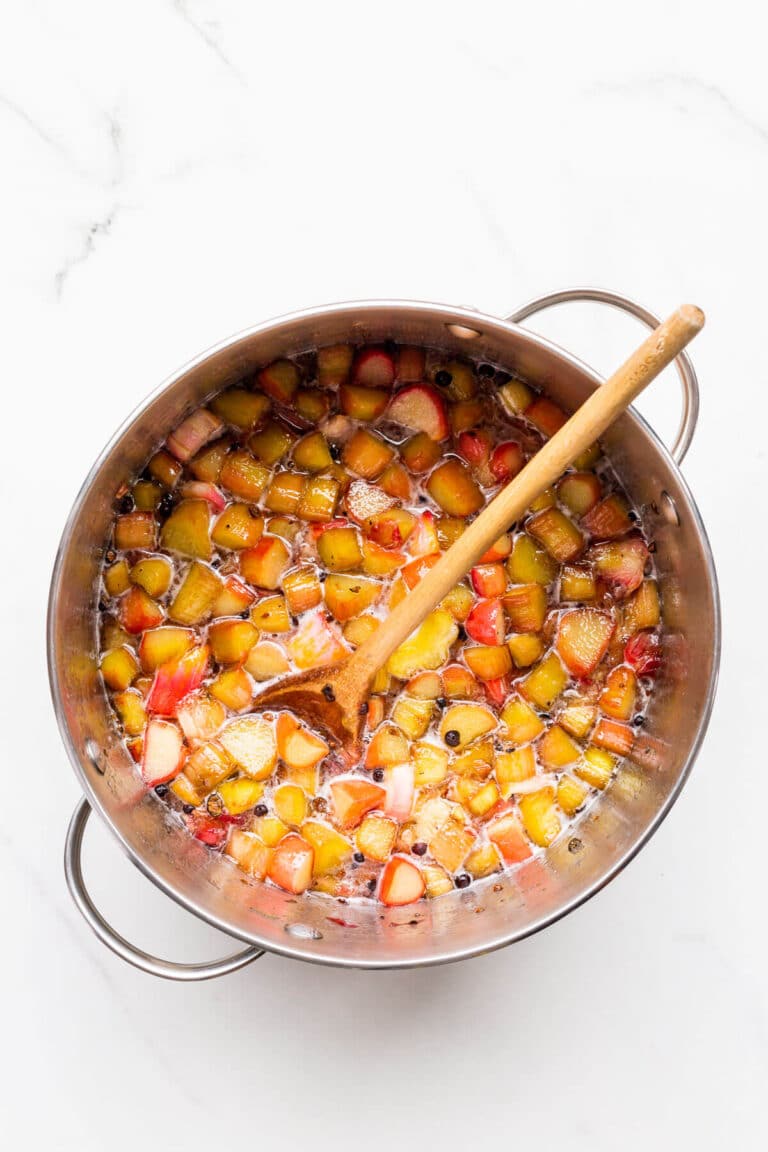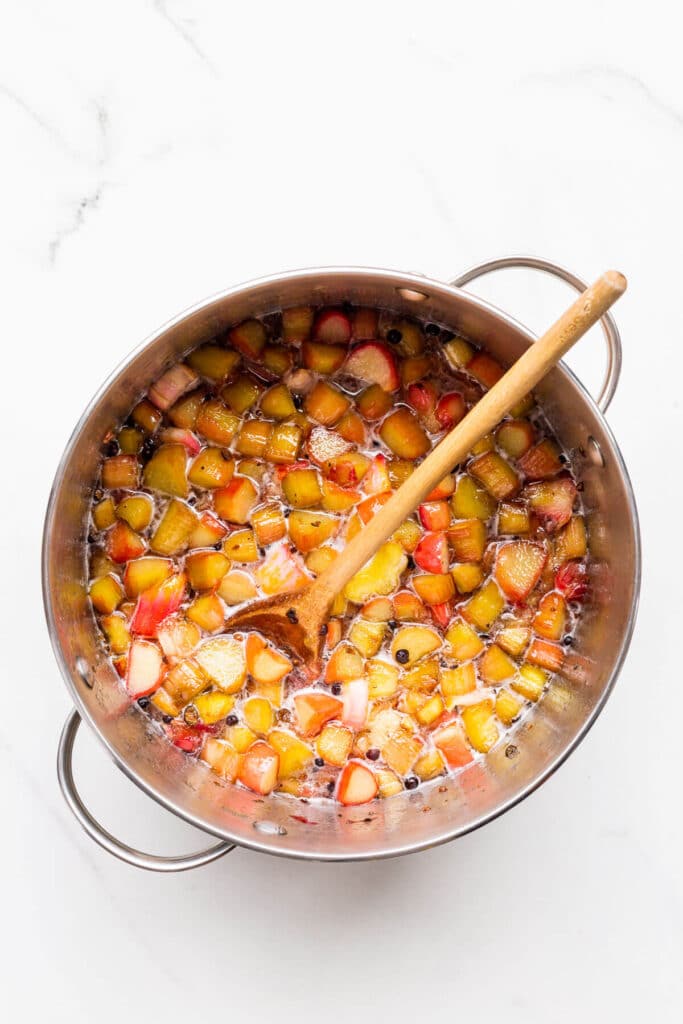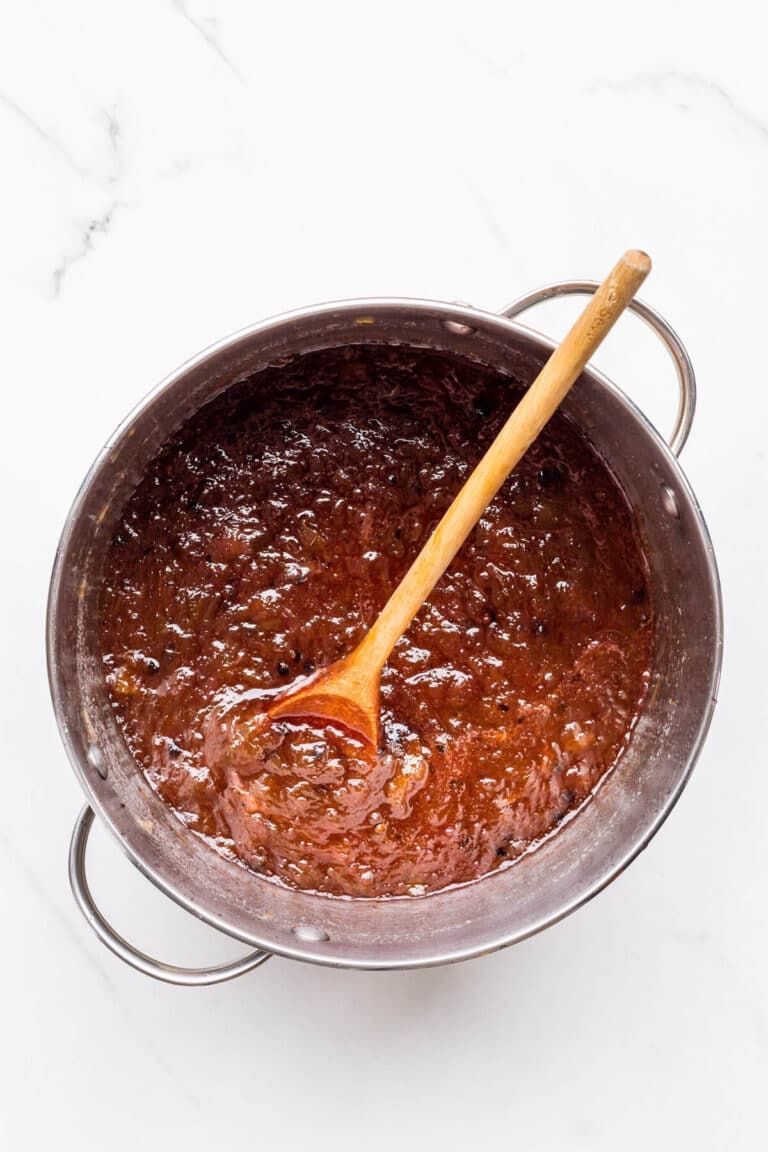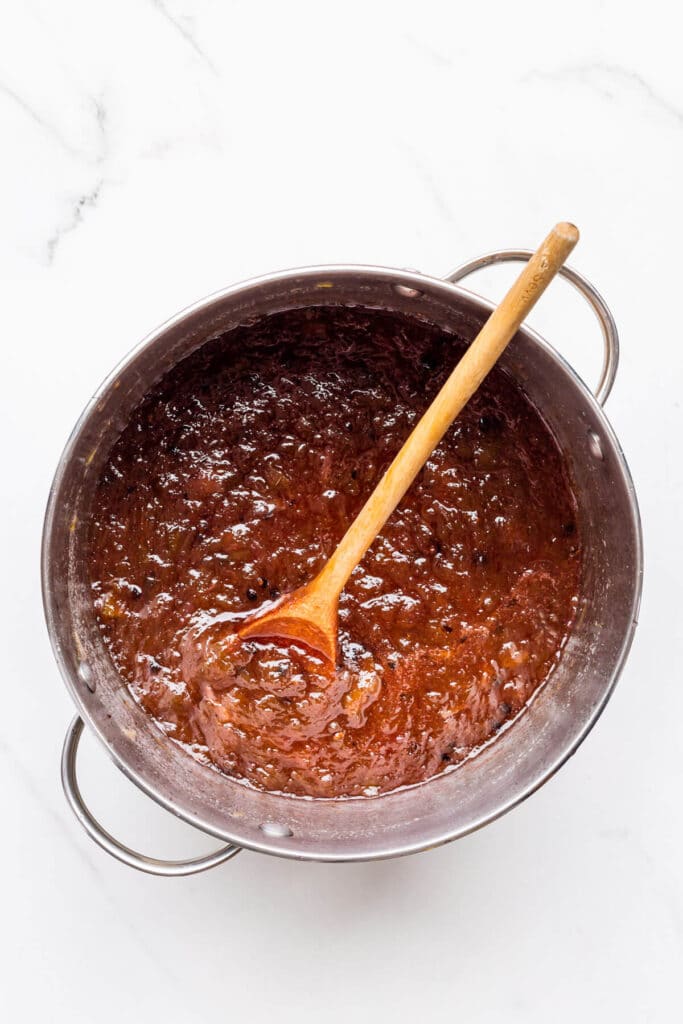 Ensuring jam set without pectin
Rhubarb is low in pectin, and pectin contributes to jam set. This doesn't mean that your rhubarb jam won't set if you make a batch of rhubarb jam without pectin. But the fact that rhubarb is low in pectin does mean that you must make sure to hit the jam setting point, temperature wise.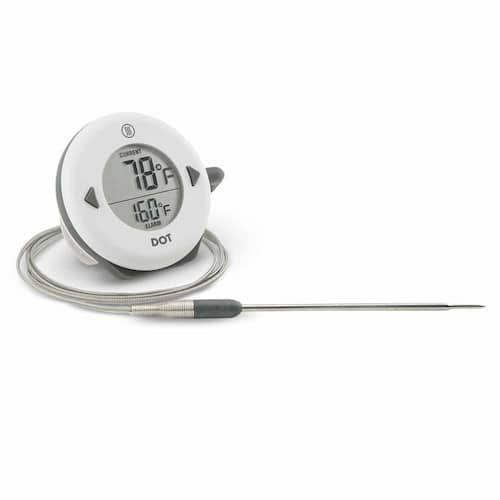 Use a fast reading digital thermometer to check the temperature as the jam cooks and to make sure that every batch of jam sets properly: this way I know I've hit the jam setting point, ensuring that it will set when it cools. I like to use the Thermapen or ChefAlarm.
For jams, I aim to boil the mixture above 215 ºF (102 ºC) and up to 220 °F (104 °C). The wrinkle test or frozen plate test is another method you can use to ensure jam set. You can also check the set by lifting the spatula you are using to stir the jam above the pot to see how it drips off. If the jam drips off in sheets and doesn't look watery, it's likely going to set. After all, nobody wants runny, watery jam! This is one of the best rhubarb recipes on this blog.
To measure the temperature of the jam as it cooks, I use a Thermapen which is very fast at registering temperatures and temperature changes. This is a handheld model, and the ChefAlarm probe thermometer with a cable would be better suited for making jam because you can use it hands-free!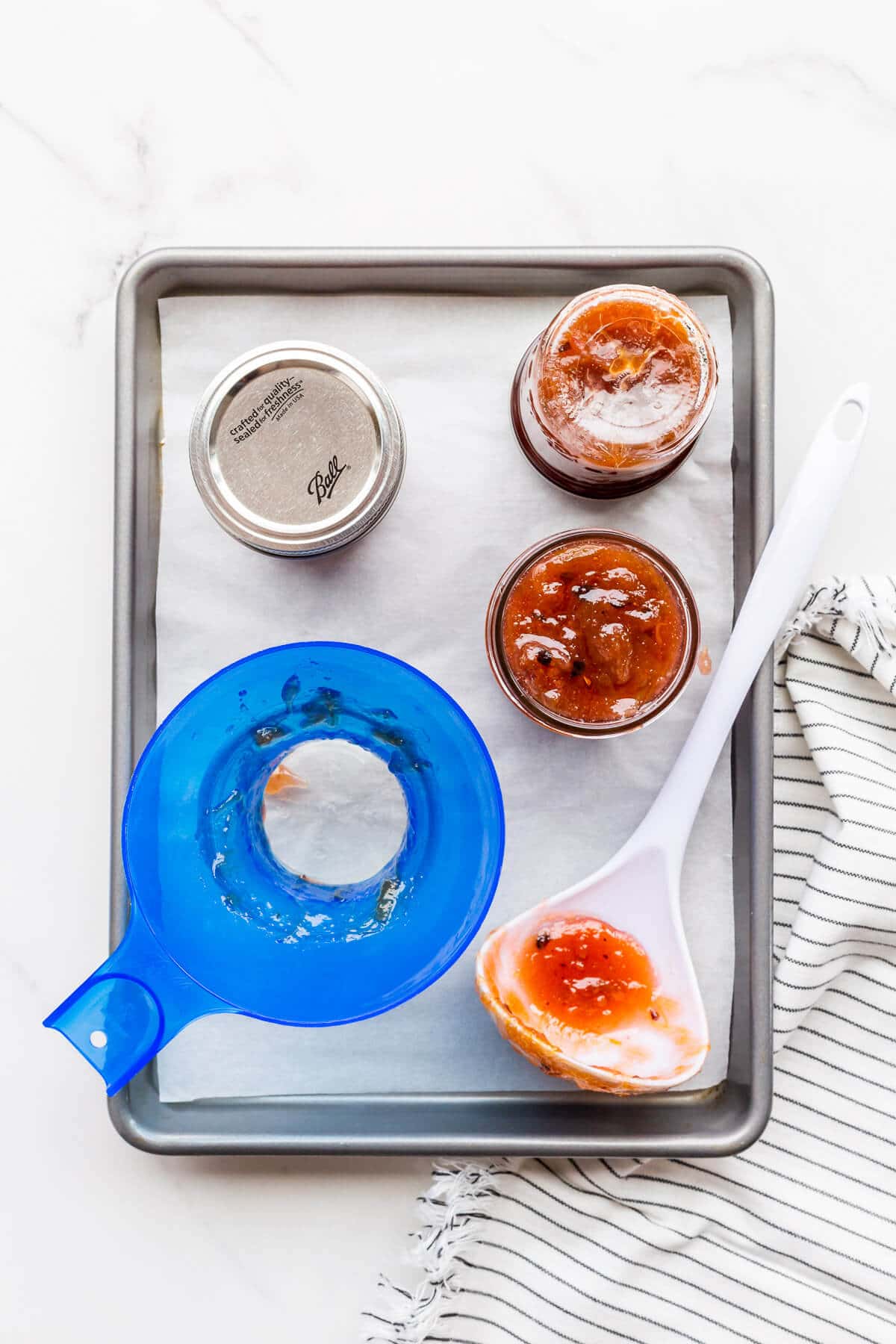 Special equipment
You don't need much to make homemade jam: just a big pot and a wooden spoon or heat-resistant spatula. Still, there are a few other tools I like to use so that making home preserves is easier.
Thermometer: To measure the temperature of the jam as it cooks, I use a pink Thermapen which is very fast at registering temperatures and temperature changes. This is a handheld model, and the ChefAlarm with a cable would be better suited for making jam because you can use it hands-free!
Canning tools: If you are new to canning, a home starter canning kit comes with everything you need, including a non-reactive funnel and a big pot to process the jars of jam. You can buy them on Amazon!
Jars: I like to use 250 mL Mason jars to store jam in. It's the perfect size for your fridge and makes a great gift.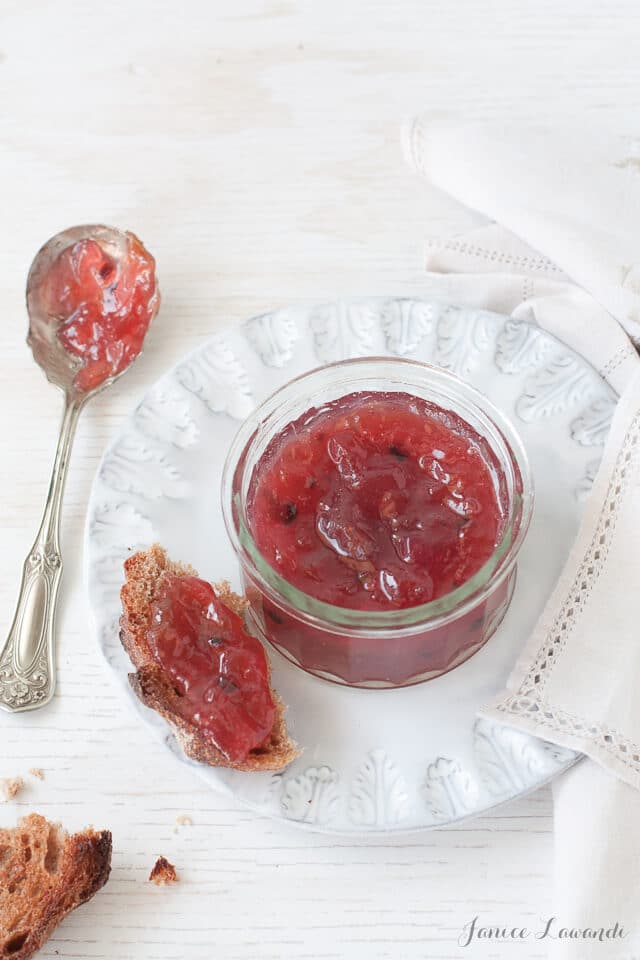 Substitutions
This recipe is flexible up to a point and you can make the following substitutions or changes:
Fresh or frozen rhubarb: swap frozen rhubarb for fresh rhubarb, following the same steps and boiling the jam until you reach the setting point
Flavouring: I added juniper berries because I think it's a perfect pairing with rhubarb, reinforcing the herbal, vegetal notes of rhubarb. By all means, skip it and don't use any flavour elements, or use a vanilla bean, split down the middle and added to the pot with the rhubarb and sugar. The vanilla pods will infuse the jam as it boils.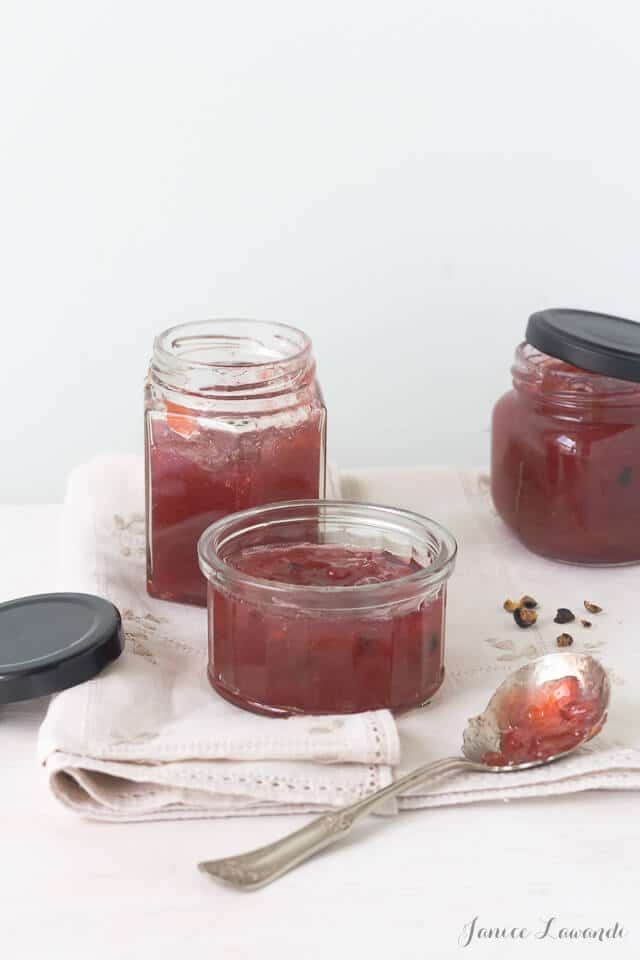 Storage
If you seal the jars properly and use clean sterilized jars, you should be able to keep this jam indefinitely in a cool, dry place, away from light.
I've tested both canning the jars by boiling the closed jars for 10 minutes to seal them or inverting the closed jars, then inverting again back to upright. Both methods work well.
If you don't seal the jars properly, or if you have a doubt, just keep the jars in the fridge.
When it's time to using your jam, always use a clean spoon or knife to take out a serving and don't double dip into the jar of jam because you will contaminate it. Once the jar is open, you must store it in the refrigerator. Otherwise, mold may develop. An open jar of jam will last up to one month if stored in the refrigerator.
Once common misconception is that you can reboil a jar of jam that has developed mold. I would not recommend this. I also would not recommend removing the layer of mold from the top and eating what's below. The mold you see is a fraction of what exists below and it's better to be safe: toss the contents of jar, wash and sterilize the jar, and reuse it to make a fresh batch of jam.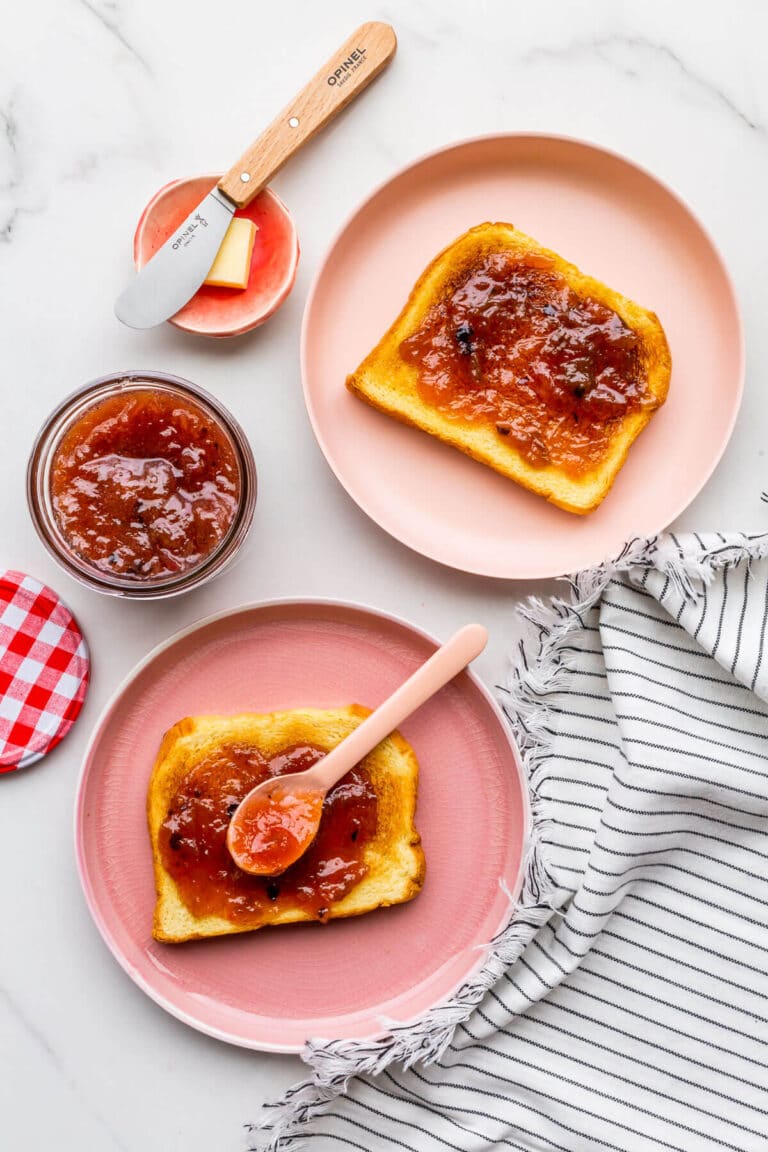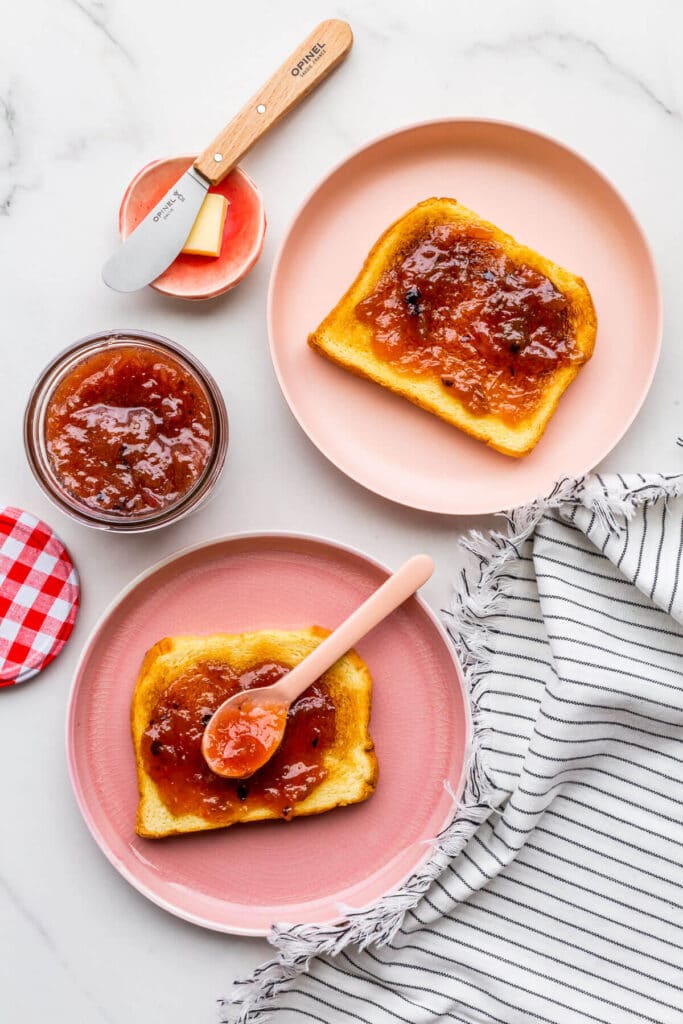 What to serve with rhubarb jam
This small batch rhubarb jam recipe is made without pectin and features canning instructions so you can preserve rhubarb jam and enjoy it in the winter. Make sure to serve these it with these super cute mini rhubarb scones or the strawberry rhubarb muffins. Use leftover rhubarb jam to make this bostock, which is slices of brioche toast smeared in rhubarb jam and topped with frangipane! Or you can also use it to fill these jam-filled shortbread cookies or these jam thumbprint cookies.
📖 Recipe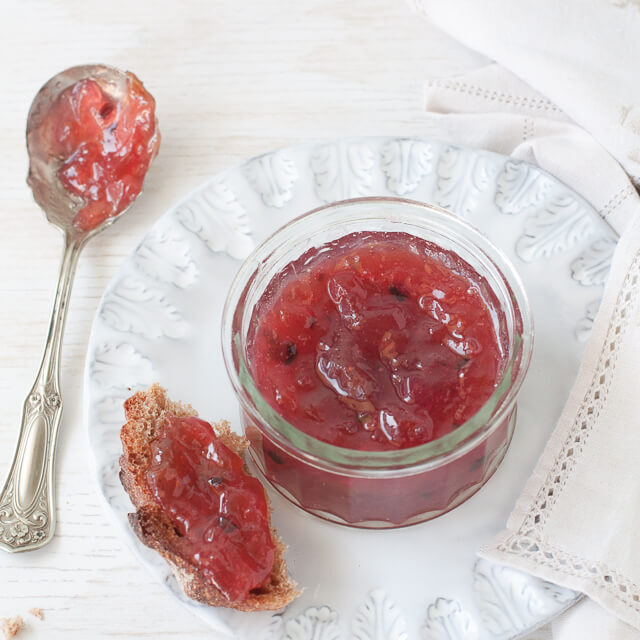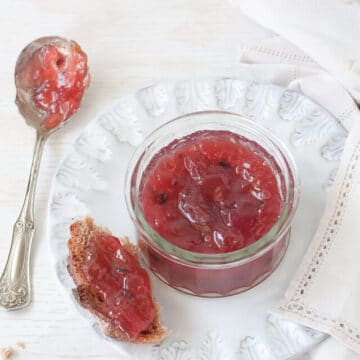 Small-Batch Rhubarb Jam (no pectin)
This easy small batch rhubarb jam recipe is flavoured with juniper berries for a beautiful way of preserving rhubarb without pectin (includes canning instructions). This way you can enjoy this rhubarb throughout the year.
Ingredients
900

grams

fresh rhubarb

about 8 to 9 stalks, chopped

750

grams

granulated sugar

you can reduce the sugar to 500 grams but not less than that, if desired.

1.5

teaspoon

dried juniper berries

roughly chopped
Instructions
Wash five 250 mL jars and lids. Place the jars on a sheet pan in the oven and heat them at 250 °F to sterilize them while you make the jam. Keep the jars in the oven until you will use them. Keep the clean lids aside on the counter for later.

Combine the rhubarb, sugar, and juniper berries (if using) in a large, deep pot.

Cook the fruit and sugar mixture on medium heat to first dissolve the sugar.

Increase the heat to medium–high and continue to cook the jam, allowing it to come to a full boil, stirring with a wooden spoon so it doesn't catch on the bottom and burn.

The jam will bubble up high in the pot initially and then eventually settle again. Continue cooking the jam until it reaches about 217–220 °F or 103–104 °C (the jam setting point).

Divide the jam among the jars, leaving a ¼ inch headspace. Remove air bubbles, wipe the rims clean, then cover with the lids, fingertight. If any of the jars aren't filled full, don't seal them. Instead you can cover them and enjoy them right away, storing in the fridge. You will likely fill 4 to 4.5 jars.

Seal the closed jars according to the manufacturers recommendations. I used Bernardin jars and I boiled my jam jars for 10 minutes to seal them. You can also invert the closed jars and keep them upside down for a couple of minutes before flipping them right side up. With either method, a vacuum should form.

Let sit 24 hours undisturbed before storing them in the pantry.
Notes
I like to check the temperature of the jam as it cooks to ensure that jam reaches the jam setting temperature point so it sets properly in the end. A probe thermometer with a longer cable like the ChefAlarm would be great for this purpose!
If you are looking for an awesome cookbook dedicated to homemade preserves, the Preservation Society book on preserves is my favourite and  it's available on Amazon.
For a less sweet jam,

you can reduce the sugar to 500 grams but not less than that, if desired.
Nutrition