Poached pears are so easy to make, and they are great for dessert, but also for adding to salads and appetizers or cheese courses for fancy meals. You can poach them in wine or a simple syrup.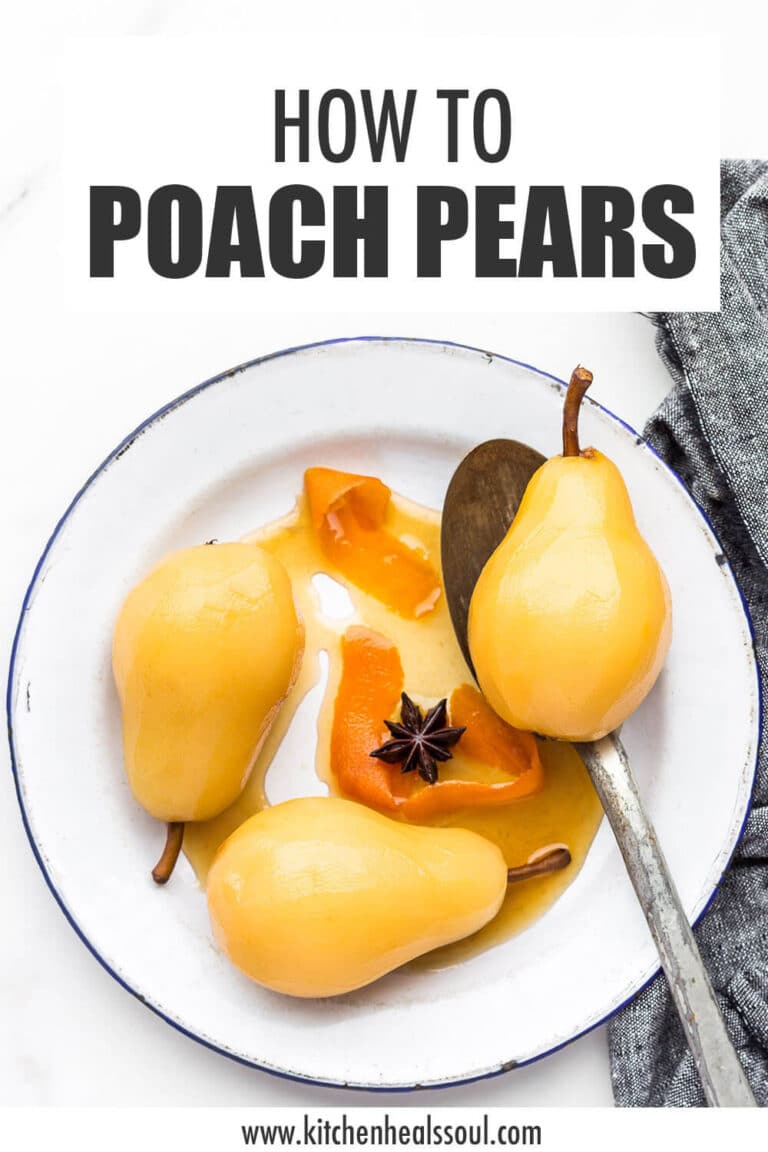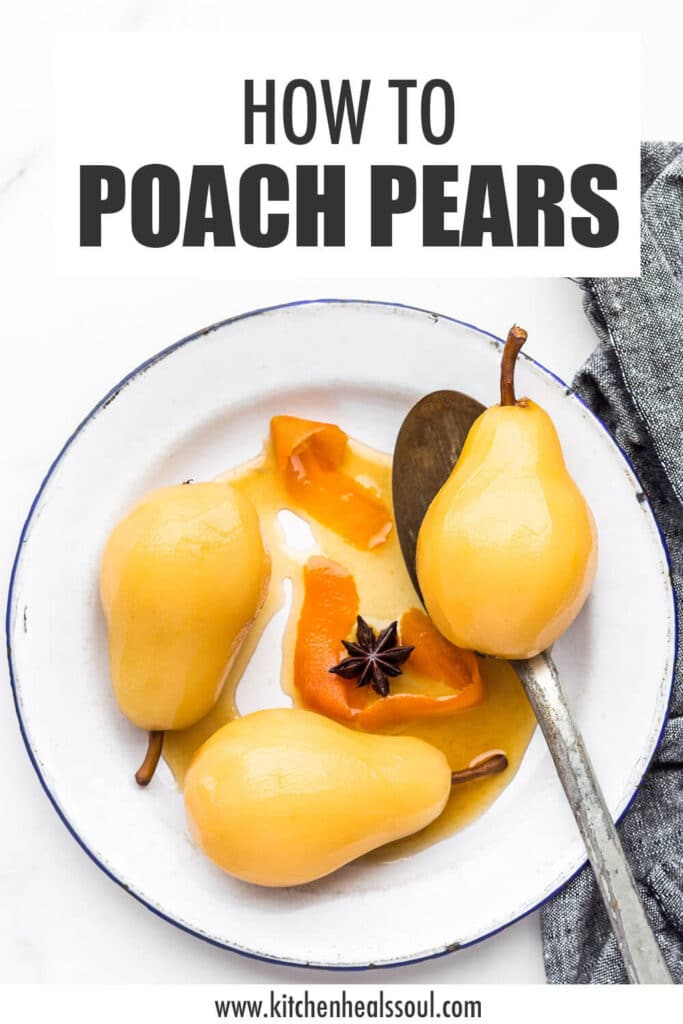 Poaching refers to slow cooking in a large volume of simmering liquid. It's the same principle as poaching eggs, where eggs are dropped in a large volume of almost-boiling water to cook them. Poaching is a gentle way of cooking
Which pears are best for poaching?
For poaching, you want to choose a firm pear of a variety that holds its shape well during cooking and baking. You can use Bosc pears or Bartlett for poaching. Flemmish Beauty pears are also great for poaching. These pears keep their shape when heated, which makes them perfect for poaching in a light syrup or a wine syrup.
Don't poach pears that are overly ripe or too soft because they won't hold up to cooking as well and may break down too much.
What goes into the poaching liquid?
I love to poach pears in a mixture of wine, sugar, water, and spices. This sweet wine syrup adds a ton of flavour to pears, and if you use red wine, the purple colour is gorgeous.
You can poach pears in any flavourful liquid:
The base liquid: you can dilute wine, fruit juice, or just go with water
The sweetener: any sugar will work here, just use one you actually like the taste of, whether that's honey, agave, maple syrup, or just plain granulated sugar
The flavour agents: for spices, you can use cinnamon sticks, star anise, cloves, etc. Get creative and use what you like! You can also use vanilla bean or vanilla bean paste, the zest of a lemon or an orange.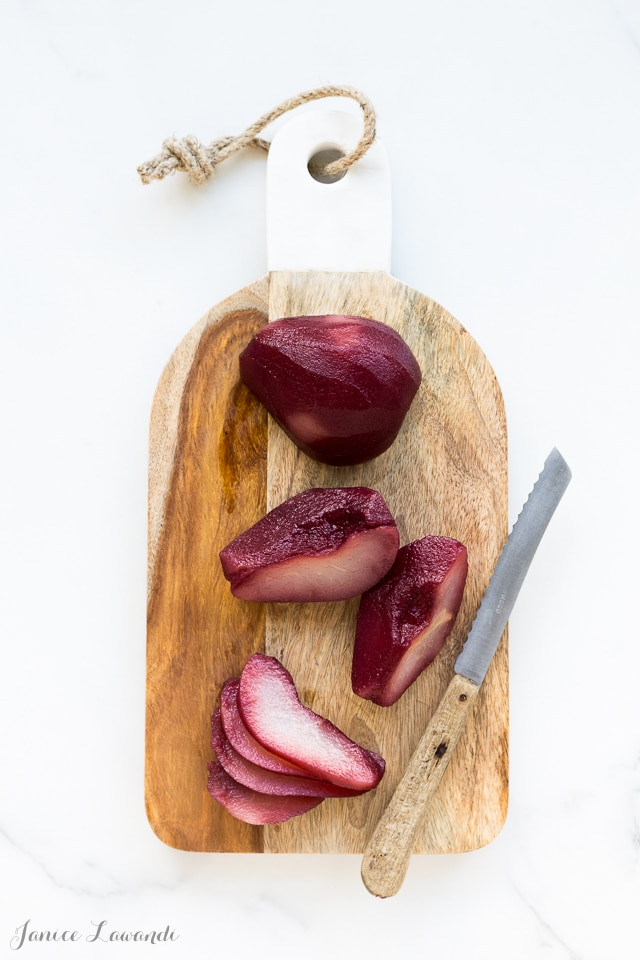 How to poach pears
To make poached pears, you first prepare a thin syrup or simple syrup of sugar and water. You can add wine and spices to make the poaching liquid more flavourful. Vanilla bean is also nice for this type of recipe.
Once the poaching liquid is ready, all you have to do is peel and core a few pears, immerse them in the poaching syrup, and let them simmer for about 20 minutes or until they are fork tender, but not falling apart.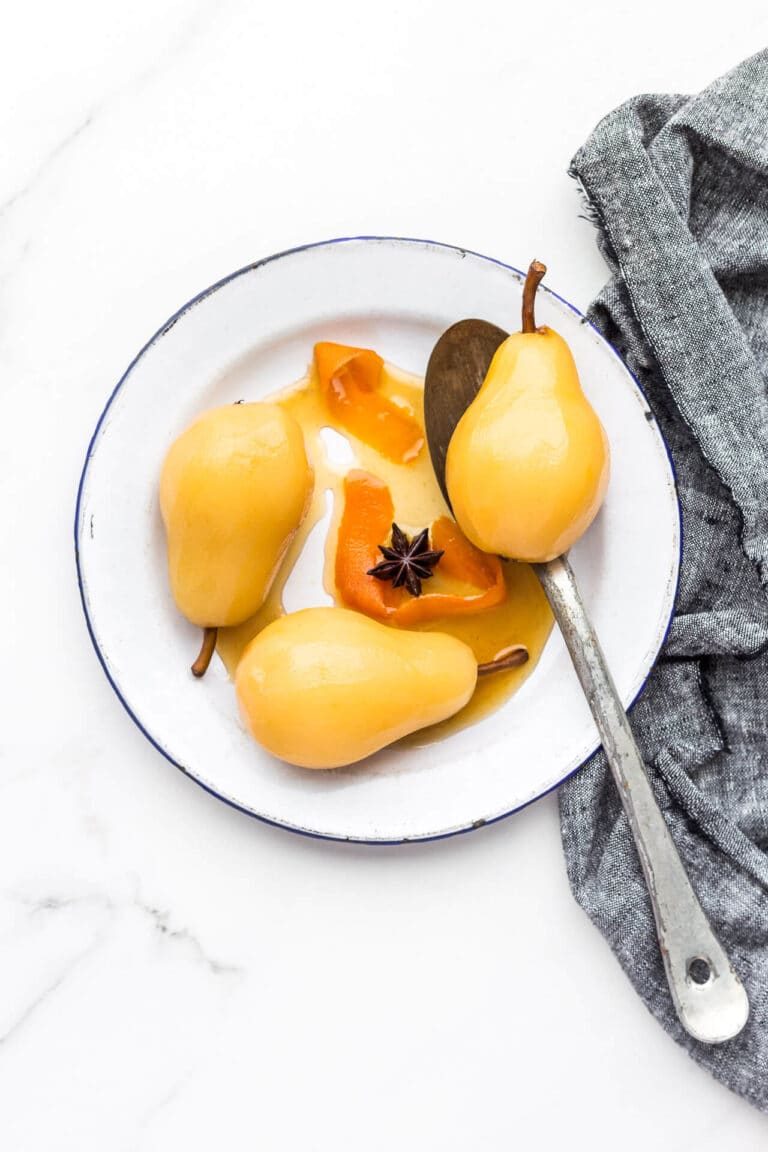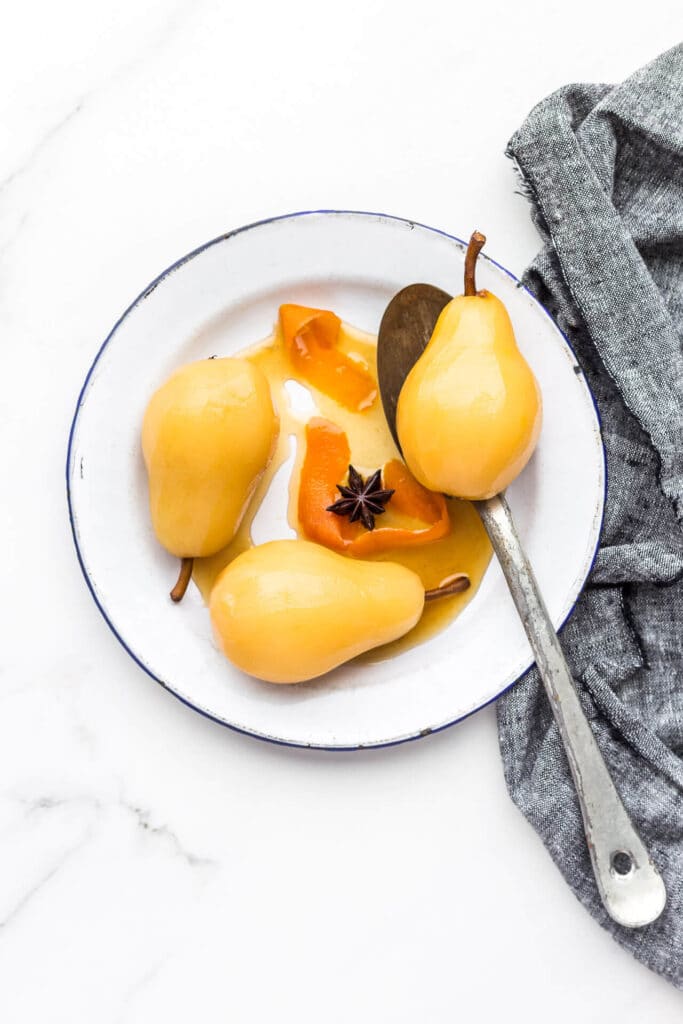 What to do with poached pears
You can strain the pears when they are cooked through and then boil down the poaching liquid to make a syrup to serve with the poached pears. It's the same principle for poached quince, but quince take longer to cook through.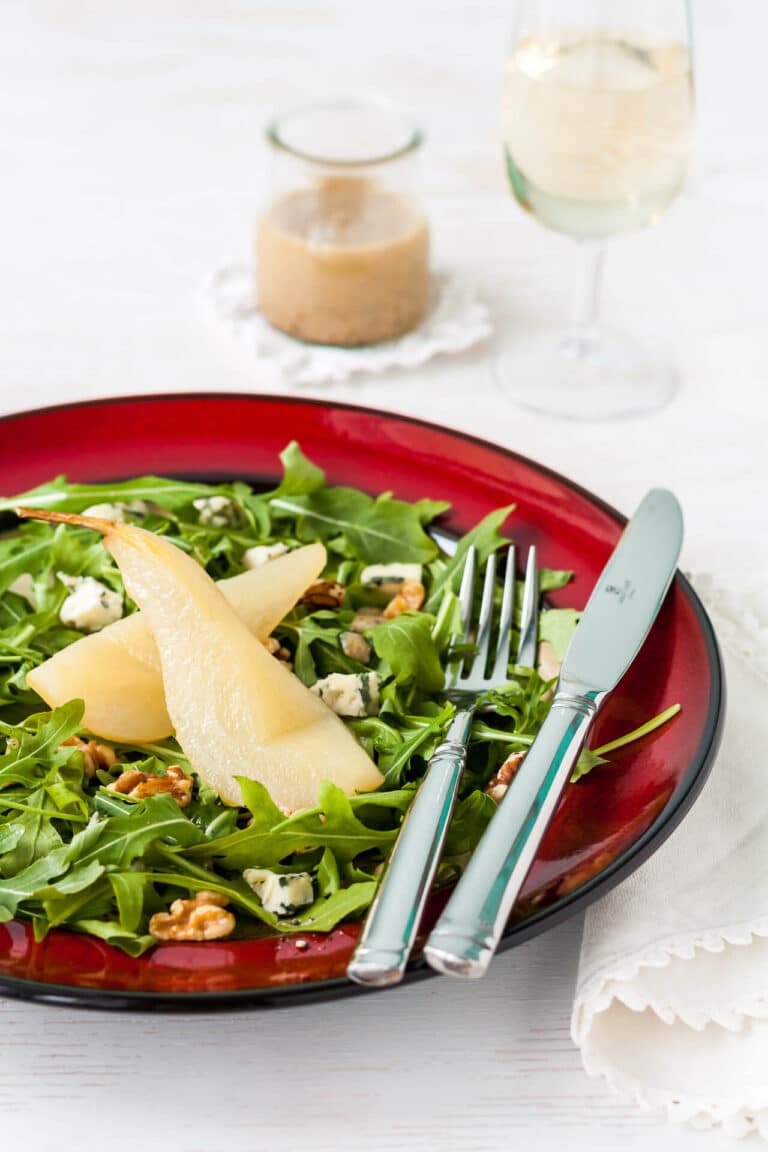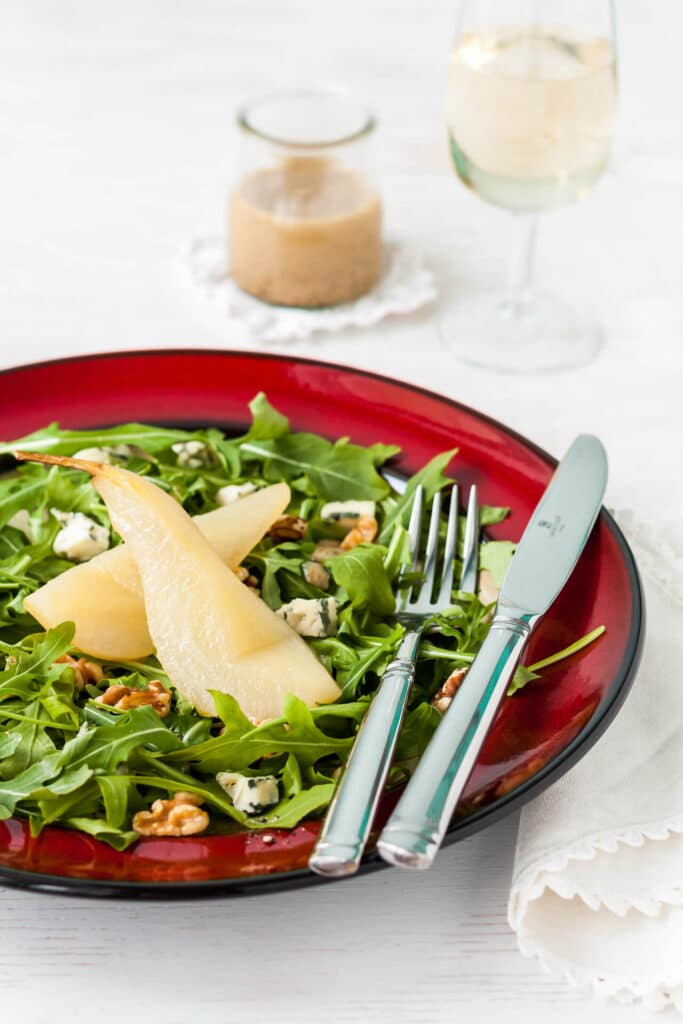 Serve poached pears with blue cheese and nuts for a cheese course, or serve on top of a bed of greens for a fun salad.
You can also serve poached pears with vanilla bean ice cream or transform them into a pear pie.
Easy poached pears
Poached pears are an easy, stunning dessert to make. You can serve them with vanilla ice cream or with blue cheese for a cheese course. Poach them in wine or port for a sophisticated twist on a simple dish.
Ingredients
750

mL

(

3

cups

)

liquid

can be wine, water, or fruit juice

200

grams

(

1

cup

)

granulated sugar

more or less depending on how sweet you want them

1

cinnamon stick

1

vanilla bean

split

1

slice

lemon peel

no pith

1.8

kg

(

4

lb

)

pears

peeled, cored and cut in half—I recommend Flemish Beauty or firm Bosc/Bartlett pears
Instructions
In a large sauté pan, combine the liquid with sugar and spices, vanilla bean, and lemon peel. Bring the mixture to a boil.

Add the pear halves and bring to a boil again. Cover with a round of parchment and weigh everything down with a lid or a plate so that the pears are immersed. Reduce the heat so that the poaching liquid is just simmering. Poach the pears for 10 to 15 minutes. The pears should be tender but not mushy when they are done. Whole pears could take as much as 45 minutes.

Strain the pears into a large container, then let the poaching liquid cool completely. Transfer the liquid to the container with the pears, cover, and let the pears soak for to absorb more flavour.

Alternatively, you can strain out the pears and boil down the syrup to serve with the pears.
Notes
Use red wine for a more robust wine flavour, a light rosé or white for a milder taste

Use maple syrup or honey instead of granulated sugar; feel free to use less sugar in the recipe if you want it less sweet.
Use any sweet, warm spices you like, cinnamon, cloves, nutmeg, ginger, star anise, cardamom, etc.
Nutrition
Calories:
305
kcal
|
Carbohydrates:
62
g
|
Protein:
1
g
|
Fat:
1
g
|
Saturated Fat:
1
g
|
Sodium:
9
mg
|
Potassium:
356
mg
|
Fiber:
7
g
|
Sugar:
48
g
|
Vitamin A:
58
IU
|
Vitamin C:
10
mg
|
Calcium:
33
mg
|
Iron:
1
mg