Learn how to make pavlova with this recipe. A pavlova is a one layer cake made from a meringue that is crispy on the outside and marshmallowy inside, topped with raspberries, lemon curd, and lots of whipped cream.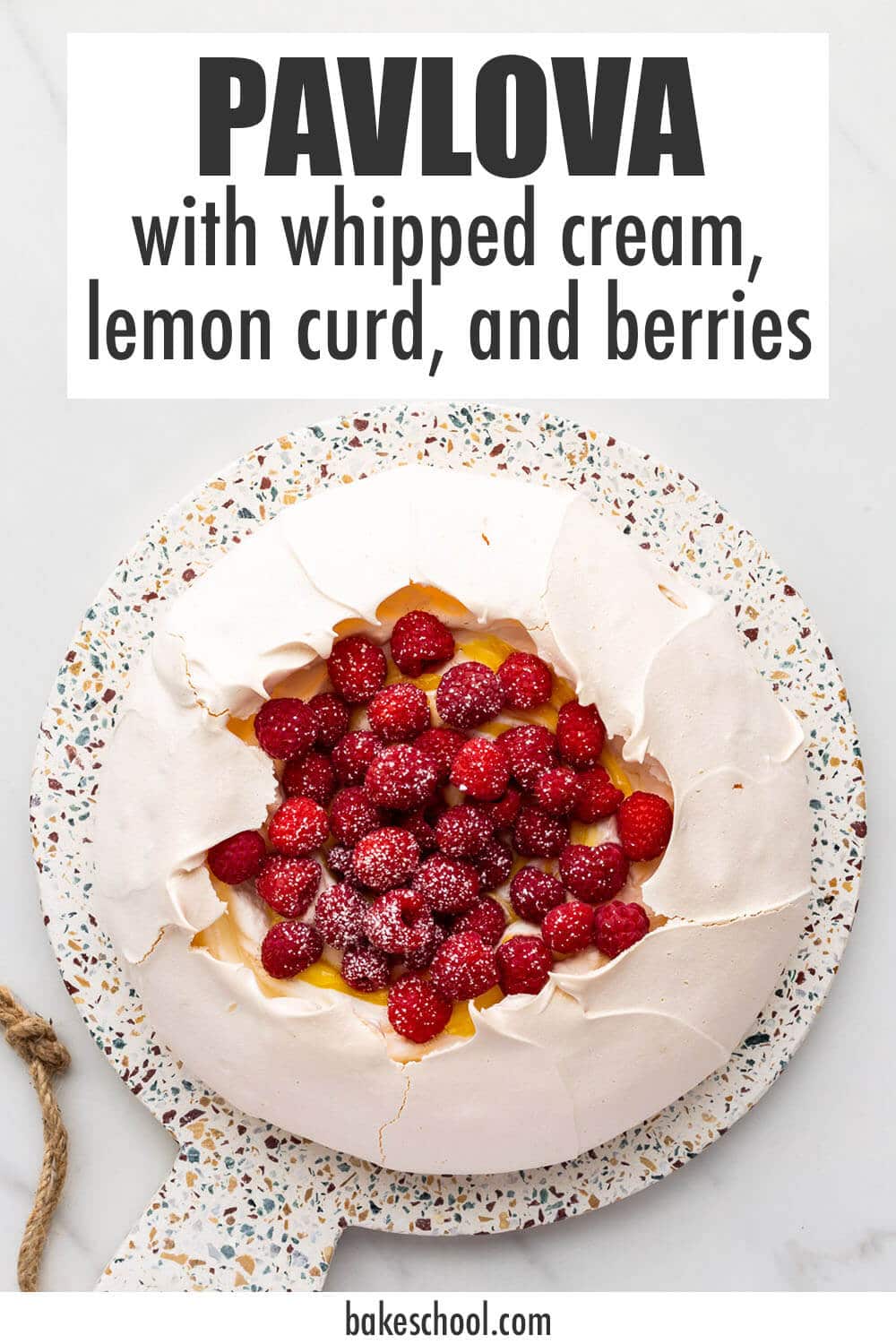 Disclosure: As an Amazon Associate, I earn from qualifying purchases.
Jump to:
Pavlova is not your typical meringue
A pavlova is a one layer cake made from a big meringue disk that is made in such a way that the interior becomes soft and marshmallowy, while the outside forms a thin, delicate crispy dry meringue layer that cracks when you cut into it. Some parts of the pavlova can even be a little chewy.
This is very different from meringue cookies that are airy and baked until completely dry and crisp.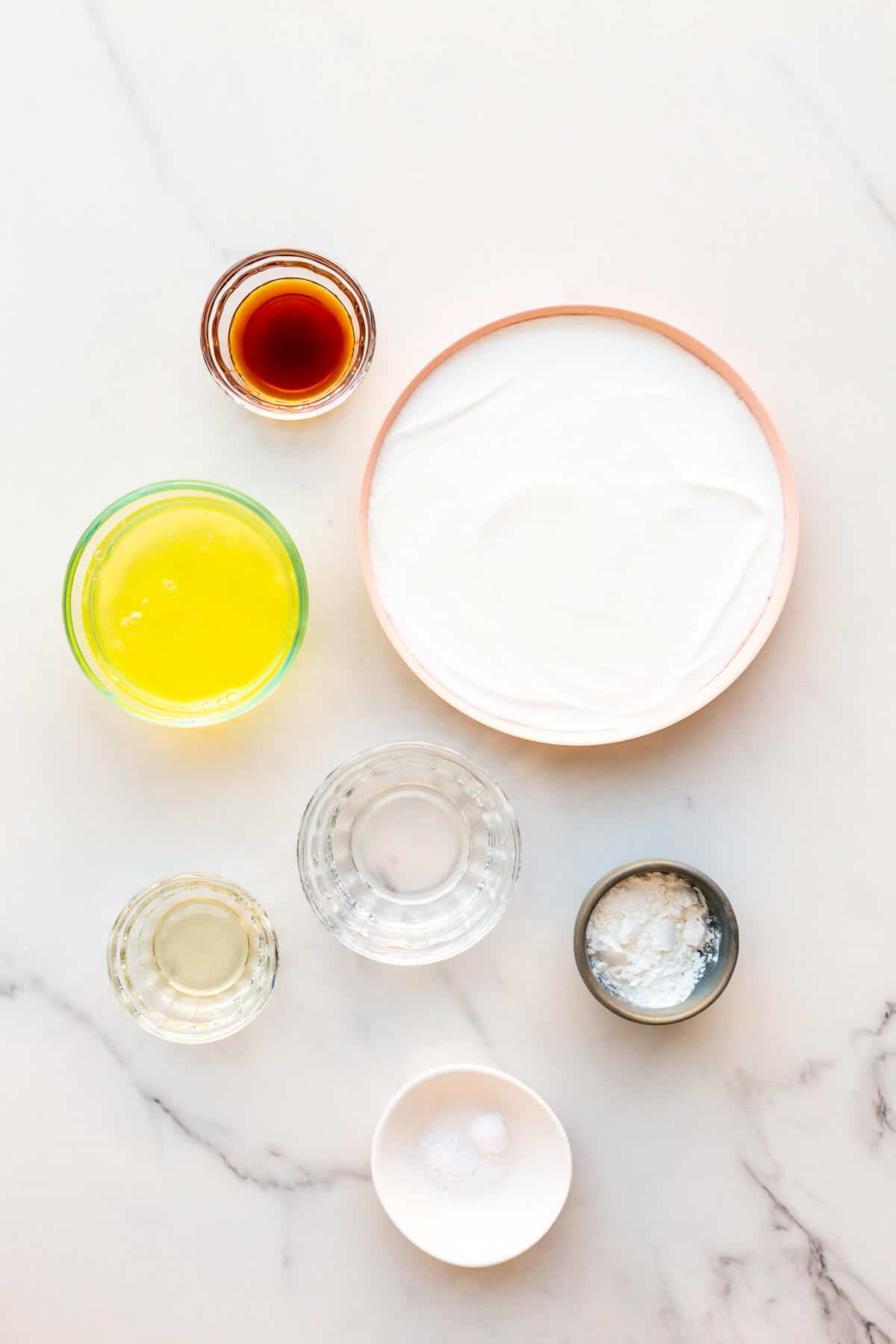 Toppings
Pavlovas can be finished with a variety of toppings, and they are sliced and served like a cake. The most common topping for a pavlova is whipped cream and berries, though you may also see versions with lemon curd, salted caramel sauce, or other fun toppings. Like many one layer cake recipes, the meringue base is a blank canvas for creativity.
What makes it special
The special combination of textures and flavours makes pavlova desserts so unique and so addictive:
the textures of a pavlova combine crispy, dry, chew, marshmallowy, and creamy.
the flavours combine very sweet meringue with a lightly sweetened cool, creamy whipped cream, and bright fresh fruit.
The difference between meringue and pavlova
A meringue is made by whipping egg whites with sugar (or a sugar syrup) until it is stable and stiff. Meringue is one of the most important base recipes in pastry that is a jumping off point for creativity. Master making meringue, and you can make so many different desserts, from cookies to cakes to buttercream frostings and fillings.
A pavlova is made from a meringue, but cornstarch is added to the meringue to give it a texture that is crisp and light on the outside and gooey and soft on the inside, after baking. All pavlovas are meringues, but meringues are not pavlovas.
Ingredients you need to make the best pavlova every time
A pavlova should have a light, airy, dry meringue crust with a marshmallowy centre. Though it starts with a typical meringue recipe, made from egg whites and sugar, pavlova is made with a few special ingredients that set it apart from regular French meringue cookies.
Before you make a pavlova, make sure you have these extra ingredients in your pantry:
cream of tartar not only helps you whip up a stable meringue, cream of tartar is an acid that also helps you unwind the globules of egg white proteins, making it easier to incorporate air and build those bubbles. Cream of tartar is optional, but I like to add it to make sure I set myself up for success!
salt adds flavour, and especially in sweet recipes, salt helps to balance out all the sugar, making sweet desserts less bland or one-noted. In meringues, salt helps break up the protein-protein interactions that hold the egg white together. But salt can have a weakening effect on egg foams and meringues for the same reason: the ions (sodium and chloride) interact with the egg white proteins, preventing them from interacting with each other when you want to whip them into a stable foam.
water is added to the egg whites before incorporating the sugar. The water helps to dilute the proteins, allowing you to whip them faster into a lighter, more stable structure, and it can help you achieve a bigger volume. The extra moisture can also help dissolve the sugar, which is important to build a stable meringue that won't weep.
cornstarch helps create an airy exterior with a chewy and marshmallowy interior. The cornstarch also gives some structure to the meringue and makes it less likely to weep. The cornstarch is an essential ingredient in pavlova. Though some recipes may use less, you cannot skip it.
vinegar, whether white vinegar or cider vinegar, is an acid that will lower the pH of the meringue, strengthening the airy structure you formed and it also contributes to the signature texture of the dessert. You cannot skip the vinegar in this recipe.
superfine sugar is a very fine, quick-dissolving sugar. I was very hesitant about recommending that you use a different sugar, but superfine sugar dissolves faster when whipped with the egg whites, which means less weeping and it's less likely to weigh down your meringue as you build it up in the mixer. Luckily, you can order superfine sugar from Amazon, or you can make your own (see below).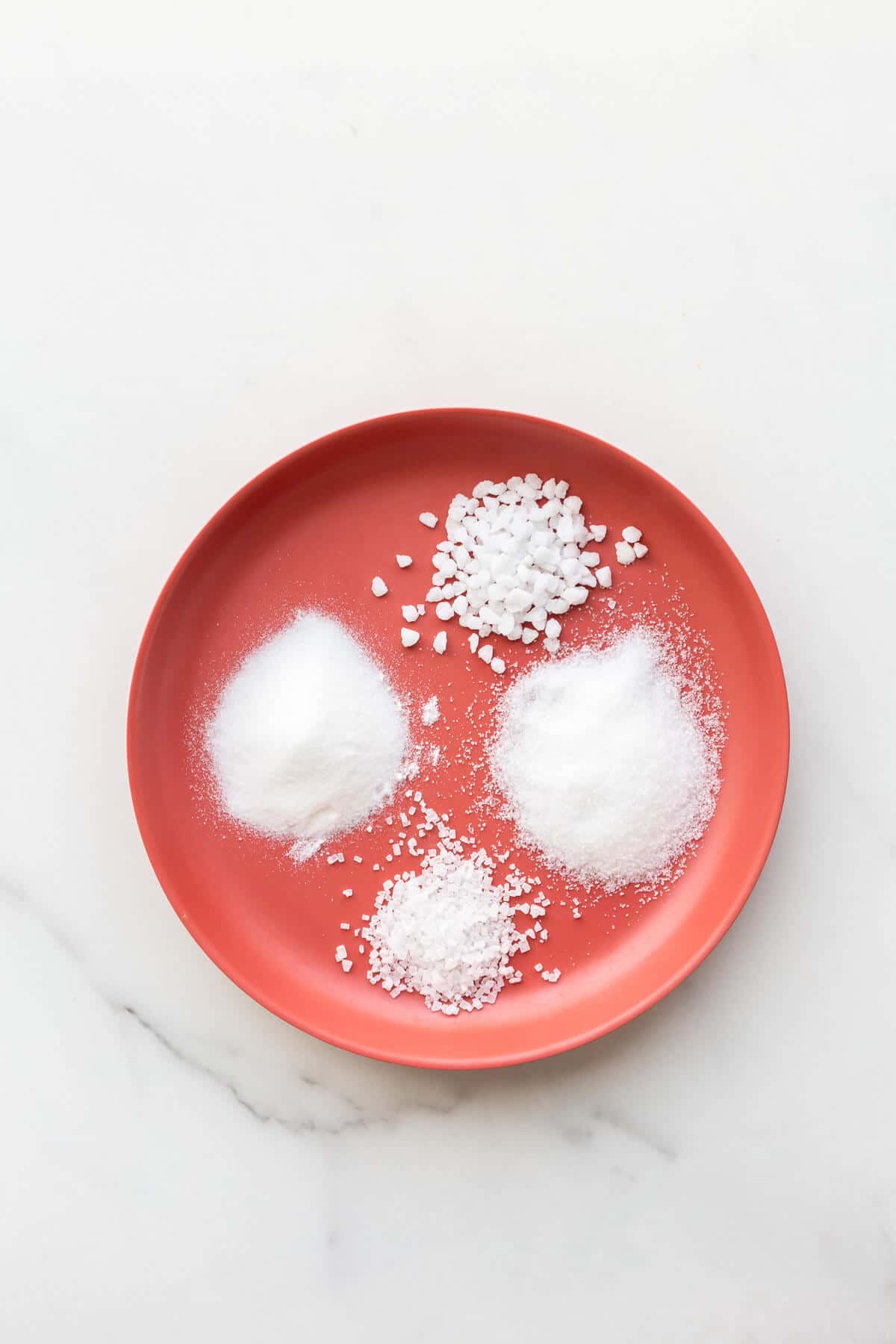 Making superfine sugar at home
If you can't get your hands on superfine sugar, then you will have to make it. To do so, I use a food processor. Weigh out the amount of sugar you need and process it until the crystals are finer. You will know you've made superfine sugar when you open up the food processor and a cloud of sugar puffs out. That means it's very fine! That's what you want!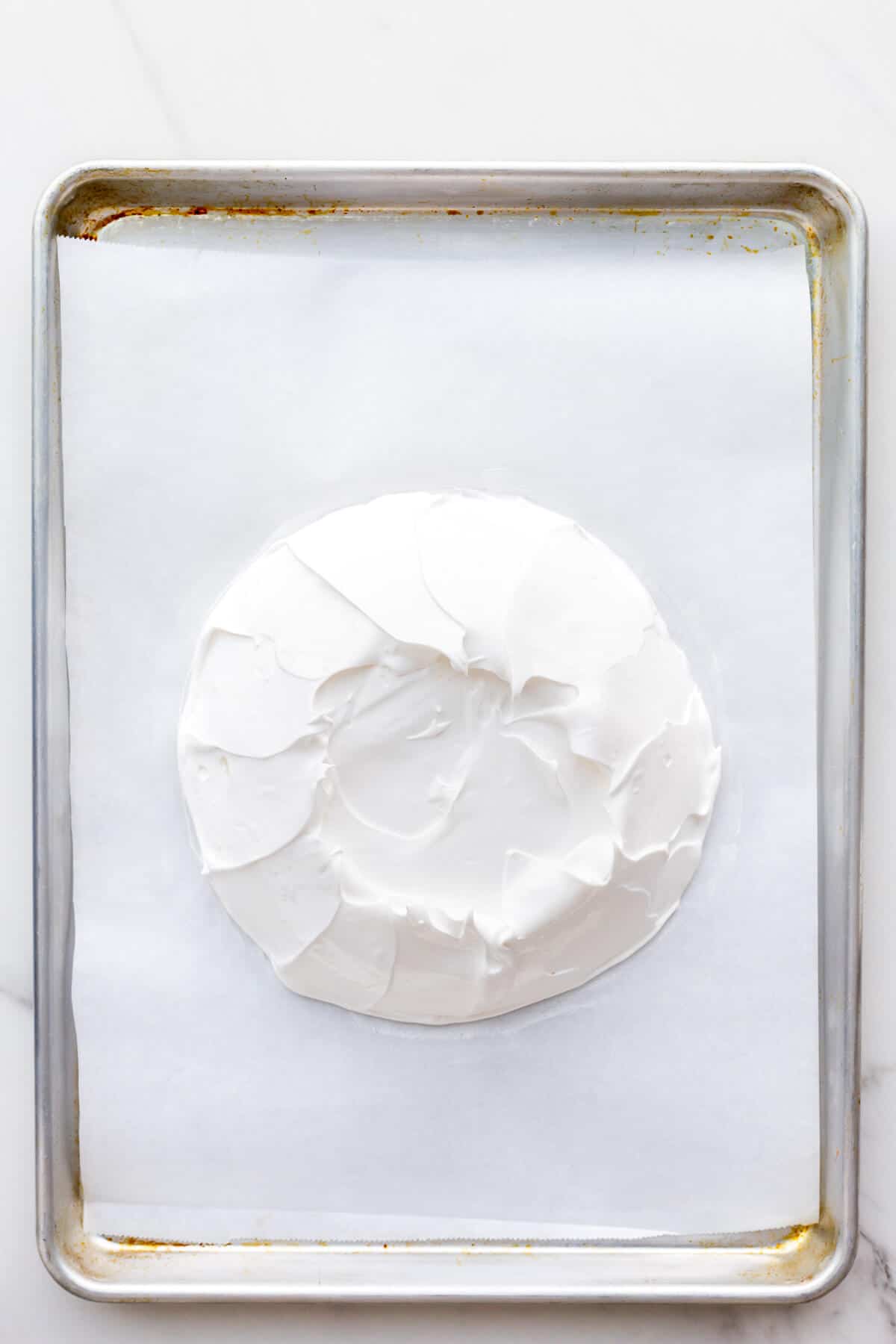 How to make pavlova
There are three ways to make a meringue that vary in complexity, and any of these methods could work to make a pavlova:
French meringue technique, where egg whites are whipped and the sugar is very slowly added to create a thick, glossy, sturdy mixture that holds peaks. The French technique is the easiest to do, but it's difficult to master because the sugar has to completely dissolve in the egg whites to avoid any weeping when the meringue is baked. French meringue is also the least stable meringue.
Swiss meringue technique, where egg whites and sugar are heated together over a bain-marie (the French baking term for a simmering water bath). The egg whites and sugar are stirred often and heated until the mixture hits roughly 71 ºC (160ºF). At that temperature, the sugar has all dissolved and the egg white proteins are unwound so that they are primed for whipping and holding air. The heat also helps stabilize them. Swiss meringues are more stable than French meringues. If you mix Swiss meringue with butter, you get Swiss meringue buttercream, which is quite stable and often favoured for wedding cakes.
Italian meringue technique, where the sugar is heated separately from the egg whites. The sugar syrup is cooked to a soft ball stage (usually around 116 ºC (241 ºF), but you can go as high as 121 ºC (250 ºF) and it will work well). The hot syrup is poured over whipped egg whites, while whipping, and the meringue is whipped until it's room temperature, glossy, very thick, and very firm. This is the most stable meringue you can make, but also the most challenging to do because you have to pour a dangerously hot syrup while whisking. If you mix Italian meringue with butter, you get Italian meringue buttercream, which is the most stable buttercream you can make.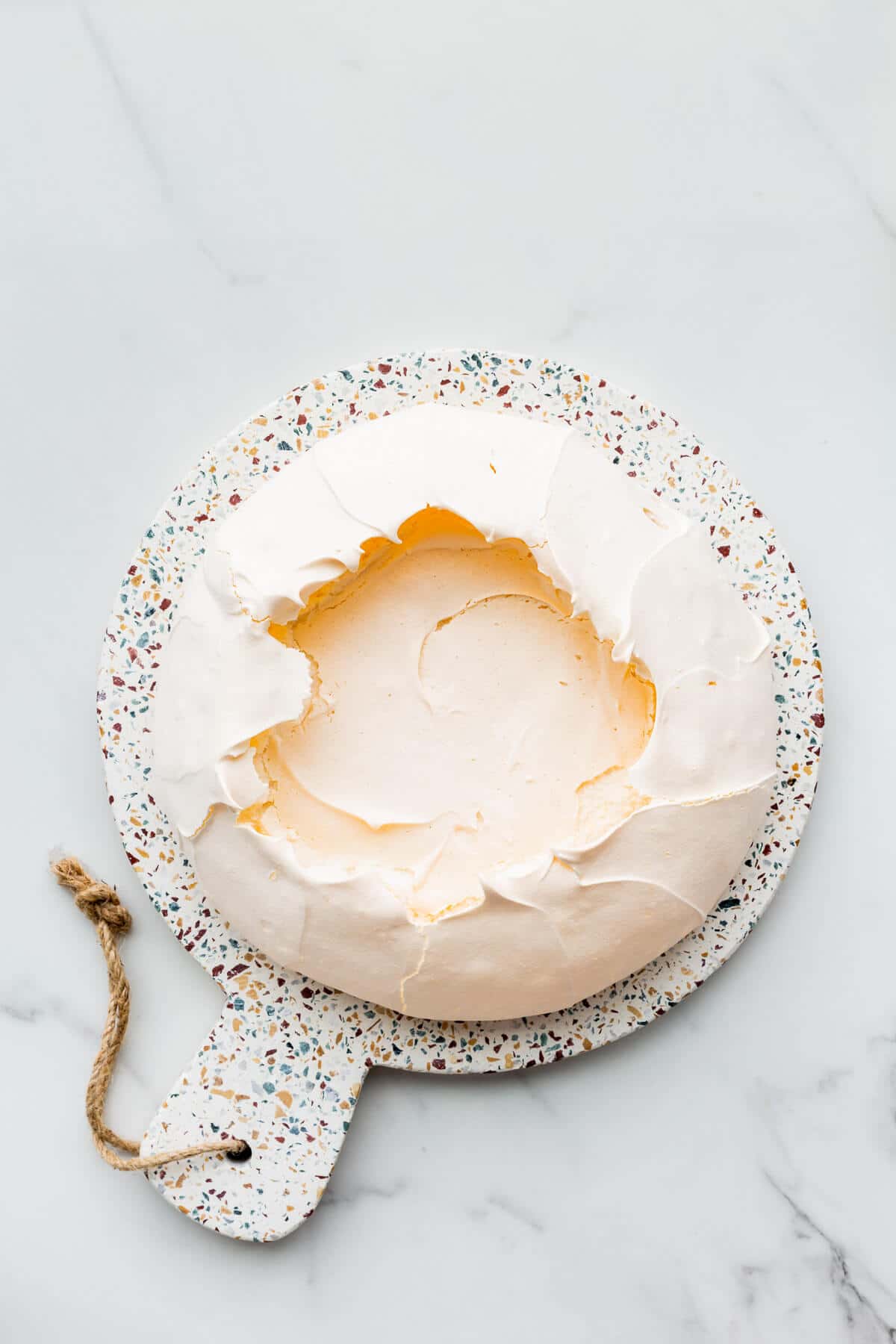 Technically, you could make the meringue base following any one of these techniques, but I've had the most success with the French meringue technique, as long as you have superfine sugar.
Granulated sugar (also called special fine sugar) is more coarse than superfine sugar, which means:
granulated sugar can weigh down the meringue, making it harder to incorporate it into the egg whites
granulated sugar is slower to dissolve because the granules are bigger.
The size of the sugar crystals and getting the sugar to dissolve actually matters a lot. Granulated sugar is more dense and can weigh down the delicate protein network of egg whites that you are trying to build up and stabilise. Granulated sugar could deflate it.
Undissolved sugar will lead to bubbling along the edges of the meringue as it bakes and weeping or oozing, where the sugar melts and leeches out, drawing moisture out with it. If you notice any bubbling or a syrup at the edges of the meringue, it means your sugar didn't dissolve properly.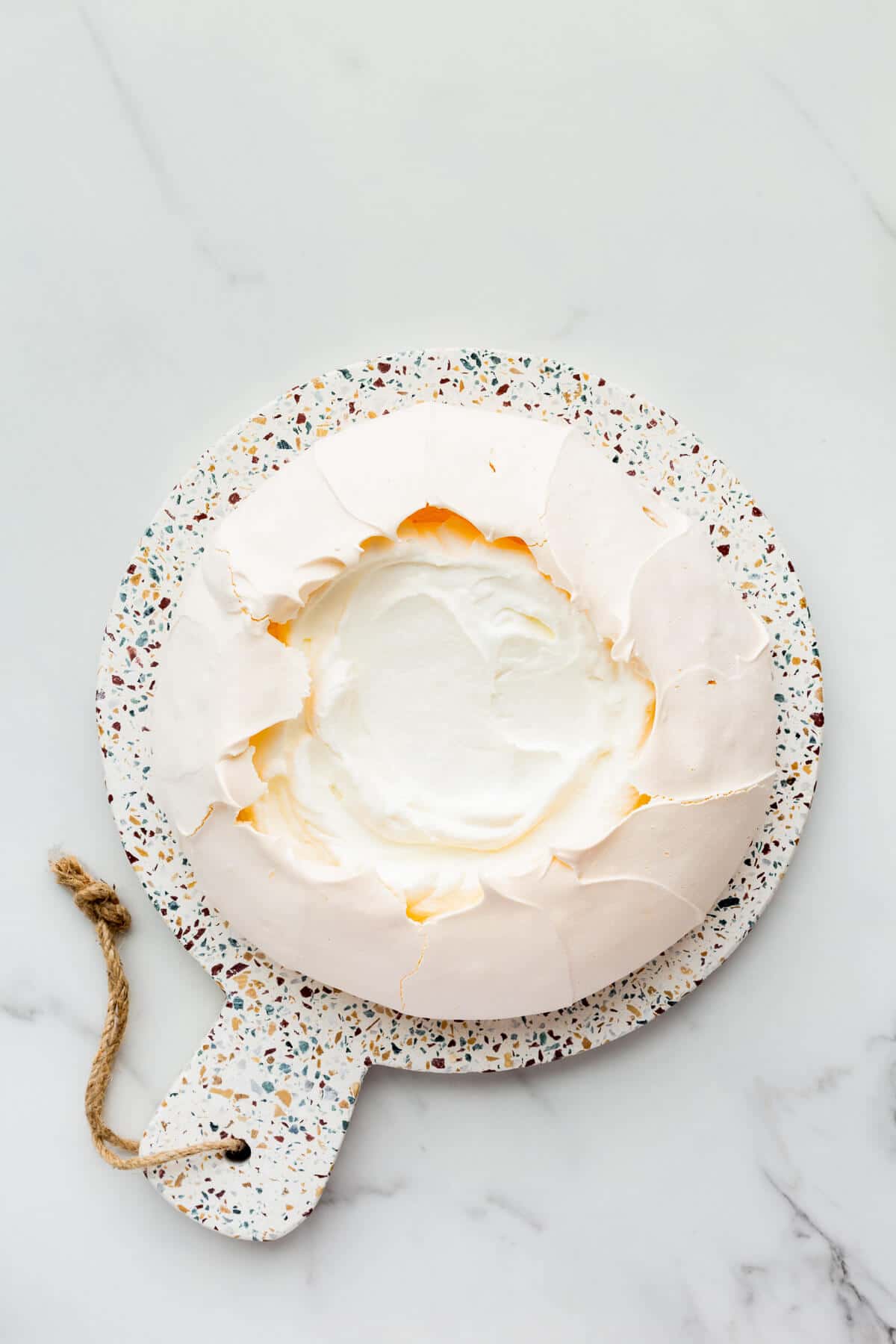 Critical steps for success
If you look at the short list of ingredients and the steps to make a pavlova, it definitely is an easy dessert to make. The trouble is there are a few steps that will separate a good pavlova from a great pavlova. I have struggled with a few of these myself and I am here to tell you, whether your pavlova is perfect or not so perfect, all roads lead to a yummy dessert that is an explosion of textures and flavours. To make the perfect pavlova, here's a few key steps where you need to focus your energy:
Building a stable meringue
Meringues are tricky. To make the basic meringue, all you need are egg whites and sugar. SO easy! Yet things can go very wrong when you can combine these two ingredients. Trust me.
Start by whipping the egg whites with the cream of tartar (and/or a little salt). The acidity of the cream of tartar will help unfold the globular protein structures that hold the egg whites together. The acids loosen them up, helping them separate from each other so that they can unwind and refold in a different way to trap lots and lots of tiny air bubbles with the help of a ton of whipping. At the beginning, you want to whisk the whites until they achieve soft to medium peaks, so the whites should be past the foamy stage, but not firm.
Do not over-whip the whites at this stage because they will break down into a dry foam on top of a watery layer, and then it's pretty much impossible to undo that and recover.
Add the sugar very slowly to the medium peaks, with the mixer running, a little spoonful at a time. Keep whipping as you add the sugar, but make sure to add the sugar slowly, otherwise the sugar will cause the foam to collapse, ruining the structure that you are trying to build and to reinforce. This is the opposite of what you want. Add the sugar very slowly. It can take 10 minutes to add the sugar and that's okay. Don't worry much about the time: focus on what's happening in the bowl of the mixer.
Baking the pavlova
Pavlovas are baked low and slow for a long time, just like regular meringues. A key feature in many recipes it to let the pavlova cool in the oven after turning it off, with the door cracked open slightly. This allows the meringue to slowly cool down in a controlled fashion and avoids temperature shocks to the meringue that may cause contractions and cracking of the crispy exterior which is very delicate.
Cooling the pavlova and finishing
Pavlova meringue bakes into a crispy, thin outer shell with a marshmallow interior, which means that they are very fragile and prone to cracking and breaking.
For this reason, it's very important to leave the oven alone during the baking process and once the pavlova is baked. Never open the oven door, even when the pavlova is cooling in the oven. Temperature shock can cause the pavlova's crispy exterior to crack:
Baking at too high a temperature can cause cracking because the outside may set while the interior expands from the heat. The shell of the pavlova may crack
Cooling a baked pavlova abruptly can cause the shell to crack or collapse because of the sudden temperature change which can lead to the interior contracting suddenly compromising the outer shell.
Once cooled, the pavlova should be a little less prone to breaking but you still need to be careful. Run a metal offset spatula between the parchment paper and the pavlova very carefully to release the cake base so that you can transfer it to a serving plate.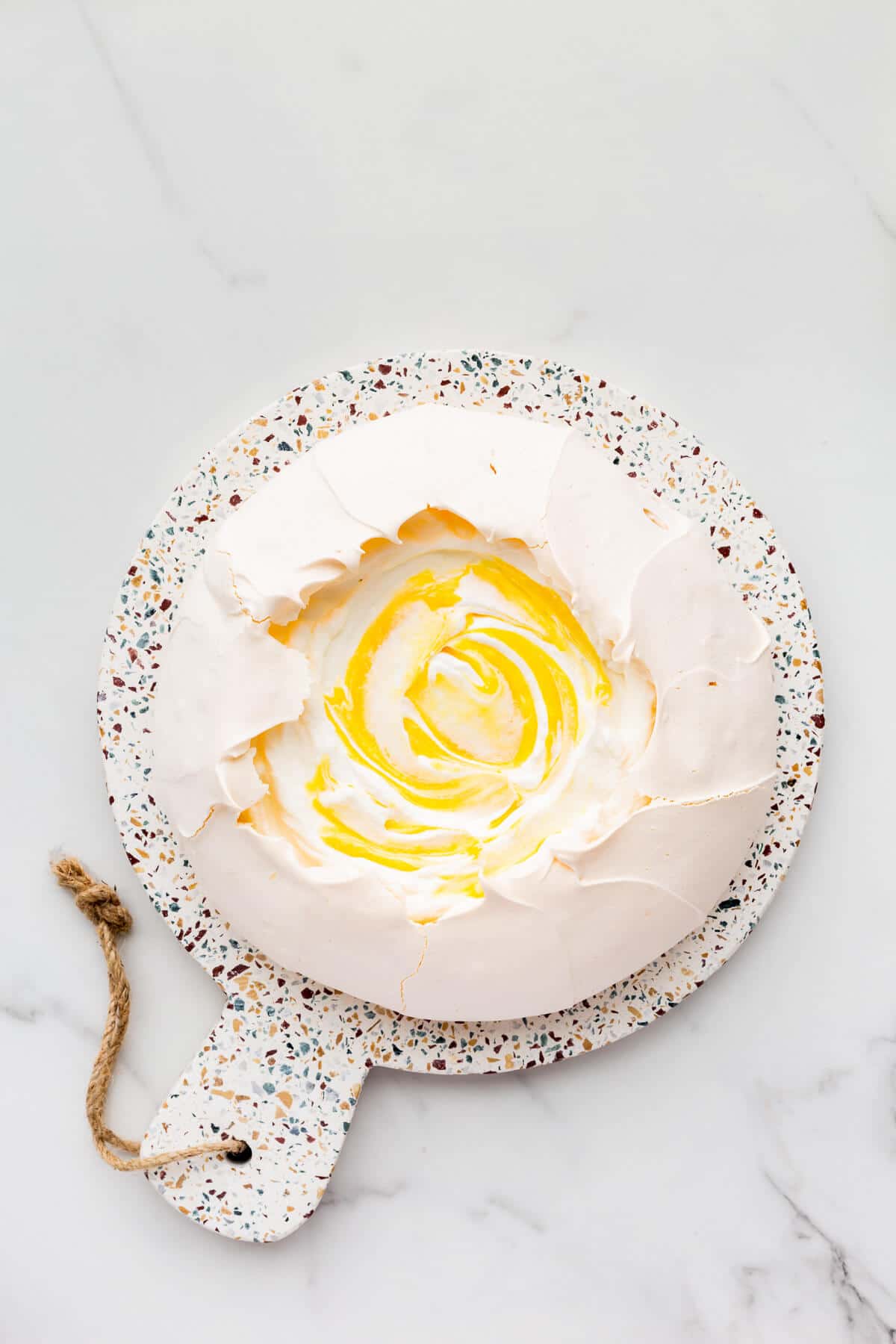 Whipped cream ratio
I love to fill pavlovas with lots of lightly sweetened whipped cream, flavoured with a hint of vanilla. The basic formula for making whipped cream is simple: use 10 % of the weight of cream in icing sugar, so if you are using 350 grams of whipping cream, sweeten with 35 grams of icing sugar.
Since the density of whipping cream is pretty close to 1 gram per millilitre, that means for 375 mL whipping cream, use 38 grams of icing sugar. For this recipe, I rounded down to 30 grams (¼ cup) of icing sugar because the pavlova meringue is quite sweet already!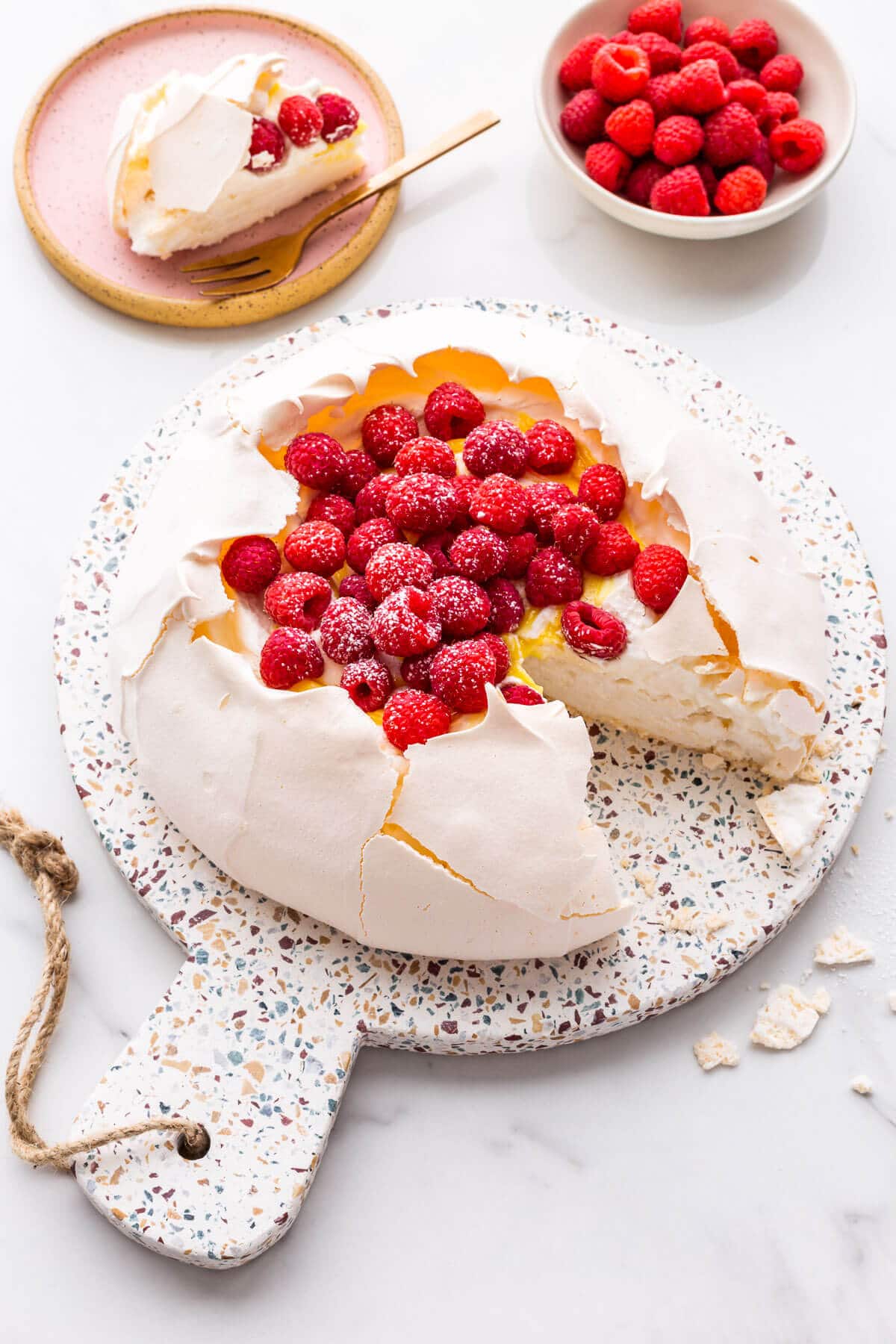 When making whipped cream, remember to not overwhip. For this quantity of cream, I prefer to use an electric hand mixer, and I recommend incorporating the sugar and vanilla when your cream forms soft peaks to make sure you whip until firm peaks, but not more.
If you over-whip the cream, the emulsion will breakdown and you will end up with solid butter separated from the whey liquid. You can't recover it at that point, but you can strain off the liquid and spread the homemade butter on toast or cook with it!
Another filling option would be this easy lemon mousse, made by folding lemon curd into whipped cream. You don't have to completely incorporate the two, actually, so that you get streaks of lemon curd throughout the cream filling.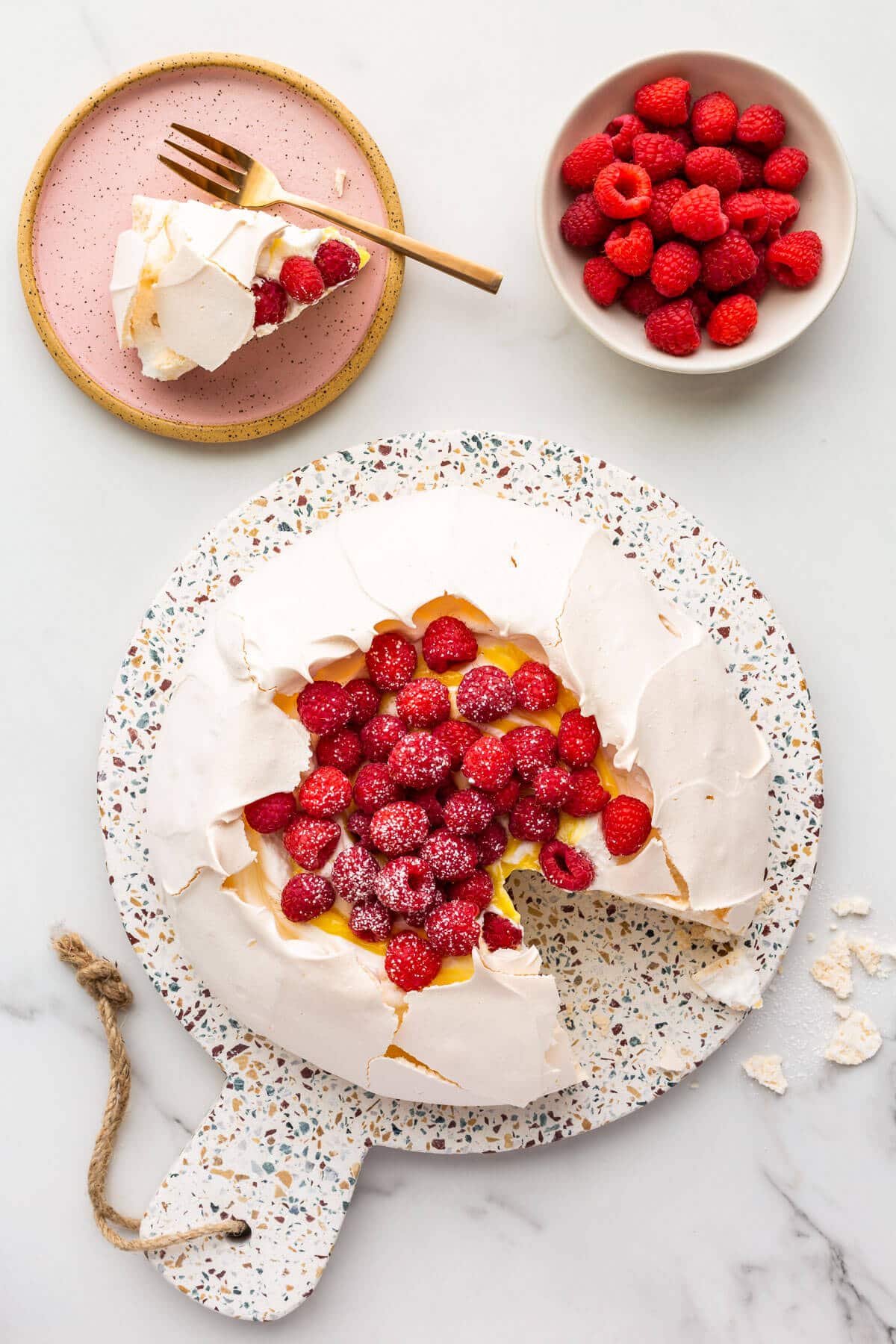 Once you've baked, cooled, and filled the pavlova, ideally you let the pavlova chill for about an hour. This helps the whipped cream firm up but also helps soften the meringue slightly, making it easier to serve.
Leftover pavlova should be stored in the fridge. You can enjoy it the next day, but ideally, it's best to serve it an hour after filling it when it has the perfect textures, crunchy, creamy, and marshmallowy. After a day in the fridge, the humidity may lead to a softer exterior. It's not the end of the world, but not ideal either.
📖 Recipe
Pavlova
This pavlova with raspberries is made from a French meringue combined with vinegar and cornstarch before baking, then topped with a generous amount of whipped cream, lemon curd, and fresh raspberries.
Ingredients
Whipped cream
375

mL

(

1½

cups

)

whipping cream (35 % fat)

30

grams

(

¼

cup

)

icing sugar

5

mL

(

1

teaspoon

) vanilla bean paste,

or vanilla extract
Toppings
30

mL

(

2

tablespoon

) lemon curd

Fresh raspberries

,

or other berries

icing sugar
Instructions
Pavlova
Preheat the oven to 275 °F. Line a sheet pan with parchment paper, and using a pencil, draw a circle that's 6 or 7 inches in diameter (about two inches less than your serving plate or cake stand). Flip the paper over and set aside.

In the bowl of a stand mixer fitted with the whisk attachment, whip the egg whites on medium–high with the salt and cream of tartar until soft peaks form. This can take about 5 minutes.

Lower the speed to medium–low, then whisk in the water.

Start adding the sugar, a spoonful at a time, slowly. This will take a few minutes. Take your time.

Once the sugar is added, increase the speed back up to medium–high and continue whipping the meringue until you form very stiff peaks that hold up straight when you remove the beater and flip it upside down.

Once the meringue has reached stiff peaks, fold into the egg whites the cornstarch, vanilla, and vinegar. The mixture will be very thick, firm, and stiff.

Dollop the mixture within the circle drawn on the parchment. The goal is to form a tall mountain. Then working with an offset spatula, smooth the mixture out to fill the drawn circle from edge to edge. You can use your spatula to coax the meringue sides upward to create a little crater or valley in the centre of the mountain (see photos).

Bake the pavlova for 45 minutes, then drop the temperature to 250 ºF and continue baking. It takes about 1 hour and 15 minutes to bake the pavlova.

Once baked, turn off the oven and turn on the oven light. Don't open the door yet!

Let the pavlova cool for several hours in the oven, turned off with the light on, until it's completely cooled. I like to leave it overnight undisturbed, or even a whole day, and then finish it later.
Whipped cream
In a bowl, using an electric mixer, whip the cream to soft peaks, add the icing sugar and vanilla, and continue whipping to the desired consistency (or firm peaks).
Finishing
Run a metal offset spatula between the parchment paper and the cooled pavlova very carefully to release the cake base so that you can transfer it to a serving plate

Place the baked pavlova on a serving plate. If the center of the pavlova hasn't collapsed downward/inward to leave room for filling, you can help it using a pairing knife to open up the middle. The top of the pavlova should collapse downward to create a bowl shaped meringue that can be filled.

Fill the crater of the pavlova with whipped cream, gently working it into all the nooks. If you prefer, you can use a piping bag filled with the whipped cream to pipe the cream onto the pavlova.

Dollop the lemon curd on top of the cream, and swirl it in. Decorate with lots of fresh berries.

Chill the pavlova for 1 hour before serving.

Dust with powdered sugar before serving (optional).
Give back
If you enjoy the free content on this website, say thank you!
Notes
Pavlova base recipe from the book Zoe Bakes Cake, available on Amazon.
Nutrition
Calories:
346
kcal
|
Carbohydrates:
45
g
|
Protein:
3
g
|
Fat:
18
g
|
Saturated Fat:
11
g
|
Polyunsaturated Fat:
1
g
|
Monounsaturated Fat:
5
g
|
Trans Fat:
1
g
|
Cholesterol:
64
mg
|
Sodium:
61
mg
|
Potassium:
67
mg
|
Fiber:
1
g
|
Sugar:
44
g
|
Vitamin A:
689
IU
|
Vitamin C:
1
mg
|
Calcium:
32
mg
|
Iron:
1
mg
Recipe and technique for pavlova from Zoë Bakes Cakes, available to order on Amazon. I highly recommend this book if you want to master many important baking techniques, while baking yummy cakes!
Frequently asked questions
Why is my pavlova flat?
If your pavlova is flat, it could be that you simply spread the meringue out too thin before baking. Try mounding it next time so that it starts out tall before it goes into the oven.
Another reason could be that you didn't whip the egg whites enough with the sugar to form stable, very stiff peaks. The meringue should hold its shape. If it doesn't, keep whipping it.
Remember that unlike plain egg whites, once you incorporate the sugar, the proteins become more and more stable as you whip, and it's pretty much impossible to over-whip a meringue when the sugar is mixed in.
If you added the sugar too quickly or didn't let it dissolve, the pavlova mixture may not be able to expand properly when whipped or it may collapse before it's done baking.
How can you tell when a pavlova is done baking?
It's difficult to know when a pavlova is done baking. It should go from glossy to matte as it bakes. So if the meringue is matte and has lost its shine, it may be done baking. Make sure to bake the pavlova enough to set the structure, inside and out. Bake the pavlova at a low oven temperature for a long time to ensure that it dries out without caramelizing.
Why did the pavlova become brown?
Browning is a sign of caramelization or it could also be Maillard browning reactions (between proteins under basic conditions). For a pavlova, it's likely that the meringue was baked in an oven that is too hot or for too long. It's best to bake a pavlova low and slow for a long time at a lower oven temperature, like regular meringue cookies. This way the meringue dries out properly without browning. Adjust your oven temperature and make sure to invest in an oven thermometer to double check that your oven is preheated to the correct temperature. Otherwise, your pavlova may brown.