Learn how to make this beautiful lemon loaf cake with this easy recipe. This cake is very moist and tender, made with sour cream. The lemon drizzle and icing on top add a ton of lemon flavour and ensure it stays moist.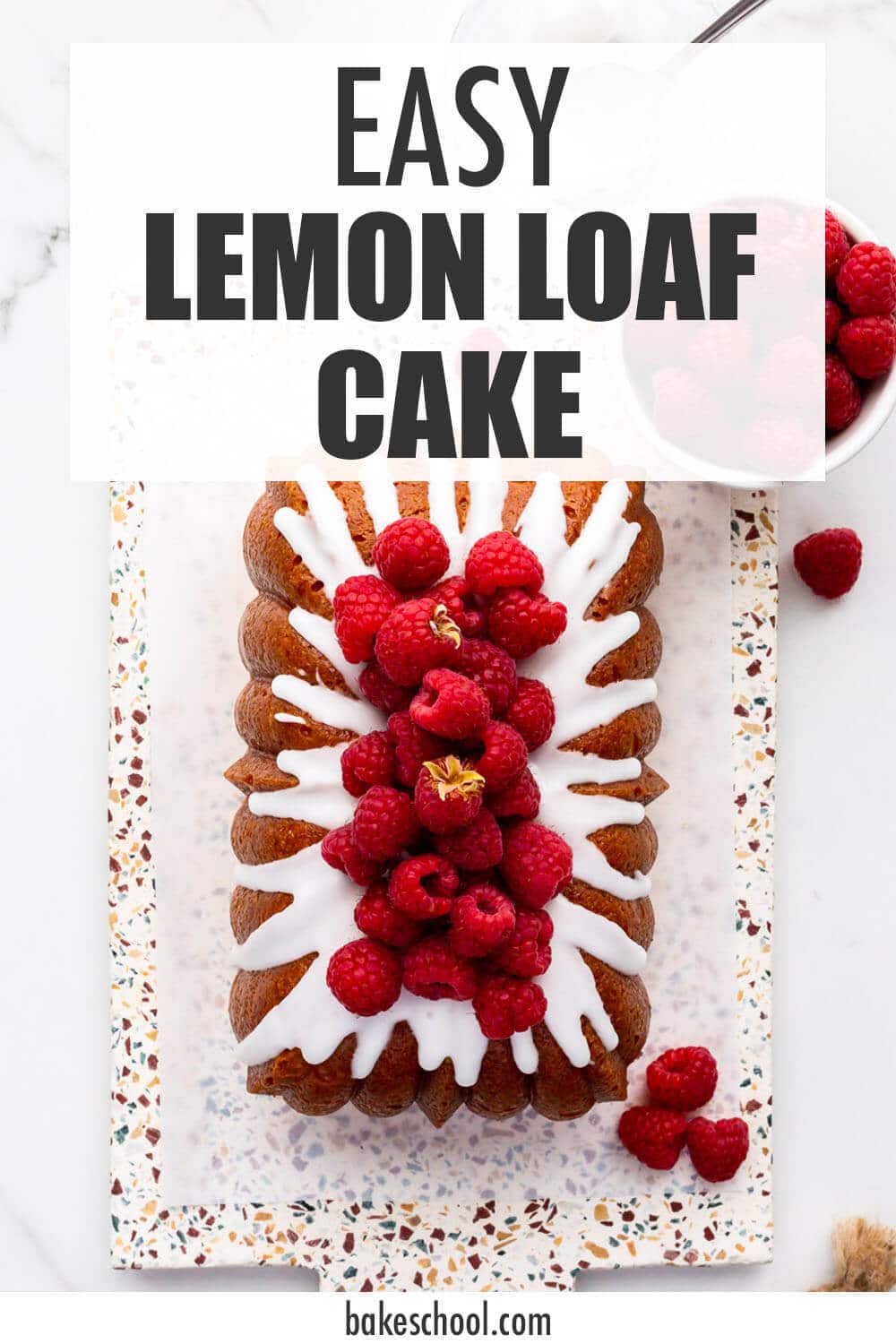 Disclosure: As an Amazon Associate, I earn from qualifying purchases.
A lemon loaf cake is a weeknight staple for breakfast, snacks, or even dessert. Like most quick breads, you can use the creaming mixing method to combine the ingredients. This allows you to incorporate more air into the batter, leading to a more delicate crumb.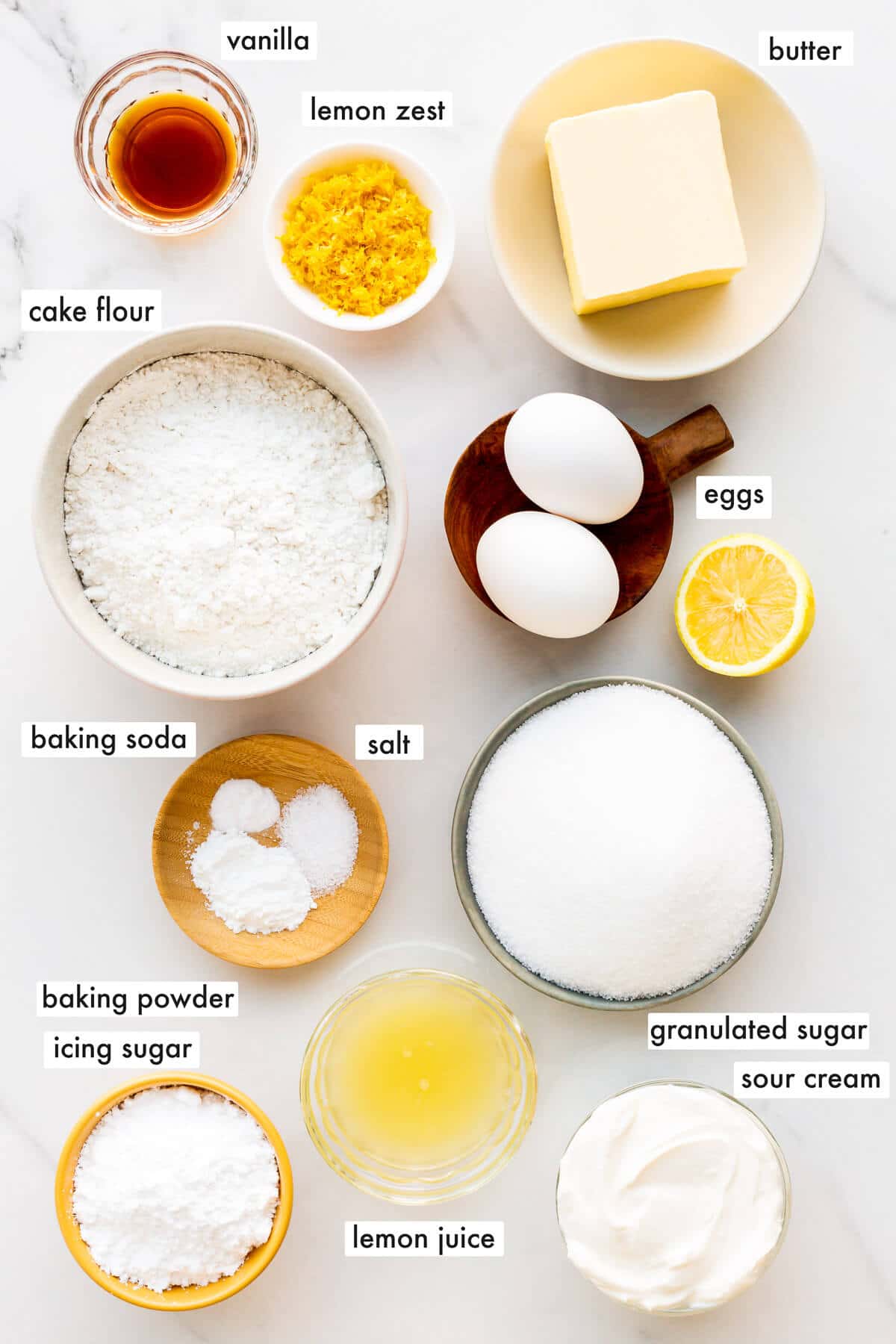 What you need to make a lemon cake
If you want to make a lemon bread, you will need the following ingredients:
granulated sugar—though brown sugar could also work here, it would add a molasses flavour that may overpower the delicate lemon flavour of the cake. Stick to granulated or caster sugar!
lemon zest, which adds lemon flavour to the batter without adding extra liquid. You will mix the zest with the sugar first to help draw out the lemon oil from the peel to flavour the cake (this is how you make lemon sugar!)
butter, preferably unsalted butter because you will add salt to the batter, but if you have salted, it will work. Just adjust the salt in the recipe accordingly, otherwise your cake may be too salty
large eggs, don't use smaller eggs because your cake may be too dry, but don't use extra large eggs because they could affect the texture of the cake. Sometimes eggs can toughen a cake!
vanilla extract is a great complement to lemon flavour, but you could also try lemon extract or even lemon oil to bring even more flavour to the cake
cake flour, lower in protein and higher in starch, will give the cake a delicate, finer crumb that you would expect from a lemon loaf
baking powder and baking soda are needed in this recipe. The baking soda is a base (alkaline) and balances out the acidity of the sour cream in the batter, while baking powder helps the cake rise up. Read up on baking soda vs baking powder if you are unsure
salt is really important to balance out the sweetness. Don't skip it. I like to use Diamond Crystal fine kosher salt, but table salt will work, though the cake will be a touch saltier and you may want to halve the salt in that case.
sour cream (full-fat) helps tenderize the cake and also the fat contributes to preventing the cake from going stale so quickly
lemon juice (freshly squeezed) is the secret to bringing the mouth puckering tanginess we expect from lemon desserts. While the zest is added to the cake batter to bring lemon flavour to the crumb, we use lemon juice in a simple syrup that you brush onto the hot cake to help infused the crust with a burst of flavour.
icing sugar is needed to make the icing for this cake. You can't replace it with regular white sugar because it's too coarse and we need a fine powdered sugar to make a smooth icing.
Special tools and equipment
Loaf cakes and quick breads don't require anything special. We are using the creaming method to make this lemon cake. Using a stand mixer makes it easier for you to mix the ingredients well and to incorporate more air into the batter, leading to a finer crumb.
This recipe will fit in any 6 cup cake pan. You can use an 8.5" x 4.5" loaf pan or even a 9" x 5" (1 pound loaf pan). For the photos, I used a fluted loaf pan from Nordic Ware. It has an elaborate pattern, reminiscent of bundt pan shapes. By all means, use the loaf pan you already have in your cupboard, but the look will be different.
You will also need a pastry brush for brushing the syrup onto the surface of the hot cake.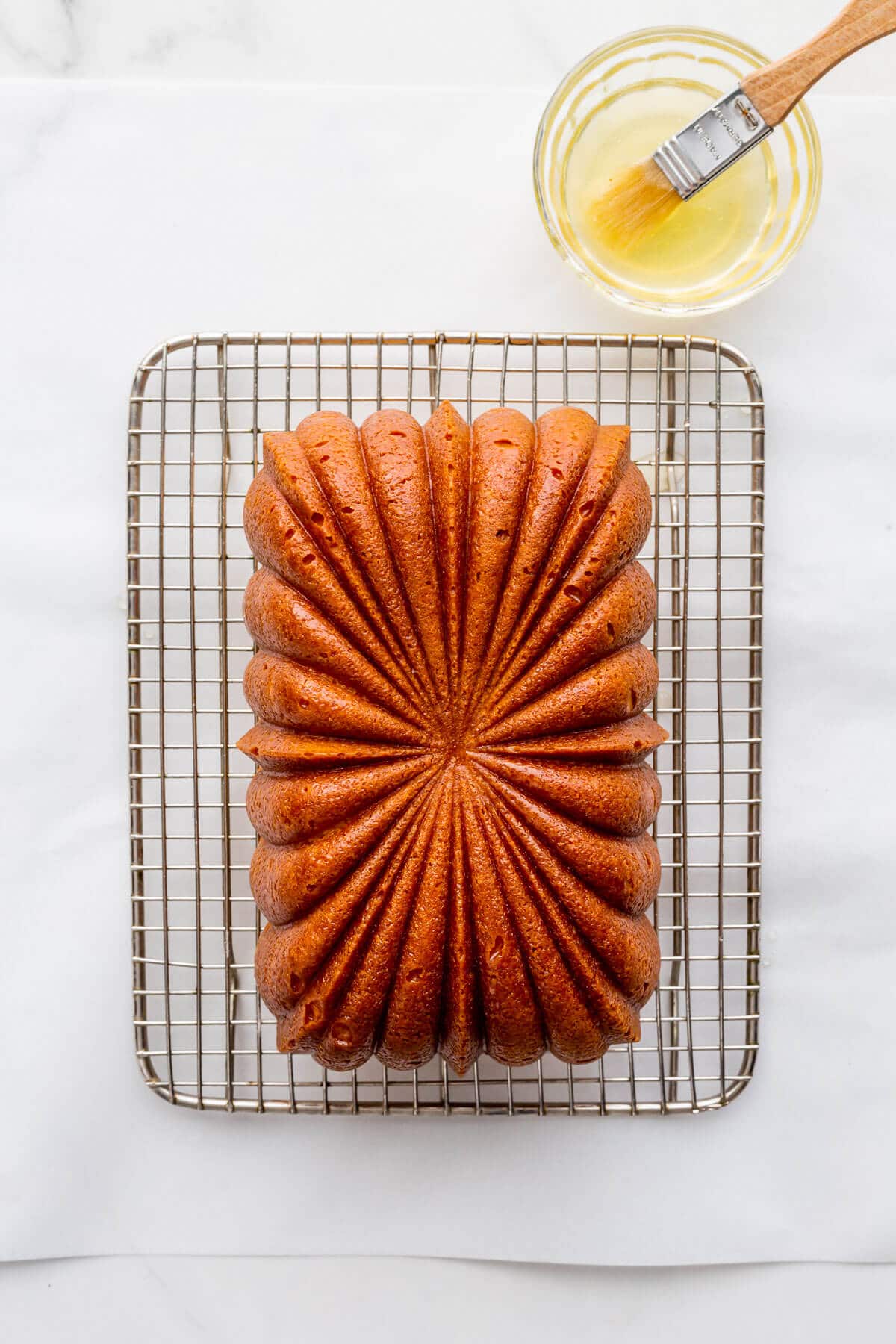 Infusing baked goods with lemon flavour
There are four main ways of infusing baked goods with lemon flavour:
lemon zest— the outermost layer of the citrus peel
lemon juice—freshly squeezed has a better flavour than bottled
lemon extract—either real lemon extract (preferably) or artificial, alcohol–based
lemon oil—an oil-based extract coming from the natural oils from lemon peel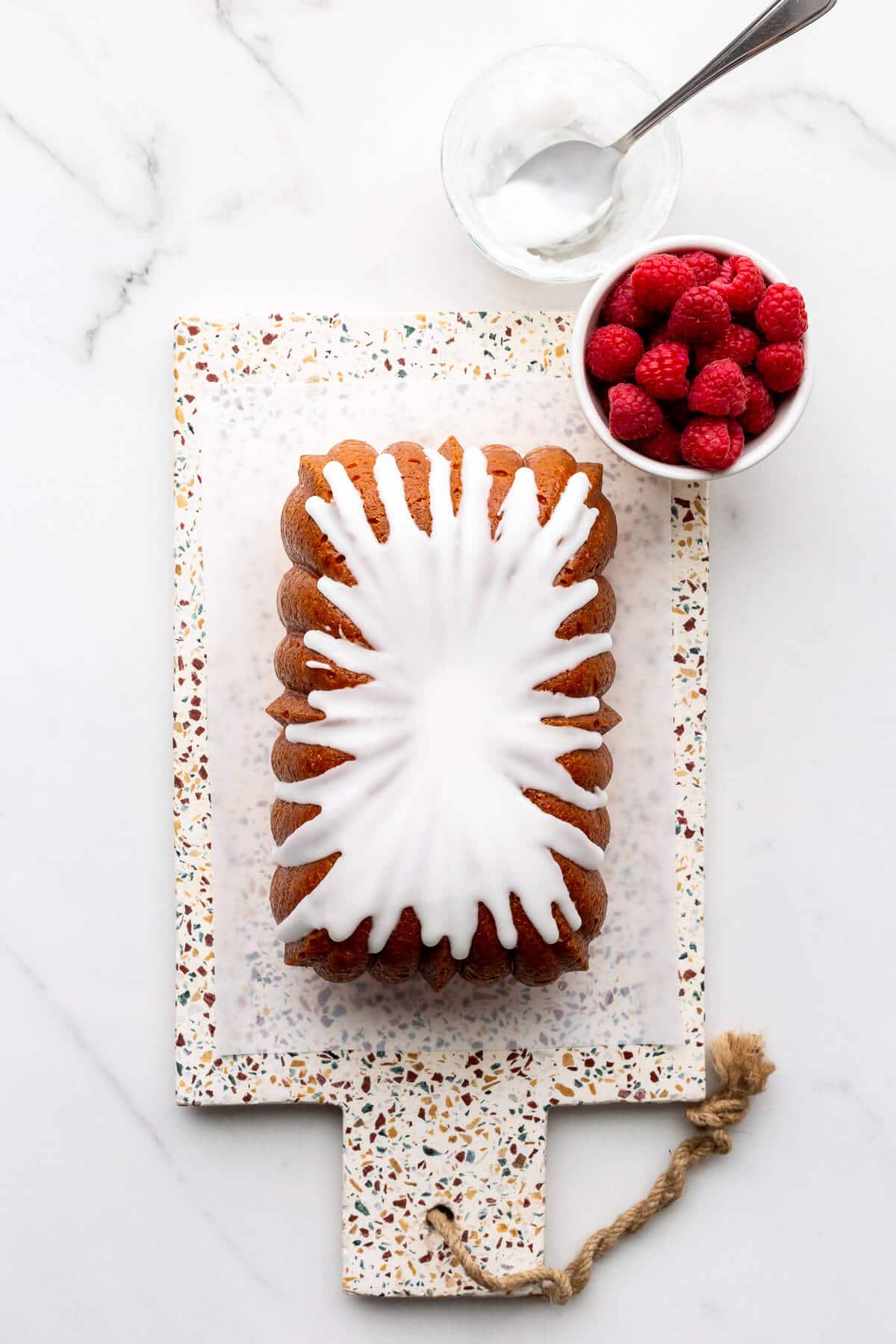 For this lemon cake, we are using lots of lemon zest in the cake batter. We save the fresh lemon juice to make the lemon syrup to brush onto the warm cake to infuse it. Once cooled, we make a lemon icing with even more lemon juice to bring it all together.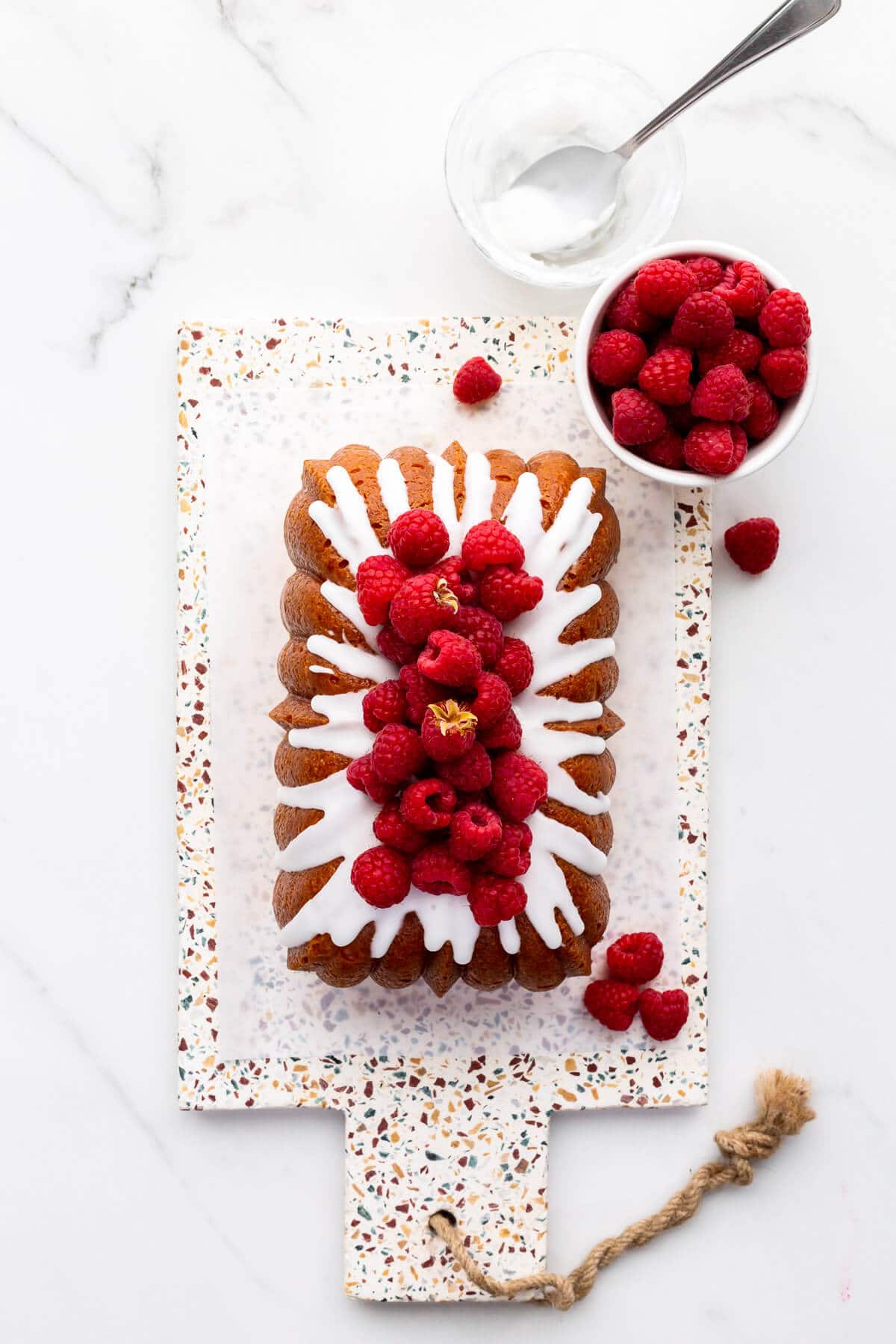 You can definitely test out lemon oil or lemon extract in this recipe, but I haven't tried it yet. I don't have either of these ingredients, and I assume most bakers don't either. For this reason, I stuck to using fresh lemons for flavour in this recipe.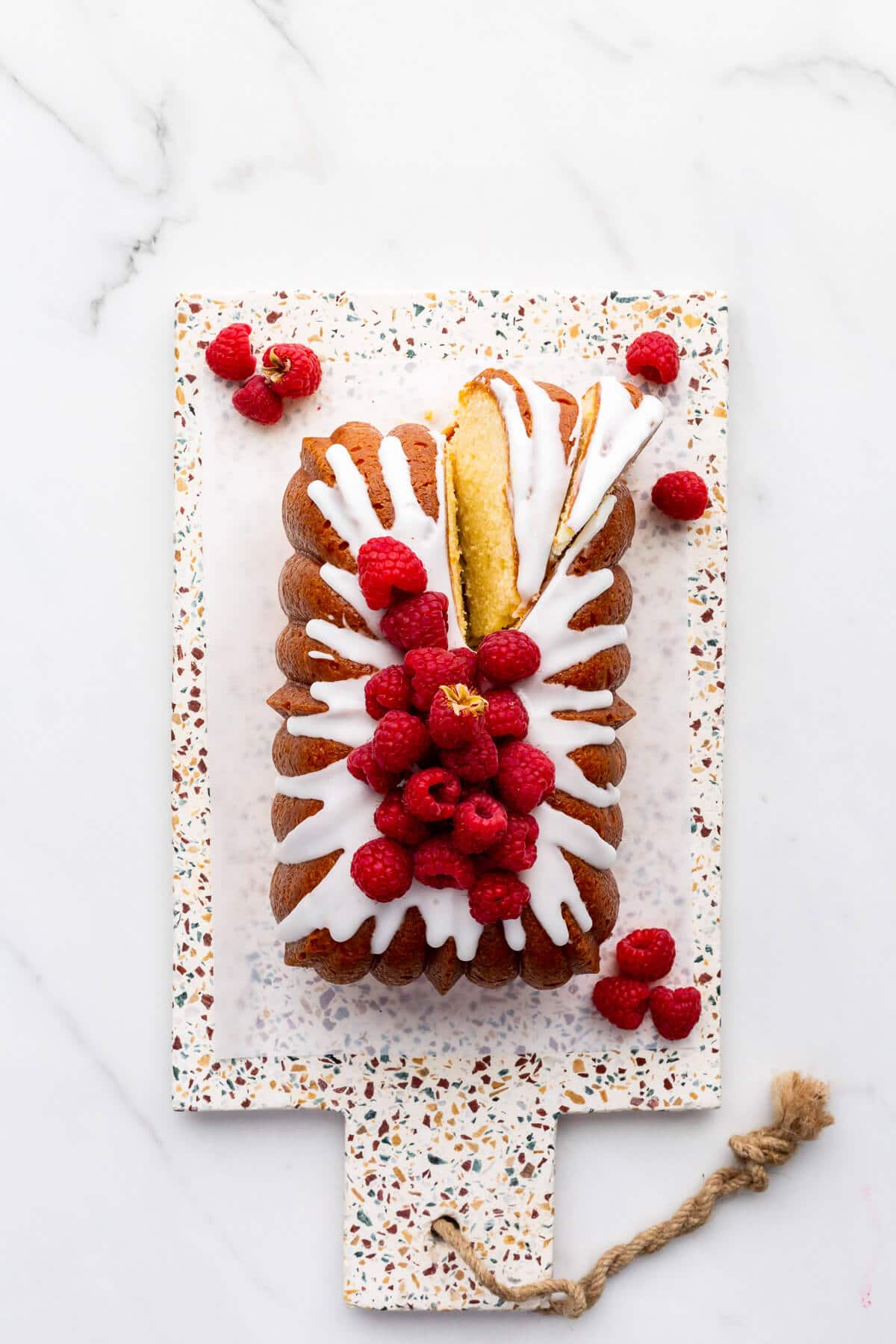 The secret to thick icing that doesn't run
For simple icings that are made of mostly powdered sugar (icing sugar) with a liquid, the key is to add very little liquid. For 60 grams (½ cup) of icing sugar, we only add 15 mL (1 tablespoon) of lemon juice. The icing is so thick that you have to spoon it onto the top of the cake. Then to achieve decorative drips, you have to nudge it over the edges.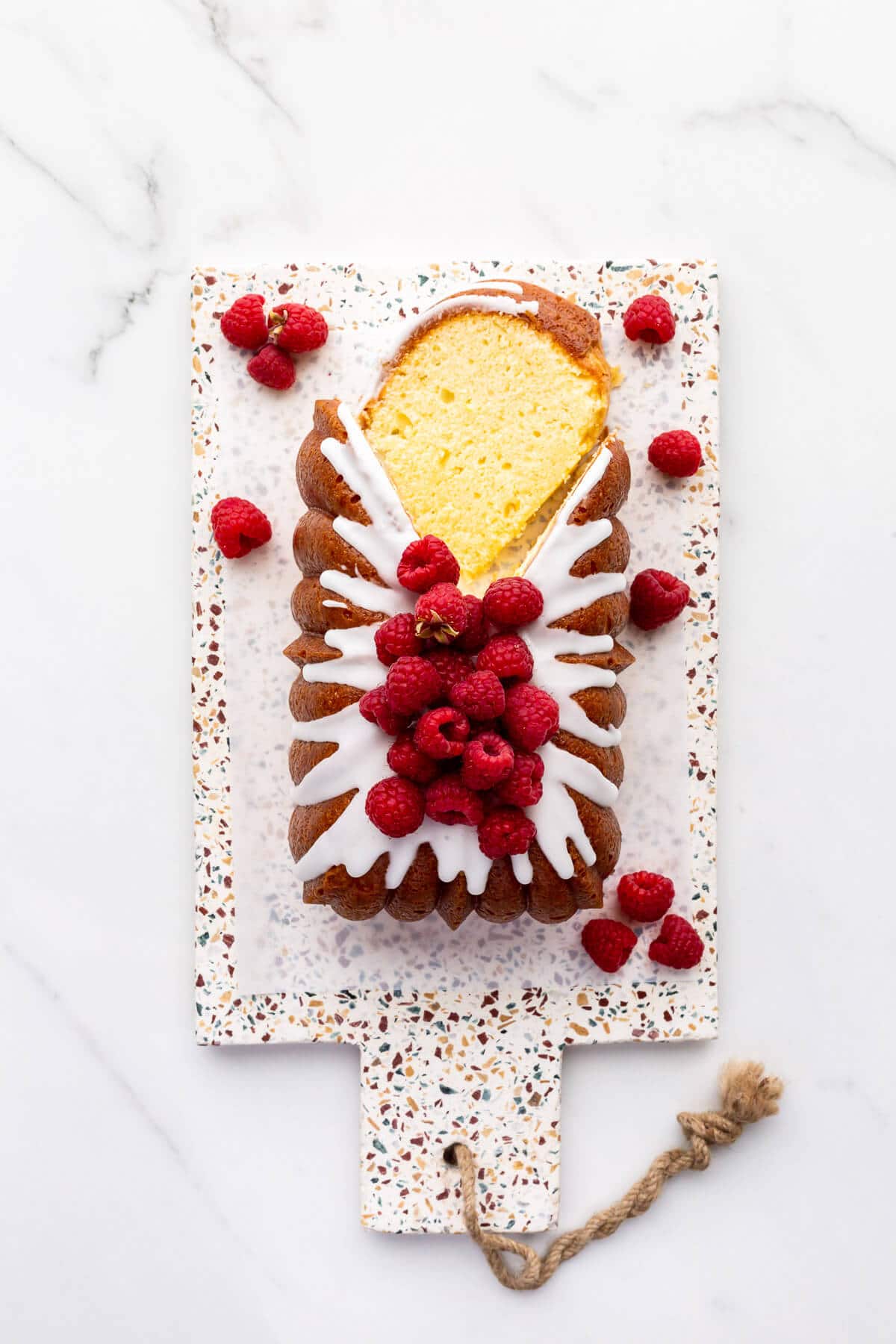 The amount of liquid really doesn't seem like enough when you are mixing it with the icing sugar. However, if you use a small whisk, you can achieve a very smooth consistency. Make sure to work the two ingredients together until they form a thick paste.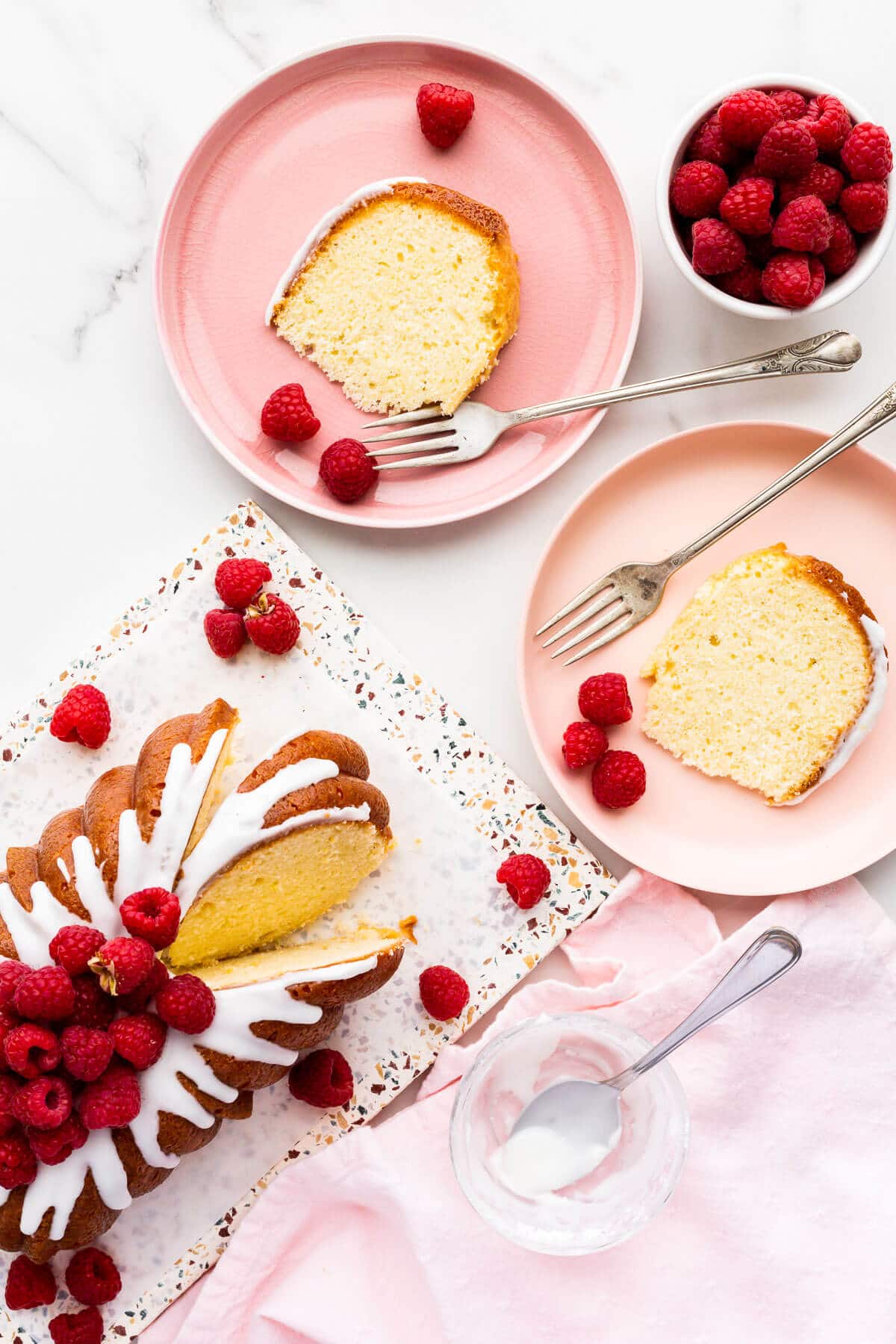 Other loaf cakes to try
Loaf cakes are a real treat during the week. They come together quickly. You can dress them up to make them fancy if need be for a dinner party or family dinner. If lemon cake isn't your favourite, you can try this chocolate loaf cake, topped with vanilla bean ice cream. Or, during the fall, make this pumpkin bread with cranberries!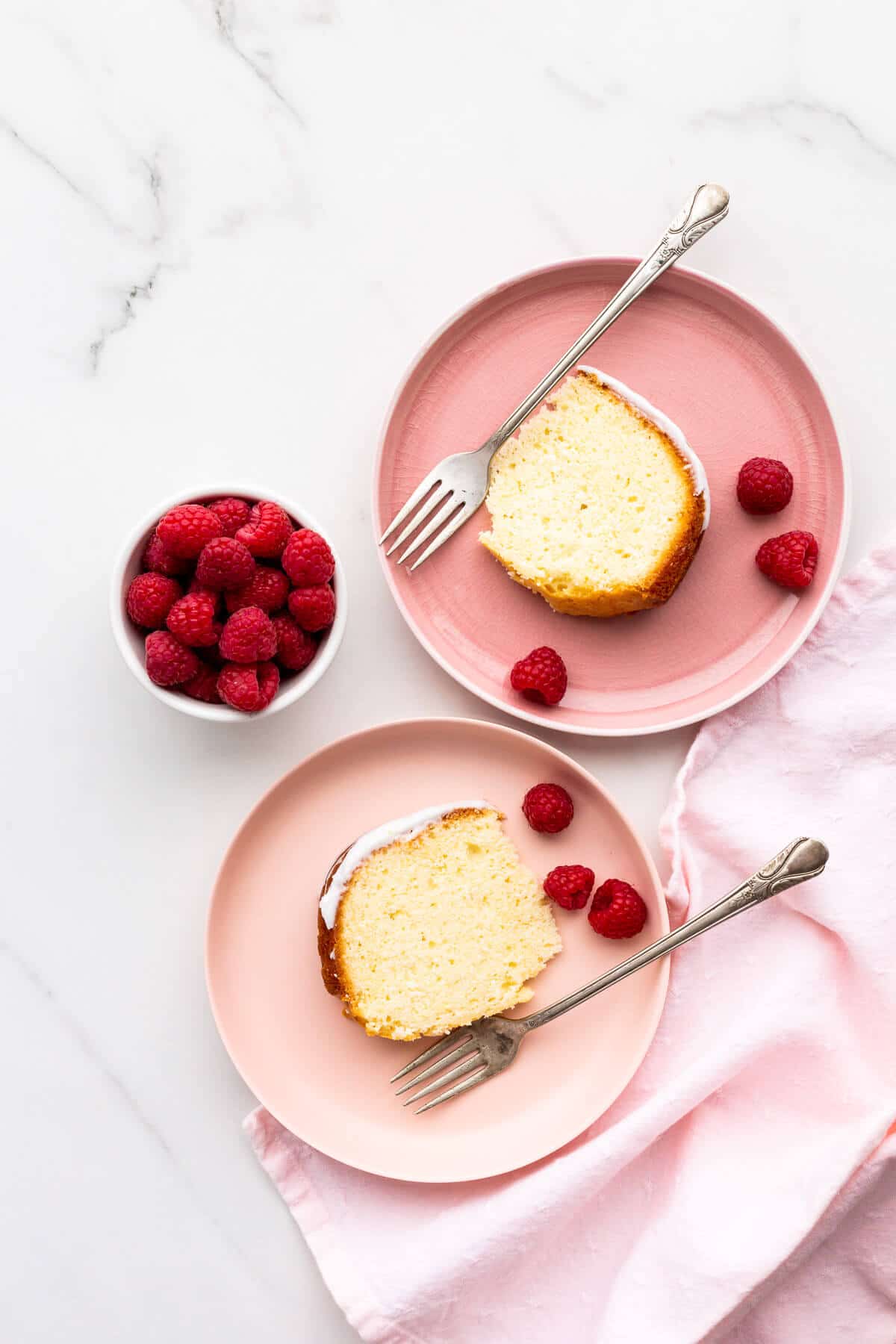 Storage suggestions
Loaf cakes will last several days at room temperature if you store them on a board, wrapped in aluminum foil. For longer storage, the freezer is your best bet. You can store the loaf, without icing in the freezer for several months (up to 3 months). Unwrap the frozen cake and then defrost it in the fridge overnight to avoid the surface becoming gummy. Then make the icing the next day to decorate it.
📖 Recipe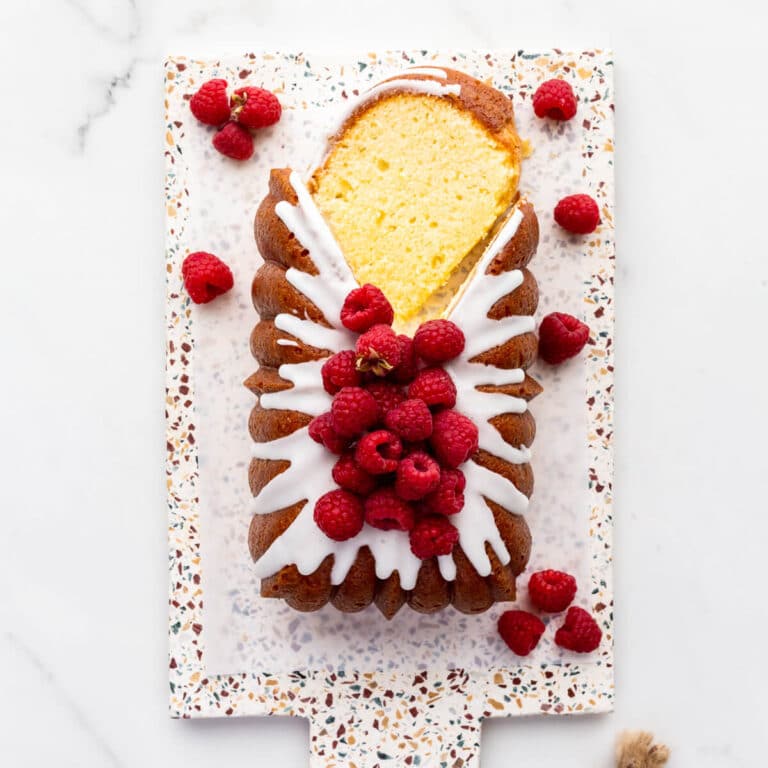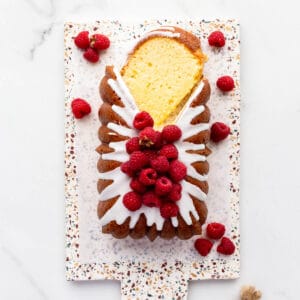 Lemon Loaf Cake
Learn how to make this lemon loaf cake with this easy recipe, with ground almond, lemon zest, and sour cream, that makes a moist lemon cake with a tender, yet sturdy crumb. The cake is glazed with a lemon drizzle when it's still hot to add more lemon flavour. Great for slicing and wrapping for snacks, but can also be dressed up with vanilla ice cream and berries for a simple dessert.
Ingredients
Lemon loaf cake
258

grams

cake flour

5

mL

baking powder

1.25

mL

baking soda

173

grams

unsalted butter

250

grams

granulated sugar

30

mL

finely grated lemon zest

equivalent to the zest of 2 big lemons

2

large egg(s)

5

mL

pure vanilla extract

180

mL

sour cream (14% fat)
Lemon syrup
60

mL

fresh lemon juice

equivalent to juice of 1.5 lemons

50

grams

granulated sugar
Lemon icing
63

grams

icing sugar

15

mL

fresh lemon juice

equivalent to juice of 0.5 lemons

140

grams

Fresh raspberries

optional
Instructions
Lemon loaf cake
Preheat the oven to 350 °F (175 °C). Brush with softened butter and flour an 8½x4½ inch (21.5x 11.5 cm) loaf pan OR a 9x5 inch (23x12.5 cm) loaf pan or a fluted 6-cup (1.5 L) loaf pan. Set aside.

In a medium bowl, whisk together the flour, baking powder, salt, and baking soda. If the flour seems lumpy, you can sift it through a metal sieve to get out all the lumps!

In a large bowl, using an electric hand mixer or in the bowl of a stand mixer fitted with the paddle attachment, cream together the butter and sugar for at least 5 minutes until light and fluffy and well mixed. Be sure to scrape down the sides of the bowl often to make sure the mixture is evenly whipped.

Add the eggs, one at a time, mixing in between each addition and scraping down the bowl as needed.

Add the vanilla. Stir it in until all the ingredients are evenly mixed.

Add the sifted flour mixture, alternating with the sour cream, while stirring it in on low. You may want to finish mixing with a spatula to make sure the ingredients are all combined and to make sure there isn't any butter and sugar stuck to the bottom of the bowl.

Transfer the lemon loaf cake batter to the prepared loaf pan. Bake the cake on the middle rack until baked through. You'll know it's done because it will have cracked a little in the middle, it will pull away from the edges of the pan, a cake tester will come out clean, and the internal temperature will register around 100 °C (212 °F). It takes about 65 to 75 minutes to bake this cake in my experience.
Lemon syrup
While the cake is baking, make the syrup ahead of time so that it cools down.

In a small saucepan, combine the lemon juice and the 50 grams (¼ cup) of granulated sugar. Heat it until all the sugar is dissolved and it comes to a boil, then remove the saucepan from the heat and let it cool at room temperature.

Let the cool cake in the pan on a wire rack for 5 minute to firm up, then invert it onto a wire rack.

Using a pastry brush, immediately brush the cooled syrup on the hot cake, all over the top and sides. Use all the syrup. If you want you can poke a few holes on the surface to encourage the syrup to soak in further.

Let the cake cool completely before icing and slicing (at least 2 to 3 hours).
Lemon icing
When the cake has cooled completely, make the icing.

In a small bowl, whisk the icing sugar with 15 mL (1 tablespoon) lemon juice. The mixture will be very thick. Pour it on top of the cake and using a spoon, nudge the thick icing gently so that it drips down over the edge, decoratively.

Serve plain or with fresh raspberries (optional).
Notes
For this recipe, I used a fluted loaf pan from Nordic Ware, which has an elaborate pattern, reminiscent of bundt pan shapes. It has a 6 cup capacity, like most 8.5" x 4.5" loaf pans. 
I used 2 lemons total for this recipe: I used the zest of both lemons in the cake batter (starting by making lemon sugar) and then most of the juice was used to make the syrup, holding back 15 mL (1 tablespoon) to make the icing. 
Nutrition
Calories:
293
kcal
Carbohydrates:
41
g
Protein:
3
g
Fat:
13
g
Saturated Fat:
8
g
Polyunsaturated Fat:
1
g
Monounsaturated Fat:
4
g
Trans Fat:
1
g
Cholesterol:
57
mg
Sodium:
115
mg
Potassium:
94
mg
Fiber:
1
g
Sugar:
27
g
Vitamin A:
425
IU
Vitamin C:
5
mg
Calcium:
42
mg
Iron:
1
mg