Even better than a traditional apple pie, this maple apple pie recipe is made with maple roasted apples, which are tossed with maple sugar before pouring into the pie crust and baking. This incredible apple pie is made with roasted apple slices, which allows you to pack more apples into your apple pies!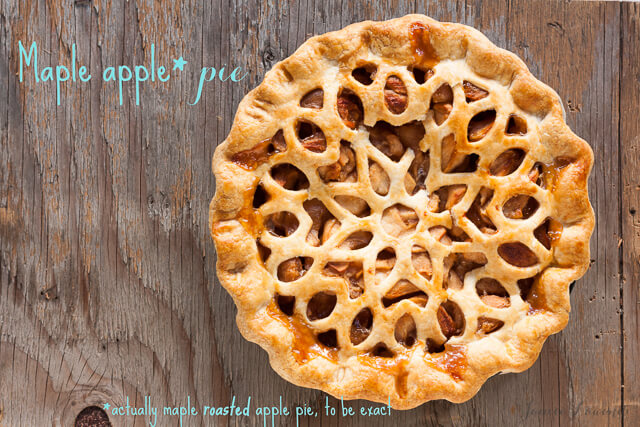 Disclosure: As an Amazon Associate, I earn from qualifying purchases.
Jump to:
Pre-cook apples to make pie filling
As much as I love ALL pie, I hate when I bake a double-crust apple pie and when I pull it from the oven, I find that the filling has shrunk down a good inch or two from the puffed top crust, creating a big gap between the crust and the filling. How do we bake an apple pie without that big gap?
The answer is to soften the apples first. There are a few ways to do so to yield soft and pliable fruit that you can pack more tightly into a double-crust pie: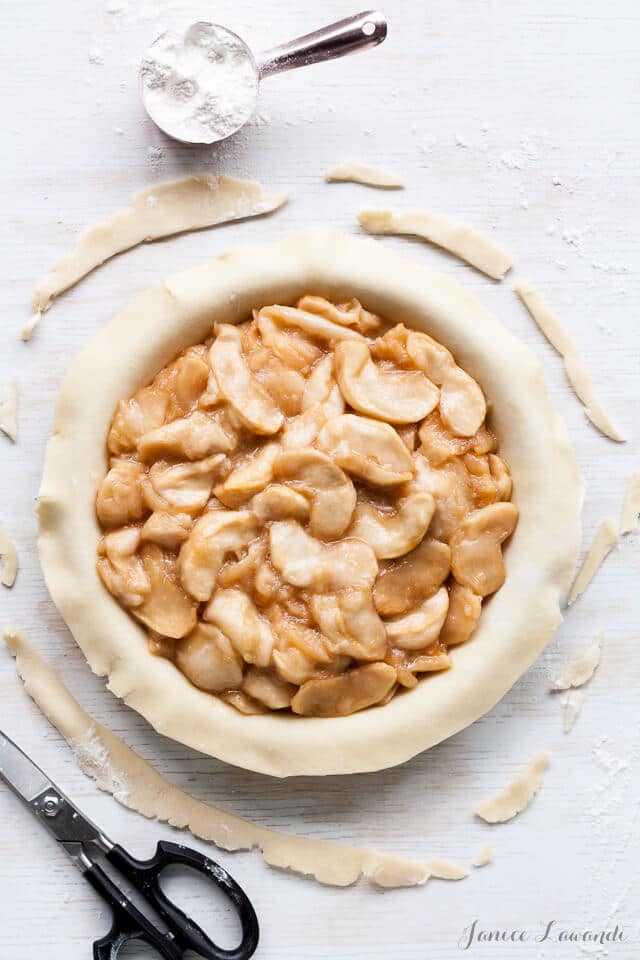 For this pie, I started with 12 cups of sliced apples (that's 4 pounds of whole apples!). Yes, you read that right: TWELVE cups of apple slices. I roasted the slices for about 45 minutes. They didn't appear to have shrunk that much, but when I compared the volume of apple after baking, I realized I was left with a lot less, like 4-to-5-ish cups. That seemed just crazy to me but I had "so little" roasted apple that when I later filled the pie plate with the apples, it filled the crust snuggly without having to make a big mound in the centre.
Imagine having to pile 12 cups of apples in a pie for a second. That'd basically be impossible had I not roasted the apples first. Perhaps the only plausible way to get all those raw apple slices into a pie would be to make a pie in a deep dish springform pan, arranging them ever so neatly to avoid any wasted space and gaps. Maybe that would work. Maybe.
APPLE PIE TIP Roast apple slices prior to making pie to soften the fruit so that the filling doesn't shrink so dramatically as it bakes! You'll also be able to fill the pie with more apples this way!
Pre-cooking the apples for pie makes the perfect apple pie. The pie cuts beautifully, and there is hardly a gap between the top crust and the apple filling. The filling has an intense apple flavour that isn't masked by a thickener because there's hardly a need for a thickener here. Fine, it takes an extra hour (when you count the time to cool the apples) to prep the apples, but I think it's absolutely worth it.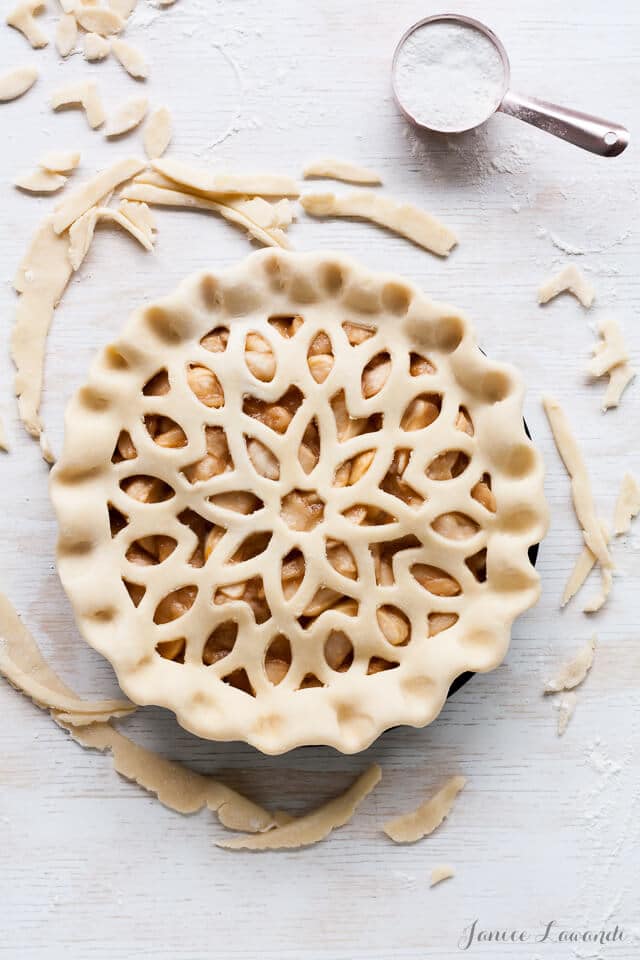 Sweeten with maple syrup and maple sugar
Roasting the apple slices not only allowed me to cram the equivalent of 4 pounds of apples into one pie, but it also meant that I only had to mix in 2 tablespoons of flour to thicken the filling (instead of at least 5 had I not roasted the apples first). Basically, this technique prevented any extra ingredients from getting in the way of the apple flavour in this pie.
Instead of using traditional brown sugar or granulated sugar for apple pie, try using maple sugar instead! Maple pairs so well with apples and makes another great maple syrup recipe. I sweetened the apples with a little maple syrup before roasting, and then to make the pie I added maple sugar (you can buy it on Amazon), yielding the ultimate maple apple pie.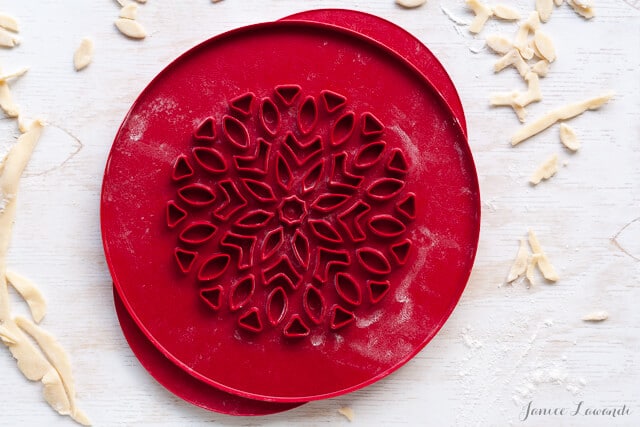 Easy method for a decorative top crust
This pie top cutter from Nordic Ware is one of my favourite pie tools! It's super handy for making a decorative top crust quickly. It's basically a giant cookie cutter designed to make a decorative pie crust. Because of its intricacy and its size, it's a little tricky to use because you have to be sure to press evenly and hard enough to cut through the dough. Make sure your rolled-out sheet of dough is cold to make cutting easier. Press firmly and evenly all over. Use a rolling pin, rolled back and forth over the plastic cutter to put even pressure all over so you cut through the dough.
If you would prefer a more classic look, read about how to make a lattice pie crust so you can use this technique on your maple apple pie.
If making pie crust from scratch scares you, be sure to check out my pie crust masterclass, which includes video tutorials for making pie crust in the stand mixer, food processor, and by hand!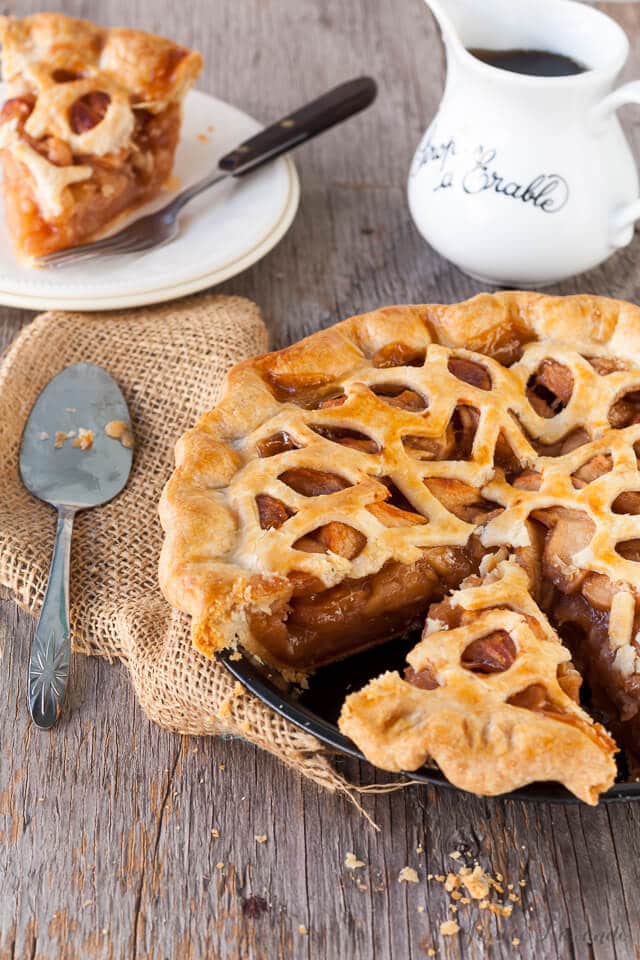 What to do with pie dough scraps
Inevitably, when you make a pie, you will be left with a pile of pie dough scraps. Gather them up and press them together to shape them into a disk and use them to make pie crust cookies!
While there's nothing quite like this maple syrup pie or an apple butter pie, this maple apple pie is a great bet for those looking to bake with fall fruit.
Short on time? Try this quick and easy recipe for apple crisp or this easy apple galette instead!
📖 Recipe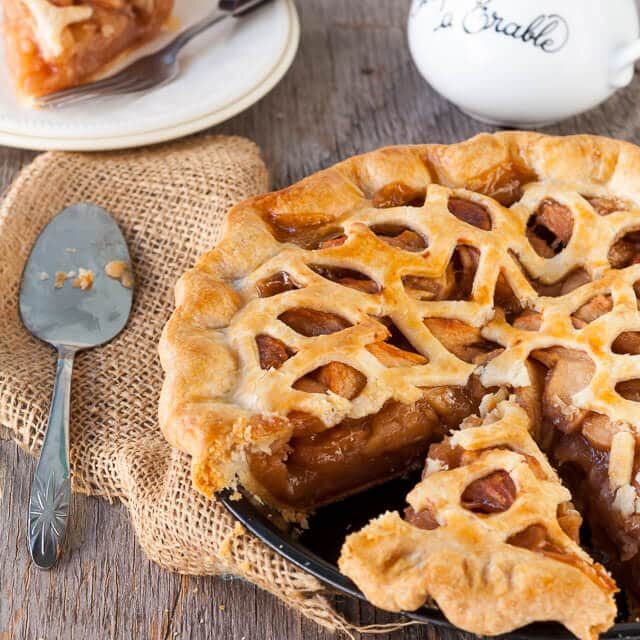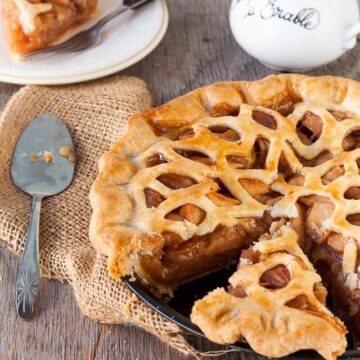 Maple Apple Pie
Even better than a traditional apple pie, this maple apple pie recipe is made with maple roasted apples, which are tossed with maple sugar before pouring into the pie crust and baking.
Ingredients
Apple filling
1.8

kg

Cortland apple(s)

234

grams

pure maple syrup

100

grams

maple sugar

more or less depending on how sweet your apples are

30

mL

bleached all-purpose flour
All-butter double pie crust
312

grams

bleached all-purpose flour

173

grams

unsalted butter

cold, cut into small chunks

105

mL

cold water
Egg wash
1

large egg(s)

don't add it to the dough! Brush it on the pastry before baking
Instructions
For the filling
Preheat the oven to 350 °F (175 °C). Lline two half sheet pans with parchment and set aside.

Peel and core the apples. Cut them into quarters, then cut each quarter into three.

Place the apple slices in a big bowl with the maple syrup and toss them to evenly coat them in syrup.

Divide the slices between the two parchment-lined half sheet pans, arranging them in a single layer. Roast the apples for about 45 minutes, rotating the pans every so often.

Let the apples cool then toss them with the flour and the maple sugar.
For the crust
In the bowl of a food processor, combine the flour and salt.

Drop in the cold butter chunks and pulse until the mixture resembles coarse almond meal. Add the cold water and pulse until the mixture forms a dough.

Divide the dough into two, pat into disks and wrap in plastic. Refrigerate for 45 minutes.

Roll out one disk on a floured surface into a 13" disk. Transfer to a metal pie dish and trim the edges to ½". I like this dark metal pie plate available on Amazon.

Pour filling into the pie and smooth it out.

Roll the second disk of dough and use the Nordic Ware pie crust cutter to stamp out a pattern from the top crust, then top the pie with the crust. Trim the edge to 1" then fold the excess under. Crimp the edge of the pie.

Whisk the egg in a small bowl and brush it over the entire surface of the pie crust. Freeze the pie for 45 minutes, then bake the pie on a baking sheet on the bottom rack for 30 minutes at 400ºF, then 50 minutes at 350ºF.

Let cool slightly before serving.
Notes
You can buy maple sugar in many markets and grocery stores in the New England area and the provinces of Ontario and Quebec. You can also order it online from Amazon.
Nutrition
Need some more pie inspiration? Try these!