If you've ever wondered how to make maple butter, this post is for you. Making maple butter from pure maple syrup is fairly easy. Grab your digital thermometer and follow these steps to transform pure maple syrup into a pure maple cream spread.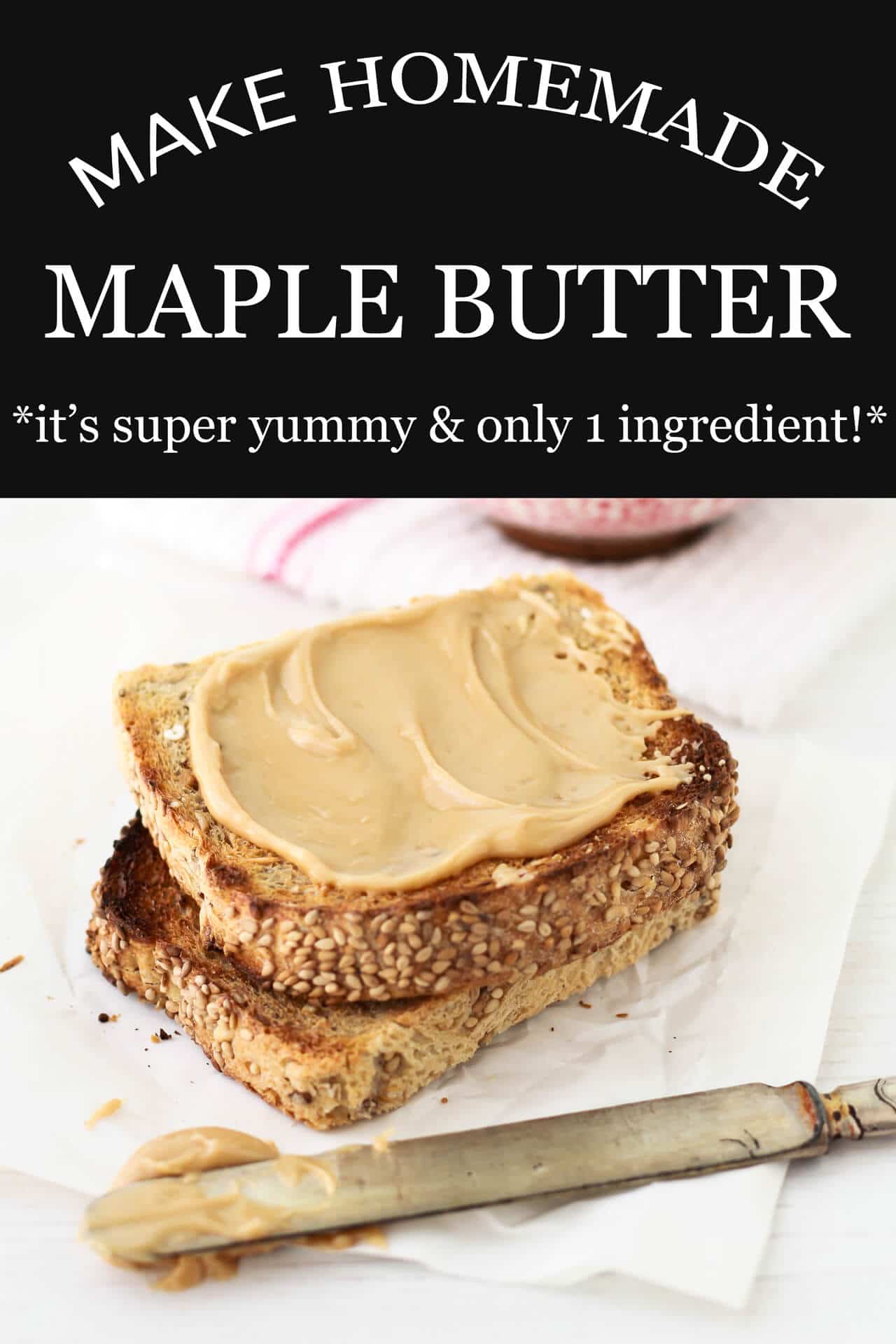 Disclosure: As an Amazon Associate, I earn from qualifying purchases.
Jump to:
What it is
The name maple butter, also known as maple cream, is a misleading name: there's no cream or butter in pure maple butter. Maple butter is a spread made from pure maple syrup that has been boiled, cooled, and whipped so that the syrup crystallizes in just the right way to give it this spreadable smooth, creamy texture.
Maple butter is made through the controlled crystallization of sugar. So, while you are trying to prevent sugar crystallization when making caramel sauces, with maple butter, you are aiming to force the sugar to crystallize in just the right way to achieve the correct, soft, smooth, spreadable consistency. It's readily available in the New England area, as well as Quebec and Ontario, where most maple products are made. In Quebec, it may be labelled as "beurre d'érable."
Maple butter versus maple compound butter
Though some will post "easy maple butter" recipes that are made by creaming together softened butter and maple syrup, that's actually not what maple butter is at all! Don't be fooled! Real maple butter is made from pure maple syrup. It's a maple spread that is vegan and dairy free. If you want to make maple compound butter by mixing butter and maple syrup, that's another option and you can follow this honey butter recipe.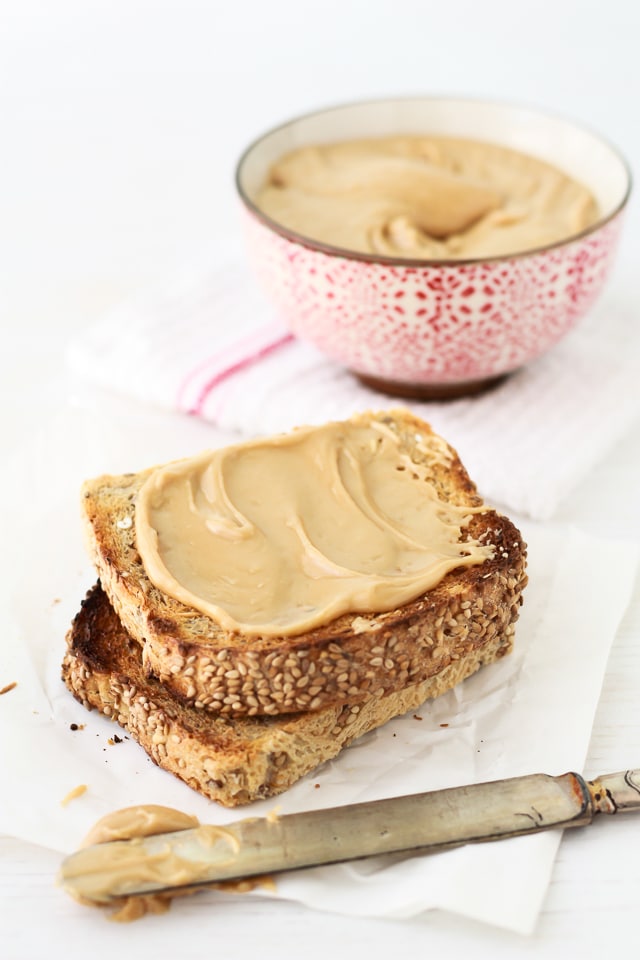 What's in it
Maple butter is made from pure maple syrup and nothing else. You may also add a tiny amount of vegetable oil (or canola oil) when you make it to prevent the maple syrup from boiling over, but there are no other ingredients in pure maple butter.
How to use it
There are so many recipes you can make with maple syrup. You can use maple syrup to sweeten an apple pie. You can use it in this maple fudge recipe or a maple syrup pie. However, maple syrup is quite fluid and "loose" so it doesn't make the best topping or filling in certain instances. This is why maple butter is more interesting in baking: it has less water!
This delicious, creamy, thick maple spread is a more practical way of baking with maple syrup without the mess of dealing with the extra water in the syrup. In instances where you want a maple-flavoured filling, maple butter is what you should use:
How to make it
This maple butter recipe is the simplest of the maple syrup recipes and it's made from only 1 ingredient, as a rule: maple syrup. The science behind maple butter is relatively simple but the temperature is key to success!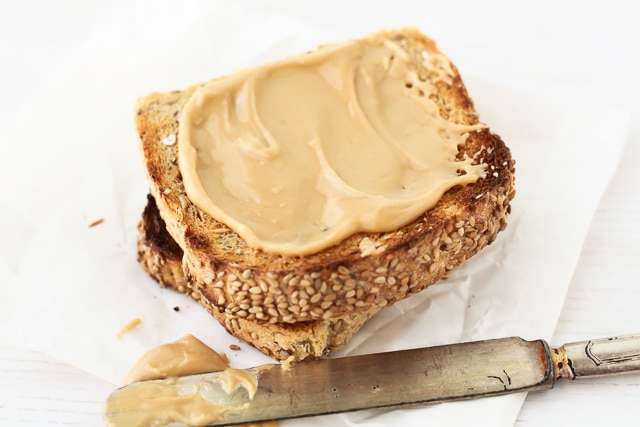 Boil maple syrup until it reaches 235°F (that's 112ºC), which is 22–24°F (12ºC) over the boiling point of water. By doing this, you are basically concentrating the sugar, making it easier to crystallize because all the tiny sugar molecules are now really close to each other in the syrup.
Cooling the concentrated syrup in an ice bath quickly drops its temperature. This is an essential step favouring crystallization (and specifically smaller, finer crystals over bigger, chunky crystals).
Stirring the cooled mixture for a very long time (crystallization is a process, so patience is key here): eventually, it will turn opaque/creamy-looking and become maple butter.
I encourage you to sample after cooling the syrup both before and after the long stirring process because the mouthfeel is really quite different, and that's how you know it's "done". However, avoid sampling the boiling hot syrup. It may be tempting, but it'll burn you really badly. Hungry for more recipes with maple syrup, I have a whole category of posts dedicated to baking with maple syrup to explore.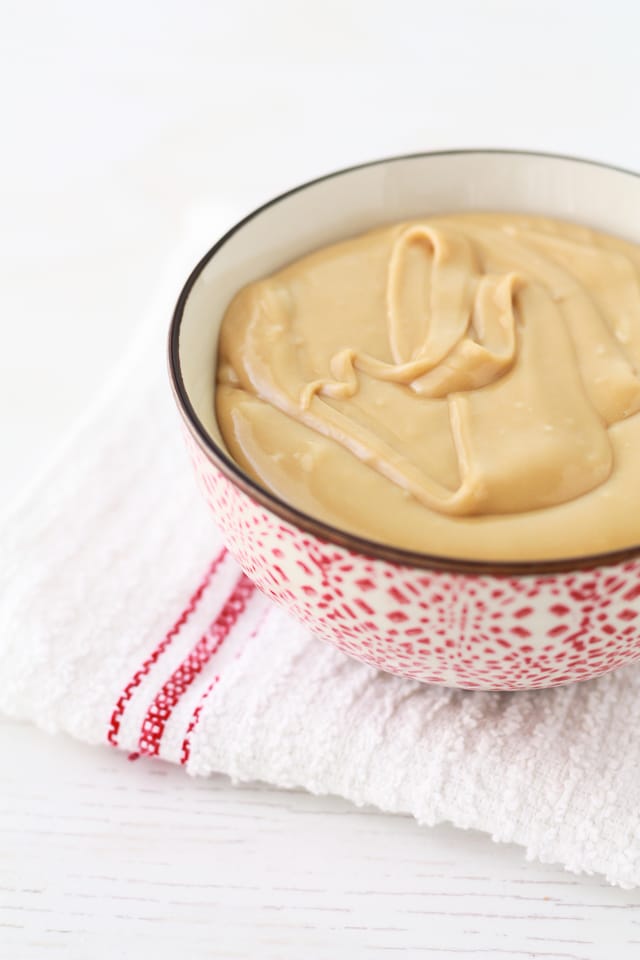 Trick to prevent sugar syrups from boiling over
Though maple butter or maple cream is made from pure maple syrup, you might have noticed that this maple butter recipe also calls for ¼ teaspoon of canola oil (you could also add a little butter, if you prefer). There's a reason for that oil. If you've ever boiled a large amount of maple syrup, you will probably have noticed that boiling maple syrup has a tendency to boil over and make a real mess of your stove if you aren't careful.
By adding a tiny amount (¼ tsp) of canola oil to the pot, the chances of maple syrup boiling over are greatly reduced because the oil helps burst the larger bubbles. This trick with oil works with boiling pasta water, though some purists will argue that the little bit of oil may interfere with the sauce sticking to the pasta. I'll leave that discussion for another time.
Top Reader Tip
A reader gave an excellent tip for this recipe that I thought I'd share:
If you have an electric hand mixer, pour the warm syrup into a large mason jar and attach only one beater to the mixer. Then mix the syrup in the jar until it becomes opaque.
Troubleshooting and FAQs
Why is my maple butter too hard to beat?
Temperature is key when making maple butter, just like when making maple fudge. Cooking the syrup enough to achieve the right sugar concentration is key, but the cooling phase is also very important. You need to cool the syrup enough that the sugar will crystallize, but if you cool it too much, it will harden into a block that is impossible to whip.
So, how do you know how much to cool the mixture? A thermometer is your best bet, but it's important to use the right thermometer for this job. Your thermometer has to be instant-read, which means your thermometer is fast to record a change in temperature. Some cheaper thermometers are not instant read. They can take several minutes to register an increase or a drop in temperature. This kind of thermometer will not work here, and you will inevitably cool the mixture too long. It will be too hard to beat.
I use a Thermoworks Thermapen, which can register temperatures and temperature changes within 3 seconds. This means you can catch the maple butter at exactly the right temperature! The Thermoworks ChefAlarm thermometer would be better suited for this recipe because it's a hands-free probe that comes with a pot clip.
Why is my maple butter still liquid after beating it?
If you beat your cooked/cooled maple syrup for a long time and it never forms a creamy, opaque spread, the syrup isn't concentrated enough. Your best bet is to transfer the mixture back to the pot and cook it again.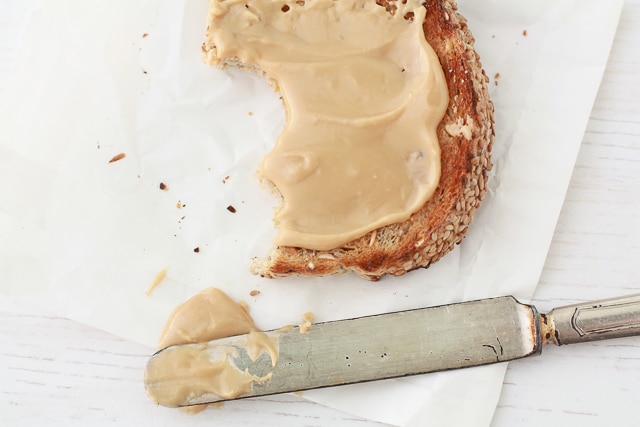 Storage and shelf life
Maple butter, also known as maple cream, is a creamy spread made from 100% pure maple syrup. This spread is dairy-free and vegan. Maple butter can be stored at room temperature in a sterilized mason jar for up to a month, but it's best to refrigerate maple butter to help improve shelf life.
The maple cream is more likely to break down and liquefy at room temperature: maple syrup may separate out. At room temperature, mold may also be an issue to watch out for. In the refrigerator, maple butter can be stored for up to 6 months. The same goes for maple syrup: store maple syrup in the fridge too to reduce mold production.
📖 Recipe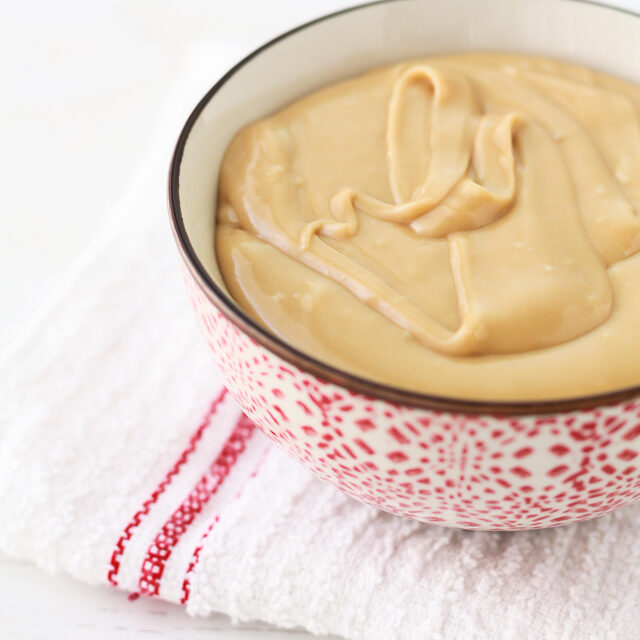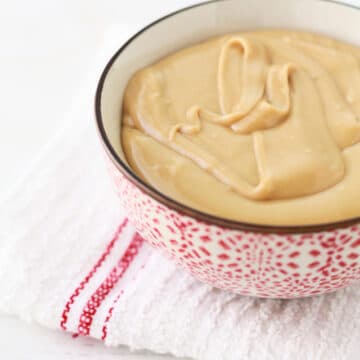 Maple Butter
Ever wonder how to make maple butter from pure maple syrup at home. This maple butter recipe will help you make creamy smooth maple butter from pure maple syrup at home.
Ingredients
500

mL

pure maple syrup

I used Grade A, amber syrup from Quebec

1.25

mL

canola oil
Instructions
Immediately, transfer the boiled syrup to your stand mixer bowl, and drop the bowl into a big ice bath to cool the syrup down to about 60°F (15–16ºC). Then let the syrup warm back up to room temperature.

With the paddle attachment, beat the syrup on low for a very, very long time (like 30 minutes even) until it turns opaque and the color of sesame butter (the texture on your tongue when you sample it will go from syrupy at the beginning of the process to very finely powdery).

Quickly transfer the maple butter to a large jar and store in the fridge.

If the maple butter separates at any point, just give it a good stir before using.
Notes
Temperature is very important when making maple butter (or maple cream) at home: use a thermometer so that you boil the maple syrup to the correct temperature (235ºF or 112ºC) and then you have to cool it down to the correct temperature (60ºF or 15–16ºC). This digital probe thermometer from Thermoworks is a good option: the ChefAlarm
Nutrition
Calories:
56
kcal
Carbohydrates:
14
g
Sodium:
1
mg
Potassium:
46
mg
Sugar:
12
g
Calcium:
23
mg
Where to buy it (if you have zero desire to make it at home)
Maple butter spread, also called maple cream, is available where other maple products are sold, but as you can see, you can also make it at home. In Canadian grocery stores, it's either in the aisle with the maple syrup or stocked next to the breakfast spreads (jams, jellies, peanut butter, caramel spreads). In Quebec and Ontario, maple producers usually have stores where you can stock up on maple products, including maple syrup, maple butter, maple sugar, and maple flakes. Farmers' markets in Ontario, Quebec, and the New England area usually have maple stands run by local maple producers where you should be able to find maple butter.