This is an easy recipe for maple cookies, a play on sugar cookies, made with maple sugar and maple fudge candies.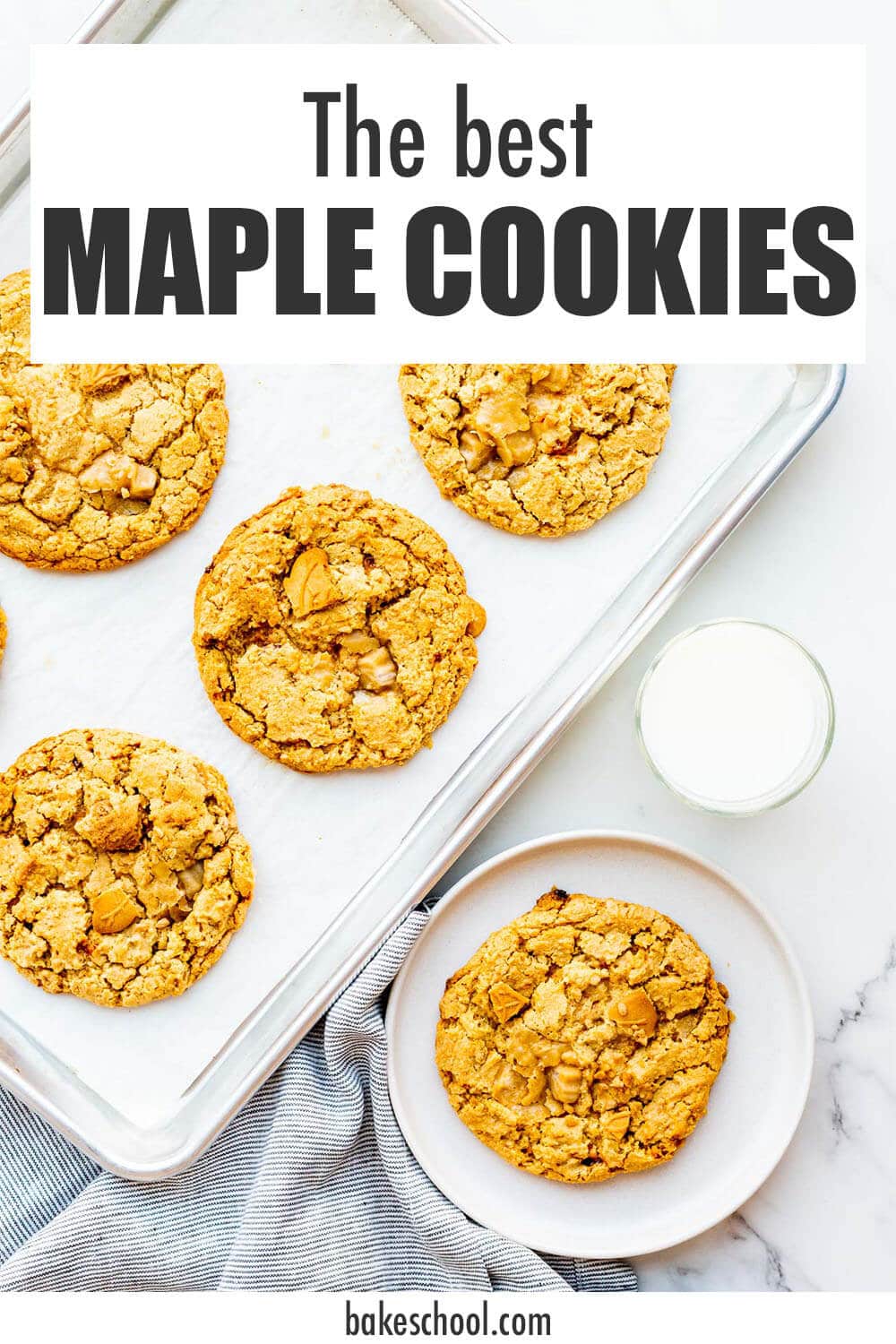 Disclosure: As an Amazon Associate, I earn from qualifying purchases.
This maple cookie recipe is one I developed while taking an online baking class with Christina Tosi of Milk Bar (I highly recommend the book, which is available on Amazon). The base for this recipe is the Milk Bar sugar cookie, but modified in a few important ways to bring maple flavour into the recipe.
Jump to: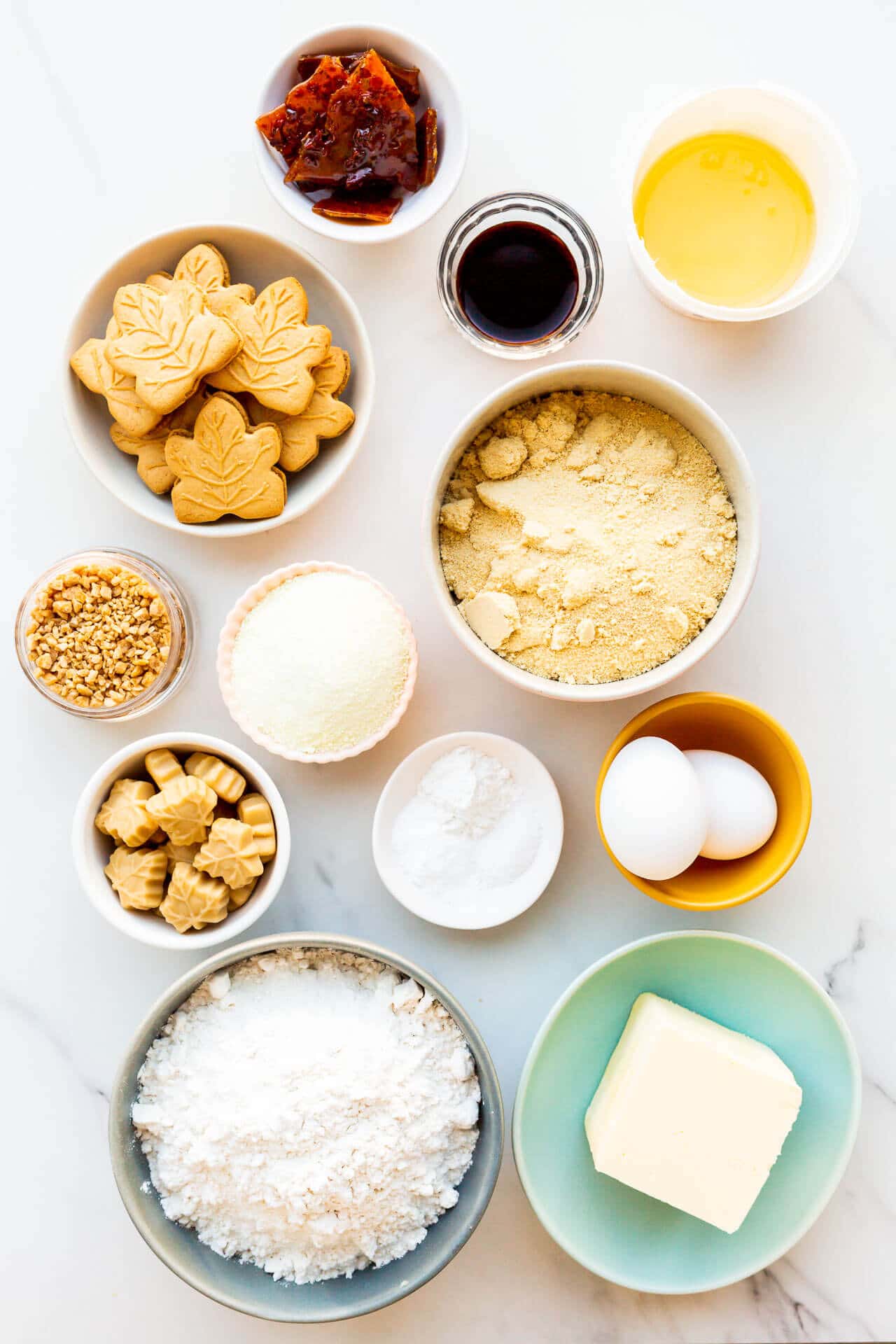 Special ingredients to make these
Please note that you will probably have to go shopping for this recipe and if you don't live in an area where maple products are sold year-round, you may have to do some ordering online:
Check out my list of Milk Bar baking essentials on Amazon!
I also added a little homemade bacon brittle to the cookie dough to add a little salt and smokiness to the cookies, but it's entirely optional. I ground it down in the food processor into a fine but still granular mixture. This popcorn brittle could also work here, which makes pretty awesome popcorn brittle brownies.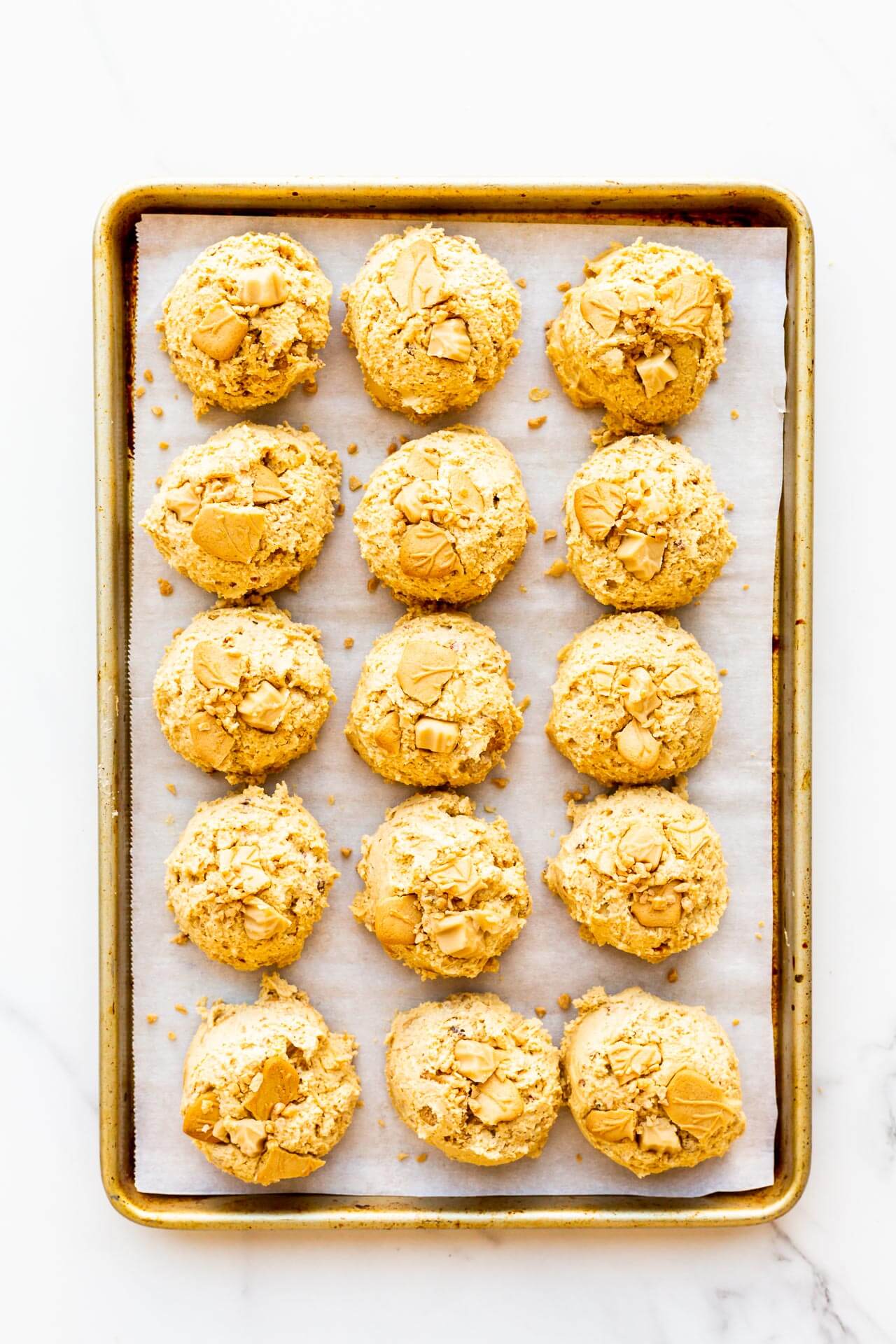 Mixing method for cookies
To make these maple cookies, you will use the creaming method, where the butter and sugar are whipped for 3 minutes before adding the eggs, and then the mixture is whipped for another 8 minutes. Do not skip this and make sure to beat the mixture at each step for the full time to incorporate a ton of air but to also properly emulsify the fats with the other ingredients.
It's very important to scrape down the bowl between each addition to make sure that all the ingredients are combined and whipped together sufficiently. If you don't spend enough time on the creaming step, your cookies may spread too much and the texture will be off. If you struggle with this, read about the reasons cookies spread.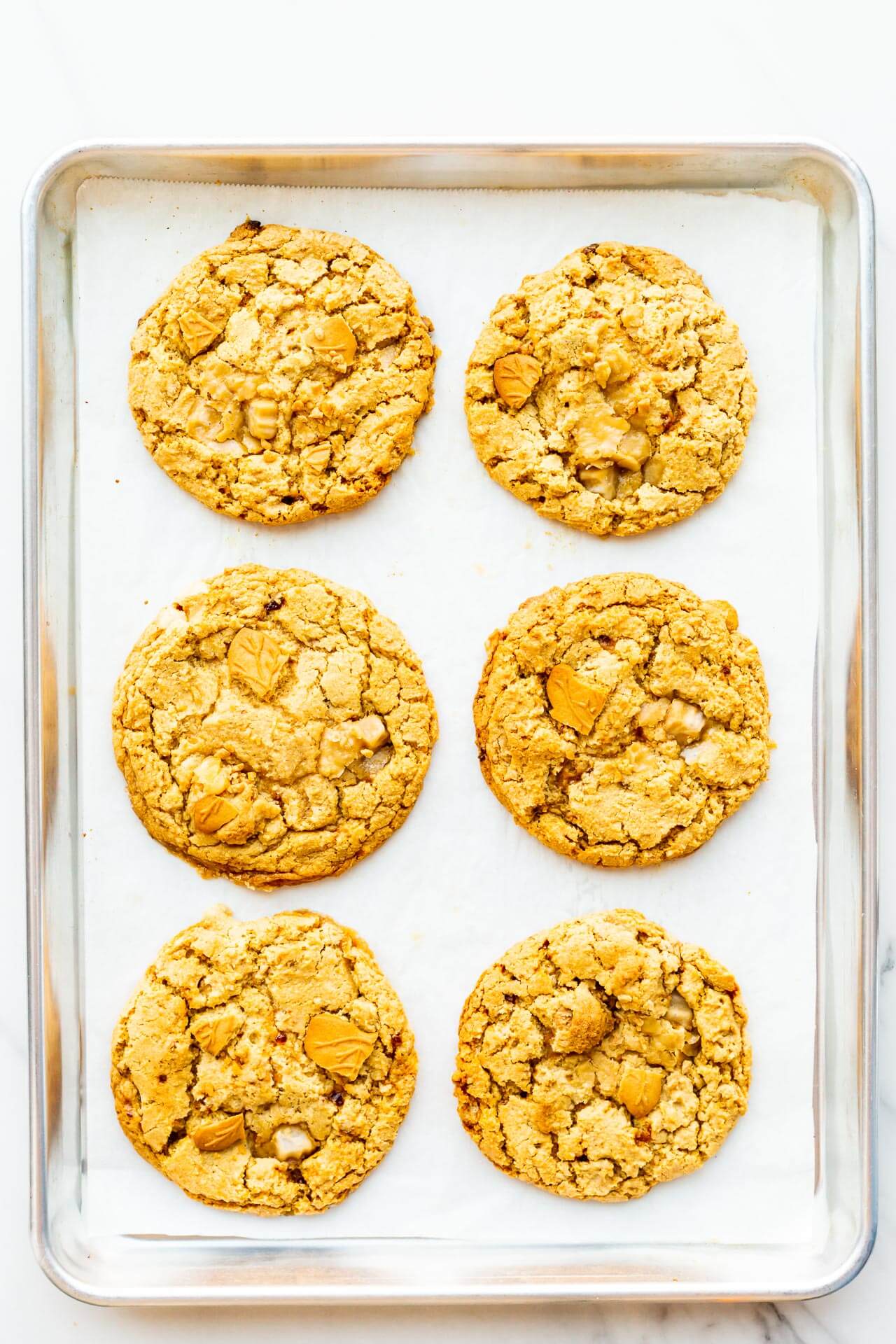 Special equipment
It can be difficult to make cookie dough by hand in a bowl with a wooden spoon, so I prefer to use an electric hand mixer or even a stand mixer. Besides a mixer, you will need:
To scoop the cookies, I highly suggest you invest in a large cookie scooper that portions dough into roughly 90 grams scoops. The cookie scoop I used is by the brand Vollrath (specifically the 2-⅔ oz Stainless Steel Disher - Size 12) and you can order it from Amazon. This scoop is useful for making large cookies and also for scooping muffin batter. You can also use it for ice cream.
Check out my list of Milk Bar baking essentials on Amazon!
The cookie dough has to chill for 1 hour before baking in order to set the butter and firm up the dough so that the cookies don't spread too much. This is very important to achieving the perfect texture and look. Remember, chilling cookie dough may reduce spreading!
If the cookie edges do spread a little (especially because of the maple fudge), you can use a very large cookie cutter or the back of a spoon to gently push the edges back in towards the centre to help round out the edges. Be gentle!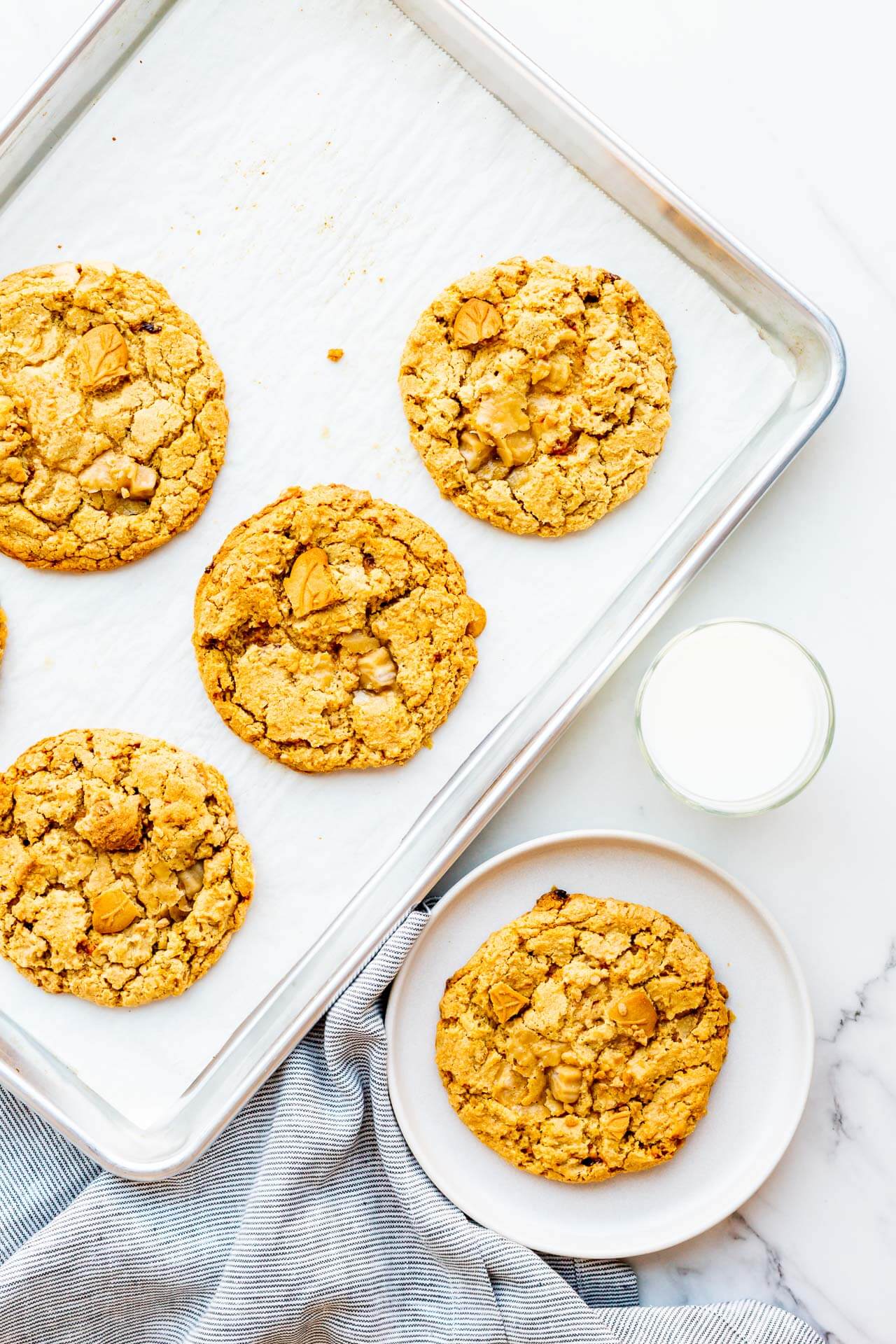 These maple cookies have a crackled finish. On the first day they are baked, they are crispy/chewy on the outside, and almost fudgy on the inside. Stored in an airtight container, they soften a little and lose their crispy edges, but they still taste great! They store really well, actually.
If you haven't purchased it yet, I highly recommend the Milk Bar baking book, which is available on Amazon. It's a favourite of mine.
📖 Recipe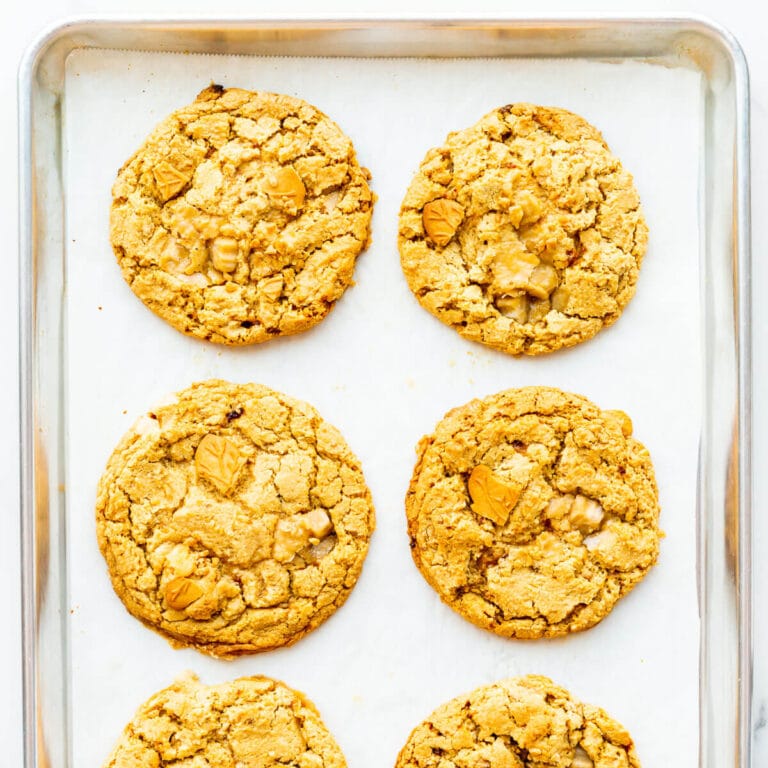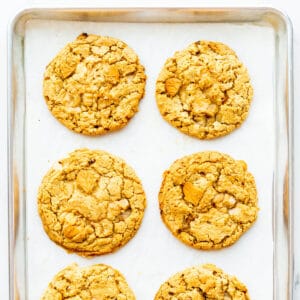 Maple Cookies
This easy recipe for maple cookies is a play on classic sugar cookies, but incorporating maple sugar, maple extract, maple flakes, maple fudge, and even maple cream cookies to make these the best maple cookies!
Ingredients
Optional
100

grams

bacon brittle

ground in food processor
Instructions
Combine the butter, maple sugar, and glucose in the bowl of a stand mixer fitted with the paddle attachment. Cream together on medium-high for 2 to 3 minutes. Using a spatula, scrape down the bowl every minute to make sure the ingredients combine properly.

Add the eggs and maple extract, and beat for 7 to 8 minutes on medium–high. Stop the mixer a few times to scrape down the sides to make sure the eggs and all the ingredients mix together properly and evenly. 

In a separate bowl, whisk together the flour, milk powder, cream of tartar, baking soda, and salt

Reduce the mixer speed to low and add the flour mixture. Mix just until the dough comes together, no longer than 1 minute.

Add the chopped cookies, maple fudge, maple flakes, and bacon brittle (if using)

Using a large 2-⅔ oz ice cream scoop (or a ⅓-cup measure), portion out the dough onto a parchment-lined sheet pan. Garnish with extra maple flakes, cookie pieces, and maple fudge, if you have extra. Wrap the sheet pan tightly in plastic wrap and refrigerate for at least 1 hour, or up to 1 week. Do not bake your cookies from room temperature—they will not bake properly. 

Preheat the oven to 350 °F (175 °C).

Arrange the chilled dough a minimum of 4 inches apart on parchment-lined sheet pans. I fit about 4 on a large cookie sheet. Bake for 18 minutes. The cookies will puff, crackle, and spread. After 18 minutes, they should be very lightly browned on the edges (golden brown on the bottom).

Cool the cookies completely on the sheet pans before transferring to a plate or an airtight container for storage. At room temp, the cookies will keep fresh for 5 days; in the freezer, they will keep for 1 month.
Nutrition
Calories:
373
kcal
Carbohydrates:
55
g
Protein:
5
g
Fat:
15
g
Saturated Fat:
8
g
Trans Fat:
1
g
Cholesterol:
55
mg
Sodium:
376
mg
Potassium:
322
mg
Fiber:
1
g
Sugar:
29
g
Vitamin A:
487
IU
Vitamin C:
1
mg
Calcium:
80
mg
Iron:
2
mg