These chocolate crackle cookies are thick brownie cookies coated in icing sugar before baking to give them a crackled finish. Everybody loves these because they are very chocolate-y!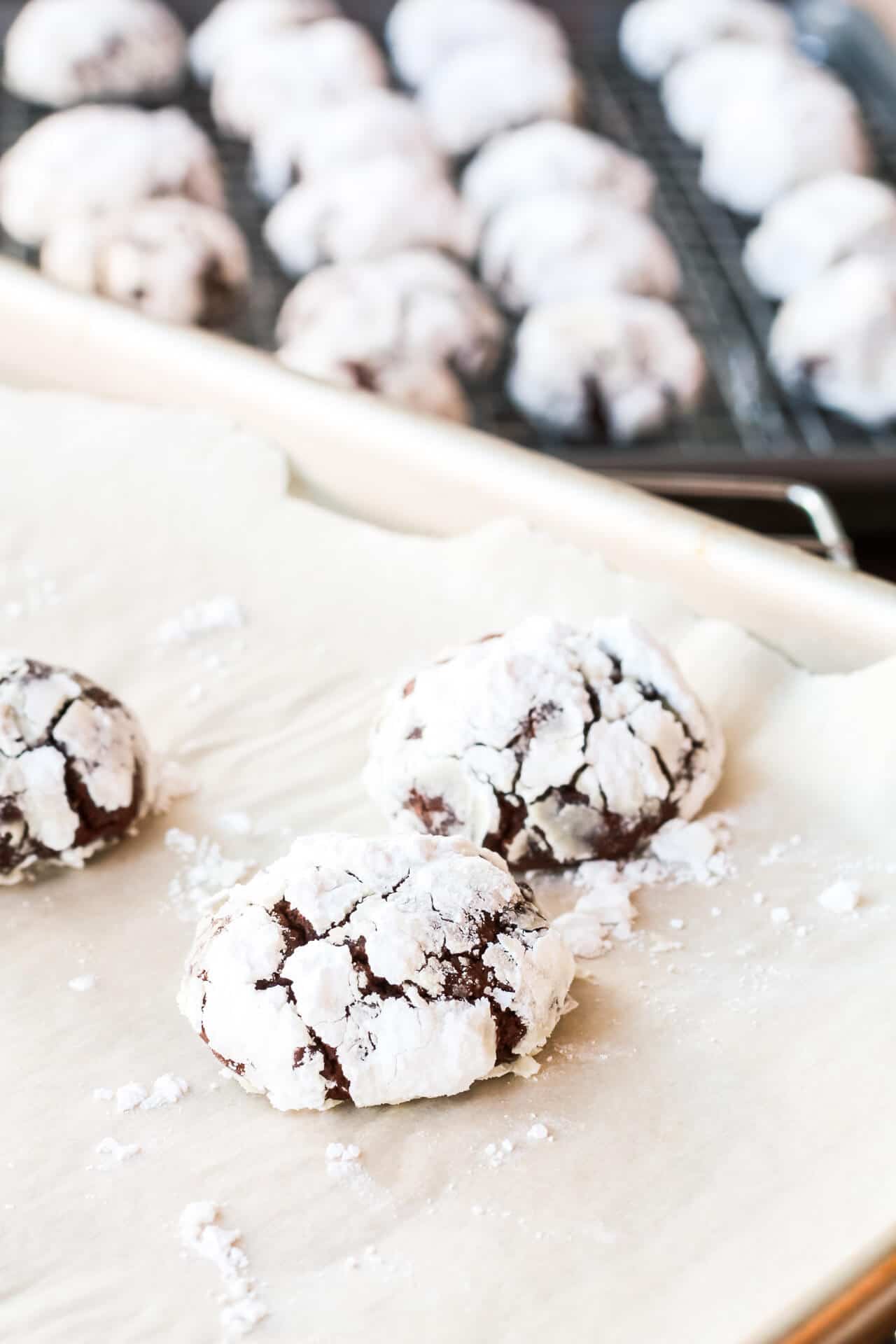 Disclosure: As an Amazon Associate, I earn from qualifying purchases.
These cookies are easy to make and you can make the dough a few days ahead of time before rolling and baking them. I think that helps develop the flavour and get the texture right. Plus the dough is too soft to roll when it's warm so you need to chill it to portion it out.
These crinkle cookies are super chocolaty and not too sweet, even with all that powdered sugar. The texture is amazing, fudge-y but light, and the chopped walnuts add a little bit of a soft crunch to them (just like for brownies).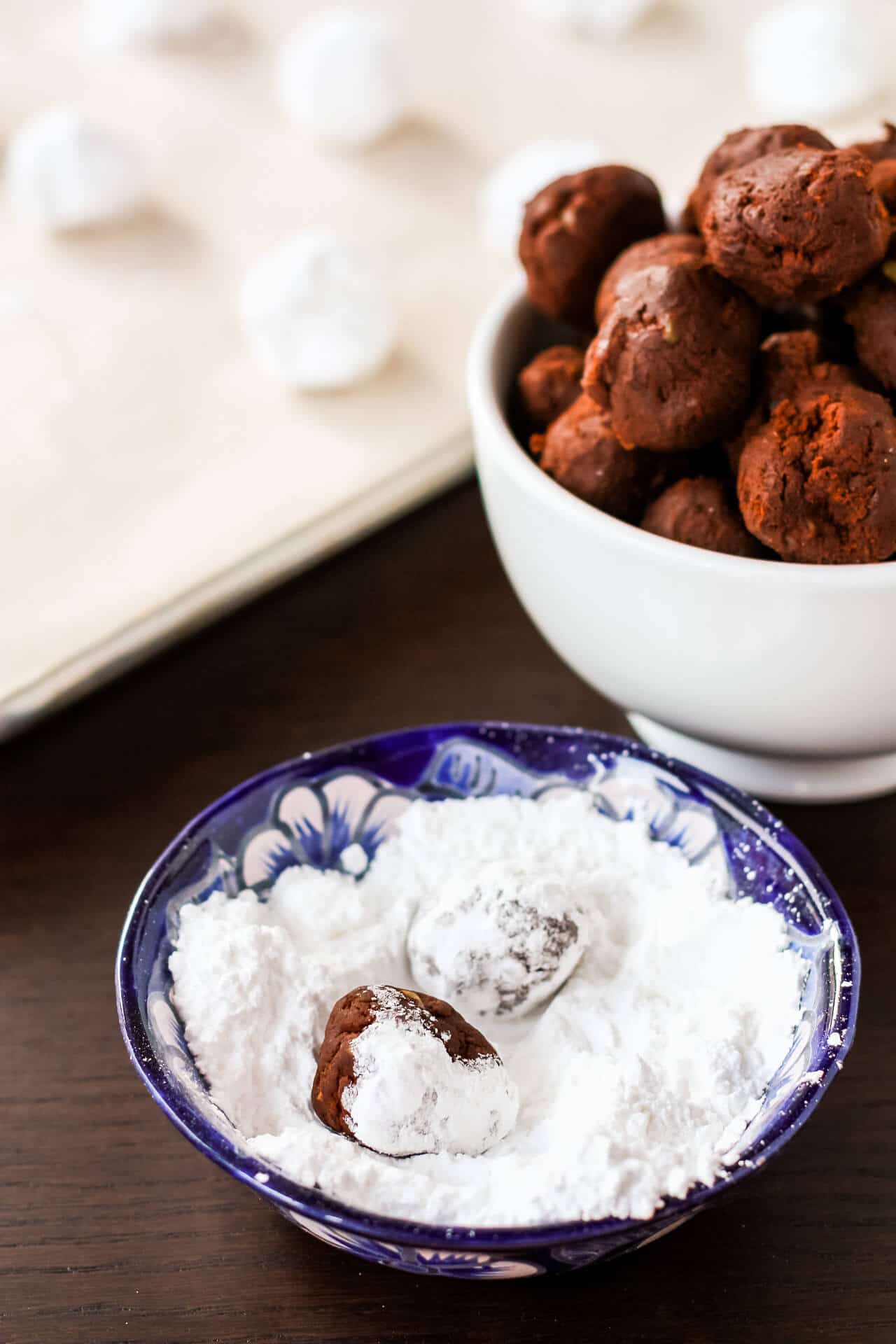 Tips for a better crackle finish
To achieve the perfect crackle finish where the icing sugar is cracked, you need to make sure to really coat the scoops of cookie dough thickly with powdered sugar.
If you find your powdery white finish on the outside isn't looking right, you can roll the balls of dough into granulated sugar first before coating them in icing sugar (powdered sugar). The granulated sugar will help absorb the moisture on the surface of the cookies, drying them out and helping the cookies crack in the oven when they are baked.
Really coat the cookies generously in a lot of powdered sugar so that they are well covered in a thick layer of icing sugar.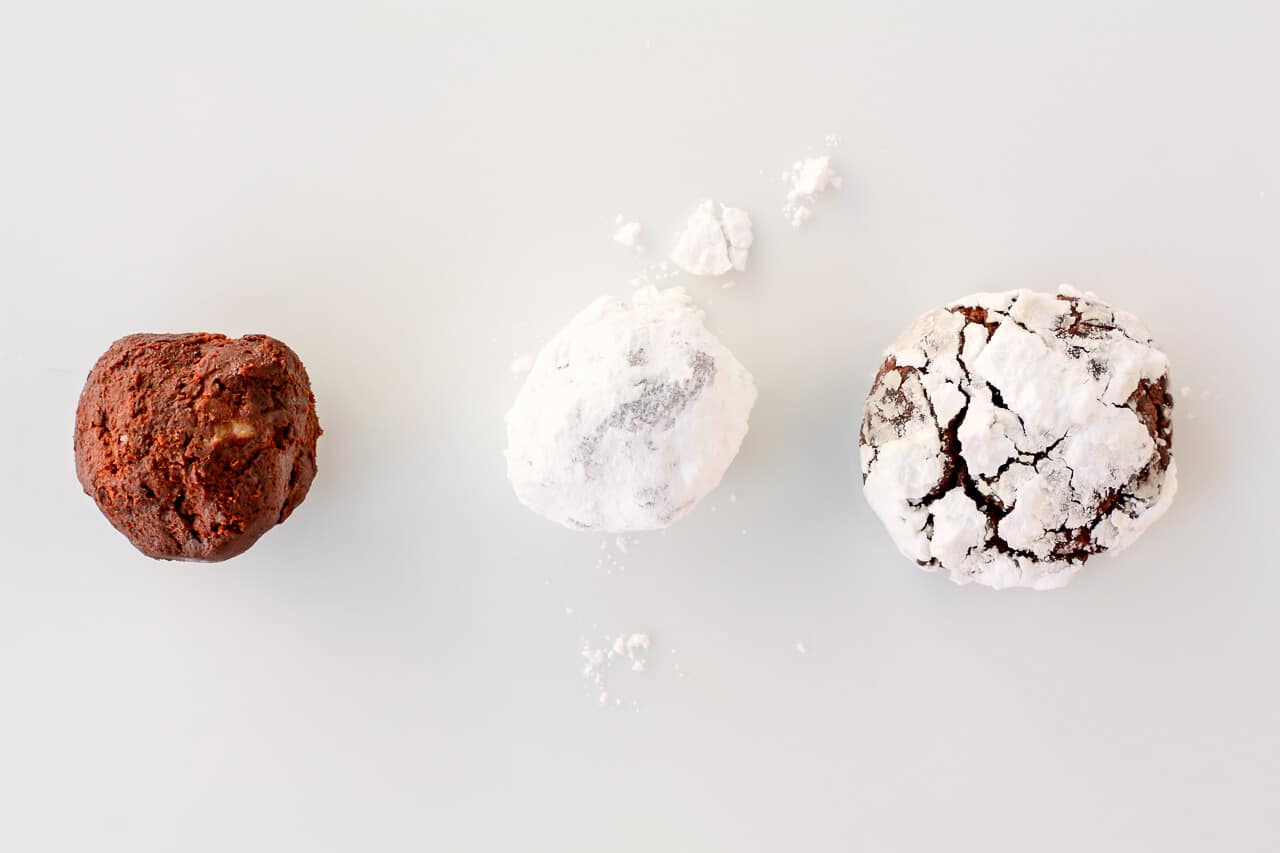 This recipe is yet another example of why, and it comes from à la di Stasio 3, the third book of cookbook author Josée di Stasio of Quebec. It's the best crackle cookie recipe I've tried thus far, and it has become a staple on our ever-growing list of Christmas baking.
If you like cookies with a cracked or crinkle finish, be sure to try these recipes:
📖 Recipe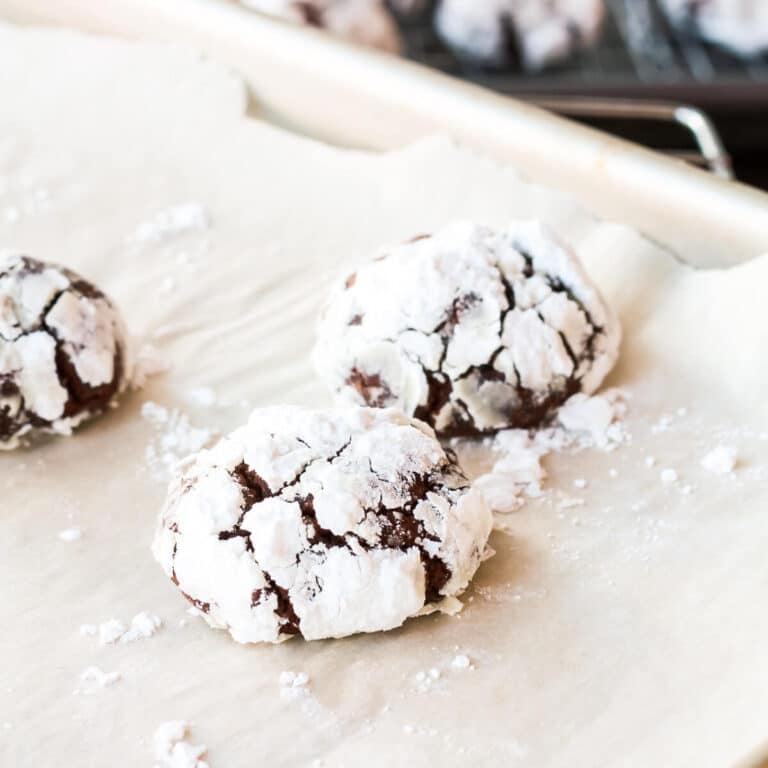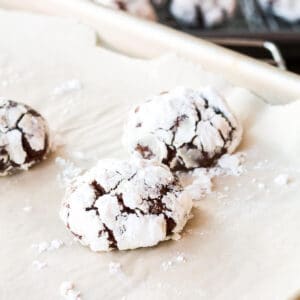 Chocolate Crackle Cookies
Chocolate crackle cookies are very easy to make. Also called chocolate crinkle cookies, they have a rich chocolate flavor, a chewy texture, and a powdered sugar exterior that cracks in the oven.
Instructions
Melt the chocolate in a small bowl over a double-boiler. Set aside to cool slightly.

In a medium bowl, whisk together the flour, cocoa, baking powder and salt. Set aside for later.

In the bowl of an electric mixer fitted with the paddle attachment, cream the butter and the brown sugar until the mixture has lightened slightly.

Add the eggs, one at a time, beating between each addition and scraping down the bowl as needed. Add the vanilla, and beat the mixture again. Now add the melted chocolate, mixing well.

With the mixer on low, add the flour, alternating with the milk. When all the ingredients are well blended, add the walnuts.

Cover the bowl and refrigerate the cookie dough for a couple of hours, if not overnight.

Form the dough into 1 inch balls, and refrigerate the dough again so that it is nice and firm.

When you are ready to bake the cookies, preheat the oven to 350°F. Cover your baking sheets with parchment.

Roll the balls of cookie dough in powdered sugar to generously coat them. Place them on a baking sheet, about 2 inches apart.

Bake the cookies for 11–13 minutes, or until the cookies have crackled on top (and not just on the sides).

Let cool a couple of minutes on the baking sheet before transferring the cookies to a rack.
Nutrition
Why didn't my crackle cookies crack properly?
If you find your cookies don't crack properly, try rolling the balls of cookie dough in granulated sugar before completely coating them in icing sugar. Granulated sugar is hygroscopic and will draw moisture out of the surface of the cookie dough, essentially creating a dry layer under the powdered sugar coating that is more prone to cracking.
Why did my crackle cookies spread so much?
Like with most cookies, if they spread too much in the oven, it could mean that your cookie dough was too warm. Make sure you chill the dough well, especially which this recipe which yields a very soft dough. The cold dough will take longer to spread in the oven, so hopefully it will dry out and crack before it has a chance to spread much.
Another option could be that you incorporated too much air in the cookie dough in the first steps of the creaming method. With cake batters, you really want to incorporate a lot of air when mixing the butter, sugar, and eggs, to make a lighter, more fluffy cake. With cookies, you don't want to do this. Mix the ingredients well so that they are fully incorporate but don't mix for so long that you've incorporated a ton of air.
What type of chocolate can I use?
This recipe calls for a semisweet chocolate or bittersweet chocolate, roughly 70% cocoa content is perfect here. You don't want to use milk chocolate which has more fat and more sugar. That will most likely cause the cookies to spread. Remember to use the best dark chocolate for baking because it is providing both flavour, structure, and texture to the recipe.
I like to bake with Cacao Barry Ocoa 70% dark chocolate, which is a professional quality dark chocolate that you can buy in IGA grocery stores in Quebec and online from Vanilla Food Company. It comes in 1 kilo resealable bags as pistoles (which resemble giant flattened chocolate chips) which make most baking projects super easy because you don't even have to chop it to melt it! Ocoa is not overly sweet which means you aren't adding too much extra sugar when you bake with it. Ocoa has a deeper, bittersweet chocolate flavour that works well in baked goods.