This super easy maple syrup pie is made with a simple food processor all-butter pie dough and has a maple syrup filling that just requires a little whisking before baking! This pie needs to chill so you can make it the day before serving it.
As an Amazon Associate I earn from qualifying purchases.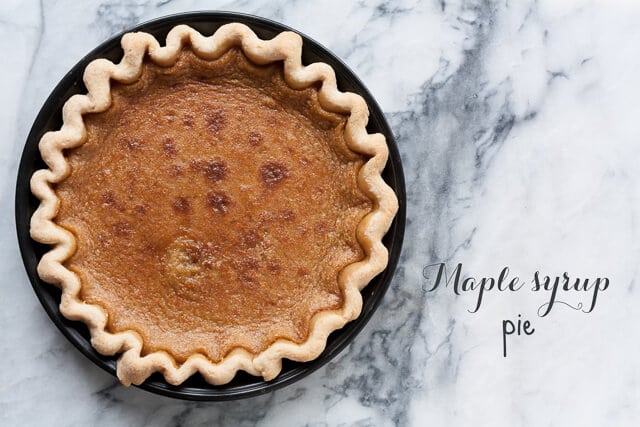 Disclosure: As an Amazon Associate, I earn from qualifying purchases.
I am a huge fan of maple syrup, which is a pantry staple for those of us who live in Quebec, the province that produces the best maple syrup. Maybe I'm biased since I live in Montreal, but I have heard from a few people living in Ontario that Quebec maple syrup is superior.
One of our favourite ways to enjoy maple syrup, besides in maple fudge, is in a maple syrup pie, which is usually served in the spring during the sugaring-off season and the months when maple syrup is produced (March and April).
Jump to:
What is a maple syrup pie?
A maple syrup pie is also referred to as a maple pie or even a sugar pie. Maple pie is traditionally a single-crust pie with a filling made of eggs, maple syrup, milk or cream.
Some may add brown sugar to the filling, in which case, less maple syrup is used. Though brown sugar does add a nice molasses flavour to the filling, some may add more brown sugar than maple syrup to reduce the costs of making maple pies since brown sugar is much cheaper than maple syrup.
For this maple pie, I used a combination of maple syrup and maple sugar. Some recipes also add a little flour to the maple pie filling which acts as a thickener and also ensures that the consistency of the filling is more even throughout the pie after baking. Without the flour, you may notice a little maple syrup between the filling and the baked crust.
Whether or not you add flour to the filling is a matter of personal preference. Maple pie is, by far, one of my favourite maple syrup recipes.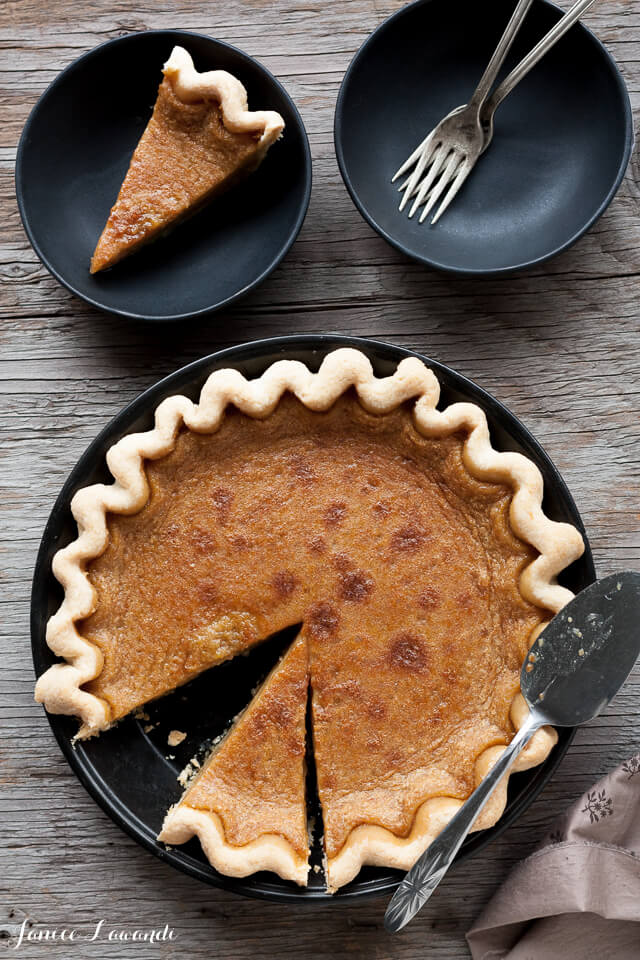 How to make maple pie
Maple pie is as easy to make as most single crusts pies, like these pumpkin tarts or this apple butter pie:
Make the pie dough: The crust is made from an all-butter pie dough made in the food processor, so it truly doesn't get easier than that.
Chill the pie dough: Chilling the pie dough helps the gluten relax a little and allows the butter to firm up. The water in the recipe hydrates the flour as the dough chills, making the pie dough easier to work with.
Roll out the pie dough and line the pie pan: I like to use a French rolling pin and a metal pie plate when I make pies. I find I have more control when I roll out doughs with tapered French rolling pins and the metal pie pans help the bottom crust bake better and brown more. Here's an example of a dark metal pie pan from Amazon and a French rolling pin from Amazon so you can see examples of what I mean.
Chill the unbaked crust while you make the filling
Whisk together the maple pie filling ingredients, a mixture of maple syrup, maple sugar (or brown sugar), eggs, and milk.
Pour the filling into the chilled unbaked pie shell.
Bake the pie. The filling will puff and bubble and you may end up with a few caramelized spots. All signs of a good maple pie.
Cool and chill. The toughest part of making a maple pie is the waiting because not only does the pie have to cool to room temperature, but then you also have to chill it in the fridge for several hours to ensure the filling is properly set. Patience!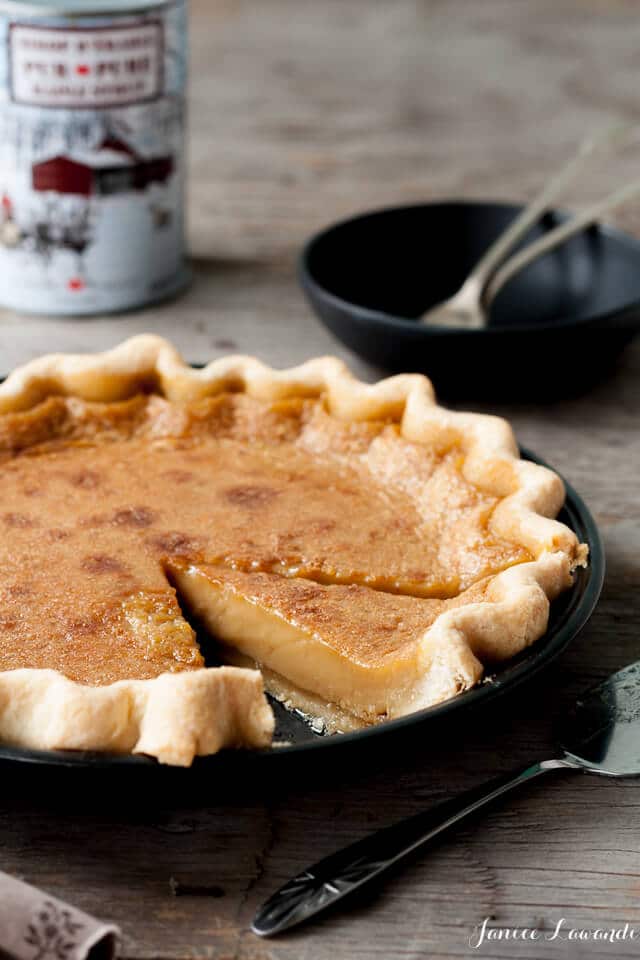 Pie dough in the food processor
This crust is made with my go-to all-butter pie dough made in the food processor, made with Stirling Churn 84 butter. Sure, you could use a pastry cutter to incorporate butter and flour, instead of a machine, and you could just use your fingertips and no tools. Personally, I love how easy it is to use a food processor. The pie dough rolls out beautifully and the resulting baked pie crust is flaky enough. By the way, making the crust in a stand mixer also works!
If making pie crust from scratch scares you, be sure to check out my pie crust masterclass, which includes video tutorials for making pie crust in the stand mixer, food processor, and by hand!
What to do with pie dough scraps
Inevitably, when you make a pie, you will be left with a pile of pie dough scraps. Gather them, press them together to shape them into a disk, and use them to make pie crust cookies!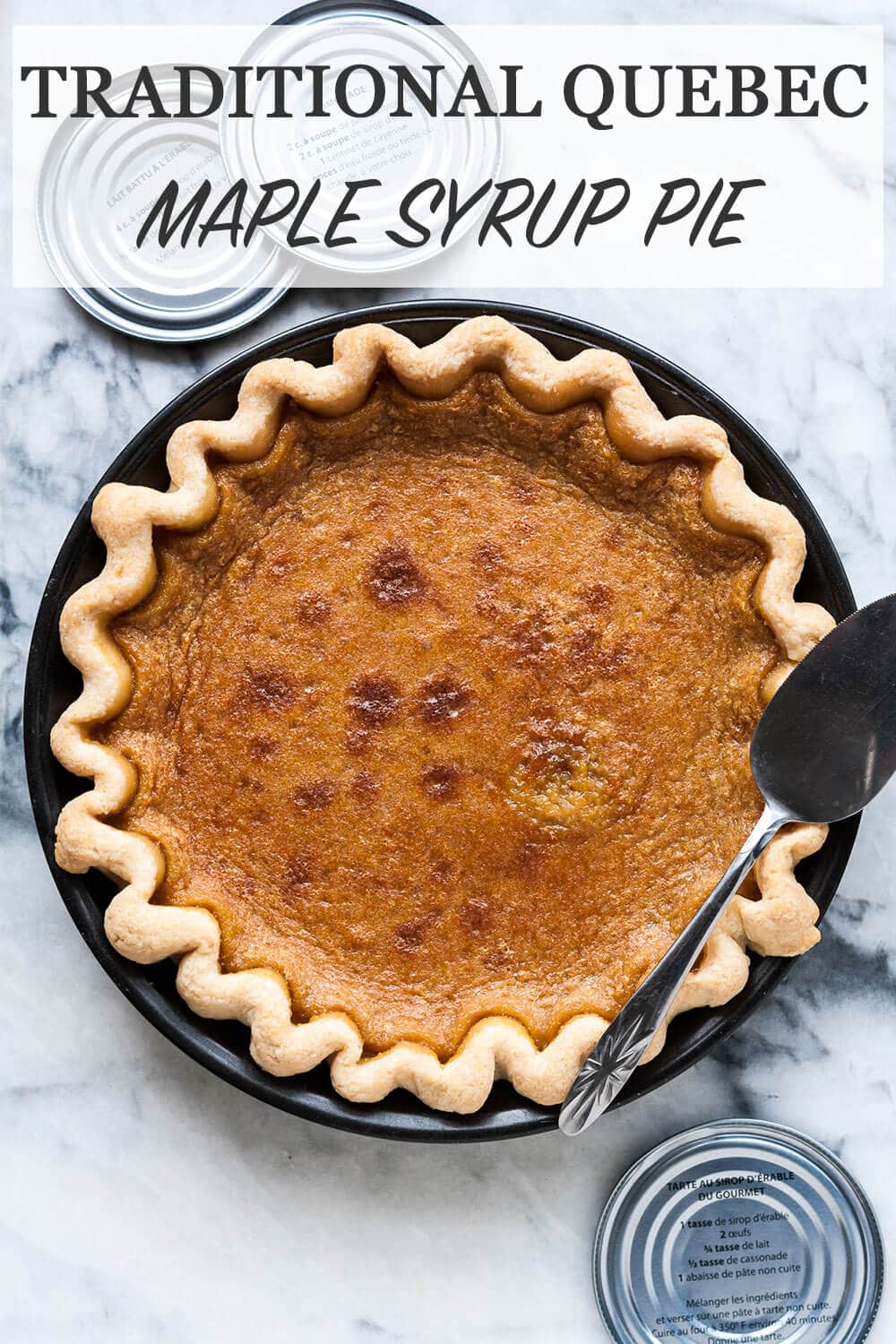 The maple filling is adapted from a recipe printed on the lids of some cans of Quebec maple syrup. The original recipe called for brown sugar, but I used maple sugar because I didn't want any other sugar flavours interfering with my beloved maple. The filling is like a maple custard that is perfectly set, smooth, and with a pronounced maple flavour. I encourage you to serve this pie à la mode with homemade vanilla bean ice cream.
If you are looking for a more traditional fall fruit pie with lots of maple syrup flavour, try my maple apple pie. Or if you hate making pie dough, you might prefer this maple apple clafoutis recipe.
This maple pie recipe makes a great maple-flavoured sugar pie. I baked this pie on the bottom rack of my oven, without blind baking the shell first, and it was baked just enough on the bottom. I appreciate being able to skip the blind baking step. Ain't nobody got time for that!
📖 Recipe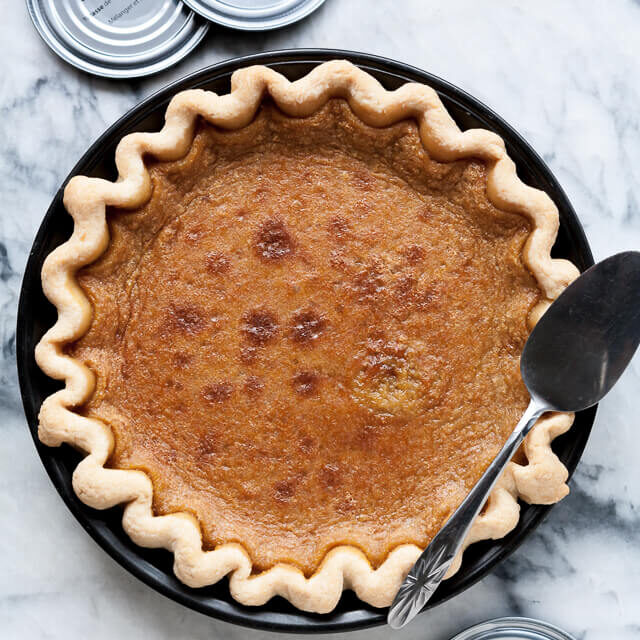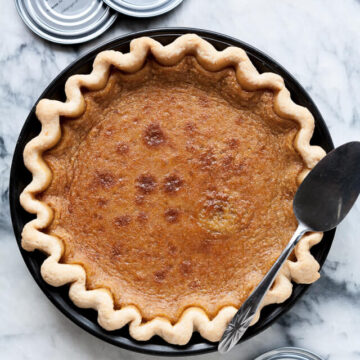 Maple Syrup Pie
A recipe for maple syrup pie, also known as sugar pie or tarte au sucre in Quebec. The texture of the filling is quite similar to a custard pie.
Ingredients
For the crust
219

grams

bleached all-purpose flour

115

grams

Stirling Creamery Churn 84 salted butter

cold, cut into cubes

75

mL

cold water

more or less
For the maple filling
250

mL

pure maple syrup

medium grade

100

grams

maple sugar

2

large egg(s)

188

mL

whole milk (3.25 % fat)
Instructions
In the bowl of a food processor, pulse together the flour and the Stirling Creamery butter until the mixture resembles a fine crumble. Add the water, bit by bit, until a dough forms. Pat the dough into a disk and wrap in plastic wrap. Refrigerate for at least 45 minutes.

Preheat the oven to 375 °F (190 °C). Roll the dough to ⅛" thick (~14" diameter circle) and transfer to a pie tin (preferably dark metal). Trim and crimp the edges. Chill while you prepare the filling

In a medium bowl, whisk together the syrup, sugar, and eggs, then whisk in the milk.

Pour the filling into the chilled tart shell and bake on the bottom oven rack for approximately 50 minutes (note the filling will still seem very fluid and jiggly, but you will notice some spots where it's beginning to bubble and brown).

Let the pie chill on a wire rack for at least 4 hours, then overnight in the fridge.
Nutrition
Calories:
261
kcal
Carbohydrates:
41
g
Protein:
3
g
Fat:
9
g
Saturated Fat:
5
g
Polyunsaturated Fat:
1
g
Monounsaturated Fat:
2
g
Trans Fat:
0.3
g
Cholesterol:
50
mg
Sodium:
82
mg
Potassium:
143
mg
Fiber:
0.5
g
Sugar:
25
g
Vitamin A:
305
IU
Calcium:
68
mg
Iron:
1
mg
Other recipes to make with maple syrup
Maple syrup is such a unique source of sweetness that adds so much flavour to recipes. Maple syrup tastes great and can be used to make:
I do my best to bake with the finest ingredients. Stirling Creamery, a Canadian company, has provided the butter for this post.