This recipe for mini pumpkin pie tarts starts with an all-butter pie crust and they are baked in small tart pans with removable bottoms. The filling is just like pumpkin pie filling, made without evaporated milk, using whipping cream instead, flavoured with autumn spices.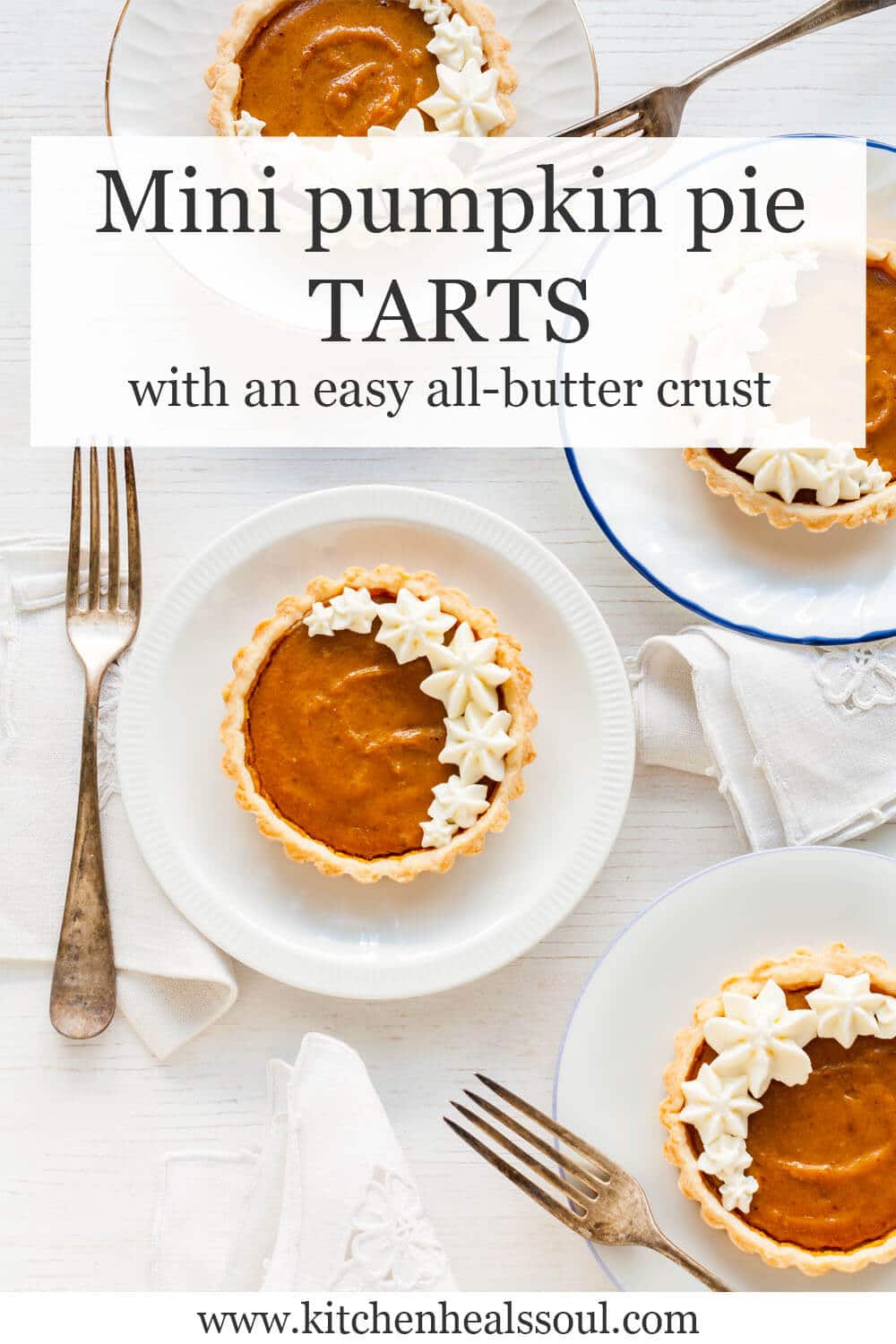 Disclosure: As an Amazon Associate, I earn from qualifying purchases.
Homemade versus store-bought pumpkin purée
There's nothing worse than needing canned pumpkin and not finding it at the grocery store. The local markets are usually full of pumpkins for pie as of September. And it turns out a 3 kilo pumpkin costs $2 and when you've roasted, blended, and strained it, you end up with a whole kilo of homemade pumpkin purée that is thick enough for baking. So for $2, you can make 4 cups of pumpkin purée. Not bad if you ask me.
With that pumpkin purée, you can make so many autumn treats, like whole wheat pumpkin bread with cream cheese frosting, pumpkin whoopie pies, pumpkin pie shakes, maple pumpkin bread. Whether you opt for canned or homemade is entirely up to you, but there are tricks to baking with pumpkin purée.
If you would like to explore more recipes for baking with pumpkin, order your copy of the e-book All About Pumpkin so you can celebrate this star ingredient!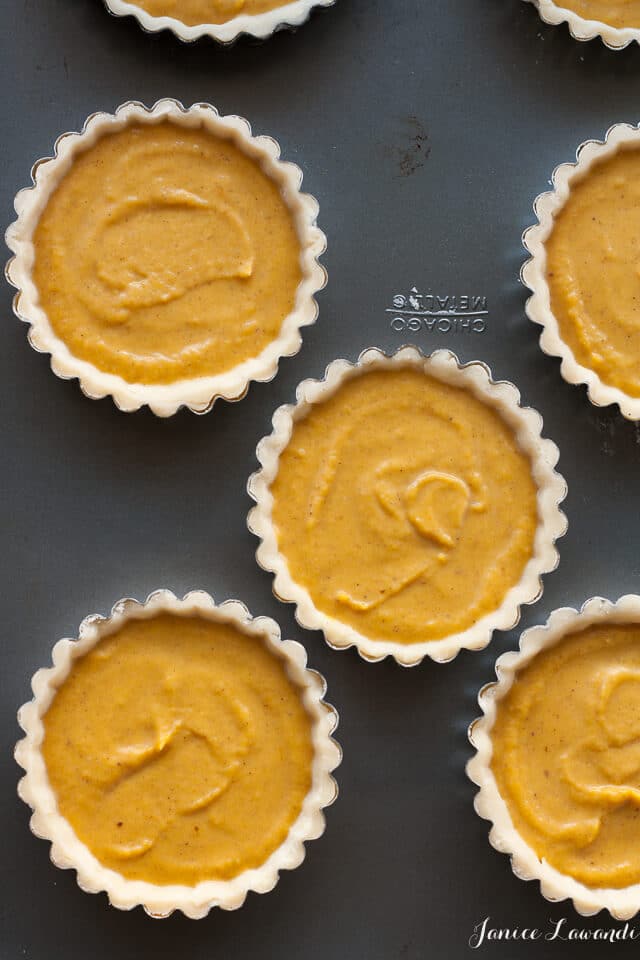 Strain that purée
If you use homemade pumpkin purée for this recipe (or most any), it's very important to strain it through a cheesecloth to remove excess water, otherwise your pie filling (and other pumpkin baked goods) might end up soggy and wet. You can save that pumpkin water and make bread with it or freeze it to throw into smoothies and pumpkin pie shakes. And as for the leftover pumpkin purée, I froze it in ice cube trays, and I found that 10 iced cubes is equivalent to 1 cup of purée. Some commercial brands can also be a little loose or watery and may benefit from straining. If you find that your baked goods made with pumpkin come out with a gummy layer on the bottom, consider straining the purée next time before baking with it.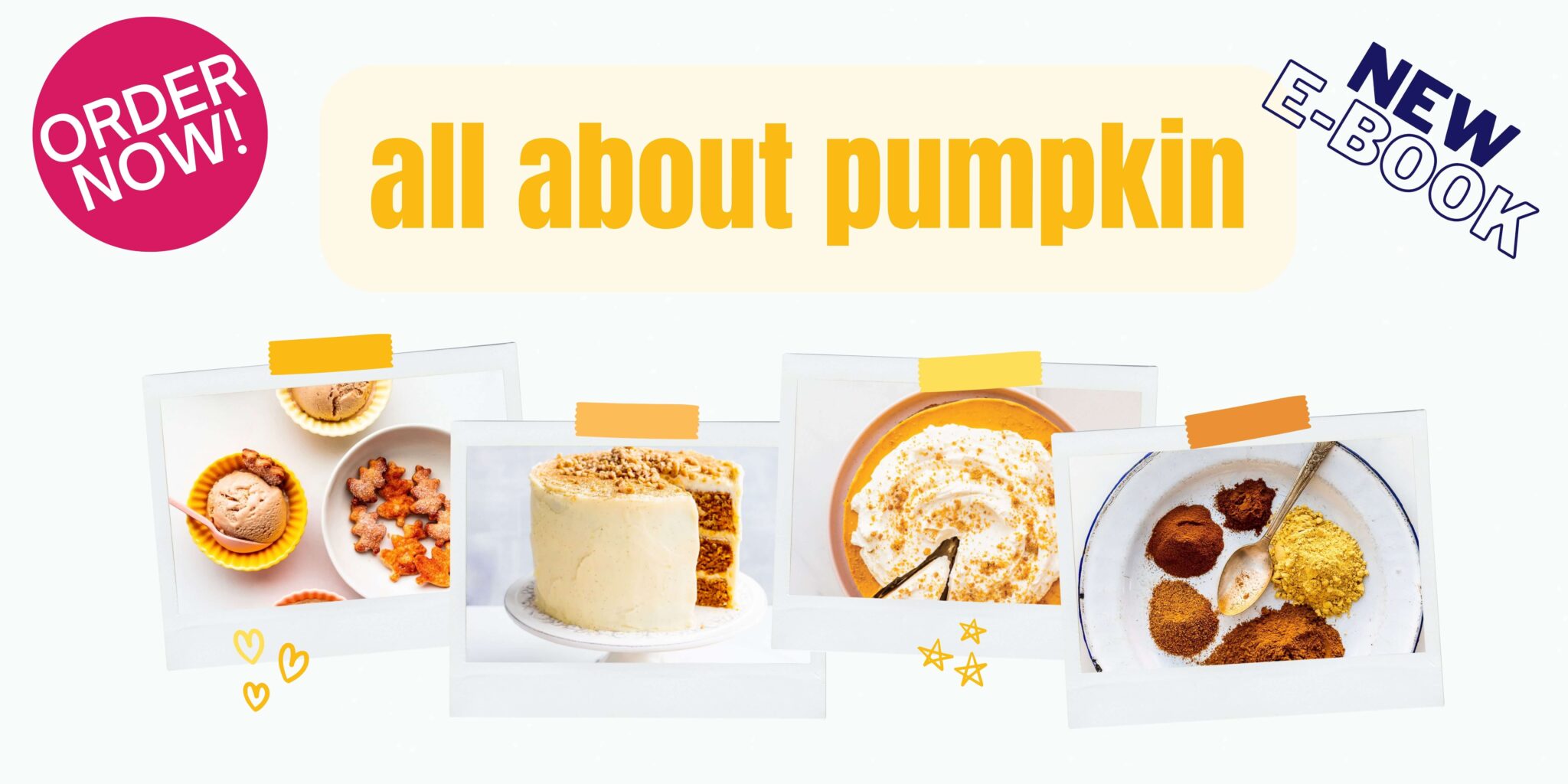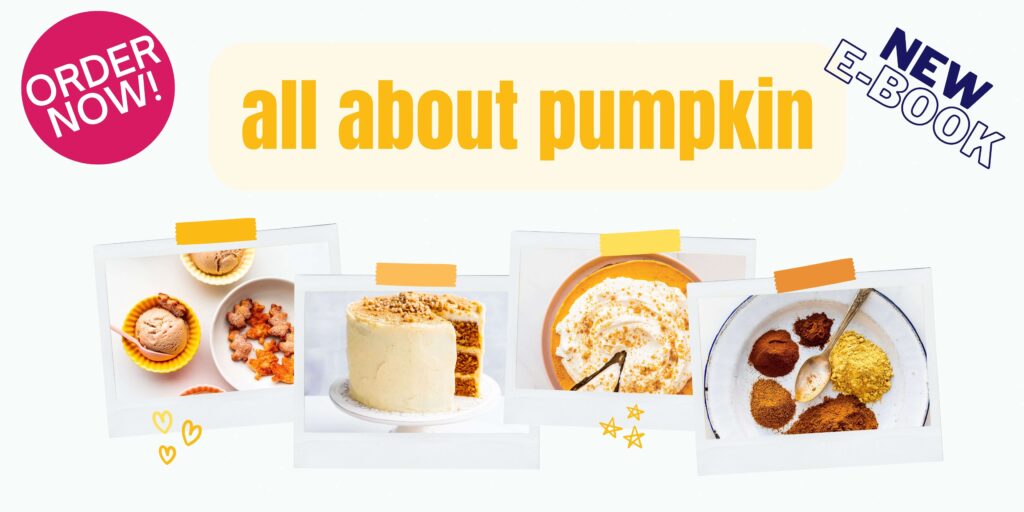 Pumpkin purée versus pumpkin pie filling
If you opt to buy the pumpkin purée, that's totally fine. But when you head to the grocery store, make sure to read the label because many brands offer two pumpkin products, pumpkin purée and pumpkin pie filling, and these are NOT interchangeable:
Pumpkin purée or canned pumpkin is pure pumpkin (sometimes squash). The flesh of the fruit has been cooked and blended to a purée before canning. When you bake with canned pumpkin purée, you will have to add spices to the mixture.
Pumpkin pie filling or canned pumpkin pie mix is made from pure pumpkin, mixed with salt, spices, water, oil, and even some dextrose. This canned purée is already mixed with spices, but you still need to add eggs and cream or evaporated milk.
Substitution guidelines
pumpkin purée is pure pumpkin, whereas pumpkin pie mix is pumpkin with spices. If you want to make a baking substitution and use one instead of the other, read the label on the back of the can and adjust your recipe accordingly:
if you are replacing pumpkin purée with pumpkin pie mix: you might want to skip the spices in your recipe since the pie mix already has some
if you are replacing pumpkin pie mix with pumpkin purée: you might need to add spices to your recipe since pie mix is already spiced and purée has none.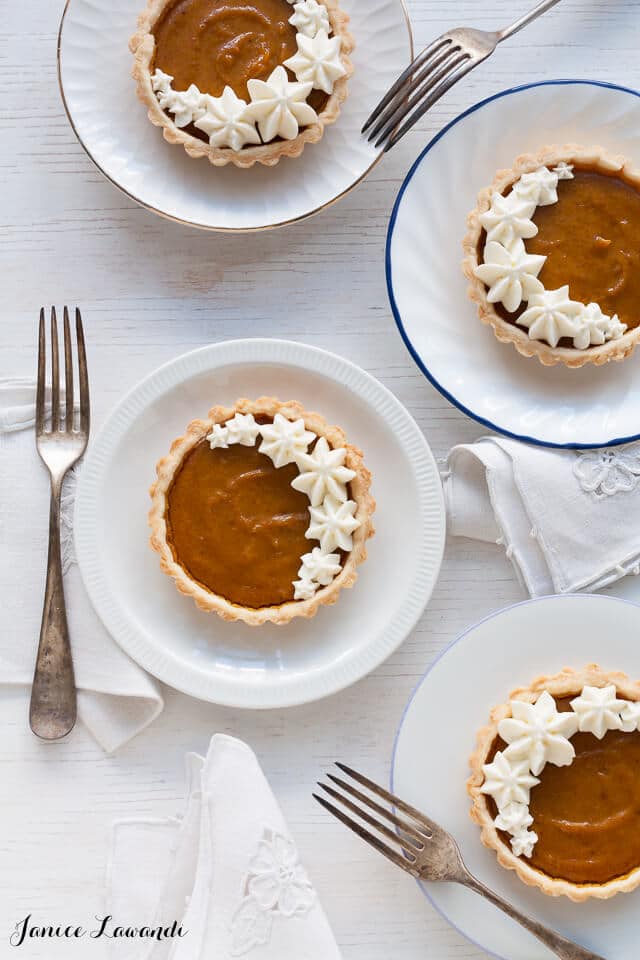 For the all-butter pie crust, you can make it by hand, rubbing the cold pieces of butter into the flour in a big bowl before adding the cold water. You can also use a food processor, which is faster. Once the dough is made, you should definitely chill it for at least 30 minutes to give the flour time to hydrate. When you are ready to roll it out, I suggest dividing the dough into 8 just before you roll it rather than cutting out 8 circles from a larger sheet of rolled out dough: it's easier to divide the dough this way, whereas you might have a hard time cutting out 8 circles of dough from a larger rolled out disk and you'd have to re-roll the scraps to make it work. If that doesn't make sense, just trust me on it. Divide the dough into 8 equal pieces, then roll it out into 8 circles.
Remember that the best way to remove a tart from a tart pan is to set it carefully over a narrow object. This way you can slide the ring off and your mini pumpkin pie tarts should slide right off the bottom easily at that point.

For the pumpkin filling, this recipe calls for whipping cream so the pumpkin pie tarts are made without evaporated milk. I don't often buy evaporated milk and I find whipping cream more convenient: you need to buy whipping cream to make the garnish for the tarts, so you might as well use it to make the filling too!
📖 Recipe
Mini pumpkin pie tarts
A recipe for homemade pumpkin pie tarts, like mini pumpkin pies that are the perfect dessert for thanksgiving celebrations
Ingredients
All-butter crust
250

grams

(

2

cups

)

bleached all-purpose flour

173

grams

(

¾

cup

)

Stirling Creamery Churn 84 salted butter

,

cut into small pieces and kept really cold until you are ready to use it

10

grams

(

2

teaspoon

)

granulated sugar

47

grams

(

3

tablespoon

)

cold water

,

if dough is dry add 1 extra tablespoon of water
Pumpkin tart filling
250

grams

(

1

cup

) pumpkin purée, or strained homemade pumpkin purée

50

grams

(

¼

cup

) light brown sugar

15

mL

(

1

tablespoon

)

pure maple syrup

80

mL

(

⅓

cup

)

whipping cream (35 % fat)

1

large egg(s)

2.5

mL

(

½

teaspoon

)

ground cinnamon

0.625

mL

(

⅛

teaspoon

)

ground nutmeg

1.25

mL

(

¼

teaspoon

)

ground ginger

1

pinch

ground cloves
Whipped cream
250

mL

(

1

cup

)

whipping cream (35 % fat)

25

grams

(

5

teaspoon

)

icing sugar

2.5

mL

(

½

teaspoon

) pure vanilla extract
Instructions
To make the crust
In a large bowl, combine the flour and sugar. Drop in the diced butter.

Work the butter into the flour with a pastry cutter or by rubbing the mixture quickly between your palms until the mixture ressembles a crumble.

Add the water, work it in slowly with your fingers to form a dough. Divide the mixture in 2, flatten into disks, wrap in plastic wrap and refrigerate for 30 minutes.

Take 1 disk of dough out of the fridge (each disk will make 4 tarts for 8 total). Divide it in 4 and roll each quarter into a round so that it is larger than your 3 ¾" fluted tart pans (similar to these on Amazon). Fit each round of dough into each pan and trim the excess. Repeat with the remaining dough to make 8 tart shells total.

Chill the tart shells while you make the filling.

Preheat the oven to 400ºF.
To make the filling
In a deep bowl with a hand blender, mix together the pumpkin, sugar, maple syrup, cream, egg, and spices.

Divide the filling between the 8 unbaked shells. Place the pans on a large baking sheet.
To bake the tarts
Place the tarts on a baking sheet. Bake the tarts on the bottom rack of the preheated oven for about 30 minutes. The edges should begin to brown and the filling should appear set.
Finish the tarts
Prepare the whipping cream, by whipping the cold cream until it forms soft peaks, then adding in the vanilla and icing sugar, and whipping to firm peaks.

Dollop the cream on the tarts or pipe to decorate them.
Give back
If you enjoy the free content on this website, say thank you!
Nutrition
I do my best to bake with the finest ingredients. Stirling Creamery, a Canadian company, has provided the butter for this post.