Click here if you want to go directly to the pop tarts recipe. And if you want to read more about my process and steps to get to this recipe, keep reading. I did a lot of tests to get these rhubarb apple pop tarts just right.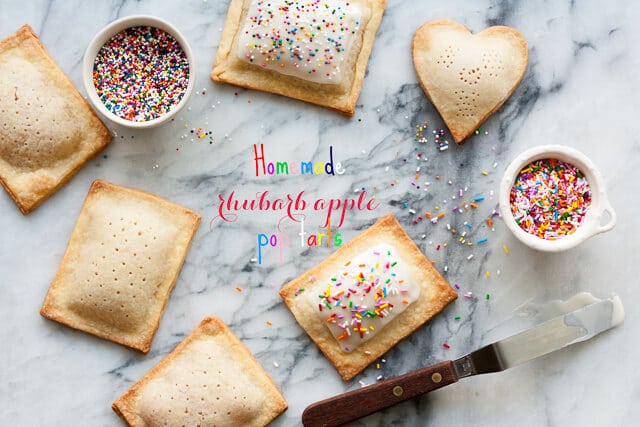 I don't know why, but I thought this recipe for homemade pop tarts would be easy to develop. Hah! I'm stupid funny that way. Of course, I was absolutely wrong!
We finally have rhubarb in Montreal, so I made a rhubarb apple compote (with a few raspberries thrown in to help the compote achieve a pretty pink hue) to fill the pop tarts with, and then I let it cool (step 1). Chilled, the rhubarb apple compote seemed a little loose, so I mixed it with cornstarch and heated it up to get that cornstarch to thicken it (step 2). I thought it was fine. So I carried on and made a lightly sweetened pastry. Then it was a matter of rolling and assembling. Everything was going well. I even went to the extra effort of glazing them. They looked so cute! I photographed my efforts. I thought I was done (steps 3, 4, 5, 6).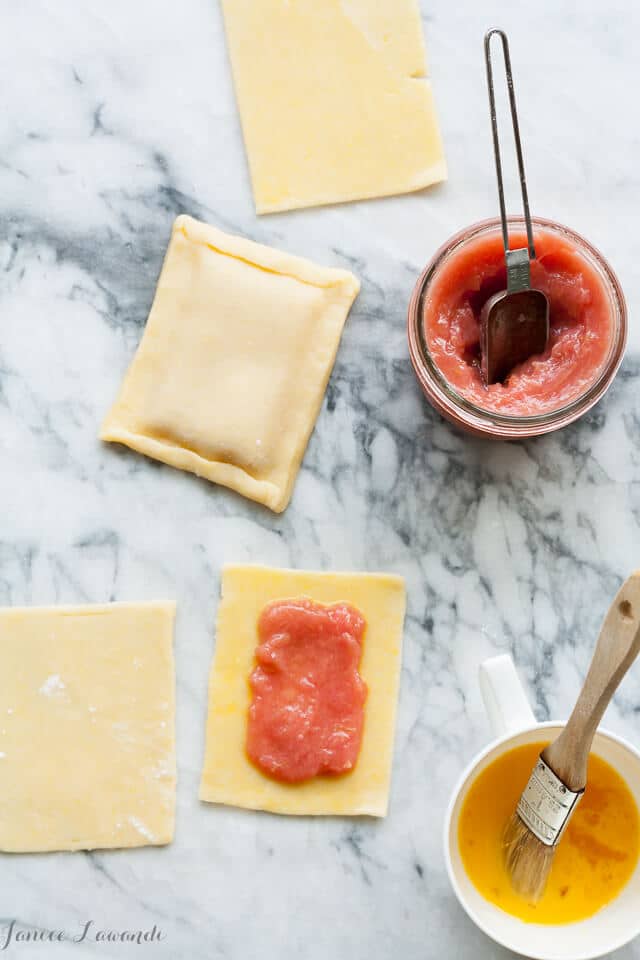 Done, except the pop tart I bit into was hollow.
So then, I bit into another. And another. They were all pretty hollow, which led to much sighing and also regret because I basically ate all the hollow pop tarts. I have this thing about eating the evidence. I knew I shouldn't but I plopped my bum on the floor, pondering the recipe and munching on the pop tarts, as though every bite of pop tart would lead me to the solution to the problem. I thought a lot, so I ate a lot of pop tarts, roughly 11 of them (step 7).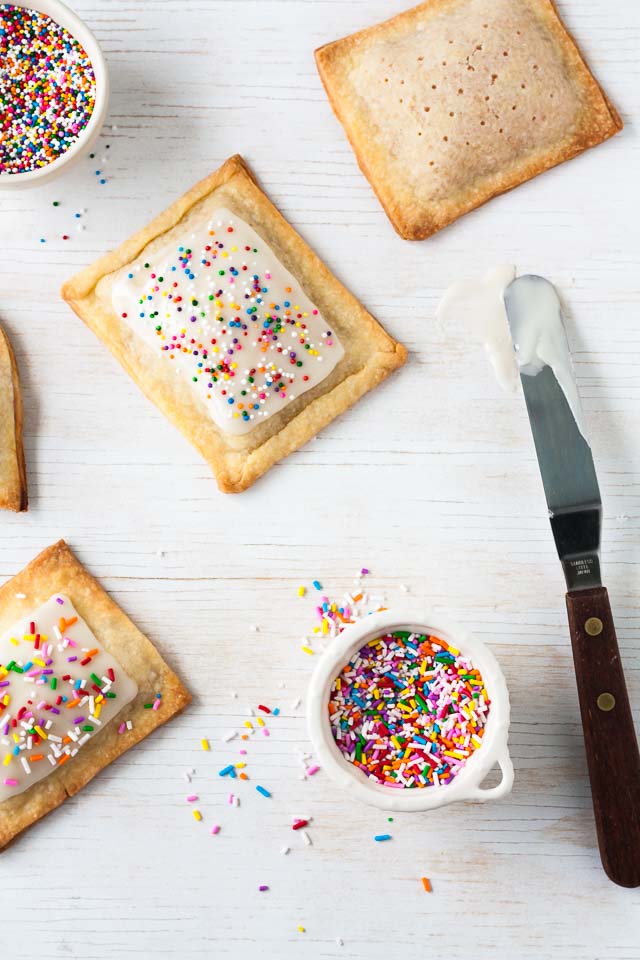 Cornstarch didn't work, or rather it did its job, thickening the compote, but it didn't prevent the compote from disappearing in the oven. I thought about how the pop tarts puffed in the oven as they baked.... After much munching and thinking, I decided the quick fix at the beginning shouldn't have been cornstarch, but rather I should have cooked down the compote to a butter of sorts, boiling it down to remove as much water as possible until it was super thick, almost like a fruit paste just on the verge of caramelizing. I hoped this would reduce the puffing in the oven and also prevent the filling from further reducing and/or disappearing as the pop tarts baked. Made sense to me! Hindsight is 20/20, right?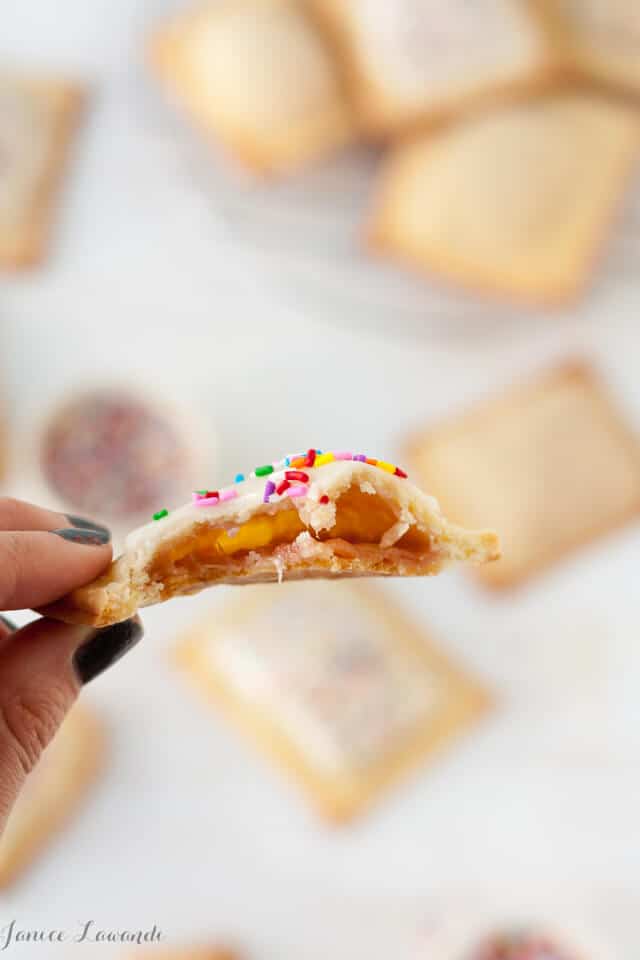 So I made another batch of rhubarb apple compote, but this time I kept cooking the compote until it was extremely thick and pasty (step 8). I went from 8 cups of chopped fruit all the way down to 2 cups of fruity butter. I was proud, and after chilling overnight, I made more pop tarts with that rhubarb apple butter. The pop tarts still puffed, but the filling stayed put. I ate these pop tarts to confirm this (probably about 6 of them) The puffing led me to believe that maybe I also should bake from frozen so as to minimize the ability of the pastry to lift upwards before setting. So I tried that (step 9) but I still wasn't satisfied and I didn't like how the top pastry appeared slightly under-baked . I ate these pop tarts as well, to confirm my findings (there were 6 of them) (step 10). I also tried baking at a higher temperature, and baking at a lower temperature. At higher temperature, the pop tarts burned too fast. At low temperature, the pop tarts just looked funny (steps 11 and 12).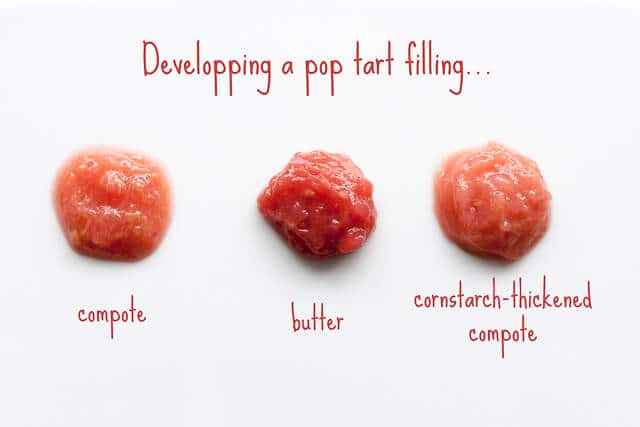 Then I started to tweak the pastry dough recipe because I noticed it was a bit sticky as I rolled it, so I made two half-batches of dough, one using the sanding method and the other using the creaming method, and both with less milk added at the end (steps 13 and 14). Of course, I had to make more pop tarts to see how my two doughs would fare in the oven (steps 15 and 16). Things were getting confusing at this point because I was baking pop tarts with two different doughs in the same oven, trying to maximize my time efficiency while also struggling to keep track of them because both doughs looked identical. Both versions of the crust seemed pretty similar to me once baked. Perhaps the dough made by the "sanding" method might have been ever so slightly sandier (duh!). I ate about 8 more pop tarts to be sure (step 17). I also tried docking the top pastry layer extra before baking with the hope of venting them better. That might have worked, but it also resulted in a more broken top pastry layer.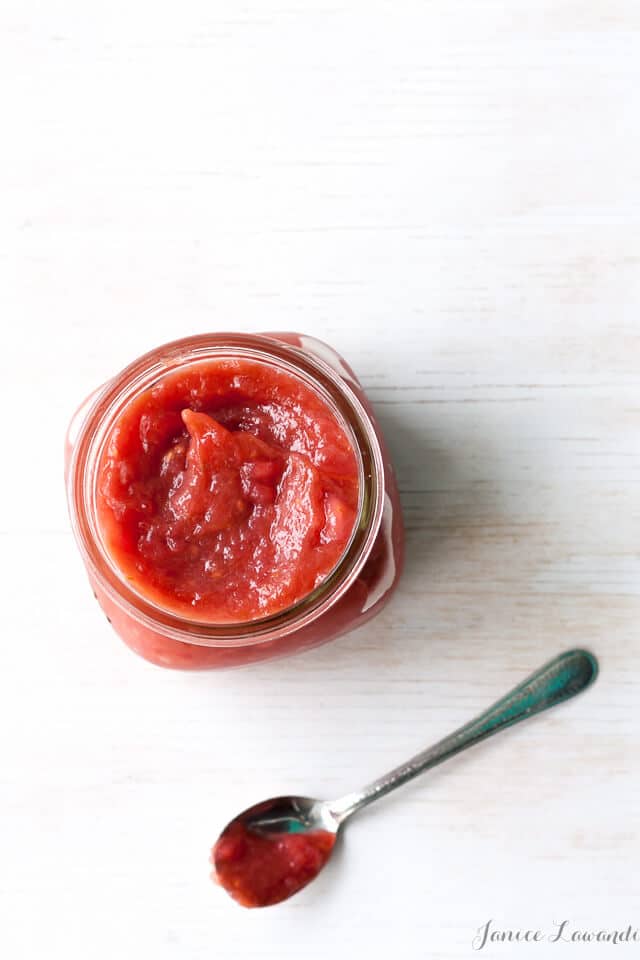 If you eat 32 pop tarts in the span of a few days, you do not magically transform into a pop tart. I can say that much for sure. Thirty two pop tarts later, I can say that cooking down the compote into a rhubarb apple butter was brilliant. The filling tastes a lot like tart rhubarb but mellowed by the apple, and it is absolutely dreamy when sandwiched between two pieces of sweet pie crust. I can say that with less milk added to the crust recipe, there was less puffing in the oven, or rather there was puffing and cracking, which helped let steam escape. I suppose with more milk, the hydrated starches glue the dough better, leading to puffing of the dough that doesn't crack or break as easily. I noticed this while rolling as well: the dough with less milk was a touch more fragile. I guess it's a little "shorter" in texture. This is all hypothesis at this point and fuelled by delicious homemade rhubarb apple pop tarts.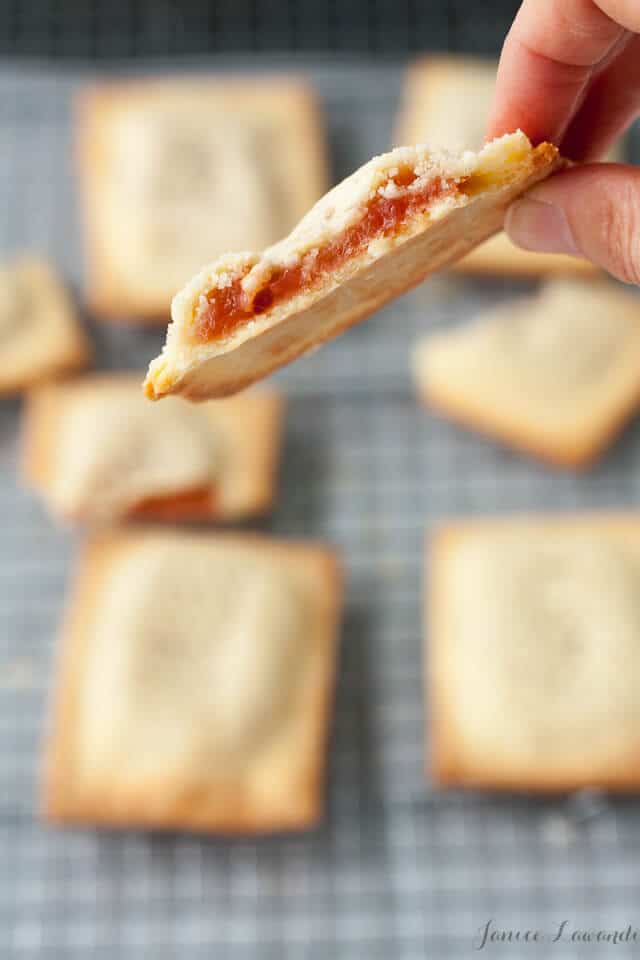 If you try this recipe, please let me know how it goes. I did my best to get it right, but after awhile, I also hit a point where I was saturated and couldn't see straight. Or if you have suggestions on ways of improving this, I'm all ears! And if this story sounds familiar, that's because I also toiled over other hand pie recipes, like these blueberry almond mini pies and these blueberry hand pies. Don't worry, if you don't have the patience for pop tarts and hand pies, there are also lots of full sized pie recipes to explore!
Rhubarb apple pop tarts
You can make pop tarts at home. First make a thick fruit butter, like the rhubarb apple butter (recipe below) and a pastry dough, then assemble and bake. These pop tarts are glazed and decorated sprinkles.
Ingredients
For the dough
250

grams

bleached all-purpose flour

2 cups

50

grams

granulated sugar

¼ cup

¾

teaspoon

Diamond Crystal fine kosher salt

125

grams

unsalted butter

diced and kept cold

1

large egg yolk(s)

60

mL

whole milk (3.25 % fat)

you may need up to 85 mL or ⅓ cup
For the pop tarts
188

mL

rhubarb apple butter

¾ cup

1

large egg(s)

whisked
For the glaze (optional)
125

grams

icing sugar

1 cup

1

tablespoon

whole milk (3.25 % fat)

hot

1½

tablespoon

corn syrup

½

teaspoon

pure vanilla extract
Instructions
To make the dough
In a food processor, pulse together the flour, sugar, and salt. Drop in the cold butter and pulse until the mixture resembles a crumble. Add the egg yolk and half the milk, and pulse. Add more milk as needed until the dough comes together in the food processor.

Divide the dough in 2, patting and pressing each half to combine and form rectangles. Wrap each in plastic wrap and chill for at least 45 minutes.
To assemble and bake the pop tarts
Working with half the dough, roll it out very thin into to a large rectangle and trim into a 9"x16" (if you can, if not, don't worry). Cut into 12 pieces that are ~3"x4" (or if your dough is too uneven, cut less pieces and reroll the scraps!). Brush 6 of the pieces with the whisked egg and dollop 1 tablespoon of rhubarb apple butter along the center of each, leaving a border. Top each with another rectangle of pastry and press the edges to really seal them. Transfer to a parchment lined tray and refrigerate for about 20 minutes.

Preheat the oven to 375ºF. Transfer the chilled pop tarts to a parchment-lined baking sheet and dock the tops of each to make lots of little air holes for steam to escape. Bake for about 20 or so minutes until the edges are golden brown. Transfer to a rack to cool completely.

Repeat to form 6 other pop tarts with the other half of the dough.
To decorate the pop tarts
Make the glaze by whisking the hot milk into the icing sugar with the corn syrup and the vanilla. The glaze will be thick but fluid. You can add a couple drops of lemon juice to help perk up the flavour.

Spread a thin layer of glaze on top of each pop tart and top with a generous amount of sprinkles.
Nutrition
Rhubarb apple butter
This is an easy recipe for thick rhubarb apple butter, which is a very thick fruit compote that can be used to fill pop tarts, breakfast streudel pastries, and hand pies
Ingredients
525

grams

McIntosh apples

4 cups peeled and chopped

450

grams

fresh rhubarb

4 cups chopped

2

tablespoon

water

10

Fresh raspberries

150

grams

granulated sugar

¾ cup
Instructions
Combine all the ingredients in a large soup pot and heat on medium–high. Bring the mixture to a boil.

Mash the fruits with a potato masher and continue simmering the compote on medium heat until it's reduced to about 2 cups. The compote will get very, very thick, and you will be able to run a wooden spoon through it and form a pretty stable groove. It will be thick like tomato paste almost.

Cool overnight in the fridge
Notes
Calories calculated based on 1 tablespoon (15 mL) serving of rhubarb apple compote
Nutrition