Want to go straight to the recipe? Click here to go to the blueberry almond mini pies recipe.
A friend asked me how I came up with this recipe, or any of the recipes you see here. I'm still not sure I have an answer. With most recipes, I just have a feeling that one flavour will go with another. I am very particular about flavours and "what goes with what." I don't like to mess too much with pairings that work. My tastebuds like watermelon and feta together, and my tastebuds agree that adding to the mix cucumber, flat-leaf parsley and black olives is just right. Unfortunately, then some people go and muck that up with tomatoes, and my brain immediately says no. Do I have an explanation? Not really. Or at least, I don't have an intelligent, tangible reason for the firm no. Most of my recipe ideas start with a flavour or a flavour pair and a hunch. I know: a hunch is so very un-scientific of me.
If you asked François Chartier why two flavours work well together or why certain foods will play well with each other, he'll tell you that it's because they share a common thread, and that thread is a compound that both foods possess. For example, according to Chartier, maple syrup and soy sauce are a great match because of sotolone, present in both. Soy sauce and maple syrup work well together because of their similarities. François Chartier has even written a book on the subject: "Taste Buds and Molecules," which is a really awesome read and one that I'd highly recommend, especially if you are curious about flavours and molecules and food-wine pairings (it's even been translated into English and is available on Amazon).
Following that train, we could probably explain why almonds and blueberries work well together. We know benzaldehyde is responsible for that deeply almond flavour, and I'm quite sure it's also present in blueberries, at least to a small extent. Is that why blueberries and almonds work so well together? I guess the short answer is maybe! Almonds go well with apricots, cherries, and many types of berries, all of which contain benzaldehyde.
So what about this recipe? I honestly wasn't thinking about benzaldehyde when I came up with this recipe. The inspiration behind these blueberry almond mini pies had nothing to do with molecules and everything to do with Ben & Jerry's ice cream. A couple years back, Ben & Jerry's had this "special edition" flavour called Mission to Marzipan, and I'd love to eat it with blueberries. In my mind, blueberries and marzipan are a delightful match. That ice cream flavour is long gone, and I thought I might as well revisit it, in pie-form. By the way, apparently the British call pies filled with frangipane and fruit (or jam) "bakewells," so I guess that's actually what these are. I'm still calling them pie. If you aren't a fan of frangipane, you can always make these blueberry hand pies. Or you can always make blueberry white chocolate cookies.
Blueberry almond mini pies recipe
Blueberry almond mini pies
These mini blueberry almond pies are very similar to the British bakewells: little pies filled with frangipane and fruit (or jam)
Ingredients
For the frangipane filling
100

grams

unsalted butter

7 tbsp, room temperature

100

grams

icing sugar

100

grams

ground almonds

1

large egg

½

tsp

pure almond extract

150

grams

fresh blueberries

1

large egg

for the egg wash

icing sugar

for dusting at the end
Instructions
Make the dough
In the bowl of a food processor, pulse the flour with the butter and salt until the mixture ressembles a fine crumble. Drop in the water, and pulse again. I gave the food processor a good run until the dough wasn't moving.

Transfer the dough to your work surface and split it in 2. Give each half a good pressing to form 2 discs of dough, then wrap them tightly and put them in the fridge for 30 minutes.
Prepare the frangipane
Cream the butter with the icing sugar, then add the ground almonds mixing it in really well, and finally the egg and almond extract (I did all this by hand with a spatula in a medium bowl). Cover the bowl and place it in the fridge.
Assemble the mini pies
Preheat the oven to 350ºF and line a cookie sheet with parchment. Roll out one half of the dough to about ⅛ inch thick, and cut out 3 ¾ inch circles (almost 4 inches).

Place 2 levelled teaspoons of frangipane in the middle of each circle, and top with 3 or 4 blueberries.

Brush the rim of each pastry round with egg and pinch into an open-centered triangle.

Refrigerate the mini pies for 30 to 45 minutes
Bake
Transfer the mini pies to the parchment-lined sheet. Bake the mini pies on the bottom rack for 15 minutes, then switch to the middle rack and bake for an additional 10 to 15 minutes.

Let cool then dust with icing sugar before serving.

Reroll the scraps to make more pies, and continue with the second disk of dough.
Nutrition
If you are baking with blueberries and you notice the blueberries turned green or changed colour as they bake, don't panic. That could be the effect of pH on the colour of the berries, but that has zero impact on the flavour of the berries.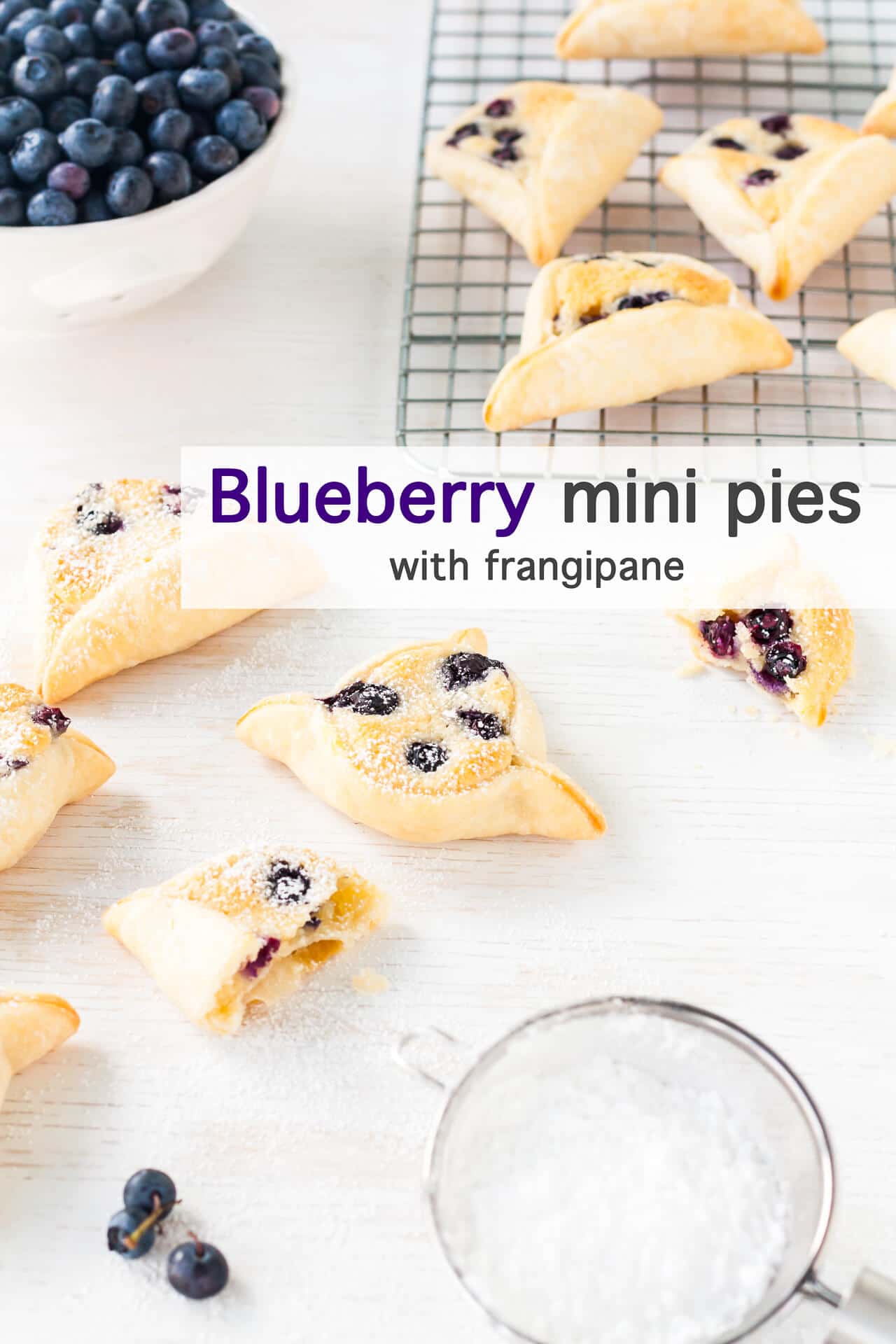 I do my best to bake with the finest ingredients. Stirling Creamery, a Canadian company, has provided the butter for this post.