Learn how to make the best pastry cream from scratch like a professional pastry chef with this easy recipe, which includes lots of tips and tricks! You will find out how to temper eggs so that they don't overcook, how to infuse pastry cream with vanilla and other flavours, and how to chill it really fast so you can use it faster without having to wait hours!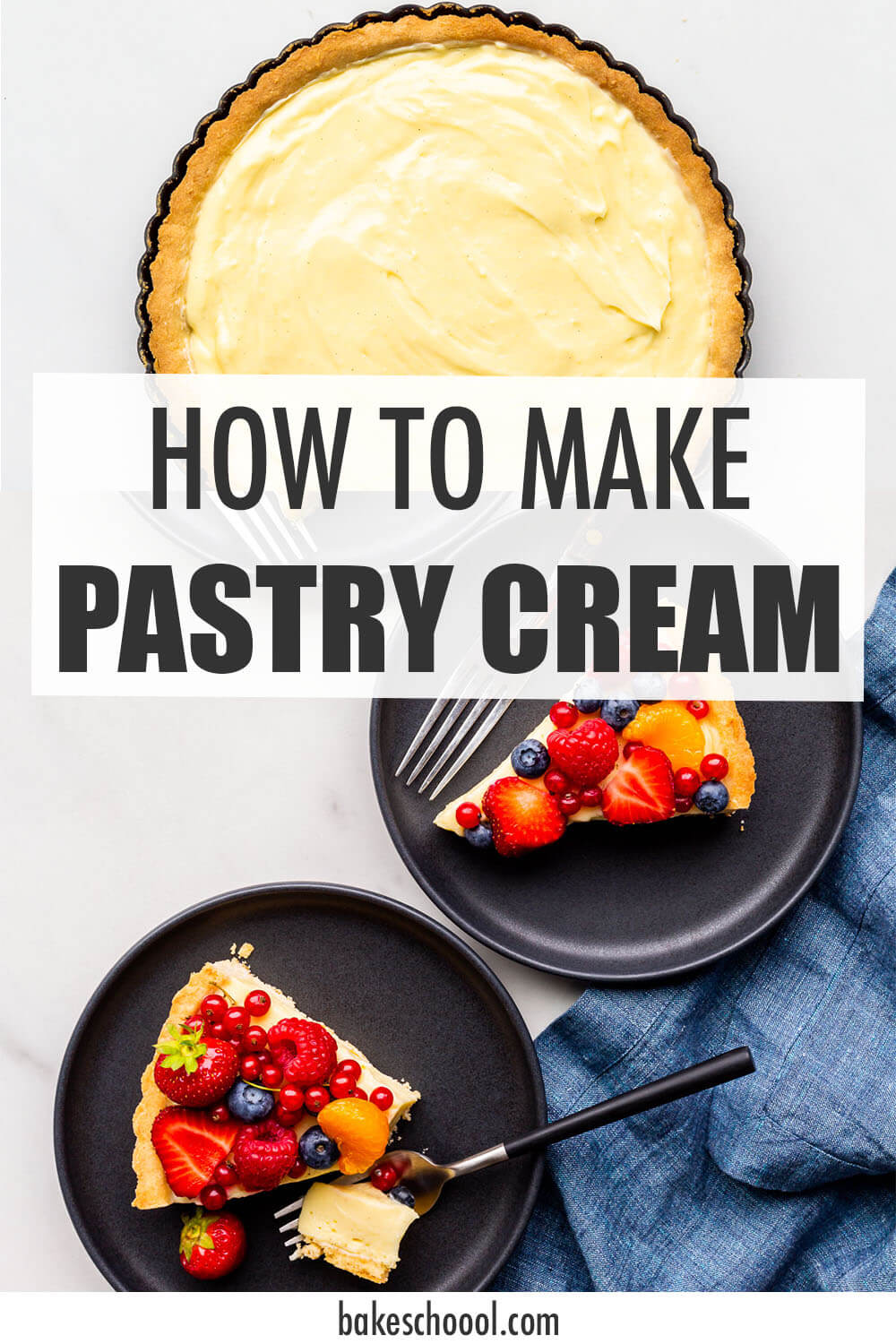 Disclosure: As an Amazon Associate, I earn from qualifying purchases.
Pastry cream is a versatile filling for fruit tarts, millefeuilles (layered between sheets of baked puff pastry), Boston cream pie (layered between vanilla cake layers), éclairs (and other pâte and other elaborate desserts, and trifles sandwiched between layers of hot milk cake. You will love it as a filling for strawberry crêpes for breakfast! When pastry cream is still warm, it will have a soft pudding texture. Once chilled down in the fridge, pastry cream can be quite gelatinous, depending on the ingredients and ratios used.
Crème pâtissière is the French baking term for pastry cream or custard filling (not to be confused with custard sauce, a.k.a. crème anglaise). In Italian, it's called crema pasticcera.
Jump to:
Ingredients To Make Pastry Cream (Crème Pâtissière)
It's a common misconception that pastry cream contains cream. As you can see from the rundown of ingredients listed below and the recipe card, there is no cream! Here's what you need to make great pastry cream: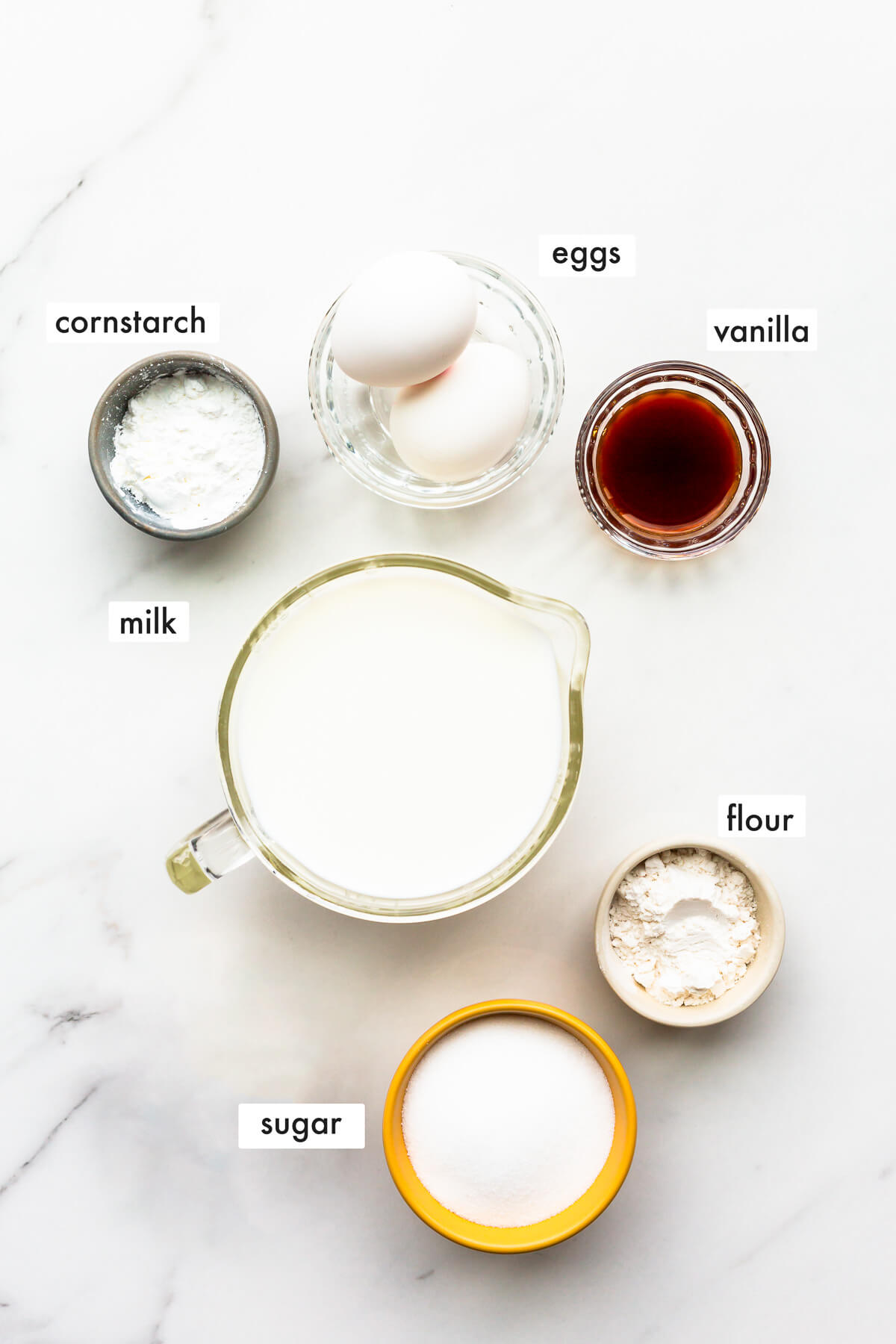 milk—pastry cream is not made with cream, which is a common misconception. It's made with milk (full fat—3.25 % fat or partially skimmed—2 % fat)
sugar—regular granulated sugar or special fine sugar produces the cleanest flavour
eggs—either whole eggs or egg yolks. Egg yolks produce a more yellow colour and a richer, smoother texture and taste
thickener(s)—can be all-purpose flour, cornstarch, or a combination of both, depending on how thick you need the pastry cream to be
vanilla—you can use either vanilla extract, vanilla paste, or vanilla bean, adding it at different steps depending on which you choose to work with.

vanilla bean: add it to the milk and heat them together to infuse the milk with the bean before tempering the eggs
vanilla paste: add it off the heat, whisking it into the hot pastry cream after cooking it
vanilla extract: add it off the heat, whisking it into the hot pastry cream after cooking it
See recipe card for more information about ingredients and quantities.
Variations and Substitutions
The key to flavouring pastry cream is to infuse the milk. You will steep the flavour ingredient in the milk as it warms on the stove, infusing the milk with the flavour extracted from the dry ingredients. Whatever flavour elements you add can be strained out at the end of the cooking process anyways, so don't worry about the texture it might create.
Vanilla - use vanilla extract (adding it after cooking, off the heat), vanilla bean paste (adding after cooking), or vanilla bean (adding it to the milk before heating)
Chocolate - you can use chocolate milk instead of the milk to make chocolate-flavoured pastry cream, reducing the sugar slightly to compensate for the beverage's sweetness. Or you can make a regular vanilla pastry cream and then whisk chocolate into the hot pastry cream before straining
Coffee - add coffee grinds to the milk before heating so that the coffee infuses into it
Tea - add tea leaves to the milk before heating it to infuse it, as we did to make the frosting for the Earl Grey layer cake
Maple - replace the sugar with maple sugar. You may also use some maple extract to reinforce the delicate flavour
Orange - infuse the milk with orange zest
Sesame - infuse the milk with sesame seeds, like in this black sesame pastry cream
Tip: When flavouring pastry cream, add as little liquid as possible once the pastry cream is cooked or else you risk creating a runny pastry cream.
Another option is to add flavour extracts, natural or artificial. These are more delicate, like vanilla extract. You will add these after boiling the pastry cream and off the heat.
Remember that you use vanilla extract, vanilla paste, and vanilla beans in different ways. Read all about vanilla in baking to find out more information about what they are and the different ways of using them.
How To Make Pastry Cream From Scratch
The techniques for making pastry cream and crème anglaise are quite similar, with a few key differences. Here's a breakdown of what you need to do to make a custard filling as opposed to a custard sauce.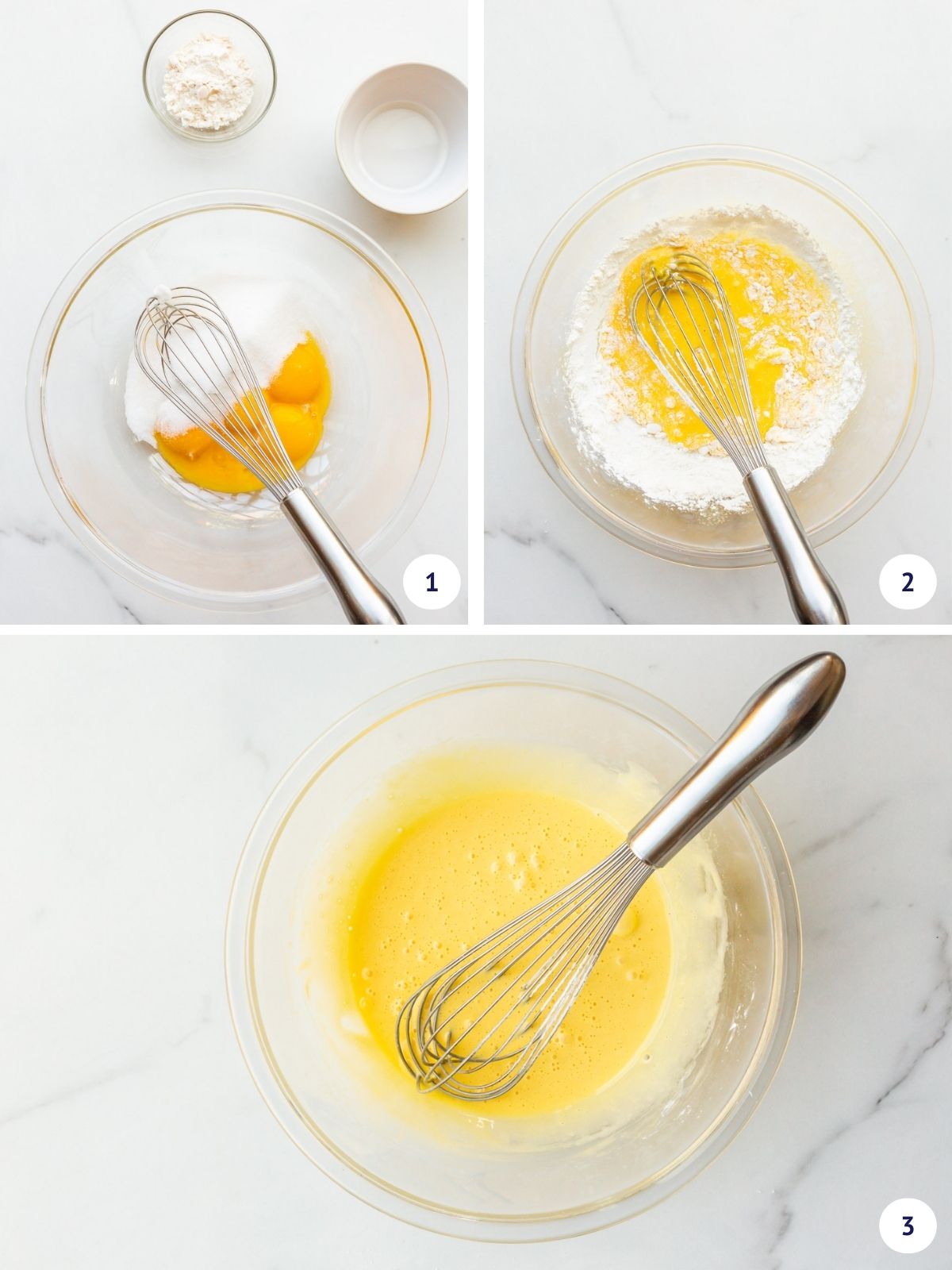 Step 1: whisk the egg yolks with part of the sugar (image 1) and the starch/flour (image 2). The mixture should be very smooth and lump-free (image 3).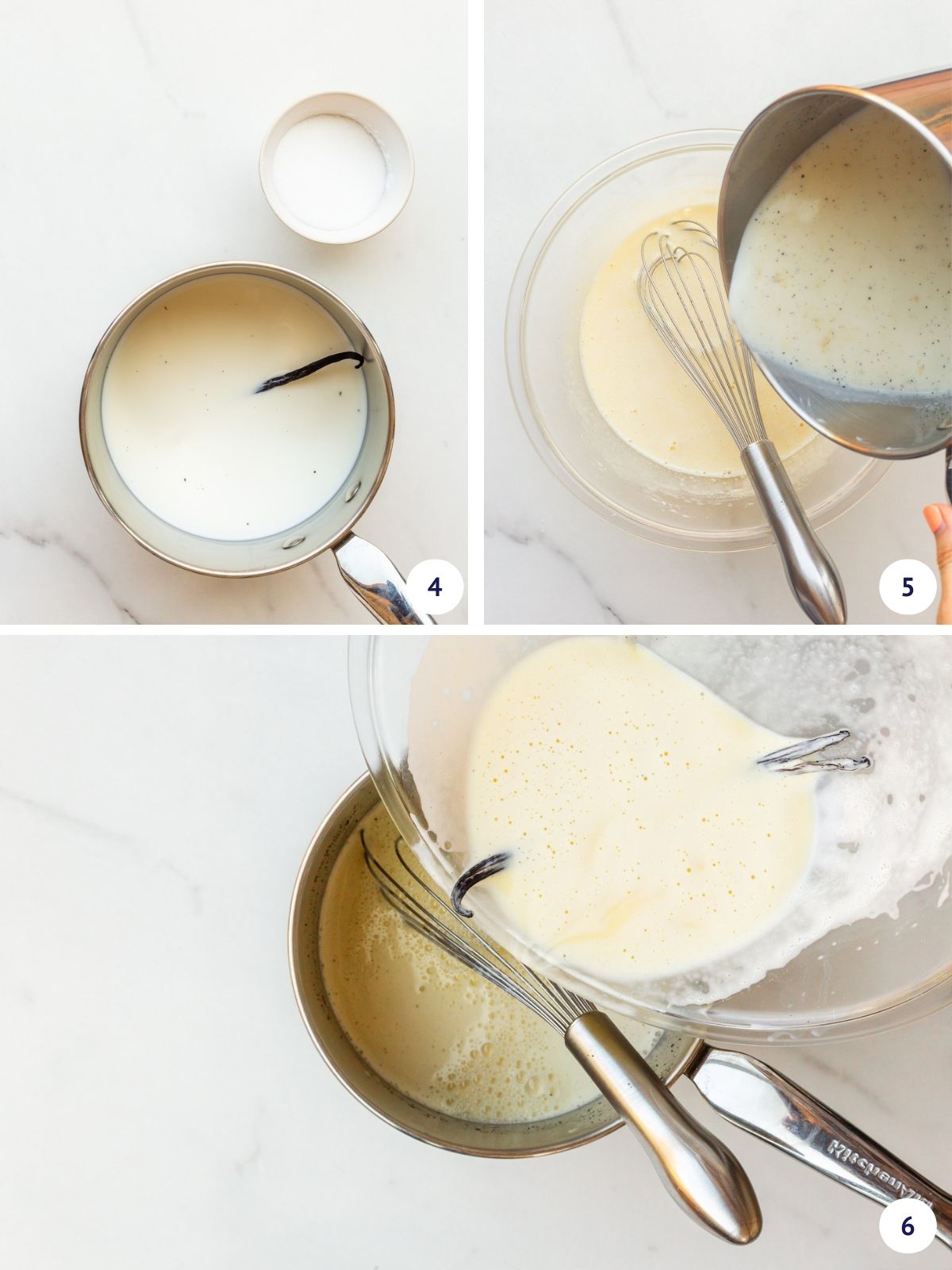 Step 2: Heat the milk in a saucepan on the stove with the rest of the sugar and the vanilla bean (if using) (image 4). Pour the hot milk mixture over the whisked egg yolk mixture to temper the eggs (image 5). Transfer the hot egg-milk mixture back to the saucepan (image 6).
Tip: if you are using a whole vanilla bean, split it open to release the beautiful caviar hidden inside so that everybody knows you used the real thing! Add the split vanilla bean to the pot of milk and sugar, and then heat them together.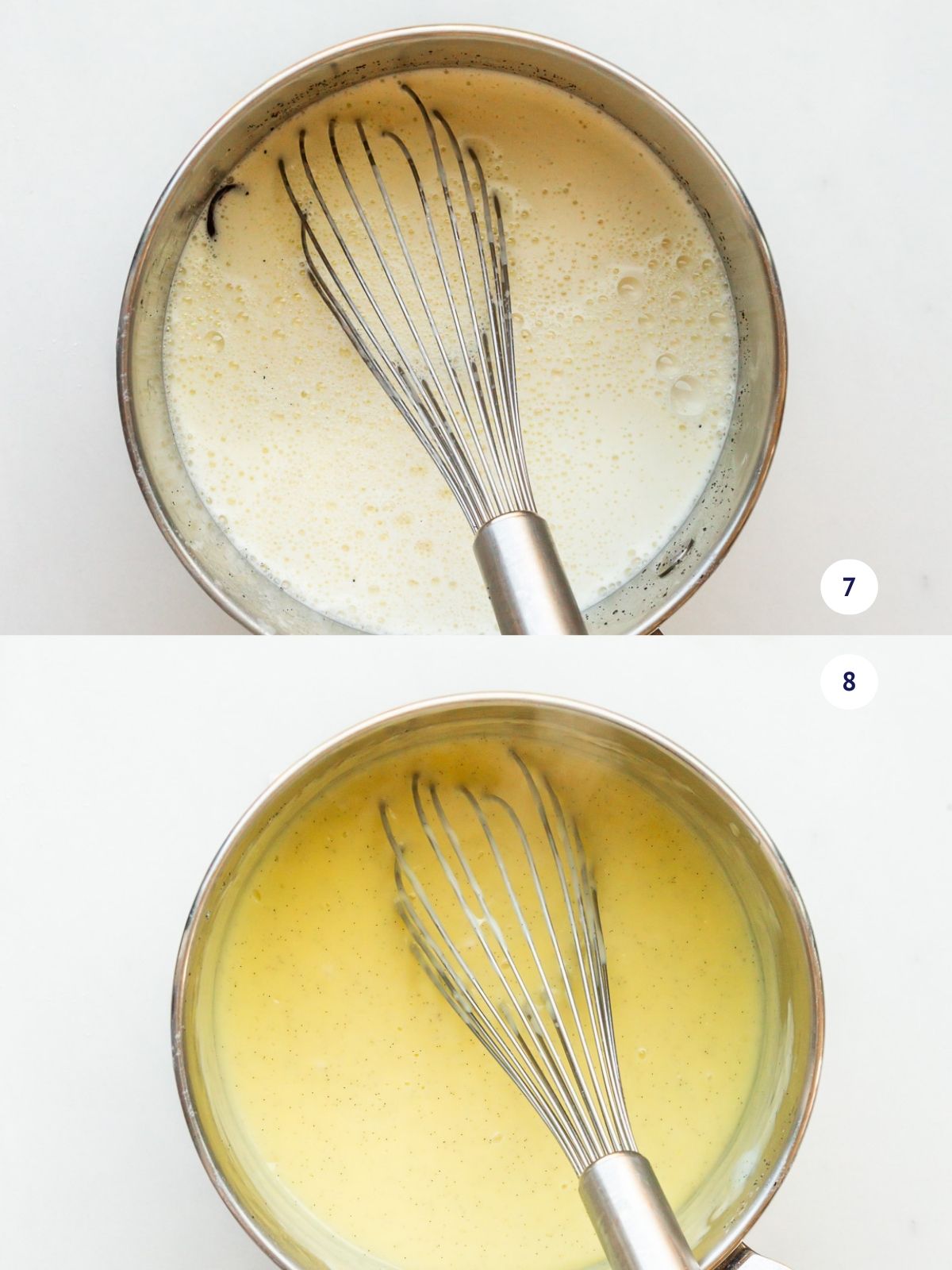 Step 3: Heat the pastry cream on the stove to bring it up to a boil. It will start out very thin and pale in colour (image 7), but once it boils, it will become thicker and have a more pronounced yellow tint to it (image 8)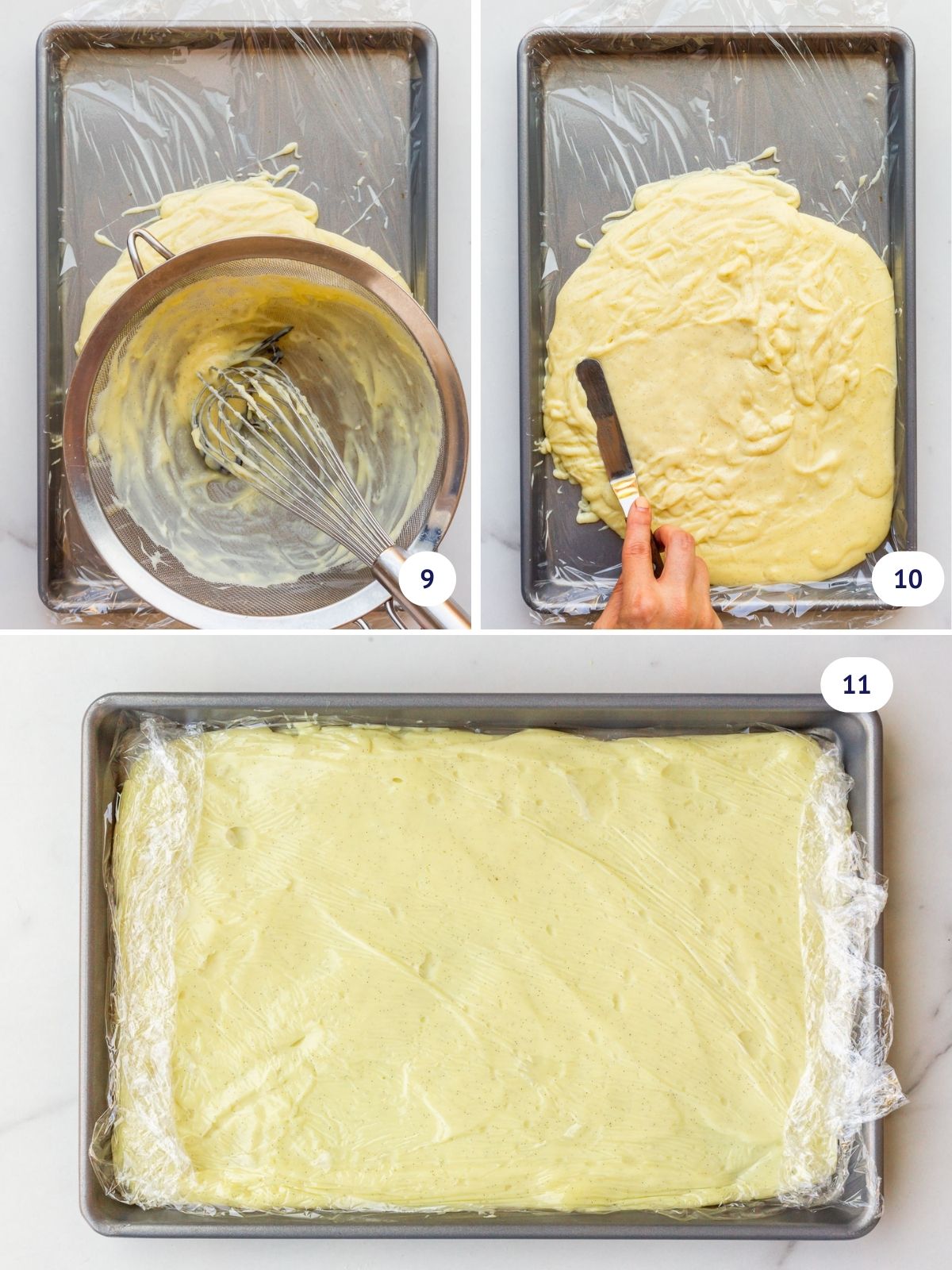 Step 4: Strain the pastry cream into a clean bowl or on a plastic wrap-lined sheet pan to remove the vanilla bean and any lumps (image 9). Spread the pastry cream in an even layer (image 10) then place another layer of plastic wrap directly in contact with the surface of the thick custard (image 11). You will need to chill the pastry cream in the fridge until you are ready to use it.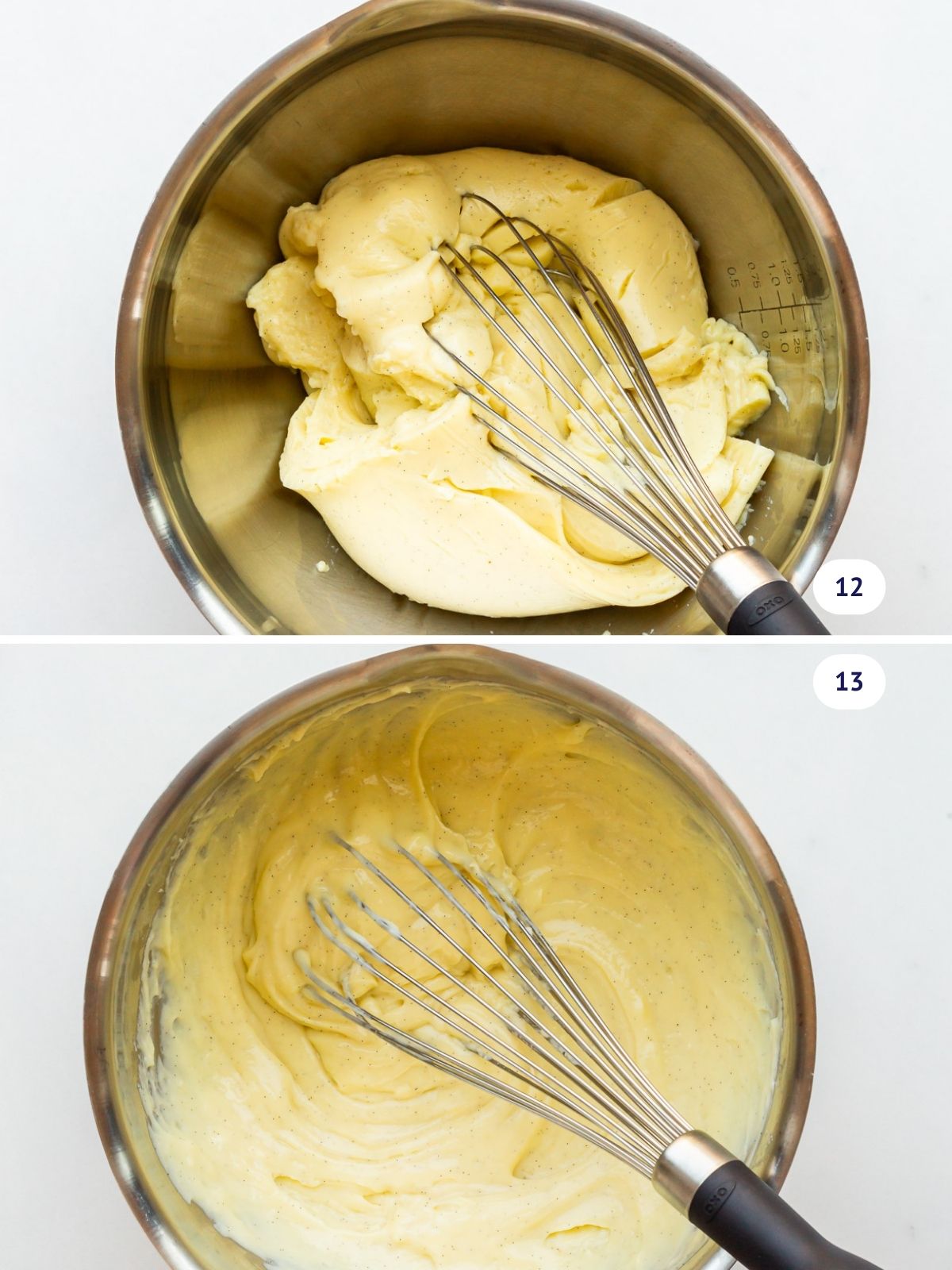 Step 5: Before using pastry cream, uncover it and whisk it well. Cold pastry cream will be very thick and gelatinous (image 12) but will loosen up once whisked into a smooth, creamy thick filling (image 13).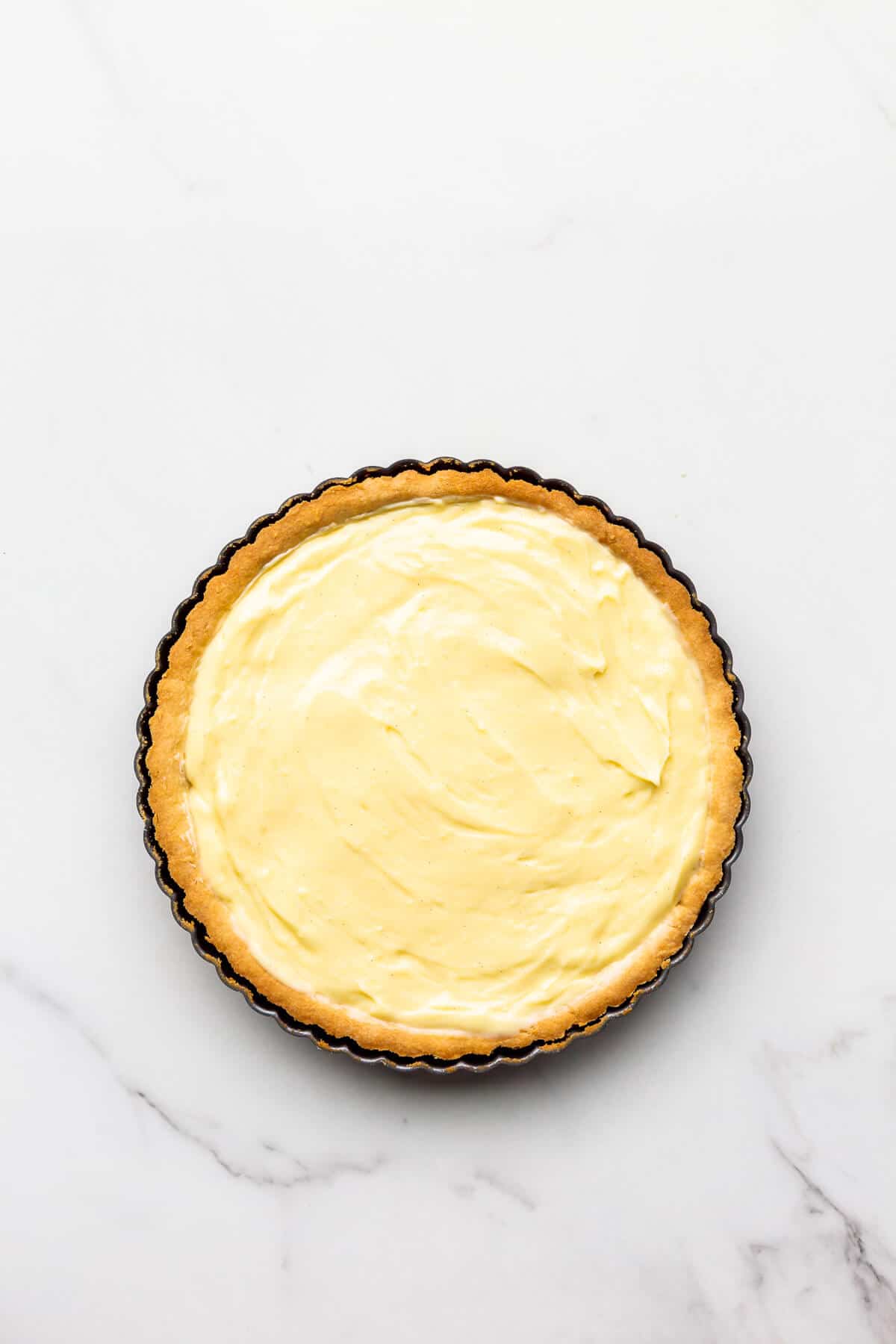 Pastry Cream Uses
Pastry cream is one of the big building block recipes in pastry. Here's what you can do with it:
Use it as a filling, as is, to stuff tarts (like a classic strawberry tart), crêpes, cakes, and also pâte à choux-based pastries like éclairs
Lighten it with butter to make a crème mousseline (like for this framboisier cake recipe where the cake filling is paired with raspberries). You can also use pastry cream to make German buttercream by whipping it with lots of butter
Combine it with almond cream to make frangipane and use it as a filling for tarts
Pro Tip
Remember to boil pastry cream for 3 to 5 minutes to ensure it is thick, but also ensure it is safe to eat! This filling contains eggs, flour, and starches. These ingredients must be cooked before consuming them (read more about this on from the CDC).
Pastry Cream FAQs
How do you thicken pastry cream?
Pastry cream relies mostly on starches (usually flour or cornstarch) to thicken. Bring pastry cream to a full boil and continue to boil for over 2 minutes (5 minutes for very large batches) in order for it to gel properly. Cool it down for several hours in the refrigerator in order for it to thicken properly and set.
If you undercook pastry cream, it will have a starchy mouthfeel. It may be too loose to use as a filling. In this case, you can put it back in a saucepan on the stove and bring it back to a boil to thicken it further.
If the pastry cream is still too thin, it could be that you didn't use enough starch for the amount of liquid in the recipe. You will have to adjust the ratio next time. You could thicken a pastry cream further by melting gelatin into it when it's still warm, but remember you have to soften the gelatin first (bloom the powder in cold water or soak the sheets in warm water).
Does it have butter?
Pastry cream whipped with softened butter is called crème mousseline. It's a popular filling in French pastry for fruit tarts and the classic fraisier cake (see the framboisier cake for a variation of this dessert), though pastry cream works just fine too.
You do not need butter to make a classic French pastry cream.
Why does it have lumps?
When done correctly, pastry cream should not have any lumps. Lumps can come from eggs that weren't properly incorporated and cooked hard into lumps or the lumps could also come from lumps of starch. It's very important to whip the eggs with the sugar and the starch (flour or cornstarch) until there are no lumps. Starch lumps at this phase will only get worse once cooked on the stove!
When your pastry cream has thickened, you can strain it quickly when it's still hot in order to remove any lumps of cooked egg or improperly mixed starch, but the fact that you have to strain these out will indicate something went wrong and the texture probably won't be as good.
How do you store pastry cream?
Pastry cream is a dairy-based filling containing eggs and sugar. You must store in the refrigerator. It's not recommended to freeze it as it may break down when defrosted.
How long can you store pastry cream?
You can store pastry cream for a few days in the refrigerator and up to 1 week. Make sure that you cover it properly. Pastry chefs will often cover pastry cream with plastic wrap pressed directly onto the surface of pastry cream to avoid it drying out on the surface and forming a skin.
Related
Looking for other recipes like this? Try these:
If you tried this pastry cream recipe (or any other recipe on my website), please leave a ⭐ star rating and let me know how it went in the comments below. I love hearing from you!
📖 Recipe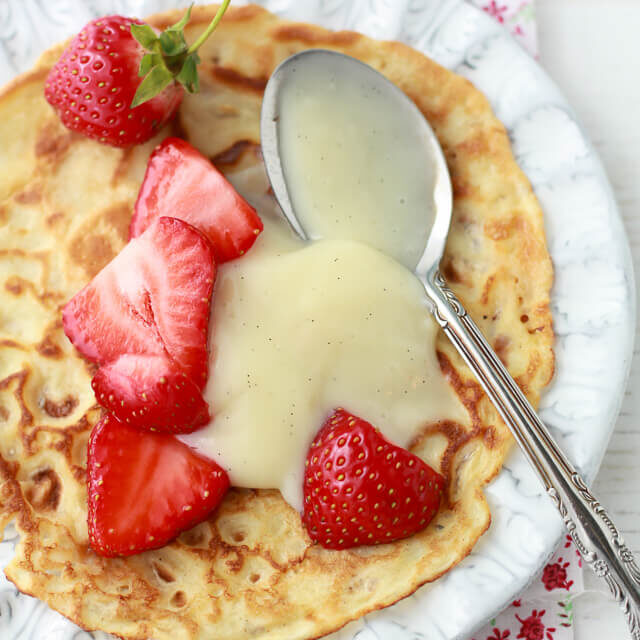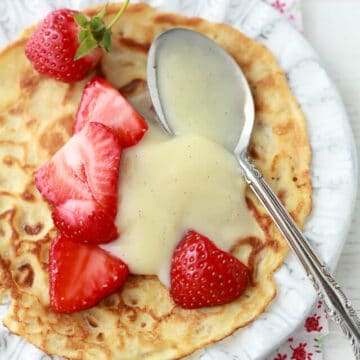 Vanilla Bean Pastry Cream
Vanilla pastry cream is a basic recipe that you should master. It's great for serving with crêpes for breakfast but also as a filling for tarts, cakes, and éclairs!
Ingredients
Pastry cream
500

mL

whole milk (3.25 % fat)

100

grams

granulated sugar

divided

1

vanilla bean

split and scraped

45

mL

bleached all-purpose flour

15

mL

cornstarch

2

large egg(s)

2.5

mL

pure vanilla extract
Instructions
Heat the milk on medium–high heat in a medium saucepan with half of the sugar and the split vanilla beans (seeds scraped into the pot).

Meanwhile, beat the egg yolks with the remaining sugar in a medium bowl until the mixture has lightened in color, then add in the flour and starch, and whisk again to combine. Scrape down the sides of the bowl. The mixture should be smooth.

When the milk is hot and almost boiling, pour the hot milk over the egg mixture, whisking continuously until the mixture is homogeneous. Transfer the mixture back to the saucepan and continue heating it, whisking constantly until the mixture has thickened and boiled for about 3 minutes.

Take the mixture off the heat. Transfer to a plastic-wrap lined rimmed sheet (or a bowl over an ice bath). Spread out the pastry cream evenly over the entire plastic wrap-covered surface. Top with another piece of plastic wrap to seal it, making sure the plastic wrap is in direct contact with the filling. Transfer the pan to the fridge and let cool completely, at least 3 hours or overnight.

When you are ready to use it, transfer the pastry cream to a bowl and re-whip it with a whisk to smooth it out and loosen it so that you can spread it or pipe it.
Notes
Make sure to read through the entire blog post and recipe, including the notes before proceeding so that you are familiar with the steps and what each ingredient in the recipe does.
Remember to make pastry cream ahead of time because it has to cool, depending on what you plan to do with it. You can use flour, cornstarch, or a combination of both to make pastry cream. Which thickener you use is dependent on what you plan to do with the filling.

For a tart that you want to slice cleanly, the filling must hold its shape, so you will use more cornstarch and less flour.
For a crêpe filling, the pastry cream can be looser, and so you will only use flour.

Pastry cream must come up to a boil and boil for several minutes, not only to thicken it, but also to make it safe to consume as it is made with flour and eggs, which need to be cooked.
Strain the pastry cream to remove lumps and make sure it is creamy and smooth.
Always cover pastry cream with plastic wrap in direct contact to avoid it drying out or forming a skin on the surface.
Nutrition
Calories:
205
kcal
Carbohydrates:
38
g
Protein:
8
g
Fat:
3
g
Saturated Fat:
1
g
Cholesterol:
83
mg
Sodium:
67
mg
Potassium:
358
mg
Fiber:
3
g
Sugar:
23
g
Vitamin A:
293
IU
Vitamin C:
74
mg
Calcium:
128
mg
Iron:
2
mg