Pastry cream is a versatile filling for tarts and elaborate desserts, but it's also great to serve with crêpes and fresh berries for breakfast!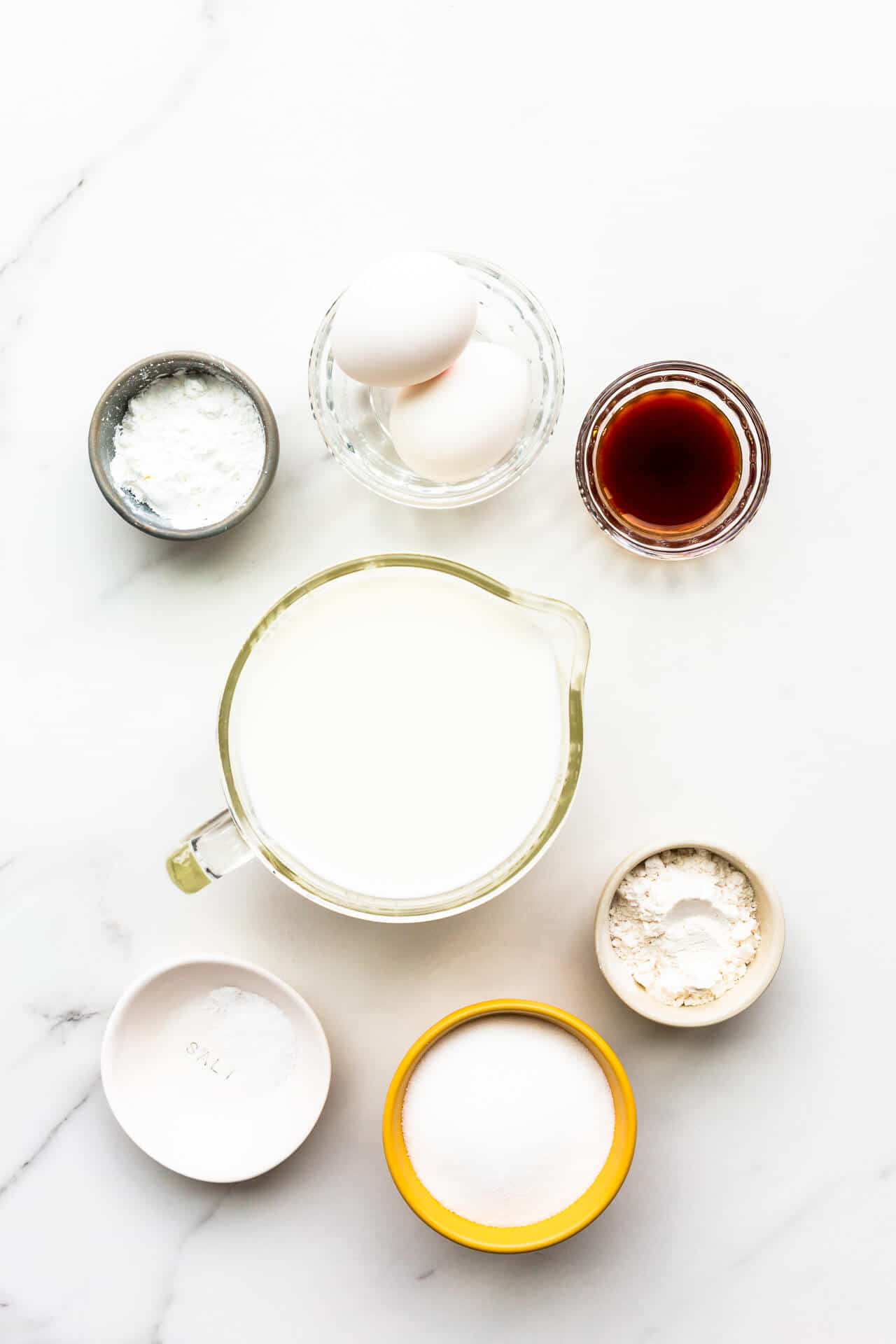 Disclosure: As an Amazon Associate, I earn from qualifying purchases.
How it's different from crème anglaise
Pastry cream, also called crème pâtissière, is not the same as crème anglaise, though they are made from similar ingredients:
both are made from the same ingredients milk, sugar, eggs, and vanilla, but:

crème anglaise has no additional thickeners
pastry cream contains thickeners flour and/or cornstarch

the cooking method is different for both:

crème anglaise is slow cooked over low heat for a longer period (around 10 minutes) to thicken it properly. It never comes to a boil.
pastry cream must boil briefly (sometimes less than 3 minutes) to thicken properly and achieve the right set.

the two are used differently:

crème anglaise is a thick yet fluid custard sauce
pastry cream is a thick filling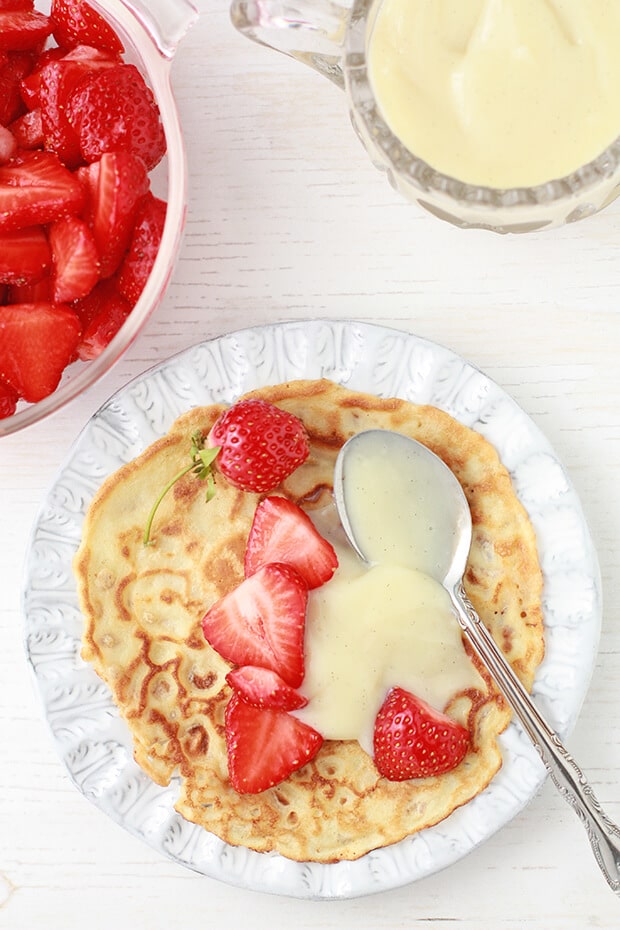 While crème anglaise is a dessert sauce, pastry cream is a filling. You can fill crêpes with strawberries and pastry cream or even cream puffs (instead of whipped cream) to make a croquembouche. Pastry cream is the filling for éclairs too and many trifle recipes feature a layer of pastry cream, like these cranberry trifles, made with eggnog pastry cream.
It is sandwiched between layers of cake to make the classic American dessert called Boston Cream Pie. The French Gâteau Basque is filled with pastry cream that is baked between layers of cake batter.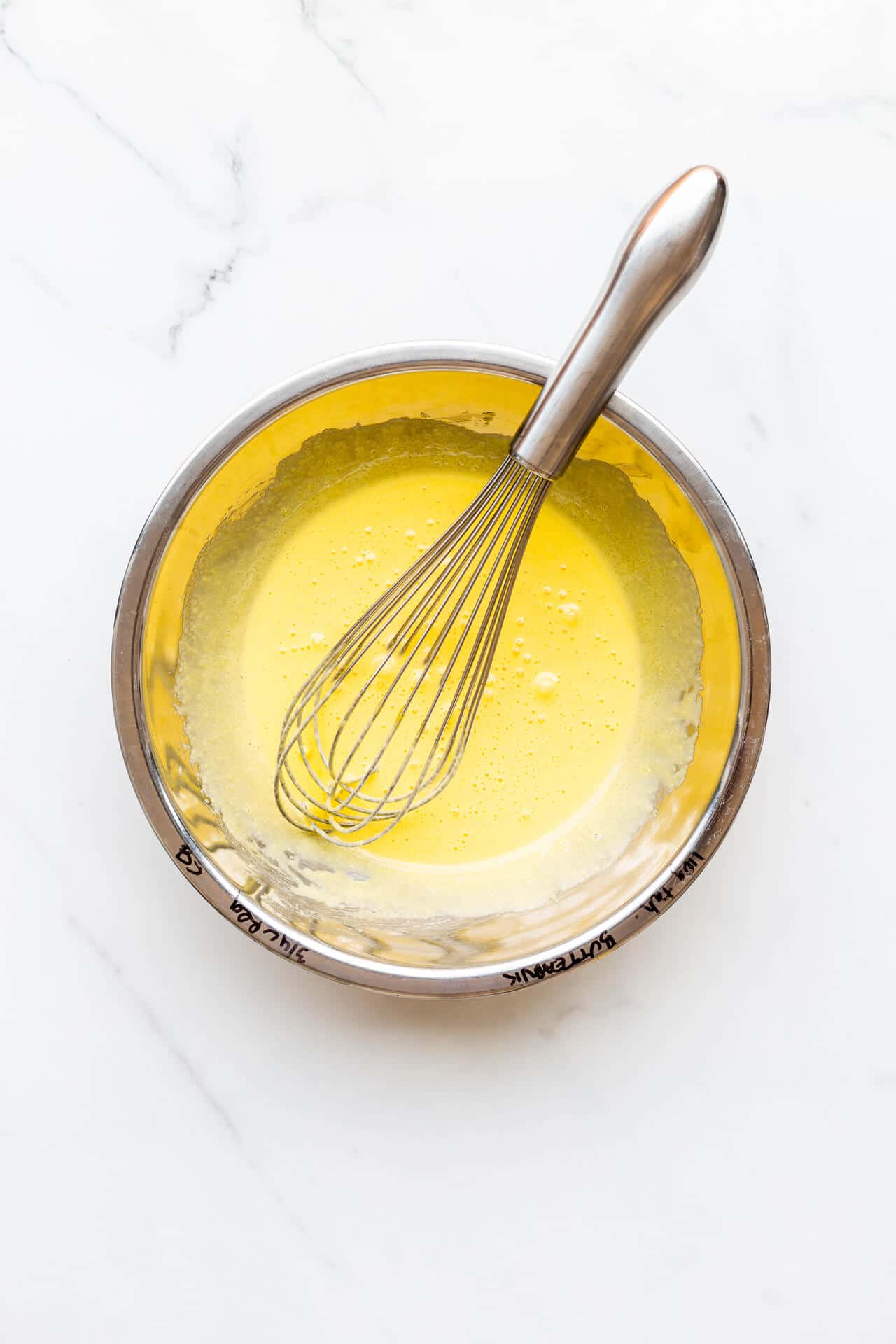 How it's made
Pastry cream should be quite thick because it is a filling. This is why pastry cream relies on starches to give the filling more body than the egg yolks alone could.
When starch comes in contact with water, it swells, absorbing water. This is a first way that starches will give more body to fillings.
When the pastry cream is heated on the stove, the starch granules eventually burst, freeing the starch strands. The starch strands are free to interact with and trap water. The starch strands swell and lose their crystalline properties, absorbing surrounding water molecules and preventing movement, and they gel. Depending on the starch ingredient used, the gelling occurs somewhere between 55ºC (131ºF) and 85ºC (185ºF).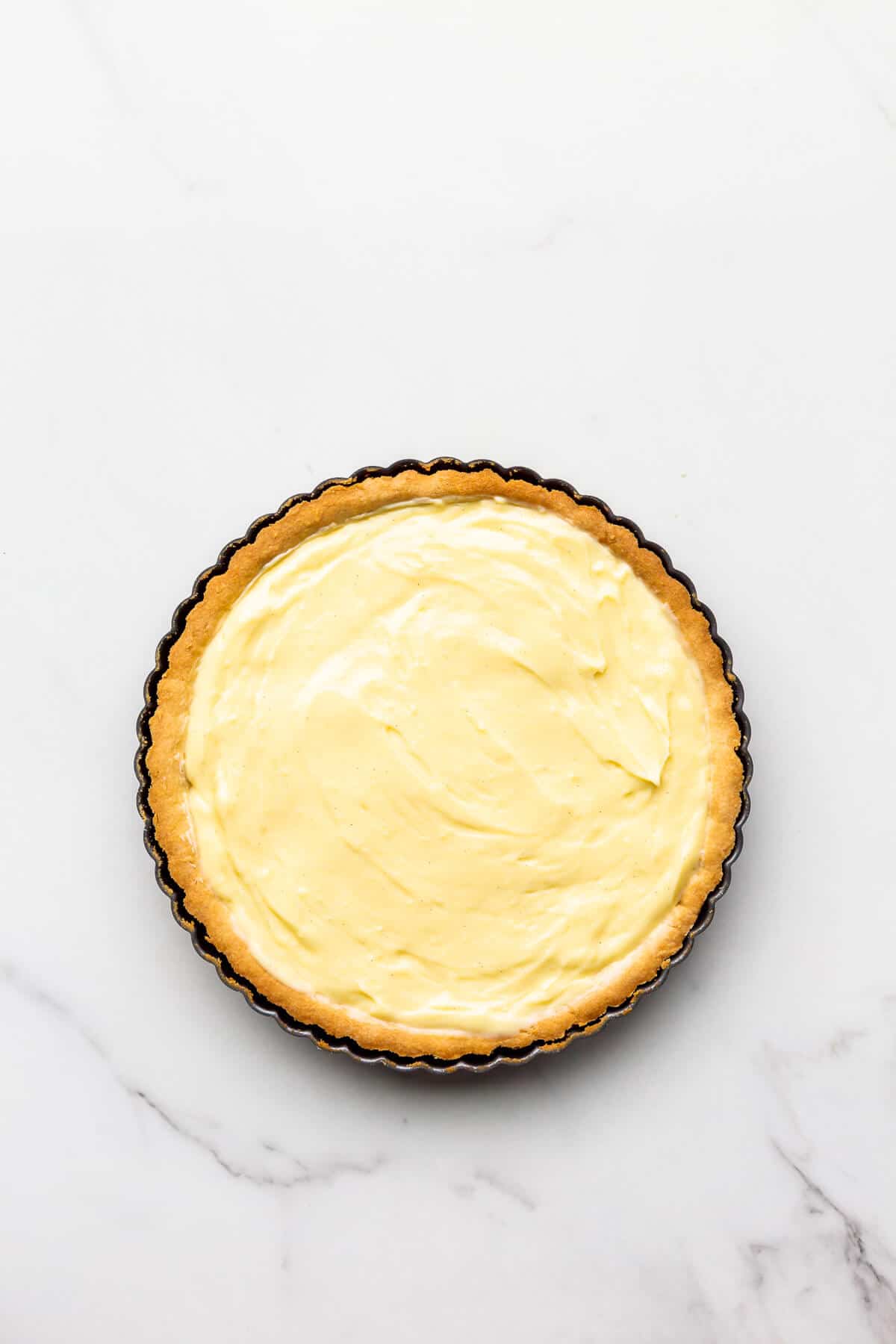 You will notice some pastry cream recipes call for flour, others cornstarch. You may even see recipes that call for both. Flour is the easiest, most user-friendly thickener to use because it gels a little softer and looser, so it's more easy to handle pastry creams thickened with flour, especially for beginners.
Cornstarch is a more advanced thickener because the thickening happens fast and it gels more firmly, which means you have to work quickly and keep your eye on the stove at all times, whisking vigorously, or else it may be lumpy.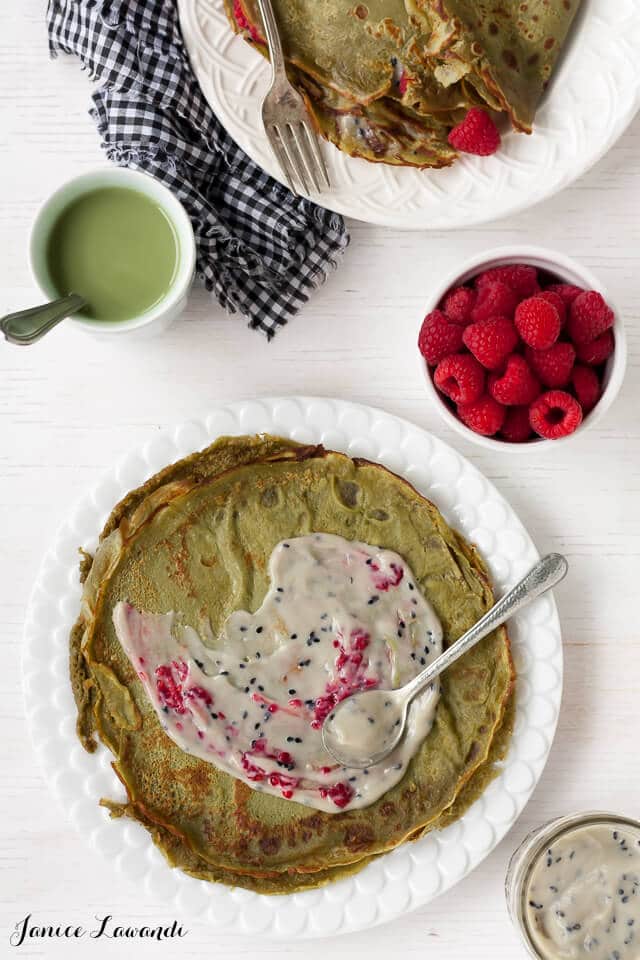 How to flavour pastry cream
The key to flavouring pastry cream is to infuse the milk. You can infuse it with vanilla bean pods, coffee grinds, tea leaves, spices (like cinnamon sticks, star anise, cardamom, etc), citrus zest, and even nuts and seeds (like black sesame seeds to make a sesame pastry cream to fill matcha crêpes).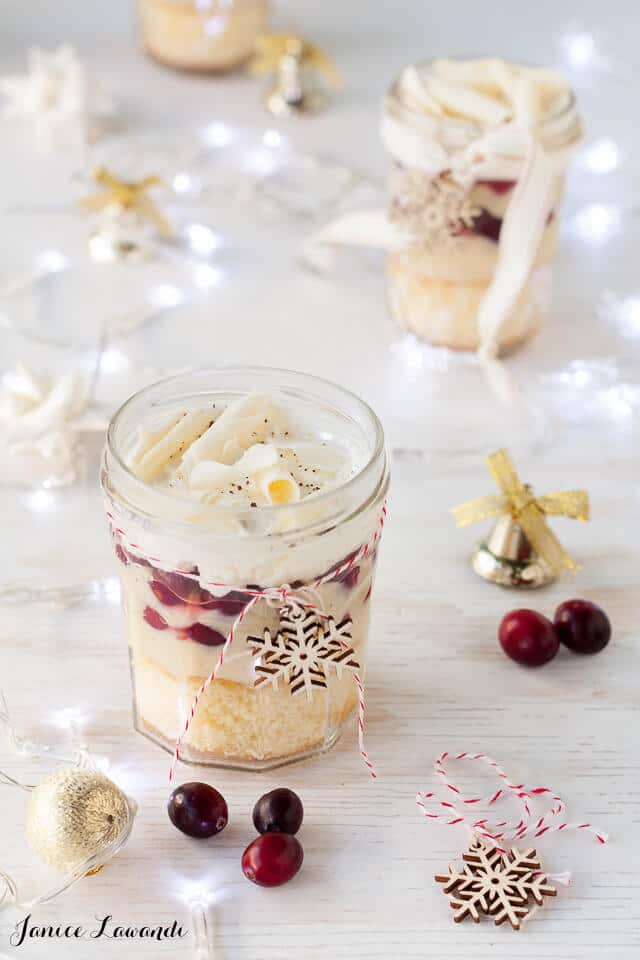 With any of these flavour ideas, the idea is to steep the flavour ingredient in the milk as it warms on the stove, infusing the milk with the flavour extracted from the dry ingredients. Whatever flavour elements you add can be filtered out at the end of the cooking process anyways, so don't worry about the texture it might create.
Another option is to add flavour extracts, like vanilla extract or vanilla bean paste, but these are more delicate and so they get added after boiling the mixture and off the heat. The goal is to add as little liquid as possible once the pastry cream is cooked or else you risk having a runny pastry cream.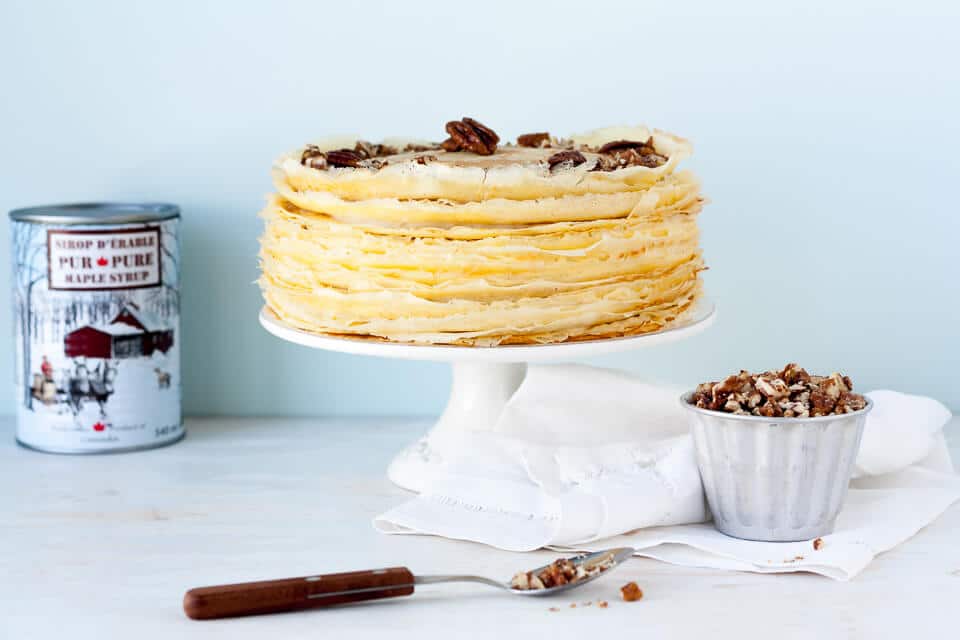 You can make chocolate pastry cream by adding chopped chocolate to a batch of hot, freshly cooked pastry cream. You can also make maple pastry cream by replacing a portion (or all) of the granulated sugar in the recipe with maple syrup.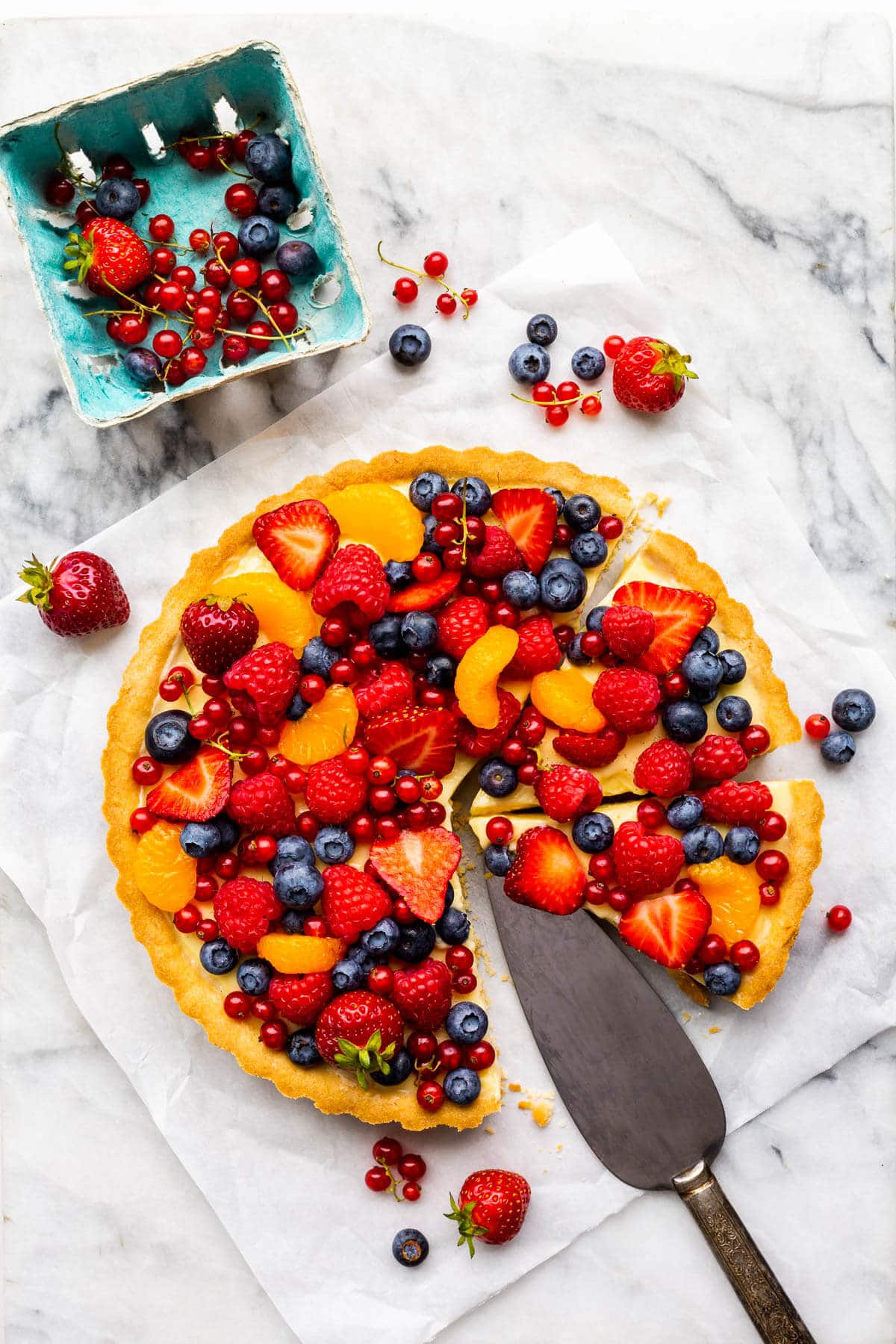 Frequently asked questions
How do you thicken pastry cream?
Pastry cream relies mostly on starches (usually flour or cornstarch) to thicken. The pastry cream must come to a full boil and continue to boil for over a minute (or even 5 minutes for very large batches) in order to gel properly. Then you have to cool it down for several hours in the refrigerator in order for it to thicken properly and set.
If you undercook pastry cream, it will have a starchy mouthfeel and it may be too loose to use as a filling. In this case, you can put the mixture back in a saucepan on the stove and bring it back to a boil to thicken further.
If the pastry cream is still too thin, it could be that you didn't use enough starch for the amount of liquid in the recipe. You will have to adjust the ratio next time. You could thicken a pastry cream further by incorporating gelatin into it when it's still warm, but remember you have to soften the gelatin first (bloom the powder in cold water or soak the sheets in warm water).
Does it have butter?
Pastry cream whipped with softened butter is called crème mousseline. It's a popular filling in French pastry for fruit tarts, though pastry cream works just fine too.
Pastry cream on its own is not made with butter.
What texture should it have?
When pastry cream is still warm, it will have a soft pudding texture. Once chilled down in the fridge, pastry cream is quite gelatinous actually.
Why does it have lumps?
When done correctly, pastry cream should not have any lumps. Lumps can come from eggs that weren't properly incorporated and cooked hard into lumps or the lumps could also come from lumps of starch. It's very important to whip the eggs with the sugar and the starch (flour or cornstarch) until there are no lumps. Starch lumps at this phase will only get worse once cooked on the stove!
When your pastry cream has thickened, you can strain it quickly when it's still hot in order to remove any lumps of cooked egg or improperly mixed starch, but the fact that you have to strain these out will indicate something went wrong and the texture probably won't be as good.
How do you store pastry cream?
Pastry cream is a dairy-based filling containing eggs and sugar. It must be stored in the refrigerator. It's not recommended to freeze it as it may break down when defrosted.
How long can you store pastry cream?
Pastry cream can be stored for a few days in the refrigerator and up to 1 week. Make sure that it is properly covered. Pastry chefs will often cover pastry cream with plastic wrap pressed directly onto the surface of pastry cream to avoid it drying out on the surface and forming a skin.
📖 Recipe
Vanilla bean pastry cream
Vanilla pastry cream is a basic recipe that you should master. It's great for serving with crêpes for breakfast but also as a filling for tarts, cakes, and éclairs!
Ingredients
Pastry cream
500

mL

(

2

cups

)

whole milk (3.25 % fat)

100

grams

(

½

cup

)

granulated sugar

,

divided

1

vanilla bean,

split and scraped

45

mL

(

3

tablespoon

)

bleached all-purpose flour

15

mL

(

1

tablespoon

)

cornstarch

2

large egg(s)

2.5

mL

(

½

teaspoon

) pure vanilla extract
Instructions
Start by making the pastry cream ahead of time because it has to cool. Heat the milk on medium heat in a medium saucepan with a sprinkling of the sugar and the split vanilla beans (seeds scraped into the pot).

Meanwhile, beat the eggs with the remaining sugar in a medium bowl til the mixture has lightened in color, then add in the flour and starch, and whisk again to combine. Scrape down the sides of the bowl.

When the milk is steaming and almost boiling, pour the hot milk over the eggs, whisking continuously til the mixture is homogeneous. Transfer the mixture back to the saucepan, removing the vanilla beans, and continue whisking constantly until the mixture has thickened and boiled for 2 to 3 minutes.

Take the mixture off the heat and stir in the vanilla. Transfer to a plastic-wrap lined rimmed sheet. Spread out the pastry cream evenly over the entire plastic wrap-covered surface. Top with another piece of plastic wrap to seal it. Transfer the pan to the fridge and let cool completely, at least 3 hours or overnight.

When you are ready to use it, transfer the pastry cream to a bowl and re-whip it with a whisk to smooth it out and loosen it so that you can spread it or pipe it.
Give back
If you enjoy the free content on this website, say thank you!
Nutrition
Calories:
205
kcal
|
Carbohydrates:
38
g
|
Protein:
8
g
|
Fat:
3
g
|
Saturated Fat:
1
g
|
Cholesterol:
83
mg
|
Sodium:
67
mg
|
Potassium:
358
mg
|
Fiber:
3
g
|
Sugar:
23
g
|
Vitamin A:
293
IU
|
Vitamin C:
74
mg
|
Calcium:
128
mg
|
Iron:
2
mg