Learn how to make dulce de leche without condensed milk from scratch with this easy recipe! I also compared three brands of dulce de leche that were available at my local supermarket to find the best so that you know exactly what to buy!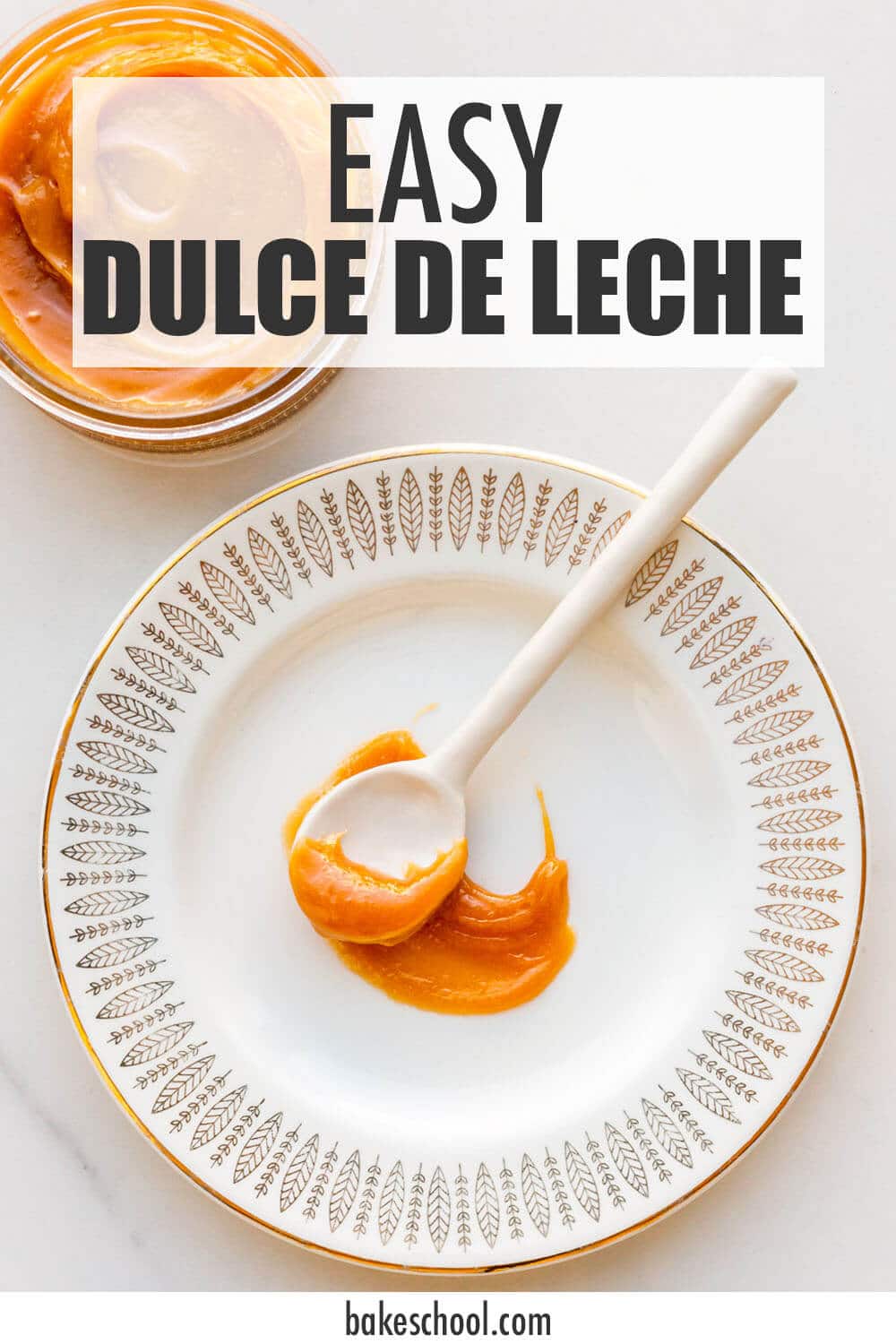 Disclosure: As an Amazon Associate, I earn from qualifying purchases.
Jump to:
What it is
Dulce de leche is a sweet, caramelized milk spread that is very common in Latin America. It's also called milk jam. You can smear it on toast, especially brioche, or you can use it as a filling for cakes and cookies.
How it's different than caramel
Dulce de leche and salted caramel sauce are not the same thing. With dulce de leche, milk and sugar (or sweetened condensed milk) are cooked to make a thick, spreadable caramelized milk jam. On the other hand, for caramel sauce, the sugar is cooked alone, sometimes with water and corn syrup or glucose to prevent crystallization. The dairy (cream and/or butter) is added after sugar caramelization occurs.
Caramel has a deeper flavour coming from the burnt sugar notes from the different cooking process. Some love it and some hate it for that reason. Though the processes can seem quite similar, the flavour and outcome of making dulce de leche versus caramel are quite different.
Note that you can further cook caramel sauce to make a thicker filling or soft caramels, and it's likely that you could do the same with dulce de leche.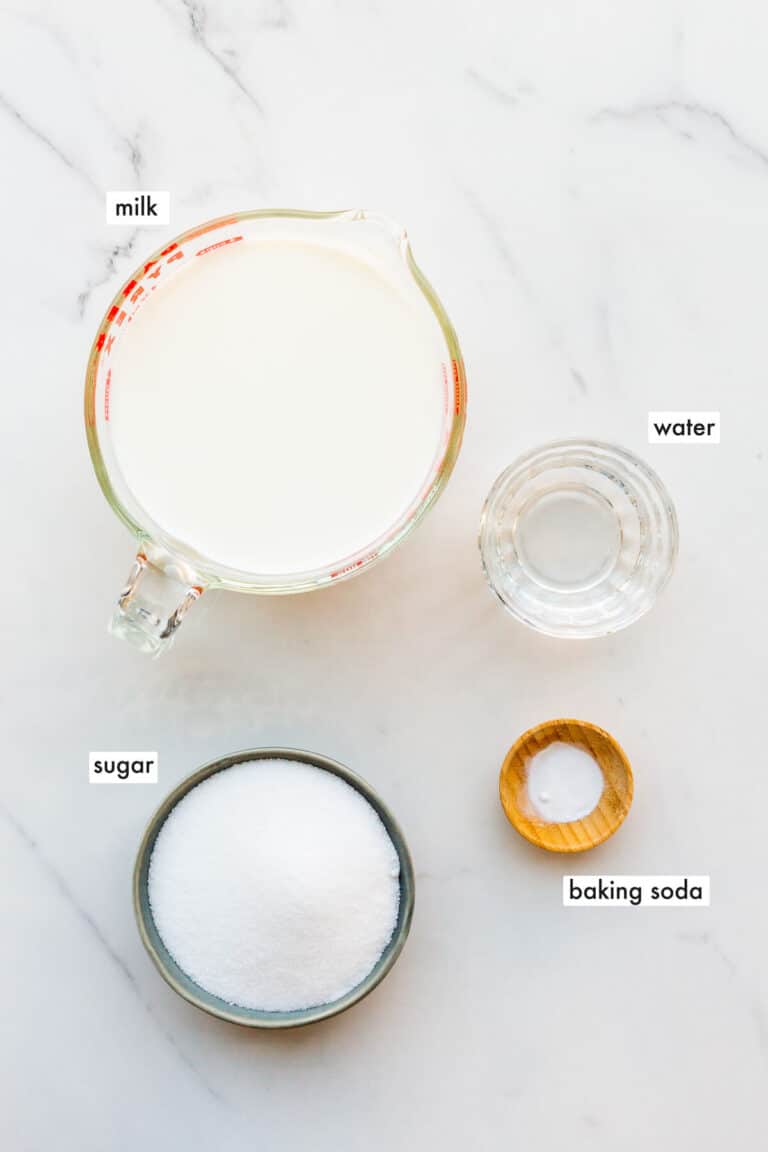 Ways of making it from scratch
There are several ways of making dulce de leche at home. Some start with cans of sweetened condensed milk, others start from milk and sugar. It's a delicate process to caramelize sweet milk and it takes time. The goal is to darken the colour of the milk to a deep mahogany, while also caramelizing the sugars and milk solids, developing the flavour, and thickening the mixture to a spreadable, thick consistency.
There are a few ways of making dulce de leche from sweetened condensed milk:
boil the sealed can of sweetened condensed milk in a water bath for several hours (note this can be dangerous if the water bath boils down, there is a risk of burning the pot, or worse)
boil the sealed can of sweetened condensed milk in a pressure cooker (this is not recommended by the companies that manufacture sweetened condensed milk because there's a risk of explosion)
decant the can of condensed milk into a saucepan and heat it on the stove, stirring often, to caramelize it without it scorching or sticking on the bottom—this takes 1 to 2 hours depending on how low you heat it
decant the can of condensed milk into a baking dish and heat it, covered, in a water bath in the oven for almost an hour at 425 ºF
You can also opt to start with milk and sugar, stirring it on the stove for an hour or more to achieve the same result.
Whether you start with cans of sweetened condensed milk or a combination of milk and sugar, all of these methods work fine. But some require constant stirring and all of them take at least an hour.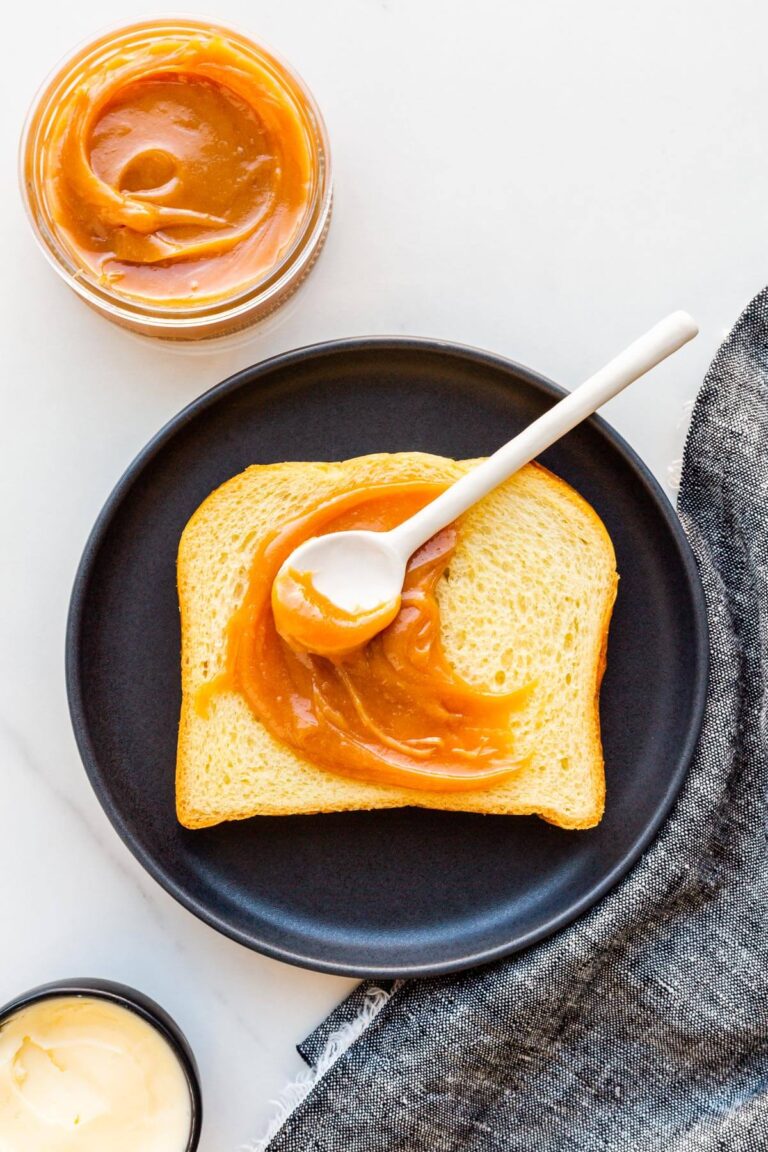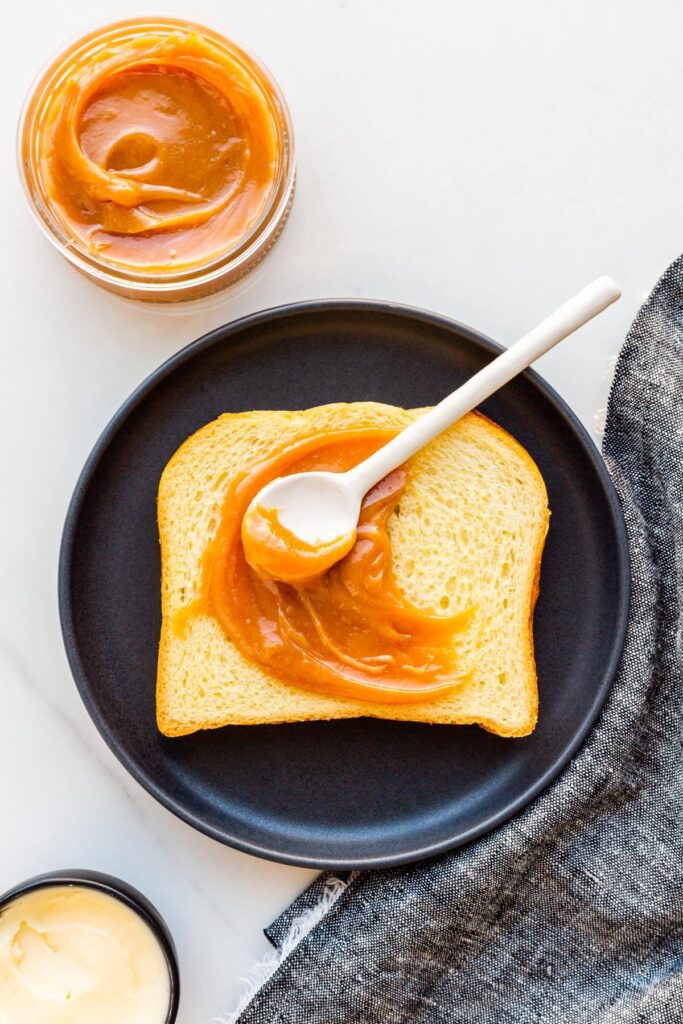 How it's used
Dulce de leche has a caramelized flavour and a thick, gooey texture. It makes a great spread at breakfast (after all, it is called milk jam for a reason!). It's also a great filling for cakes and cookies. You can pipe dulce de leche onto cake layers you are stacking to make a layer cake. You can also sandwich it between shortbread cookies to make the most delicious alfajores cookies.
The chemistry of dulce de leche
There are several key processes that happen when making dulce de leche: evaporation, caramelization, and Maillard browning.
Evaporation
Depending on the method you use to make dulce de leche, more or less evaporation can occur leading to a thicker or thinner product. In a closed vessel, like a can, there isn't any evaporation that occurs, whereas on the stove in a pot, uncovered, evaporation occurs for the duration of the cooking process, leading to a more concentrated spread and potentially a thicker or more gooey texture.
With this dulce de leche recipe, you start with 1 litre (4 cups) of milk, which is concentrated down to only 375 mL (1-½ cups)! This means that much of the water has evaporated and the flavours and other compounds have concentrated, leading to a more flavourful spread.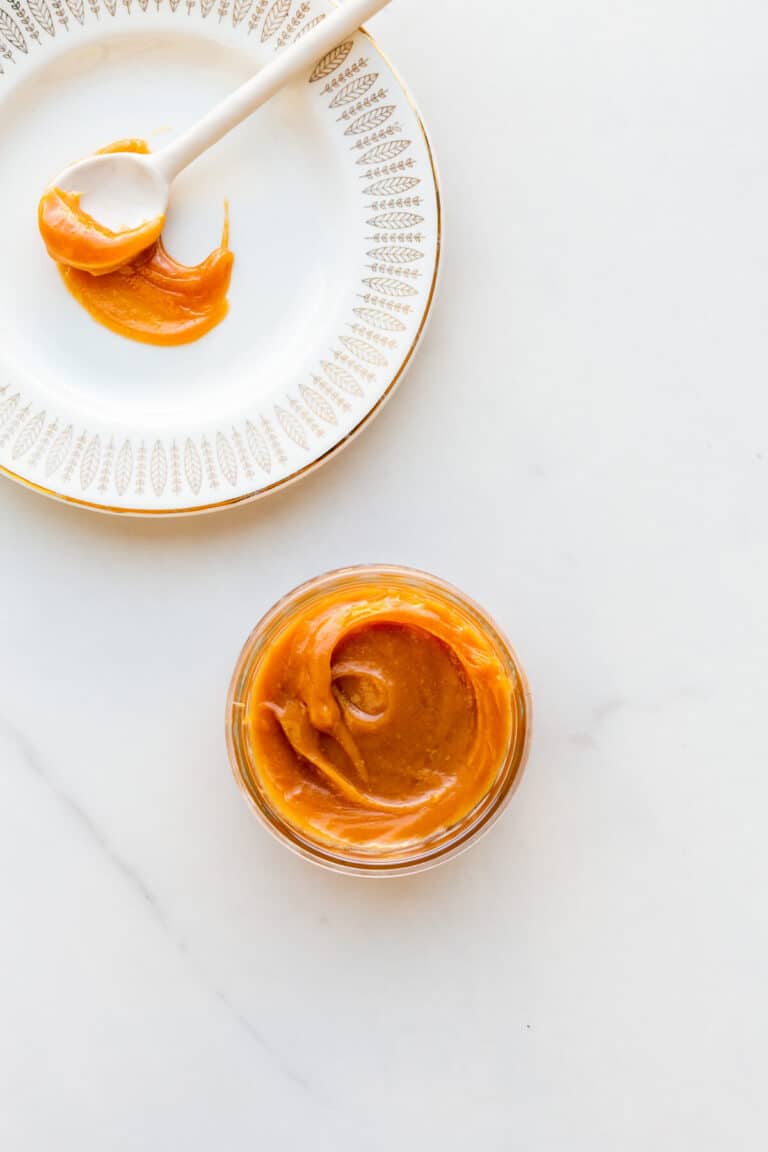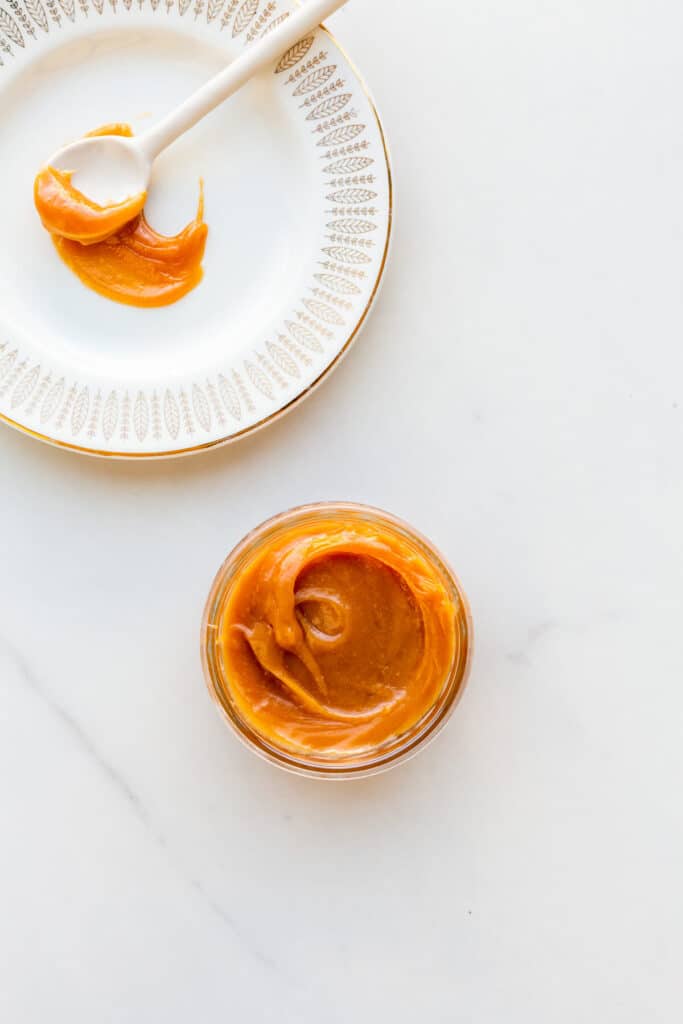 Caramelization
Making dulce de leche is much like making caramel in that the sugar transforms from white to dark. The sugar breaks down and reacts, transforming into colourful, flavourful compounds. In the case of caramel, the sugar is the only ingredient to caramelize and the dairy is usually added later.
With dulce de leche, both the milk and sugar are cooked together in a slow process where both undergo caramelization. Remember that milk contains sugar, specifically in the form of lactose, which is a disaccharide made from glucose and galactose. Just like sucrose, lactose will also caramelize if you heat it enough.
Caramelization not only causes a colour change but also a flavour change, bringing more smoky notes and a deeper, more complex flavour. The more colour you achieve, the more flavour.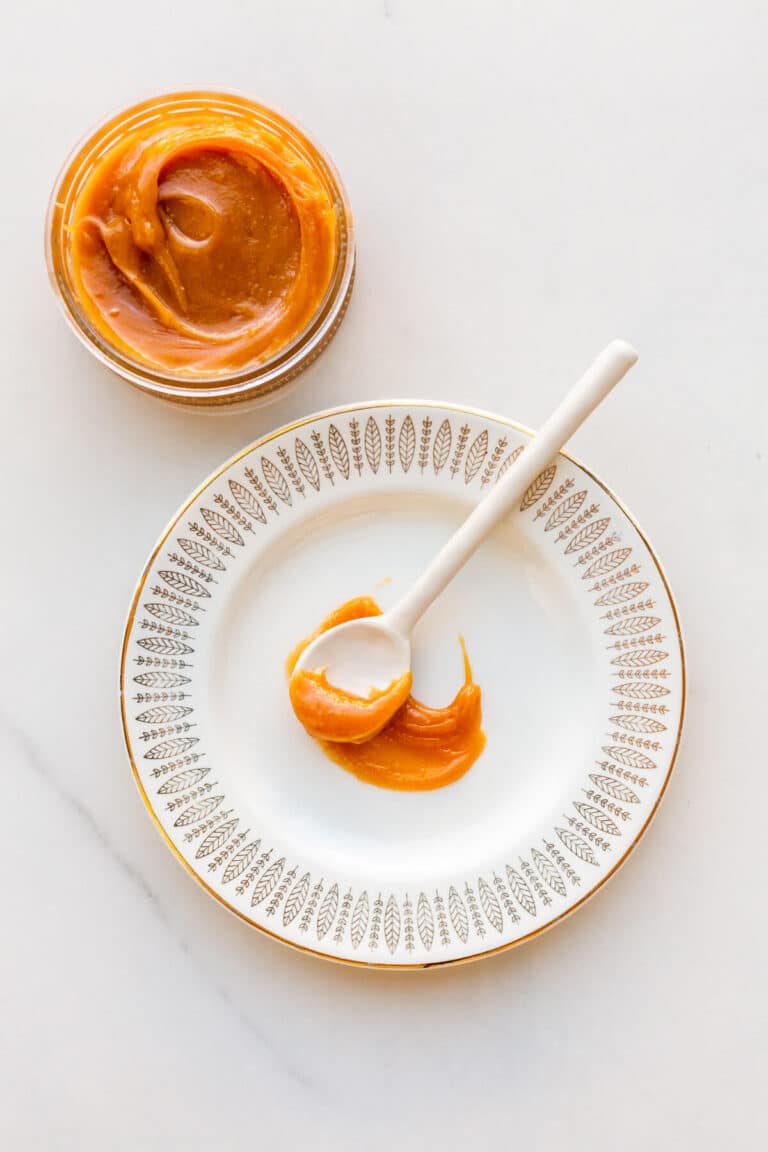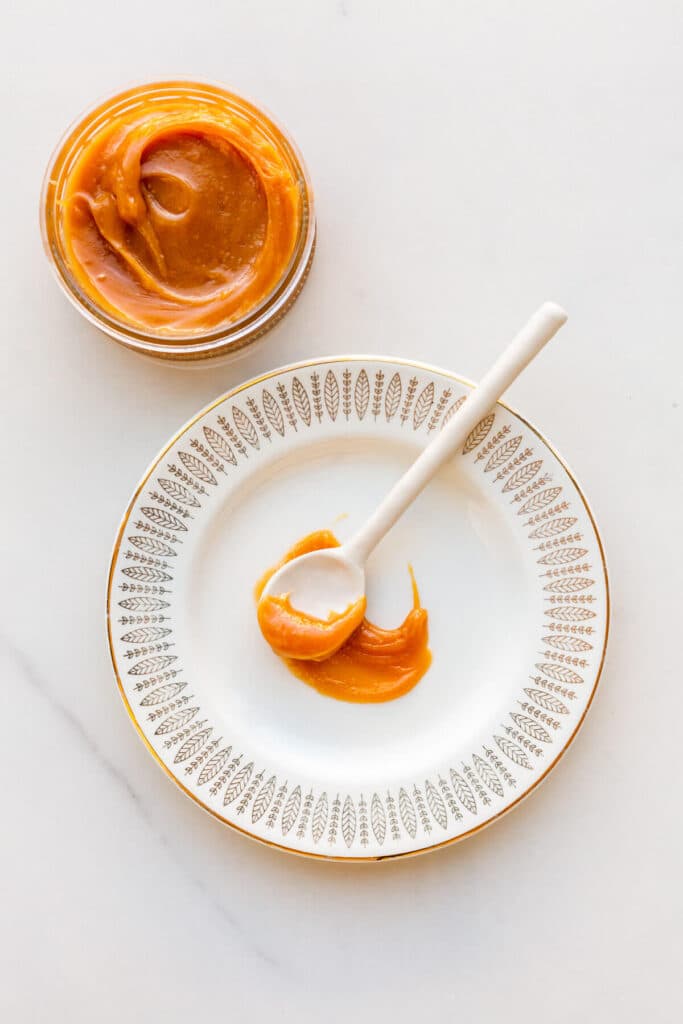 Maillard browning reactions
Maillard browning reactions occur at high pH (meaning basic or alkaline) in the presence of proteins and sugars. High pH speeds up the reaction, though it can occur at lower pH over much longer periods of time. Higher temperature combined with high pH, proteins, and sugars, can also speed up the process, but again, browning can also occur at room temperature if you give it enough time.
Knowing the impact of pH on browning, some methods call for baking soda, a base and common chemical leavener. The baking soda encourages browning through Maillard browning reactions. However, if you add too much baking soda, you will taste it!
You may also notice that some commercial dulce de leche may contain ingredients like milk solids, powdered milk, or even lactose. These are all ways of adding more protein and/ or sugar to increase the browning and/or caramelization products without adding more water. Basically, these compounds add more flavour.
The flavour of Maillard reaction products is different than caramelization products because of the proteins that react, contributing nitrogen and even sulfur to the products formed, yielding a distinct flavour.
Making dulce de leche from milk
Ingredients
To make it at home, you only need a few ingredients:
whole milk (or 2 % milk)
granulated sugar
baking soda (optional but it helps with browning)
See recipe card for quantities.
Special tools
I make dulce de leche in a pot on the stove, stirring with a wooden spoon, and then I store it in mason jars, so you don't need anything special to do this recipe. However, I would like to mention that boiling milk rises up significantly so you need to use a pot that is at least 4 quarts or 4 litres to boil 1 litre of milk. I've tested this recipe in a 3 quart (2.8 L) pot and it boiled over.
Method
Once your ingredients are gathered, all you have to do is bring the milk and sugar up to the boil in the pot, then add the baking soda, and continue heating to thicken and brown the mixture until it has the consistency of a thick caramel sauce.
You can check the consistency on the back of a spoon, or dollop a little on a saucer (like the plate test you do when you make marmalade).
Storage
Transfer the homemade dulce de leche to a clean jar, and once cooled, you can close the jar and refrigerate it. You can keep it in the fridge for up to 2 weeks.
Substitutions
Even though this recipe only has a few of ingredients, you can make a few substitutions:
If you prefer to start from sweetened condensed milk, follow the recipe as written but omit the sugar.
If you want to make a lactose-free version, you can replace the milk with lactose-free milk. I wouldn't make any other substitutions.
If you want to make a non-dairy version, coconut milk is what is most commonly used. You can even buy sweetened condensed coconut milk if you'd rather start from that (and then omit the sugar in the recipe).
Variations
You can infuse the milk with a variety of flavours, including:
a vanilla bean
whole spices (crushed green cardamom seeds, cinnamon stick, etc)
And if you find that this is all too much for you, you can always buy dulce de leche at the store. Here's a comparison of store-bought kinds (including a tip for how to thicken dulce de leche if it's too thin!).
📖 Recipe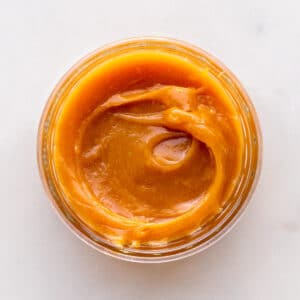 Dulce De Leche without Condensed Milk
Learn how to make dulce de leche without condensed milk, from milk and sugar, with this this easy recipe! This stove-top dulce de leche takes some time but the steps are very simple and make the best homemade dulce de leche!
Ingredients
1

L

milk

300

grams

granulated sugar

60

mL

water

2.5

mL

baking soda
Instructions
Pour the milk and sugar in a large pot (at least 4 quarts or 4 litres) and place over medium-high heat, stirring occasionally until the mixture comes up to a boil.

Meanwhile, in a small bowl, mix together the water and baking soda. Stir to dissolve the baking soda.

When the milk comes to a boil, take the pot off the heat and stir in the dissolved baking soda.

Put the pot back on the burner and bring the milk back up to a boil, reduce the heat and continue to simmer the milk for about an hour, stirring occasionally, until it has caramelized and reached the desired consistency. As the mixture gets thicker, you will have to stir more and more so that it doesn't stick to the bottom of the pot and burn.

Transfer to a jar and let cool to room temperature before storing in the refrigerator for up to 2 weeks.
Notes
Note that you can infuse the milk with a vanilla bean or vanilla bean paste to make vanilla-flavoured dulce de leche.
Nutrition
Calories:
73
kcal
Carbohydrates:
14
g
Protein:
1
g
Fat:
1
g
Saturated Fat:
1
g
Polyunsaturated Fat:
1
g
Monounsaturated Fat:
1
g
Cholesterol:
5
mg
Sodium:
45
mg
Potassium:
63
mg
Sugar:
14
g
Vitamin A:
68
IU
Calcium:
51
mg
Iron:
1
mg
Frequently asked questions
Will dulce de leche thicken after it cools?
When dulce de leche is hot, it is thinner than when it cools down. Still if it's very thin when hot, it won't become a thick filling unless you boil it down more. I have instructions for how to make dulce de leche thicker.
Is dulce de leche the same as cajeta?
Dulce de leche is made from cow's milk, while cajeta is made from goat's milk. The process to make both is similar, but the milk is different, so they are not the same. Cajeta has a more distinct flavour coming from the milk.
By the way, dulce de leche is also not the same as caramel sauce because to make caramel, the cream and butter are added after cooking the sugar, on the other hand for dulce de leche, the sugar and milk are cooked and caramelized together.