This rhubarb crumble recipe is easy, yielding a tart rhubarb filling that is perfectly set, topped with an oat-free crumble topping. This easy recipe calls for a very short list of ingredients. If you've got rhubarb, then you probably have everything else in your pantry to make this easy rhubarb dessert!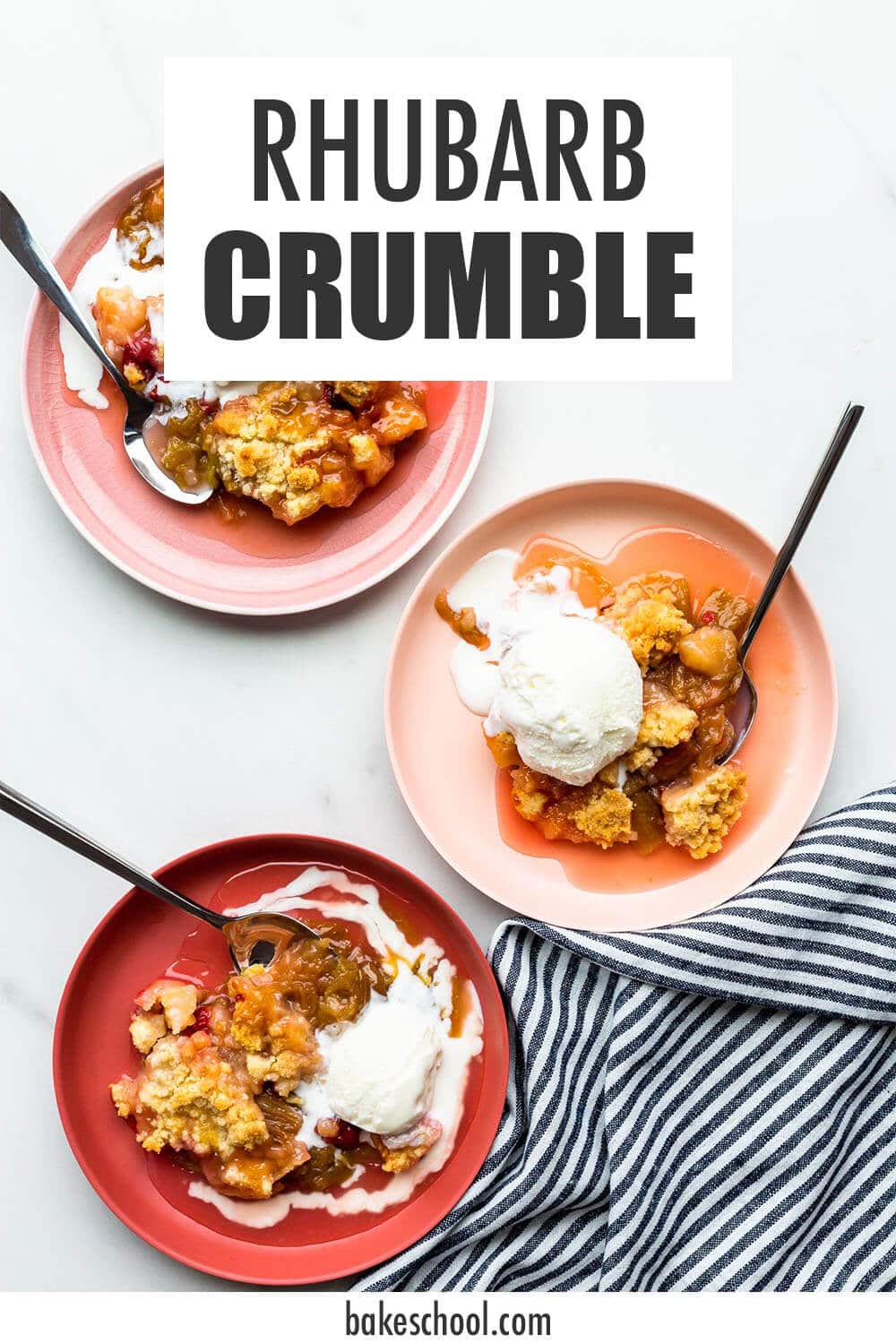 Disclosure: As an Amazon Associate, I earn from qualifying purchases.
Crisp versus crumble
The naming of desserts with fruit is confusing: there are crisps, crumbles, cobblers, grunts, and the list goes on.
Though a crisp meant a base of fruit topped with a crumbly oat topping, whereas a crumble had no oats, nowadays, the two names are used interchangeably. I'm calling this a rhubarb crumble, but in your household, maybe you'd call it a rhubarb crisp. Either way, it's delicious!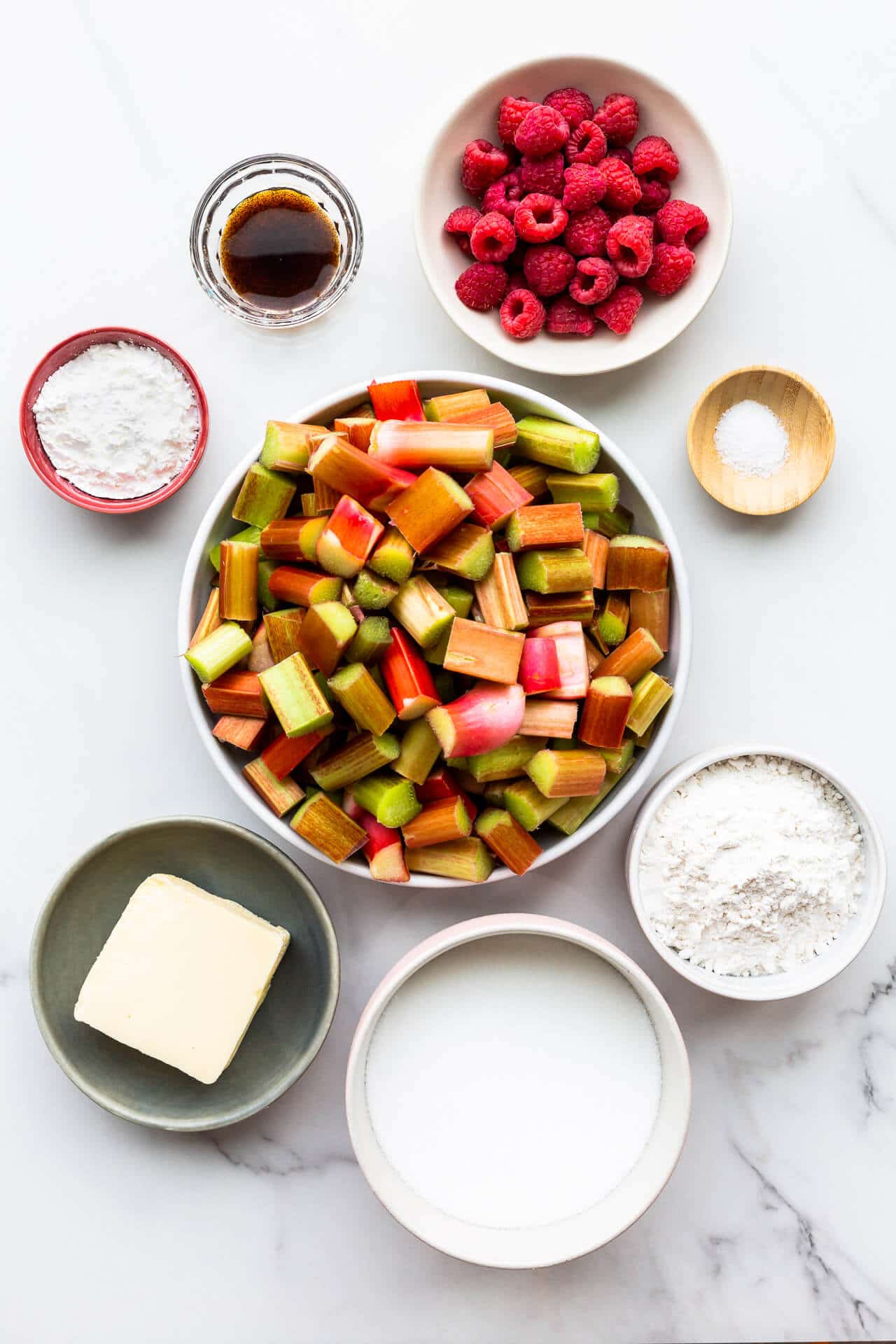 Type of thickener for rhubarb
Rhubarb has a lot of water, more than you would think when you look at it and cut into it. This means, if you don't add enough thickener to it, the juices will create a soupy filling that is difficult to serve and quite watery.
You need to incorporate a thickener in rhubarb fillings in order to thicken the juices and gel them so that the filling is jammy and set, not watery and overly loose.
Flour is an easy choice, but flour creates a filling that is more opaque and white-ish. Flour is also not as potent as other thickeners, so you may have to use a lot more, which will then interfere with the flavour of rhubarb desserts.
For this reason, I prefer to use cornstarch, tapioca starch, or minute tapioca for desserts with rhubarb. All of these thickeners create a rhubarb filling that is set, clear, and vibrant in colour and taste.
If you want to bake a fruit crumble without a thickener, try these strawberry rhubarb crumbles. Baked in smaller ramekins, the smaller volume of filling has a better chance of heating up and bubbling, and the strawberries contribute a certain amount of pectin to help gel the fruit layer.
Some bakers will actually use the crumble topping as a thickener, stirring a portion of it into the filling instead of flour or cornstarch. This is another option you can consider trying!
Achieving the perfect set
In a rhubarb crumble of this size, with 2 pounds of fruit in the filling, in order for the thickener to do its job, you need to make sure the fruit filling, from edge to centre, bubbles and boils.
If you don't ensure the middle of the fruit layer is bubbling, the filling just won't gel without enough heat. Trust me. I tested shorter baking times and the results were mediocre.
Another important tip: let the crumble or crisp cool down completely for several hours, if not overnight, before serving. This gives enough time for the filling to gel.
I photographed this rhubarb crumble the day it was baked, about an hour later so it was still warm and a little more fluid, but by the next morning, the filling was completely set.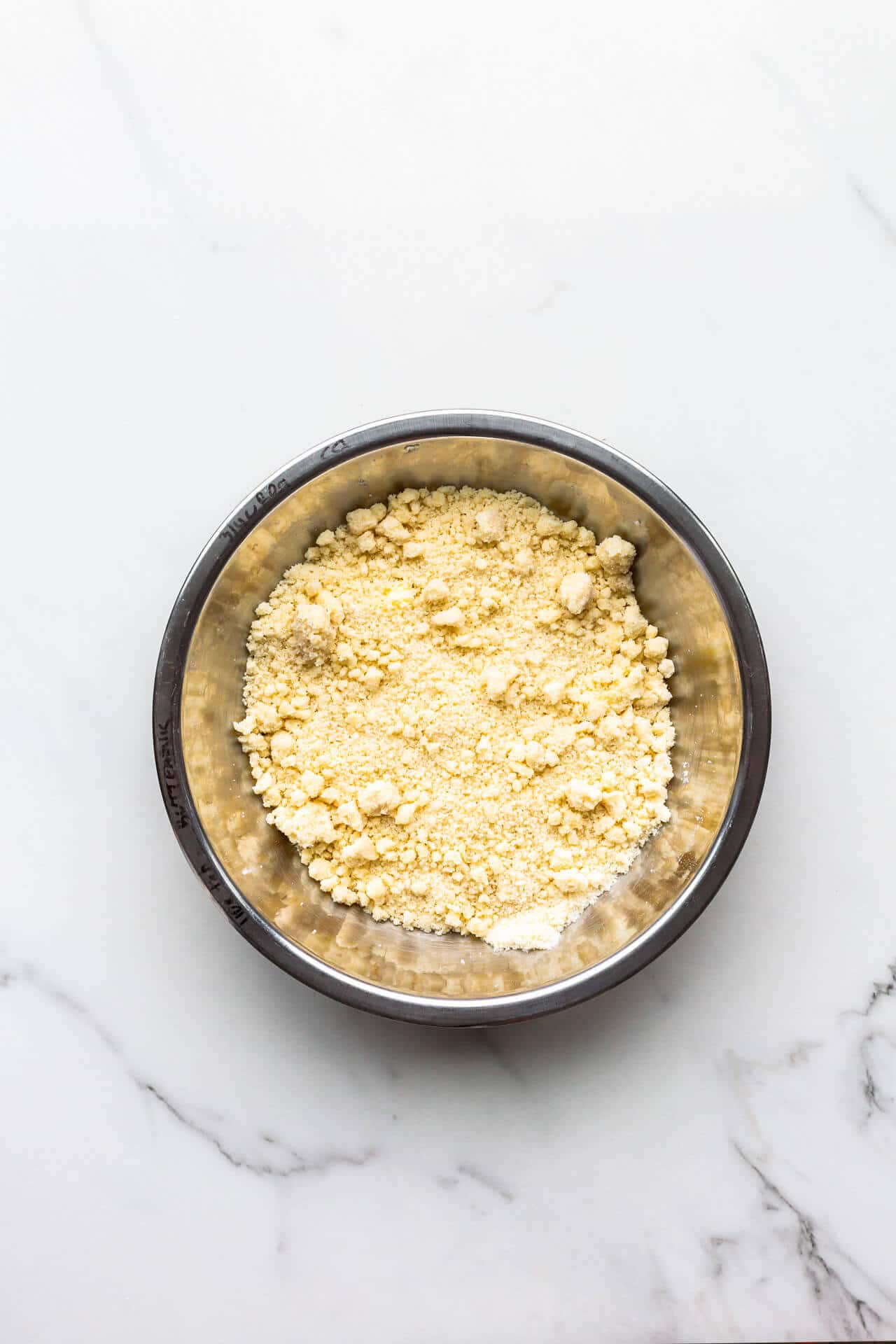 Making a crumble topping without oats
Not every crumble topping has to have oats in it and the toppings can vary quite a bit. Many people prefer them without. This cherry crumble is topped with a crumble made with cocoa powder. This grape crisp has oats and peanut butter in the crumble topping. This mango crisp has sliced almonds in the topping.
I like to use a ratio of butter-to-dry ingredients (flour/oats) where I use roughly 3 times more dry ingredients than butter, so 1-½ cups flour for ½ cup butter.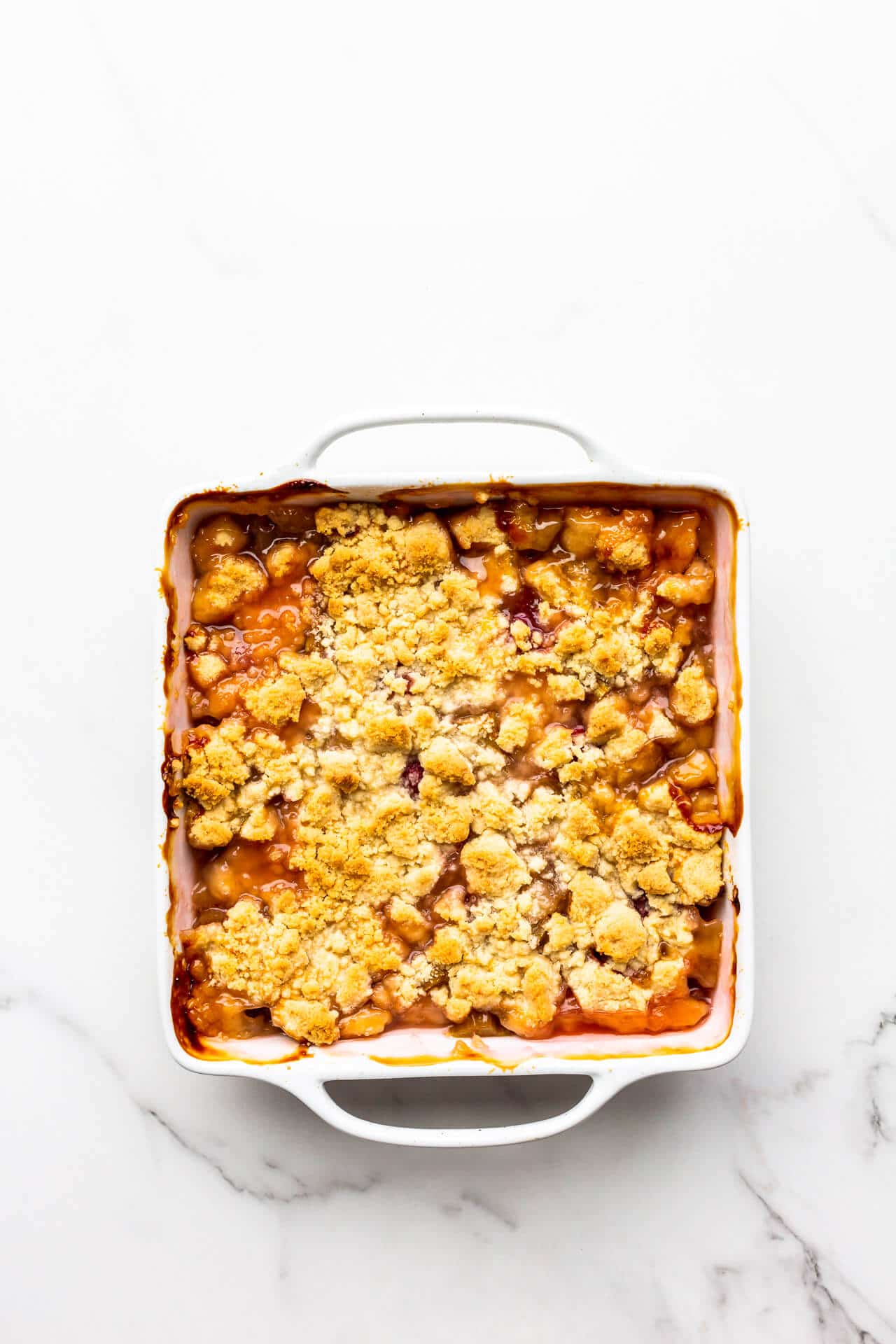 Butter temperature for crumble toppings
The temperature of the butter has an impact on the texture of the crumble topping:
Make a crumble topping with cold butter and keep it cold so that the mixture is finer, more powdery and dry.
Make a crumble topping with softened butter (room temperature butter) OR work in the cold butter for longer until it warms up and softens, and you will have a crumble topping with the texture of cookie dough that holds together well and has larger clumps.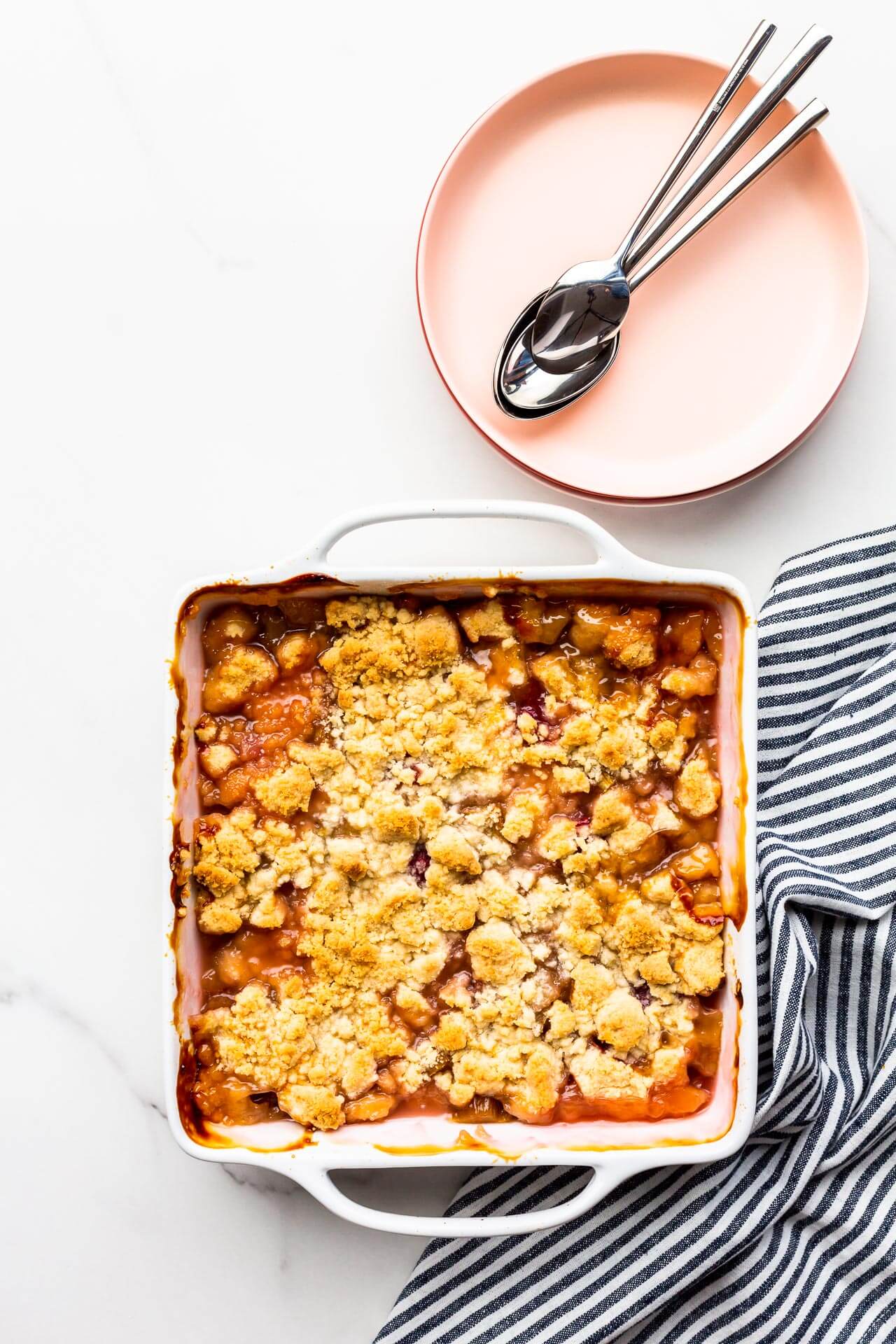 Baking in two stages
For fruits that contain a lot of water, like blueberries and rhubarb, I prefer to bake crumbles and crisps in two stages, a trick I learned from Stella Parks.
Bake half the fruit with the sugar and thickener to get the juices flowing and to get the thickener hydrated.
Mix in the rest of the fruit and top with the crumble topping to finish baking.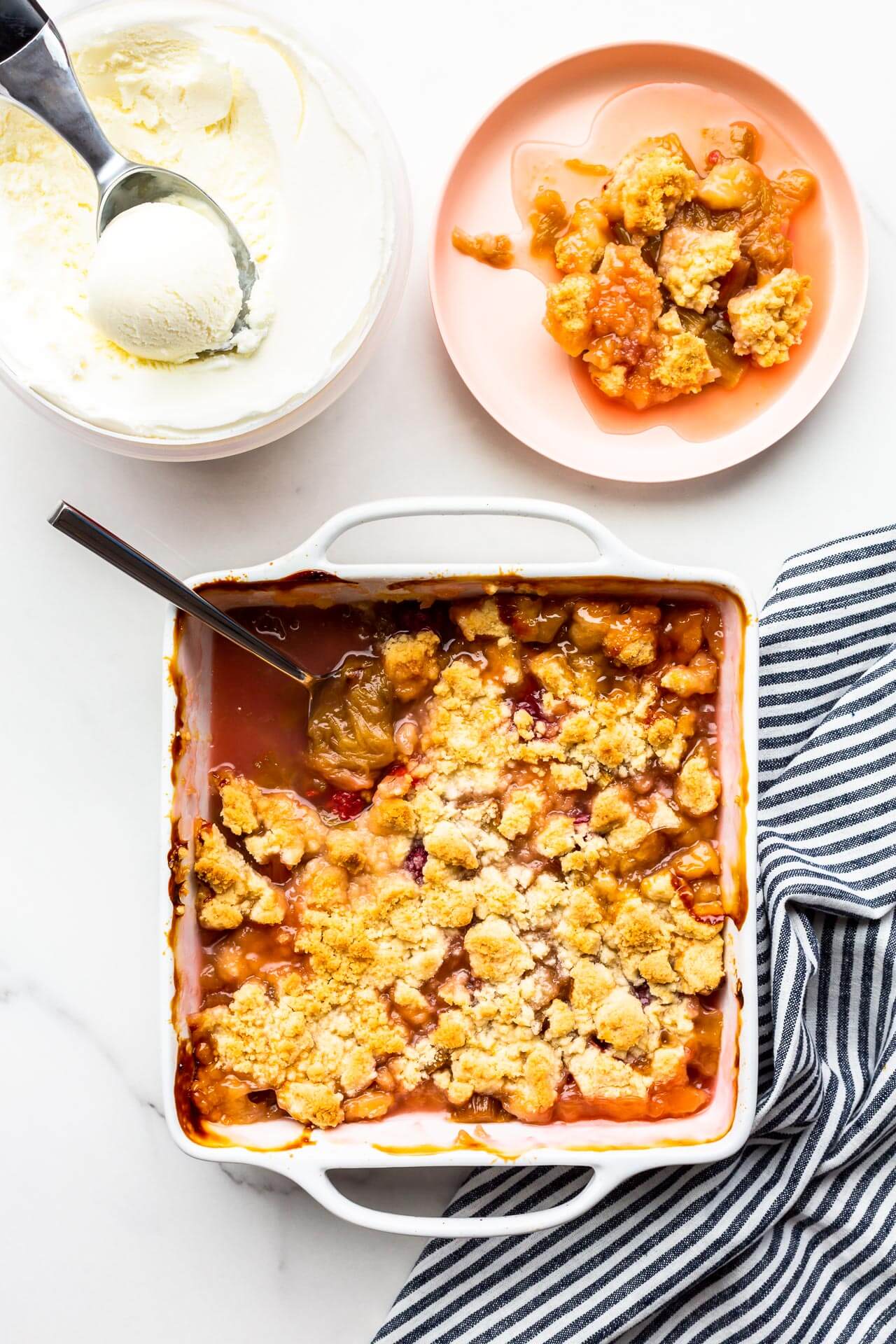 With this method, the filling has a mixture of soft jammy fruit with pieces of fruit that hold their shape. It's the best of both worlds.
Baking in two stages also allows you to give the filling a better chance of cooking properly so that the juices gel. It also gives you a chance to stir the filling a little more, part way through the baking process, so that you know the sugar is dissolved and evenly dispersed, as well as the thickener.
This is a technique I used for the blueberry rhubarb crisp because otherwise, the filling was too loose and the crumble topping would burn before the filling came to a boil when I tried to bake them together in one step.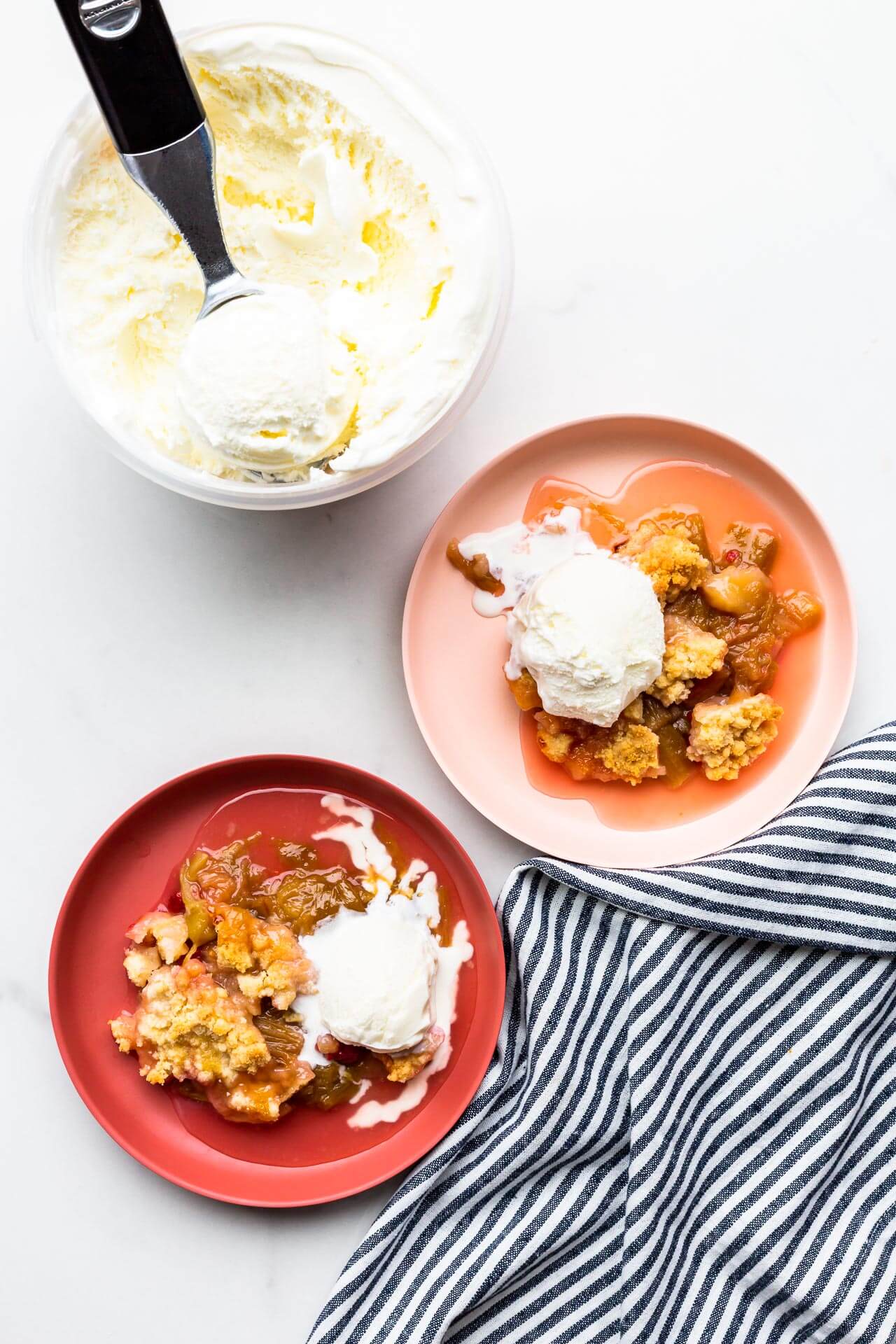 Making rhubarb fillings more pink
Sometimes, depending on the time of year or the variety of rhubarb, you might notice your rhubarb is quite green. All colours of rhubarb make tart fillings for crumbles and pies, some more than other.
If you are really looking for a pinker hue for your baked goods, tuck in a few raspberries with the rhubarb (even just a handful will suffice). The raspberries will break down as the filling bakes and stain the rhubarb filling pink. Nobody will know your secret!
Strawberries also work, but they have more of a presence even when baked, so I prefer raspberries if you are just looking for a pop of colour.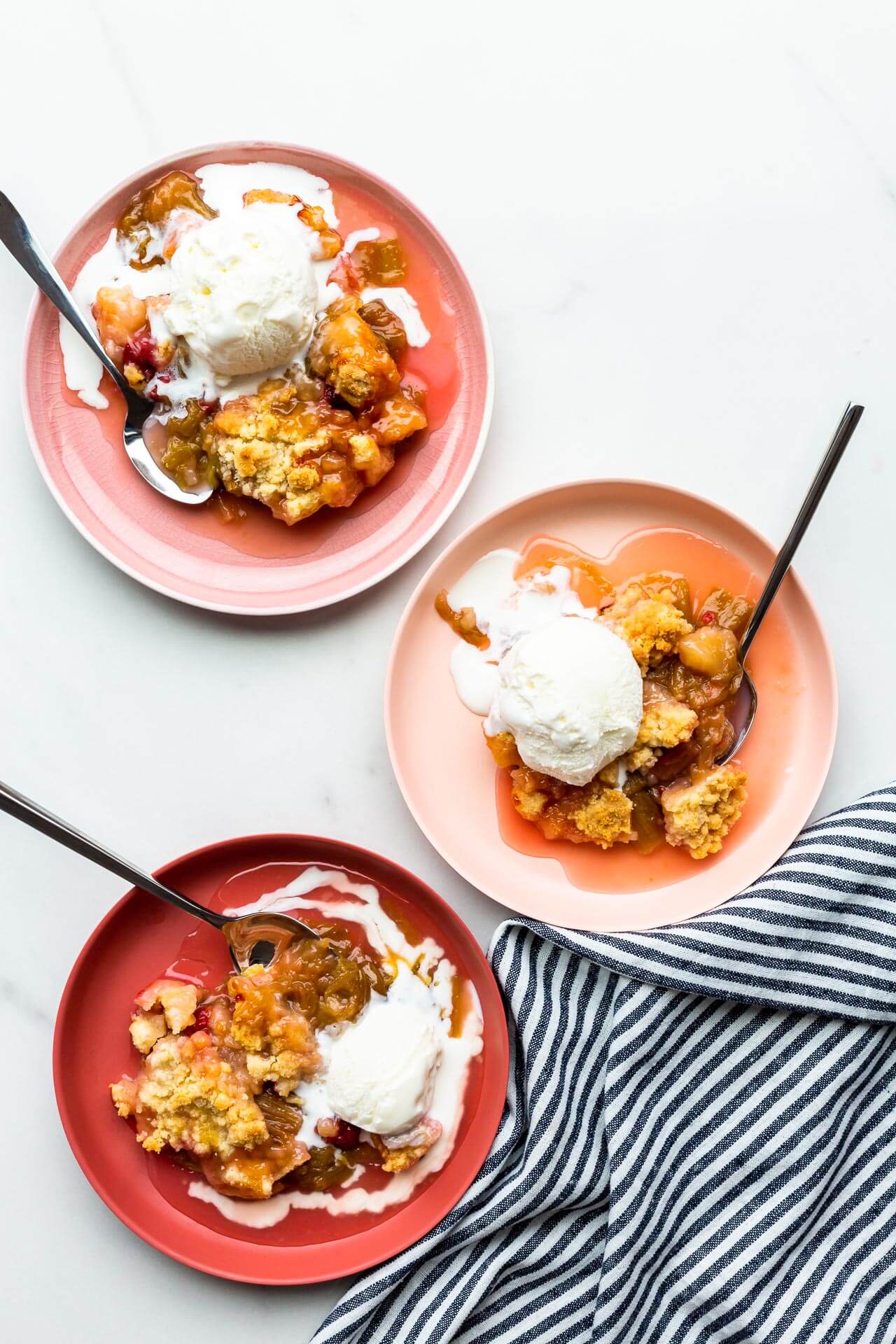 📖 Recipe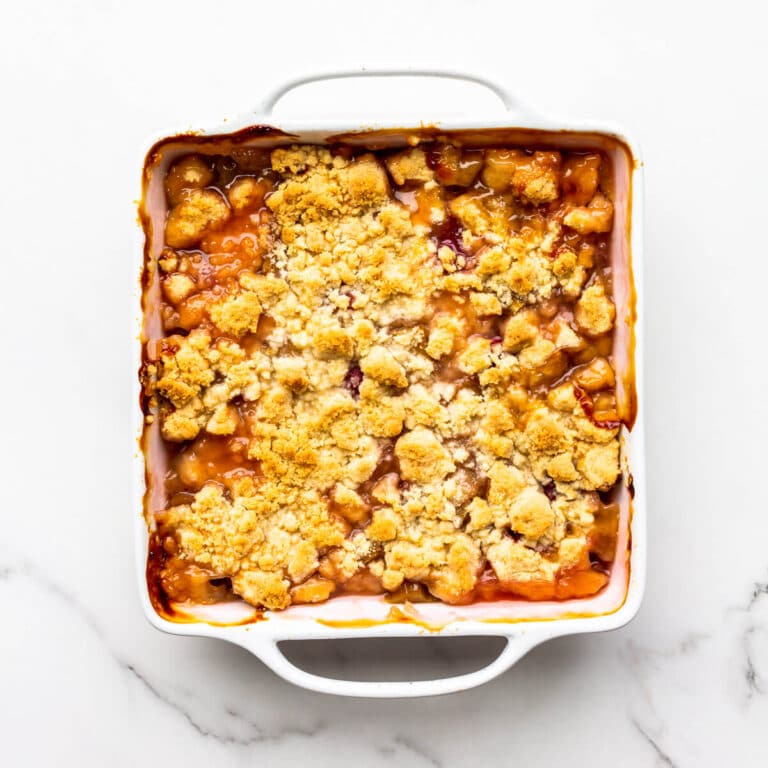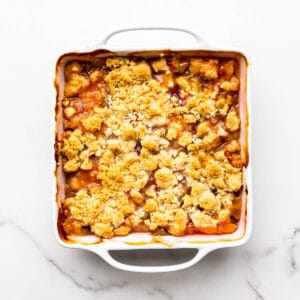 Rhubarb Crumble
This easy rhubarb crumble recipe is made from simple ingredients you probably have in your pantry! This rhubarb crisp is baked in stages to ensure the filling sets properly and the crumble topping bakes without burning.
Ingredients
Rhubarb filling
1

kg

fresh rhubarb

trimmed and washed thoroughly

250

grams

granulated sugar

32

grams

cornstarch

30

mL

water

5

mL

vanilla bean paste

or pure vanilla extract

10

Fresh raspberries

optional (adds pink colour if your rhubarb is very green)
Instructions
Rhubarb filling
Preheat the oven to 400 ºF (200 °C). Place a 8x8x2 inch (20x20x5 cm) ceramic baking dish (like a deep square Pyrex or a ceramic baking dish with at least 2 inch sides) on a parchment-lined sheet pan. Set aside.

Slice washed rhubarb into 1 inch (2.5 cm) pieces. Place half the rhubarb in the baking dish. Sprinkle the sugar, cornstarch, and water over top, then toss the ingredients together to evenly coat all the rhubarb. You can use your hands for this.

Cover the baking dish with a sheet of aluminum foil then bake the rhubarb for 30 minutes. When you carefully peel back the foil, you will see the rhubarb should be soft and has released a lot of water.

Fold in the rest of the rhubarb and the vanilla bean paste (or extract) to make sure the filling is well mixed using a heatproof spatula. You can also add a few raspberries for colour. Set aside.
Crumble topping
Drop the oven temperature to 375 ºF (190 °C).

In a large bowl, whisk the flour, sugar, and salt.

Drop the cubes of butter into the bowl and using your hands toss them in the flour mixture to coat them. Work the butter into the flour using your finger tips to form a crumbly mixture.

Sprinkle the crumble over the rhubarb filling. Bake the rhubarb crumble, uncovered, until the filling is bubbling and very hot, even in the middle, and the topping is golden. This will take about an hour, if not more.

Let cool for at least an hour (if not several hours) so that the juices set. Serve plain or topped with vanilla ice cream.
Nutrition
Calories:
401
kcal
Carbohydrates:
71
g
Protein:
4
g
Fat:
12
g
Saturated Fat:
7
g
Trans Fat:
1
g
Cholesterol:
31
mg
Sodium:
69
mg
Potassium:
393
mg
Fiber:
3
g
Sugar:
46
g
Vitamin A:
488
IU
Vitamin C:
11
mg
Calcium:
116
mg
Iron:
1
mg