Learn how to make a puff pastry apple tart with this easy recipe and step-by-step photos. You can use frozen pre-rolled puff pastry sheets from your local bakery or grocery store. This is a slab tart that is cut into squares to serve.
Disclosure: As an Amazon Associate, I earn from qualifying purchases.
Puff pastry apple tarts are my favourite. They are so easy to make, especially if you can get sheets of frozen puff pastry that are already conveniently rolled out.
A French apple tart made with puff pastry is also called "tarte fine aux pommes" because it is a slab tart, fairly thin, made with thin slices of apple.
Jump to: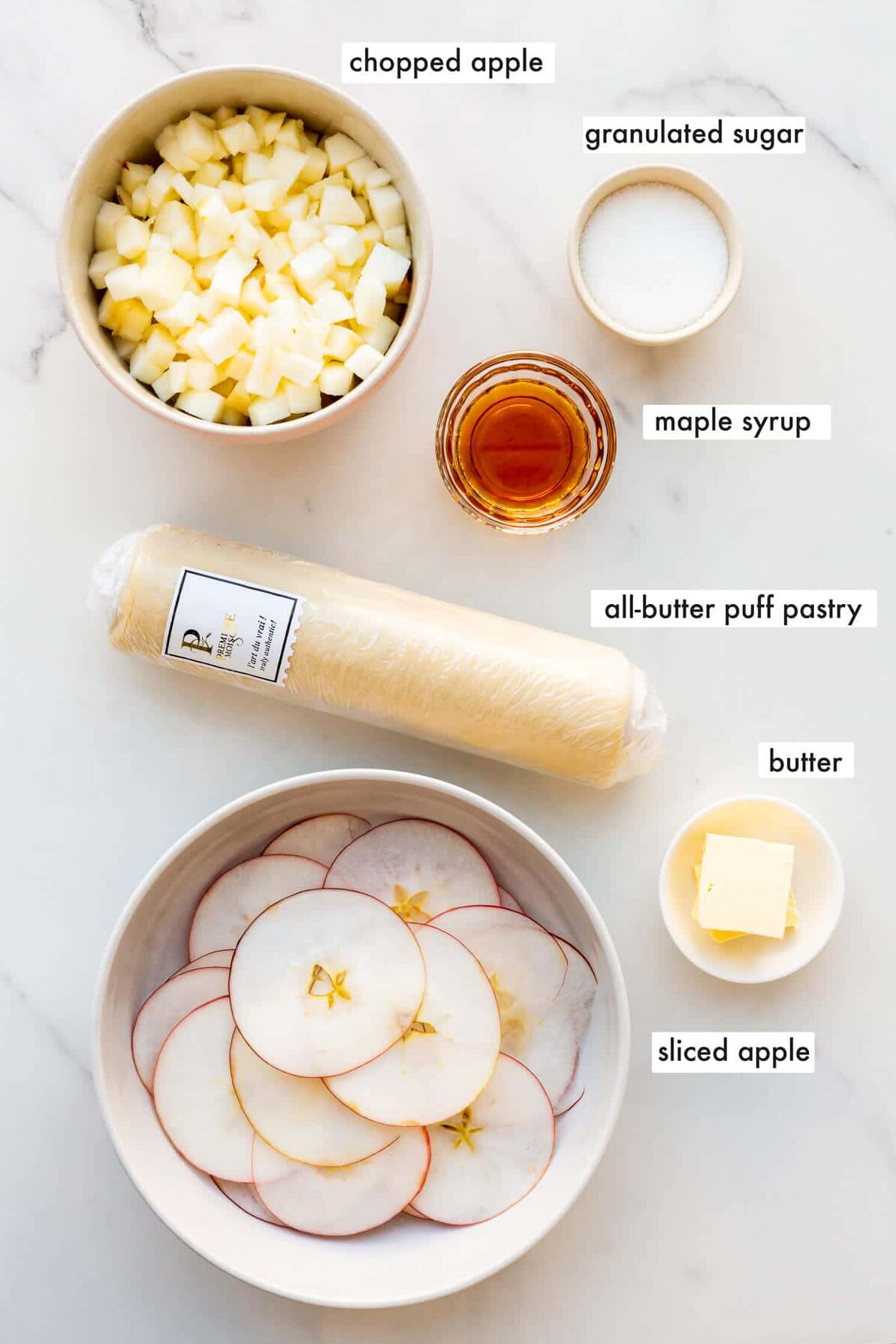 What you need to make this recipe
This easy apple tart has four basic components:
the base: a sheet of puff pastry
the filling: apple compote, like a chunky apple sauce made from a dry caramel and chopped apples
the topping: thinly sliced apples
the glaze: maple syrup (adds sweetness and flavour without shine) or melted apple jelly (the classic glaze, adds shine and sweetness and more apple flavour)
To make this easy apple dessert, you will need:
lots of apples (5 to 7 medium–large apples)—choose apples that are good for baking, like Cortland, Golden Delicious, Honey Crisp, or any apple that tastes good and doesn't break down when heated
sugar—use granulated sugar that you can caramelize on the stove into a golden amber syrup that is full of flavour
butter—use unsalted butter, though salted could work as we aren't using much in this recipe
puff pastry—homemade or store-bought, though for something like this, I'd opt for the convenience of store-bought. Just make sure it's an all-butter puff pastry.
maple syrup or melted apple jelly—the glaze brushed on the apples after baking the tart
See recipe card for quantities.
Of course, you can use homemade puff pastry for this recipe, but that can be quite time-consuming. And for something like this, I prefer the convenience of a roll of frozen puff pastry from the local baker. They sell it in rolled up sheets that are so convenient. Just make sure that it's an all-butter pastry so that it's more flavourful.
Substitutions
If you don't want to use apples, you can try using pears. The results will be similar. Depending on the variety, you may need more pears, which tend to be smaller than apples.
Apples—try pears instead
Puff pastry—use homemade all-butter pie crust instead (like I did for the apple tarte tatin)
Glaze—I used maple syrup but you can use apple jelly, melted, or even warm honey. Use something sweet that you like the taste of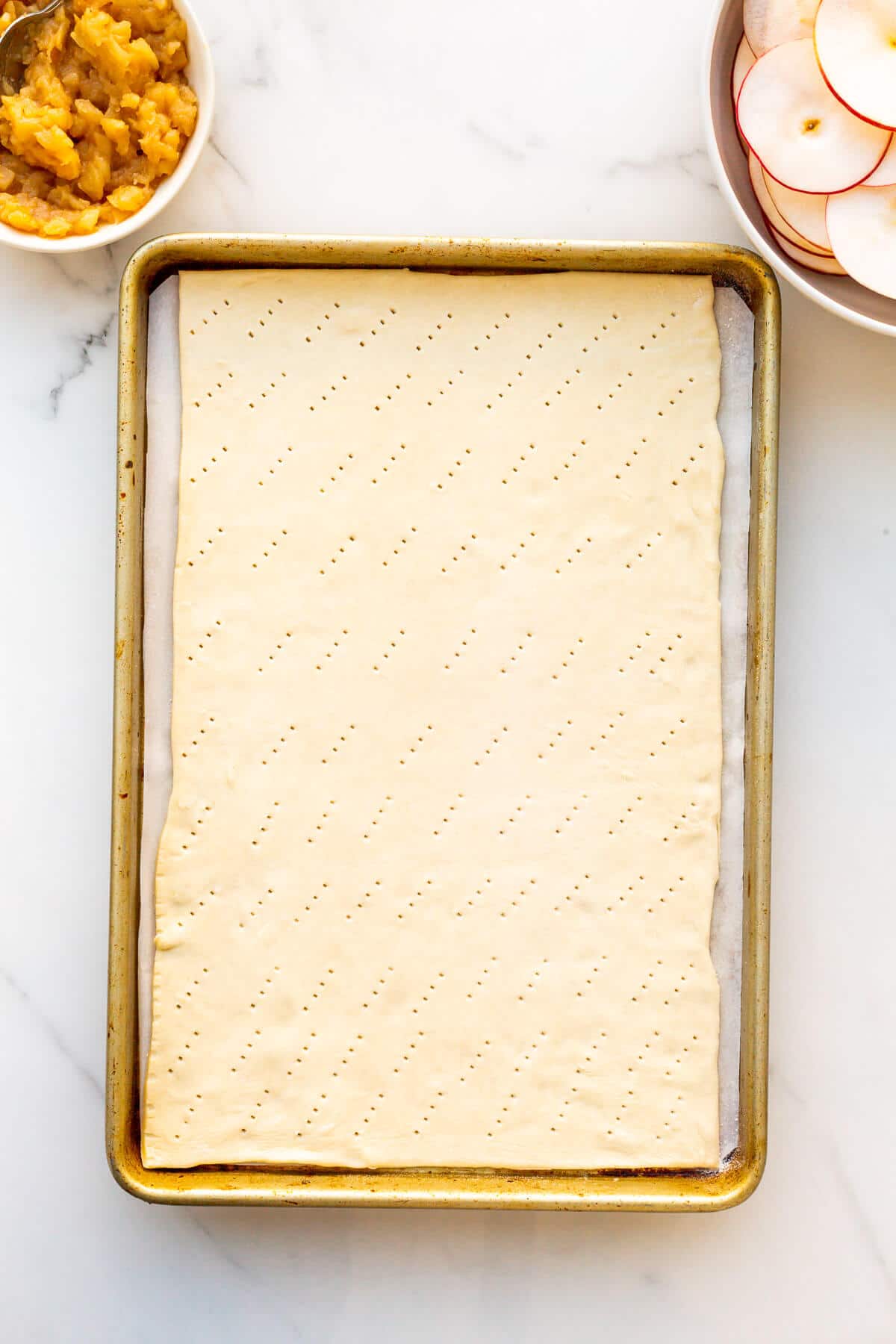 How to make a puff pastry apple tart
This is a French apple tart with puff pastry, apple compote, and sliced apples. There are three components to this dessert (not counting the glaze) and so there are three major steps involved in the preparation:
Preparing the puff pastry crust
Making a dry caramel to cook the apple compote filling
Assembling the tart with sliced apples on top before baking
Working with puff pastry
Whether you roll out a block of puff pastry with a rolling pin, or unroll a sheet, you will want to trim it to fit your sheet pan. I used a pound of puff pastry dough to fit a 10x15 sheet pan lined with parchment.
Docking the sheet of puff pastry before topping it is going to help stop the dough from puffing out of control in the oven. When the puff pastry bakes, steam will form between the layers of dough as the butter melts. The holes will help release some of that gas so that the pastry bakes flat.
Of course, the weight of the toppings also helps weigh down the puff pastry, but it's not enough weight to prevent the dough from puffing in the oven. Keep an eye on the tart as it bakes and if you ever notice a section puffing upward too much, take a pairing knife to pierce the bubble before the pastry sets.
Also, don't forget that puff pastry needs to be kept cold. So always keep the dough in the fridge when you aren't working with it.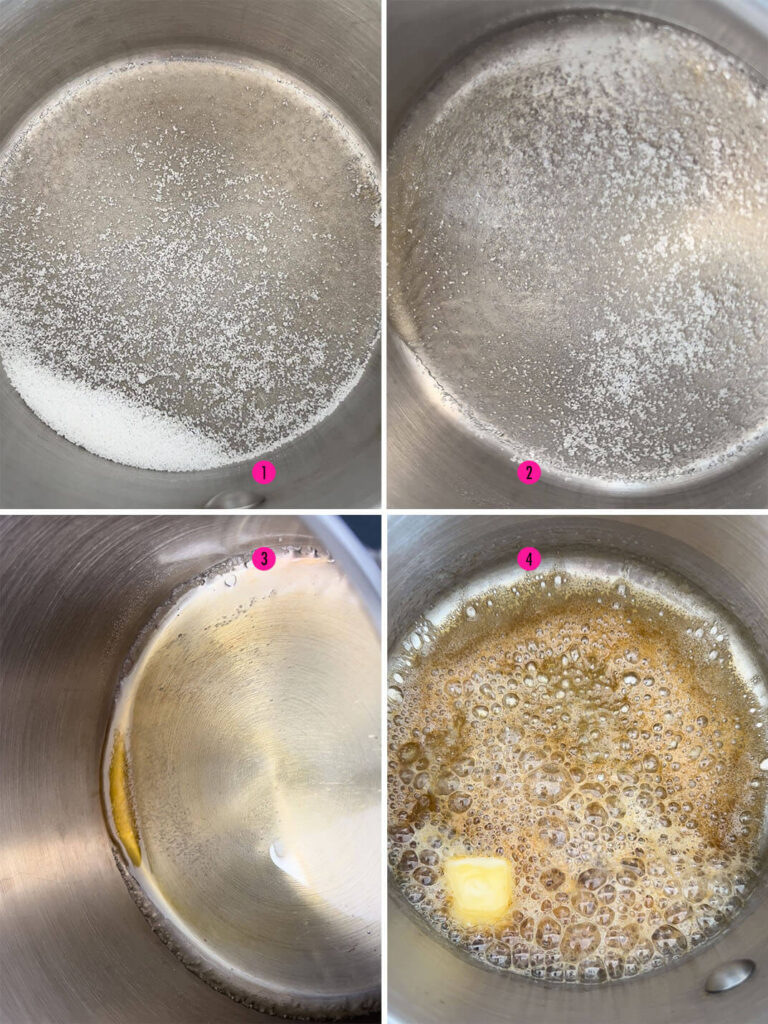 Making a dry caramel
While for some caramel recipes, you'll start with water and sugar in your saucepan, this apple compote is made the classic way, starting with a dry caramel, meaning no water in the pan. Taking the time to make a dry caramel is one of the distinguishing features of French apple tarts.
The sugar is poured directly in the saucepan and heated until it melts completely into a fluid, clear syrup of pure melted sugar. You then caramelize the syrup to develop the flavour before "deglazing" with a little butter, which adds flavour and a creamy finish to the compote.
Making a dry caramel, you may discover you have less issues with the sugar crystallizing than the methods with water. But while crystallization is less of an issue here, the caramel is more prone to burning and smoking, so be aware of that.
I keep the heat on medium so that I can give the sugar enough time to melt before it starts to colour. Another method is to gradually add the sugar to the hot saucepan, but in this recipe, the quantity you are caramelizing is so small, I find it easier to start with all the sugar in the pot and to play with the temperature of the stove.
Another trick to preventing burning is to keep swirling and tilting the pan so that the sugar is always moving. This way if your pan has any hot spots, the sugar won't burn in place.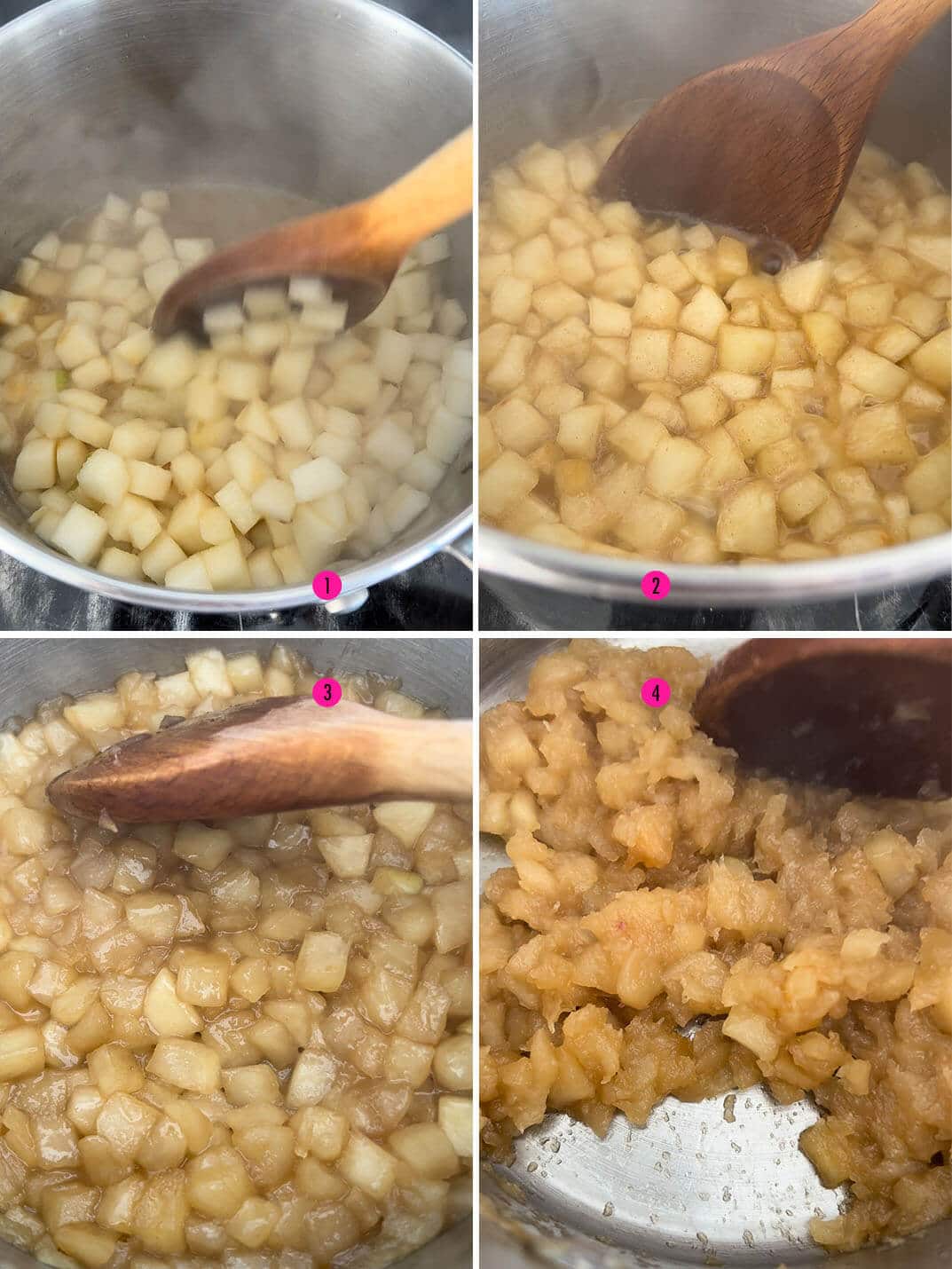 Making the apple compote
Once the dry caramel is made, you add the chopped apples, which cook down, becoming very tender and soft. I like to use Cortland apples or any apple that can withstand heat without breaking down. This way the compote has a little more texture to it.
Cooking the apple filling removes the water from the filling, which boils off. This helps ensure that your puff pastry will be nice and crispy, not soggy.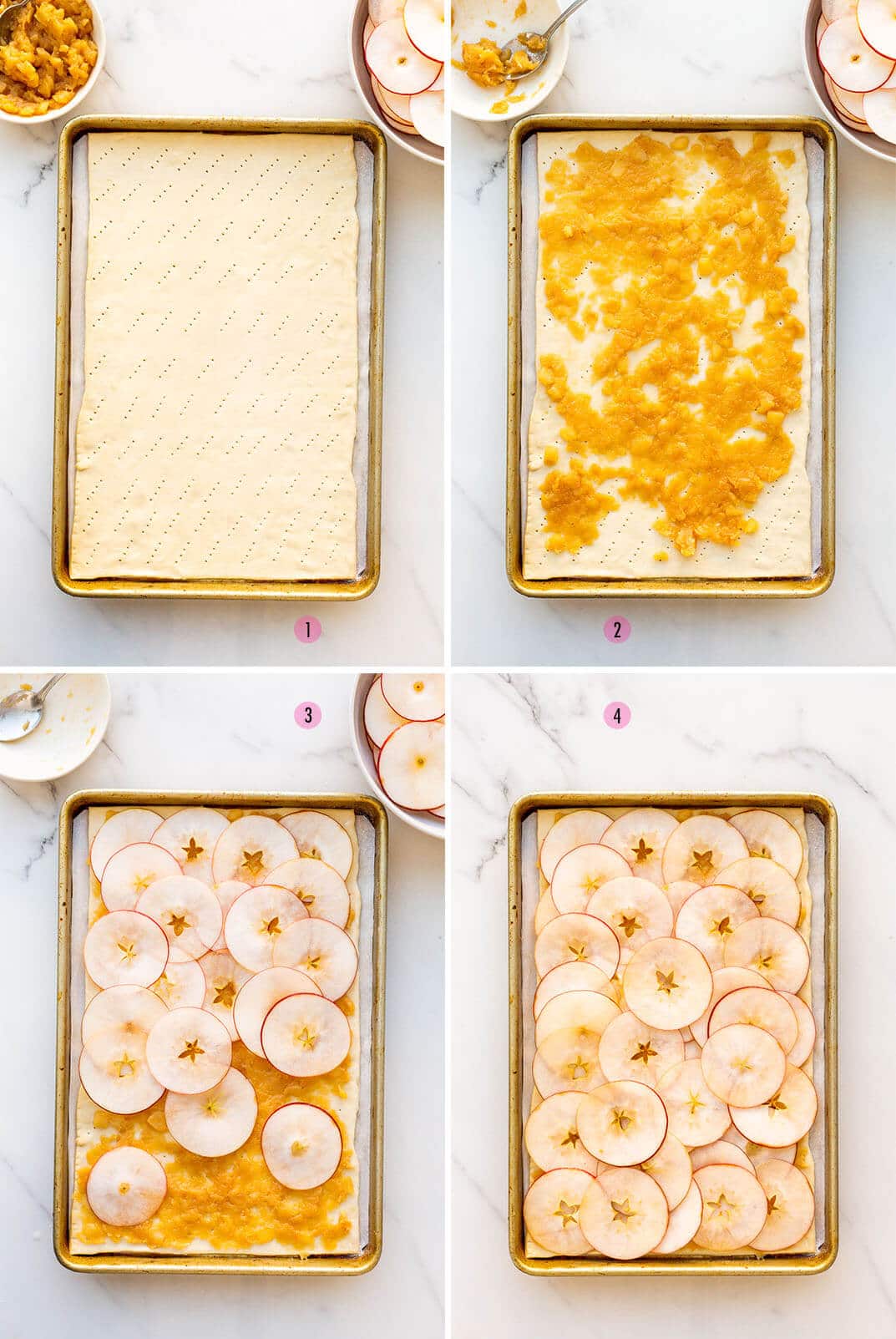 Assembling the tart
Assembly is easy and the fun part. All you have to do is smear the puff pastry from edge-to-edge with apple compote and layer the sliced apples. Make sure that you create an even layer of apple, either arranging them decoratively or in even rows. Make sure the compote is completely covered.
Hint: Use a mandoline to slice the apples into perfectly even slices, but be very careful and use a guard to protect your fingertips!
Take the time to arrange your apple slices so that they line up nicely in neat rows or in a more haphazard, but intentional layer. The goal is to cover the entire tart, from edge-to-edge with a perfectly even layer of apples. Spend time on this step to make it look nice!
Variations
The classic French apple tart with puff pastry is truly an ode to apples: it's a simple apple dessert with no spices or flavour elements to interfere with the fruit. Still, that doesn't mean you can't get creative, specifically with the compote:
Vanilla—add the seeds of half a vanilla bean or stir in some vanilla bean paste into the apple compote
Cinnamon—add a little ground cinnamon
Maple—replace the sugar with maple syrup and you will add a ton of flavour and then you can skip the caramel-making step
See this maple apple pie, which proves how good the combination of maple and apple is!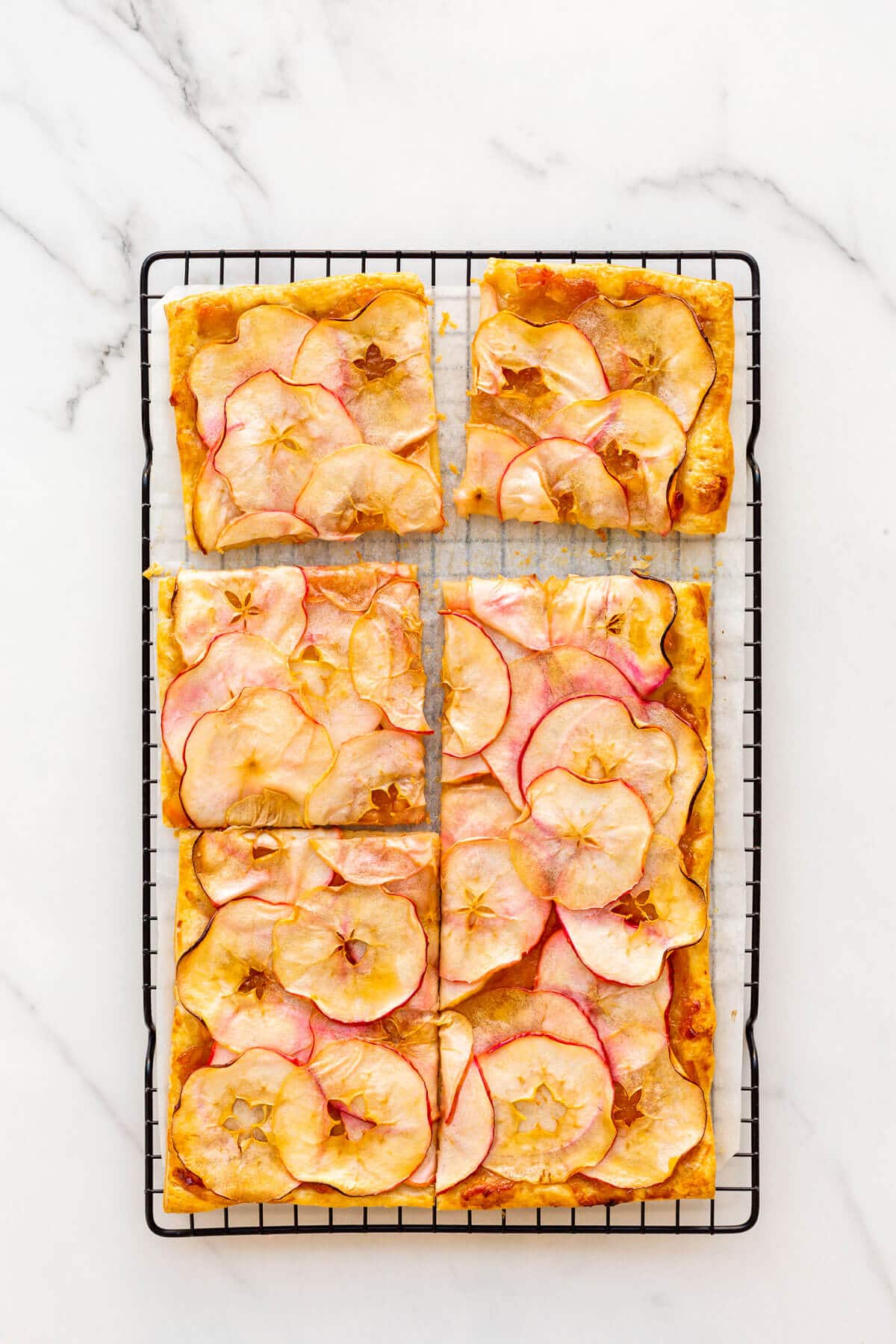 Equipment
To make this recipe, you don't need much in terms of equipment, and certainly nothing special.
Cookware: you need a medium saucepan, or any cooking vessel that you can make caramel in and cook a large amount of chopped apples
For slicing apples: you can use a mandoline to slice the apples, but watch your fingers!
Pastry prep: you need a rolling pin for the puff pastry and a fork to dock the pastry to allow for steam to escape
Bakeware: The tart is baked on a rimmed baking sheet (10x15 inch sheet pan), but even a larger sheet pan will work (like a half sheet pan)
Finishing: you need a pastry brush to brush on the glaze, but you could also use the back of a spoon if you don't have a brush.
Get my bakeware recommendations on Amazon.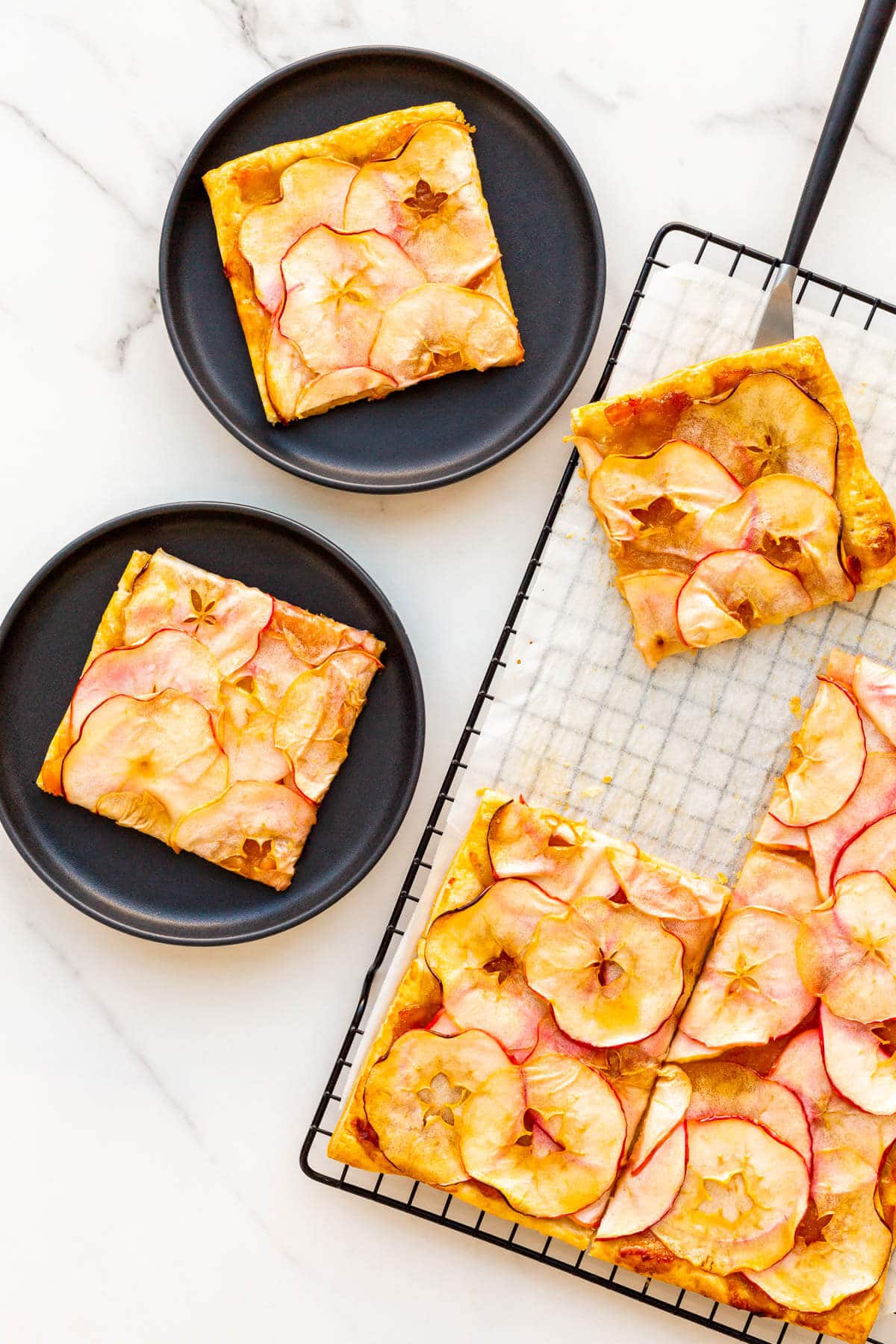 Storage
Apple tarts made with puff pastry are best eaten the day they are baked. Like most recipes with puff pastry, they don't store well. It won't go bad quickly, but the crispy puff pastry crust will soften after a day. The texture and flaky pastry eating experience will be different if stored overnight, for example.
I don't think this tart would freeze well either. It's best baked and eaten on the same day.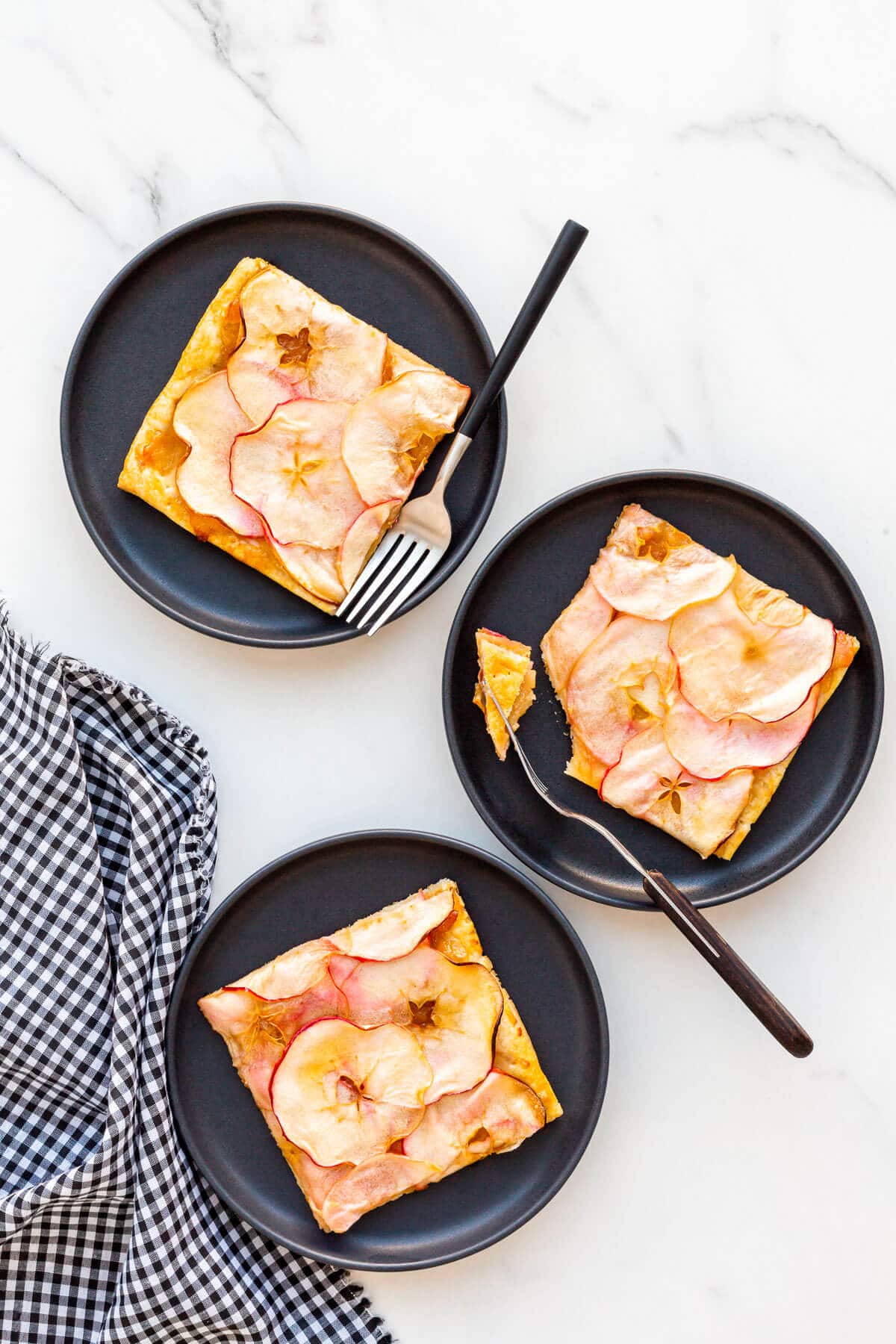 French apple tart serving suggestions
While Americans tend to serve apple pie with vanilla ice cream, French apple tarts aren't usually topped with anything. But I won't judge you if you feel like serving this easy apple dessert to your guests à la mode! This cardamom ice cream would be great or in the fall, this pumpkin ice cream!
📖 Recipe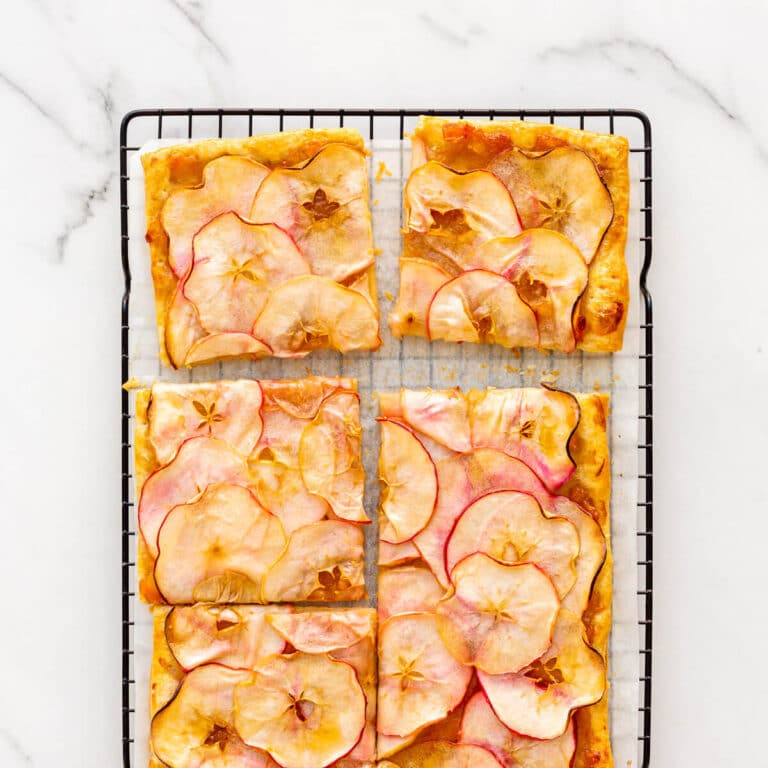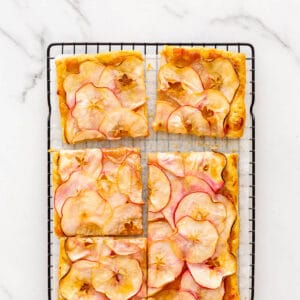 Puff Pastry Apple Tart
Learn how to make a puff pastry apple tart with this easy recipe. You can make it with a sheet of store-bought puff pastry, and then top it with a caramel apple compote and sliced apples. This tart is cut into squares like a slab pie!
Ingredients
Apple compote
75

grams

granulated sugar

30

grams

unsalted butter

3

Cortland apple(s)

peeled, cored, and diced
Tart assembly
450

grams

all-butter puff pastry

defrosted in the fridge overnight

3

Cortland apple(s)

sliced thinly (you can either peel and core the apples before slicing or slice them whole for a more artistic look)
Glaze
30

mL

pure maple syrup

or melted apple jelly
Instructions
Apple compote
Place a medium saucepan on the stove over medium heat.

Sprinkle the bottom of the pan with granulated sugar and heat the sugar until it is completely melted and clear, tilting and swirling the pan as necessary to keep the granulated sugar/melted sugar moving so that it doesn't scorch unevenly.

Once the sugar is all melted, continue cooking until the syrup colours and turns a golden amber colour.

Take the pan off the heat and add the butter, swirling carefully to melt and incorporate it.

Add the diced apple, and using a wooden spoon, stir to evenly coat in caramel.

Place the pot back on the stove and cook the compote on medium heat until the apples soften, become translucent, and begin to break down a little.

Take the pan off the heat, and transfer the compote to a bowl. Refrigerate until cold.
Tart assembly
Preheat the oven to 400 °F (200 °C). Line a 10x15 inch (25x38 cm) sheet pan with parchment paper.

Using a rolling pin, on a lightly floured surface, roll out the cold puff pastry to fit the pan from edge to edge (or almost). It doesn't have to be too exact and if you are using a pre-rolled sheet of puff pastry, it may already fit depending on the brand.

Using a fork, dock (a.k.a. prick) the pastry all over to allow steam and air to escape while it bakes.

Dollop and spread the cold apple compote from edge to edge to coat the pastry dough.

Arrange the thinly sliced apple evenly on the apple compote, from edge to edge.

Bake until the pastry is browned and the edges of the apples start to brown. You may rotate the pan once during baking to make sure the tart browns evenly. If the pastry puffs up in one area, cut a little slit with a knife to let the air out.

The tart should take about 45 minutes to bake.
Glaze
As soon as the tart comes out of the oven, set the pan on a cooling rack.

Brush the sliced apple topping with maple syrup (or melted apple jelly) to coat all of the fruit with a thin layer.

Let cool completely, then cut into 8 squares and serve immediately.
Notes
You may need more or less sliced apples, depending on their size, in order to completely cover the tart with an even layer of fruit. Better to slice a little extra and snack on the leftovers, rather than run out!
For the photo, I sliced whole apples (with the peel) to arrange on the top of the tart, but you can also core and peel the apples for a more traditional, neater look. Aim to slice the apples quite thin, around 3/16 inch (0.5 cm) thick.
To prevent the sliced and diced apples from browning, you can store them in a bowl of lemon water as you prep all the apples. When you are ready to use them, drain them well.
Nutrition
Calories:
442
kcal
Carbohydrates:
53
g
Protein:
4
g
Fat:
25
g
Saturated Fat:
7
g
Polyunsaturated Fat:
3
g
Monounsaturated Fat:
13
g
Trans Fat:
1
g
Cholesterol:
8
mg
Sodium:
142
mg
Potassium:
190
mg
Fiber:
4
g
Sugar:
23
g
Vitamin A:
168
IU
Vitamin C:
6
mg
Calcium:
19
mg
Iron:
2
mg