You can make homemade cardamom ice cream with this easy green cardamom-infused custard-based ice cream recipe.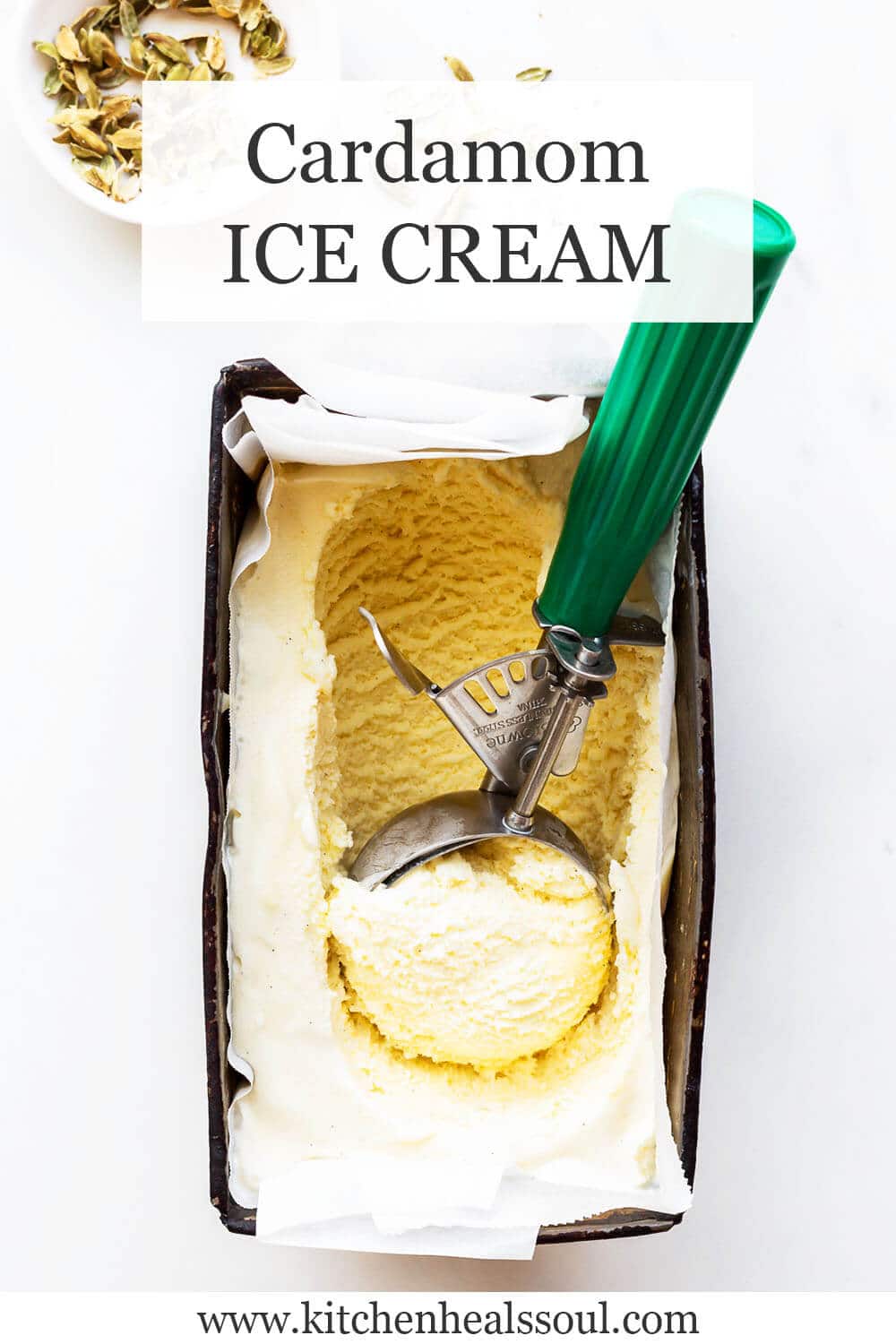 Disclosure: As an Amazon Associate, I earn from qualifying purchases.
The beauty of making ice cream at home is that you can infuse the milk in the recipe with almost any flavour:
Or if you prefer, you can fold in additional ingredients after you've churned the vanilla ice cream base, like pieces of chopped chocolate or chocolate bars, boozy cherries to make cherry bourbon ice cream or chopped chocolate chip cookies to make cookie ice cream. The key is to start with a good base: a creamy crème anglaise made from egg yolks, sugar, vanilla, and milk.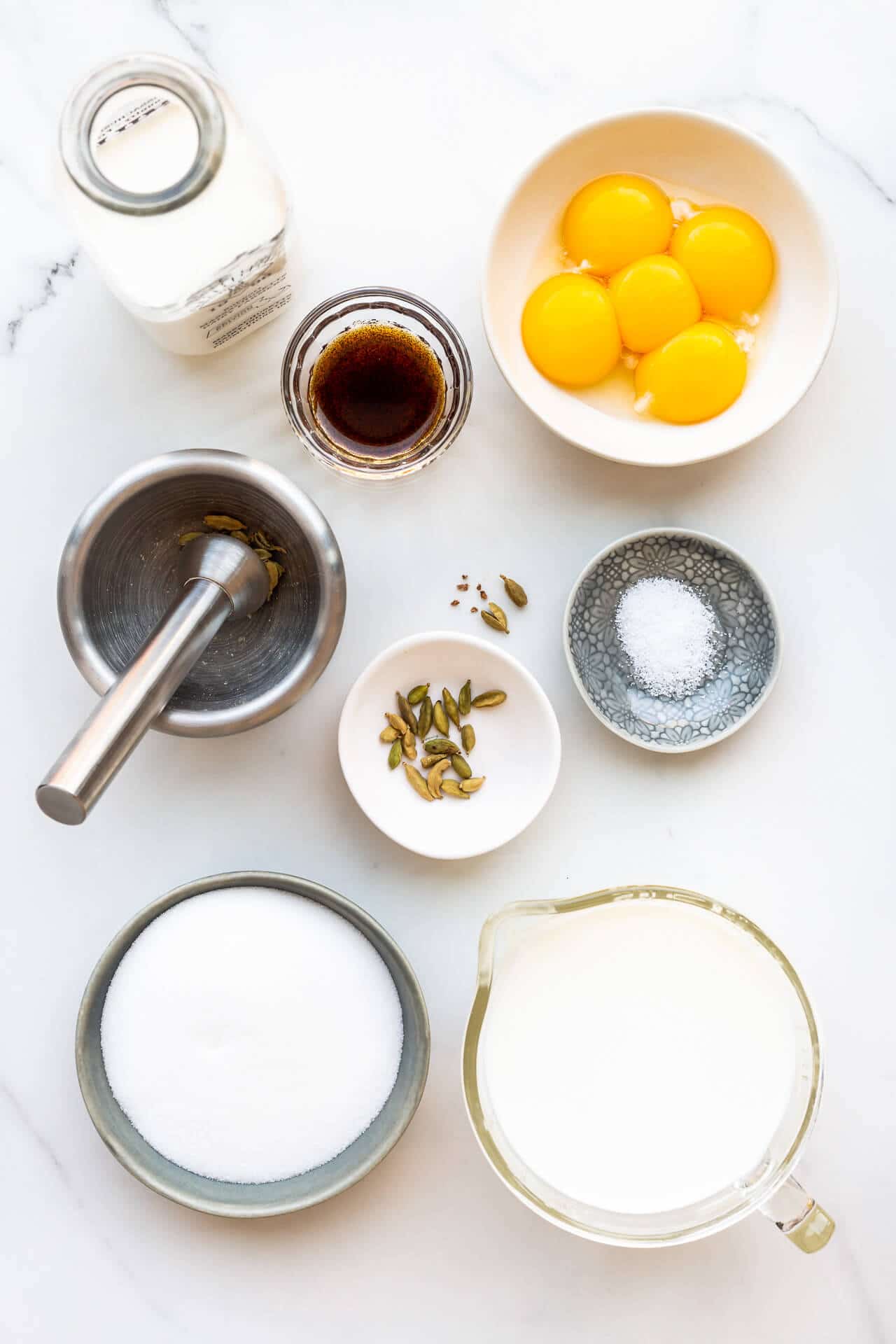 If you want to infuse your desserts with cardamom, there are a few common types of cardamom to choose from and each one offers a slightly different flavour profile:
White cardamom (also known as Siam cardamom) is used in the preparation of soups and stocks, especially in some parts of China and Vietnam
Black cardamom is often used in savoury recipes. There's a Chinese variety and an Indian variety among the most common. The Chinese black cardamom offers more herbal notes (like eucalyptus), while the Indian variety has a more smoky flavour to it. Again, black cardamom is often added to braised dishes, like white cardamom, as well as soups and stocks.
Green cardamom (used below) is the most aromatic and floral of the lot. It's an older variety originally harvested from the Cardamom Mountains. This is the cardamom I used to make this cardamom rice pudding, for example. It's also the type of cardamom that's ground to make Turkish coffee and cardamom buns
If you want to make ice cream, I recommend getting an ice cream maker. You might be able to find one at a thrift store since a lot of people buy them, realize they aren't using them, and then give them away. Cuisinart makes an ice cream maker with great reviews on Amazon that's a basic, reliable model and affordable (under $100).
You could also invest in a Dewar bowl attachment that you can freeze and use with your KitchenAid so that you can churn ice cream using your stand mixer (also available on Amazon)! This could be an interesting option if you already have a mixer.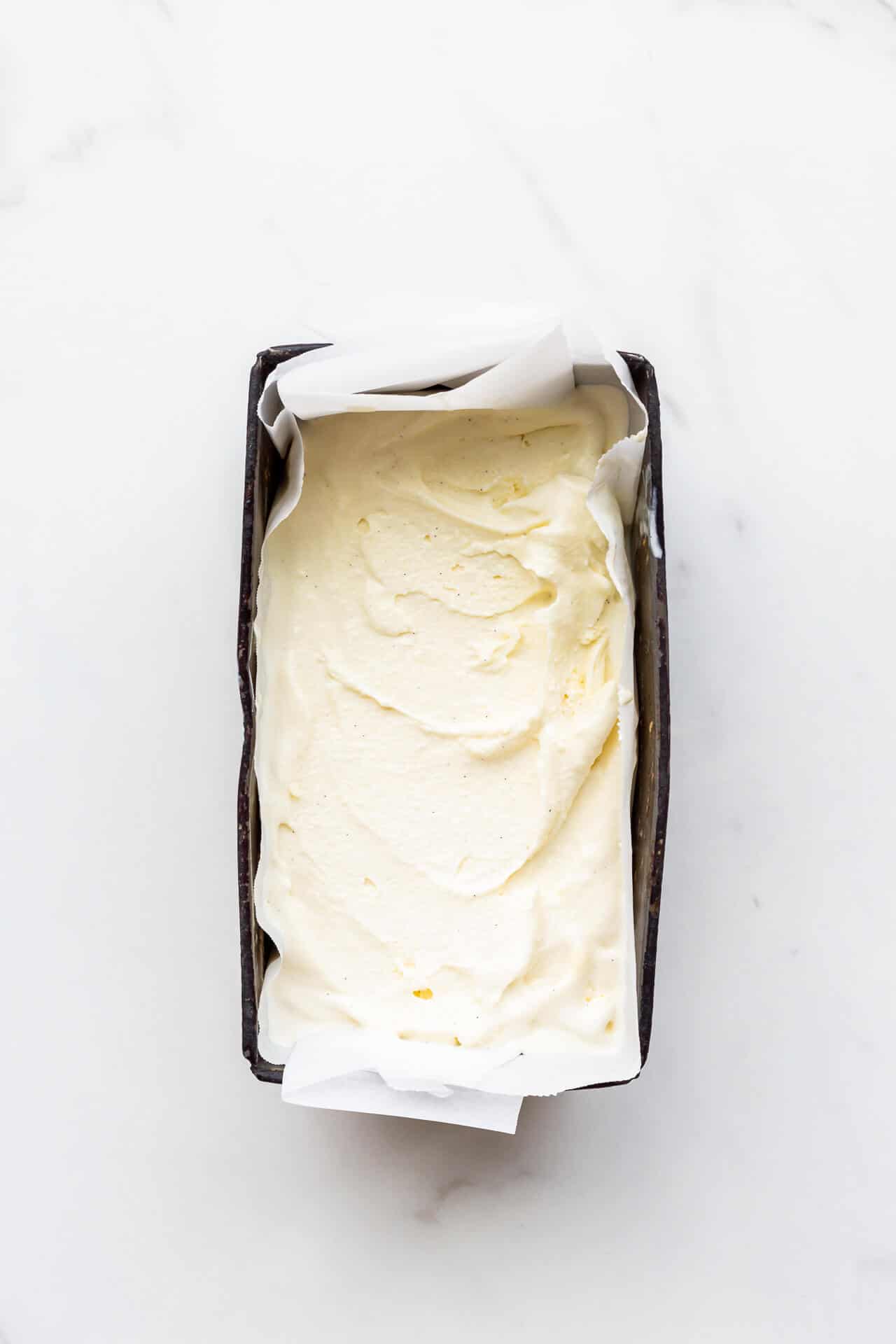 I have an old Krups La Glacière ice cream maker. It's 1.5 quarts, which is a little less than 1.5 L. It's VERY important to know the capacity of your ice cream maker. From experience, I know that the 1.5 quart ice cream machines can only handle about 1 L (4 cups) of ice cream base (the volume measured before churning). That's because ice cream makers incorporate air into the liquid as it churns and freezes, so that 1 L of liquid becomes close to 1.5 L of ice cream in the end!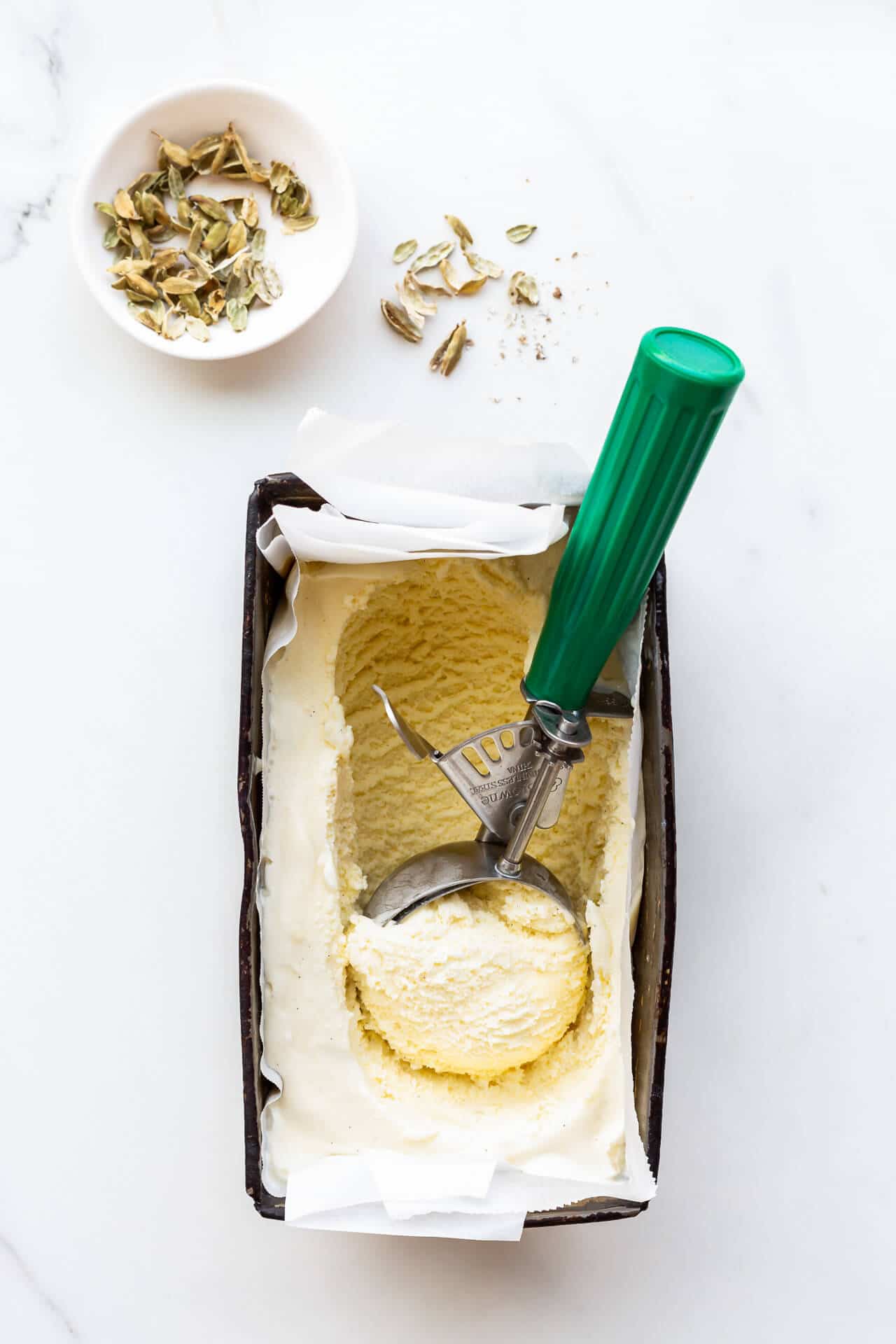 This cardamom ice cream is great on its own, but is also fantastic with this peach mango pie, maple apple pie or this apple butter pie. You can also serve it on top of these little raspberry galettes or mini pumpkin tart. Or feel free to fill cream puffs of pâte à choux with ice cream instead of whipped cream to make profitéroles!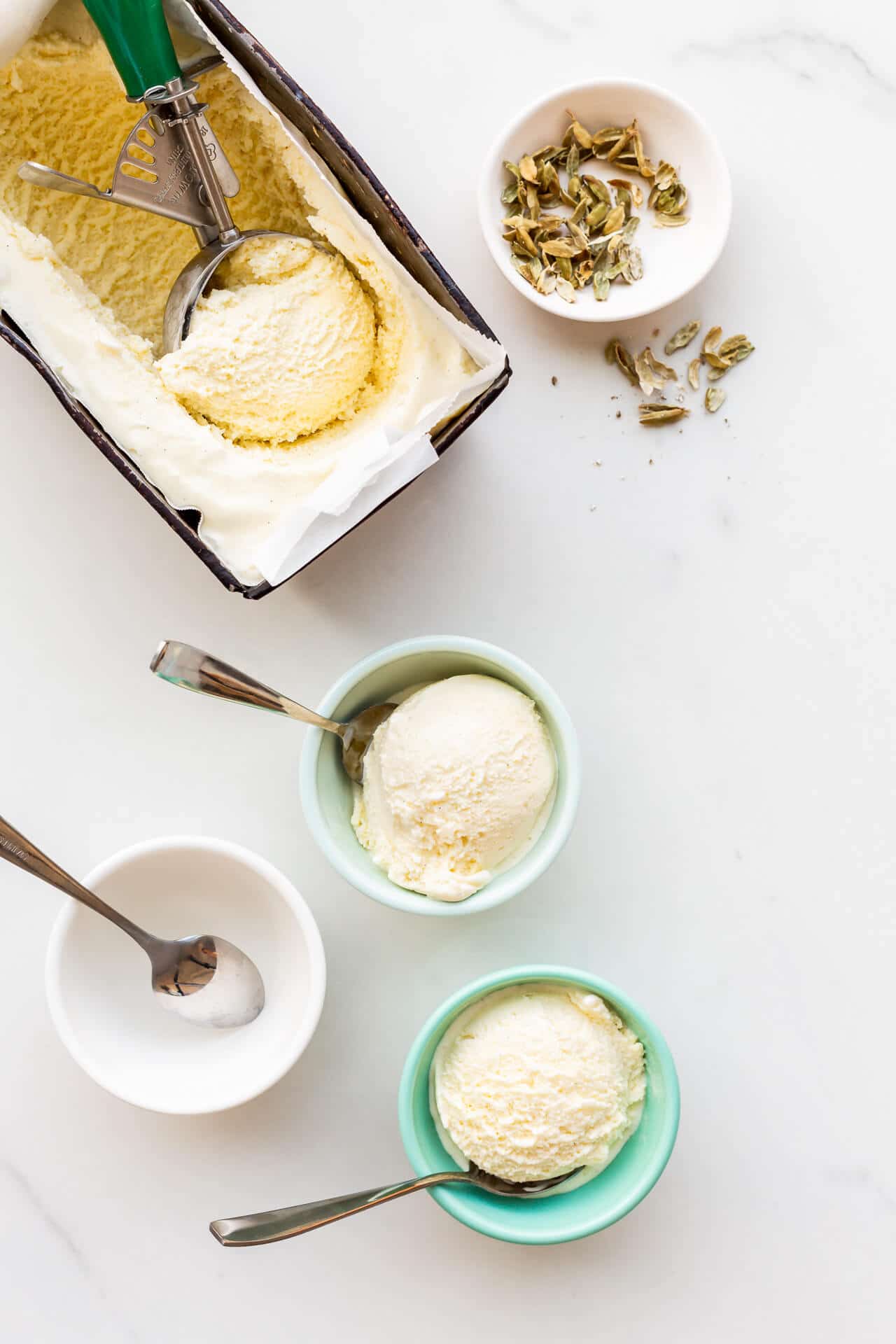 Cardamom ice cream would make a great filling in a few desserts. You can
sandwich this ice cream between cake brownies to make the best homemade ice cream sandwiches. If you want to make ice cream sandwiches, make sure to freeze the ice cream in the same pan you used to bake the brownie layers so that you can easily stack the components, without trimming, because they're all the same size.
serve scoops of it with butter biscuits and strawberries to make this ice cream strawberry shortcake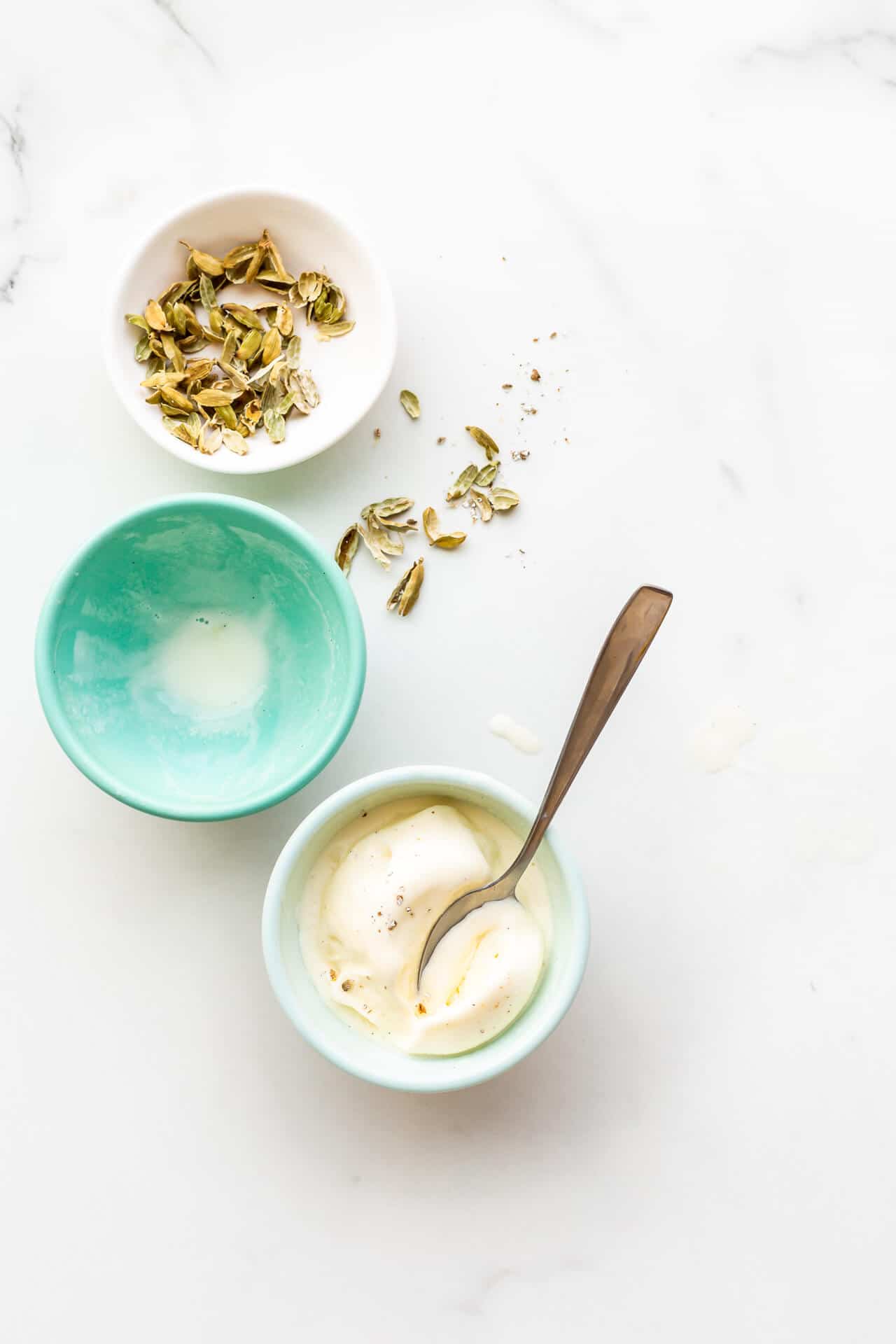 Making ice cream at home is a lot of fun and allows you to get really creative with the flavours. If I had the budget, I'd probably invest in this Breville model (available on Amazon), which comes with a built in compressor. The machine is self-cooling, so that you don't have to chill the ice cream drum for 24 hours in the freezer. This machine chills itself!
📖 Recipe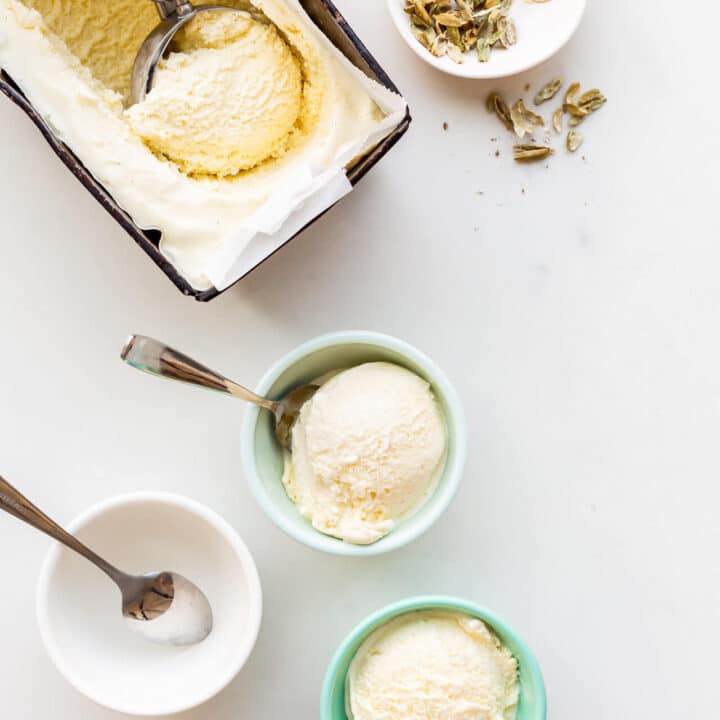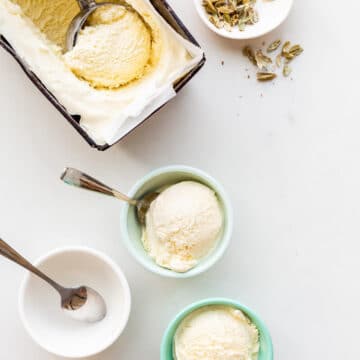 Cardamom Ice Cream
Homemade cardamom ice cream is easy to make from a simple cardamom-infused custard base with this recipe.
Ingredients
310

mL

whipping cream (35 % fat)

divided

5

large egg yolk(s)

150

grams

granulated sugar

divided

440

mL

whole milk (3.25 % fat)

20

green cardamom pods

shelled and ground with a mortar and pestle (roughly 5 mL or 1 teaspoon ground)

5

mL

vanilla bean paste
Instructions
Freeze the ice cream drum in the freezer for at least 24 hours before attempting to make ice cream.

Before you begin to cook the ice cream base, place 250 mL (1 cup) of the cold whipping cream in a 1 L (4 cup) measuring cup (or a big bowl preferably with a pouring spout). Set a strainer over top. Set aside

In a large bowl, whisk the egg yolks with half the sugar until the mixture is a very pale yellow and very light.

In a medium saucepan, whisk the rest of the sugar with the milk, the cardamom, the vanilla bean paste, the salt, and the rest of the cream. Heat the mixture until it is very hot and almost comes to a boil.

Pour the hot milk mixture over the whisked yolks to temper the eggs. Whisk continuously until the mixture is homogenous, then transfer it back to the saucepan.

Switch to a wooden spoon and, stirring constantly, heat the mixture on the stove over medium—low heat until the custard has thickened and has reached at least 83 ºC (181 ºF).

Pour the mixture through the strainer, pressing the custard through gently, if needed.

Cover with plastic wrap, then refrigerate the cardamom custard base for several hours to cool completely (overnight is best!).

Place the frozen drum on the ice cream maker, and churn the custard according to instructions. It can take over 15 minutes to churn the ice cream.

When the ice cream has reached the desired consistency. Turn off the machine, disassemble, and transfer the ice cream to a container. Cover it and place in freezer for a few hours to finish chilling.
Nutrition
Calories:
360
kcal
Carbohydrates:
35
g
Protein:
7
g
Fat:
23
g
Saturated Fat:
13
g
Cholesterol:
228
mg
Sodium:
222
mg
Potassium:
232
mg
Fiber:
2
g
Sugar:
29
g
Vitamin A:
964
IU
Vitamin C:
2
mg
Calcium:
166
mg
Iron:
1
mg
If you want to learn more about making ice cream at home, check out this mega guide to how to make the best ice cream, with tips and tricks, and troubleshooting ideas if you run into problems along the way.