You can make masala chai ice cream by infusing the milk for the custard base with your favourite spiced black tea or a mixture of looseleaf black tea and warm spices including cardamom, ginger, peppercorns, and cloves. Here's a recipe for spiced chai ice cream to get you started with tea-infused ice cream!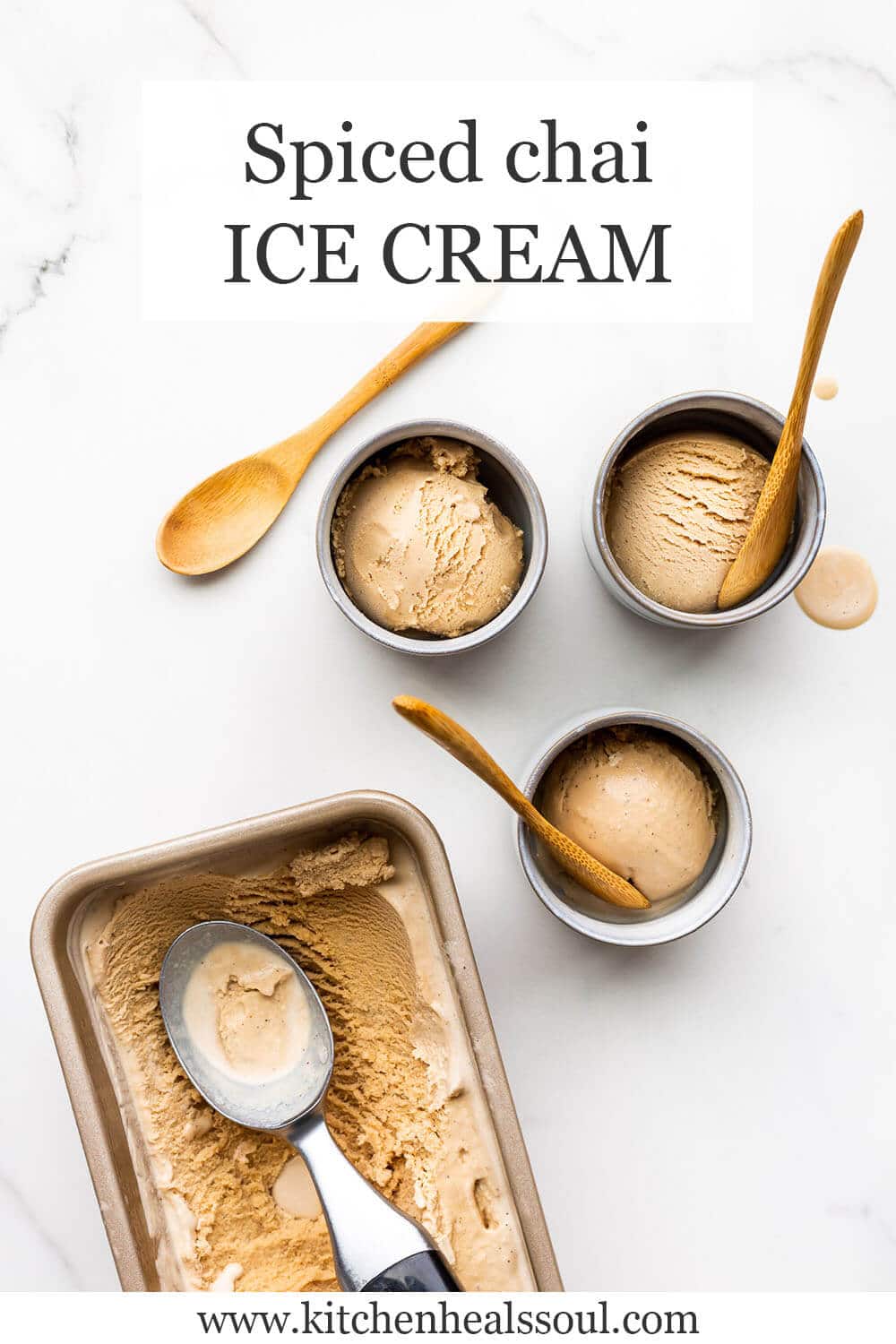 Disclosure: As an Amazon Associate, I earn from qualifying purchases.
With the success of my lemon custard ice cream (so refreshing), I decided to try to make another ice cream. My next flavour: spiced chai or masala chai ice cream. I love spiced chai. The combination of sweet, warm, sometimes floral spices with milk is so soothing.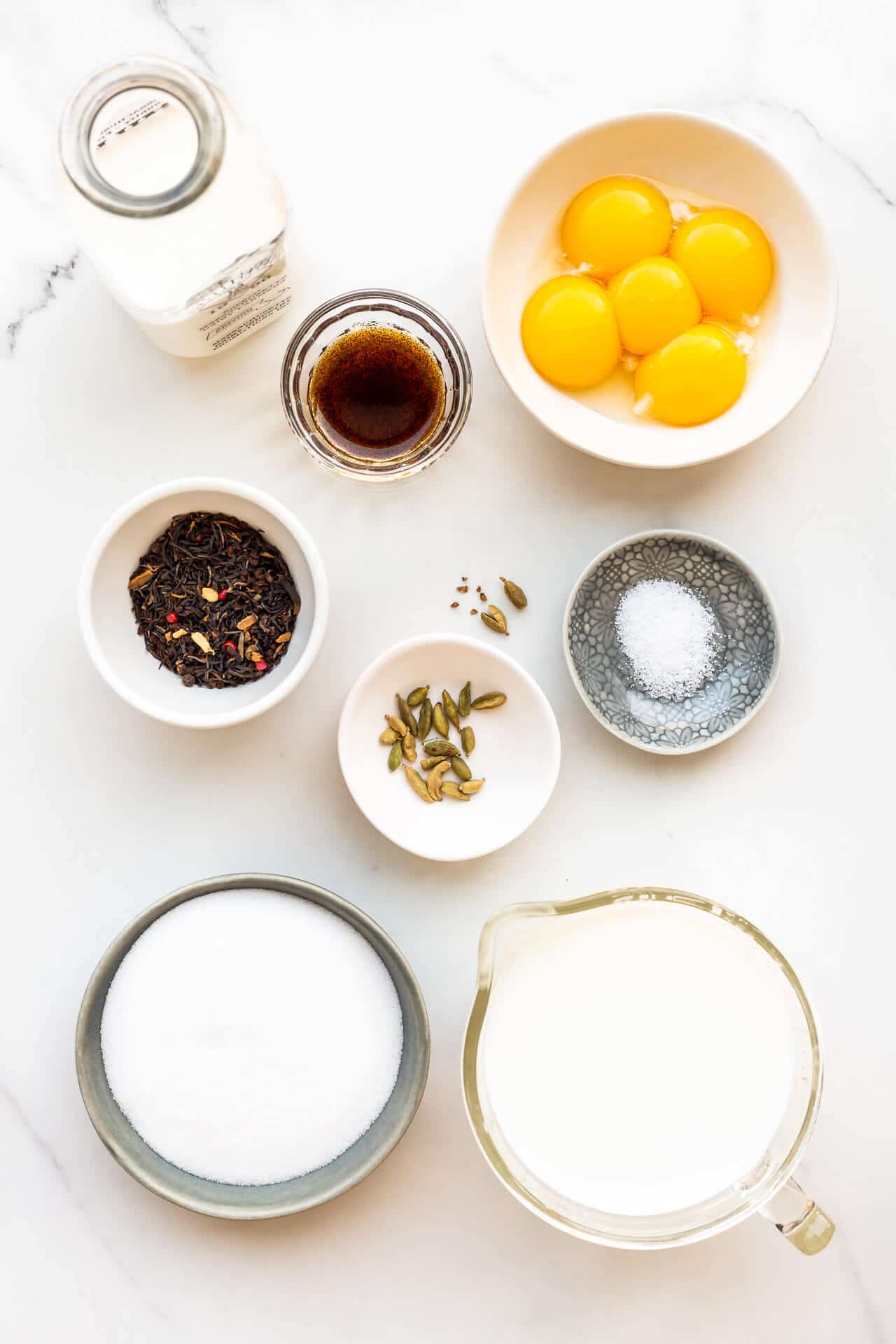 Just a reminder that the word "chai" means tea, so saying chai tea is actually redundant. Did you know "chai" is the word for tea in many languages, including Arabic? The word "masala" is to indicate that the tea is spiced and made with a blend of spices, which vary, but often you will find cardamom, cloves, ginger, peppercorns, and/or fennel in most masala chai recipes. To recap:
Chai means tea
Masala means a blend of spices
Chai masala is the spice blend to make spiced tea
Masala chai is the spiced tea drink made from chai masala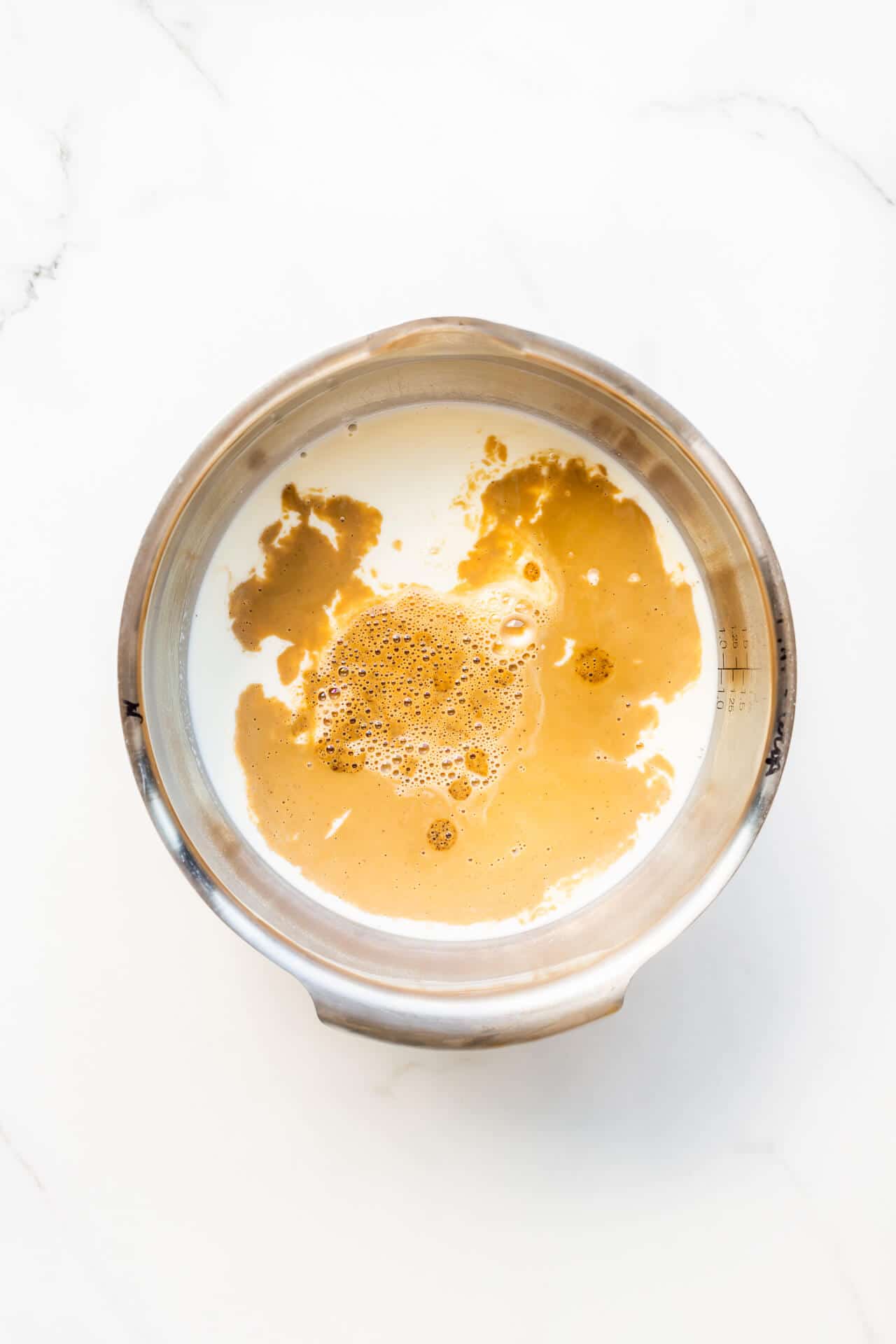 For this spiced chai ice cream, I steeped the equivalent of two tea bags of spiced chai in the sweet milk. That's roughly 2 to 3 tablespoons of tea. I used Smith Tea masala chai loose leaf tea. You can find their tea bags on Amazon. I also decided to add a little extra freshly ground cardamom because I'm a big fan of masala chai with lots of cardamom. If you can't find masala chai loose leaf tea or bags, feel free to experiment with black tea and a mix of spices.
Once the milk was infused, I used it to make a crème anglaise, which is a cooked custard base for many ice creams, thickened with egg yolks.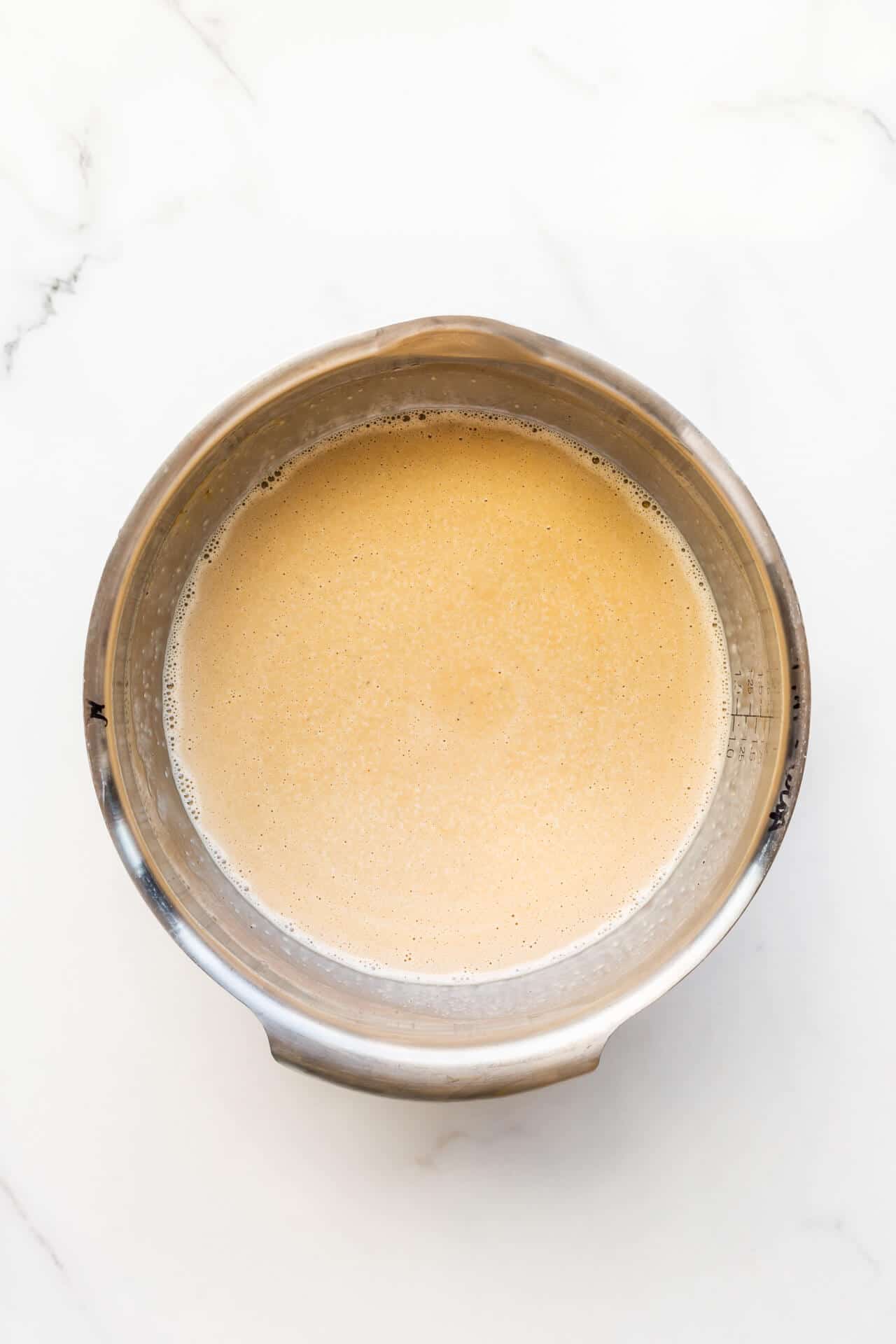 Infusing the custard base with black tea turned the ice cream to the colour of creamy milk tea, which is exactly what this ice cream tastes like. I have played around with the amount of sugar (between 125 mL and 190 mL or ½ cup to ¾ cup) and also the ratio of cream to milk. In the end, I prefer the ice cream made with more sugar and Don't go below 125 mL (½ cup) of sugar for this ice cream recipe because there's a risk the ice cream will freeze too hard or form larger ice crystals, which will ruin the texture.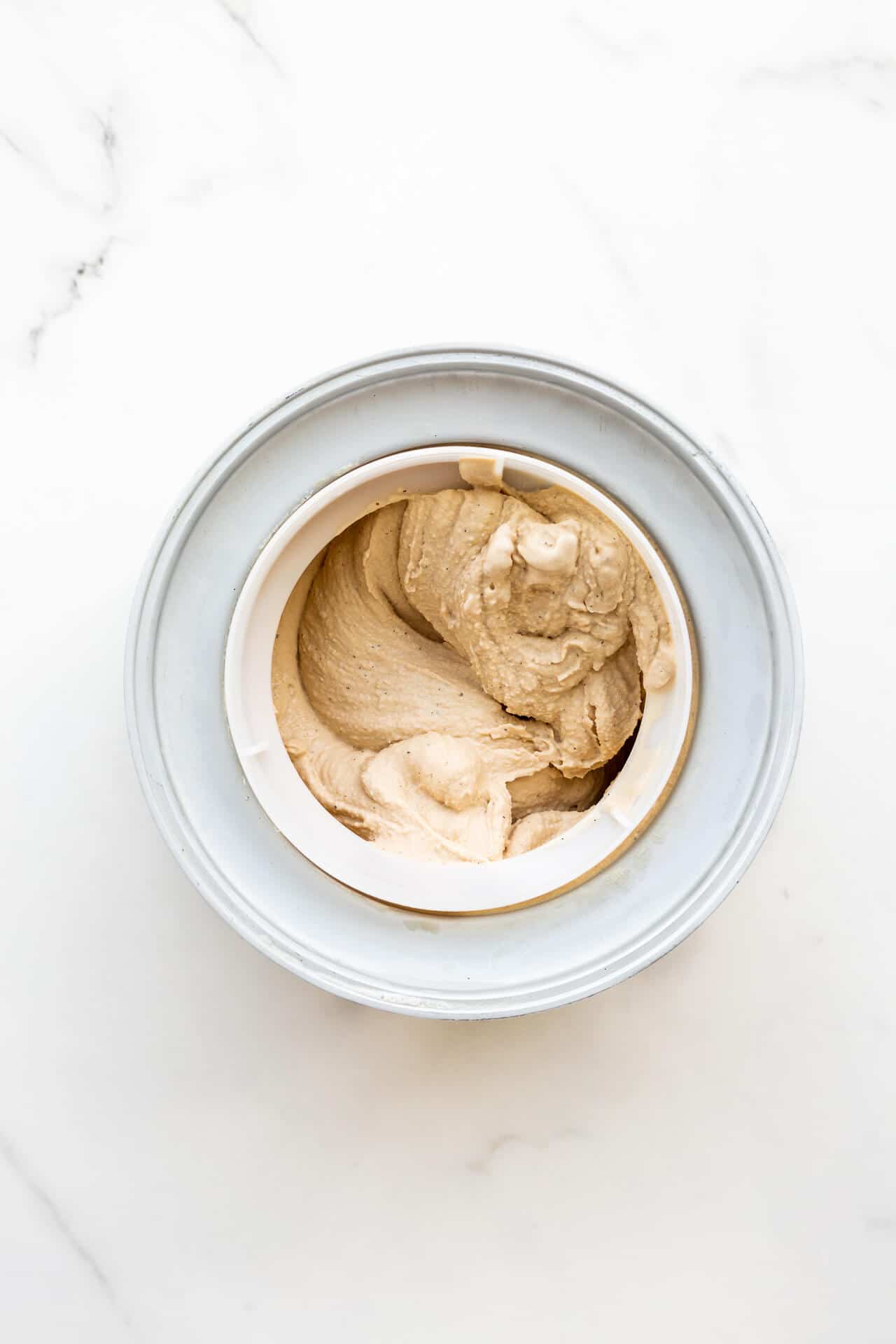 If you aren't a fan of masala chai, you might prefer using a different tea, like Earl Grey, for example. Just replace the loose-leaf tea in this recipe with your favourite tea, preferably one you would serve with milk. Matcha tea powder would be another great option, though for that substitution, you would have to play around with the amount of powder since matcha powder is more potent than loose leaf tea (maybe start with 15 mL or 1 tablespoon for your first batch and see how that goes).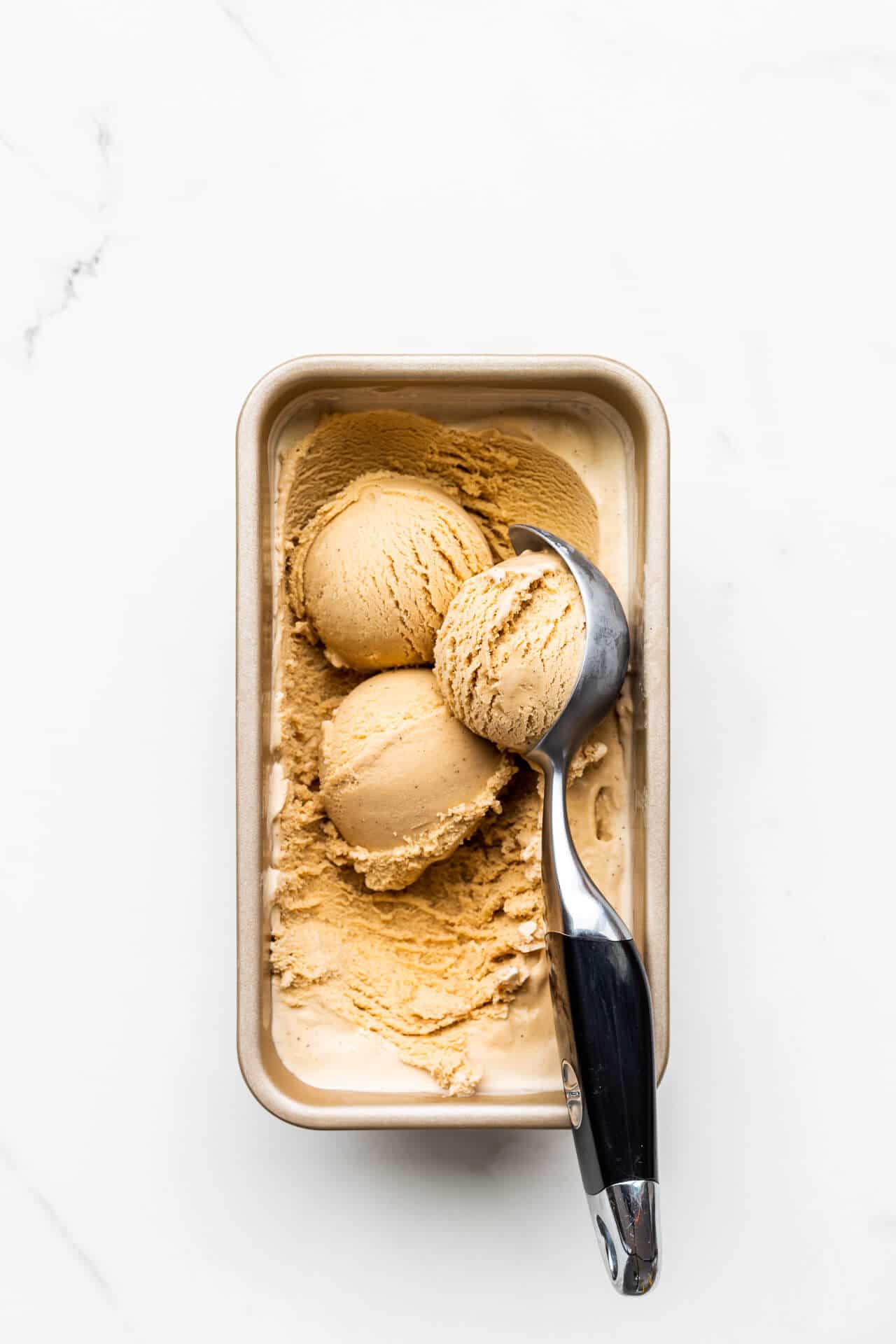 If you want to learn more about making ice cream at home, check out this mega guide to how to make the best ice cream, with tips and tricks, and troubleshooting ideas if you run into problems along the way. And below you'll find the recipe to make this spiced chai ice cream (a.k.a masala chai ice cream).
📖 Recipe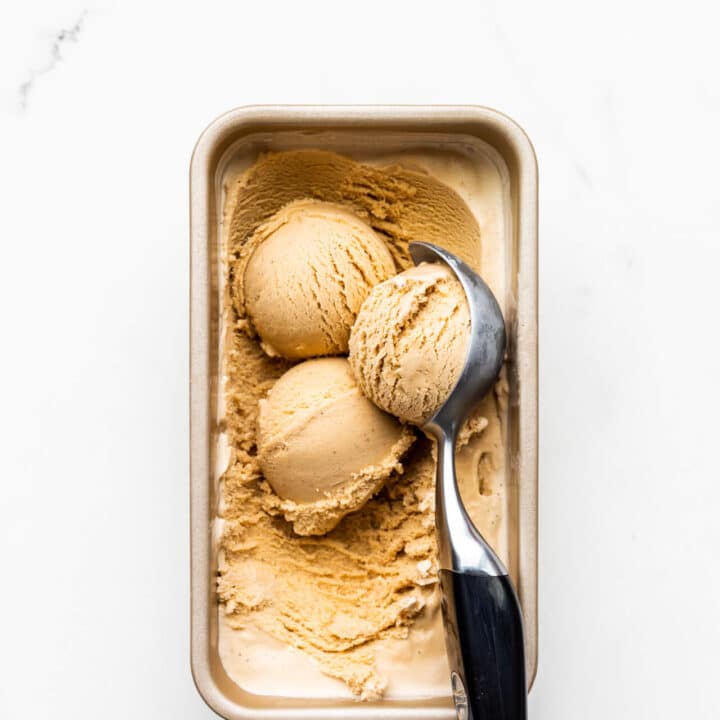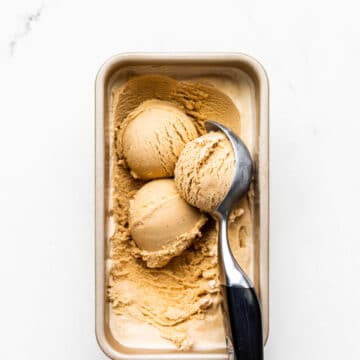 Masala Chai Ice Cream
Homemade masala chai ice cream is easy to make from a simple spiced black tea-infused custard base with this recipe.
Ingredients
310

mL

whipping cream (35 % fat)

divided

5

large egg yolk(s)

150

grams

granulated sugar

divided

440

mL

whole milk (3.25 % fat)

30

mL

spiced chai tea leaves

or 2–3 tea bags of spiced chai tea for masala chai

20

cardamom pods

shelled and ground with a mortar and pestle
Instructions
Freeze the ice cream drum in the freezer for at least 24 hours before attempting to make ice cream.

Before you begin to cook the ice cream base, place 250 mL (1 cup) of the cold whipping cream in a 1 L (4 cup) measuring cup (or a big bowl preferably with a pouring spout). Set a strainer over top. Set aside

In a large bowl, whisk the egg yolks with half the sugar until the mixture is a very pale yellow and very light.

In a medium saucepan, whisk the rest of the sugar with the milk, the chai masala mix, the cardamom, the salt, and the rest of the cream. Heat the mixture until it is very hot and almost comes to a boil.

Pour the hot milk mixture over the whisked yolks to temper the eggs. Whisk continuously until the mixture is homogenous, then transfer it back to the saucepan.

Switch to a wooden spoon and, stirring constantly, heat the mixture on the stove over medium—low heat until the custard has thickened and has reached at least 83 ºC (181 ºF).

Pour the mixture through the strainer, squeezing the custard out of the zest.

Cover with plastic wrap, then refrigerate the spiced chai custard base for several hours to cool completely (overnight is best!).

Place the frozen drum on the ice cream maker, and churn the custard according to instructions. It can take over 15 minutes to churn the ice cream.

When the ice cream has reached the desired consistency. Turn off the machine, disassemble, and transfer the ice cream to a container. Place in freezer for a few hours to finish chilling.
Nutrition
Calories:
389
kcal
Carbohydrates:
35
g
Protein:
6
g
Fat:
26
g
Saturated Fat:
15
g
Cholesterol:
241
mg
Sodium:
221
mg
Potassium:
227
mg
Fiber:
2
g
Sugar:
29
g
Vitamin A:
1095
IU
Vitamin C:
2
mg
Calcium:
161
mg
Iron:
1
mg
Once you've churned it, you can transfer the ice cream to a brownie pan lined with lots of plastic wrap, so that you can later sandwich it between cake brownies of the same size to make the best homemade ice cream sandwiches. So good!