Here's everything you need to know about how to make fudge without condensed milk, including what can go wrong, tips and tricks, and how to salvage a batch of fudge that didn't work out as planned. I've included a maple fudge recipe, which is a traditional, old-fashioned fudge made without marshmallows or condensed milk. It takes a little patience, the right tools, and some precision to make fudge but the resulting fudge is well worth the effort! The nuts are entirely optional.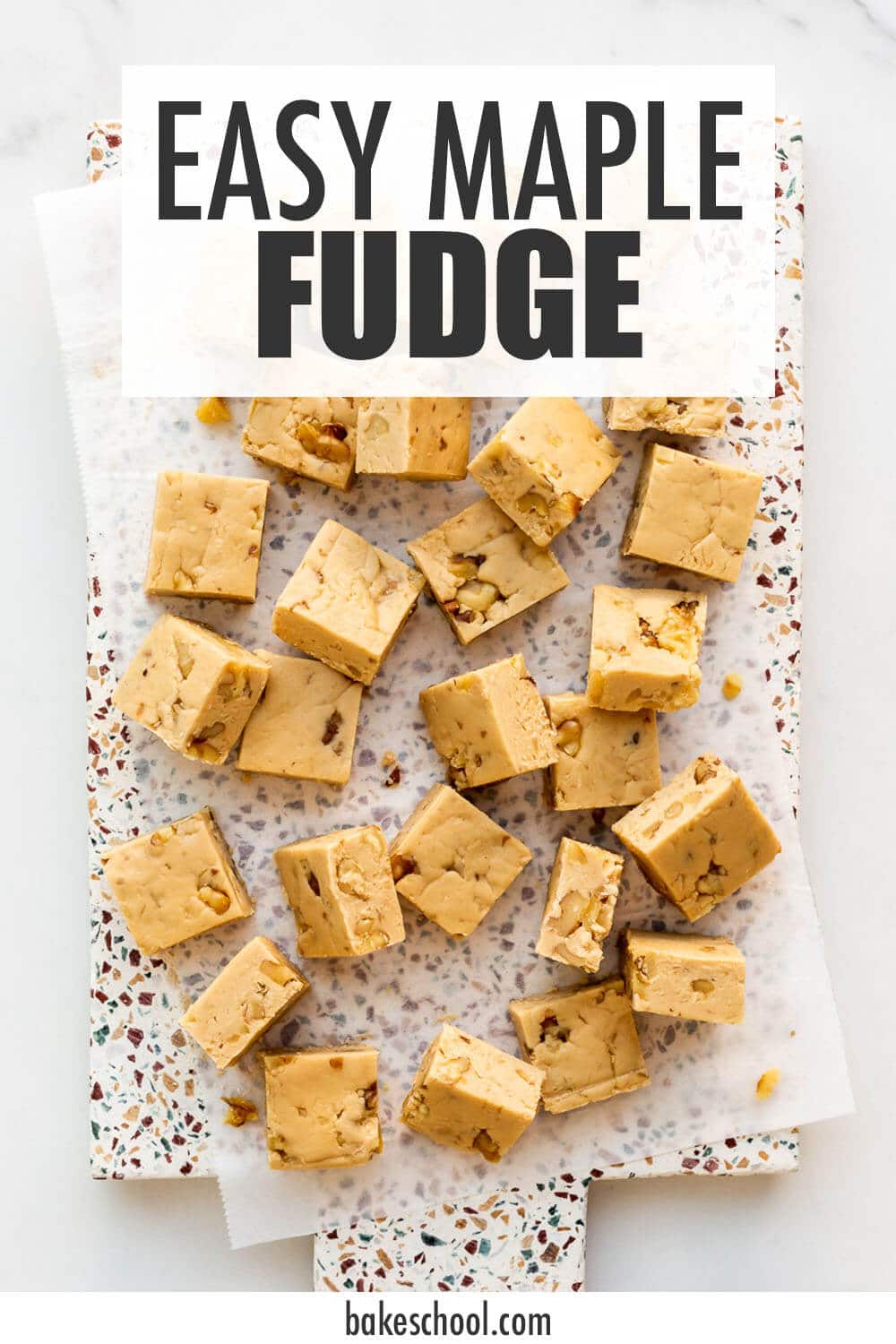 Disclosure: As an Amazon Associate, I earn from qualifying purchases.
What is traditional fudge?
I love traditional maple fudge with walnuts. It's a classic candy treat that is usually made around the holidays (or just because). Fudge is mostly made of sugar and whipping cream. Some will make it with condensed milk or marshmallows, but for old-fashioned fudge, it's brown sugar, granulated sugar, a little maple syrup for flavour and whipping cream.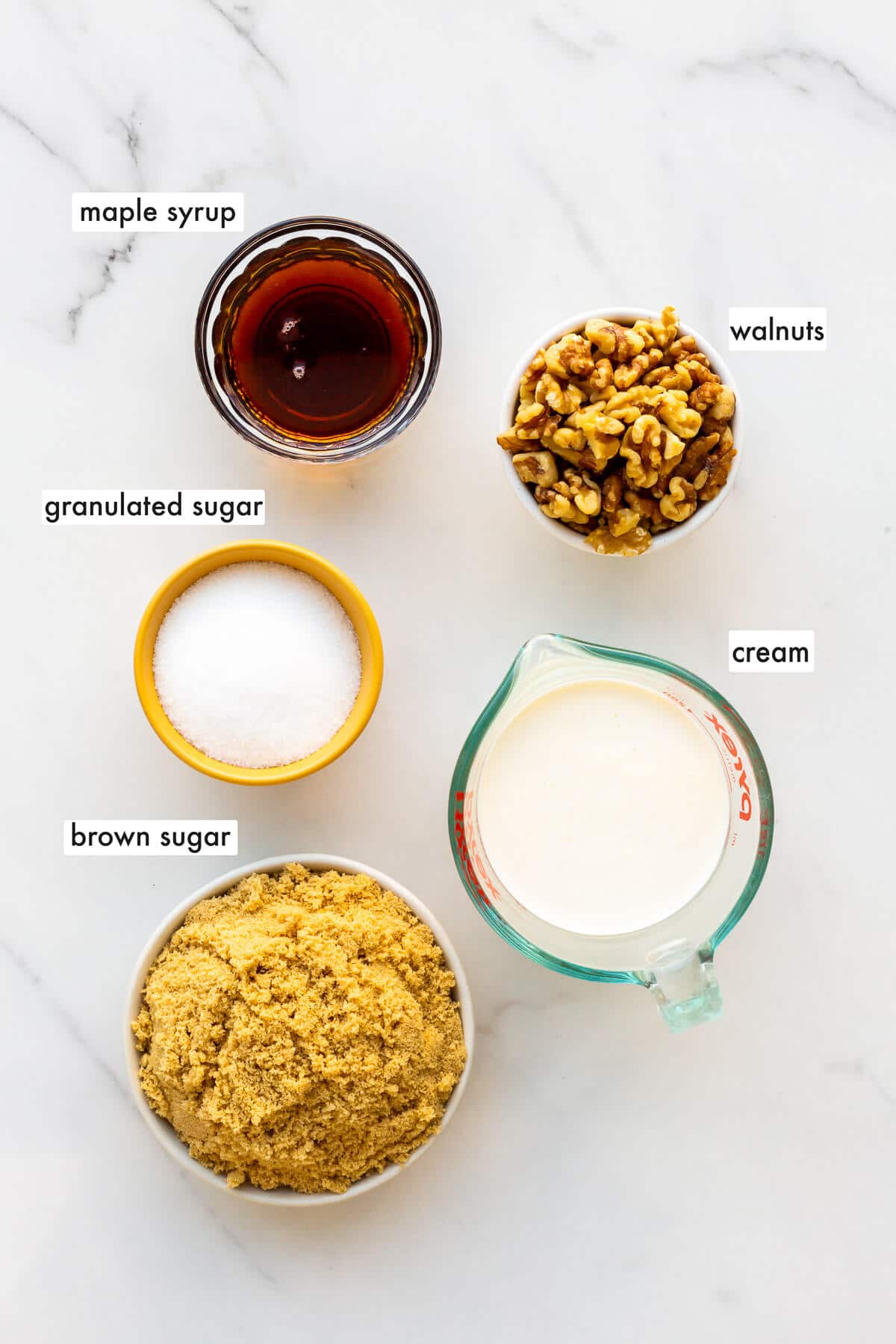 Maple fudge is quite sweet, but I love that fine granular texture that good fudge has. This is one time when you want the sugar to crystallize, as opposed to caramels or caramel sauces when you are trying to prevent caramel from crystallizing. But fudge has to crystallize just right, like for this maple butter recipe. Maple fudge, like maple butter, should have very fine crystals that give fudge the perfect amount of "grit", not dry or crumbly, which makes it utterly addictive, but still soft but not so soft that it has the texture of maple butter.
You can add chocolate to fudge. I have another recipe for white chocolate maple fudge from years ago that is made with maple cream and finished with white chocolate, which gives it a lovely creamy taste and texture but the recipe can be a little finicky, especially when it comes to adding the white chocolate. Do that wrong and the chocolate may burn...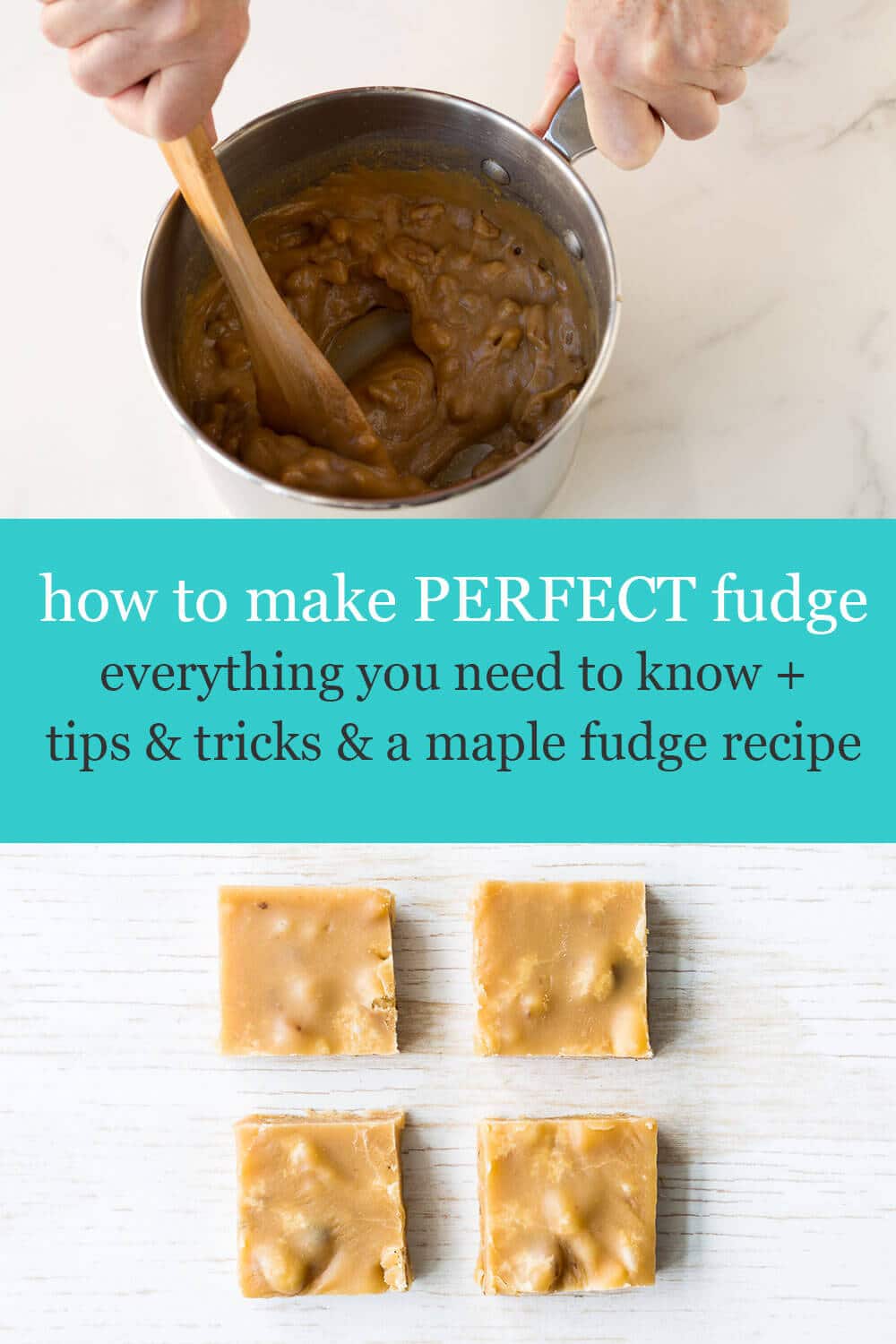 How to make fudge
With some patience and the right tools, you can make perfect fudge at home without worrying too much about it. It's important to have the right tools to make fudge at home and it's also important to follow the steps and temperatures. Here's a list of the tools you need to make fudge at home and the steps to make fudge:
Tools to make perfect maple fudge
a medium saucepan that is the right size! Avoid using a small saucepan even if when you start, you think there's plenty of room. There isn't. You need a bigger pot than you think to make fudge or else the boiling sugar mixture will boil over and make a real mess of your stove. Aim to use a pan that is at least 2 L (or 1.9 Qt). Obviously a spaghetti pot would be overkill here, but you get my point. Don't use a small saucepan.
a wooden spoon or a heatproof silicone spatula
a candy thermometer or an instant read thermometer: though a glass candy thermometer on Amazon, or a metal Taylor thermometer on Amazon will have no problem measuring the temperature of the fudge mixture as it boils, when it comes time to cool down the mixture, these analog thermometers may be too slow to read the changes in temperature. If you are going to use a thermometer to follow the temperature fluctuations in this fudge recipe, use a digital probe thermometer that is fast-reading if not, instant read, like this instant read thermometer pen on Amazon.
an 8x8-inch brownie pan with straight edges and right angle "square" corners: a square pan with straight edges will make cutting the fudge into even pieces more easy. A square glass pan will also work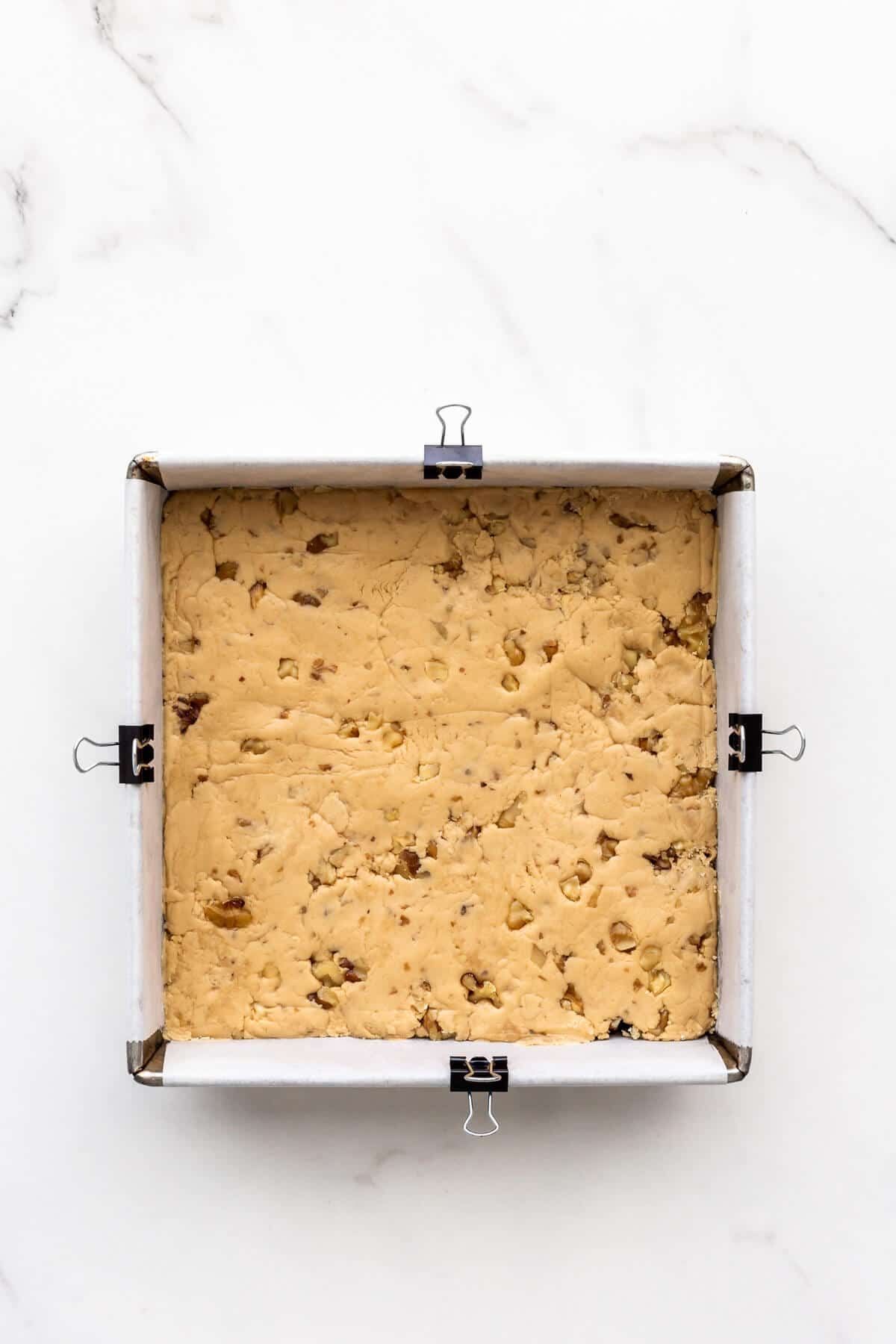 Steps to make fudge
Combine all the ingredients in a medium saucepan and heat on a lower setting to properly dissolve the sugars and form an even, homogenous mixture. You can stir the mixture with a wooden spoon as needed.
Once the sugars are dissolved and the mixture is smooth, remove the wooden spoon. You can also increase the heat to bring the fudge mixture to a boil (medium or medium–high is good for this step).
Boil the fudge mixture to 114–115 °C (237–239 °F), then immediately remove the saucepan from the heat and turn off the stove. Add the toasted nuts at this point if using.
Place the hot pan in a cold water bath. You can fill your kitchen sink partway with cold tap water, for example. Ice isn't necessary. You can let the mixture cool at room temperature but this will take longer and there is a risk that the fudge will continue to cook in the hot pan for a few minutes longer and to a higher temperature than desired. A cold water bath is ideal for this step. Make sure you don't get water in the fudge though!
Cool the fudge to 43–50 ºC (110–122 °F), basically around (113 ºF).
Stir vigorously as soon as the fudge is below 50ºC until it loses it lightens in colour, becomes opaque, and begins to thicken. This takes about 3 minutes.
Immediately pour the fudge mixture into the prepared pan and spread it out. Use the parchment overhang to help you spread and smooth the fudge from edge to edge with your hands.
Let the fudge rest at room temperature for an hour or 2 until it's set.
Cut and store.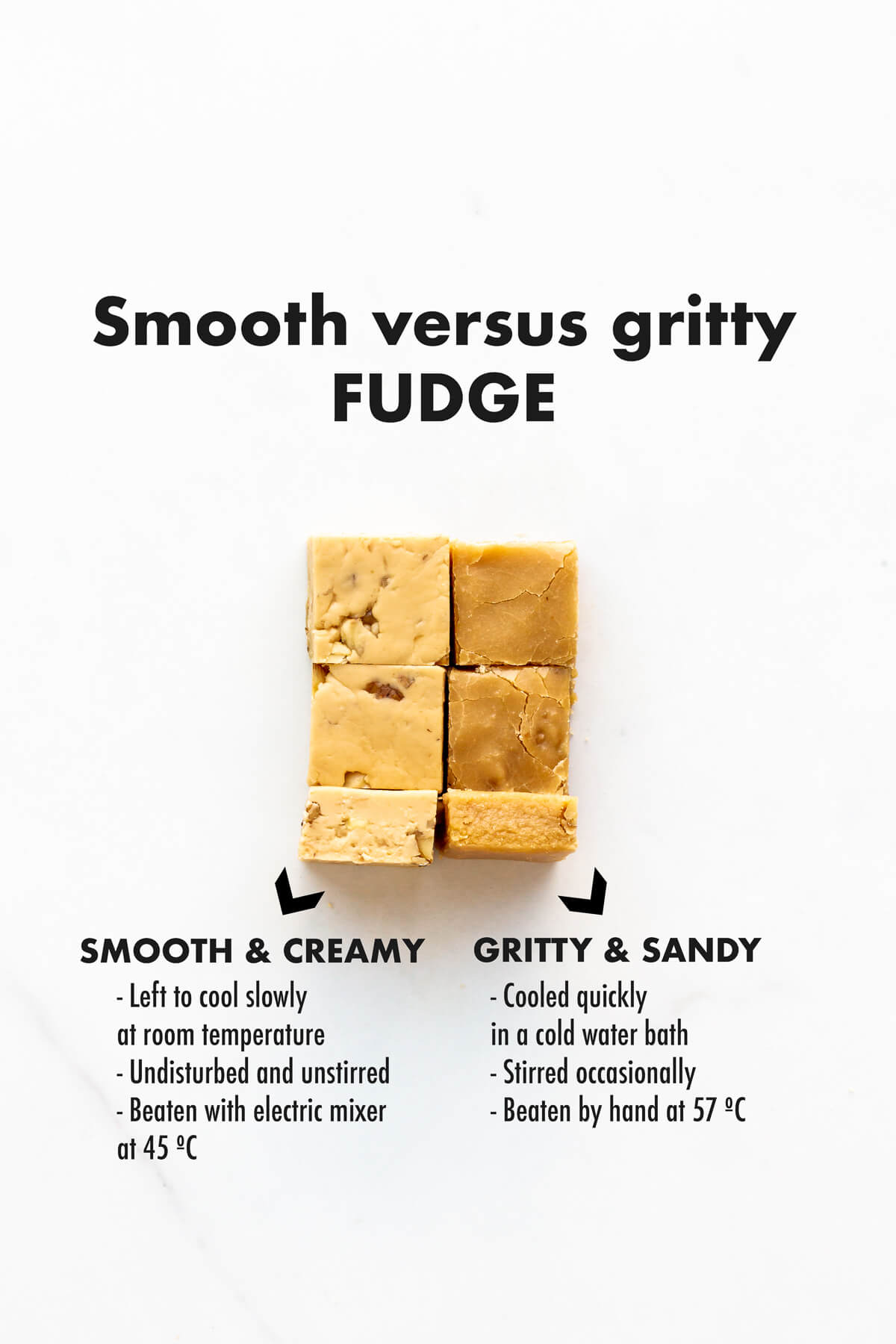 Troubleshooting: Things that can go wrong when making fudge and fudge-making tips & tricks
Making fudge is really about controlling when and how the sugar crystallizes. If you make a mistake along the way, the texture could end up too dry or too soft.
Fudge is crumbly—sugar mixture was overcooked and boiled too much
When making fudge, the temperature you cook the sugar to has a direct impact on the texture of the fudge. You are aiming to bring the sugar mixture to 115 ºC (240 ºF), which is the soft ball stage. At this temperature, you have evaporated just enough water to make firm fudge, but not so much water that the fudge is dry and crumbly, or brittle. If your fudge ends up dry and crumbles or is super granular, the fudge was overcooked. If you boil fudge too long, your fudge will have a dry, crumbly texture
How to avoid overcooked fudge
One of the reasons your fudge might end up overcooked is you don't act fast enough when the fudge has reached the correct temperature of 114–115 °C (237–239 °F). As soon as it reaches this temperature, pull the pan off the stove immediately (before you even shut off the burner). And focus on getting it into a cold water bath fast because otherwise, the heat of the pot might continue to cook the fudge. If the fudge mixture gets just a few degrees to hot (like to 118 ºC, or 244 ºF), the fudge will be overcooked. It's best to be prepared with a water bath ready and to act fast.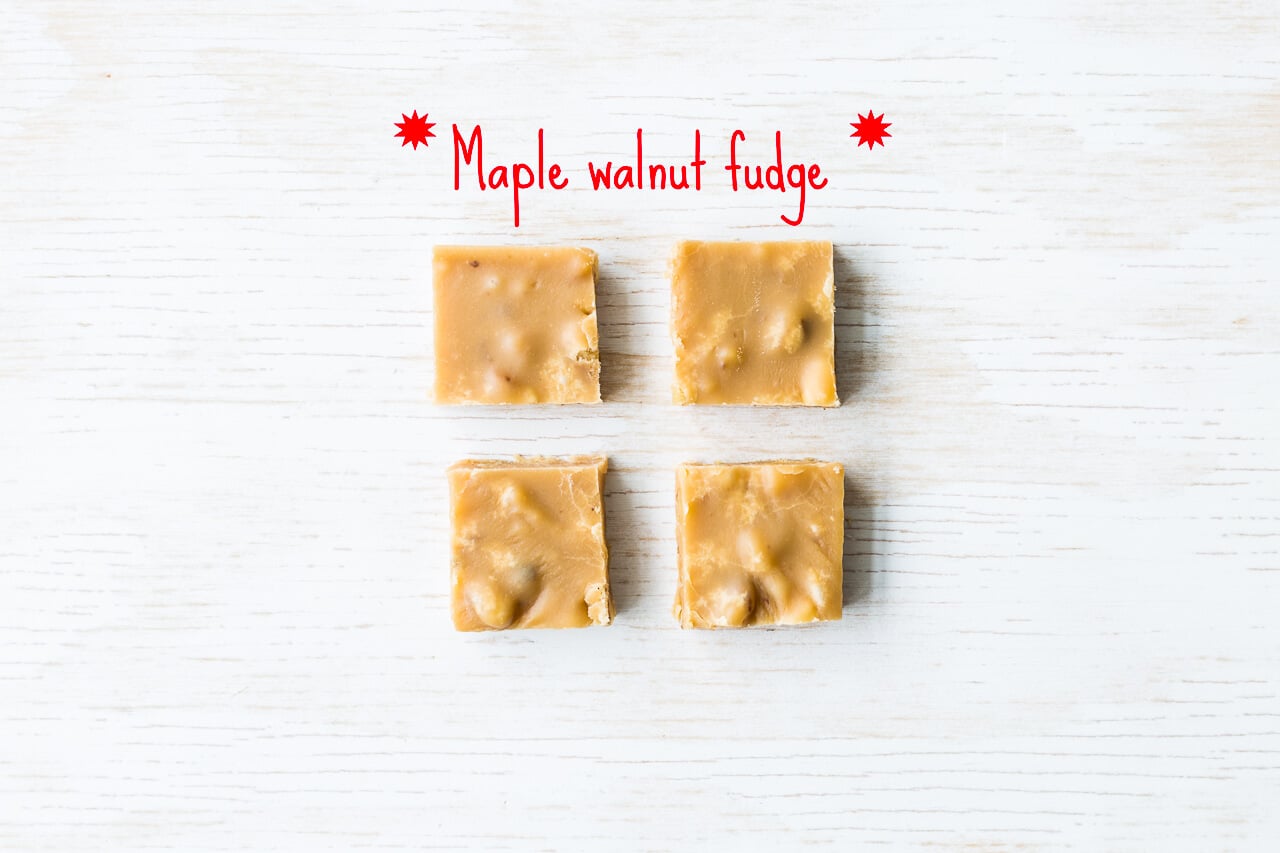 How to salvage fudge that was overcooked
You can salvage overcooked, dry and crumbly fudge by breaking down the dry fudge and crumbling it, putting the fudge back in a saucepan with up to 60 ml (¼ cup of 35 % cream). Heat the mixture on medium–low and stir to melt/dissolve the fudge into a smooth mixture, then bring the mixture to a boil and heat it to 114–115 °C (237–239 °F). At that point you have to go through the steps of cooling the fudge and then stirring vigorously before pouring it out in a prepared pan to allow it to set.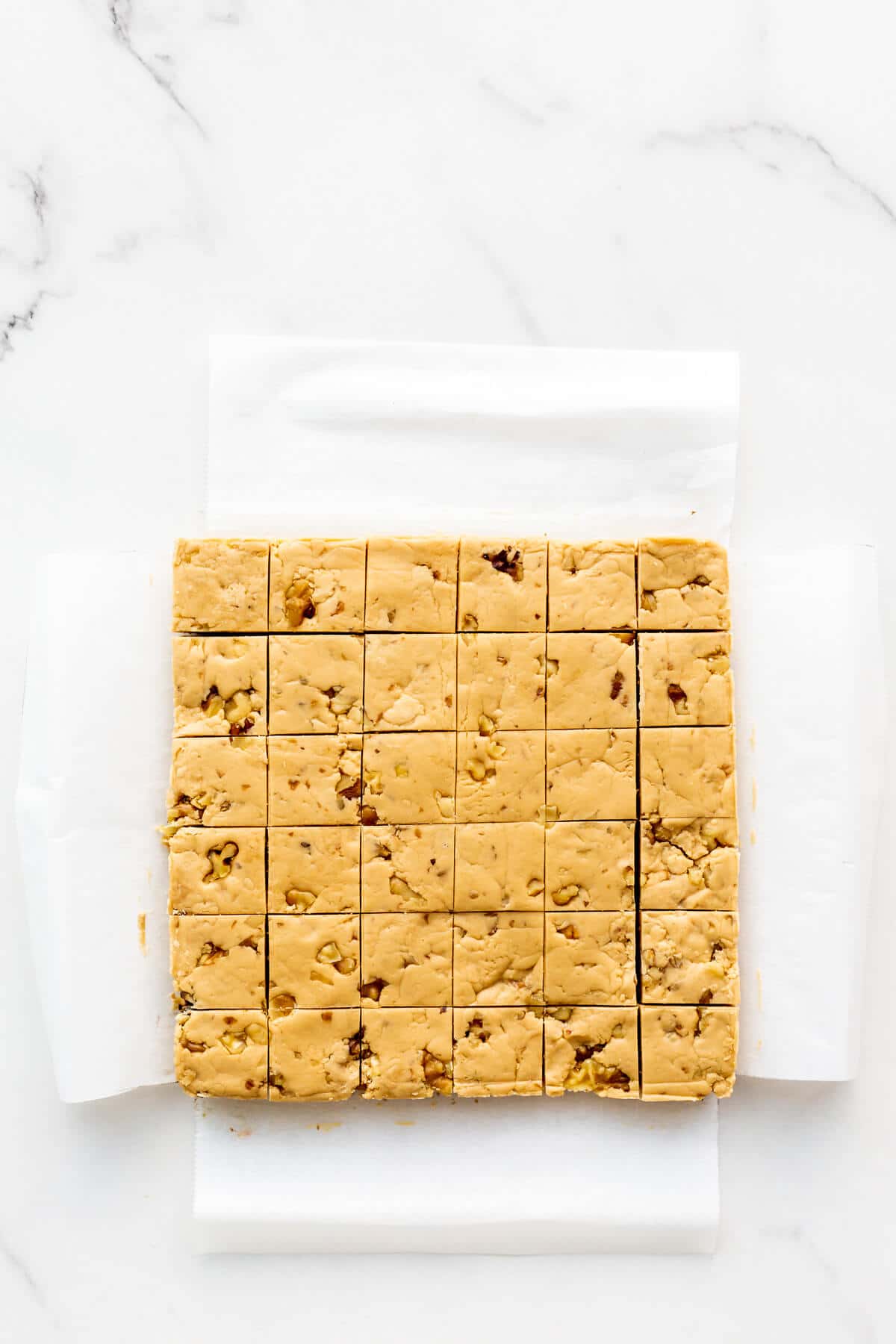 Fudge is too soft—sugar mixture was undercooked
Just like you can overcook fudge, you can also undercook fudge. Undercooked fudge has too much water in it, so it doesn't set properly and the sugar doesn't crystallize as the sugar isn't concentrated enough. Undercooked fudge is soft and doesn't hold its shape as well when cut into pieces.
How to avoid undercooked fudge
One of the reasons your fudge might end up undercooked is you that the fudge mixture wasn't cooked to a high enough temperature of 114–115 °C (237–239 °F). You need to boil the fudge mixture long enough so it reaches 114–115 °C (237–239 °F). At this temperature, much of the water has boiled off and the sugar is concentrated enough to crystallize and set properly when cooled. Some recipes will recommend a timeframe for how long to boil the sugar mixture, but I don't think this is a reliable method for making fudge because your stove is different than my stove. It might take me 20 minutes to reach 115 ºC but it could take you less time (or more time). This is why it's important to use a candy thermometer to make fudge and to monitor the temperature.
How to salvage fudge that was undercooked
You can salvage undercooked, soft fudge that doesn't set by putting the fudge back in a saucepan with up to 30 ml (2 tablespoon of 35 % whipping cream). Heat the mixture on medium–low to dissolve/melt the sugar. Once you have a smooth consistency, then you can bring the mixture up to a boil and make sure to continue to heat the mixture until your thermometer reads 114–115 °C (237–239 °F), at which point you must cool the mixture back down before beating it.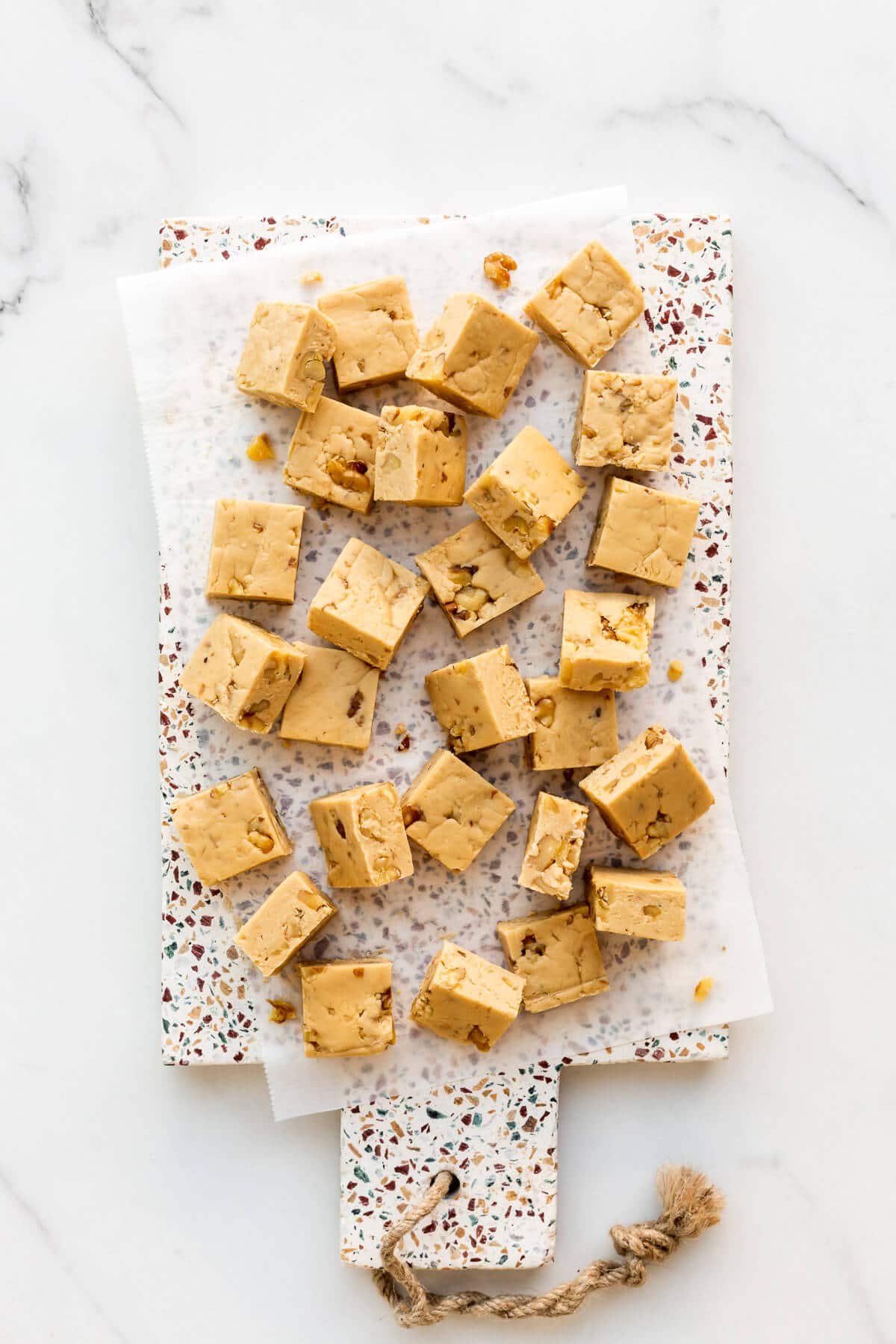 Fudge is too gritty
If you notice that your fudge is much too gritty, it could mean that you didn't allow the fudge mixture to cool enough and therefore you beat it too soon. If you beat the fudge when it is too warm, the sugar will form bigger crystals and won't be smooth. It's important to wait until your fudge is below 50 ºC before stirring vigorously, just like when you are making homemade maple butter.
Maple versus brown sugar
I hope this traditional maple fudge recipe is simpler and satisfies your maple fudge cravings. Remember it's quite important to use a good, reliable candy thermometer preferably an instant-read thermometer, if possible, because cooking temperature is EVERYTHING when you are making fudge. If the temperature is off, your fudge may set too soft or end up too dry. All roads lead to something tasty, but getting the texture right is nice too!
You'll notice this recipe uses mostly brown sugar, with a little pure maple syrup added for flavour. The main reason is that maple syrup is expensive, and while you could make this recipe with only maple syrup, it's best to practice with affordable brown sugar and then once you've mastered the techniques, try to make the replace the brown sugar with maple syrup.
If you are looking for more to bake with maple, check out these maple syrup recipes.
📖 Recipe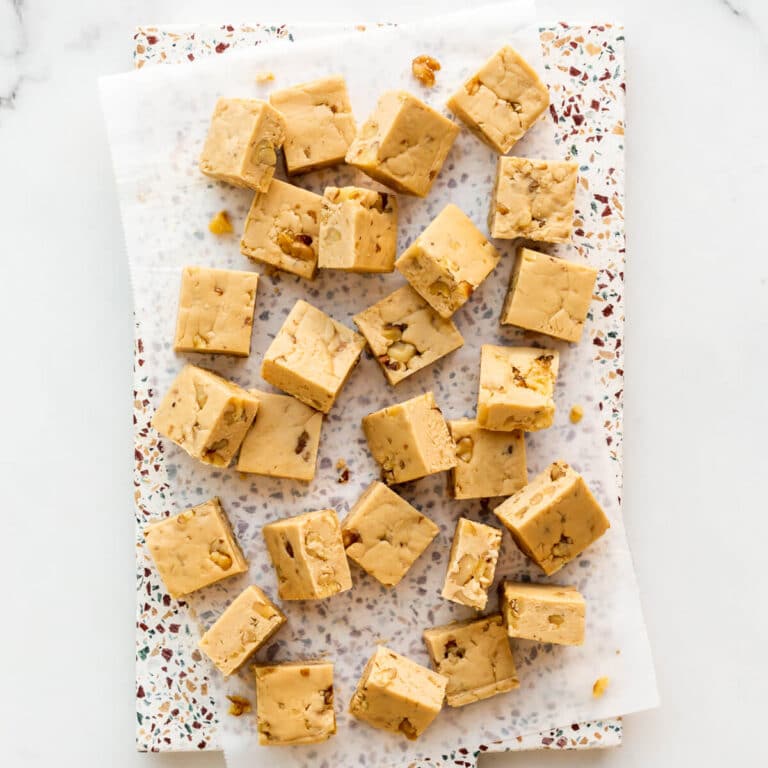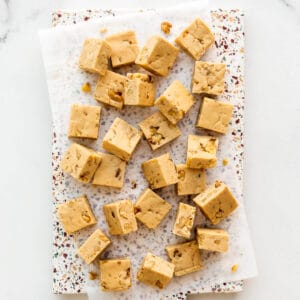 Maple Fudge
This maple fudge recipe isn't too difficult to make but it's important to follow the temperature guidelines for success!
Instructions
Prepare an 8" x 8" pan by buttering it all over and then line it with parchment paper that hangs over two of the sides. Set aside.

In a medium saucepan, heat the whipping cream, brown sugar, granulated sugar, and the maple syrup on medium-low, stirring constantly with a wooden spoon. When the sugars have dissolved, stop stirring. Continue heating the mixture until it reaches 239ºF (115ºC), then take the pan off the heat.

Pour the nuts over the hot fudge mixture and let rest at room temperature for another 20 minutes to cool slightly (alternatively, you can set the pan in a shallow bowl of cold water for 10 minutes). You want the fudge temperature to drop to below 50ºC and this is best measured with a probe thermometer which takes faster readings than older candy thermometers.

Stir the fudge mixture for 3 minutes with a wooden spoon, until it becomes quite thick, opaque, light in colour, and has lost some of its shine. Quickly transfer the fudge mixture to the prepared 8" x 8" pan, pushing it into the corners and smoothing it out as fast as you can. Use the parchment overhang to press down and smooth the surface.

Let the fudge set for 1 hour minimum at room temperature before cutting it into small pieces.
Nutrition
Calories:
111
kcal
Carbohydrates:
12
g
Protein:
1
g
Fat:
7
g
Saturated Fat:
2
g
Polyunsaturated Fat:
3
g
Monounsaturated Fat:
1
g
Cholesterol:
10
mg
Sodium:
5
mg
Potassium:
51
mg
Fiber:
1
g
Sugar:
11
g
Vitamin A:
103
IU
Vitamin C:
1
mg
Calcium:
20
mg
Iron:
1
mg