This no-fail grapefruit pâte de fruit recipe is quite easy and uses the whole fruit. Sweetened with honey, these pretty homemade citrus fruit candies are sure to brighten your winter. Make sure to use a candy thermometer for this recipe!
As an Amazon Associate I earn from qualifying purchases.
Disclosure: As an Amazon Associate, I earn from qualifying purchases.
Many of us get through the cold winter months with citrus fruit, be it with a batch of homemade 3 fruit marmalade or simply a bright pink grapefruit drizzled with honey. It's fresh, bright, and sweet. Sometimes, I have it as a snack and sometimes, it's breakfast. It's that good. With that in mind, I developed this grapefruit pâte de fruit recipe sweetened with honey.
What is pâte de fruit?
I guess you could say pâte de fruit is a jelly-like candy made from fresh fruit juice, and in this case, even the fruit pulp and peel. Pâte de fruit recipes require quite a lot of sugar (after all, it is candy), and it's set with pectin which gives pâte de fruit its signature gelled texture that is not too firm.
Remember jell-o and jelly candies are usually set with gelatin (sometimes agar agar for a vegan version), while pâte de fruit is set with pectin, which means pâte de fruit is a vegetarian- and vegan-friendly candy recipe. The cooking process to make pâte de fruit concentrates the fruit juice, so every bite is bursting with intense fruit flavour. It's a real treat. If you want to make pâte de fruit with less sugar, that's tricky and you should check out my blood orange pâte de fruit with half the sugar.
I did a lot of experimenting and testing when I was working on this grapefruit pâte de fruit, and while many recipes will suggest how long you should boil the candy before pouring it in the mould to set, I find the boiling times are too imprecise and lead to a lot of variation in the finished candy. A cook time is entirely dependent on the size/material of your pot, the volume of liquid, the concentration of sugar, the amount of water, and the settings on your stove.
A boiling time could lead to any number of results, and unfortunately many failures. Nobody wants to eat under-gelled pâte de fruit which is runny. So, for this recipe, I urge you to get a good instant-read thermometer. I measured the temperature with a Thermapen which is very fast at registering temperatures and temperature changes, but a probe thermometer with a longer cable like the Thermoworks Dot would be better because then you don't have to hold it with your hands, which would be much less dangerous to use than my hand-held setup.
Candy-making is a fairly precise art, so use a thermometer. Rather than give you a cook time in the directions, I am giving you the final temperature of your boiling fruit syrup so that you will have better results. Using a thermometer is more exact and will yield consistency from batch to batch, and less failures.
Pâte de fruit storage, weeping, and shelf life
Pâte de fruit has a very high sugar content and therefore is quite stable, even at room temperature. In fact, pâte de fruit doesn't require any refrigeration and humidity is the enemy, causing the coating of sugar to liquify and making pâte de fruit sticky.
I have noticed that sometimes pâte de fruit weep upon storage, and I haven't quite found a solution for that yet. Weeping will shorten the shelf life of pâte de fruit. How can you prevent pâte de fruit from weeping:
Some will store pâte de fruit with a desiccant to absorb excess moisture, like a little closed packet of silica desiccant that you find in some foods to absorb humidity and ensure they stay relatively dry.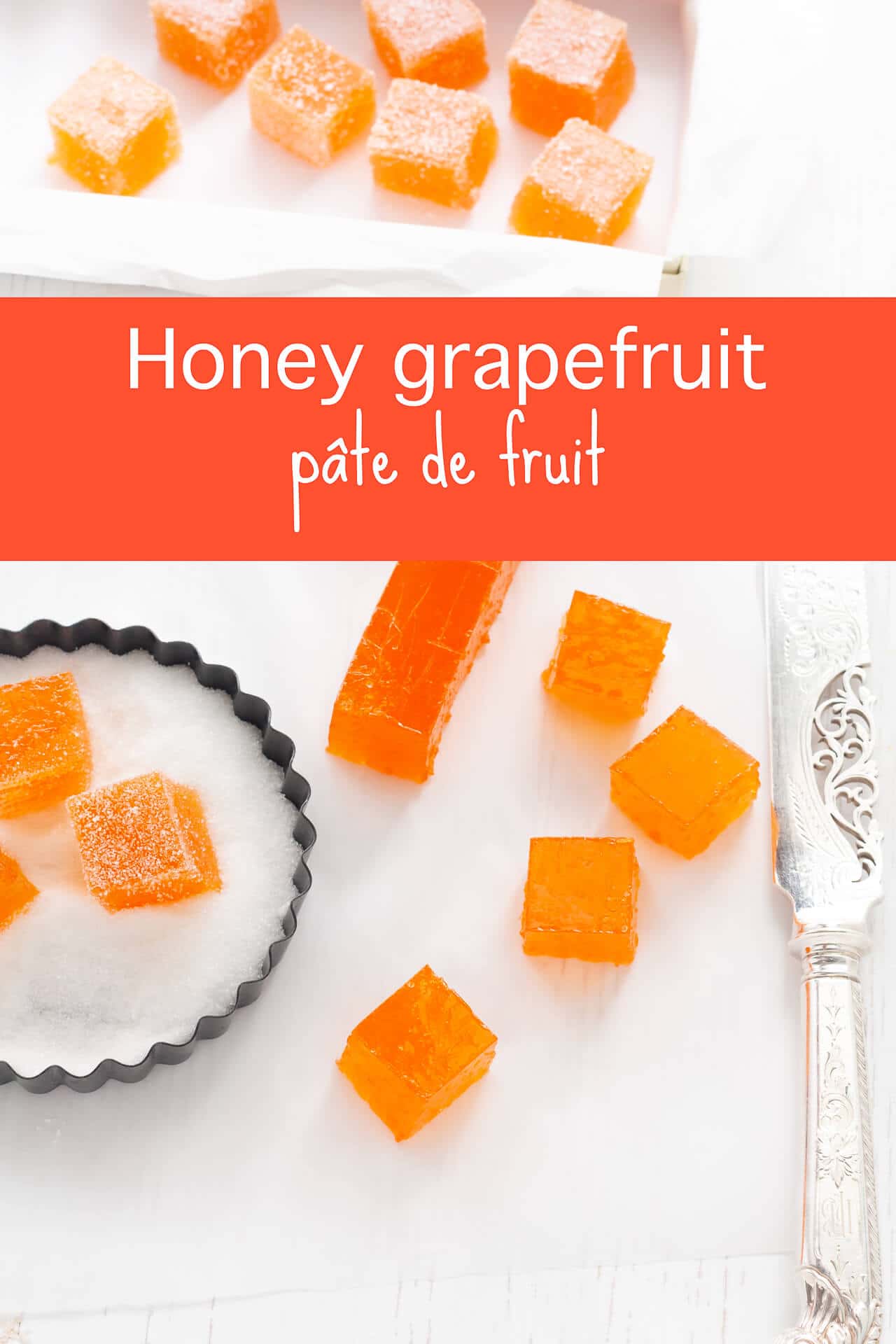 Honey grapefruit pâte de fruit recipe
These grapefruit honey pâte de fruit might be the best thing that have come out of my kitchen so far this year. They are bite-sized homemade grapefruit candies that are intensely grapefruit and the flavour of honey is just right, not overwhelming.
The recipe is adapted from Gaston Lenôtre's pâte de fruit recipe (with a little help from Zoe Bakes), but I added in a few extra weights and a final cooking temperature to make this recipe more foolproof.
Note that this pâte de fruit recipe calls for liquid pectin, not pectin powder. I used Certo brand liquid pectin that is readily available on Amazon and also in grocery stores in Canada. In the US, you may have more luck finding Ball liquid pectin, which you can also order from Amazon.
Grapefruit honey pâte de fruit
These grapefruit pâte de fruit are bite-sized homemade candies with an intensely grapefruit taste and honey flavor
Ingredients
1

whole grapefruit

,

~330 grams, washed

333

grams

freshly squeezed pink grapefruit juice

,

1 ¼ cups

200

grams

honey

,

½ cup + 1 ½ tbsp

1

tablespoon

corn syrup

,

because I was concerned about crystallization since my honey was crystallized in the jar

400

grams

granulated sugar

,

2 cups

14

grams

unsalted butter

,

1 tbsp

2

packages

liquid pectin,

I used Certo brand

granulated sugar

,

to coat the squares of pâte de fruit
Instructions
Grease and line an 8×8-inch square pan with parchment, making sure that the parchment runs up the sides. I like to use metal 8x8-inch square pans like this one on Amazon. Open the liquid pectin packets and stand them up in a mug or a glass by the stove for later.

Bring a medium pot of water to boil, and boil the whole grapefruit for about an hour to ensure the peel has softened. Let cool slightly, then cut the boiled grapefruit in half. You will only need one half for a batch of pâte de fruit—I suggest you make a quick jam with the other half.

Cut the boiled grapefruit half in large chunks, removing any pits along the way. Place the grapefruit in a food processor and blend for at least a full minute to completely purée the fruit and to chop all the fibers/skin.

Transfer the fruit purée to a large pot, along with the juice, honey, and granulated sugar. Bring the mixture to a boil on high, stirring constantly. Monitor the temperature with a digital candy thermometer (like this probe thermometer from Thermoworks: the DOT).

When the mixture hits 118ºF (48ºC), add the butter, and continue to stir and cook the mixture until it hits 223—224ºF (106ºC).

When you reach the final cooking temperature, immediately take the pot off the stove and dump in the liquid pectin. Stir well to make sure it gets evenly mixed in, then transfer the hot mixture to the prepared pan.

Let the pâte de fruit set overnight, uncovered, until it is completely set throughout. Unmold the pâte de fruit, and cut it into 1-inch squares with a large, oiled kitchen knife and, just before serving, toss the cubes in granulated sugar to coat them. Store the uncoated pâte de fruit between parchment sheets.
Give back
If you enjoy the free content on this website, say thank you!
Notes
Nutrition
Calories:
39
kcal
|
Carbohydrates:
9
g
|
Potassium:
15
mg
|
Sugar:
9
g
|
Vitamin A:
50
IU
|
Vitamin C:
2.6
mg
|
Calcium:
1
mg