Learn how to make the best maple pumpkin bread with this easy recipe. This moist pumpkin cake is sweetened with maple sugar and maple syrup, iced with a thick layer of maple butter and garnished with maple flakes for the ultimate maple-flavoured dessert.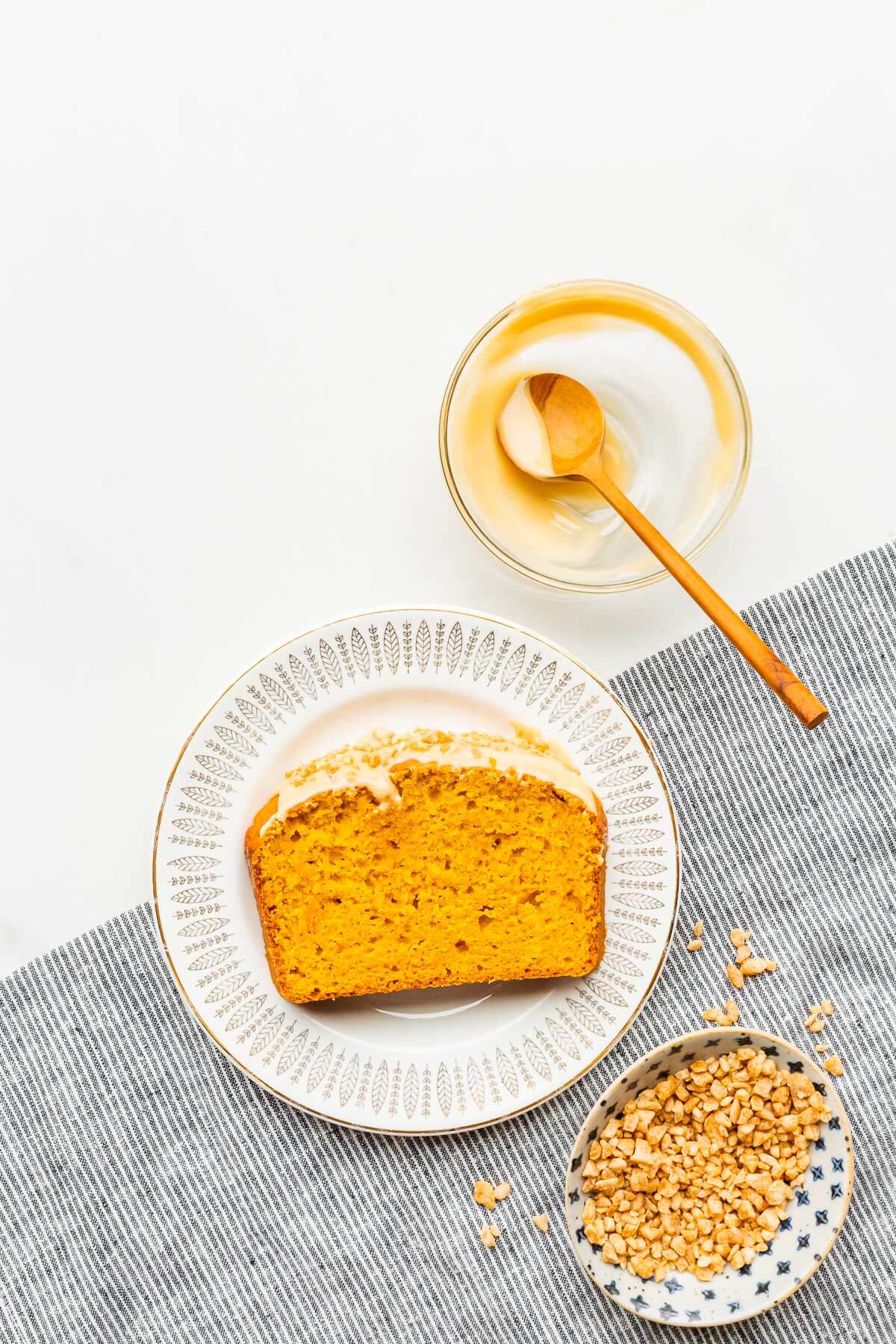 Disclosure: As an Amazon Associate, I earn from qualifying purchases.
If you aren't into the traditional pumpkin spices and fall flavours of most pumpkin loaf cake recipes, this maple pumpkin bread is for you!
This is the perfect recipe to make if you have a leftover cup of pumpkin purée and you don't know what to do with it. Recipes you can make with canned pumpkin include pumpkin tarts, pumpkin spice shake, baked pumpkin donuts, and even cute pumpkin whoopie pies. Some of these recipes take less than a can's-worth of pumpkin, so you might have some left over.
Jump to:
Ingredients
Pumpkin loaf cakes including this maple pumpkin bread are made with a simple list of ingredients. Here's what you need to make this: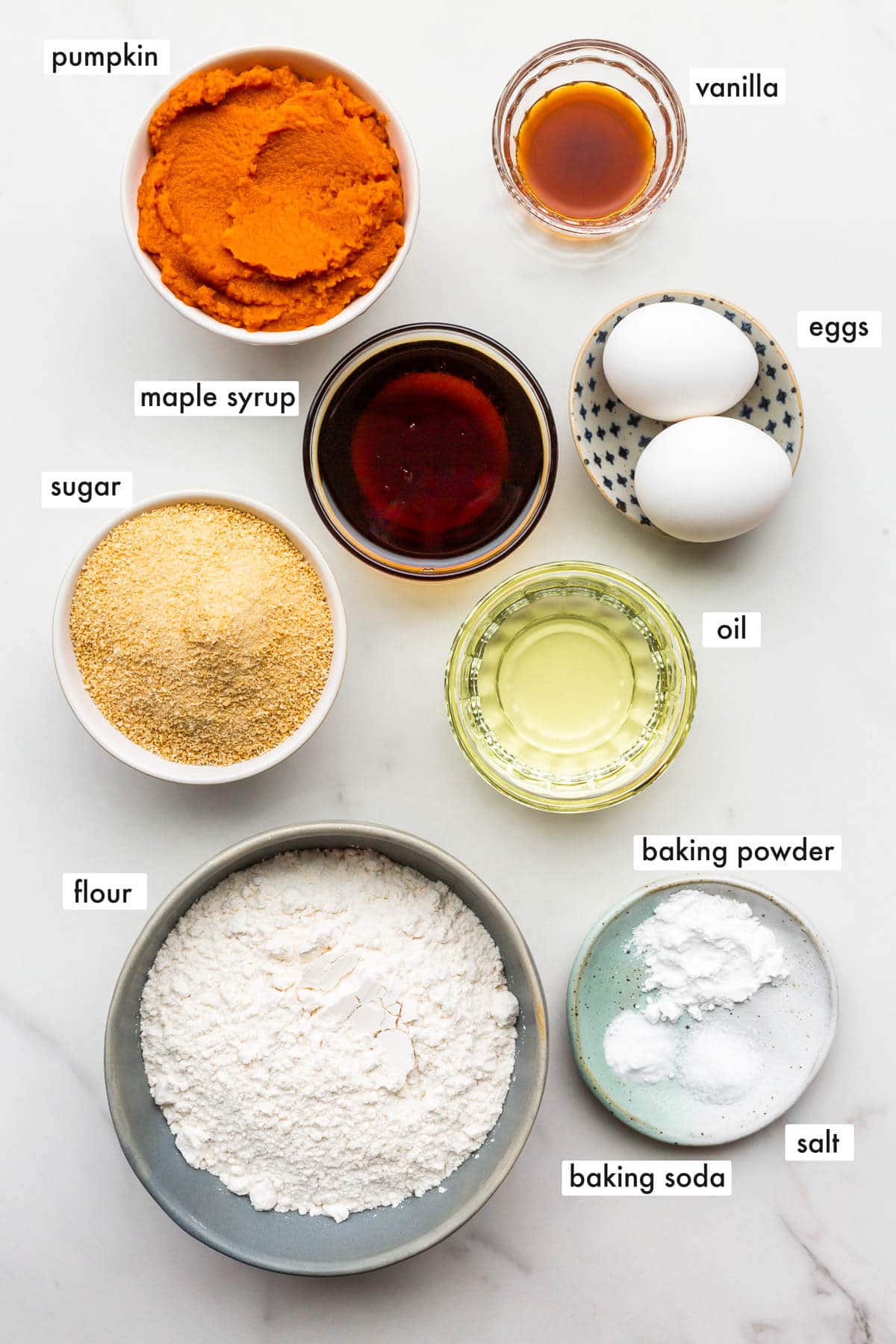 flour, specifically bleached all-purpose flour—do not substitute alternative flours unless you are prepared to do a few tests to tweak the quantities
leavening agents, specifically both chemical leaveners baking powder and baking soda
salt, specifically Diamond Crystal fine kosher salt, though regular table salt will work (use less as it's saltier)
pumpkin purée or strained homemade pumpkin purée
eggs, specifically large eggs
maple in the form of both pure maple syrup and maple sugar to provide as much flavour
oil, specifically canola oil or a neutral-tasting oil
optional garnishes include maple butter which works beautifully as icing on top and maple flakes to add more maple flavour and a lovely texture to the top.
See recipe card for quantities.
Remember when you want to make a baking substitution where you are replacing a granular sugar product (either white sugar or brown sugar) with a liquid sugar, like honey or maple syrup, it's best to only replace a portion of the sugar, and not all, to maintain the texture of the cake and also to avoid having to make other adjustments to the recipe. This is why we used a combination of maple sugar and maple syrup here.
Substitutions and Variations
With its simple list of ingredients, there are a limited number of substitutions and variations that you can make without messing with the balance of ingredients. Here are a few options:
Oil—instead of canola oil, you can use 115 grams (½ cup) of melted butter)
Maple sugar—use regular granulated sugar or light brown sugar if you can't find maple sugar
Pumpkin spice—if you like to add warm spices to your pumpkin bread, you can add pumpkin spice or a mixture of cinnamon, ginger, cloves, and nutmeg (at least 5 mL or 1 teaspoon should work here)
For an eggless version of this recipe, try this healthier pumpkin bread, which is also low in sugar, dairy-free, and vegan.
How to Make It
Pumpkin loaf cakes are quick breads made using a two-bowl mixing method, also known as the muffin method, where the wet ingredients are mixed separately from the dry ingredients before combining the two.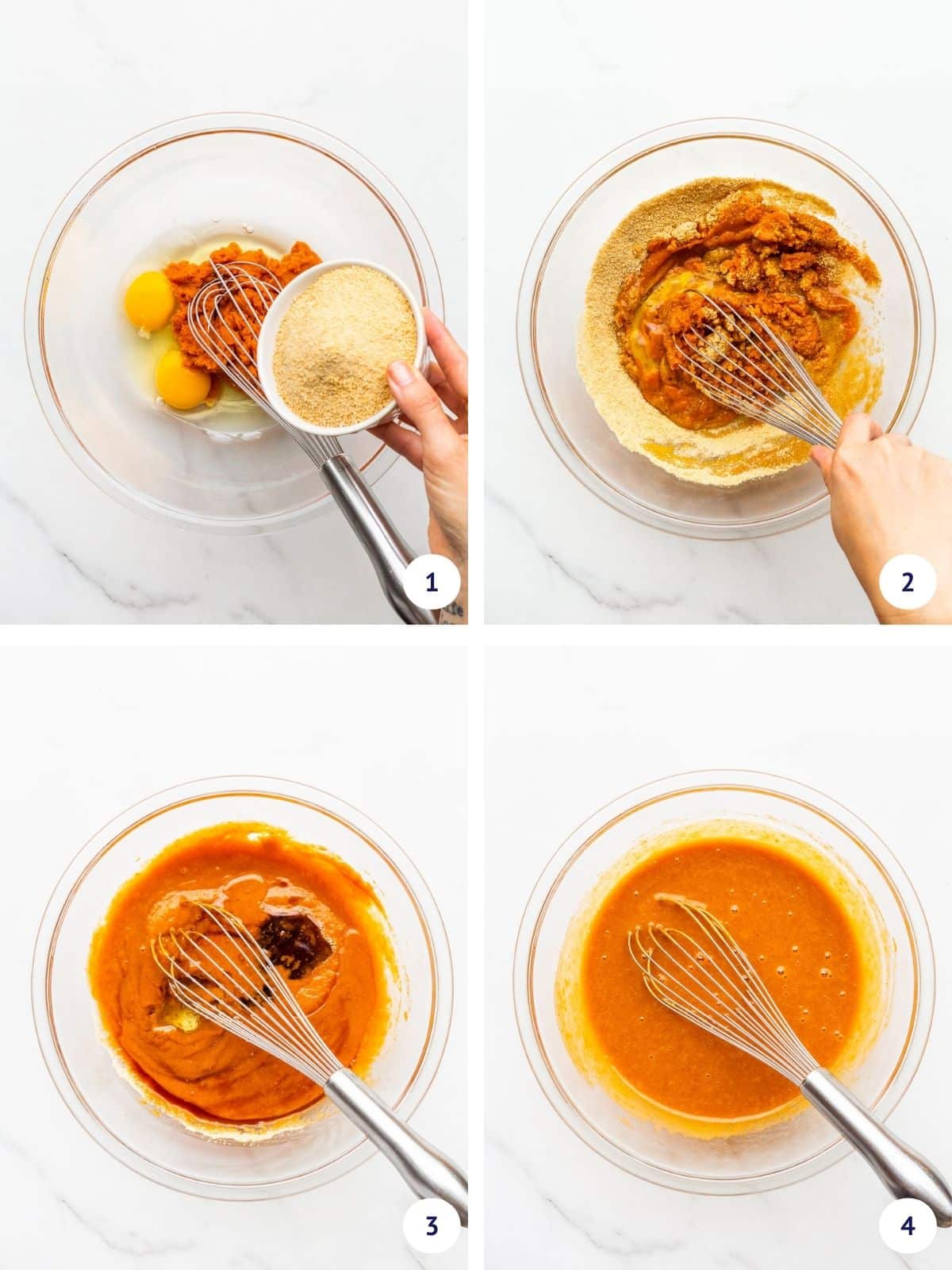 Step 1: combine the pumpkin, eggs, and maple sugar in a bowl (image 1) and whisk them to combine (image 2), then whisk in the oil, vanilla, and maple syrup (image 3). The wet ingredients should be quite smooth (image 4).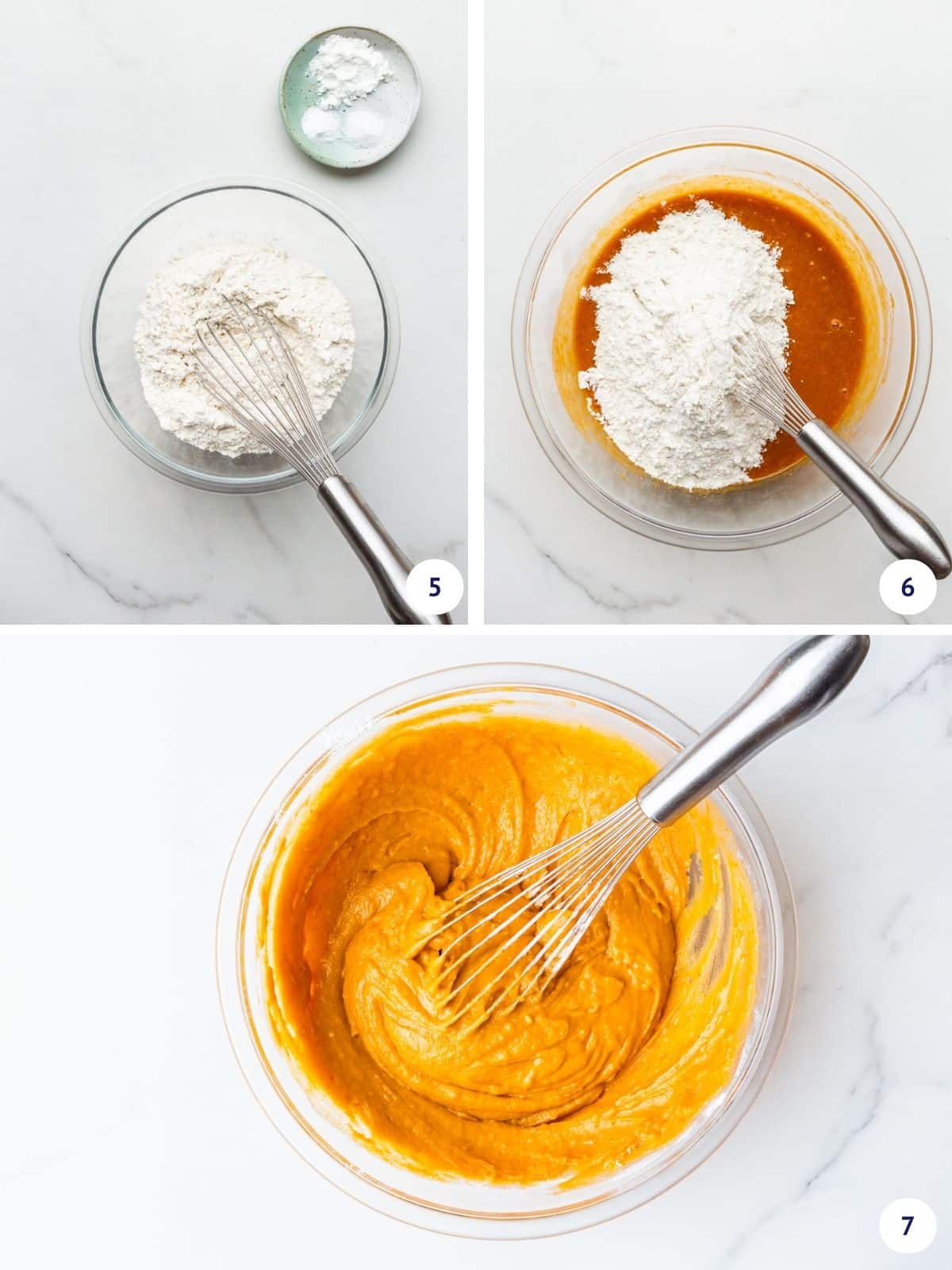 Step 2: whisk together the dry ingredients (flour, baking powder, salt, and baking soda) until evenly combined (image 5), then pour the dry ingredients over the wet ingredients (image 6). Whisk the two components together until combined and thick but fairly smooth (image 7).
Step 3: Transfer the pumpkin batter to a prepared loaf pan and smooth it from edge to edge so that it's even (image 8). You can score down the middle of the batter in the pan using a greased bench scraper to ensure that the bread cracks down the middle when it bakes (image 9).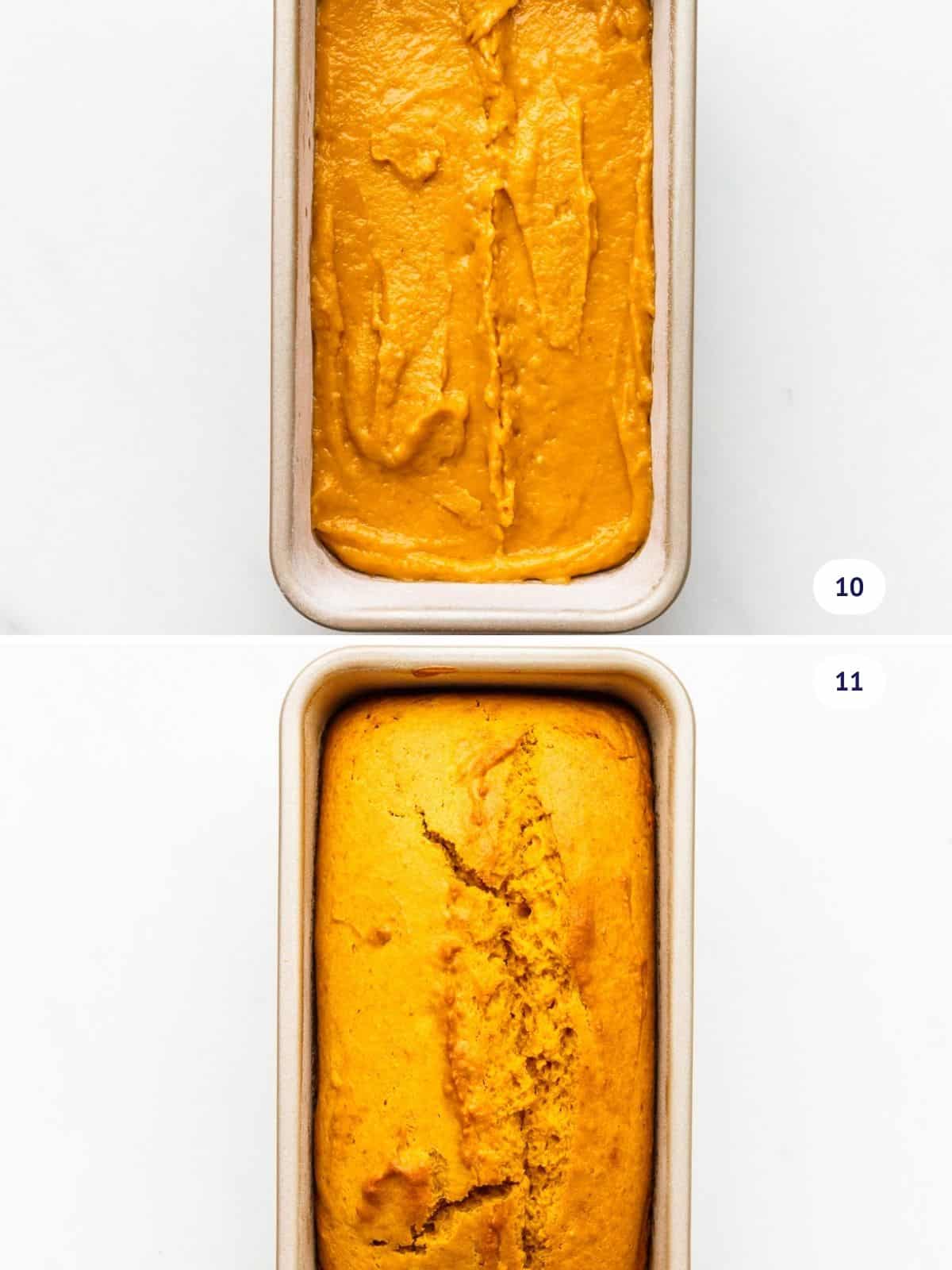 Step 4: bake the loaf cake until the edges begin to brown and pull away from the sides (image 11). Use a cake tester to check if the cake is done baking.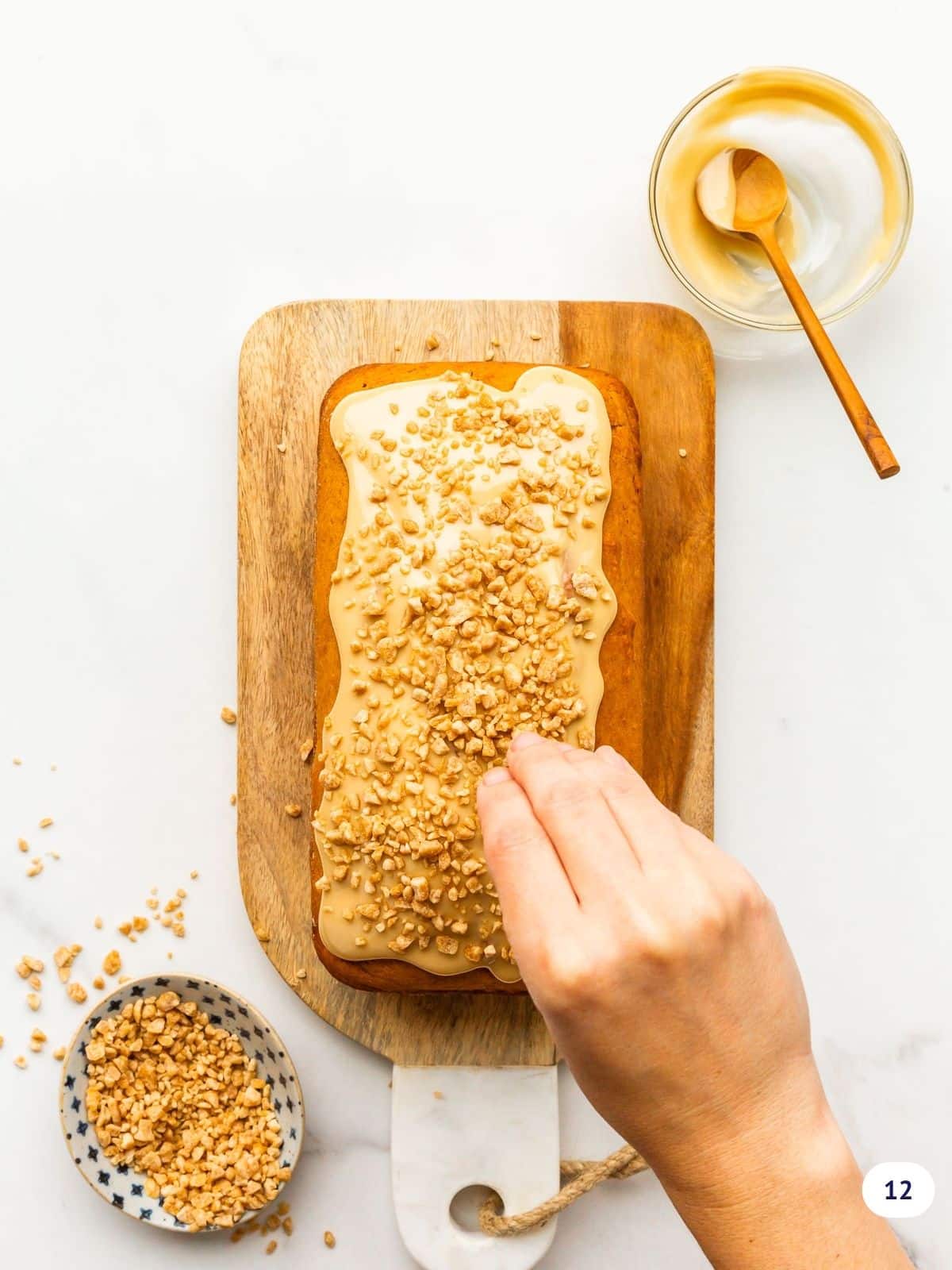 Step 5: Garnish the cooled pumpkin bread with maple butter and maple flakes to give it even more maple flavour (image 12).
Canned Pumpkin Versus Homemade Purée
For the pumpkin purée, you can use canned pumpkin or you can use homemade pumpkin purée, made by roasting a sugar pumpkin until the flesh is soft, then puréeing the flesh until smooth. If you do so, I highly recommend you strain the pumpkin purée through a few layers of cheesecloth to remove extra moisture. That moisture may lead to a gummy layer on the bottom just like with banana bread because the cake doesn't bake through.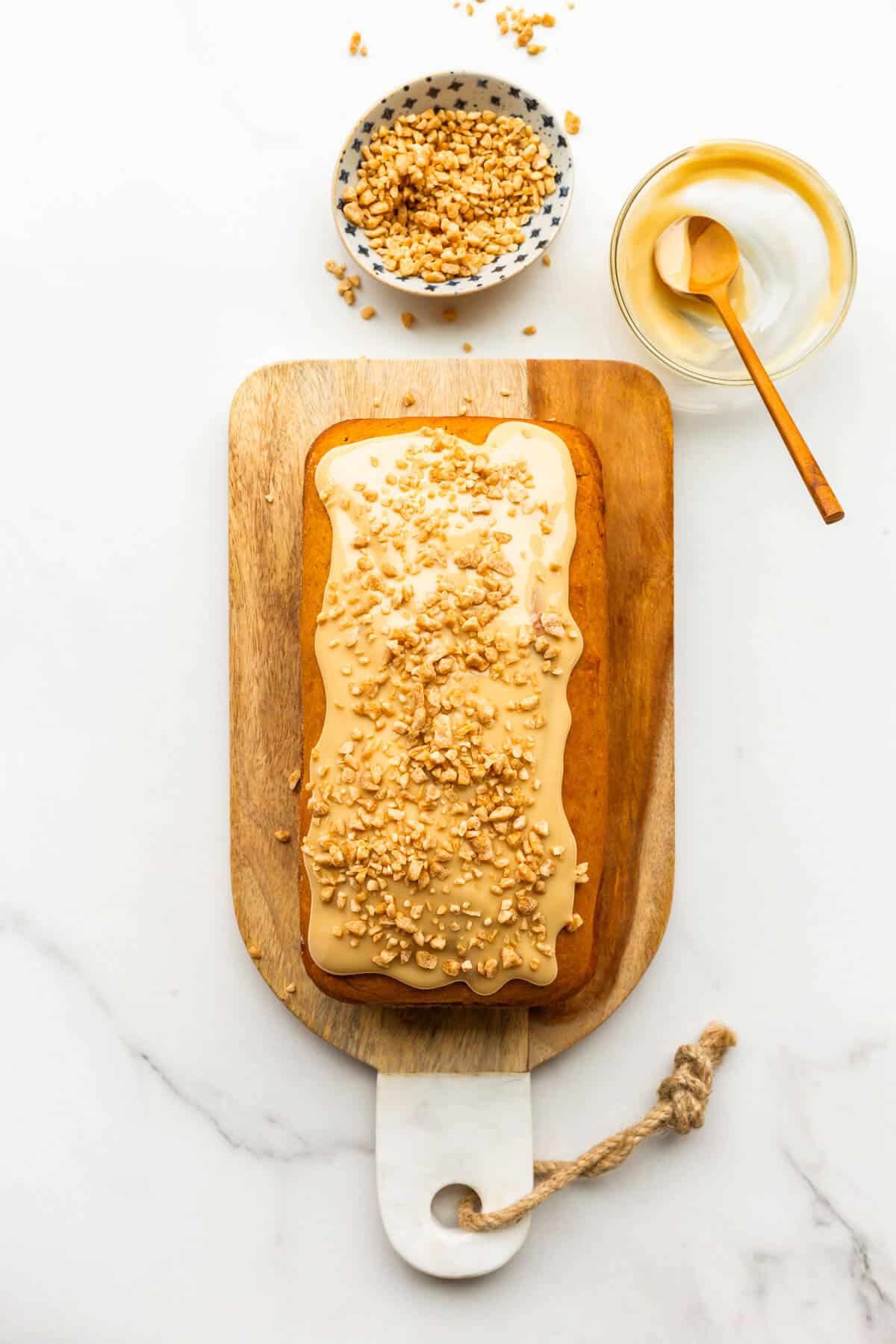 Top tip
Unmould the loaf cake onto a cooling rack to allow it to cool faster. This will also promote better air circulation on the edges, drying them out slightly so that the edges are firmer and not tacky or wet.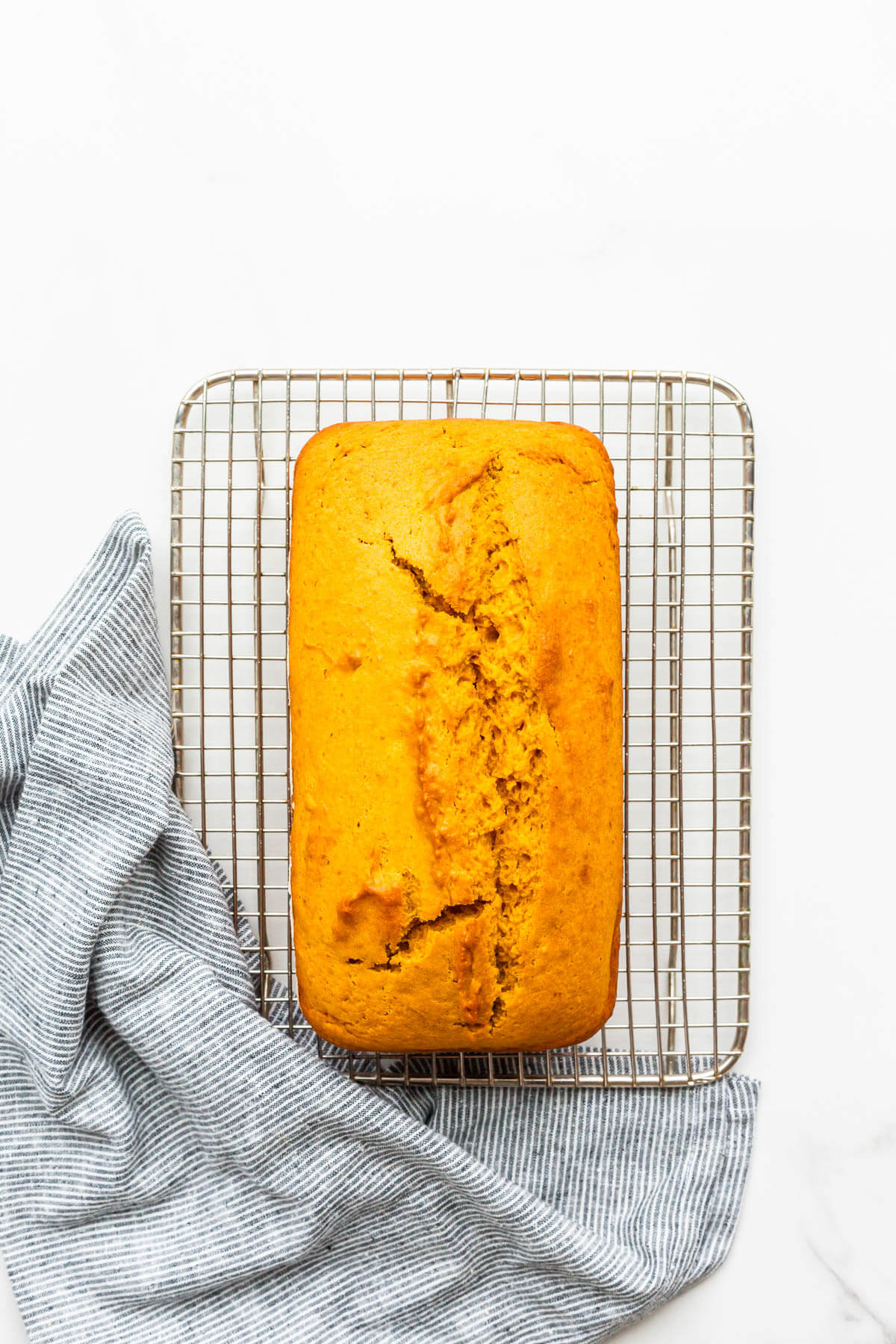 In general, always take the time to check if your cake is done baking using visual cues, touching the surface of the loaf gently to make sure it bounces back and feels set, and poking a skewer or cake tester through the middle to make sure the loaf is baked in the centre. Take the time to use several methods to check if the cake is done before pulling it out of the oven, or you might find that your cake sinks as it cools.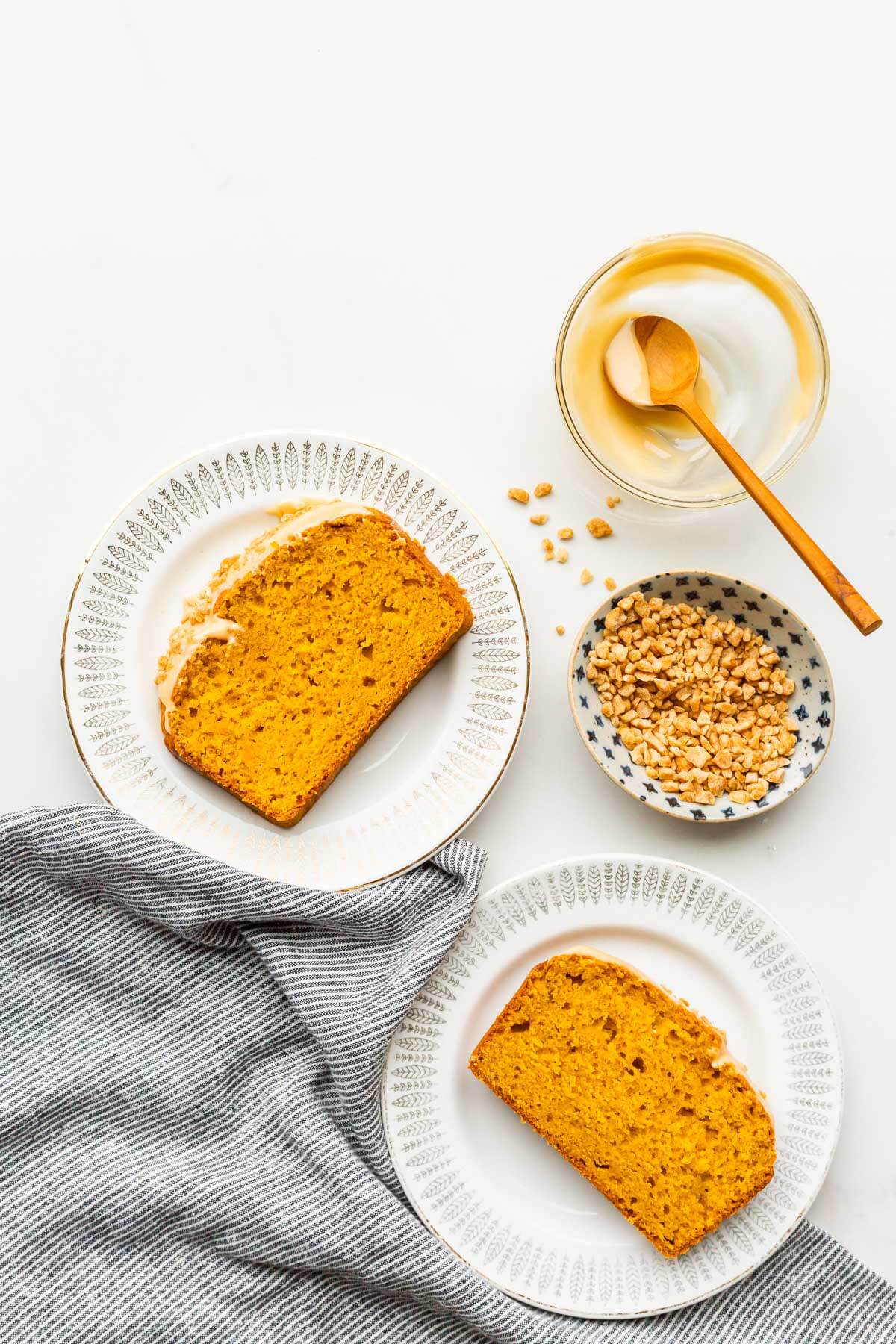 Pumpkin Bread FAQs
Why does my pumpkin bread taste bland?
Pumpkin breads are not very flavourful on their own. This is why pumpkin spice is often incorporated with the dry ingredients: the combination of cinnamon, ginger, nutmeg, and cloves brings a ton of flavour to the cake. In general, maple-flavoured desserts may benefit from resting overnight sot that the flavours develop. The maple flavour is more prominent a day after baking.
How do I prevent my pumpkin bread from getting moist?
Unmould the loaf cake onto a cooling rack to allow it to ensure better air circulation on the edges, drying them out slightly so that the edges are firmer and not tacky or wet. If the cake crumb is too moist, it could mean you have too much pumpkin purée or not enough leavening agents which may cause a denser, wet or gummy texture.
Why won't my pumpkin bread bake?
If you find that your pumpkin bread is never properly baked through, it could mean you have the wrong ratio of pumpkin to flour (not enough flour or too much pumpkin) or it could mean you don't have enough baking soda. With too little baking soda, the batter lacks the oomph it needs to rise tall and open up the crumb.
How do you store pumpkin bread?
I cover the pumpkin bread with foil and store it in a cool, dry place. It doesn't have to be refrigerated if you are consuming it within 3 or 4 days. For longer storage, you may opt to store it sliced in the freezer.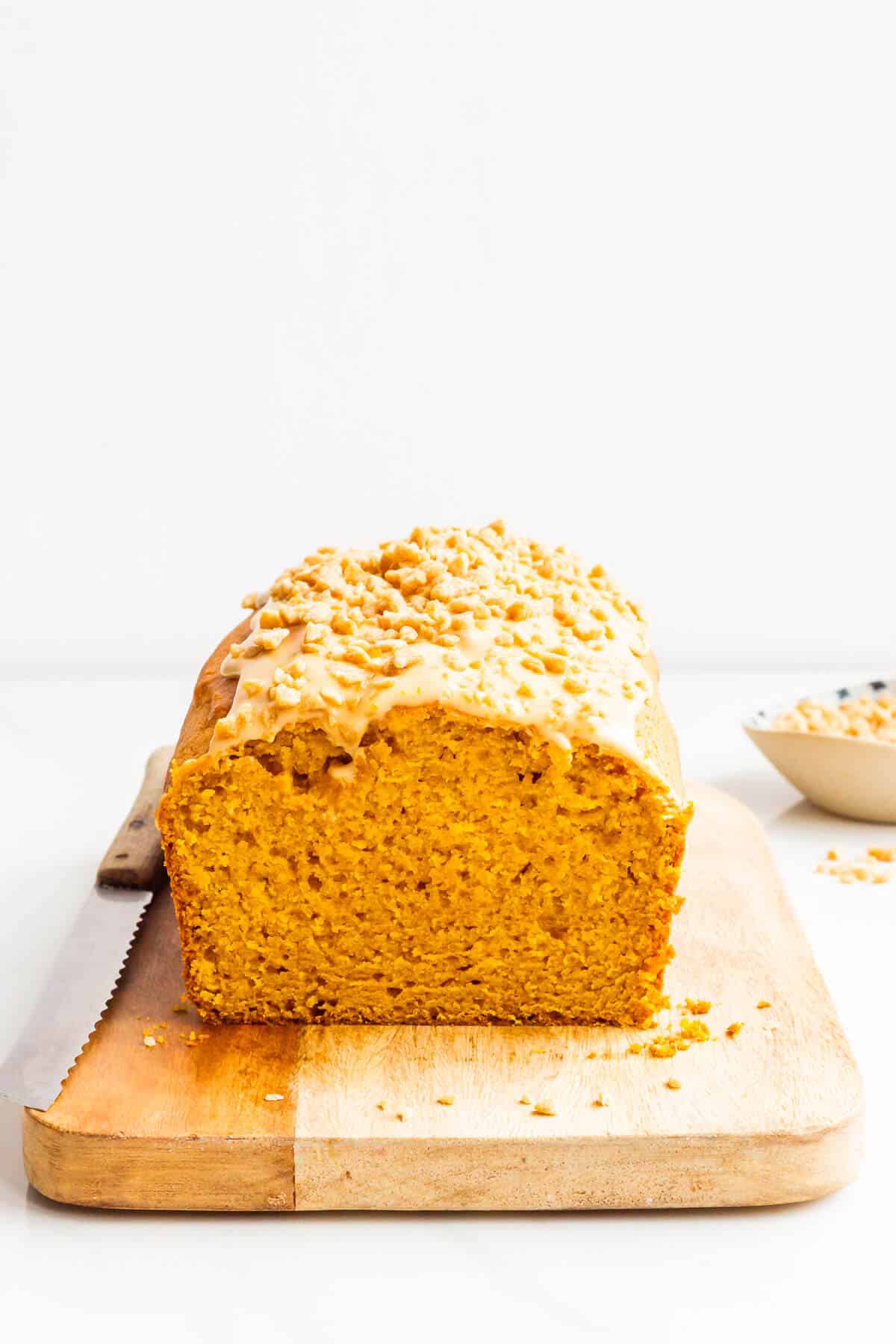 Other Maple-flavoured Baking Recipes
I kept the flavourings in this cake very simple: it's all about the maple and the pumpkin. The cake is not overly sweet, but the topping of maple butter and maple flakes not only makes this loaf cake super pretty to look at, but also adds an extra hit of real maple flavour that can sometimes get lost in the baking.
Looking for other maple recipes like this? Try these:
📖 Recipe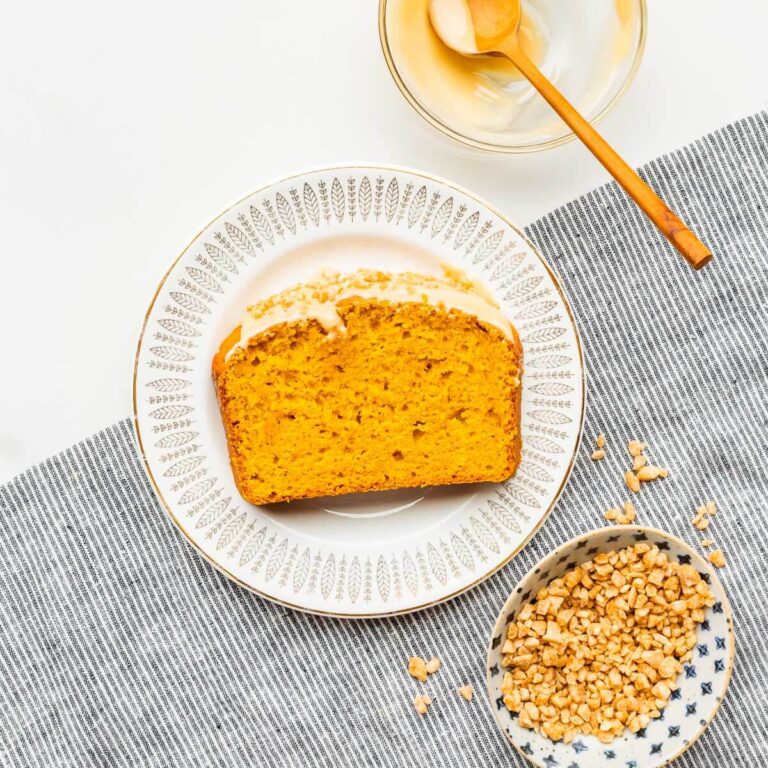 Maple Pumpkin Bread
Learn how to make the best maple pumpkin bread with this easy recipe. This moist pumpkin cake is sweetened with maple sugar and maple syrup, and then iced with maple butter and sprinkled with maple flakes to get the most maple flavour.
Instructions
Preheat the oven to 350 °F (175 °C).

In a large bowl, whisk together the flour, baking powder, salt, and baking soda. Set aside.

In a separate bowl, mix together the pumpkin, eggs, maple sugar, oil, maple syrup, and vanilla.

Pour the dry ingredients over the wet ingredients and stir to combine.

Pour the cake batter into the prepared pan, smoothing the top.

Bake for about 55 minutes or until a cake tester inserted into the middle of the loaf comes out clean.

Let cool for about 15 minutes or so before unmolding.

Cool completely before serving.
Optional garnishes
Once the cake has cooled and before serving, you can ice the top of the loaf cake with a thick layer of maple butter and sprinkle with maple flakes
Notes
The maple sugar that I used was similar to this brand on Amazon
Nutrition
Calories:
458
kcal
Carbohydrates:
74
g
Protein:
5
g
Fat:
16
g
Saturated Fat:
2
g
Polyunsaturated Fat:
5
g
Monounsaturated Fat:
10
g
Trans Fat:
0.1
g
Cholesterol:
41
mg
Sodium:
196
mg
Potassium:
359
mg
Fiber:
2
g
Sugar:
44
g
Vitamin A:
5096
IU
Vitamin C:
1
mg
Calcium:
121
mg
Iron:
3
mg