These cheddar bacon biscuits with bourbon maple glaze are fantastic. You can't go wrong adding bacon to a biscuit dough, along with shredded cheese. And the thyme in the glaze really brings out that oaky barrel-aged flavour of bourbon and works so well with maple.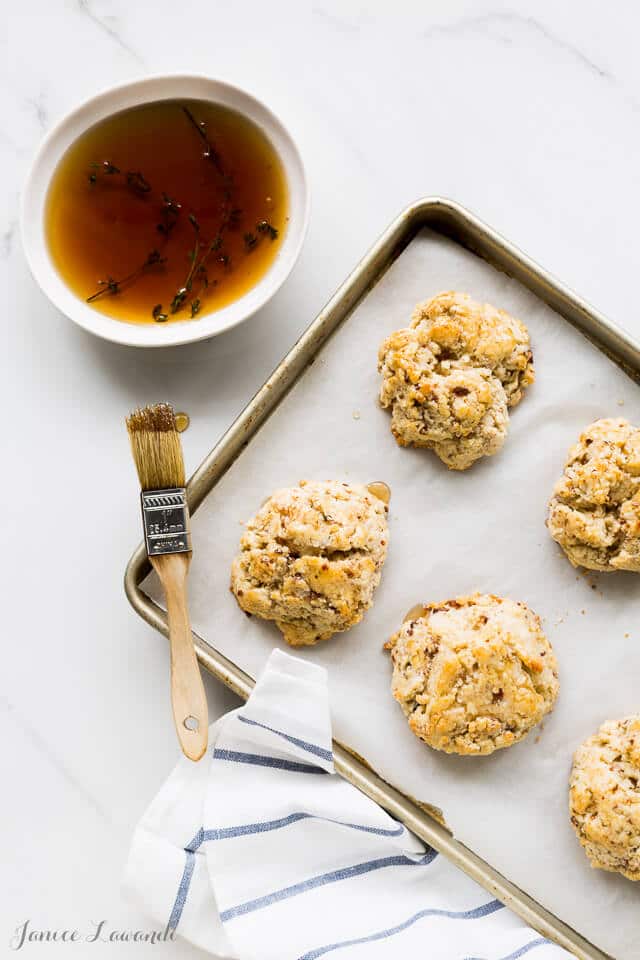 Disclosure: As an Amazon Associate, I earn from qualifying purchases.
The traditional biscuit ratio is 1-2-3, meaning 1 part fat, 2 parts liquid, 3 parts flour, by weight, and in this recipe cheddar bacon biscuits, the ratio is pretty much that. The great thing about working with a ratio, like the 1-2-3 biscuit ratio, is that you can use the recipe as a jumping-off point and get creative.
As long as the ratio stays the same, you can add ingredients like chopped cooked bacon, shredded cheese, fresh herbs or dried, etc. What sets this recipe apart, besides the bacon and cheddar incorporated in the biscuit dough, is the thyme-infused maple glaze that adds so much flavour and sweetness to balance the salty biscuits. These biscuits are perfect if you ask me.
This technique of infusing maple with herbs and a little bourbon is a great way to add even more depth to maple syrup and so this is a maple syrup recipe to keep in mind for future uses! This recipe will leave you with some leftover bourbon maple syrup, perfect for spiced pancakes. Yum!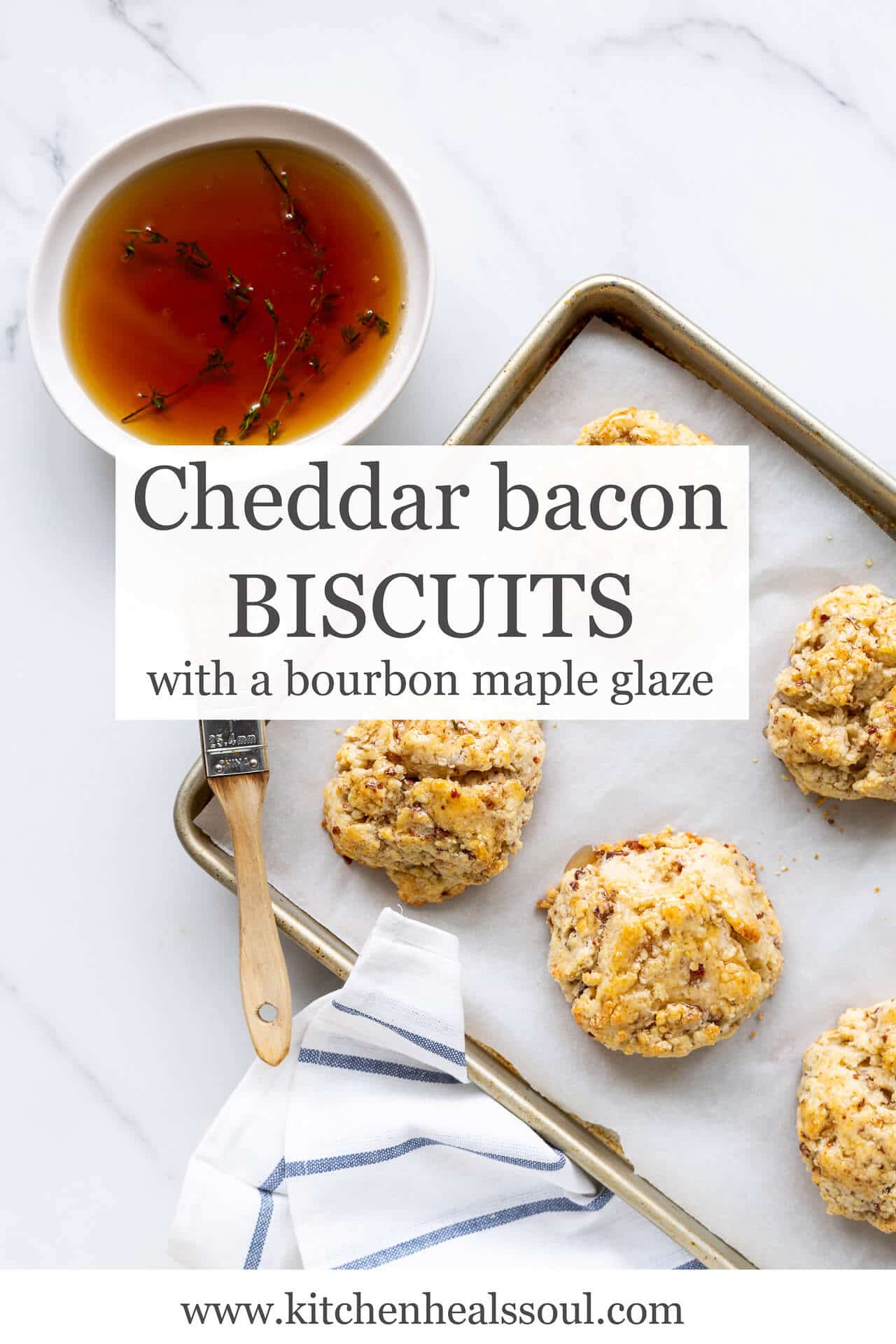 Using the food processor for the dough makes this recipe so easy, just like the food processor is an essential tool for making pies faster. I use the big 11-cup Cuisinart that I got on Amazon for the job. You could also do the work by hand, using your fingertips, and that's how I make most scone recipes.
📖 Recipe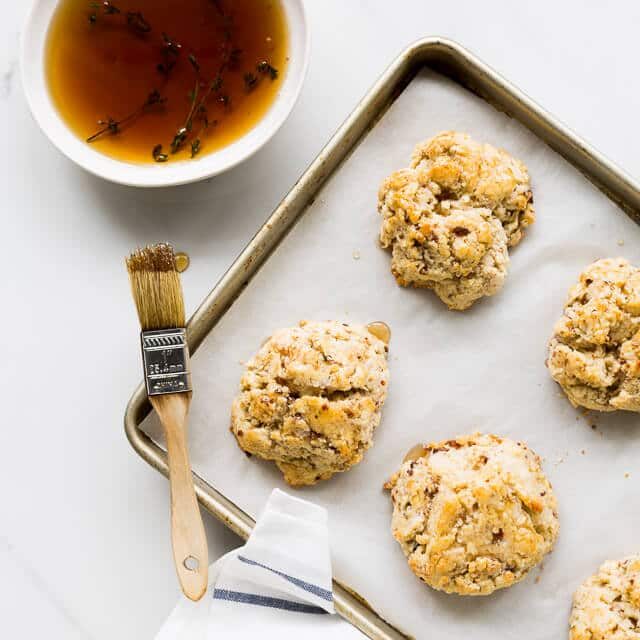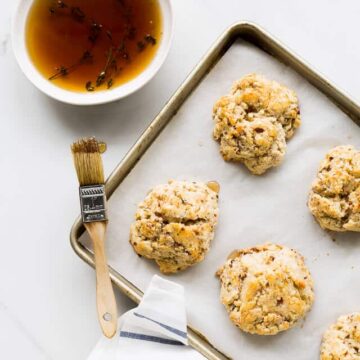 Bourbon-maple glazed cheddar bacon biscuits
These cheddar bacon biscuits are easy to make (done in the food processor) and topped with a bourbon maple glaze infused with fresh thyme after baking for the ultimate salty-sweet combination
Ingredients
Biscuit dough (1 pound)
230

grams

bleached all-purpose flour

20

mL

baking powder

85

grams

unsalted butter

150

mL

whole milk (3.25 % fat)

cold
Bourbon-maple glazed cheddar bacon biscuits
450

grams

biscuit dough (recipe above)

170

grams

bacon

uncooked

250

mL

pure maple syrup

45

mL

bourbon

30

sprigs

fresh thyme

58

grams

extra-sharp white cheddar cheese

grated
Instructions
Preheat oven to 425 °F (220 °C). Heat a large flat skillet over medium heat. Cook bacon for about 25 to 30 minutes, flipping with tongs every five minutes until crispy (this took me less than 25 minutes, to be honest). Transfer to a paper towel–lined plate. Once cool enough to handle, chop into fine pieces.

Bring maple syrup, bourbon and thyme to a boil in a small saucepan. Reduce heat to maintain a slow boil and cook for about 10 to 15 minutes, until liquid is reduced by a third. Set aside.

Pulse flours, salt, and baking powder in the bowl of a food processor. Add chopped bacon and grated cheddar to the dry ingredients.

Chop butter into ½-inch cubes. Add to flour mixture. Pulse for 1 to 2 seconds 8 to 12 times, until mixture resembles coarse cornmeal.

Add milk and pulse 2 to 4 times, until dough begins to come together. It will form a few large chunks and many small ones.

Transfer dough chunks to a very lightly floured surface and push together. Knead 3 to 5 times, until dough just holds its shape. Take care not to knead the dough too much or add too much flour, which can make the biscuits tough.

Pull dough apart with your hands into six chunks and arrange them on a parchment paper–lined baking sheet.

Bake for about 12 minutes, until biscuits just begin to turn light golden. Remove thyme sprigs from infused syrup and discard. Brush biscuits with glaze while they are still warm.

Serve.
Notes
This recipe was adapted from Making Dough: Recipes and Ratios for Perfect Pastries by Russell Van Kraayenburg, published by Quirk Books. You can find it on Amazon. While you wait for your order, here's the recipe for the basic biscuit dough as well as the bourbon-maple glazed cheddar bacon biscuits variant. I made the following changes from the original recipe in the book:
the ingredients list  for this recipe in the book includes only baking powder, which is fine except the directions state to add "the baking soda". Most of us know that baking soda and baking powder are not the same chemical leaveners. And I knew right away that the author most probably meant baking powder, firstly because no recipe would ever call for 4 teaspoon of baking soda unless we were working on a kilo scale recipe, and secondly because there isn't an acid present in the recipe to react with that baking soda. Clearly baking powder was the correct ingredient to use. I deduced this and you probably would too, but we can't expect every reader to come to the same conclusion. I fear somebody may read the directions and add 4 teaspoon baking soda instead of 4 teaspoon baking powder. Yikes! That would be inedible, if that happened. Use baking powder! They aren't interchangeable.
Nutrition
Calories:
552
kcal
Carbohydrates:
62
g
Protein:
11
g
Fat:
27
g
Saturated Fat:
14
g
Cholesterol:
62
mg
Sodium:
591
mg
Potassium:
600
mg
Fiber:
2
g
Sugar:
26
g
Vitamin A:
739
IU
Vitamin C:
8
mg
Calcium:
317
mg
Iron:
3
mg