Become a better baker with these handy baking conversion charts that will help you quickly convert in the kitchen. With these charts, you will be able to convert volumes to weight (cups to grams or cups to ounces), oven temperatures (degrees Fahrenheit to Celsius to gas marks), and volumes to volumes (cups to millilitres). There's even a detailed pan conversions chart to guide you with bakeware swaps when you bake.
Jump to: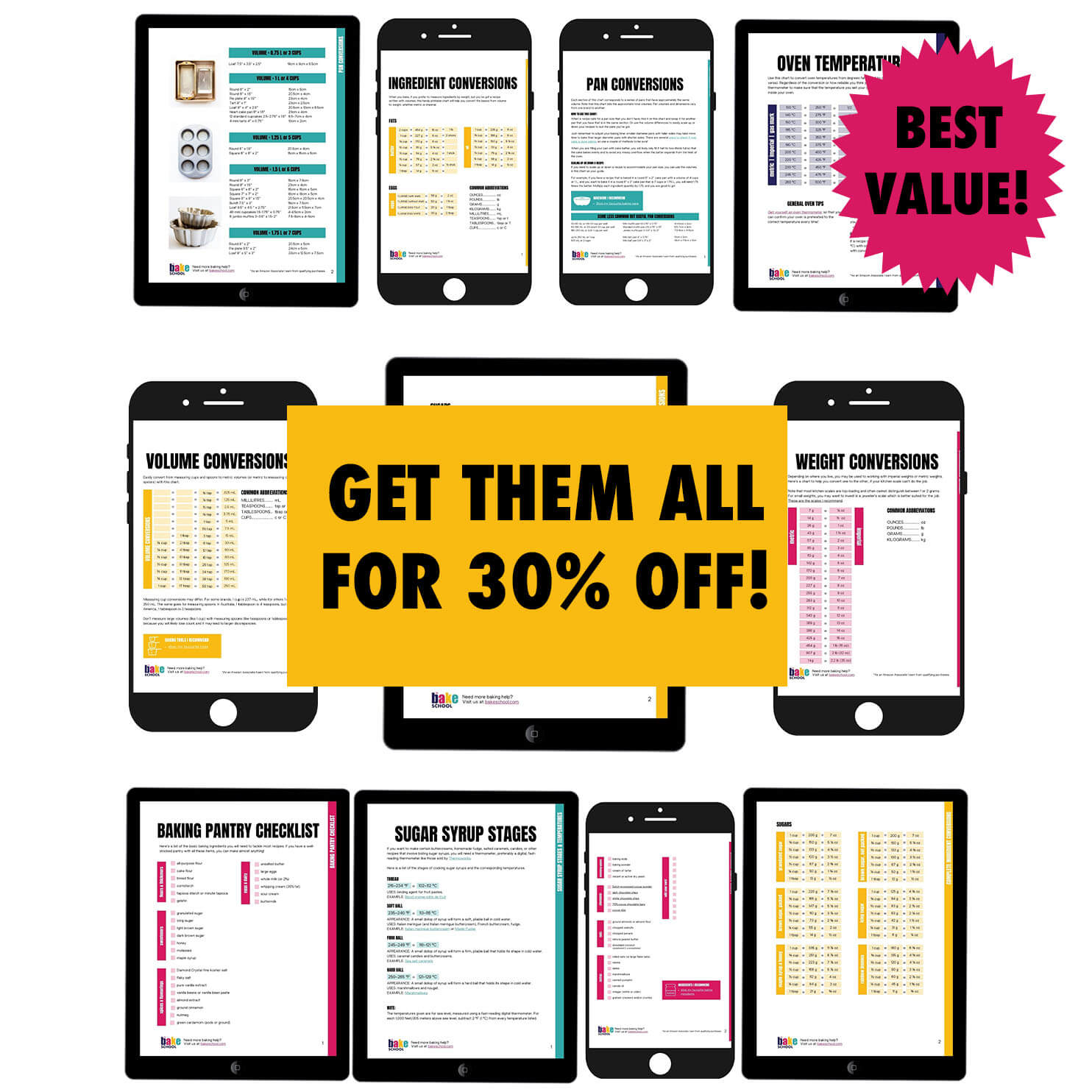 Baking conversions chart bundle
In this 18-page bundle, you'll get all the conversions you'll need so that you can take the guesswork out of baking. These charts will help you bake more successfully and achieve more consistent results!
What you'll get in the bundle
When you buy the baking conversions bundle, you'll receive 18 pages worth of detailed charts with tips and tricks:
a baking pantry checklist
a baking cheatsheet
an oven temperature conversion chart (Fahrenheit/Celsius/gas mark)
a volume–volume conversion chart (cups, tablespoons, teaspoons, and millilitres)
a weight–weight conversion chart (grams/ounces)
a volume–weight baking ingredient conversion chart (cups to grams/ounces)
a baking pan conversion chart (dimensions in inches and centimetres and volumes in cups and millilitres)
a chart of sugar syrup stages and temperatures (Fahrenheit and Celsius)
If you would like all eight (8) charts listed, BUY THE BUNDLE!
Total value of bundle: $35.70
Get all 8 charts at 30 % off for only $24.99!
Who should get this bundle of baking conversion charts?
This bundle isn't just for advanced bakers. These charts will serve both beginner and advanced bakers too. Buy the bundle if you are interested in:
baking recipes from other countries that favour different measuring systems
exploring candy-making
starting out on your baking journey and setting up your kitchen for the first time
adapting recipes for a variety of bakeware and not just the pans listed in your recipes
developing new recipes
Please note that the products listed on this page are PDFs. You will receive a link to download the PDFs you order in your inbox after your order is placed. The files can be downloaded and printed.
Baking Conversion Charts Bundle
If you would like all eight (8) charts listed, BUY THE BUNDLE!
Total value of bundle: $35.70 USD
Get all 8 charts at 30 % off: $24.99 USD!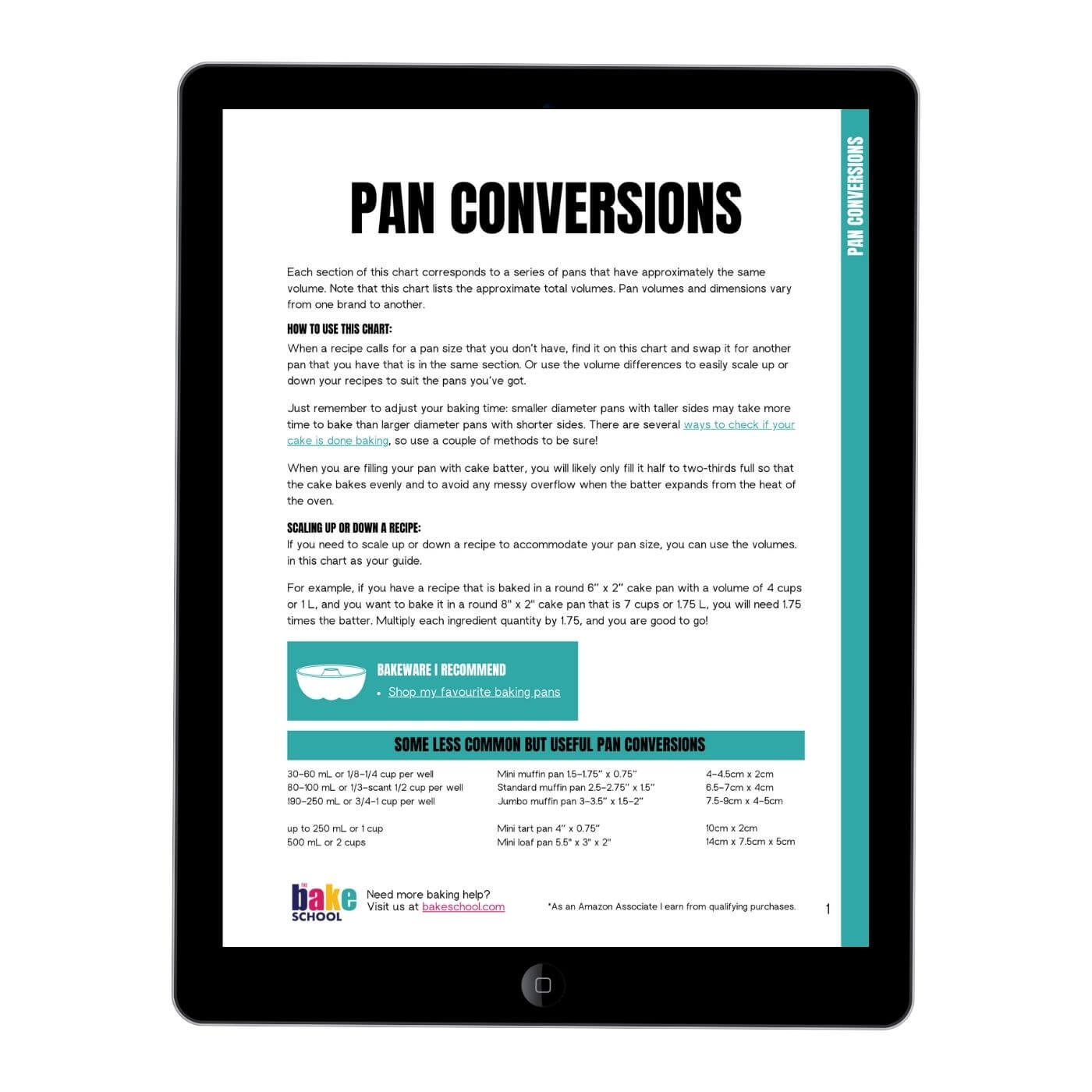 Pan conversions chart
Use this baking pan size conversion chart to help you swap cake pans in a recipe. Learn how to find out which pans are equivalent and how to convert from one cake pan size to another.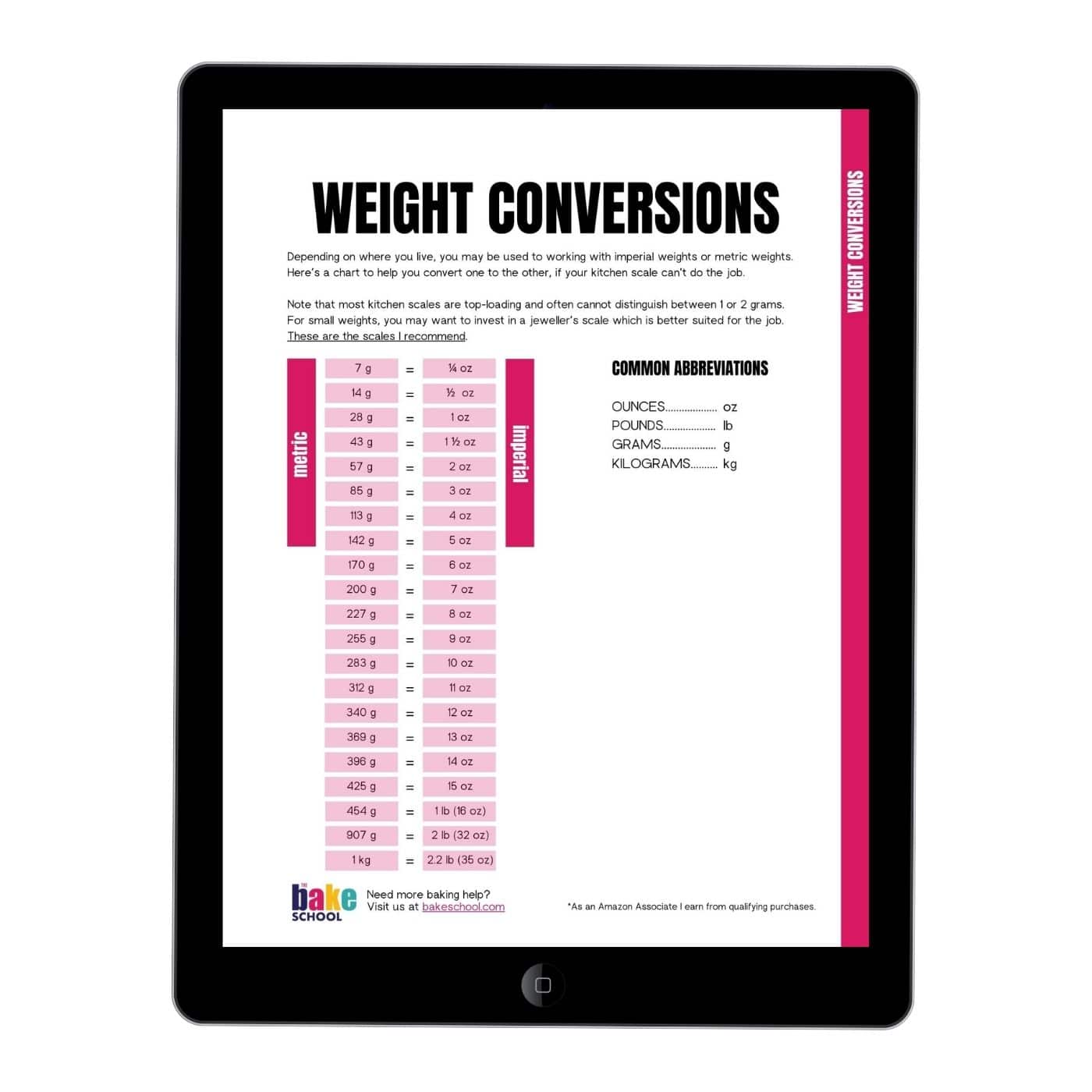 Weight conversions chart
Use this weight conversions chart to convert metric to Imperial weights, or Imperial to metric, so from grams to ounces, or ounces to grams.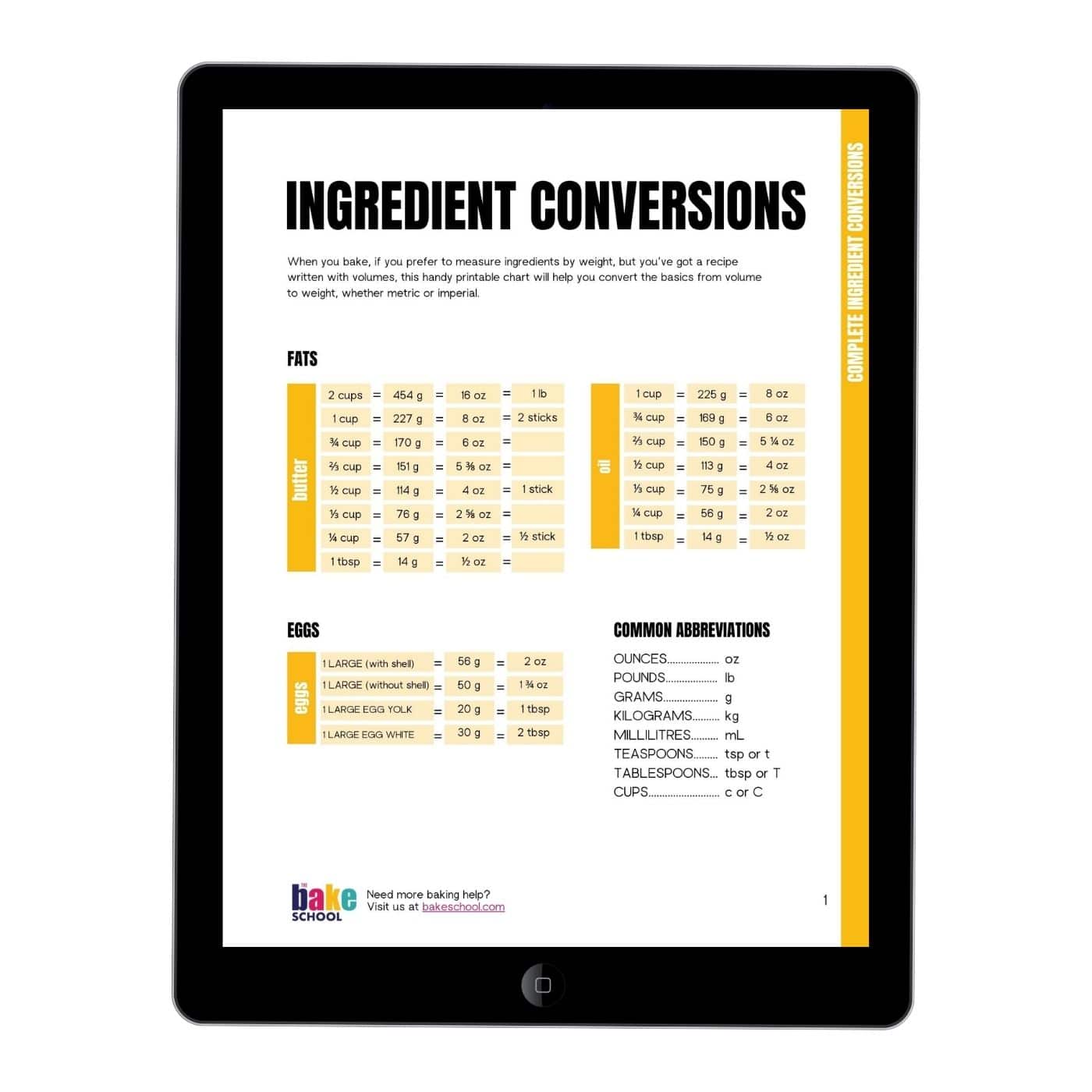 Ingredient conversions chart
Use this baking ingredient conversions chart to help you convert any baking recipe from volume measurements to weight, whether metric or imperial.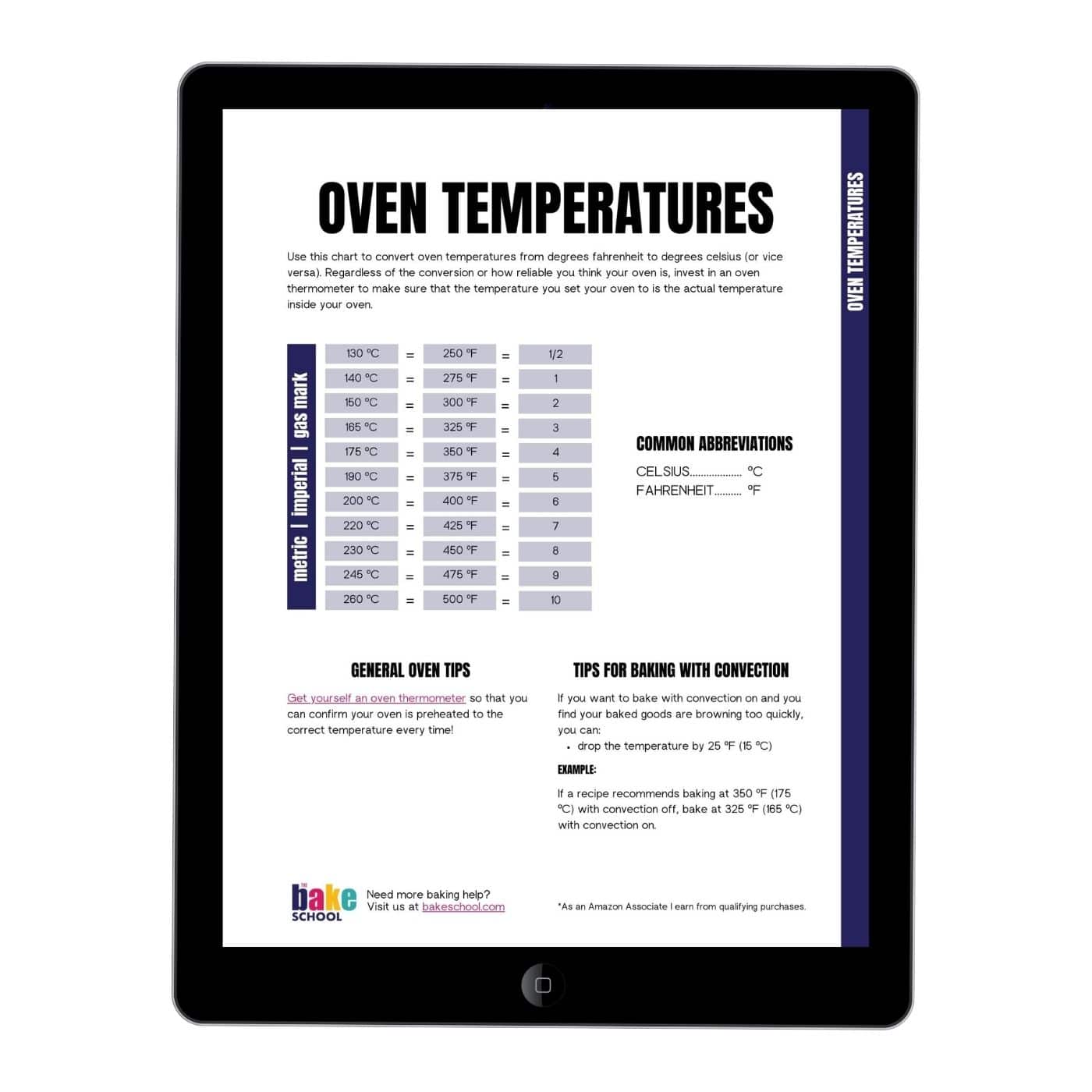 Oven temperature conversions chart
Use this chart of oven temperature conversions to help you successfully convert any baking recipe from degrees Celsius to Fahrenheit, or Fahrenheit to Celsius.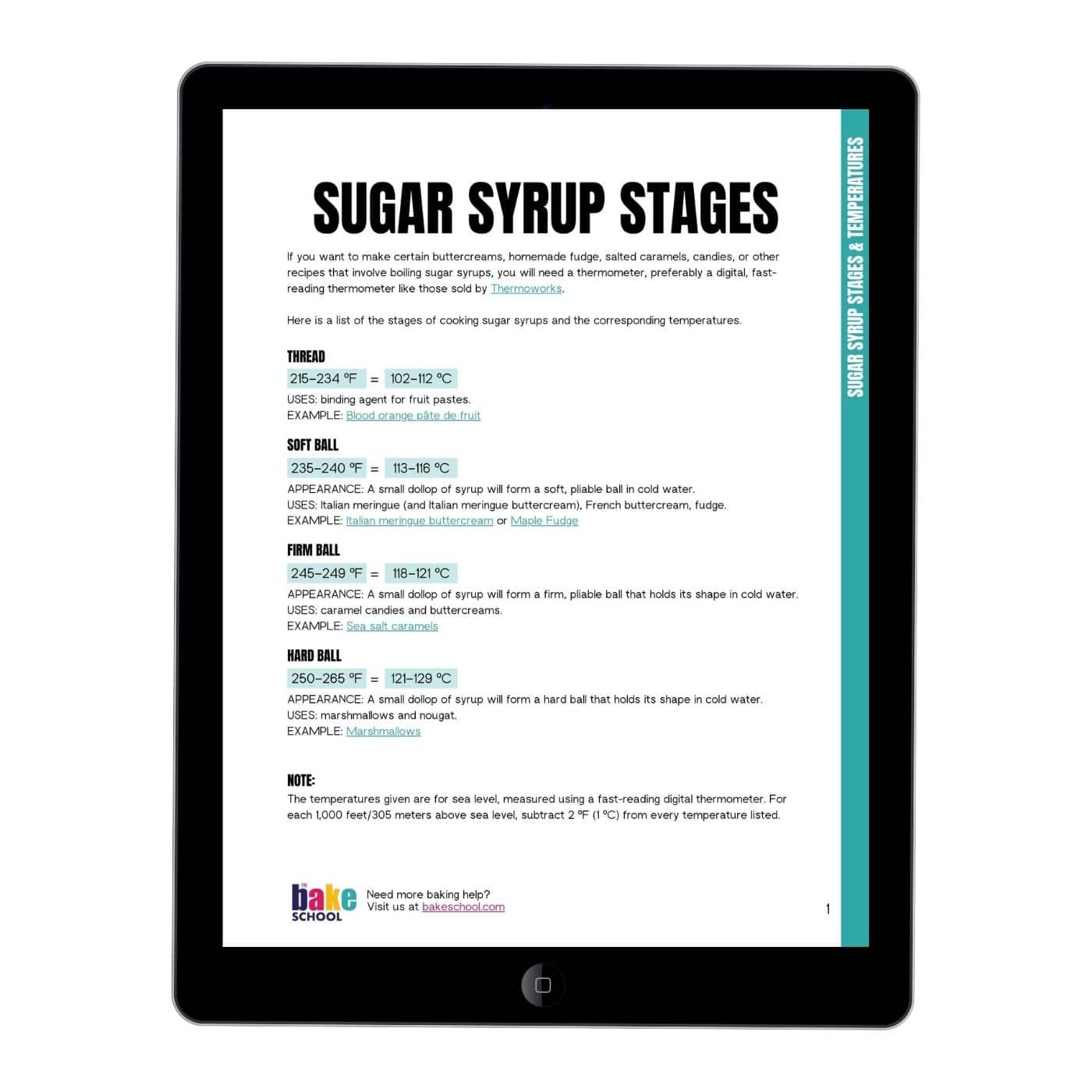 Sugar syrup temperatures and stages chart
Use this chart to help you understand the temperature ranges when cooking sugar syrups to make caramel, candies, fudge, and more in degrees Celsius to Fahrenheit.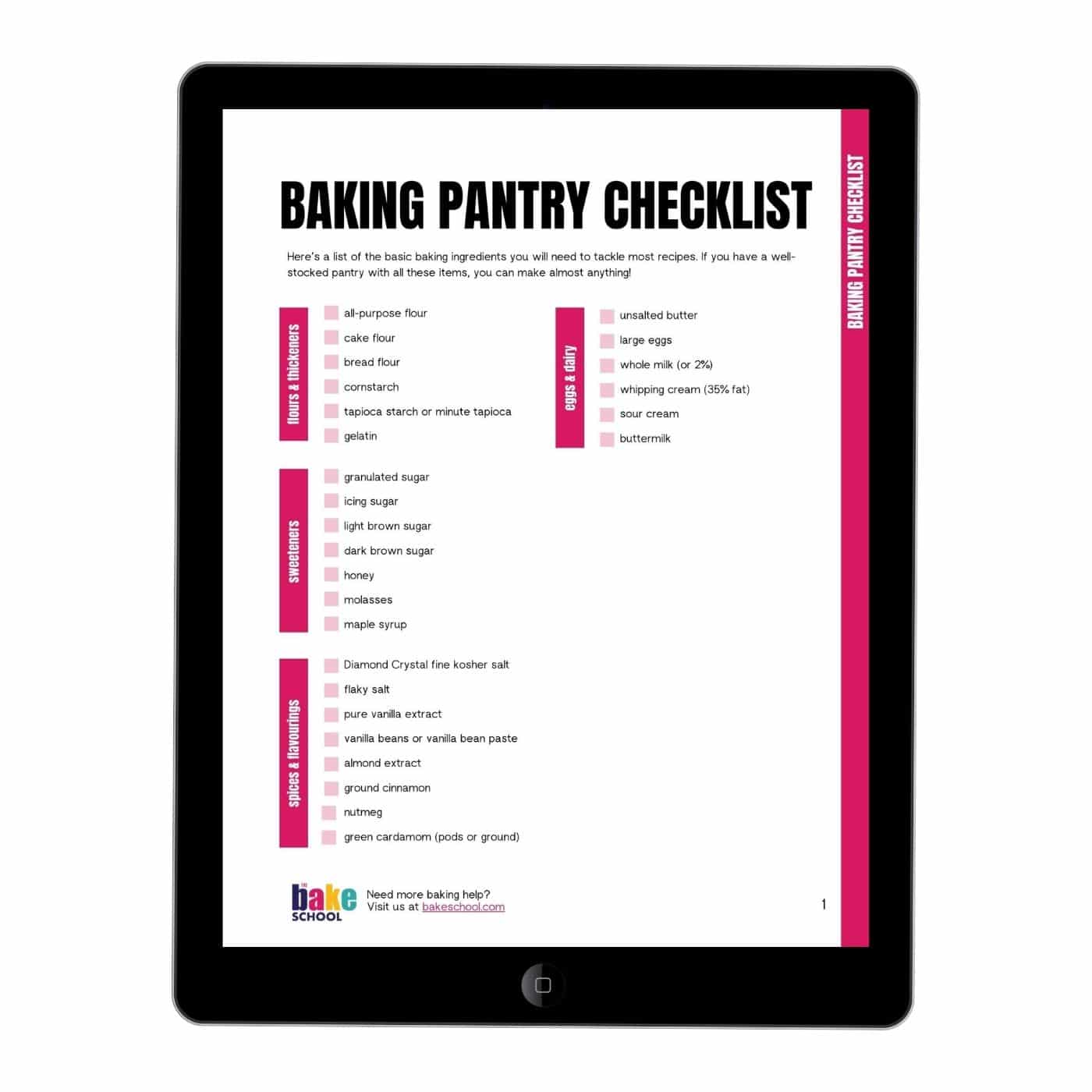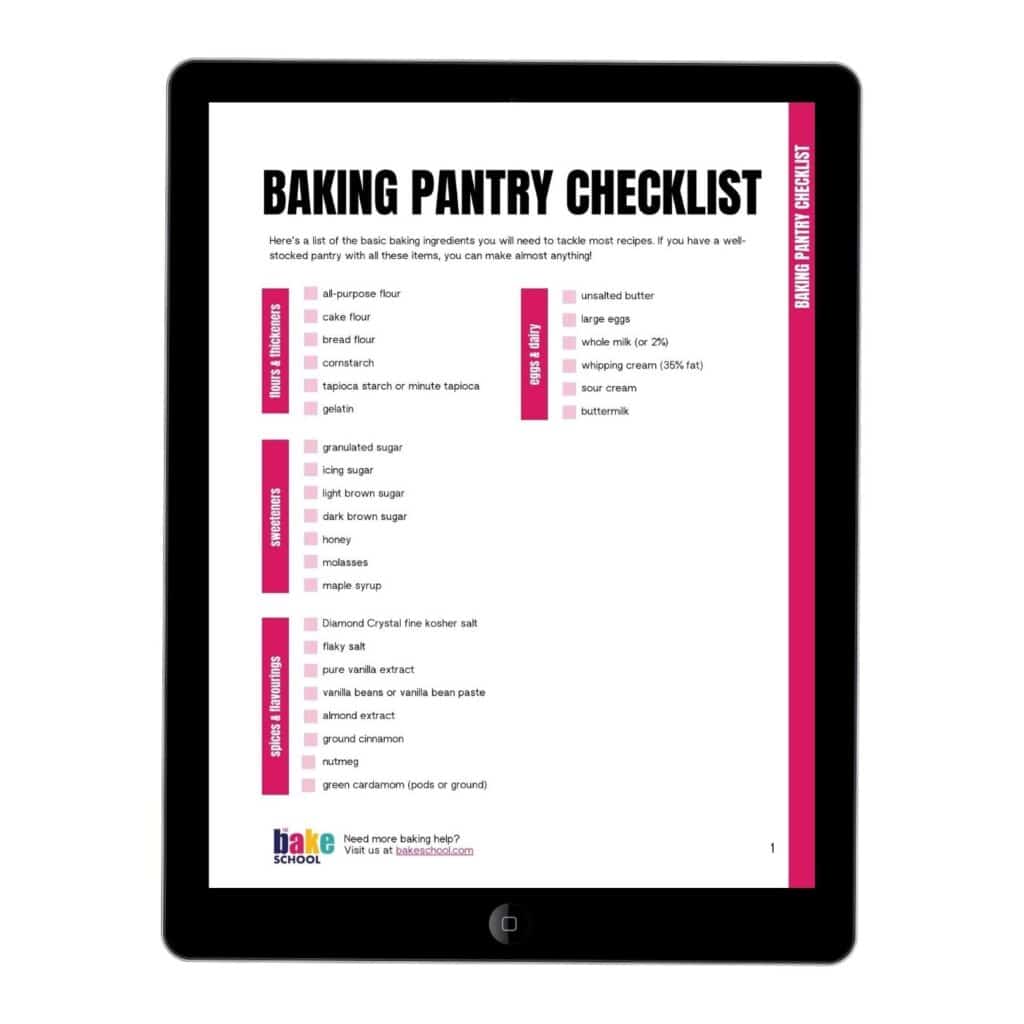 Baking ingredients checklist
Use this baking pantry checklist to make sure you have all the ingredients you need to bake in your fridge and pantry!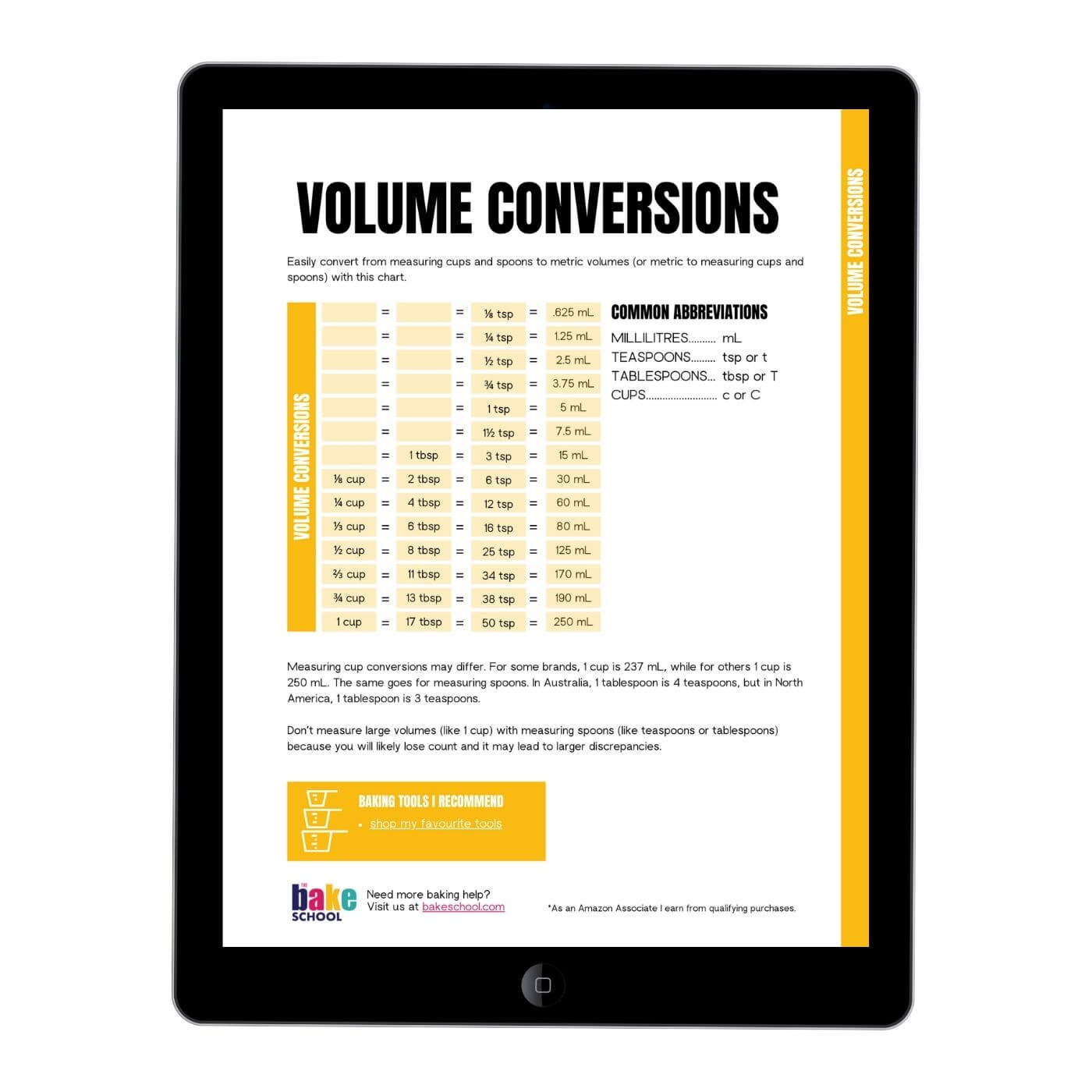 Volume conversions chart
Learn how to convert from metric to Imperial volumes with this volume conversions chart that is a download you can save to your computer, phone, or tablet, and also print to keep in your kitchen for when you bake!
Frequently asked questions