Here's an easy recipe for blueberry rhubarb crisp with marzipan crumble, a great way to enjoy the classic combination of blueberries and rhubarb, also known as rhuberry or bluebarb.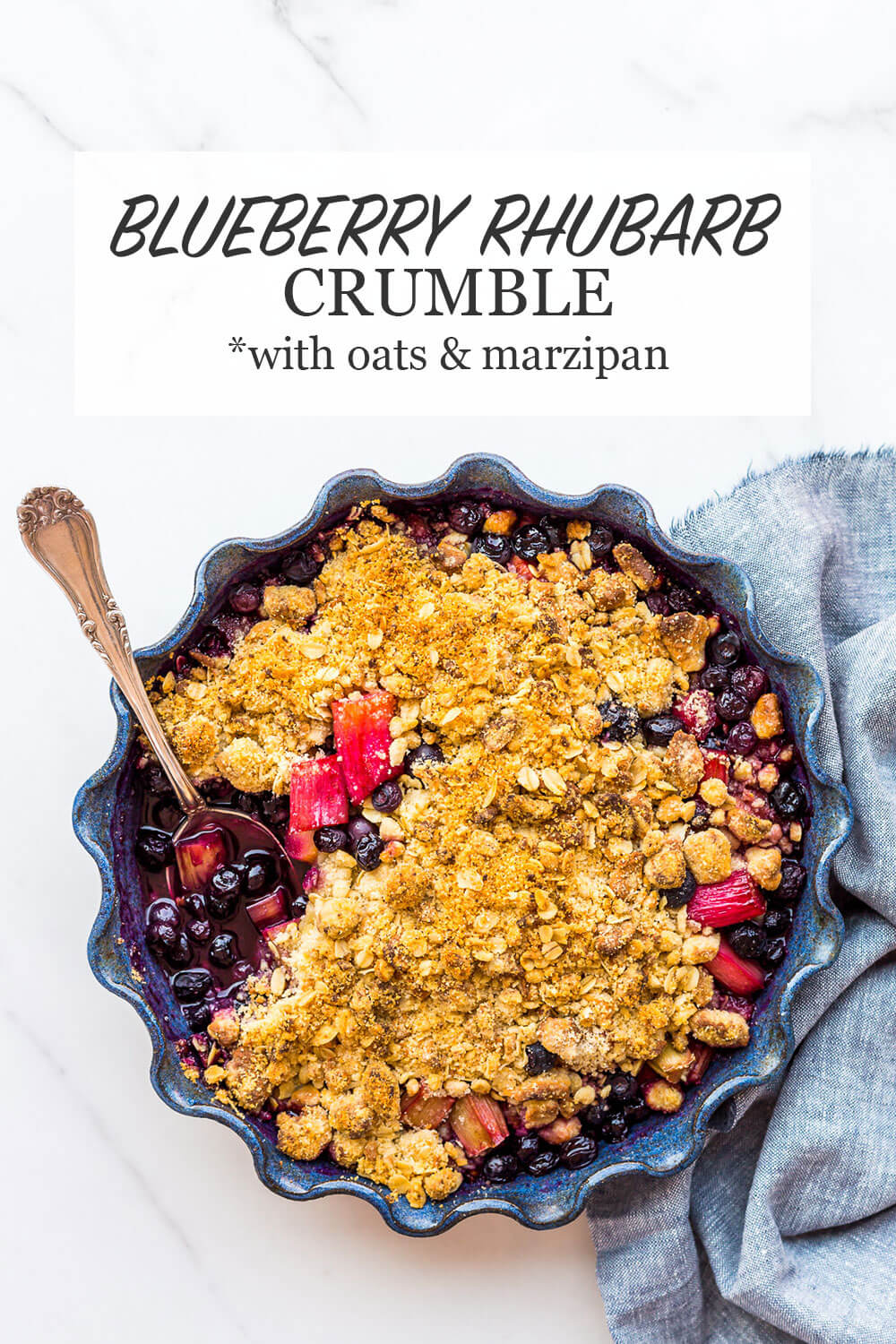 Disclosure: As an Amazon Associate, I earn from qualifying purchases.
What is "rhuberry" or "bluebarb"?
Turns out, there's a name for the combination of blueberries and rhubarb, which is referred to as "bluebarb" or "rhuberry". So, if you ever come across a rhuberry pie or a bluebarb crisp, the recipe author is referring to a dessert made with both rhubarb and blueberry.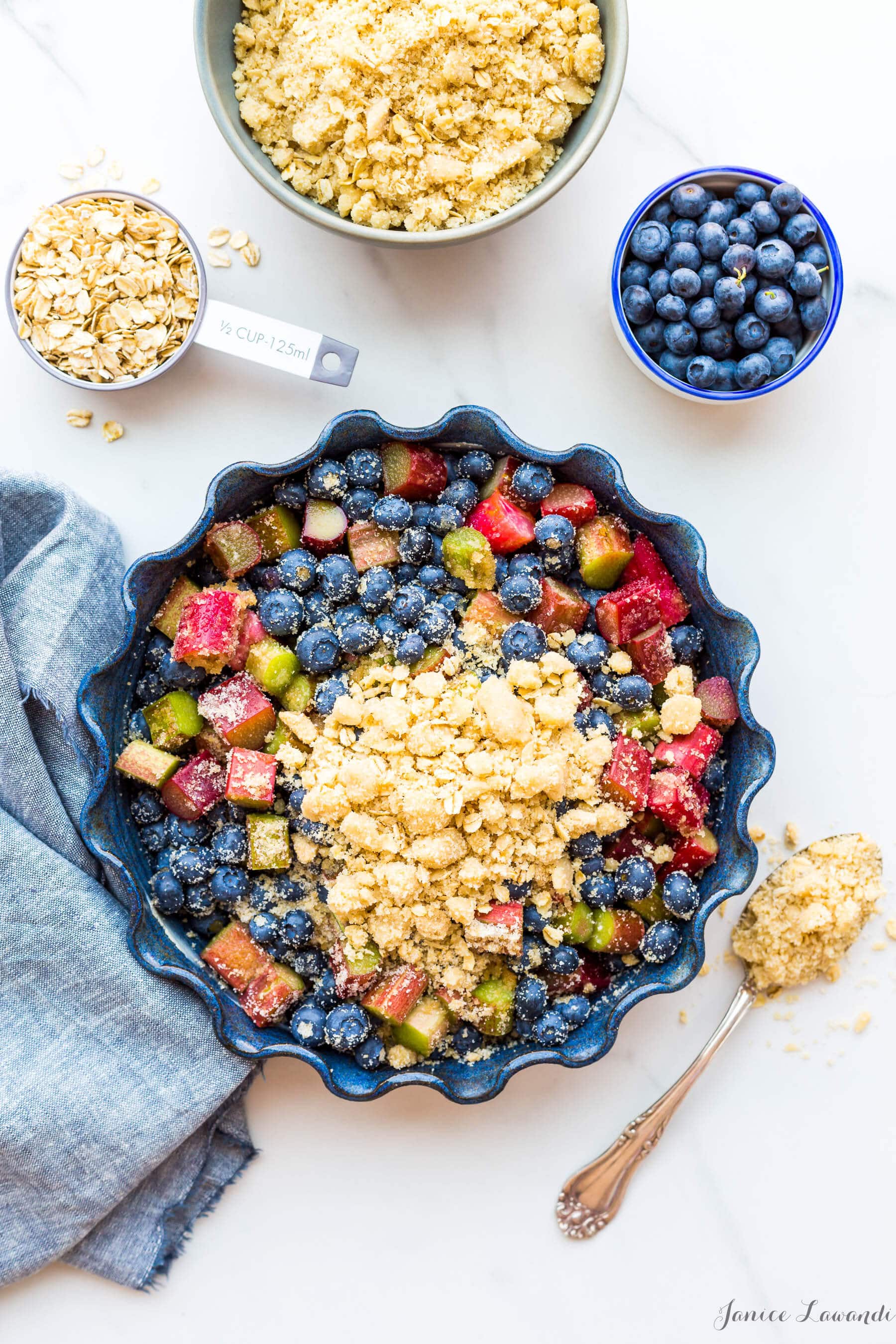 At first, this seemed like an unusual combination, but then again, blueberries have a mild flavour that really pops in sweet desserts and helps to balance stronger flavours, like astringent, mouth-puckering rhubarb.
I think I might like the combination of blueberry and rhubarb better than strawberry and rhubarb, which I baked together in these strawberry and rhubarb crumbles and these strawberry rhubarb muffins! Don't get me wrong: these are all tasty treats, but there's something more special about baking rhubarb with blueberries.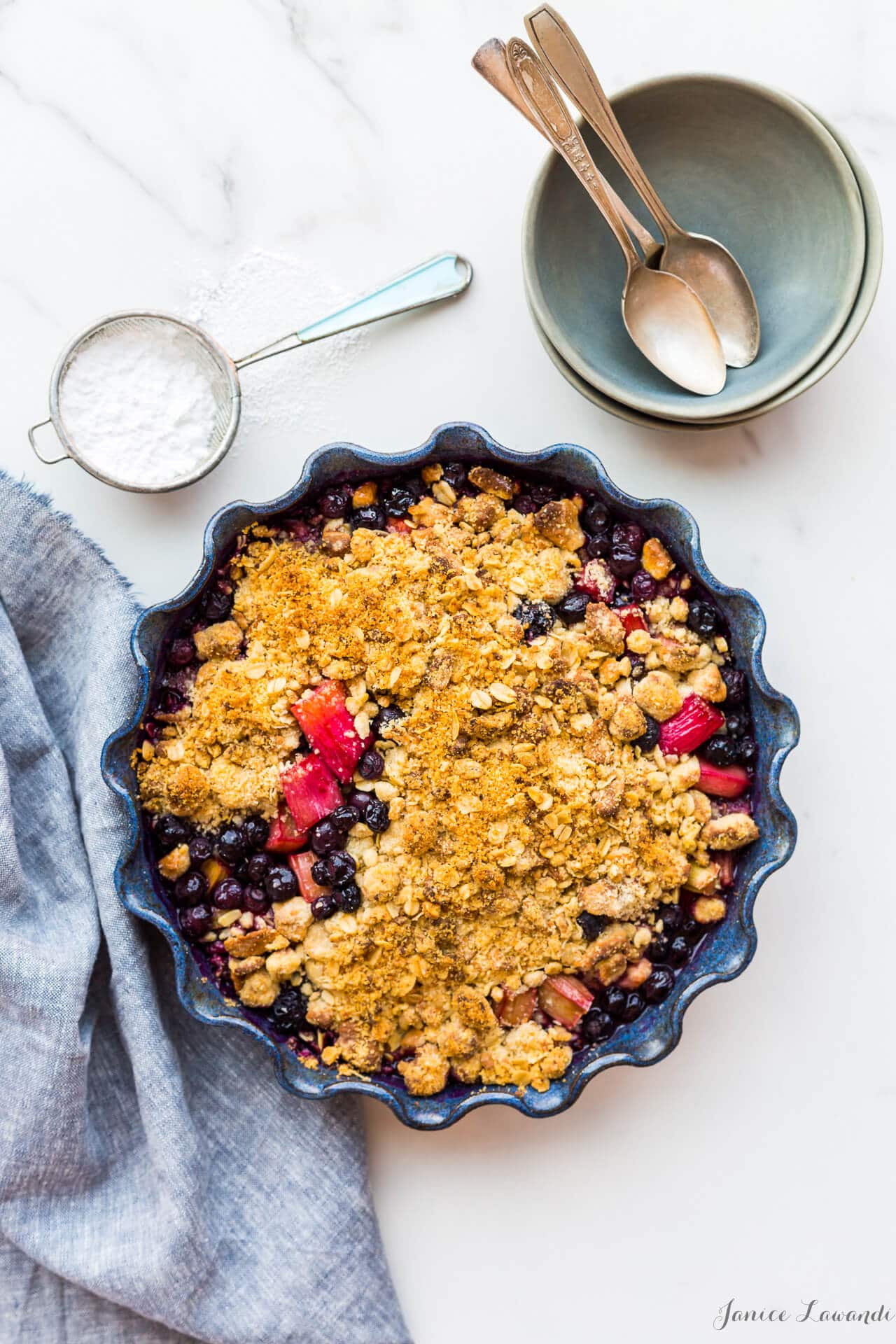 Thickeners for fruit fillings in crisps and crumbles
Just like with pies, the questions that are always up for debate are: what thickener should you use when making a fruit crisp and how much thickener is needed to thicken the fruit filling?
There are people that use no thickeners for fruit crisps and crumbles, leading to the cleanest fruit filling flavour without any risk of a potential cloudy look or starchy mouthfeel, which are both very possible since crisps are often baked for less time than pies. The filling for this apple crisp is made without a thickener. This also means that you may end up with a "soupier" fruit filling, depending on the fruit, the ripeness, the bake time, and also the volume of berries/rhubarb used.
There are other people that opt to use very small amounts of thickeners, like flour, cornstarch, or even arrowroot or tapioca starch.
Small amounts of thickener are great for setting less juicy pies like this wine-poached pear pie, this whiskey peach pie, or this maple apple pie. And small amounts of thickener work well for adding a little body to a saucy fruit crisp, like the one pictured here.
This rhubarb crumble was thickened with cornstarch and if you let the crumble cool down completely, the juices are quite set and the filling remains clear (not opaque).
Make sure the filling boils and cools down properly to achieve the proper set
In a blueberry rhubarb crisp of this size, with 2 pounds of fruit in the filling, in order for the thickener to do its job, you need to make sure the fruit filling, from edge to centre, bubbles and boils, otherwise there is no point.
It just won't gel without enough heat. Trust me. I tested shorter baking times and the results were mediocre.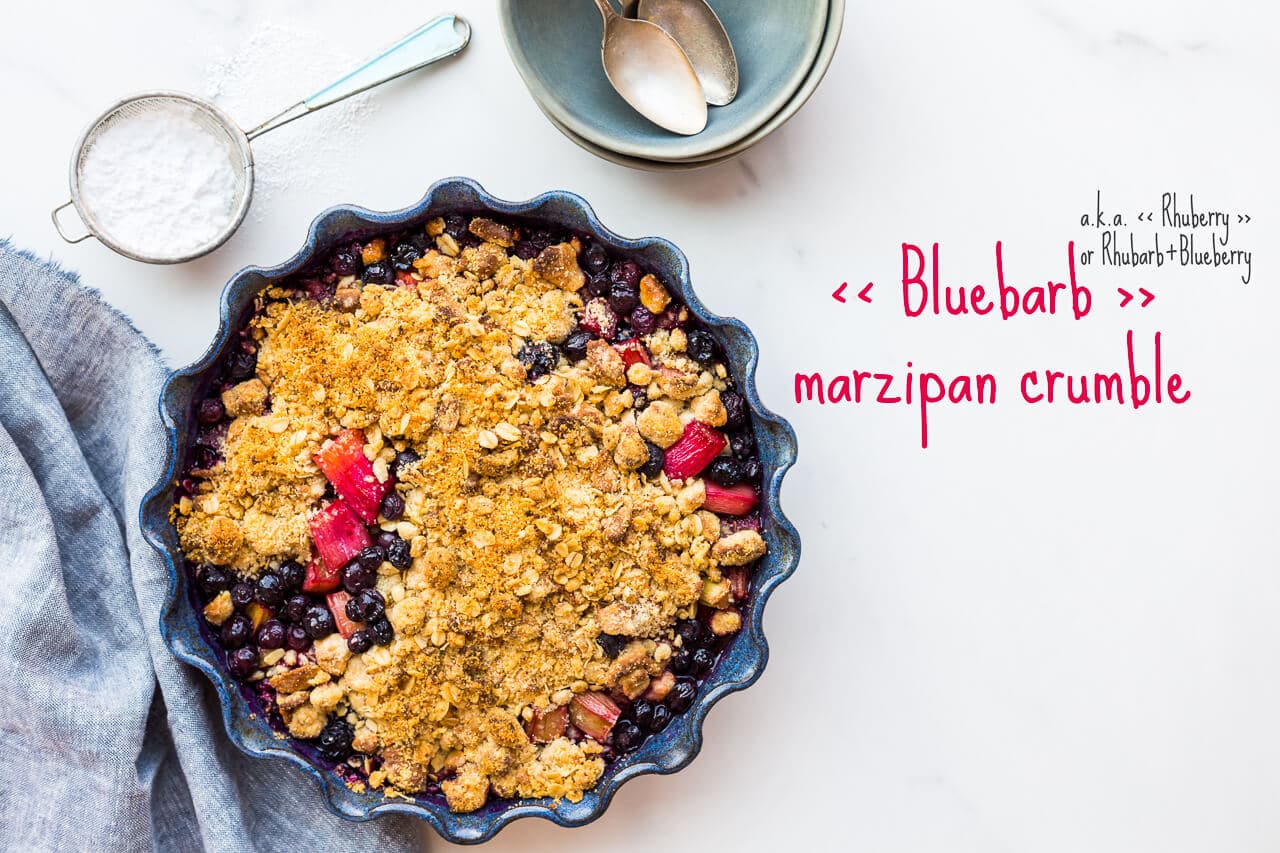 The question of whether or not you use a thickener is really personal preference. For a dessert like an apple crisp for one or for these mini strawberry rhubarb crumbles, for example, you don't really need to debate the issue because you can easily get away without a thickener: apples don't contain as much water as blueberries and the smaller baking pans allow the filling to get very hot and thicken enough.
With summer fruit like blueberries and rhubarb, it's a matter of personal taste. By adding just 1 tablespoon of tapioca starch to the filling and properly bringing it up to a boil all the way to the middle, the filling will set, especially given the pectin in the blueberries will contribute to gelling the juices, if you let the dessert cool completely before serving.
If your rhubarb crisp is runny, are you sure it came to a boil in the middle? Perhaps next time you should bake it for longer and also add a little tapioca starch.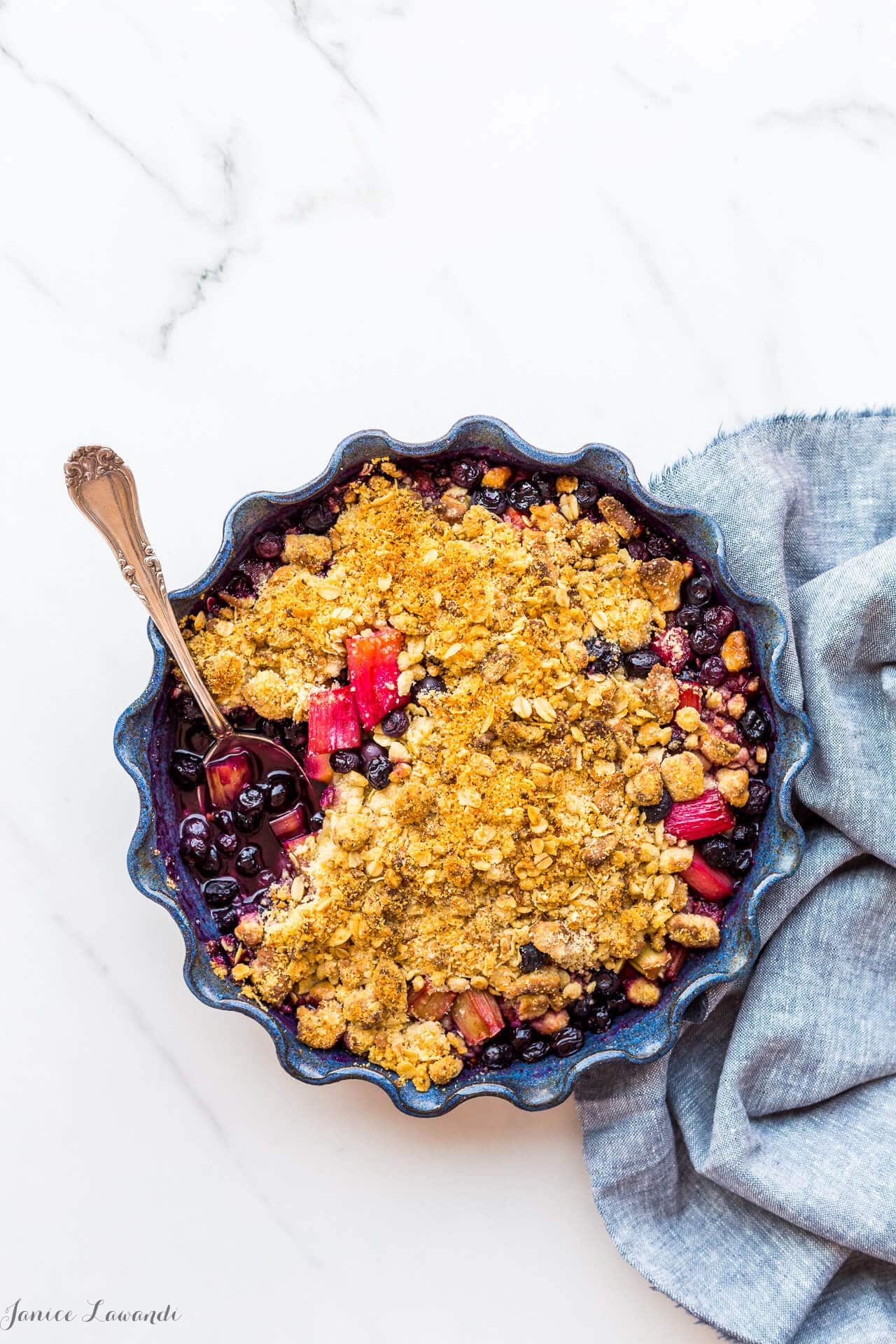 If you were to use this blueberry rhubarb filling to make a pie, inevitably, you would have to use a lot more starch, as in this rhubarb lattice pie, which required ½ cup tapioca starch to gel 2 pounds of fresh rhubarb.
Some of my best rhubarb recipes are made with just rhubarb, like this rhubarb jam, rhubarb bostock, rhubarb lattice pie, this rhubarb cake recipe (with double the rhubarb), and these mini orange cakes topped with rhubarb. Still, it's fun to mix it up too, like combining blueberries and rhubarb in this crisp, or strawberries and rhubarb in a crumble.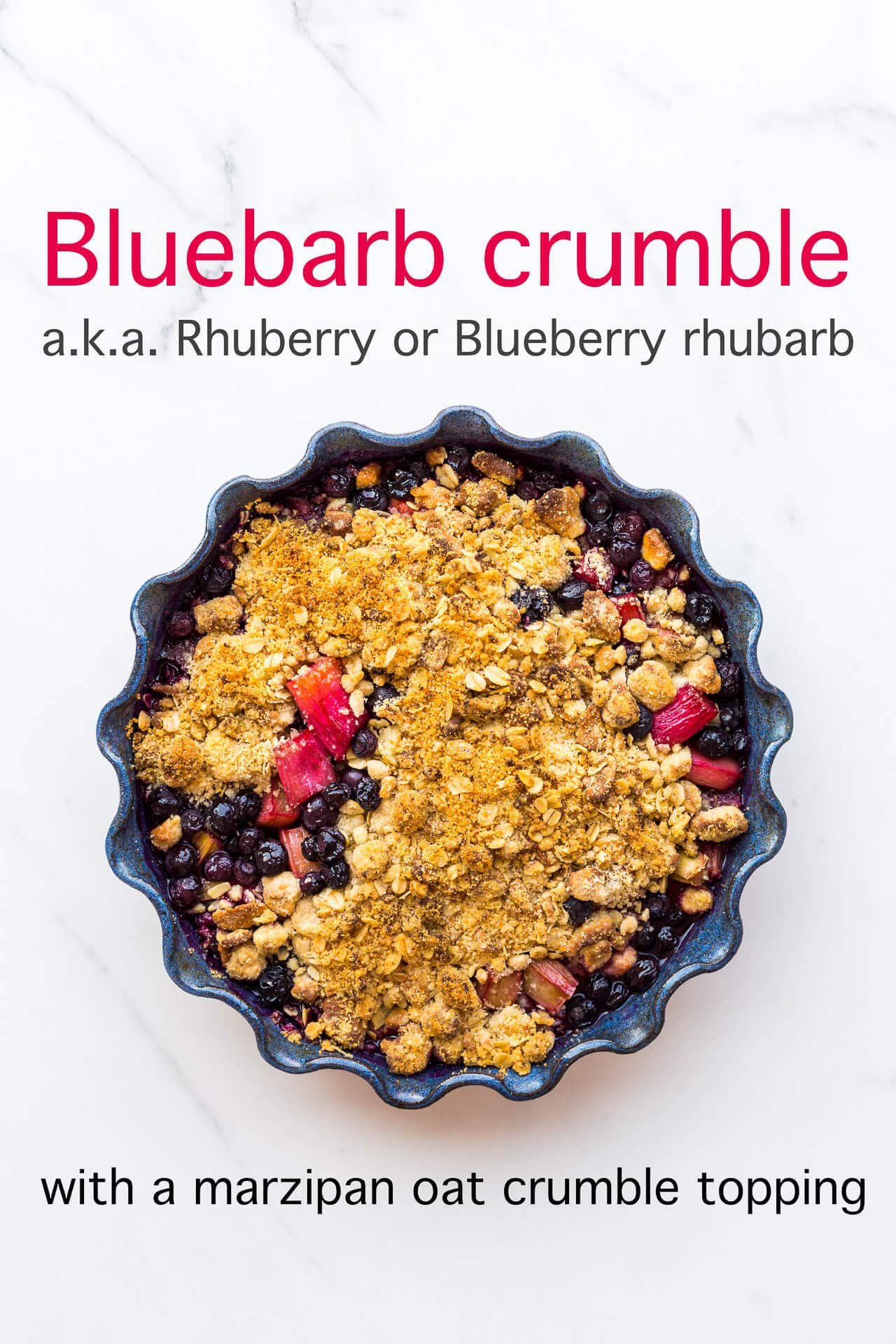 Things to note about marzipan
Adding marzipan to an oat crumble topping is BRILLIANT, I tell you. Then again, I might not be the most objective critique as I am pretty obsessed with addicted to marzipan. I love the stuff so much! Anyway, you can buy marzipan in bars or blocks, but be sure to buy a top quality marzipan, preferably of German origin because the Germans make great marzipan.
Buying marzipan
You know you are buying a good marzipan if they disclose the almond content on the packaging. The marzipan I buy tends to have around 50% almonds. Usually, I buy either Lübeckeror or Schluckwerder brand marzipan.
The marzipan from Schluckwerder seems to have more almond extract in it and therefore a more pronounced, bitter almond flavour, which I quite like. I used Schluckwerder marzipan for this recipe. In the past, I used Lübeckeror marzipan for the gorgeous Milk Bar style blackberry almond cake. The marzipan from Niederegger brand has 57% almonds or the Odense almond paste with 45% almonds should work too (buy it on Amazon). It's important to read the label of the marzipan because some have as little as 10–20% almonds, the rest being mostly sugar.
Baking with marzipan
The trouble with baking with marzipan is that it burns into something that is rock hard and unpleasant if you aren't careful. When I tested out this recipe the first time, I mixed together the fruit with the sugar, topped it with the marzipan crumble and baked everything together for 50 to 60 minutes. The marzipan burned on the top and the filling didn't gel properly because there wasn't enough time for the filling to boil without burning the crumble.
When I repeated the tests, I opted for a two-stage baking process: to bake the filling first for a good 45 minutes, then top the hot fruit filling with the crumble and bake for 30 more minutes to cook the crumble top. This works infinitely better. The marzipan still browns, but it's a good golden brown, not charcoal black.
Freezing instructions for rhubarb crisp
Please note that if you want to freeze this crisp, you should do so BEFORE baking. Here are the steps for freezing this recipe:
make the filling
place it in a zip-top freezer bag to seal it. Label the bag.
place the bag of filling in the baking dish you would have used to bake the crisp.
freeze the filling in the sealed bag in the baking dish so that it freezes in the shape of the dish. Once frozen solid, you can retrieve the baking dish.
make the crumble topping separately and place it in a zip-top freezer bag to seal it. Label and store the crumble topping in the freezer with the bag of frozen rhubarb filling.
To bake the frozen crisp
You can bake the crisp from frozen but it will take ages to properly bake and get the fruit filling to heat through and come to a boil in the middle. For this reason, I recommend defrosting the filling and the crumble in the refrigerator overnight before baking. This way you can follow the baking instructions as written.
To store the baked blueberry rhubarb crisp
I prefer to store this crisp at room temperature, wrapped with aluminum foil. I don't think it's necessary to store it in the fridge, but if it's very hot where you live, you might want to consider refrigerating the baked crisp in that case.
📖 Recipe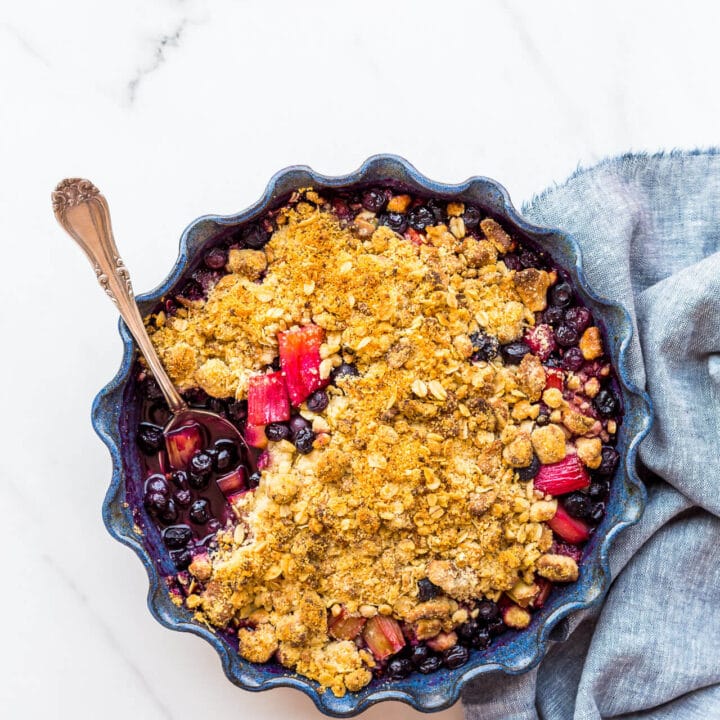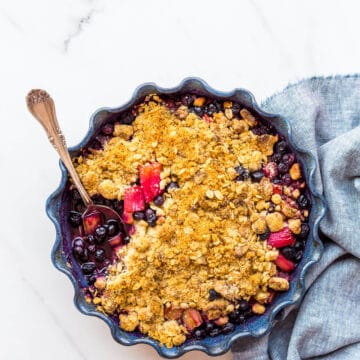 Blueberry Rhubarb Crisp with Marzipan Crumble
Easy blueberry rhubarb crisp with a marzipan oat crumble makes the best summertime dessert to feed a crowd. Make sure to bake the fruit filling first so that it has time to cook and gel properly. The combination of blueberry and rhubarb is also referred to as bluebarb or rhuberry.
Ingredients
Blueberry rhubarb filling
Instructions
Preheat the oven to 375ºF (190 °C). Butter the inside of a large 10 inch baking dish that is at least 3 inches deep. 
Prepare the blueberry rhubarb filling
In a large bowl, combine the sugars with the fine kosher salt. If you are using a thickener, mix it with the sugars to make sure it is evenly dispersed.

Add the fruit to the bowl and toss everything together to coat evenly. Transfer to the buttered baking dish, cover with foil, and bake on the middle rack for 45 minutes, stirring after 30 minutes.
Prepare the crumble topping
In a large bowl, stir together the grated marzipan, flour, sugar, ground almonds, rolled oats and salt. Add the melted butter and mix to form a crumble.

When the fruit has baked for 45 minutes, take the dish out of the oven, give the fruit a gentle stir, then sprinkle the crumble topping over the fruit.

Put the baking dish back in the oven and bake the crumble, uncovered, until it is golden brown and the filling is bubbly, about 30 more minutes.
Notes
You may want to set the baking dish on a large cookie sheet or place a cookie sheet on the rack below to catch the bubbling hot fruit juice drips as they may burn on the bottom of your oven. 
Nutrition
Please note this post contains affiliate links to Amazon. If you buy a product I recommend, I will get a small commission, and the price you have to pay will not change in any way.