These mini orange polenta cakes are made with fine cornmeal (polenta) and sweetened with honey.
As an Amazon Associate I earn from qualifying purchases.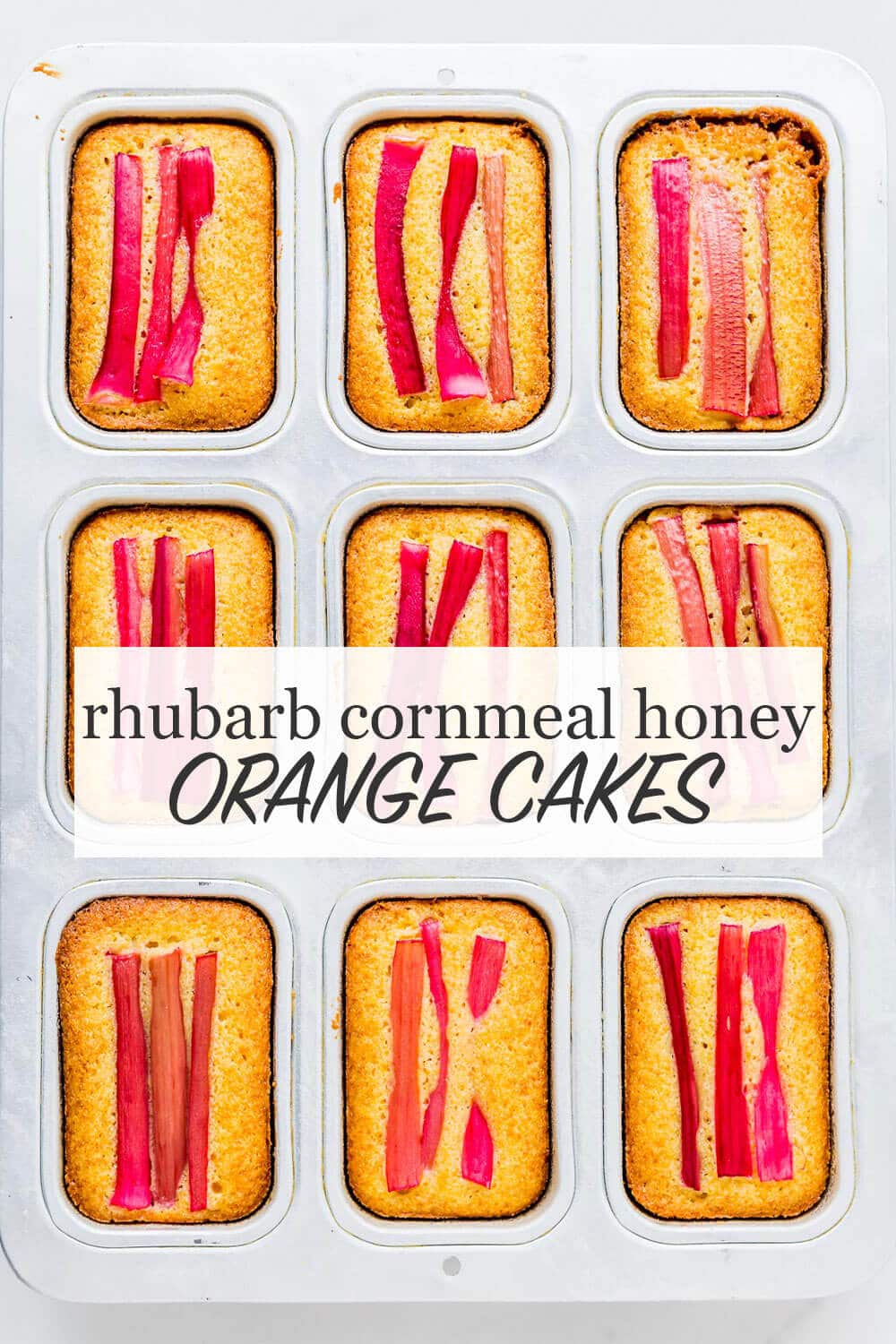 Disclosure: As an Amazon Associate, I earn from qualifying purchases.
Rhubarb pairs well with sweet ingredients like almonds (ground almonds, amaretto, almond extract) and corn (polenta and cornmeal). The tart flavour of rhubarb also plays nicely with bright orange zest. Putting all of these elements together is how I ended up taking a classic orange polenta cake recipe and topping it with rhubarb. If you don't have rhubarb, fresh blueberries would make a fantastic replacement for these mini orange polenta cakes, as would raspberries.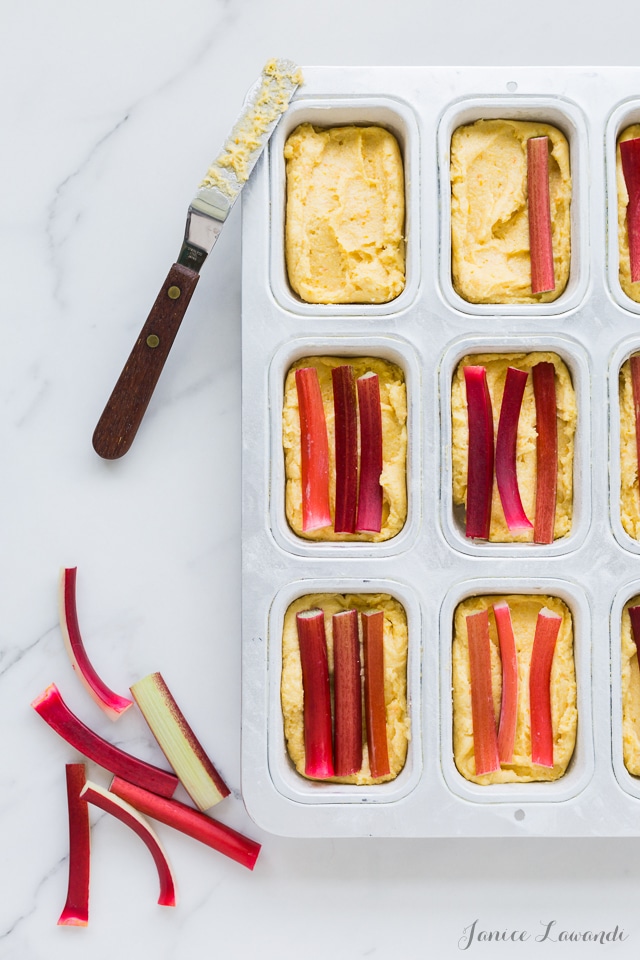 Baking with cornmeal and polenta
Cornmeal, also known as polenta, is made from dried corn that is ground. The grind can range from coarse to very fine and it's important to pick the right one when you are baking:
Coarse cornmeal, also known as coarse polenta is slower to soften when it comes in contact with moisture, which you need to know if you want to bake with it because it will inevitably add a lot of texture and crunch to cakes and cookies. Coarse cornmeal is also useful when making homemade bagels or pizza. The cornmeal prevents the dough from sticking to the pan.
Fine cornmeal or fine polenta will soften faster when incorporated into cake batters and so that is what I used in these orange polenta cakes because I didn't want too much texture, but I still wanted that flavour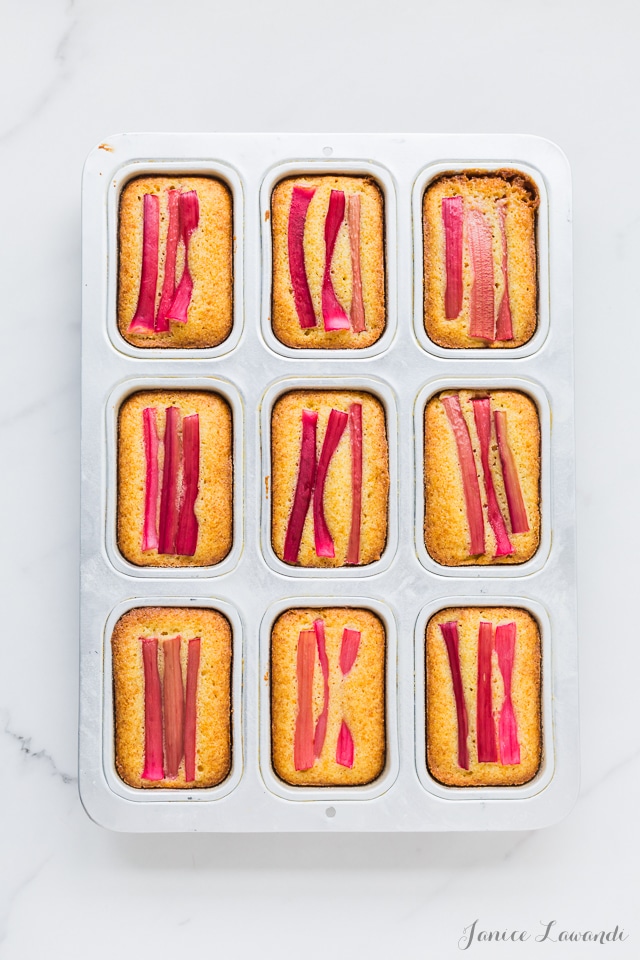 You can add cornmeal to all kinds of recipes to add both flavour and texture, like in the recipe below. Fine cornmeal in these chili cheese cornbread muffins adds sweetness to balance the spicy chilli peppers and adds texture too. Cornmeal adds crunch to fritters.
And if you need more things to bake with a bumper crop of rhubarb, here is a list of some of my best rhubarb recipes: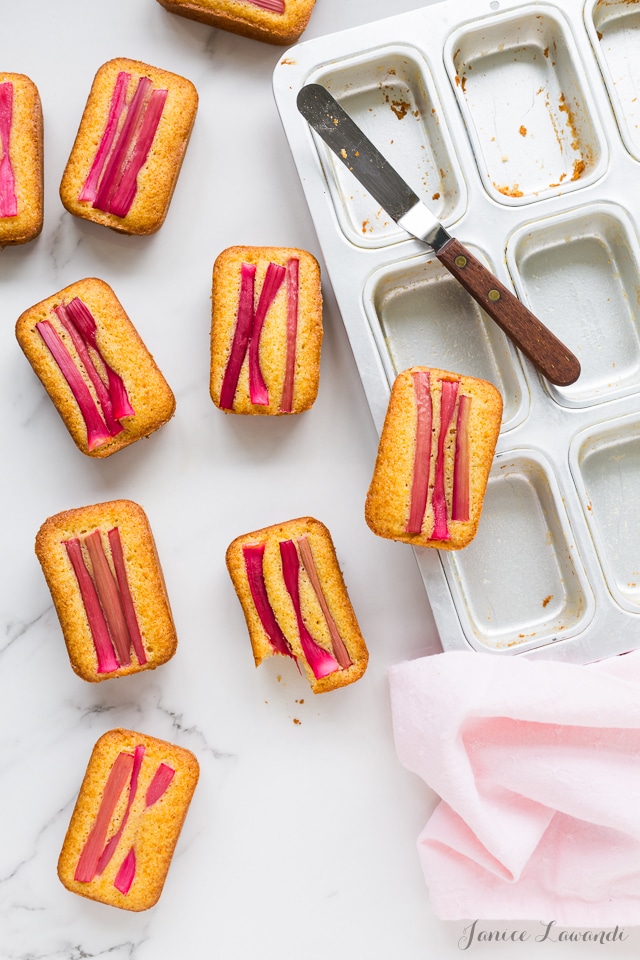 I love baking muffins and cakes with cornmeal. These orange cakes with cornmeal and rhubarb are moist and buttery, with a light texture and a pronounced orange flavour. The rhubarb is just right for these cakes. I really hope that you will try this recipe. The pan I used to bake this recipe is a Wilton mini loaf cake pan similar to this one on Amazon. If you don't have one, feel free to use a couple of muffin pans, but you will have to adapt the size of your rhubarb pieces accordingly, and the baking time will need to be adjusted. The recipe as is would probably make 10 rhubarb muffins. If you are avoiding gluten, try these gluten-free orange almond cakes instead!

Orange cake recipe with cornmeal and rhubarb
📖 Recipe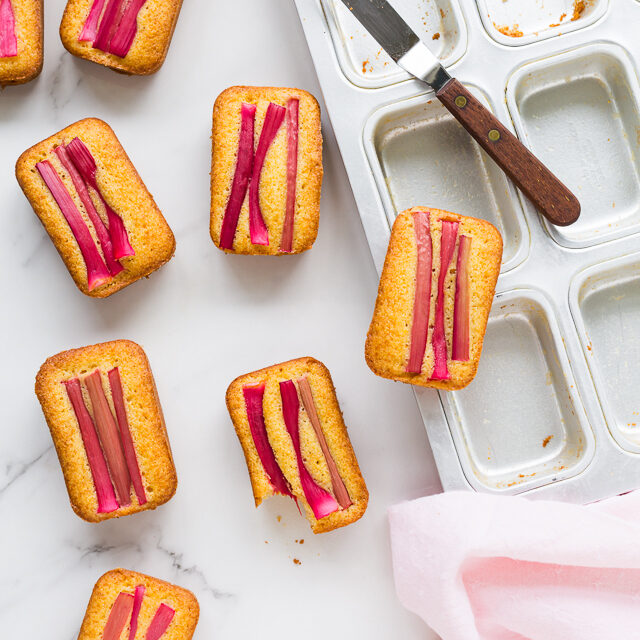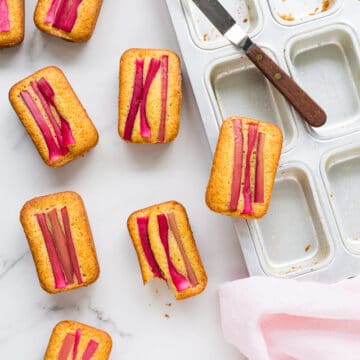 Orange Cakes with Cornmeal and Rhubarb
These orange cakes are made with cornmeal and topped with rhubarb. The cake batter includes greek yogurt so they are moist, buttery, fluffy with a light texture and a lovely orange flavour.
Ingredients
94

grams

bleached all-purpose flour

100

grams

fine cornmeal

1

teaspoon

baking powder

¼

teaspoon

baking soda

¼

teaspoon

Diamond Crystal fine kosher salt

115

grams

unsalted butter

room temperature

100

grams

granulated sugar

2

large

large egg(s)

85

grams

honey

1

teaspoon

pure vanilla extract

1

tablespoon

orange zest

60

mL

greek yogurt

or sour cream or labneh

145

grams

fresh rhubarb

sliced into 27 thin logs of about 2–3"
Instructions
Preheat the oven to 350ºF (175 °C). Grease and flour a 9-cavity mini loaf pan (like this one from Wilton on Amazon).

In a medium bowl, whisk together the flour, cornmeal, baking powder, baking soda, and the salt. Set aside

In the bowl of an electric mixer fitted with the paddle attachment, cream together the butter with the granulated sugar for 2 minutes. Add the eggs one at a time, beating between each addition and scraping down the sides of the bowl with a spatula as needed.

Add the honey, the vanilla, and the zest, and beat it all in well.

Add half the dry mixture to the mixer bowl and stir it in on low. Scrape down the sides of the bowl, then add the labneh, mix again, then add the rest of the dry ingredients.

Divide the mixture between the greased & floured cavities, smoothing each with a mini offset spatula (like my fave Ateco spatula on Amazon) or the back of a spoon. Top each with 3 strips of rhubarb.

Bake until a skewer inserted into the center of the cakes comes out clean and the edges of the cakes are golden. This takes about 20 minutes or so.

Let the cakes cool at least 10 minutes before unmolding them carefully with the help of an offset spatula.
Nutrition