These rhubarb pudding cakes are a creative way to bake with rhubarb with a simple homemade rhubarb compote made with tangy pink rhubarb on the bottom and topped with a buckwheat butter cake for the perfect "lazy" spring/summer dessert that everybody will enjoy.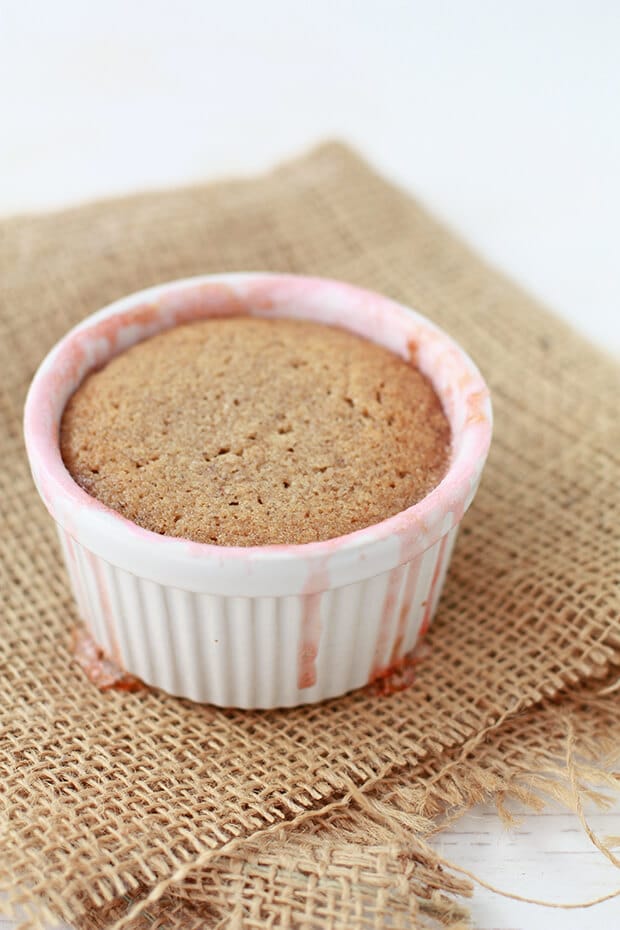 Disclosure: As an Amazon Associate, I earn from qualifying purchases.
The British refer to desserts as "pudding" which can be a little confusing to those of us in North America. But this recipe is for a pudding cake that the Brits would probably also refer to as a pudding, perhaps the rhubarb version of a sticky toffee pudding?
American pudding is more of an egg-thickened or starch-thickened custard, like butterscotch pudding thickened with egg yolks and cornstarch which gels the milk in the recipe, or vanilla bean tapioca pudding thickened with egg yolks and tapioca, which helps absorb some of that liquid.
Let's not forget the French "pots de crème" which would be directly translated to "pots of cream," which are egg-based desserts served in jars, either cooked on the stove like American pudding or baked in a water bath. Most pots de crème involve chocolate, which lends an unctuosity to pots de crème that makes them the ultimate pudding, if you ask me. These white chocolate pots de crème were baked in the oven, as were dark chocolate pots de crème, while these milk chocolate pots de crème were cooked on the stove.
Pudding cakes are quite different than American pudding: a pudding cake has some sort of sauce on the bottom and cake on top. My mom used to make what she called "self-saucing puddings" that formed their own sweet sauce on the bottom magically as they baked in the oven. Served warm, pudding cakes are so comforting.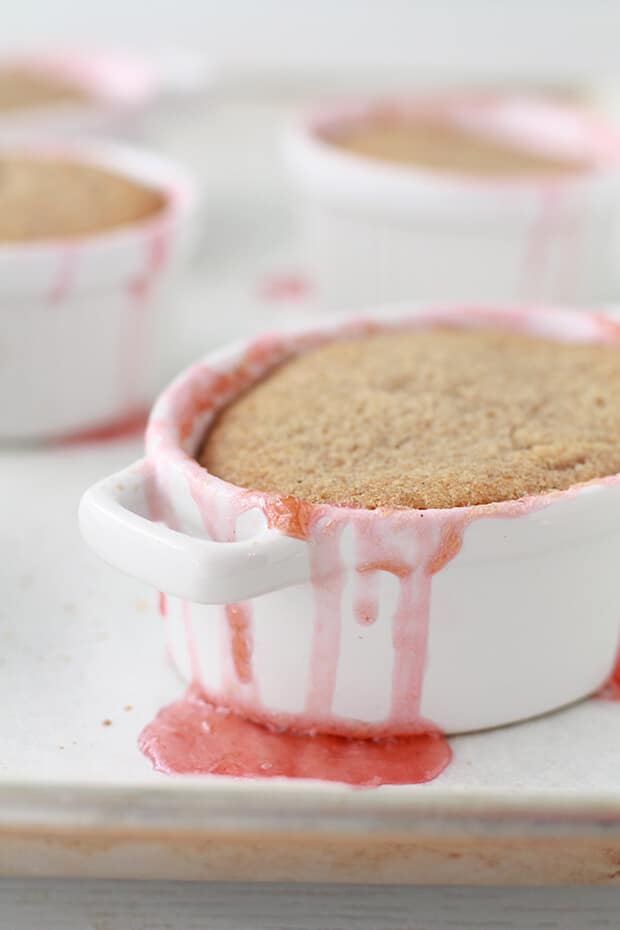 There's also the retro marmalade puddings that are actually steamed cakes baked with marmalade. And let's not forget the traditional Quebec dessert pouding chômeur (which translates as "poor man's pudding"), which has a saucy layer of cream and maple syrup (or brown sugar) baked with a thick layer of cake on top.
The rhubarb pudding cake recipe here is a variation on that theme. In this case, you make a batch of pink rhubarb compote which gets divided between a set of ramekins, and then a cake batter is placed on top before baking. You end up with a saucy tangy rhubarb compote layer tucked beneath a sweet cake layer. So good!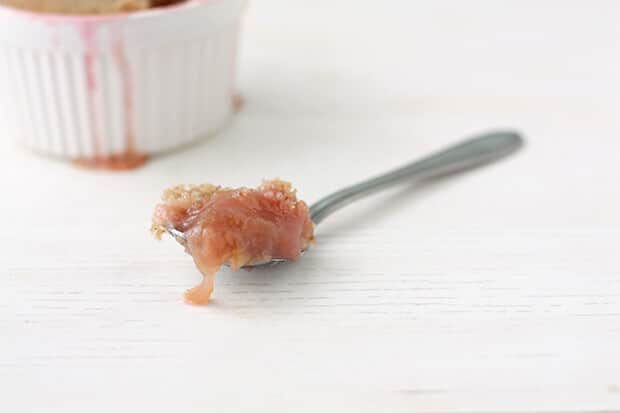 I'd say this variation of the old-fashioned pudding cake will go down as one of the best rhubarb recipes on the blog. It's so comforting and a true ode to spring/summer pink rhubarb. I am super excited to share this rhubarb pudding cake with you (loosely adapted from Ricardo magazine, volume 11, number 5). I think this is such an easy and delicious way to showcase rhubarb: a simple homemade rhubarb compote topped with a buckwheat butter cake. I guess it's a lot like a sticky rhubarb pudding, you could say!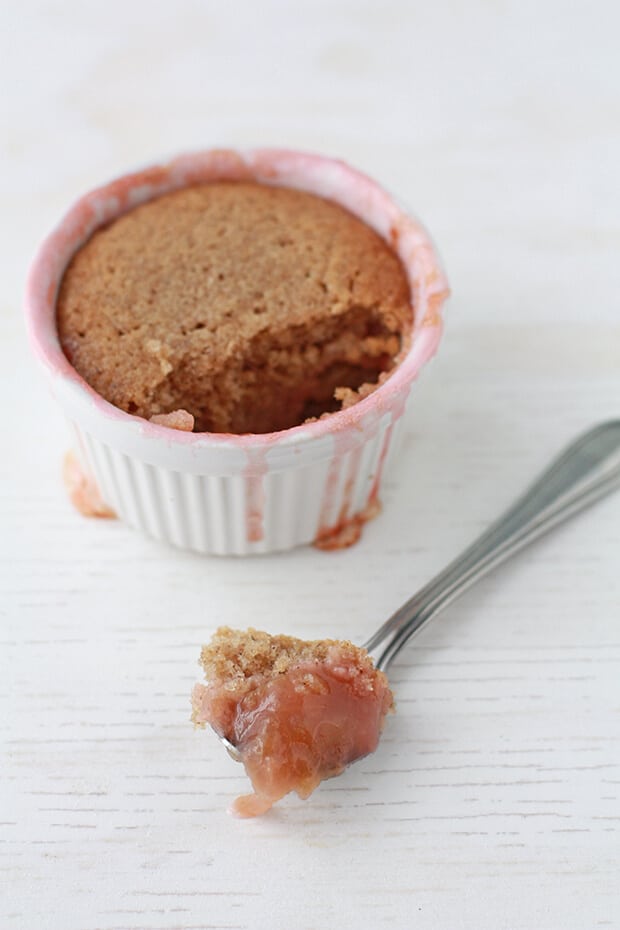 Honestly, this turned out to be one of my all-time favourite desserts that I've shared with you until now. It might become my go-to rhubarb dessert to mark the season every year, along with strawberry rhubarb muffins, rhubarb bostock, strawberry rhubarb crumbles and rhubarb jam. The compote is sweet, but still tart and loaded with rhubarb flavour. The buckwheat cake is delightfully nutty. I'd really like to eat this every day, maybe even twice a day (once for breakfast, and once for dessert after dinner). Don't just read this: make it! And if you would prefer a cake with the rhubarb baked on top, try this moist rhubarb cake or these mini orange cornmeal cakes recipe.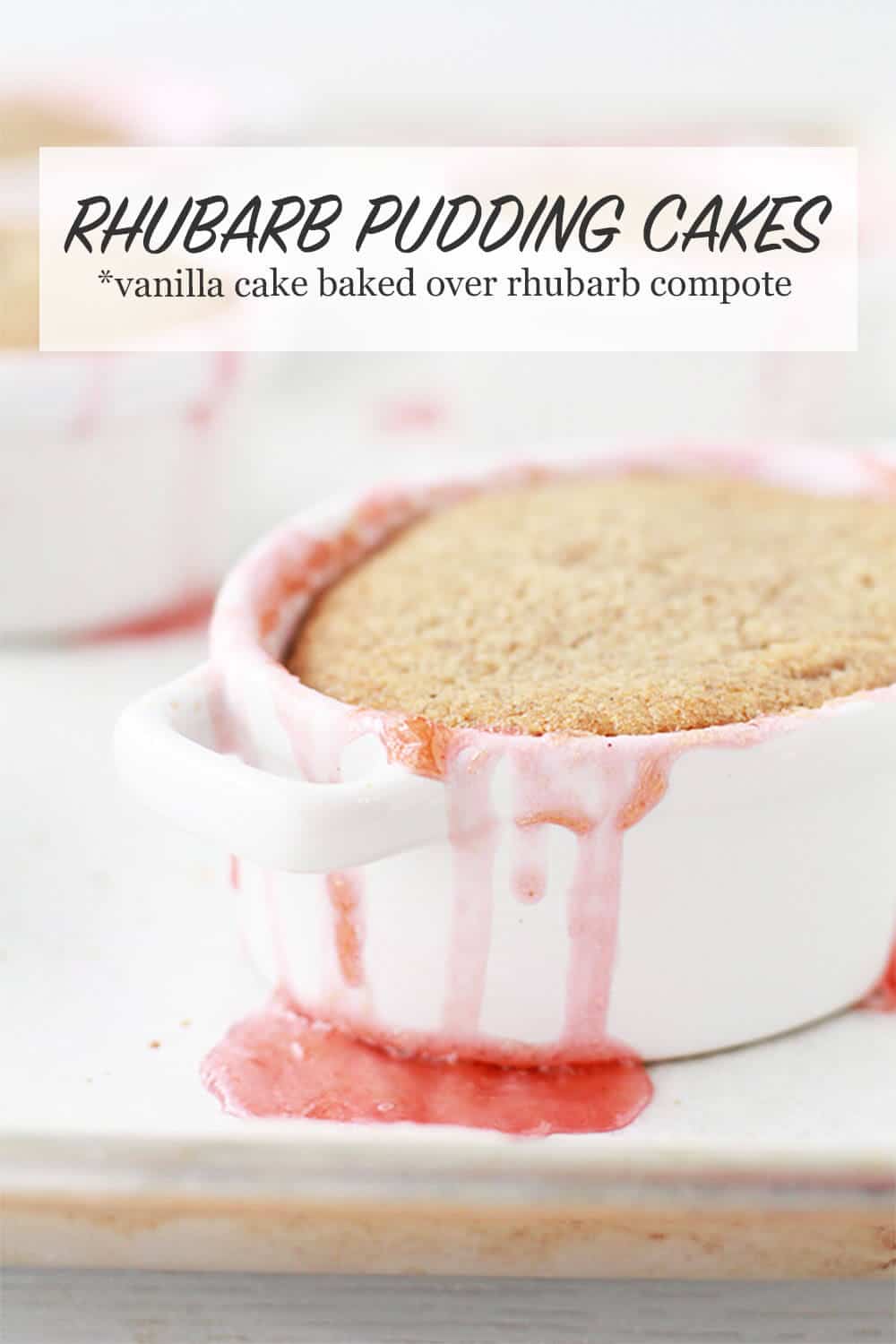 📖 Recipe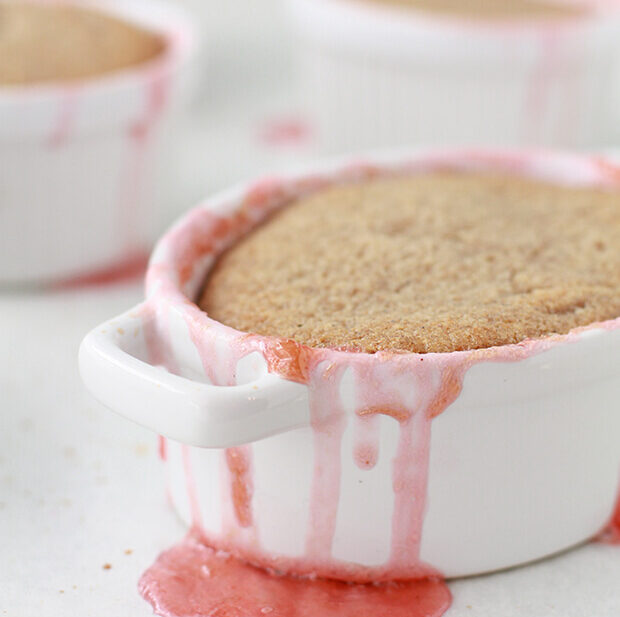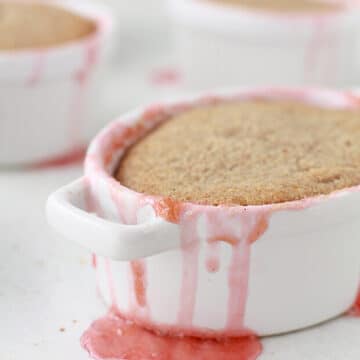 Rhubarb Pudding Cake
A recipe for a rhubarb pudding cake: a rhubarb compote on the bottom with a vanilla cake baked on the top. Serve warm with a scoop of vanilla ice cream!
Ingredients
Rhubarb compote ingredients
150

grams

granulated sugar

7.5

mL

cornstarch

400

grams

fresh rhubarb

cut into ¼″ pieces
Buckwheat cake ingredients
Instructions
To make the rhubarb compote
In a medium pot, stir together the sugar and cornstarch with a wooden spoon. Add the chopped rhubarb and toss to coat then heat on medium to release the juices from the fruit, and to thicken the compote, stirring constantly.

When the compote has simmered for at least 5 minutes and the mixture is thickened significantly, take the pot off the heat.

Divide the mixture among 6 ramekins and set them aside while you make the cake batter.
To make the buckwheat cake
Preheat the oven to 350 °F (175 °C). Whisk together the flours, baking powder and salt in a bowl, and set this aside.

In the bowl of an electric mixer fitted with the paddle attachment, cream the butter and the sugar for 3 minutes.

Add the egg and vanilla and beat well until the batter is smooth.

Add the dry ingredients alternately with the milk, beating the batter just until smooth and all the ingredients are incorporated.

Top the ramekins of compote with the cake batter and bake for about 30 minutes or until a cake tester inserted into the center of the cake layer comes out clean.

Serve these cakes warm or cold.
Nutrition
Calories:
317
kcal
Carbohydrates:
52
g
Protein:
3
g
Fat:
11
g
Saturated Fat:
7
g
Cholesterol:
55
mg
Sodium:
60
mg
Potassium:
300
mg
Fiber:
2
g
Sugar:
39
g
Vitamin A:
432
IU
Vitamin C:
5
mg
Calcium:
94
mg
Iron:
1
mg