This rhubarb cake is made with ground pumpkin seeds and sour cream which give it a super moist, tender crumb.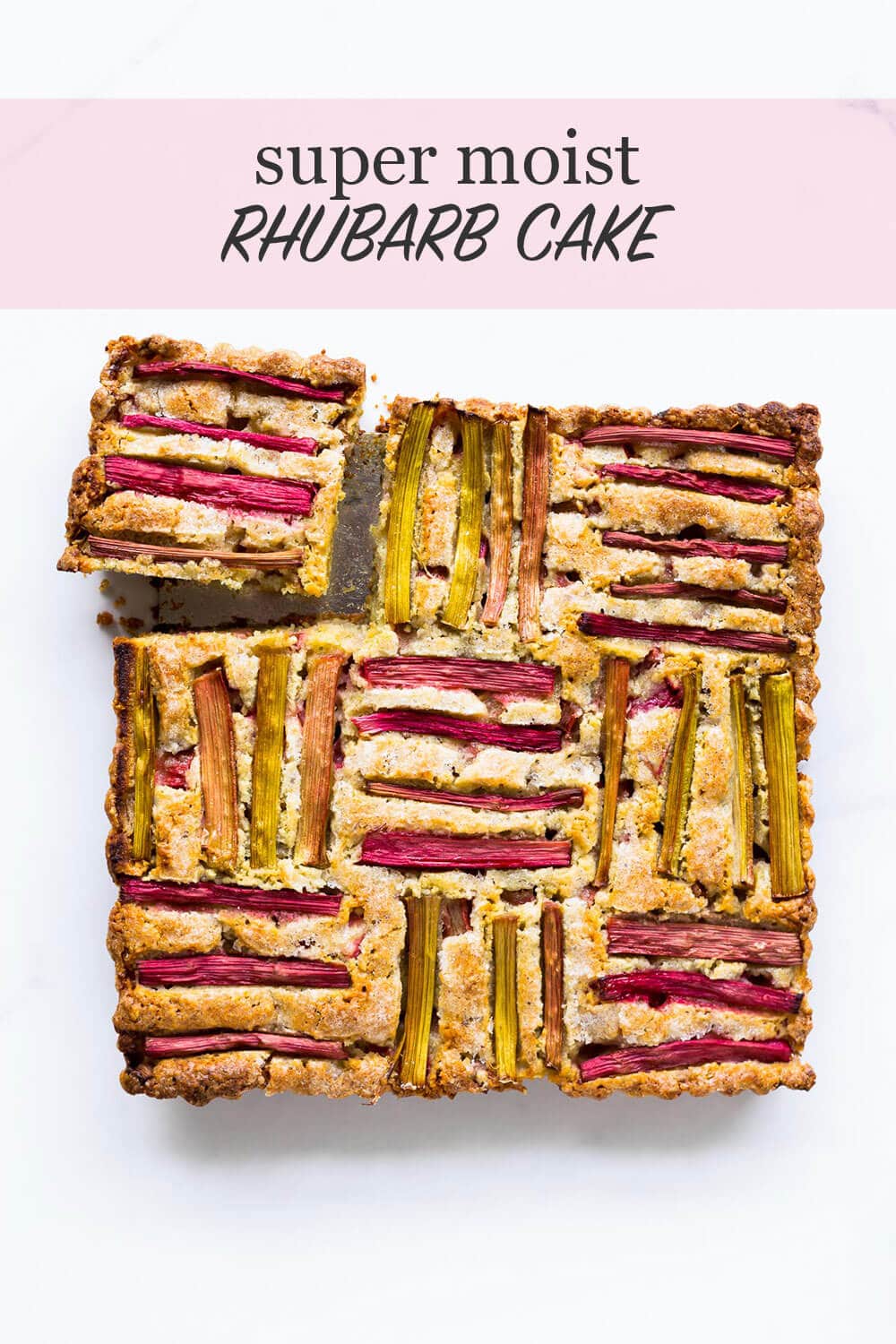 Disclosure: As an Amazon Associate, I earn from qualifying purchases.
Sometimes, the secret to a moist cake can be less flour, or replacing a portion of the flour with a flour alternative, like a starch (cornstarch, for example) or even ground nuts. The ground nuts add texture to the cake crumb and lighten it in a way that flour can't achieve.
Of course, you still need a certain amount of flour, providing much-needed structure to cakes and cookies. Still, a careful swap of a portion of the flour from some ground almonds, ground hazelnuts, or other ground pumpkin seeds can lead to cakes with a very tender, moist crumb.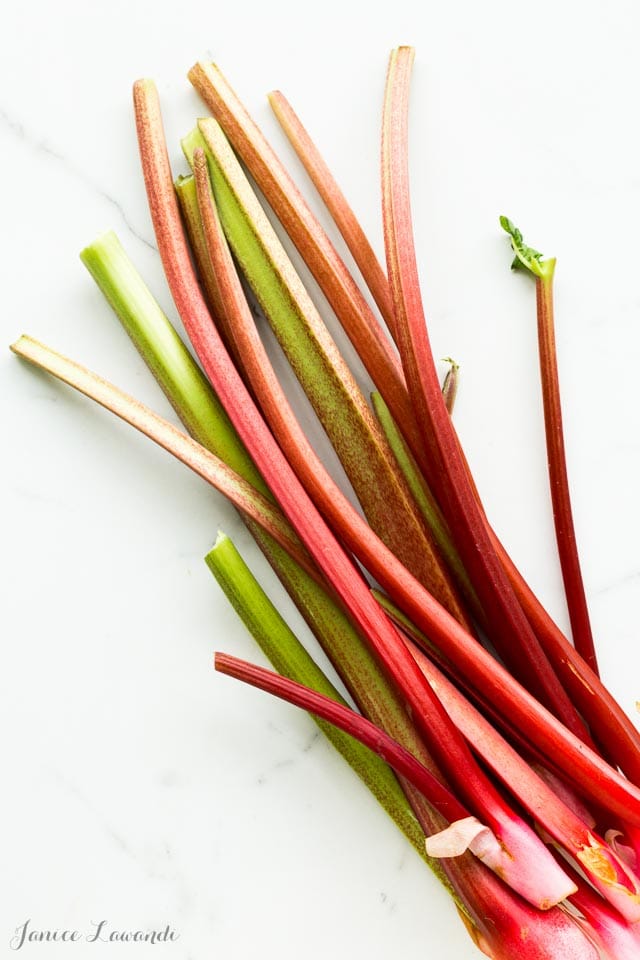 Another ingredient that contributes to making cakes more moist is sour cream. Sour cream provides a little acidity to cake batters, which in turn inhibits gluten formation. Less gluten means a more tender baked good that is softer, seemingly more moist.
When I was working on this recipe, I was hoping would join the ranks of my best rhubarb recipes. I wanted to make a super moist rhubarb cake that had lots of rhubarb and lots of flavour. I wanted a cake that was even better than the orange cornmeal cakes made with cornmeal and topped with rhubarb.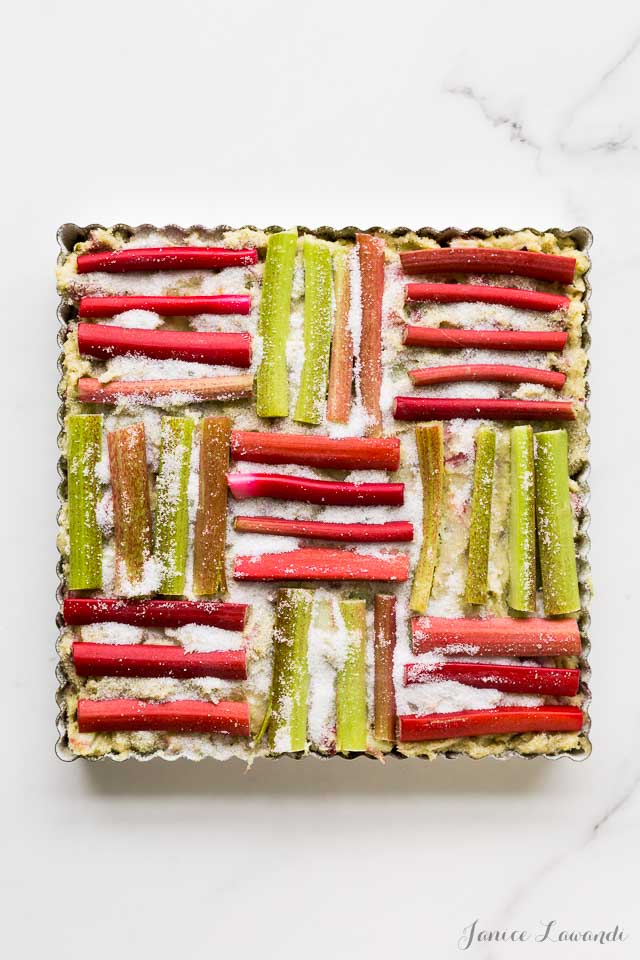 In this rhubarb cake, the weight of flour equals the weight of butter, and also the weight of sugar, which is also 150 grams (¾ cup). The new recipe is close to a "quatre quarts" (the French version of pound cake) and is a variation on the classic pound cake. We aren't exactly at a quatre quarts cake recipe here because a true quatre quarts has equal parts by weight of butter, sugar, eggs, and flour.
You'll notice in this recipe, the weight of eggs is about 100 grams, and to be a true quatre quarts, we would need to add a third egg to bring that weight up to 150 grams. I'll leave that experiment for another day... And actually this recipe is similar to the rhubarb raspberry upside-down cake batter too in the proportions, just halved.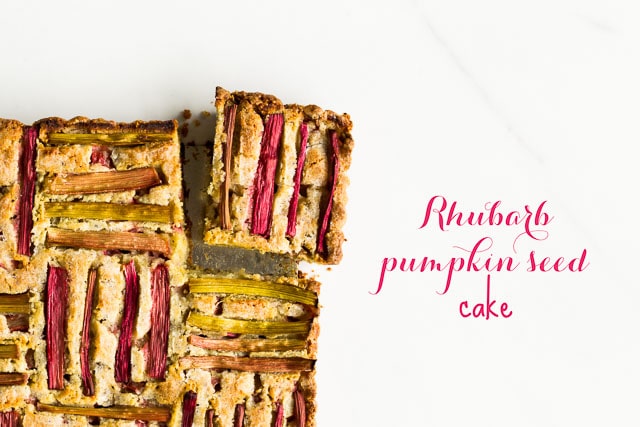 When you are taking away flour from a recipe, even if it's a fraction that is removed, the key to this making the cake light and fluffy is beating the butter and sugar for a very long time (like 4 minutes), and then beating in the eggs, one at a time, and then 4 minutes more after they are all added. The resulting batter at this stage is emulsified nicely and extremely light and fluffy, resembling soft whipped cream. Don't even bother moving forward with the recipe until you achieve that texture.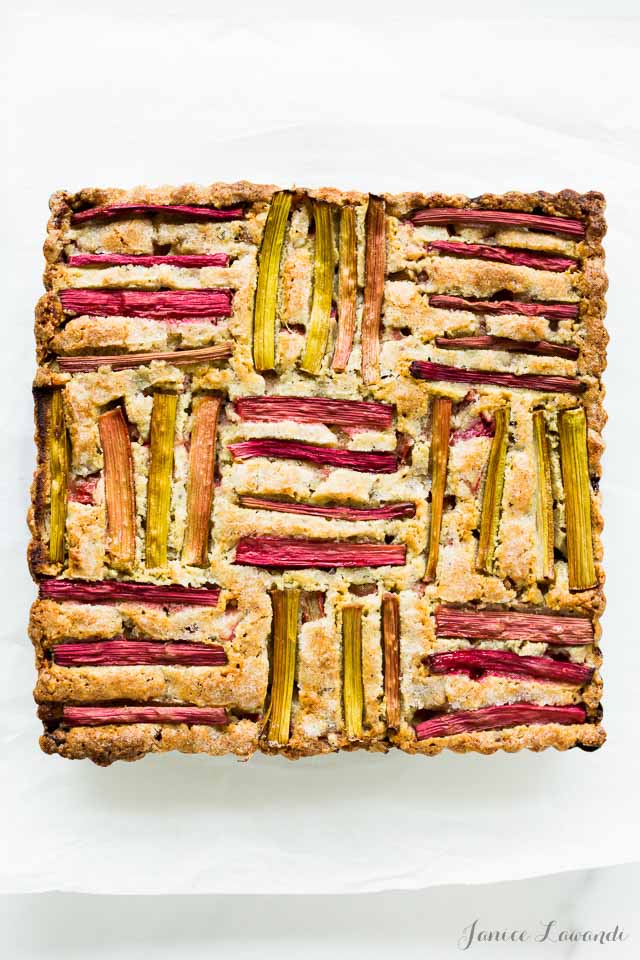 The resulting rhubarb cake is very moist and full of rhubarb chunks that go so well in this sweet, nutty cake. It's absolutely addictive and the perfect cake to bake with rhubarb this season. This rhubarb cake is quite different than the rhubarb pudding cake (with rhubarb compote baked under a thick layer of cake) and the orange cake made with cornmeal and topped with rhubarb.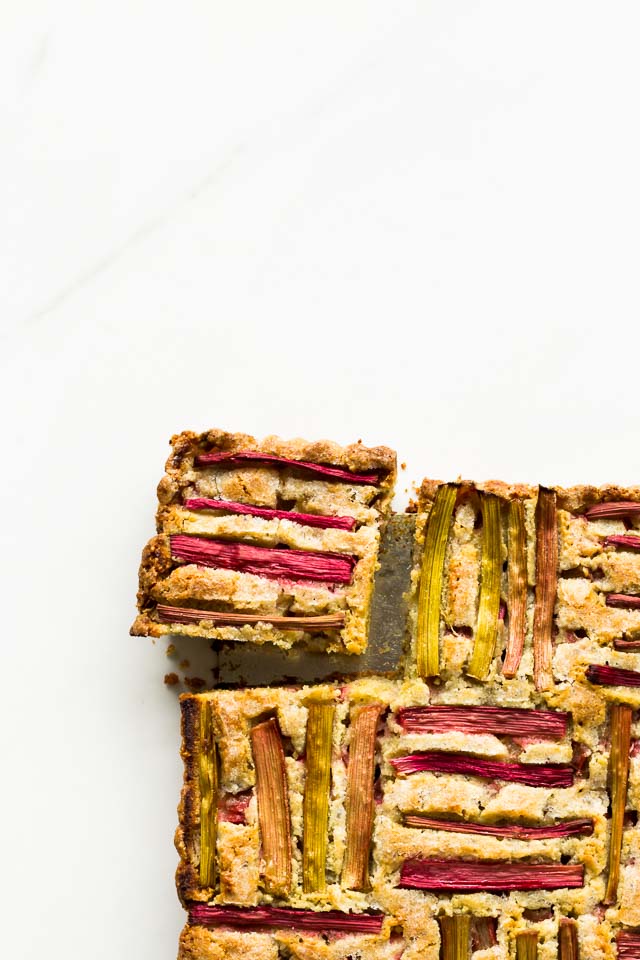 A few helpful resources
These are some of the baking tools I used to make this recipe:
Mini food processor: I've been using this mini KitchenAid food processor for over 5 years. It works well and you can order it from Amazon
Stand mixer: I like my KitchenAid professional stand mixer, a little more sturdy than the Artisan version, and it's available on Amazon
Substitutions for this recipe
Like with any recipe, baking substitutions can be tricky, but I have a few suggestions. I realize that the ground pumpkin seeds are a little unusual, so feel free to replace them with your favourite ground nut. Ground almonds or ground hazelnuts would be perfect here. Replace the ground pumpkin seeds with the same weight of your favourite ground nuts.
For the sour cream, you can replace it with the same volume of full fat plain Greek yogurt. Low fat would probably work too, but your recipe will have less fat and I can't guarantee that it will work out exactly the same.
Metal and rhubarb don't play well together
When you're baking with rhubarb keep in mind that rhubarb is quite acidic and you need to consider the material of your cake pan or bakeware, especially for recipes where the rhubarb may come into direct contact with the pan. I used a square 9-inch tart pan with removable bottom, but I found the rhubarb chunks in the cake discoloured the stainless steel finish in places. So even though, I used a stainless steel pan for this recipe, it might be more appropriate to bake it in a coated stainless steel, ceramic, or even glass pan to avoid discolouring your pan. You may have to adjust the baking time accordingly since glass, for example, is insulating and slower to heat up, which means your cake will take a little longer to bake.
Regardless of if your pan has a special coating on it (ceramic or non-stick) or not, be sure to take the time to prepare the pan before baking: grease the pan, and dust the sides with flour. If the pan doesn't have a coating on it, line the bottom with parchment to avoid the rhubarb reacting with the metal.
📖 Recipe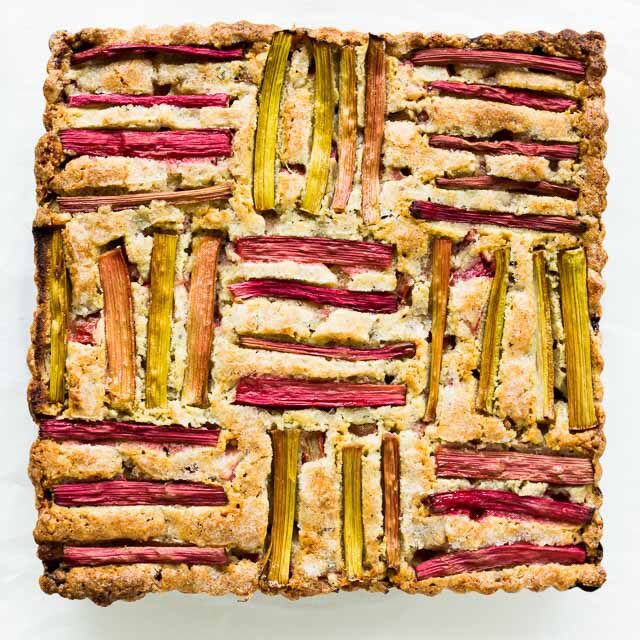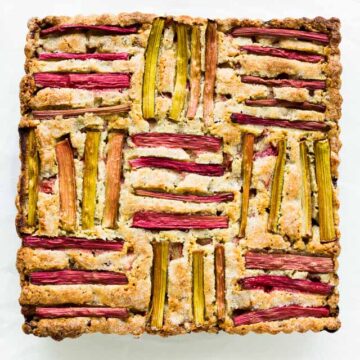 Moist Rhubarb Cake with Pumpkin Seeds
This rhubarb pumpkin seed cake reminds me of a giant financier, it's nutty and moist, and full of rhubarb.
Ingredients
450

grams

fresh rhubarb

washed and trimmed

156

grams

bleached all-purpose flour

108

grams

pumpkin seeds

5

mL

baking powder

3.75

mL

Diamond Crystal fine kosher salt

153

grams

unsalted butter

room temperature

150

grams

granulated sugar

2

large egg(s)

5

mL

pure vanilla extract

63

mL

sour cream (14% fat)

30

mL

granulated sugar
Instructions
Preheat the oven to 350 °F (175 °C). Butter and flour a 9x9-inch (23x23-cm) square pan (preferably non-reactive). Set aside.

Slice rhubarb in half, lengthwise (or even in quarters for thicker stalks of rhubarb) and then into 2 ½" pieces. Select about 36 of the prettiest and set them aside for the top of the cake. Chop the rest into ½" pieces. Set aside.

In a small food processor (like this KitchenAid on Amazon), pulse together the flour, pumpkin seeds, baking powder, and salt, until the seeds are finely ground and the dry ingredients are evenly mixed.

In the bowl of a stand mixer fitted with the paddle attachment (like this KitchenAid on Amazon), cream together the butter and sugar, then beat them together on medium-high speed for a full 4 minutes, until light and fluffy. Scrape down the bowl as needed with a spatula. Add the eggs, one at a time, beating well between each addition. Then add the vanilla, and beat the mixture again for another 4 minutes on medium-high until it's very pale, light (like soft whipped cream).

With the mixer on low, add half the dry ingredients, mix them in, then add the sour cream. Scrape down the bowl again, then add the rest of the dry ingredients, and stir just to combine. Take the bowl off the stand, then fold in the ½" rhubarb pieces with a spatula. The batter will be very thick.

Spoon the batter into the prepared pan, smearing and pressing it into the corners and edges of the pan. Then arrange the reserved sticks of rhubarb on the top into a pattern (see picture). Sprinkle with 2 tablespoon granulated sugar. If you are using a pan with a removable bottom, place it on a baking sheet.

Bake the cake for at least 80 minutes, rotating after about an hour of baking. Bake the cake until the edges are nicely browned, and a skewer inserted into the middle comes out clean.

Let cool before serving. Unmold after about 20 minutes if you are using a removable bottom tart pan.
Nutrition
This rhubarb cake recipe was adapted from the April 2015 issue of Bon Appétit magazine, page 66. You can find a version online here: Bon Appétit recipe,