Learn how to make an OREO mug cake from scratch in the microwave with this easy recipe. This recipe makes a vanilla mug cake flavoured with crushed OREO cookies for a quick and easy treat!
Disclosure: As an Amazon Associate, I earn from qualifying purchases.
If you are craving cake, but it's late at night or you don't want to make a full-sized recipe, try this Oreo mug cake, a chocolate dessert that serves one person, ready in under 10 minutes and with virtually no cleanup! That's the beauty of mug cakes!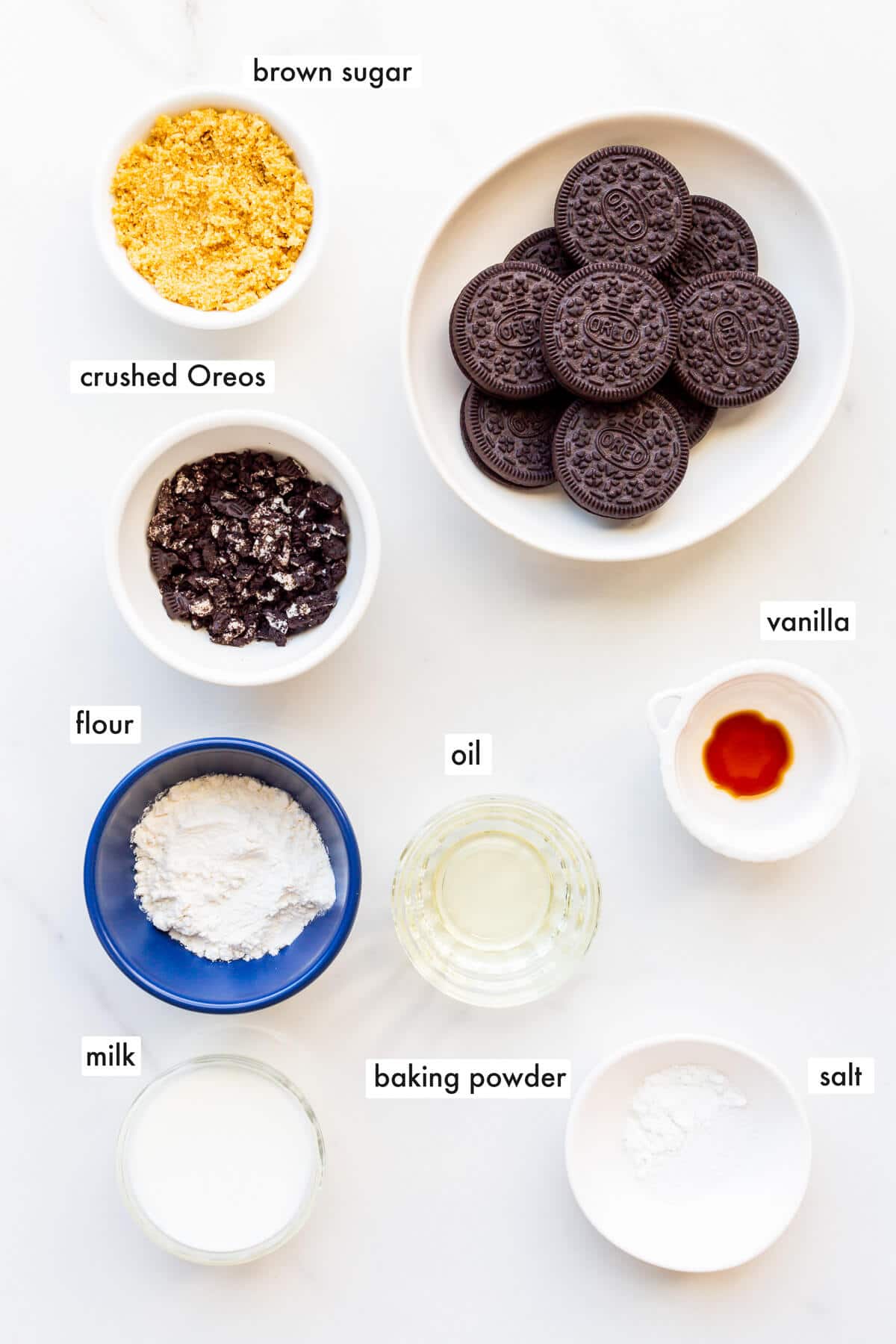 The ingredients you need
Like any mug cake, the ingredients are pretty standard and you probably have them all in your pantry and fridge!
all-purpose flour to bind all the ingredients together and make this a cake (as opposed to a brownie)
Oreo cookies or your favourite chocolate sandwich cookies to add Oreo flavour to the cake and also for garnishing the mug cake before eating
sugar, granulated sugar or brown sugar will work here, but I find brown sugar adds a little extra flavour, which is important when microwaving foods because they don't have time to caramelize at all
baking powder is very important here to help the cake rise quickly in the microwave. Do not mix up baking powder and baking soda. Read this comparison of baking powder versus baking soda if you are confused.
salt, preferably Diamond Crystal fine kosher but even table salt will work here because it's just a pinch
milk, preferably whole milk with 3.25 % fat
neutral oil, like canola oil, is used instead of butter to make mixing easier. Another option would be to melt the same quantity of butter in the mug first in the microwave before adding the other ingredients
vanilla is important in this recipe to add flavour. Yes, you can make this recipe without it, but I find just a couple drops add a little more depth of flavour to the cake which can be quite bland otherwise.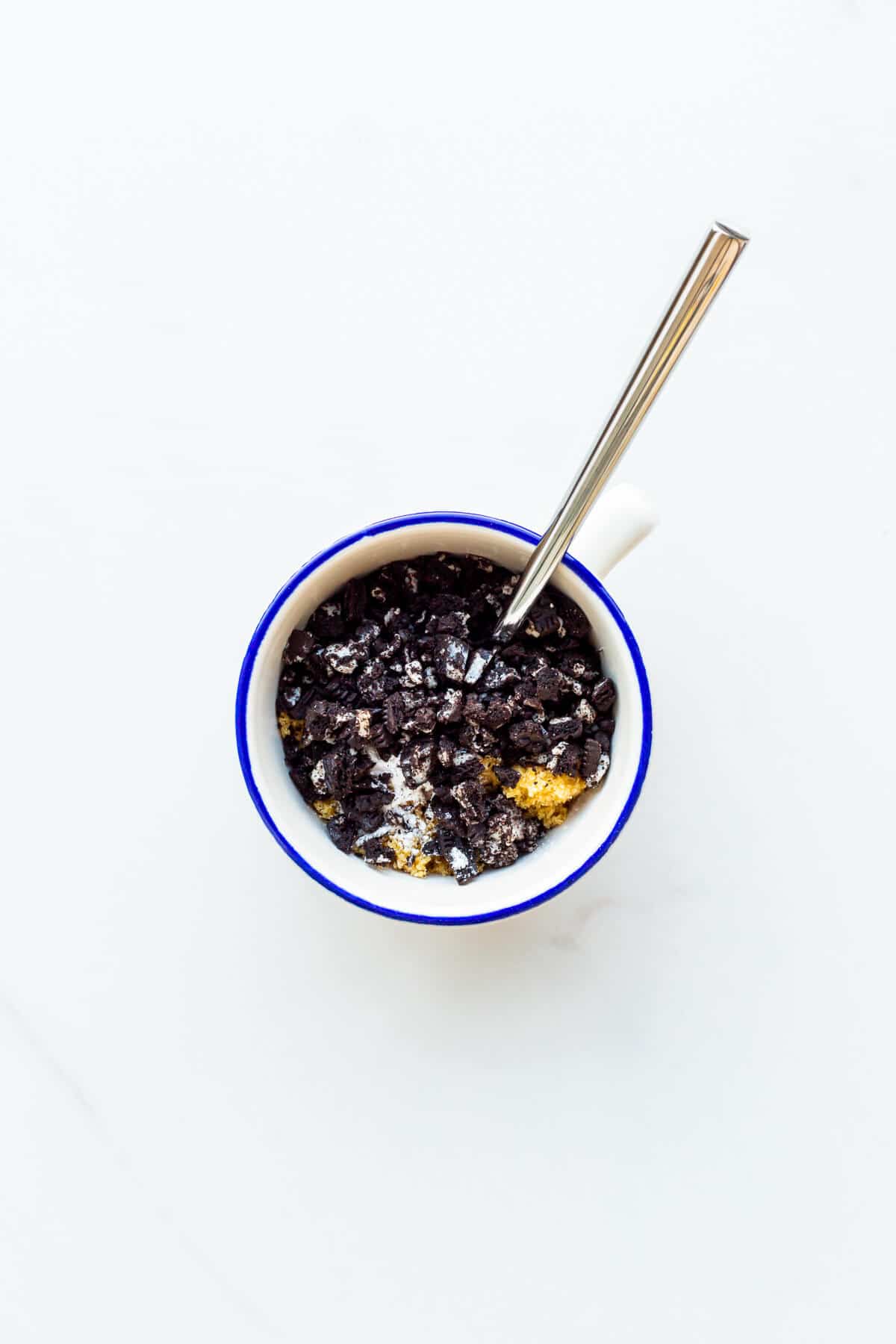 Special tools and equipment
Obviously the other important element to this recipe is the microwave oven. Sure, you could bake this recipe in a regular home oven or even a toaster oven, but that would take longer and we want cake fast!
The other important piece to this recipe is the mug. Choose the right mug: the mug must be microwave safe and it should have a volume of about 250 mL (1 cup or 8 fluid ounces), otherwise, there's a risk that the cake batter will spill over as it rises in the microwave.
The method
This Oreo cake is easy and serves only one person. All the ingredients are measured directly into a mug and mixed with a fork. It's a process similar to the muffin mixing method, where all the dry ingredients are combined separately from the wet ingredients before mixing the two together.
Special equipment
The cake is microwaved to cook it, instead of baking it in the oven. It cooks really quickly (takes 90 seconds in my microwave). When it's ready to eat, it's still warm. This is the perfect solution to a Friday night craving for cake.
If you don't have a microwave, you have options to bake the mug cake in the oven. You could bake this in a toaster oven (or a conventional oven). Just make sure your mug is oven-safe. Or use a ramekin with a volume of at least 250 mL (1 cup).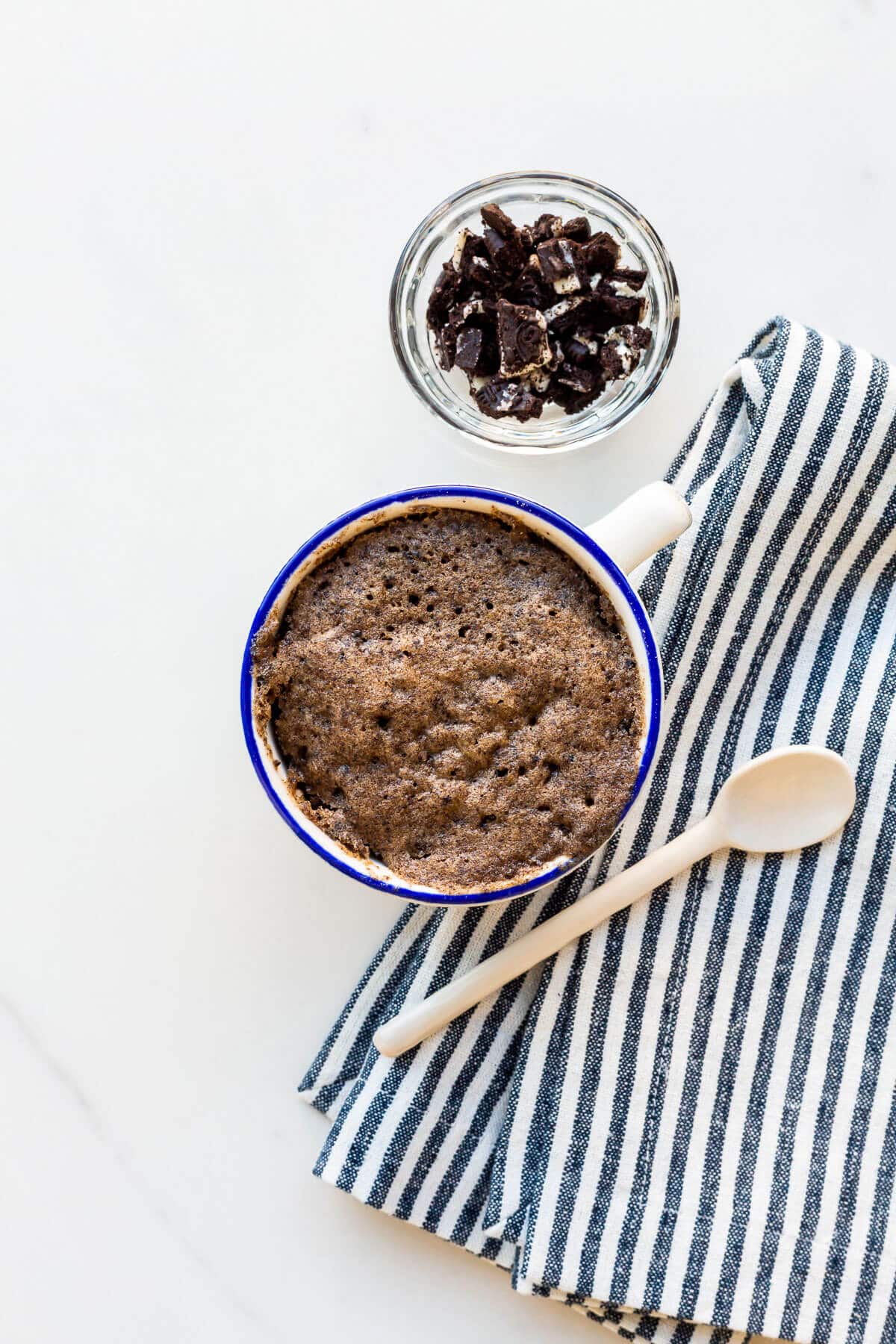 How to tell if it's cooked
The only trouble I've had with mug cakes cooked in the microwave is checking if they are done baking/cooking. When you microwave a mug cake, you can watch the progress through the window. However, after about 60 seconds, the window of the microwave fogs up from the evaporation and steam generated. This means, you can't see what's happening or rely on visual cues.
The only thing you can do is pause the microwave to check if your cake is done baking and use a cake tester. Insert it into the centre of the cake, all the way to the bottom, to make sure it comes out clean. Unfortunately, this can lead to the cake on the bottom becoming gummy if it's under-baked because the cake collapses back down. Trial and error with your microwave will help you figure out what is the perfect cook time for your mug cakes. In my microwave, it takes 90 seconds on high power.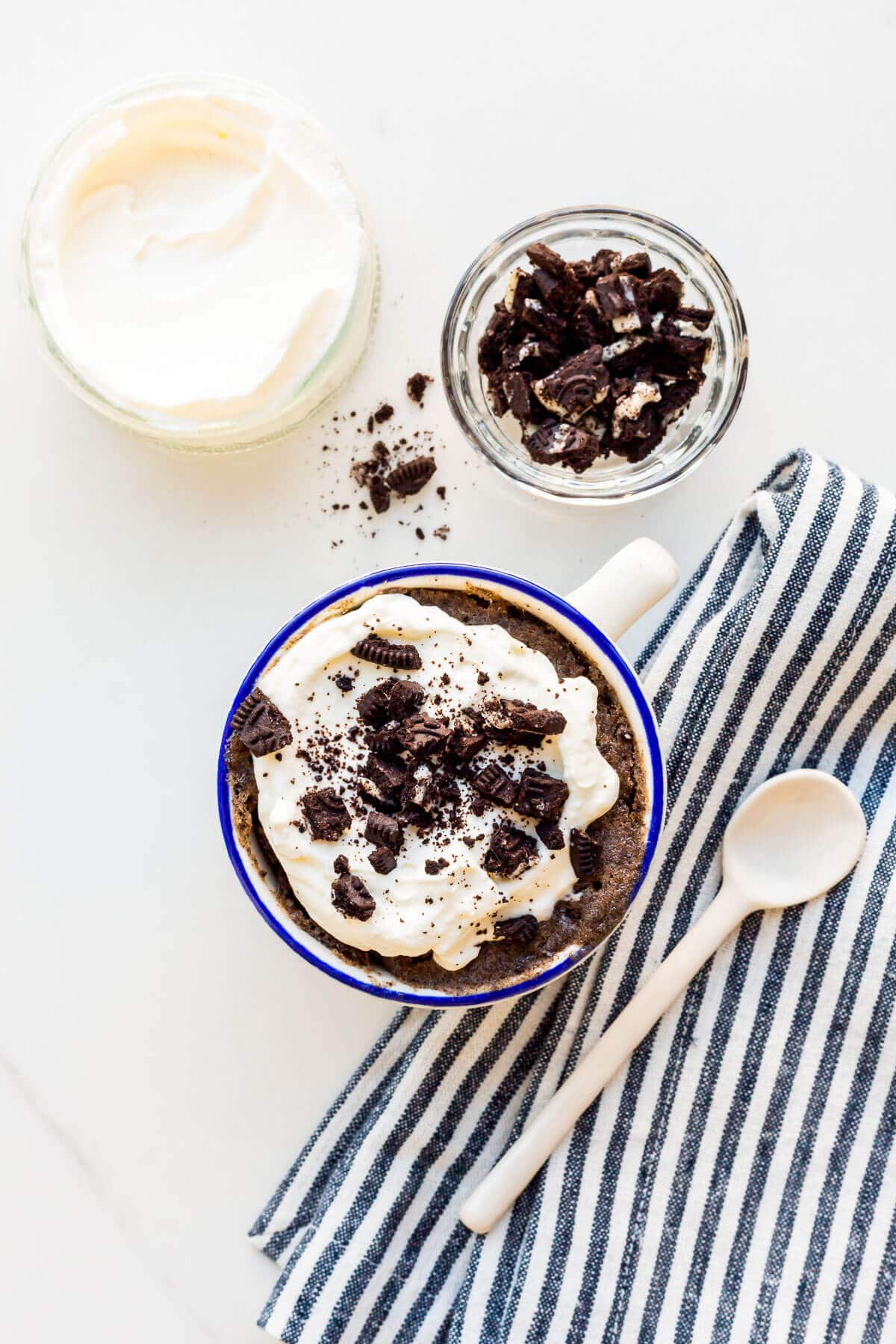 Toppings
Once your mug cake is done cooking in the microwave, I highly suggest topping it with: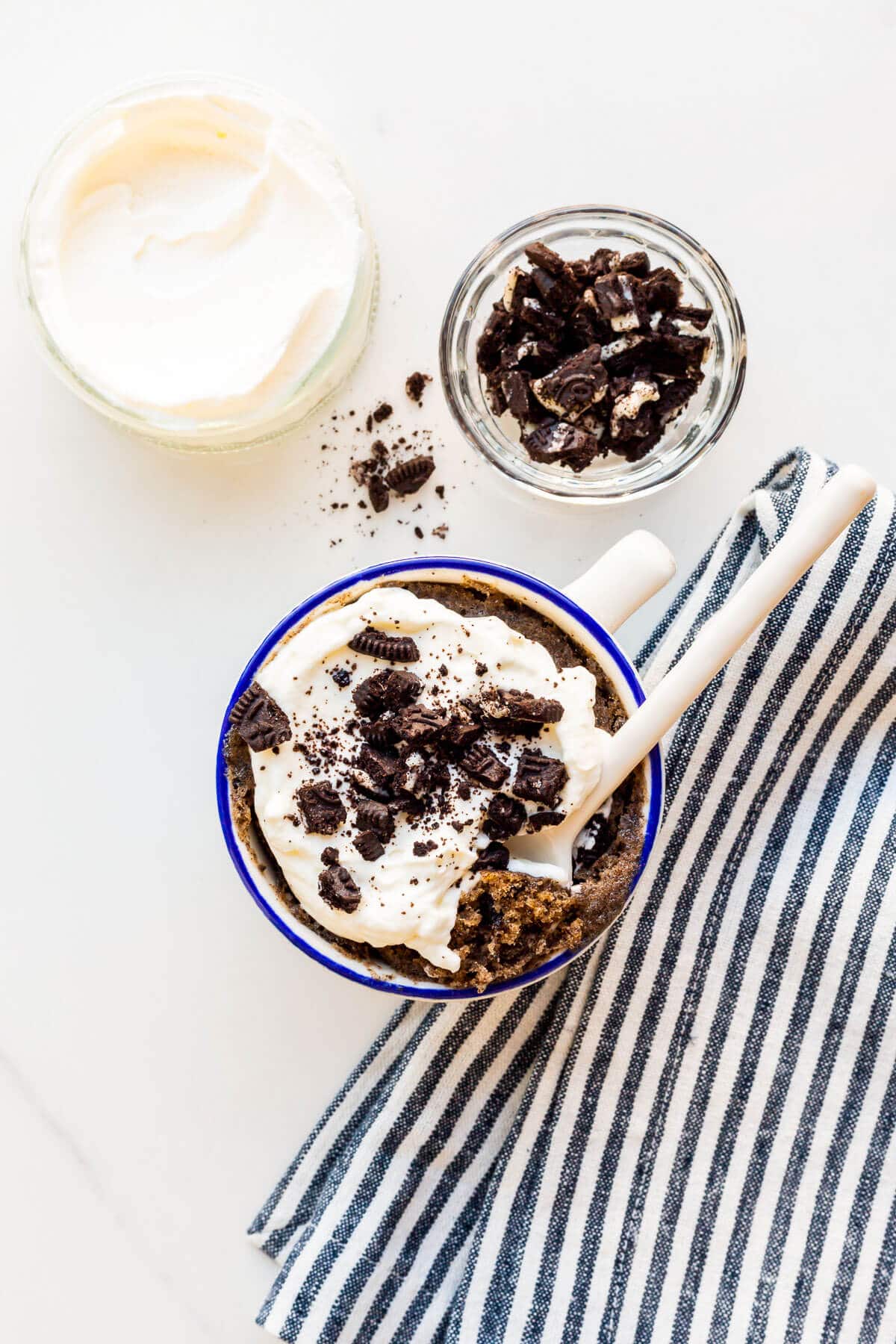 Other mug cakes to try
If you are a fan of single serving cakes that can be cooked in the microwave in under 2 minutes, try these recipes:
Please note that mug cakes are meant to be mixed, cooked, and eaten right away. This is not a cake recipe that I would store for later. I don't recommend storing this cake.
📖 Recipe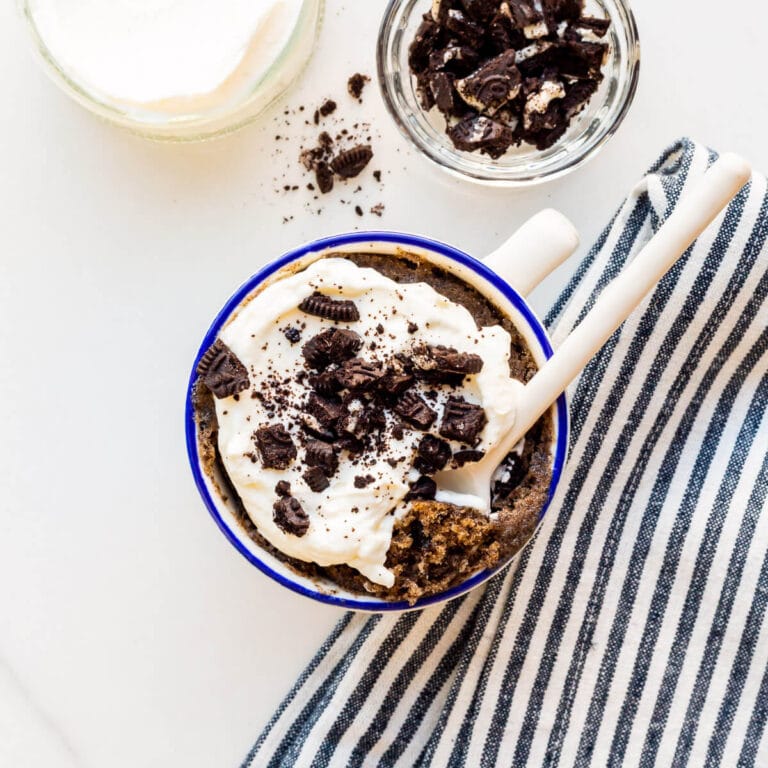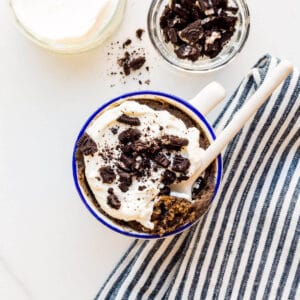 Oreo Mug Cake
Learn how to make an Oreo mug cake from scratch with this easy recipe, measured, mixed and cooked directly in a mug, featuring chocolate sandwich cookies!
Ingredients
Optional toppings
60

mL

sweetened whipped cream

optional (or you can top with a scoop of ice cream)

12

grams

Oreo cookies

crushed
Instructions
In a microwavable mug (make sure that it has a 1-cup capacity, ~250 mL, and is microwave-safe), stir together with a fork the flour, crushed Oreo cookies, brown sugar, baking powder, and salt.

Measure the milk, oil and vanilla directly into the mug. Stir again until there are virtually no more lumps. Make sure to scrape the bottom edges to make sure there are no flour pockets!

Place the mug in the microwave, and cook on high for 90 seconds. The cake will puff up as it cooks. Use a cake tester and insert it into the centre of the cake to test if it's done cooking.

Carefully take the mug out of the microwave (it's hot!) and let the cake sit for a couple of minutes before diving in with spoon. You can also top it with sweetened whipped cream or ice cream, and more crushed Oreo cookies.
Nutrition
Calories:
679
kcal
Carbohydrates:
83
g
Protein:
8
g
Fat:
36
g
Saturated Fat:
13
g
Polyunsaturated Fat:
6
g
Monounsaturated Fat:
16
g
Trans Fat:
1
g
Cholesterol:
50
mg
Sodium:
442
mg
Potassium:
418
mg
Fiber:
2
g
Sugar:
51
g
Vitamin A:
485
IU
Calcium:
202
mg
Iron:
5
mg