What do you do with leftover cookies? You make cookie ice cream with this easy recipe for a vanilla custard base churned with chopped cookies.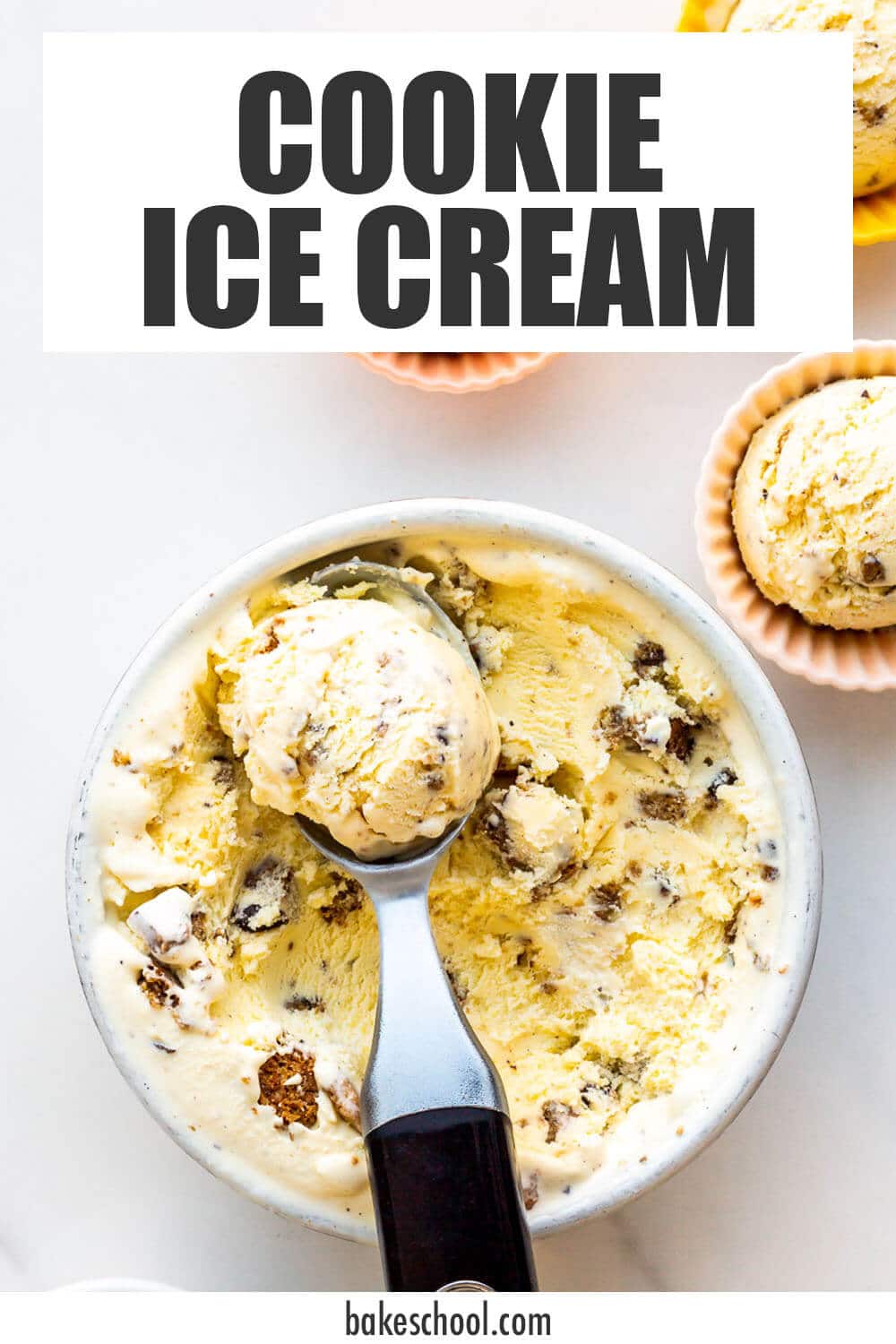 Disclosure: As an Amazon Associate, I earn from qualifying purchases.
Once you've mastered making vanillla ice cream, you can start folding in a variety of different add-ins (also called inclusions) to make your favourite ice cream flavours.
Read up on how to make crème anglaise before making this recipe if you've never done it before!
Jump to:
Types of cookies to mix into ice cream
You can literally chop up any type of cookie and toss it into your next batch of cookie ice cream. That's the beauty of it! This means that if you have leftover homemade cookies or even store-bought cookies, you can fold them into a batch of ice cream to make this fun dessert.
One thing to remember is that when foods are frozen, the flavours end up a little muted, it's important to opt for cookies that have a strong flavour, like: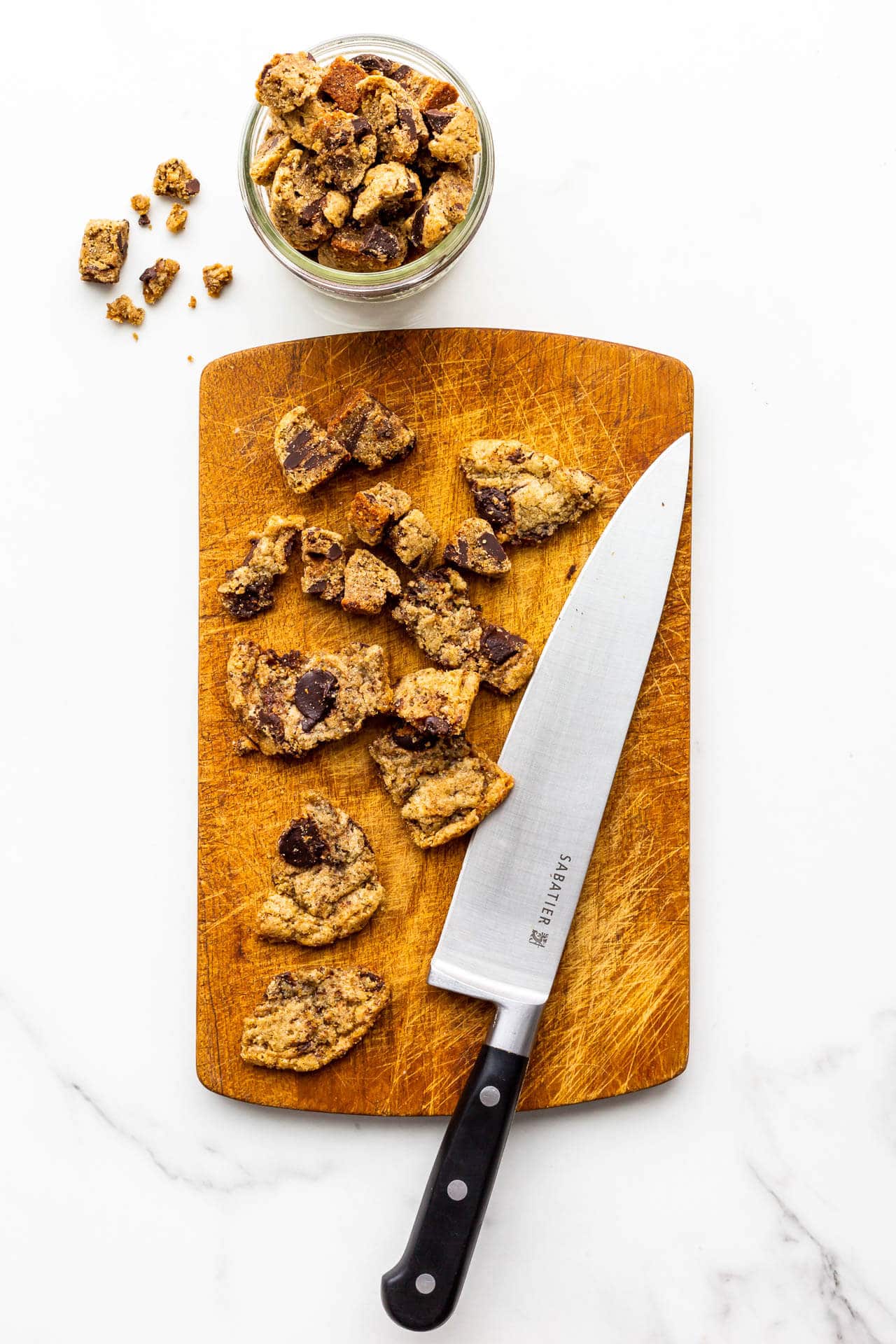 Chop cookie pieces small
Really, any cookies will work if you chop them up. Not only will they add an interesting flavour, they will also bring texture to the ice cream. I like to chop the cookie pieces to different sizes in order to have finer crumbs that mix in completely and larger chunks. I especially like the texture the sandy smaller bits of cookie bring.
I prepared to make this batch of cookie ice cream last time I made chocolate chip cookies. I chopped up and froze about 300 grams of the cookies to use in ice cream later. This way the cookies were ready to go and all I had to do was make the custard.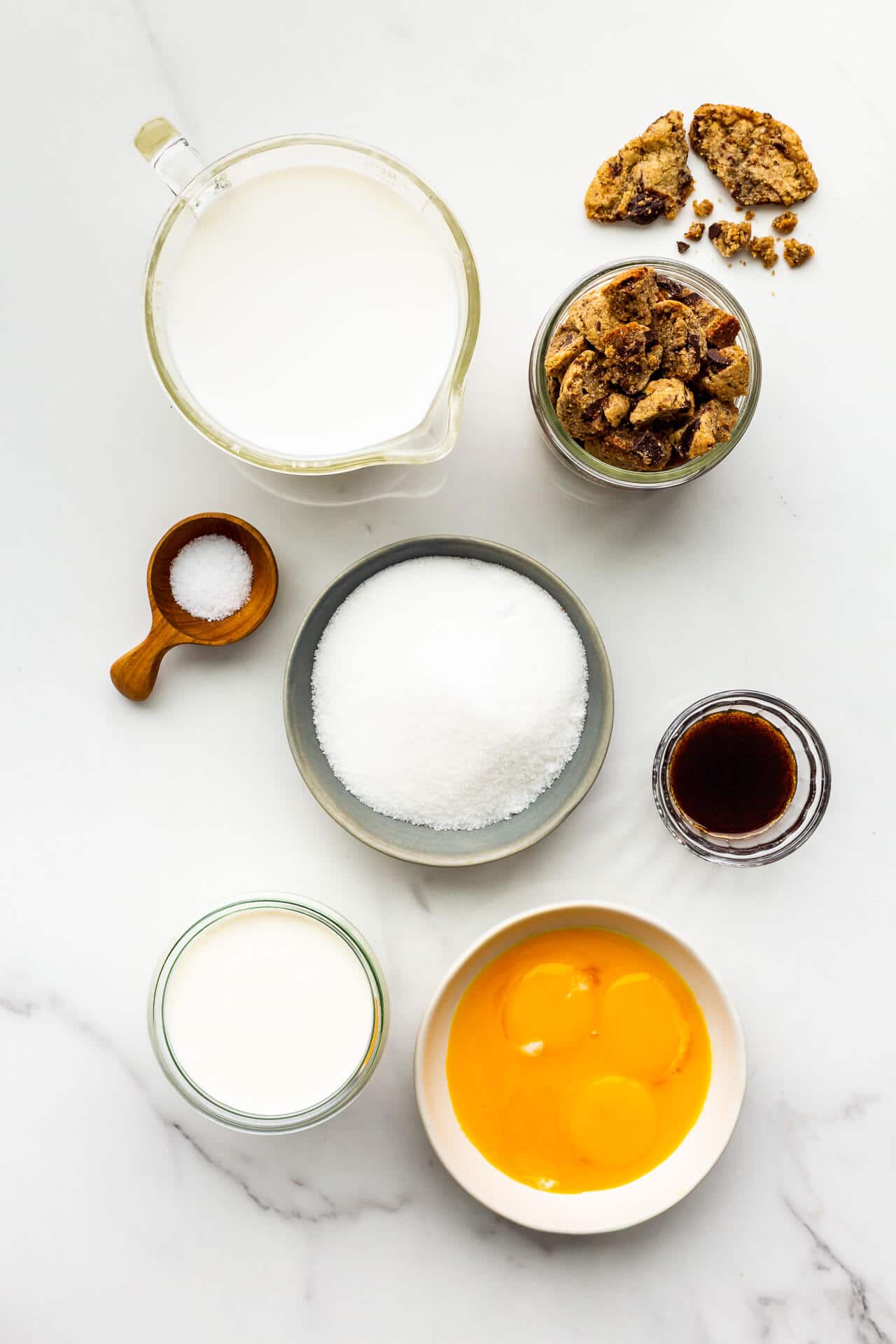 For the cookie pieces, make sure you chop them small enough. If the pieces are too big, they can damage your ice cream machine, which is most likely equipped with a plastic paddle.
Furthermore, because it's likely your cookie inclusions were made with butter, butter freezes hard and brittle, which means larger pieces will be impossible to bite into. Make sure to chop the cookie pieces small enough so that people don't have a hard time eating the ice cream.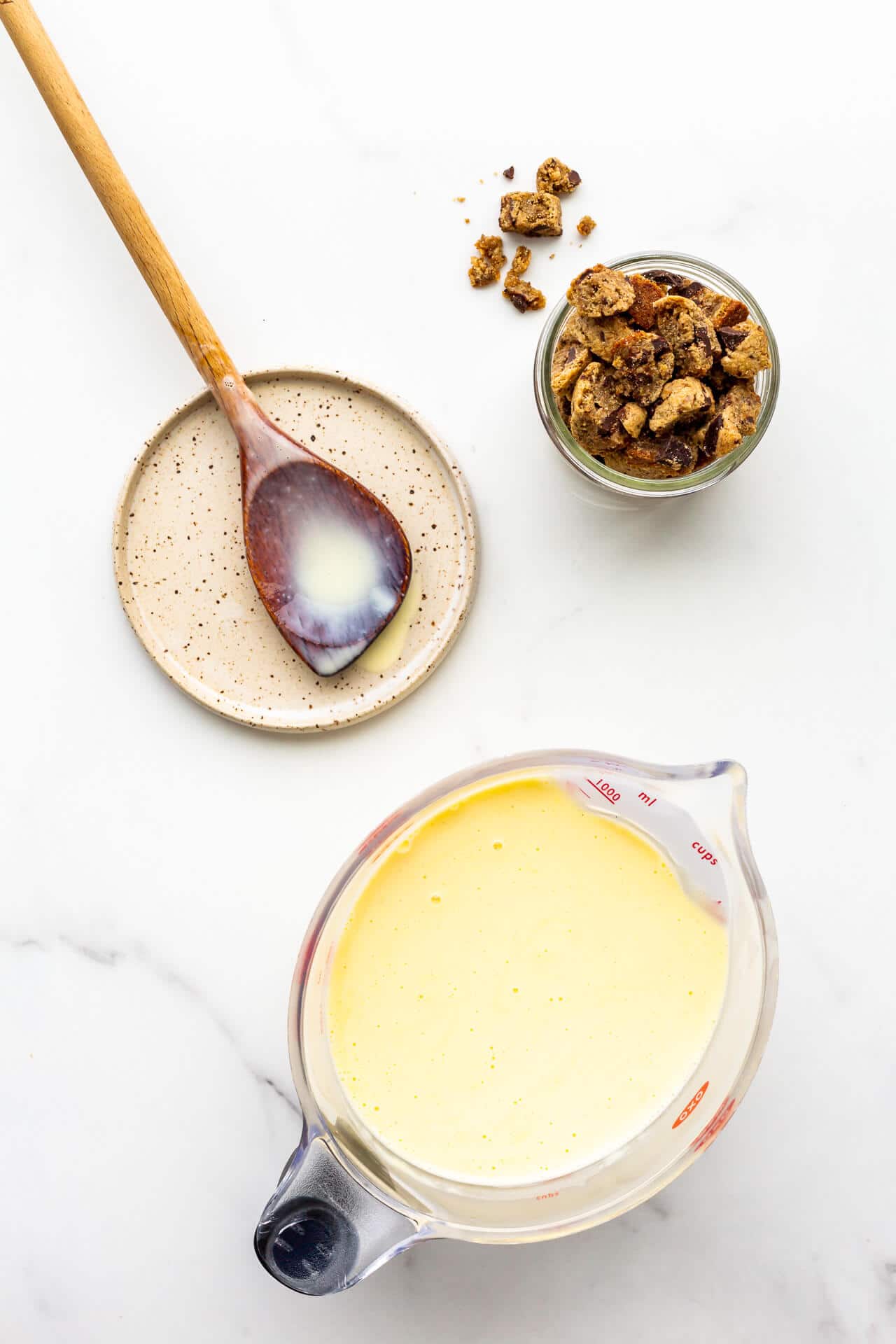 Ice cream base for cookie ice cream
I often see cookie dough or cookie ice creams made with Philadelphia style ice cream bases, meaning eggless, but I still prefer the depth of flavour a crème anglaise base brings to ice cream.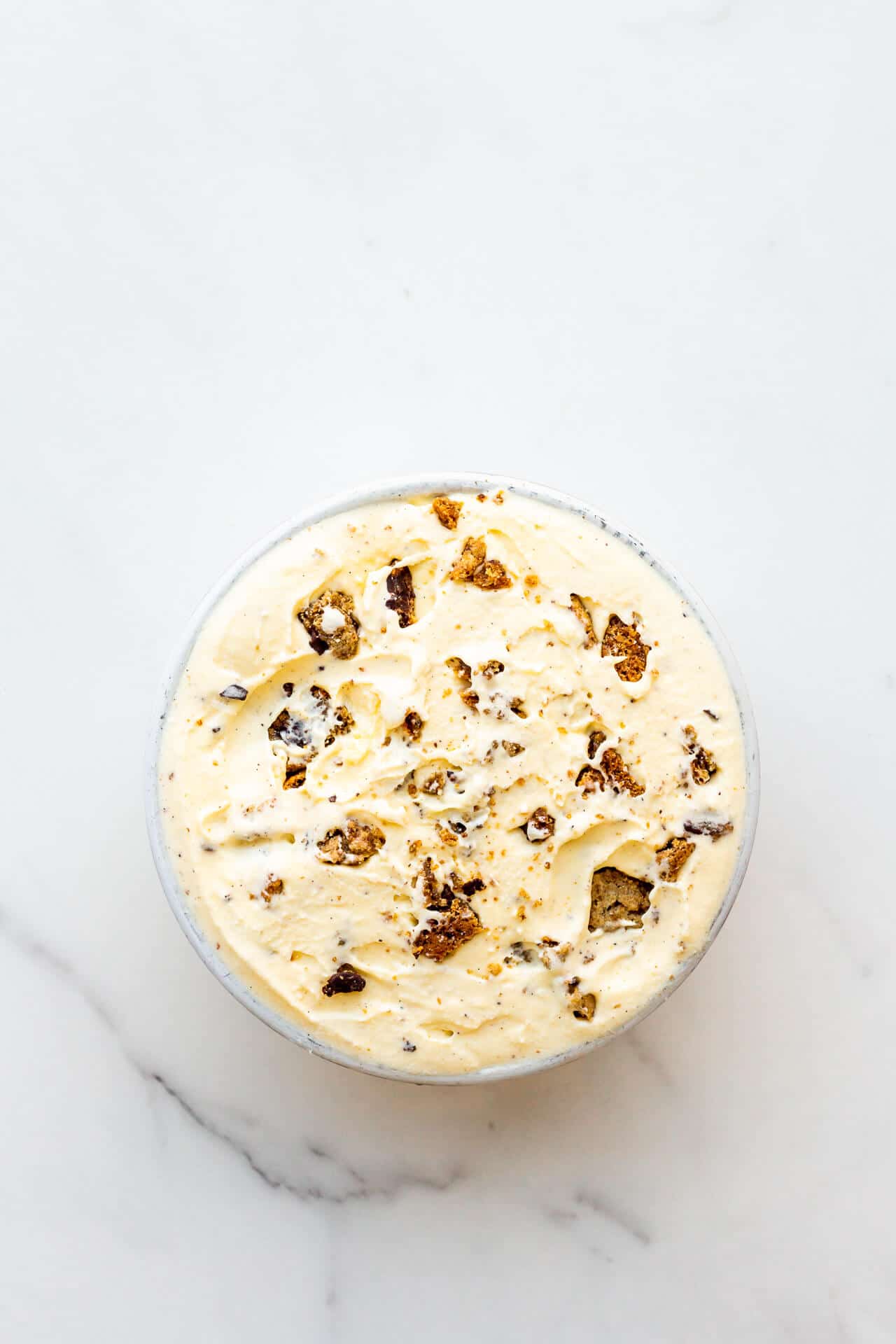 In this recipe, I use is my go-to vanilla bean ice cream base. Dark chocolate ice cream would also make a great base for this recipe.
If you prefer to skip the egg yolks, you can modify this buttered popcorn ice cream, skipping the popcorn infusion step.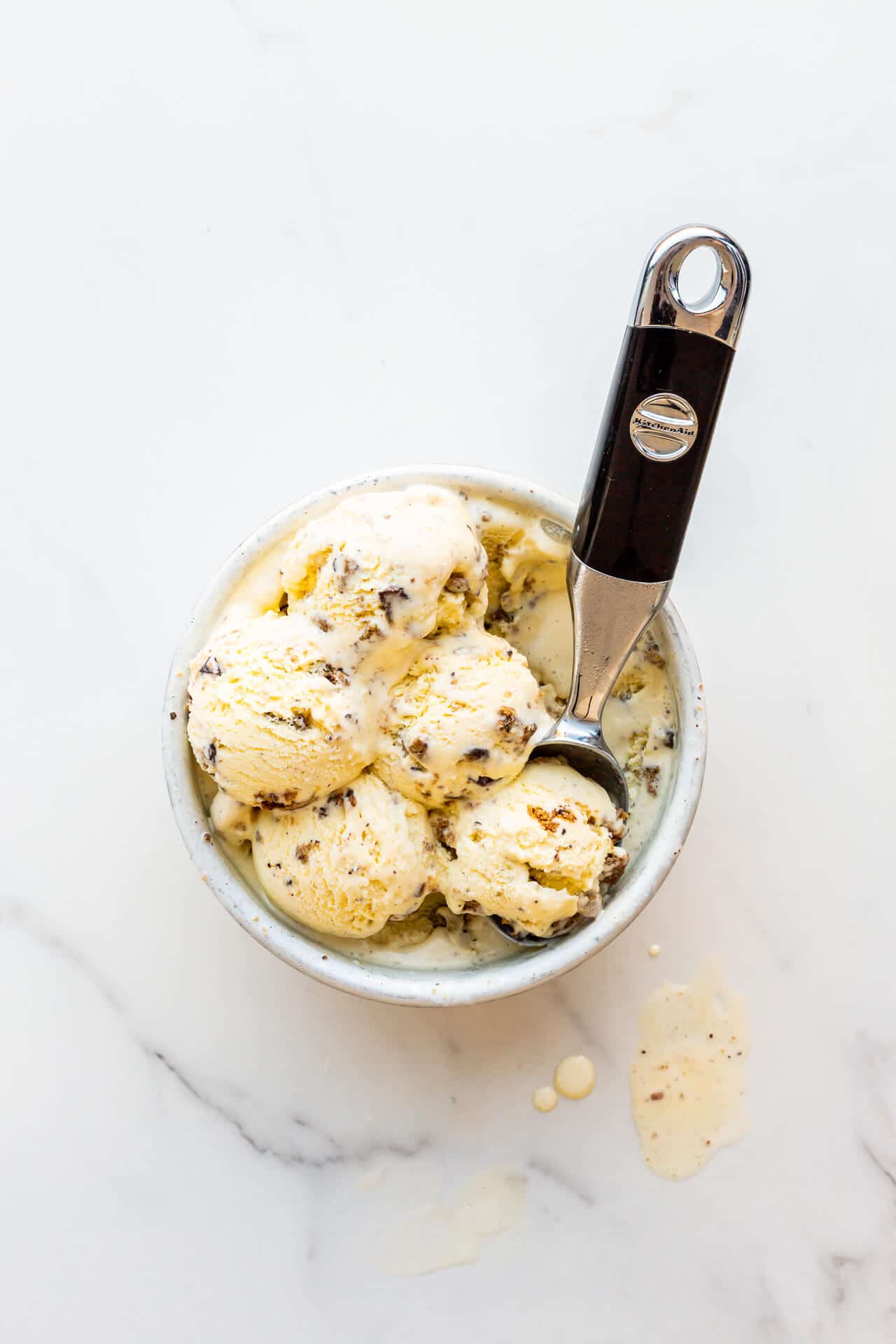 To give the base a warm vanilla flavour, I used a vanilla bean paste that combines vanilla extract with flecks of vanilla bean. You could also opt to infuse the custard with vanilla beans if you have them or use pure vanilla extract, remember that depending on the type of vanilla you are using, you need to add them at different stages of the recipe:
vanilla extract and vanilla bean paste are better added after heating the mixture
vanilla beans need to be added before heating because the heat helps you extract the flavour.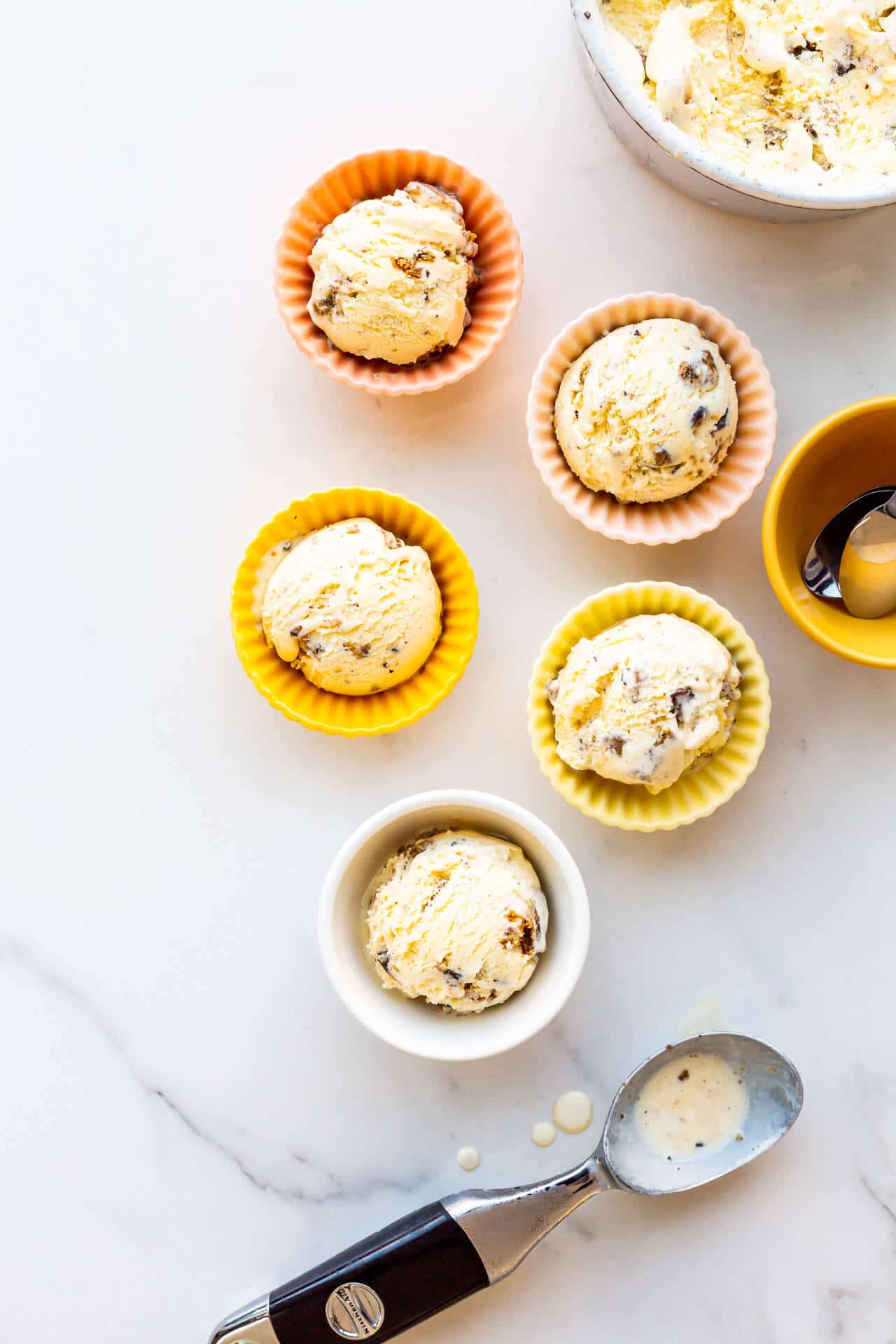 And if you prefer brownies to cookies, you can always fold in a few cups of chunks of brownies with walnuts. Check out how to make chocolate brownie ice cream if you want a chocolate-on-chocolate experience.
📖 Recipe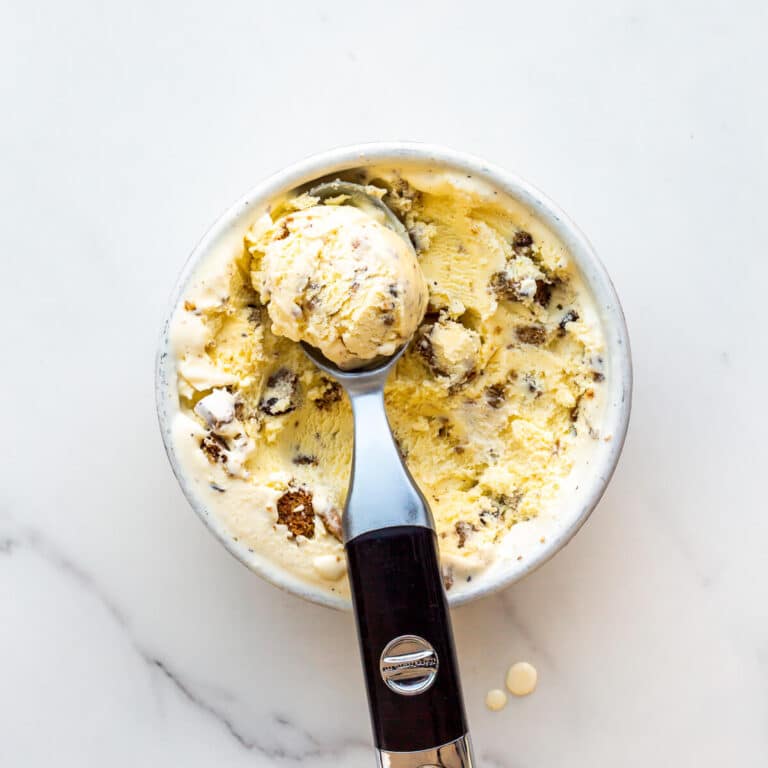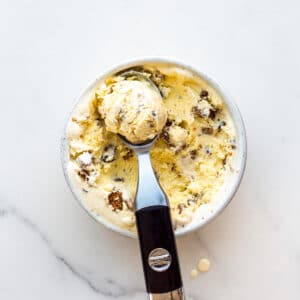 Cookie Ice Cream
Chopped cookies are stir into freshly churned homemade vanilla bean ice cream to make this easy recipe for cookie ice cream!
Ingredients
310

mL

whipping cream (35 % fat)

divided

5

large egg yolk(s)

150

grams

granulated sugar

divided

440

mL

whole milk (3.25 % fat)

5

mL

vanilla bean paste

250

grams

cookies

crumbled or chopped into pieces of different sizes
Instructions
Freeze the ice cream drum in the freezer for at least 24 hours before attempting to make ice cream.

Before you begin to cook the ice cream base, place 250 mL (1 cup) of the cold whipping cream in a 1 L (4 cup) measuring cup (or a big bowl preferably with a pouring spout). Set a strainer over top. Set aside

In a large bowl, whisk the egg yolks with half the sugar until the mixture is a very pale yellow and very light.

In a medium saucepan, whisk the rest of the sugar with the milk, the vanilla bean paste, the salt, and the rest of the cream. Heat the mixture until it is very hot and almost comes to a boil.

Pour the hot milk mixture over the whisked yolks to temper the eggs. Whisk continuously until the mixture is homogenous, then transfer it back to the saucepan.

Switch to a wooden spoon and, stirring constantly, heat the mixture on the stove over medium—low heat until the custard has thickened and has reached 83 °C (181 °F).

Pour the mixture through the strainer, pressing the custard through gently, if needed.

Cover with plastic wrap, then refrigerate the vanilla bean custard base for several hours to cool completely (overnight is best!).

Place the frozen drum on the ice cream maker, and churn the custard according to instructions. It can take over 15 minutes to churn the ice cream.

Add the chopped cookies to the ice cream machine to mix them in, just before stopping the machine. Your machine may struggle to incorporate the mix-ins if it's too full. In that case, use a spatula to fold them in by hand.

When the ice cream has reached the desired consistency. Turn off the machine, disassemble, and transfer the ice cream to a container. Place in freezer for a few hours to finish chilling.
Notes
Nutrition
Calories:
360
kcal
Carbohydrates:
35
g
Protein:
7
g
Fat:
23
g
Saturated Fat:
13
g
Cholesterol:
228
mg
Sodium:
222
mg
Potassium:
232
mg
Fiber:
2
g
Sugar:
29
g
Vitamin A:
964
IU
Vitamin C:
2
mg
Calcium:
166
mg
Iron:
1
mg