This easy recipe makes classic gingerbread cutout cookies that don't spread when baked. They hold their shape perfectly so that you can decorate them, store them, and even ship them.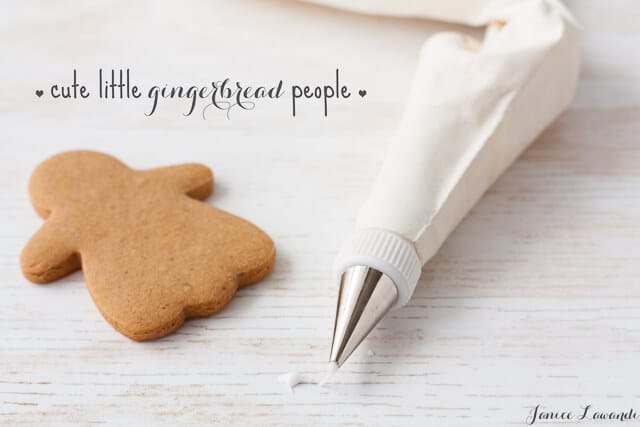 Disclosure: As an Amazon Associate, I earn from qualifying purchases.
The great thing about gingerbread cookies is that you can work on them in stages: make the dough and then chill it until you are ready to roll them (just let the dough warm up a bit on the counter before you attempt to roll it out).
Once you've baked them, you don't have to decorate them unless you absolutely want to, and you certainly don't have to do so right away. In fact, I decorated these a week after I made them because it took me a week to find the energy to make icing and dig out the decorating kit.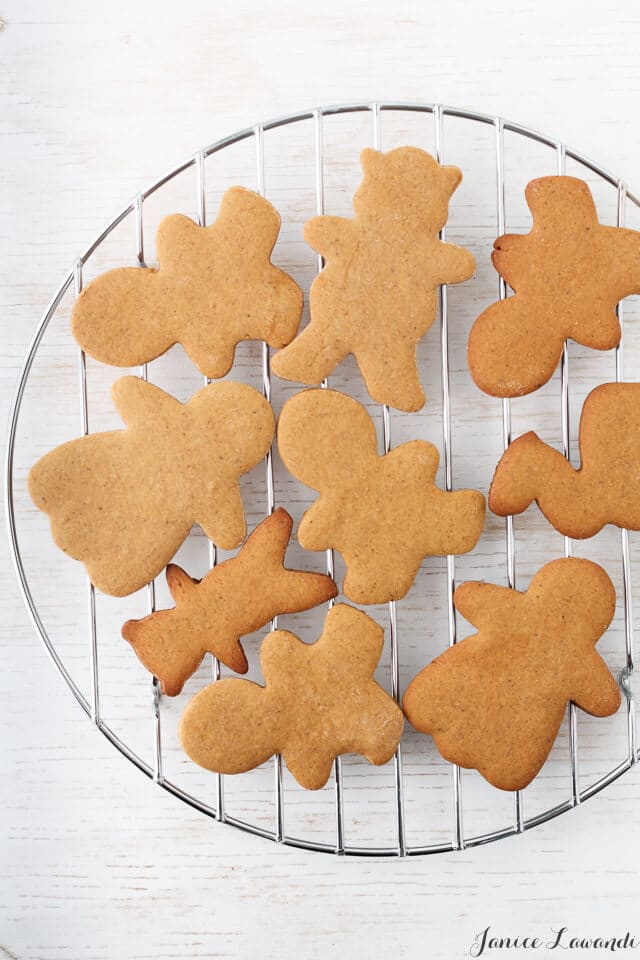 What are gingerbread cookies made of
If you want to make gingerbread cookie cut-outs, you will need the following ingredients:
butter, preferably unsalted butter because you will add salt to the dough, but if you have salted, it will work. Just adjust the salt in the recipe accordingly, otherwise your cookies may be too salty
light brown sugar though granulated sugar would also work here, though it would not contribute to the molasses flavour. Brown sugar may also lead to a slightly thicker cookie that is less prone to spreading
molasses, specifically Fancy molasses or baking molasses. Do not use blackstrap molasses, which is too bitter for this recipe
large eggs, don't use smaller eggs because your cookie dough may be too dry and your cookie dough won't roll out nicely, but don't use extra large eggs because they could cause the cookie dough to puff too much as it bakes, leading to a more cake-y cookie or a spread out cookie.
all-purpose flour is needed to bind all the ingredients together and give the cookies structure. If you don't use enough flour, your cookies may spread too much as they bake
baking soda is a base (alkaline). You need baking soda for the cookies to help with browning and also rise. Do not use baking powder. Read up on baking soda vs baking powder if you are unsure
ground ginger, cinnamon, nutmeg, and cloves are added to the dough to make these cookies very flavourful—these are the usual spices in gingerbread, though some may add anise or even ground pepper
salt is really important to balance out the sweet molasses flavour. Don't skip it. I like to use Diamond Crystal fine kosher salt, but table salt will work, though the cookies will be saltier and you may want to halve the salt in that case.
Type of molasses and substitutions
In this recipe, we are baking with Fancy molasses (which you can find on Amazon), which is sometimes called baking molasses or original molasses in the US (available on Amazon). Mild molasses also works.
Another option worth exploring would be black Treacle, which I used in these soft gingerbread cookies. Lyle's Black Treacle is very popular in Great Britain and it's used to bake instead of molasses. You can also order it on Amazon.
Do not use blackstrap molasses. Blackstrap molasses is very dark and has a more bitter taste, whereas Fancy molasses has a milder taste that is more suited for Christmas cookies.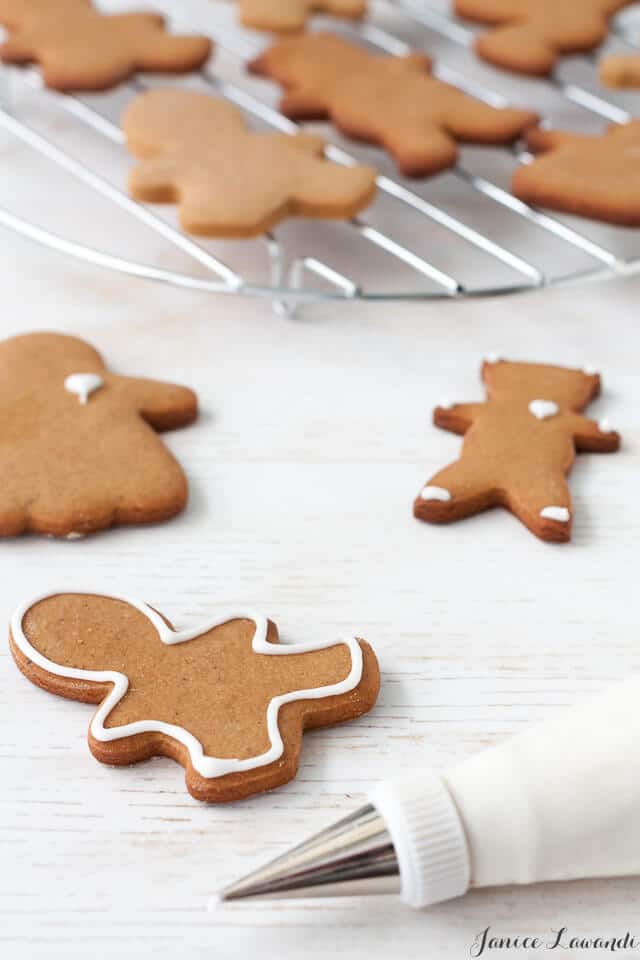 If you want a baking substitution for the molasses, I have tested this recipe with maple syrup and it works perfectly. Replace the molasses with the same quantity of maple syrup. Please note that the flavour will be quite different and the cookies will be lighter in colour, even if you use amber maple syrup.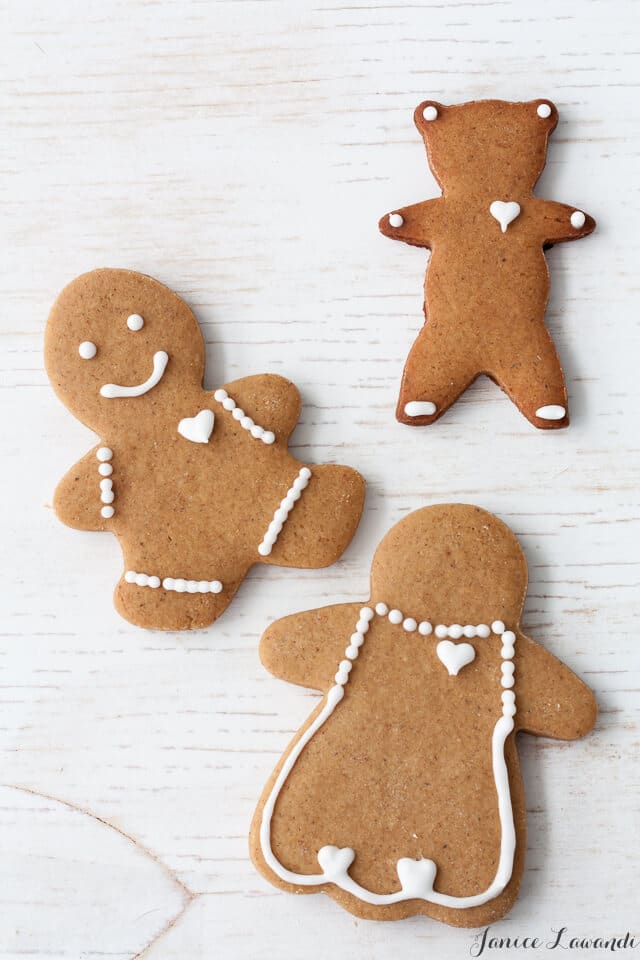 Chill the cookie dough
To stop cutout cookies from spreading as they bake (or slow it down), always chill the cookie dough before baking it. Cold butter takes more heat and/or more time to melt than room temperature butter.
To chill it before baking, gather the cookie dough into a disk and wrap it well in plastic wrap. Store them in an airtight container or a freezer bag in the fridge. In fact, you can freeze this dough for about a month, allowing you to get ahead of the Christmas baking. Simply defrost overnight in the fridge, taking it out the day before you want to roll it out and make cookies!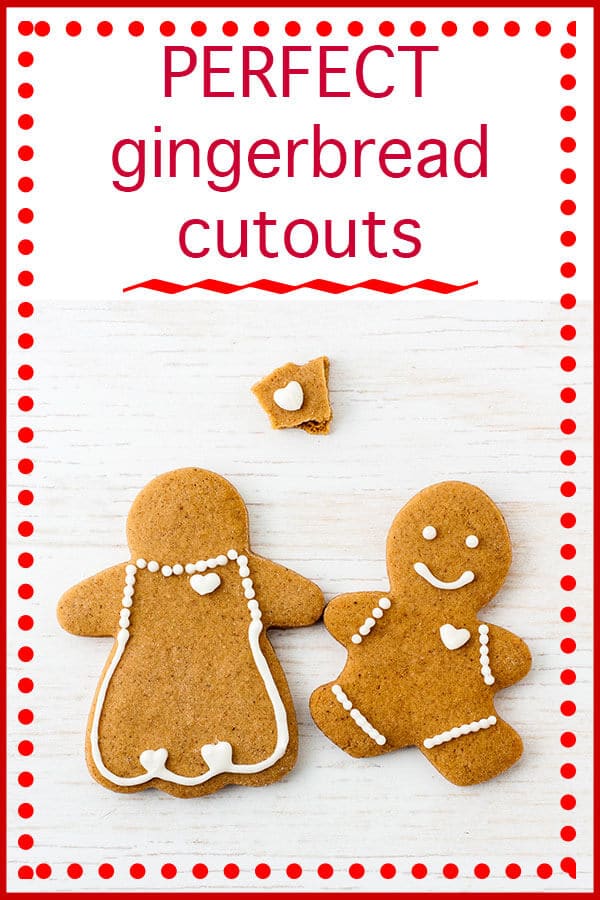 For another recipe, try these German gingerbread cookies, or these matcha gingerbread cookie cutouts for a green version that's super fun! If you love gingerbread, you can also make gingerbread muffins and even gingerbread granola!
You keep these gingerbread cut-outs plain, without any icing, but if you want to jazz them up, decorate them with a batch of royal icing: beat together 190 grams of icing sugar with 1 egg white, and a splash of lemon juice. Whip it for a long time to build it up and thicken it. I used this white royal icing to decorate without adding anything else. The icing should be quite stiff so it doesn't run off the cookies, as you can see.
📖 Recipe
Gingerbread people
If you want to decorate gingerbread men, you need a good gingerbread cookie dough. This gingerbread cookie dough is great for decorating (and eating) because the cut cookies don't puff or distort in the oven. And they taste great too!
Servings
50
small cookies
Ingredients
280

grams

(

2¼

cups

)

bleached all-purpose flour

10

mL

(

2

teaspoon

)

ground ginger

7.5

mL

(

1½

teaspoon

)

ground cinnamon

3.75

mL

(

¾

teaspoon

)

ground nutmeg

2.5

mL

(

½

teaspoon

)

ground cloves

1.25

mL

(

¼

teaspoon

)

baking soda

1.25

mL

(

¼

teaspoon

) Diamond Crystal fine kosher salt

115

grams

(

½

cup

)

unsalted butter

,

room temperature

67

grams

(

⅓

cup

) light brown sugar

80

mL

(

⅓

cup

)

molasses

1

large egg(s)
Instructions
Sift together the flour, spices, baking soda, and salt. Set aside.

In the bowl of an electric mixer, fitted with the paddle, cream together the butter and the brown sugar, then add the molasses, scraping down the sides of the bowl as needed.

Add the egg, and beat it in. Add the flour mixture a third at a time. You might have to work the last bit in by hand.

Divide the dough in two, flatten into disks, and wrap in plastic wrap. Chill for a couple of hours or until cold and firm.

Preheat the oven to 350ºF. Line sheet pans with parchment paper.

Roll out the dough, working with 1 disk at a time, to ¼ inch on a floured surface. Cut out desired shapes and transfer to a parchment-lined baking sheet. Bake for about 10 minutes.

Let cool completely before decorating with royal icing and store in an airtight container.
Give back
If you enjoy the free content on this website, say thank you!
Nutrition
I found this recipe in Josée di Stasio's Le Carnet Rouge, which is a gorgeous Christmas book: it's a smaller format Christmas cookbook, full of stunning photography, reliable recipes, and festive ideas. I honestly wish that I lived inside the pages of this book. It's beautiful! Di Stasio actually credits Nick Malgieri for this recipe. I guess it's a small world. So, from Nick Malgieri to Josée di Stasio, and then from me to you.
If you are in need of some Christmas spirit, make this recipe and buy Josée di Stasio's book (available on Amazon).