These cranberry gingerbread muffins are flavoured with fancy molasses, ginger, cinnamon, cloves, and nutmeg for a festive breakfast treat in the winter.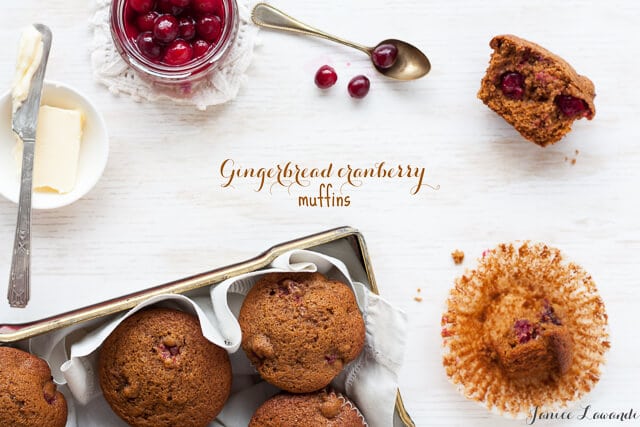 Disclosure: As an Amazon Associate, I earn from qualifying purchases.
It doesn't feel like winter if there's no gingerbread. The gingerbread could come in the form of gingerbread granola, gingerbread cookie cut-outs, and even muffins like these. I associate gingerbread with fall–winter more than Christmas. I think it's always best to just answer a craving, rather than try and ignore it until it's proper gingerbread season. Why the sudden urge to listen to my cravings? Let me explain.
The key to tasty gingerbread is the mix of spices (heavy on the ginger, cinnamon, cloves, and nutmeg) and fancy molasses (not to be confused with blackstrap molasses, which would be overpowering). If you have a muffin recipe you like, an easy baking substitution would be to replace half the sugar with fancy molasses, by the way.
Jump to: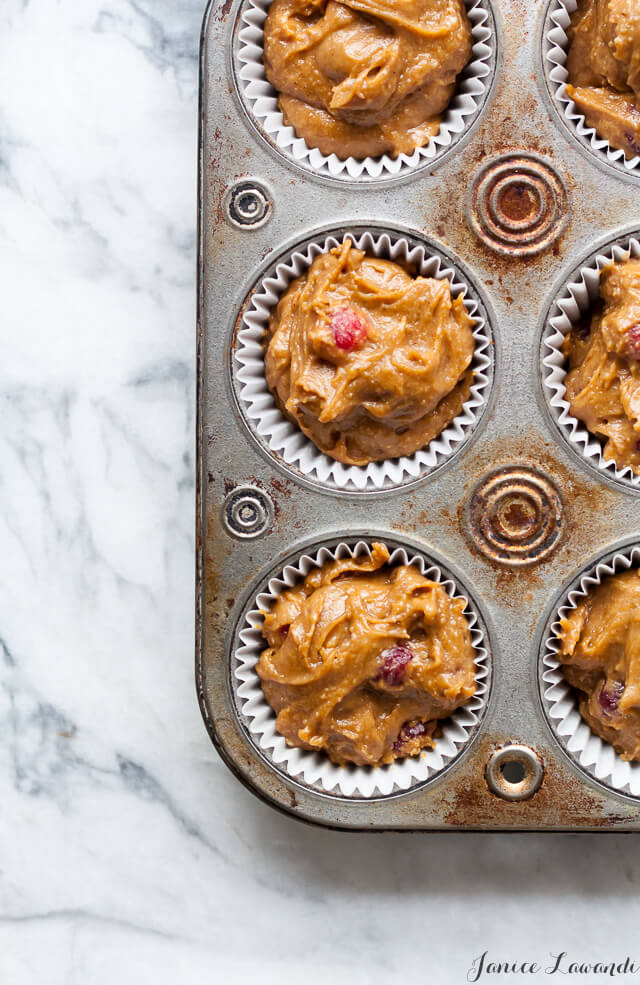 What you need to make gingerbread muffins
You don't need much to tackle most muffin recipes and this recipe is no exception! Here's what you need to make these cranberry gingerbread muffins:
Flour—all-purpose is ideal, or you can try a mixture of whole wheat and all-purpose, but this will affect the texture a little.
Warm spices—use the same spices you may add to gingerbread cutout cookies, such as ground cinnamon, ground cloves, ground ginger, and ground nutmeg
Leavening agents

—specifically both

chemical leaveners

,

baking powder

and

baking soda
Salt—fine kosher salt like Diamond Crystal is what I use. If you use a different salt that has more or less sodium per gram, you will likely have to adjust the quantities so the muffins aren't overly salty or under-salted
Butter—either salted or unsalted will work, though if your salted butter has a lot of salt in it, you may have to adjust the salt in the recipe
Sugar—granulated sugar or light brown sugar will work!
Molasses—use fancy molasses also called baking molasses.
Eggs—use large eggs preferably because smaller eggs may lead to dryer muffins
Buttermilk—plain yogurt can work as well in this recipe
Vanilla extract to enhance the sweetness and the flavour of the muffins
Cranberries—fresh or frozen will work here. If using frozen, incorporate them into the batter when still frozen. Dried cranberries also work!
Icing sugar—to make the glaze
Tip: read about baking soda versus baking powder if you aren't sure what the difference is between them!
Substitutions and variations
Cranberries—fresh or frozen will work here. If using frozen, incorporate them into the batter when still frozen. Dried cranberries also work!
Sour cream—full-fat greek yogurt can also work in this recipe
Chocolate—add white chocolate chips or chopped white chocolate to the muffin batter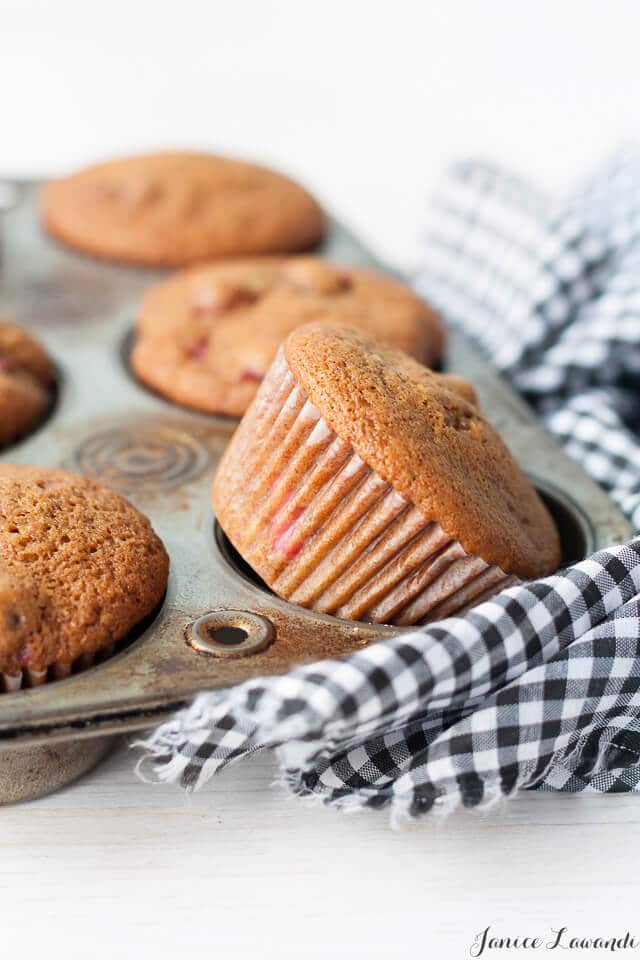 Tips for baking with cranberries
Sweet gingerbread flavours go hand in hand with tart cranberry, and there are two ways of incorporating cranberries in muffins: fresh/frozen cranberries or dried cranberries:
fresh or frozen cranberries will inevitably release some fruit juice into the muffins as they bake and the fruit begins to heat up, which can lead to a certain gummy layer of batter around the fruit if the recipe already has a high level of moisture
dried cranberries don't add more moisture to recipes, which is a good thing in most cases, but because they absorb moisture, they can lead to a dryer crumb
If you are baking with fresh or frozen cranberries, be sure to toss them in flour to coat them before adding them to the muffin batter. This will help absorb some of the moisture as they bake. And don't defrost frozen cranberries before using them. They will end up very wet and are hard to work with when defrosted.
If you are baking with dried cranberries, you can plump them in boiling water to rehydrate them before stirring them into your batter.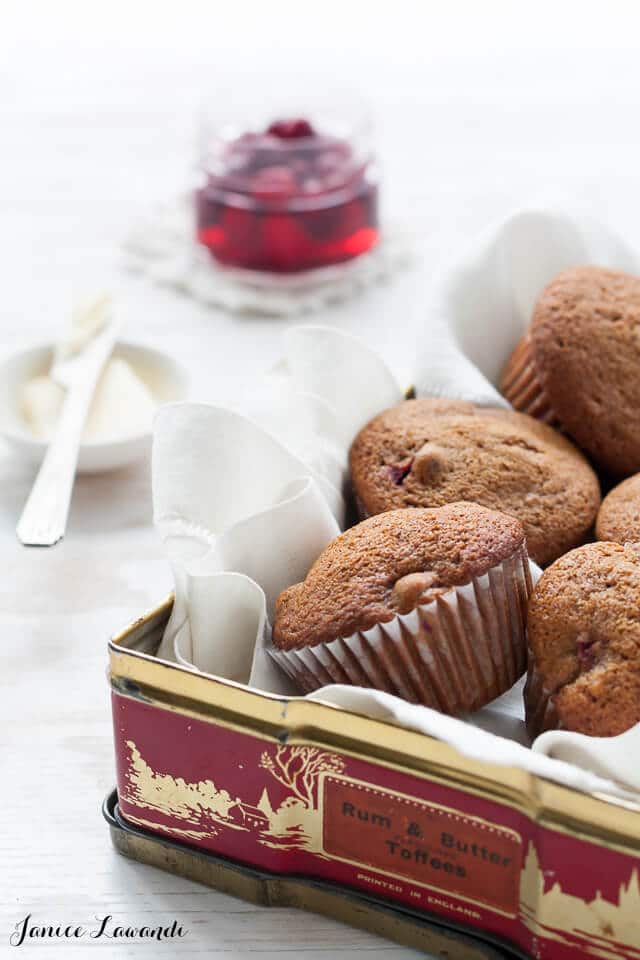 Storage
You can store these moist lemon muffins for 3–4 days in an airtight container, but I prefer to freeze them.
Remember to fully cool the muffins to room temperature (for 3–4 hours) before transferring them to an airtight container or freezer bag for long-term storage (1–2 months). Freeze the muffins before glazing for the best results. Then ice them before serving.
How to defrost muffins
If you want to defrost frozen muffins, you have a few options depending on how much time you have:
longest method—in the fridge overnight, unwrapped to avoid moisture buildup on the surface of the muffin tops
at room temperature, unwrapped to avoid moisture buildup on the surface of the muffin tops—this will take a few hours
fastest method—in the microwave oven: place the unwrapped muffin on a napkin or a microwave-safe plate. Microwave on HIGH for about 30 seconds for each muffin. The time and results will vary according to the power of your microwave.
Serving suggestions
Serve these gingerbread muffins plain or you can also make some homemade lemon curd to enjoy with them!
More Christmas recipes
For more baking ideas, check out these festive Christmas recipes!
📖 Recipe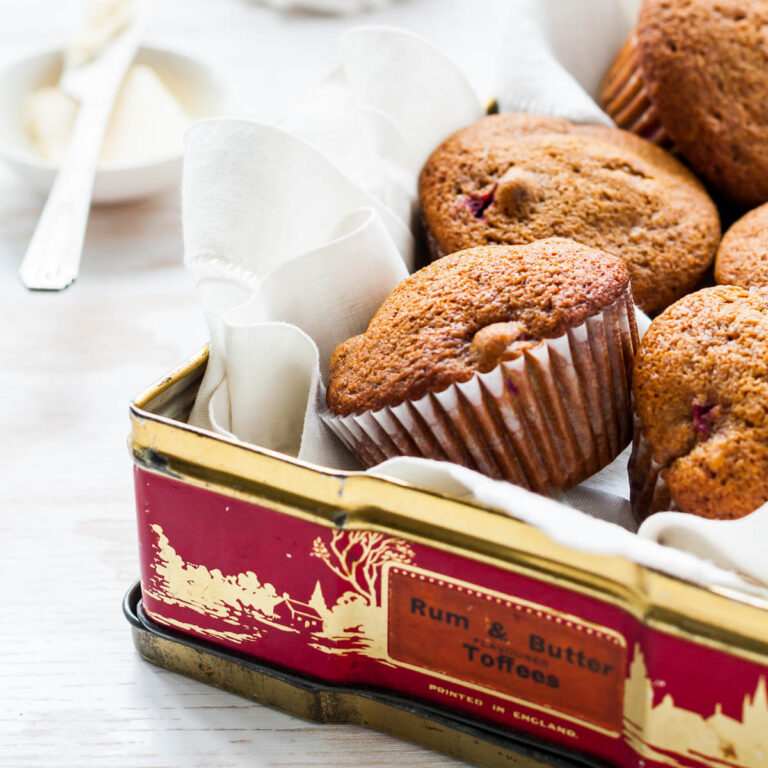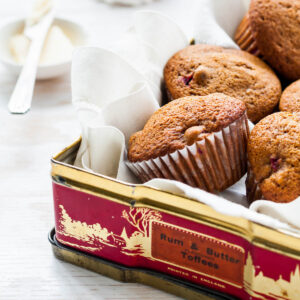 Gingerbread Muffins With Cranberries
These gingerbread muffins are flavoured with molasses, gingerbread spices, and cranberries for a lovely snack or Christmas breakfast treat.
Ingredients
180

grams

frozen cranberries

1.5 cups

200

grams

bleached all-purpose flour

plus 1 tablespoon extra for coating the cranberries

3.75

mL

baking powder

2.5

mL

baking soda

5

mL

ground cinnamon

2.5

mL

ground cloves

1.25

mL

ground ginger

1.25

mL

ground nutmeg

100

grams

unsalted butter

100

grams

granulated sugar

100

grams

Fancy molasses

2

large egg(s)

5

mL

pure vanilla extract

57

grams

buttermilk (1 % fat)
Instructions
Preheat the oven to 350ºF (175 °C). Line 10 wells of a 12-cup muffin pan (or two 6-cup muffin pans) with paper liners. Set aside.

Toss the frozen cranberries in 1 tablespoon of flour. Set aside.

In a medium bowl, whisk together the 200 grams flour, baking powder, baking soda, salt, and the spices. Set aside.

In the bowl of an electric mixer fitted with the paddle attachment, beat together the butter and sugar until light and fluffy. Add the molasses, then the eggs one at a time, beating and scraping down the mixer bowl as needed. Add the vanilla.

Dump in a half of the dry ingredients, then the buttermilk, and the rest of the dry ingredients.

Fold the flour-coated cranberries into the batter, divide among the paper-lined muffin pans and bake for about 23–25 minutes. Use a cake tester to check that the muffins are properly baked. Let cool.
Nutrition
Calories:
311
kcal
Carbohydrates:
54
g
Protein:
4
g
Fat:
9
g
Saturated Fat:
6
g
Cholesterol:
55
mg
Sodium:
192
mg
Potassium:
234
mg
Fiber:
1
g
Sugar:
36
g
Vitamin A:
313
IU
Vitamin C:
8
mg
Calcium:
62
mg
Iron:
2
mg