This easy recipe for banana muffins with oats is also gluten-free because it's made with oat flour instead of all-purpose flour. You can incorporate chocolate chips or dried fruit like chopped pitted dates, raisins, or cranberries in this recipe.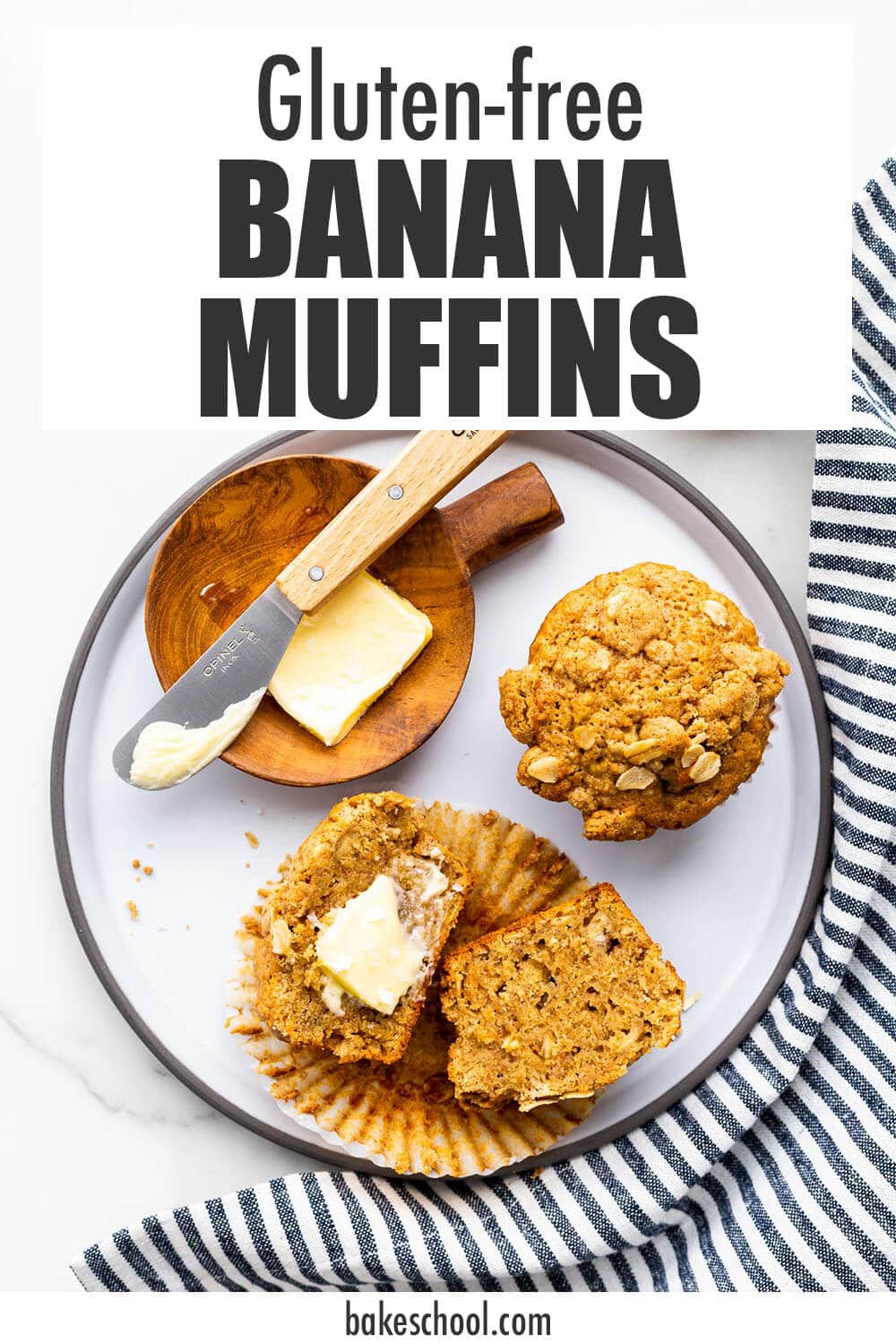 Disclosure: As an Amazon Associate, I earn from qualifying purchases.
You can take any banana bread recipe and turn it into muffin, baking the batter in muffin pans instead of a loaf cake pan. One banana bread loaf cake will yield about to 12 muffins.
For this gluten-free recipe, we are making banana muffins with oat flour instead of all-purpose. Remember that you can buy oat flour but you can also make it by grinding rolled oats (large flake oats) into a flour in the food processor. This works quite well! You will find more information about this below.
Jump to:
Making banana muffins with oats
Ingredients and formula
Banana muffins are made from the same ingredients and follow the same formula as basic banana bread: 115 grams (½ cup) fat (either butter or oil) + 200 grams (1 cup) sugar + 2 large eggs + 2 or 3 mashed bananas + (190–250 grams) 1-½–2 cups all-purpose flour + 1–2 teaspoon chemical leavener + ½ teaspoon salt.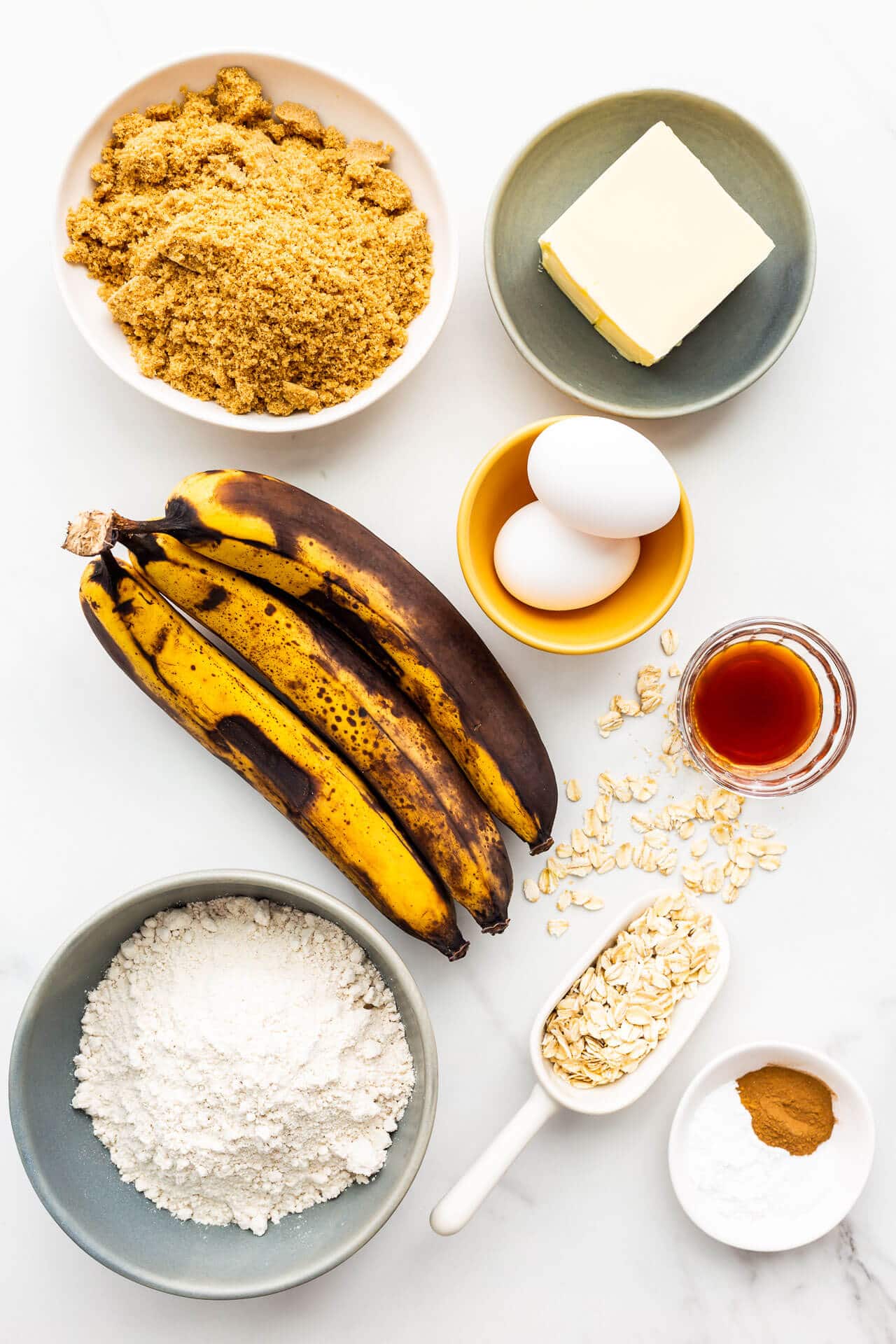 These banana muffins follow that same formula, but with a few changes:
For the fat, we are using softened butter because the flavour of butter is better than the flavour of a neutral oil, which doesn't lend any flavour at all. Unsalted or salted works here.
For the sugar, we are using dark brown sugar instead of white sugar. Dark brown sugar gives these muffins a richer flavour and a more tender texture.
For the flour, we are using oat flour instead of all-purpose flour, which makes these muffins gluten-free and also gives them a very tender, melt-in-your-mouth quality.
For the chemical leavener, we are using baking powder because we aren't dealing with any overly acidic baking ingredients here. Sure, ripe bananas are a little acidic, but nowhere near as acidic as sour cream or buttermilk, for example. Baking soda would lead to a lot of browning and a different flavour, while baking powder wouldn't have as much of an impact on flavour or appearance.
How to make oat flour from oats
The recipe for these banana muffins with oats is based on this banana bread without baking soda. The all-purpose flour was simply replaced with oat flour, weight for weight. Oat flour makes these gluten-free banana muffins very tender with a moist crumb.
You can buy oat flour at health food stores and some bulk bin stores. But if you can't find it, you can easily make it in a food processor from oats.
Remember that the conversion from weight to volume or grams to cups for oat flour isn't the same as for oats. This baking conversions chart will help you convert volumes to weights or vice versa.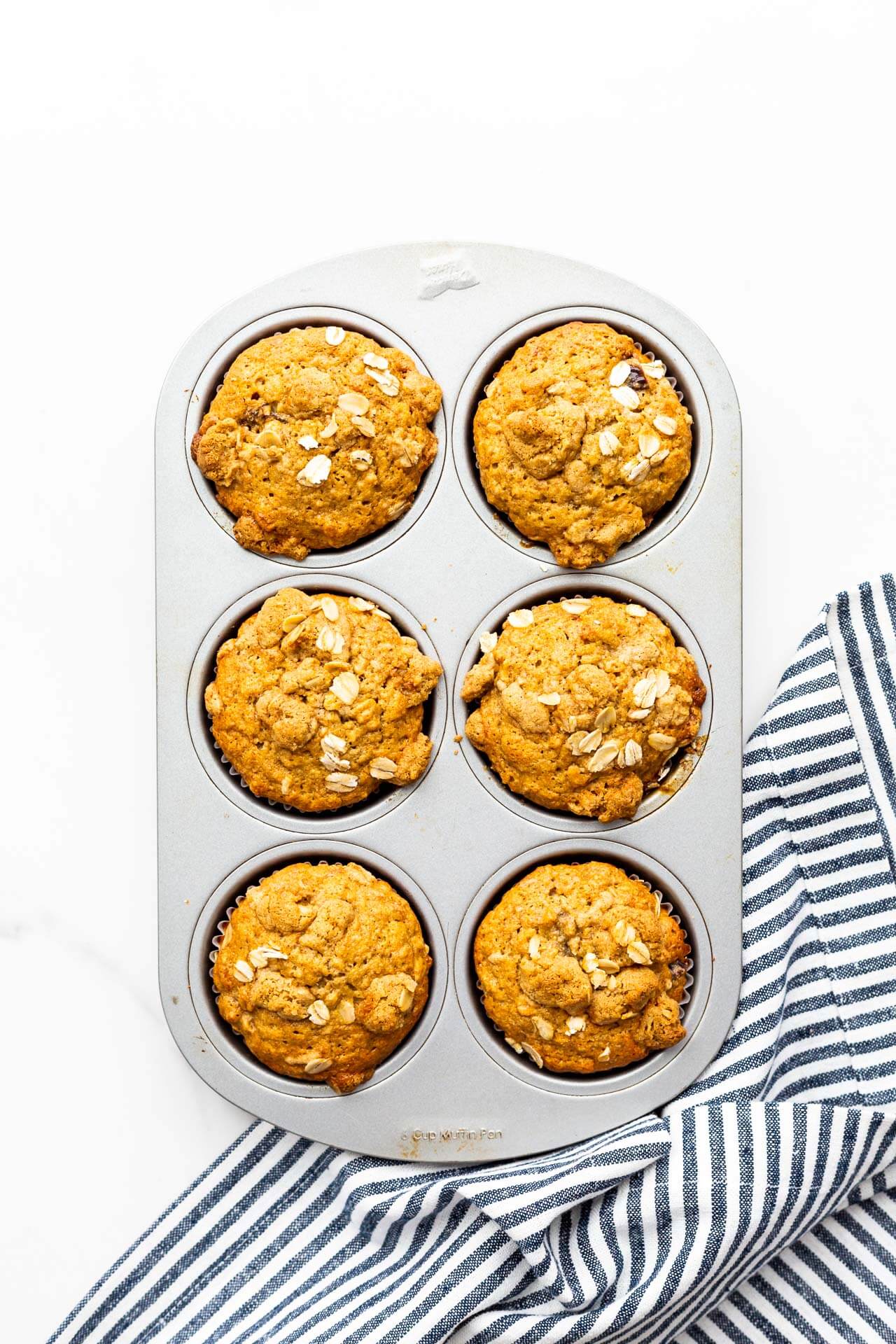 This recipe calls for 250 grams (2 cups) of oat flour, but 2 cups of large oats only weighs 190 grams. You will actually need to process 2-⅔ cups (250 grams) of large flake oats (or perhaps a little more just to be safe) to get the right volume/weight of oat flour for this recipe.
To make oat flour, I recommend using old-fashioned oats or large flake oats. Do not use minute oats or steel-cut oats. These will yield a different texture and also have a different capacity to absorb water. Minute oats and steel-cut oats are not good baking substitutions in this recipe.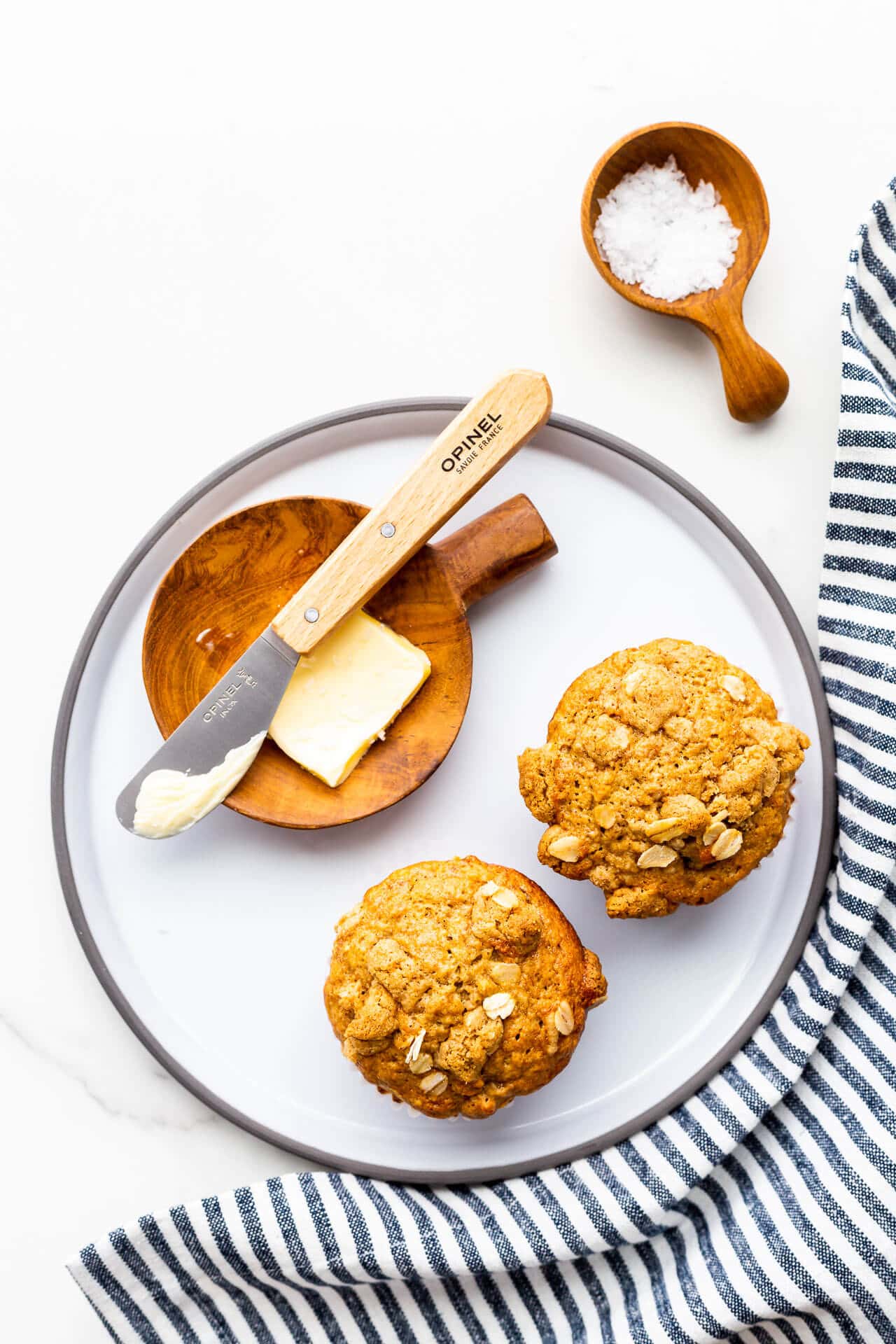 Mixing method for muffins
The muffins are made using the reverse creaming mixing method, which I prefer for fruit muffins. For this method, the dry ingredients, leaveners, salt, and sugar are mixed together in a big bowl, and then the butter is worked into that mixture to form a crumbly mixture resembling coarse wet sand. Then you stir in the liquids.
The reverse creaming method is very similar to the traditional two-bowl muffin method, except in the recipe below, the fat is worked into the dry ingredients.
Making the crumble topping
To make the crumble topping, I reserved a portion of that mixture for later, before adding in the liquid ingredients. This method worked well and allows you to make the crumble topping at the same time as the muffins, speeding up the process and dirtying fewer dishes!
Now go forth and make these banana muffins with oats with the easy recipe below!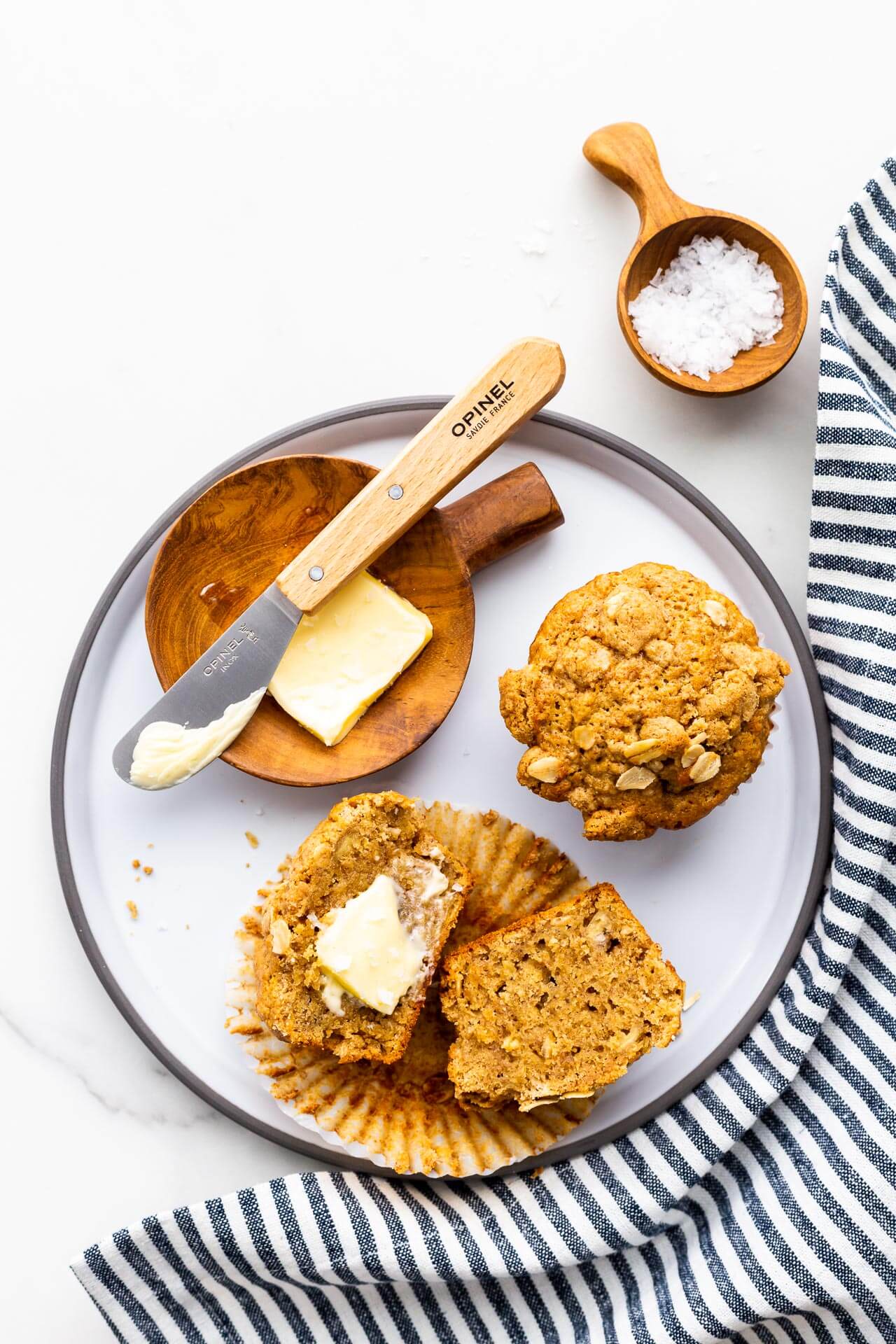 Storage
Muffins freeze well once baked. Just let them cool completely, then freeze solid on a sheet pan before you transfer them to an airtight freezer bag to store for a couple of months.
How to defrost muffins
If you want to defrost frozen muffins, you have a few options depending on how much time you have:
longest method—in the fridge overnight, unwrapped to avoid moisture buildup on the surface of the muffin tops
at room temperature, unwrapped to avoid moisture buildup on the surface of the muffin tops—this will take a few hours
fastest method—in the microwave oven: place the unwrapped muffin on a napkin or a microwave-safe plate. Microwave on HIGH for about 30 seconds for each muffin. The time and results will vary according to the power of your microwave.
📖 Recipe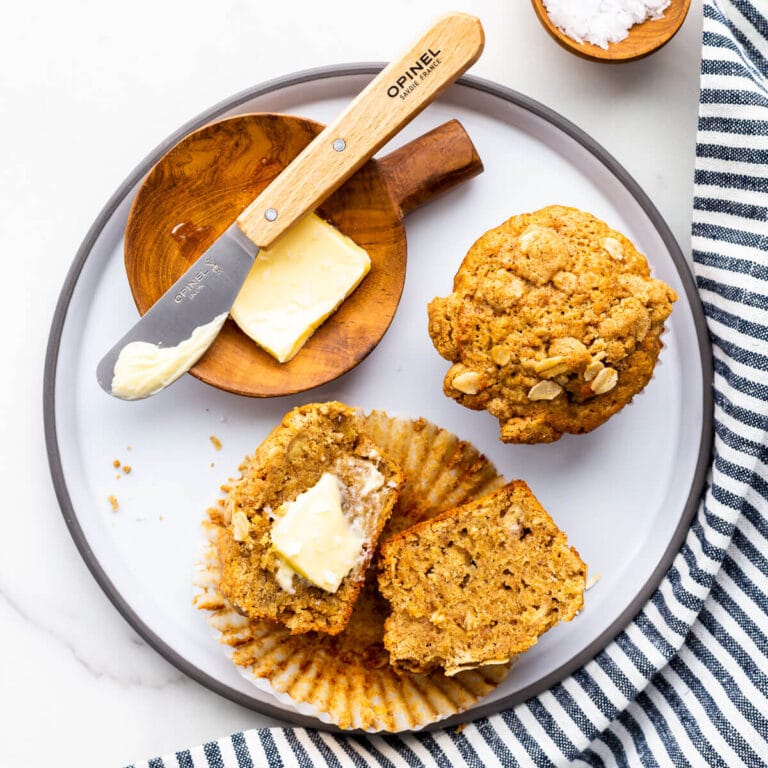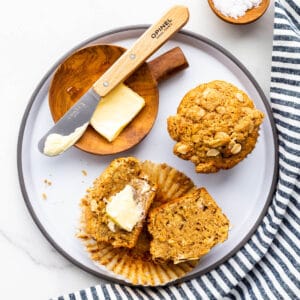 Banana Muffins With Oats
These banana muffins are made with oat flour and oats, which makes a tender muffin that is also gluten-free!
Ingredients
250

grams

oat flour

or all-purpose flour

200

grams

dark brown sugar

65

grams

rolled oats (or large flake oats)

10

mL

baking powder

5

mL

ground cinnamon

175

grams

unsalted butter

cut into cubes and softened at room temperature

2

large egg(s)

room temperature

330

grams

mashed banana

roughly 3 ripe bananas, approximately 450 grams with peel

5

mL

pure vanilla extract

130

grams

pitted dates

chopped, or use the same weight of chocolate chips, raisins, chopped nuts, etc.

30

mL

rolled oats (or large flake oats)

more or less because this is a garnish
Instructions
Preheat the oven to 375 °F (190 °C). Line two 6-cup muffin pans with paper liners to make 12 muffins. Set aside.

In a large bowl, whisk together the flour, brown sugar, oats, baking powder, salt, and cinnamon.

Add the butter, and work it into the dry ingredients to form a crumbly mixture that looks a little like coarse, wet sand.

Scoop out 60 mL (¼ cup) of this mixture and set it aside as a crumble topping for the muffins.

In a separate bowl, whisk together the eggs, mashed banana, and vanilla.

Mix the wet ingredients with the dry ingredients, scraping the bottom and sides to incorporate everything.

Fold in the chopped pitted dates.

Scoop the batter into the prepared muffin pans. Scatter a little of the reserved crumble over each muffin and sprinkle with a few oats.

Bake for 25–30 minutes, until the edges are a golden brown and a cake tester inserted into the middle comes out clean.
Notes
Make sure the bananas are very ripe (black even).
If you are using frozen bananas for this recipe, please make sure do the following:

defrost 4 bananas (instead of 3)
peel the bananas and place in a strainer set over a bowl
press very gently to squeeze out the liquid
place the liquid in a saucepan and boil it down to thicken it, stirring often so that it doesn't burn. Add this banana concentrate to the bananas and proceed with recipe.

If you want to make a variation on these banana muffins, add any of the following:

add 250 mL (1 cup) chocolate chips instead of the chopped dates
add 10 mL (2 tsp) ground cardamom

You can also use a thermometer to check if your cake is done baking and the internal temperature should register around 212 ºF or 100 ºC when it's done.
If you don't have eggs or are allergic, try this eggless banana bread recipe.
If you find your banana muffins sink or are gummy, they may be underbaked or the batter was too wet.
Nutrition
Calories:
351
kcal
Carbohydrates:
51
g
Protein:
6
g
Fat:
15
g
Saturated Fat:
8
g
Trans Fat:
1
g
Cholesterol:
59
mg
Sodium:
184
mg
Potassium:
398
mg
Fiber:
4
g
Sugar:
27
g
Vitamin A:
424
IU
Vitamin C:
2
mg
Calcium:
83
mg
Iron:
2
mg