Learn how to make pizza muffins with this easy recipe. These muffins are tender and fluffy, and made without yeast! They are perfect for dipping in pizza sauce or marinara. You can add your favourite pizza toppings to these savoury muffins and customize them to make this snack just how you like!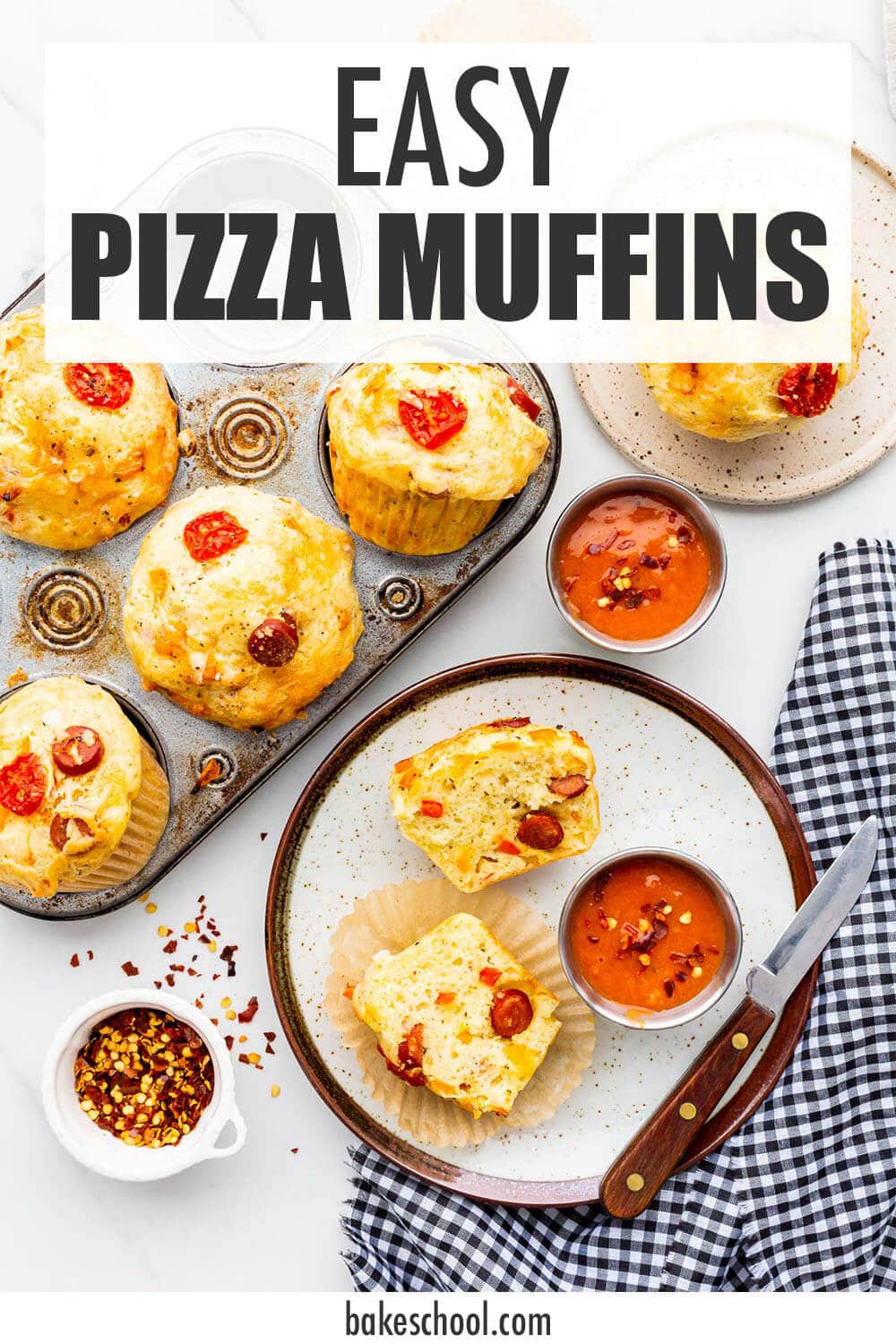 Disclosure: As an Amazon Associate, I earn from qualifying purchases.
I am obsessed with savoury muffins. They make a great snack and also work well as a savoury breakfast option, and the creative possibilities for add-ins and toppings are pretty endless!
Jump to:
What are pizza muffins made of
Pizza muffins are no-yeast savoury muffin, made just like quick bread with the two bowl mixing method, also called the muffin method. So to make these you will have two bowls for ingredients: one bowl for wet and one for dry.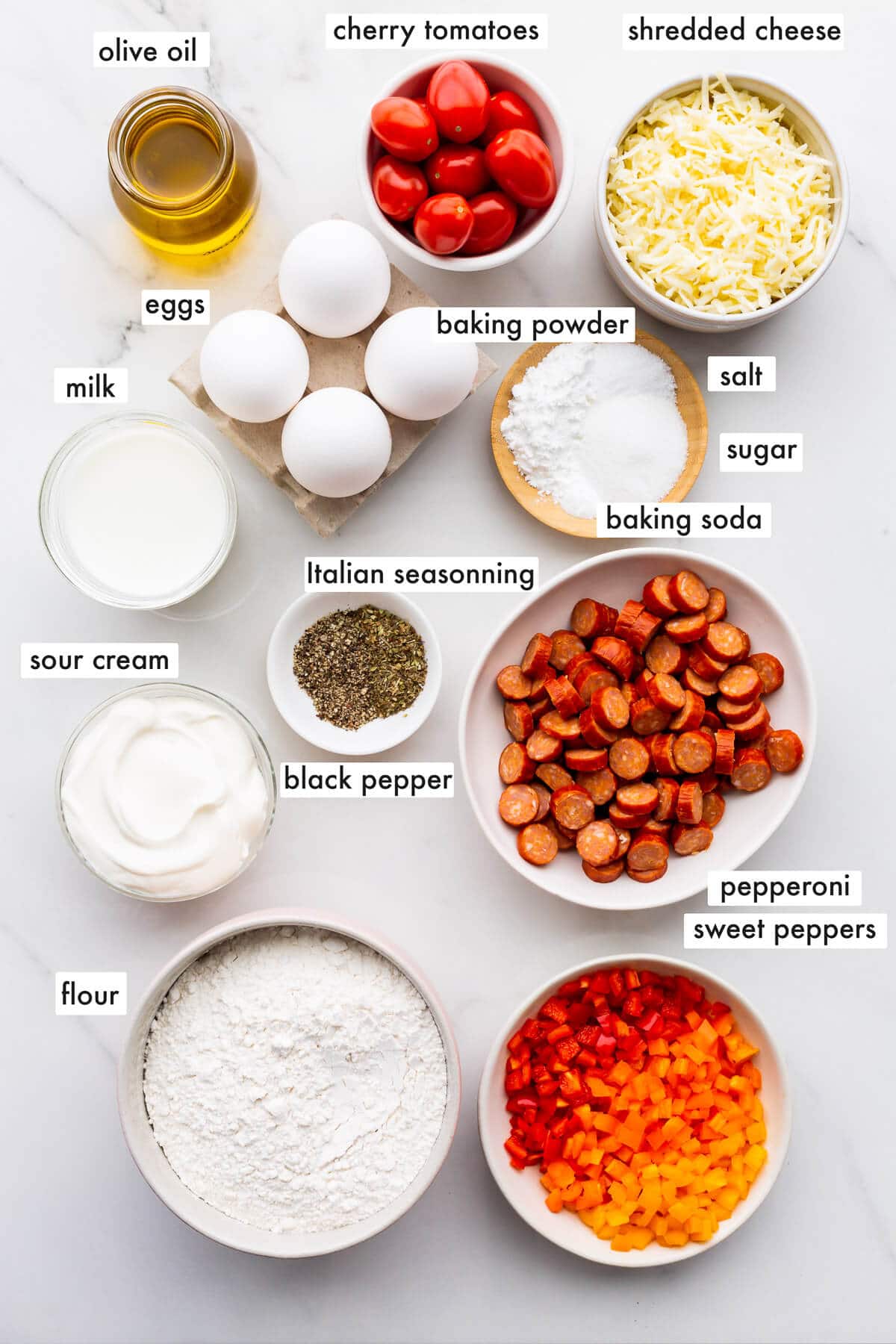 To make these, you will need the following ingredients:
Wet ingredients

olive oil, but melted butter would also work great! I prefer extra virgin olive oil in this recipe which has a pronounced flavour. Canola oil will also work fine
large eggs—don't use smaller eggs because your muffins may end up too dry or dense, but don't use extra large eggs because they could contribute too much moisture and throw off the recipe
full-fat sour cream—please do not use low-fat sour cream because the fat is important for creating a moist, tender muffin, but also for storing these and to increase the shelf-life
milk, preferably whole milk or 2 % fat milk—again, don't use fat free or low fat milk because we need the fat to help keep these muffins moist and tender

Dry ingredients

all-purpose flour is needed to bind all the ingredients together and give the muffins structure, contributing to the rise as well. If you don't use enough flour, your muffins may spread too much as they bake, and end up flat, but also gummy or wet
baking powder and baking soda are important to creating a fluffy texture. You need baking soda to balance out the acidity and baking powder to help these muffins rise tall. Read up on baking soda vs baking powder if you are unsure, which is which
granulated sugar, but you only need a tablespoon, which is enough to balance the salt and help improve the texture of the muffins without adding too much sweetness
Italian seasonings or a blend of dried oregano, thyme, and basil to bring that classic pizza flavour
salt is really important to balance out the flavours and also to make them pop. I like to use Diamond Crystal fine kosher salt, but table salt will work, though the muffins will be saltier and you may want to halve the salt in that case
freshly ground black pepper adds a little kick to the muffins and enhances their savoury quality without being spicy.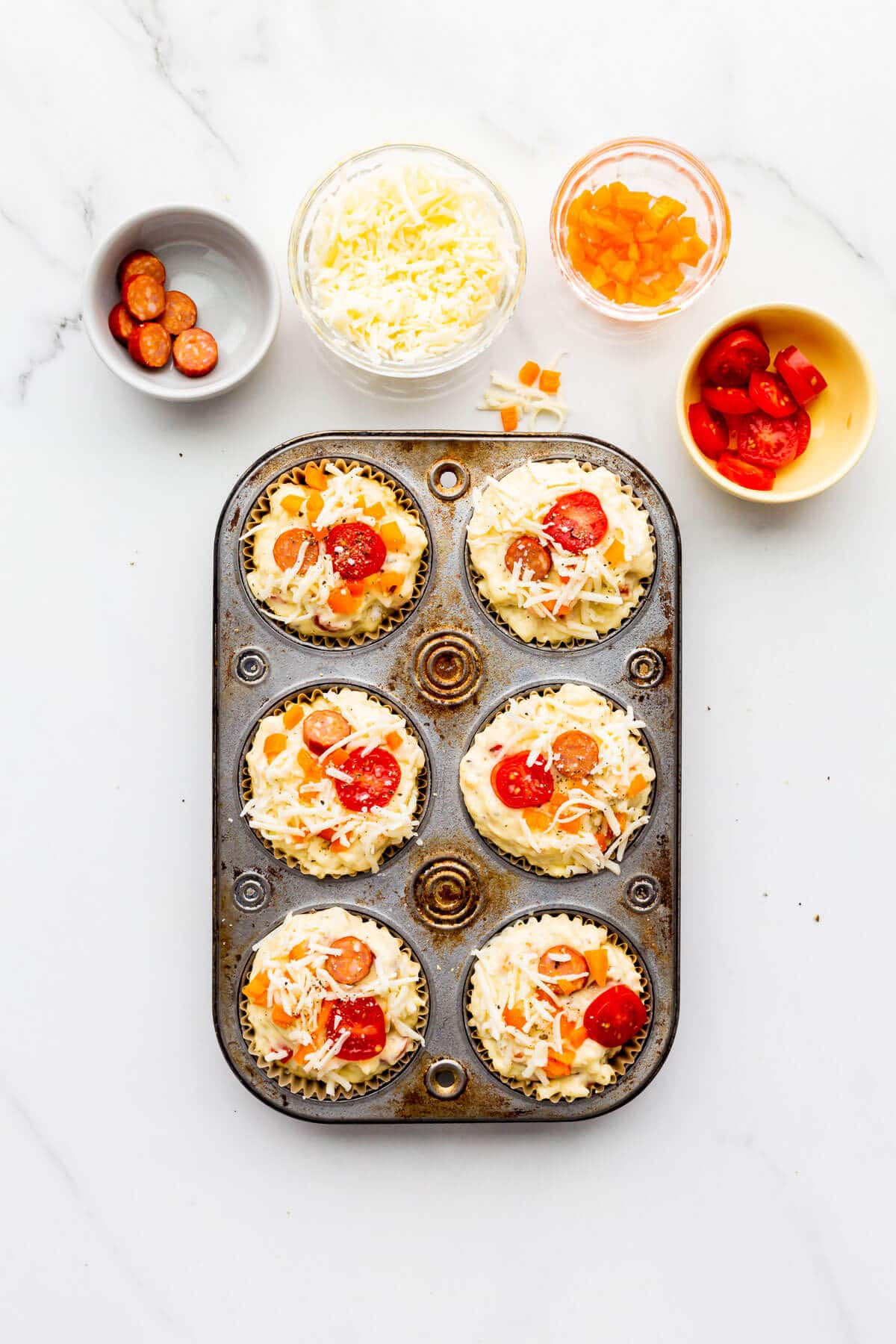 And since pizza is all about the toppings, you have a ton of options. If any of your toppings are fresh or canned (packed in water or oil), make sure, to blot the toppings with a paper towel to absorb excess moisture which could make the muffins gummy. Here are some toppings to try:
Pizza muffin topping ideas

sliced pepperoni—I sliced pepperoni sticks because it makes smaller, but chunkier pieces, but pizza pepperoni also works! You could also add chunks of ham or cooked sausage
chopped mini sweet peppers or Bell pepper, or even green pepper
shredded cheese, like shredded pizza mozzarella (not fresh cheese), cheddar cheese, etc.
sliced olives, green or black (patted dry)
sautéed mushrooms or canned sliced mushrooms (patted dry)
pineapple chunks (if you like Hawaiian pizza that rides the line between sweet and savoury)
sliced cherry tomatoes (patted dry)
These toppings are actually whisked into the dry ingredients to help evenly distribute them throughout the muffin batter. Extra toppings are sprinkled on top of the muffins before baking to decorate them like a pizza.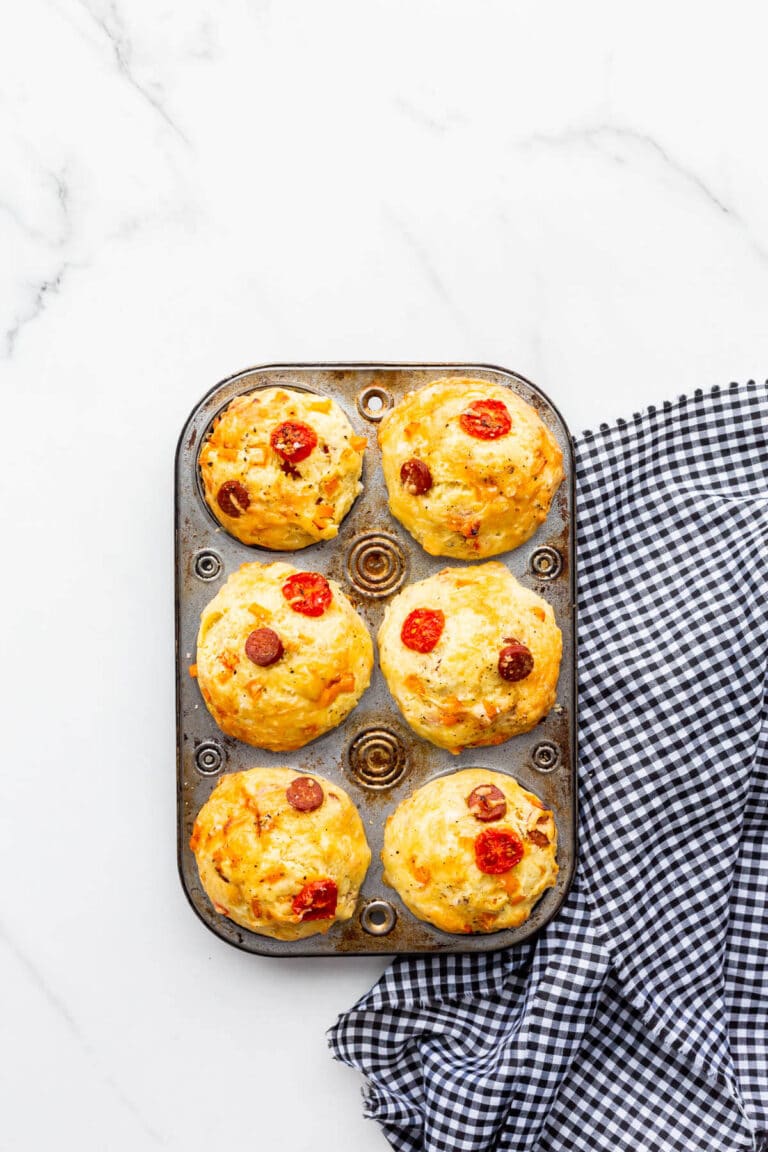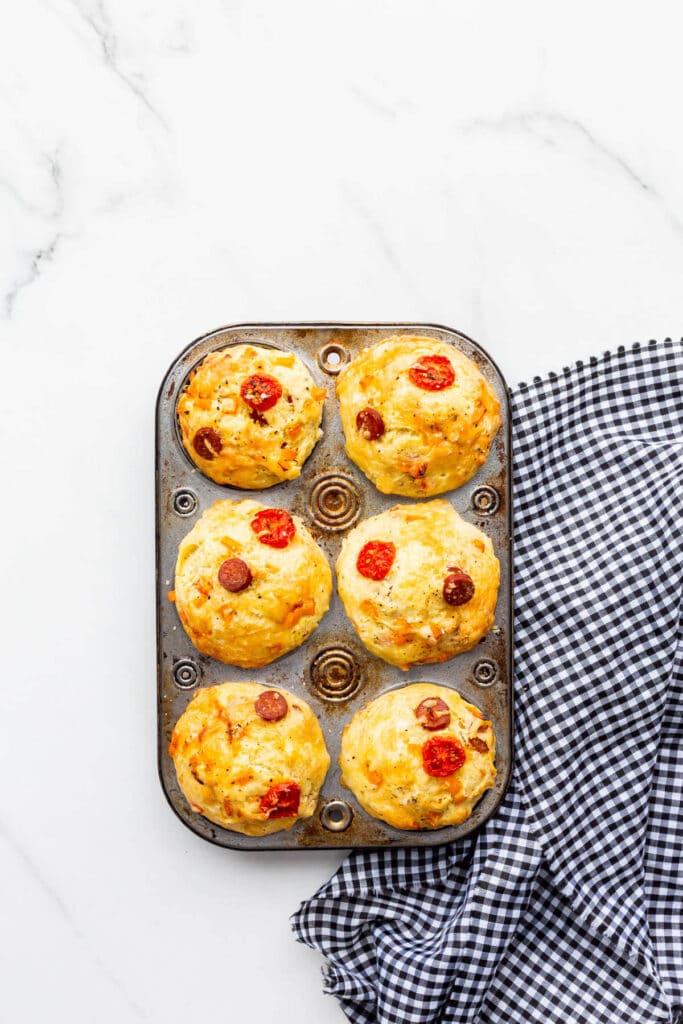 Special tools or equipment
For this recipe, all you need are two bowls and a whisk to mix the savoury muffin batter. I've been loving the Danish dough whisk for mixing batters for quick breads, muffins, pancakes, and waffles, but you can use whatever whisk you prefer.
To bake the muffins, you will obviously need a 12-cup muffin pan (or two 6-cup muffin pans), and though you could easily spray the pan with baking spray, I prefer to use parchment muffin liners with savoury muffins because they tend to stick and even stick to regular muffin papers. Silicone liners would also work well and are reusable.
I also recommend a large disher (scoop) to portion out the muffin batter evenly between the 12 cups. It makes life easier, though it's not essential for this recipe.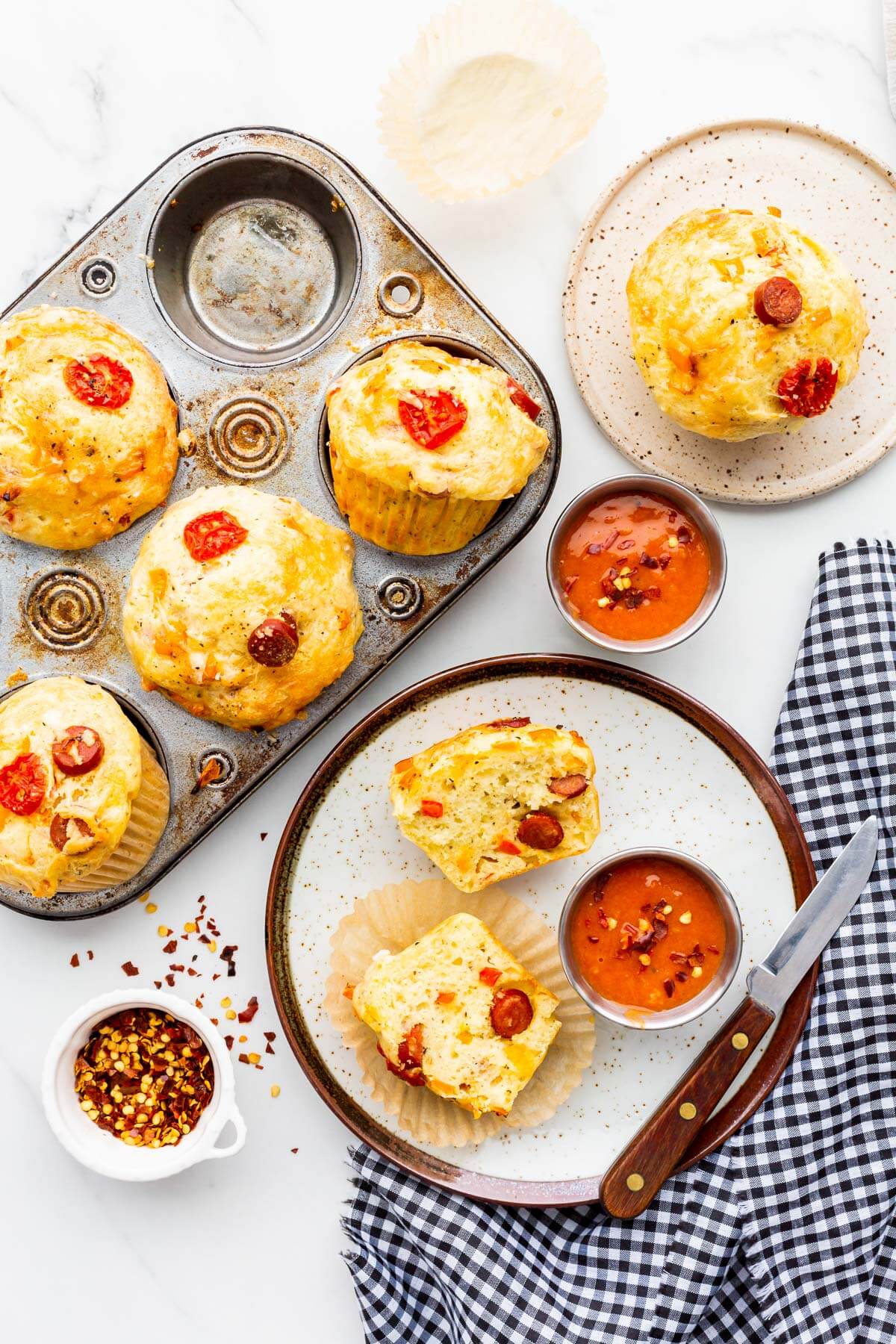 Making savoury muffins that aren't dry
A big problem with savoury baking is the obvious lack of sugar. Sugar is hygroscopic, meaning it absorbs moisture, leading to a more tender, moist product. Without the sugar, baked goods can appear dry.
This is why you have to compensate with more fat. For this recipe, we are using olive oil, several eggs, and also whole milk and full-fat sour cream. All of these ingredients are there to tenderize and provide moisture.
Storing savoury muffins
The other problem with savoury baking is storing savoury baked goods. These have less sugar, which means they dry out more quickly. The fat in this recipe helps to compensate for this and keep the muffins from going stale, but ultimately, your best bet would be to freeze leftover muffins after a day and defrost when you want to eat them.
How to defrost muffins
If you want to defrost frozen muffins, you have a few options depending on how much time you have:
longest method—in the fridge overnight, unwrapped to avoid moisture buildup on the surface of the muffin tops
at room temperature, unwrapped to avoid moisture buildup on the surface of the muffin tops—this will take a few hours
fastest method—in the microwave oven: place the unwrapped muffin on a napkin or a microwave-safe plate. Microwave on HIGH for about 30 seconds for each muffin. The time and results will vary according to the power of your microwave.
📖 Recipe
Pizza muffins
These easy pizza muffins are made with all the classic pizza toppings, so shredded cheese, chopped sweet pepper, tomato, and pepperoni, and flavoured with Italian seasonings. You can serve these as is or with marinara or pizza sauce for dipping!
Ingredients
Dry ingredients
375

g

(

3

cups

)

bleached all-purpose flour

15

mL

(

1

tablespoon

)

baking powder

15

mL

(

1

tablespoon

)

granulated sugar

5

mL

(

1

teaspoon

) Diamond Crystal fine kosher salt

5

mL

(

1

teaspoon

)

freshly ground black pepper

5

mL

(

1

teaspoon

)

Italian seasoning

1.25

mL

(

¼

teaspoon

)

baking soda
Pizza toppings
155

grams

(

¼

lb

)

pepperoni

,

sliced, plus extra for garnishing muffins

100

grams

(

1

cup

)

shredded cheese

,

like cheddar or pizza mozzarella, plus extra for garnishing

188

mL

(

¾

cup

)

chopped sweet pepper

,

about 5 or 6 mini sweet peppers (or use Bell pepper), plus extra chopped pepper for garnishing
Wet ingredients
4

large egg(s)

188

mL

(

¾

cup

)

whole milk (3.25 % fat)

,

or 2 % fat milk

188

mL

(

¾

cup

)

sour cream (14% fat)

125

mL

(

½

cup

)

extra-virgin olive oil

4

cherry tomatoes

,

sliced and patted dry with a paper towel

marinara sauce

,

optional, for dipping (or pizza sauce)
Instructions
Preheat the oven to 375ºF. Line two muffin pans with 12 parchment liners (like these on Amazon). You can use regular muffin papers too, but you would need to spray them lightly with oil baking spray otherwise the muffins will stick to the paper. Set aside.

In a large bowl, whisk together the flour, baking powder, granulated sugar, pepper, salt, Italian seasoning, and baking soda. When the dry ingredients are well mixed, whisk in the pepperoni, cheese, and chopped sweet pepper or Bell pepper.

In a separate bowl, whisk together the eggs, milk, sour cream, and olive oil until smooth. Pour this mixture into the bowl with the dry ingredients. Stir with a whisk to combine (about 20–25 stirs—don't over mix!).

Divide the muffin batter between the prepared pans. Garnish with extra toppings and sliced cherry tomatoes, like a pizza.

Bake in the preheated oven on the middle rack for 30 to 35 minutes or until a skewer inserted into the middle of a muffin comes out clean.
Give back
If you enjoy the free content on this website, say thank you!
Nutrition
Calories:
368
kcal
|
Carbohydrates:
29
g
|
Protein:
11
g
|
Fat:
23
g
|
Saturated Fat:
7
g
|
Polyunsaturated Fat:
2
g
|
Monounsaturated Fat:
12
g
|
Trans Fat:
1
g
|
Cholesterol:
84
mg
|
Sodium:
513
mg
|
Potassium:
316
mg
|
Fiber:
1
g
|
Sugar:
4
g
|
Vitamin A:
784
IU
|
Vitamin C:
22
mg
|
Calcium:
156
mg
|
Iron:
2
mg