Learn how to make a stunning deep dish quiche with Swiss chard. This tall quiche is baked in a springform pan for a cleaner presentation, so that you can unmould it onto a serving plate. This recipe makes a great addition to brunches with family when Swiss chard is in season.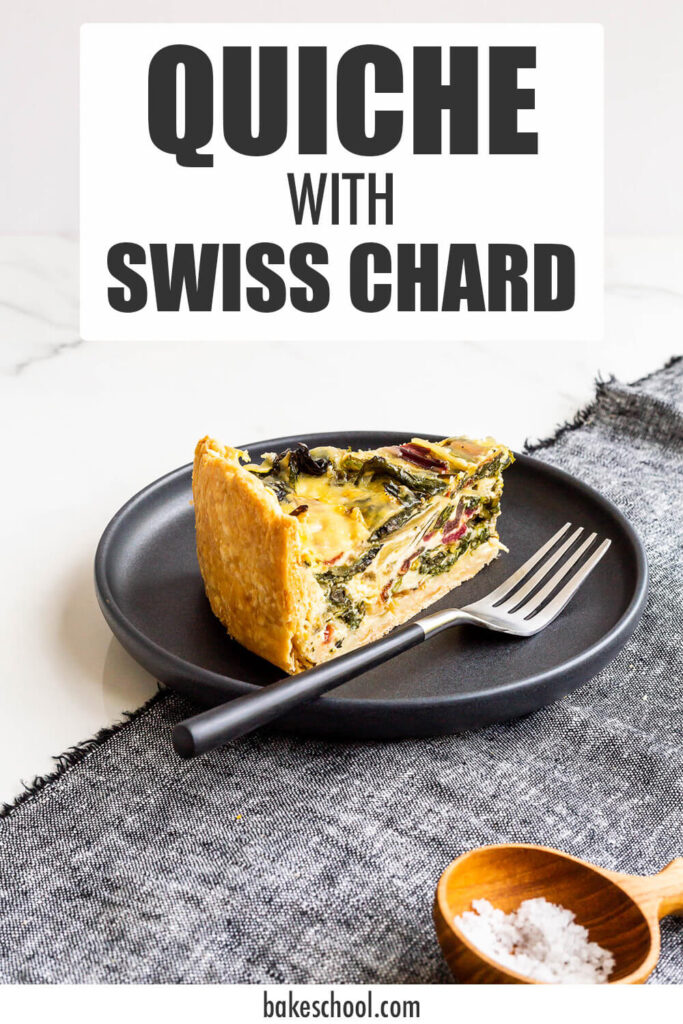 Disclosure: As an Amazon Associate, I earn from qualifying purchases.
Baking doesn't always have to be sweet. Savoury pies are a crowd pleaser and there's nothing better than a homemade quiche made with lots of cheese
If you like savoury baking, try this bacon and egg pie, which is a fun breakfast pie with whole eggs and bacon baked into the filling!
Jump to:
Ingredients
You don't need any complicated ingredients to make quiche, but the list of simple ingredients is long because there are several components to the recipe: a crust, a savoury custard filling, and the veggies and cheese that garnish the filling.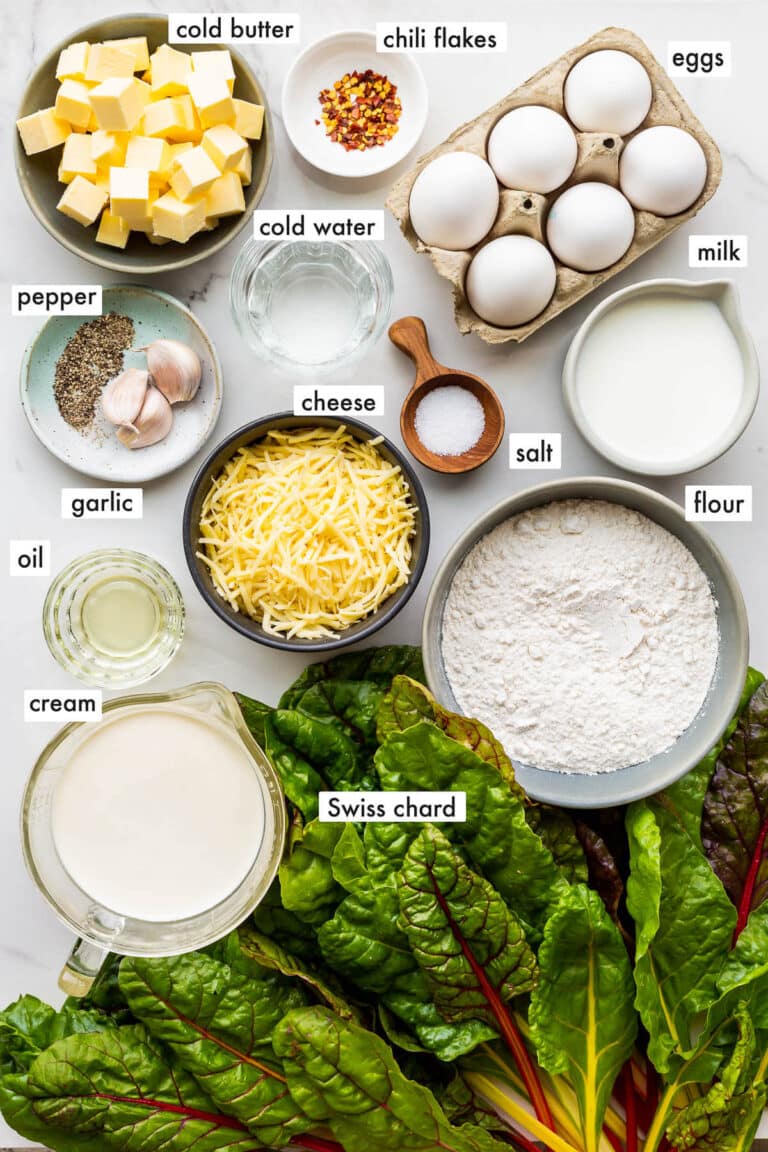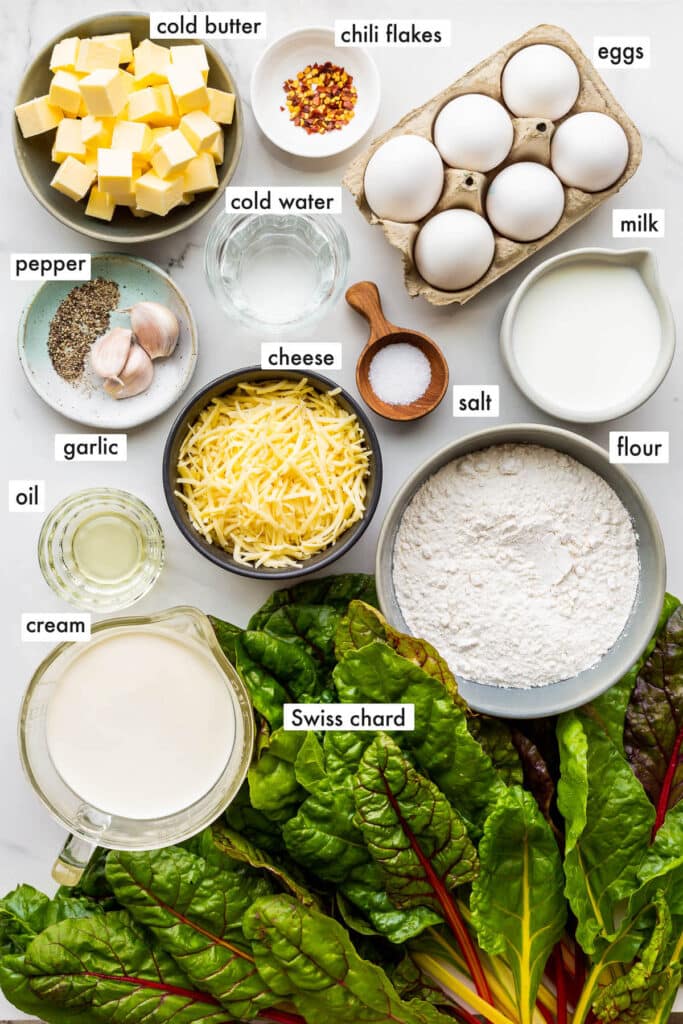 For the crust:

Flour—bleached all-purpose works great in doughs like this
Sugar—it isn't enough to make the crust sweet, but just a little sugar helps to bring out the flavours and also help with browning (sugar is optional and you can skip it if you want)
Salt—I use Diamond Crystal fine kosher salt, but if you'd like to use regular table salt, use half the amount, otherwise the crust may be too salty
Butter, specifically unsalted butter, though salted will work too (adjust the salt in the recipe accordingly)
Cold water or even ice water to ensure that the butter stays cold, making it easier to handle and to create a flaky crust that isn't overly greasy.

For the veggies:

Olive oil to sautée the garlic and veggies for the filling
Butter because I prefer to use a combination of oil and butter to sauter to bring more flavour
Garlic, fresh garlic that you chopped, or you can also use store-bought chopped garlic or even a spoonful of garlic paste if that's what you've got
Lots of Swiss chard because it sautées down quite a bit so you need to start with a lot to have enough to fill the pie crust.

For the quiche custard

Eggs, specifically large eggs. If you use smaller or bigger eggs, you may have too much or too little to work with. It's not the end of the world, but the filling may not fit the crust quite right.
Cream
Milk
Salt and pepper
Spices, like crushed chilli flakes
See recipe card for quantities.
Instructions
Quiche is simple enough but there are a lot of steps. There are four major parts to this recipe:
making the all-butter pie crust in a stand mixer
blind-baking the crust
preparing the filling (sautéeing the veggies to cook off the water and preparing the savoury custard base)
baking the quiche
After all that, you can eat it right away, after the pie has cooled down for 30 minutes to help the filling set up. I actually prefer to refrigerate the baked quiche overnight so that it slices neatly. You can then either reheat slices in the microwave or even serve it cold.
All butter pie crust in stand mixer
The stand mixer helps you make a flaky pie crust easily! If you prefer, you can also make your pie crust in the food processor.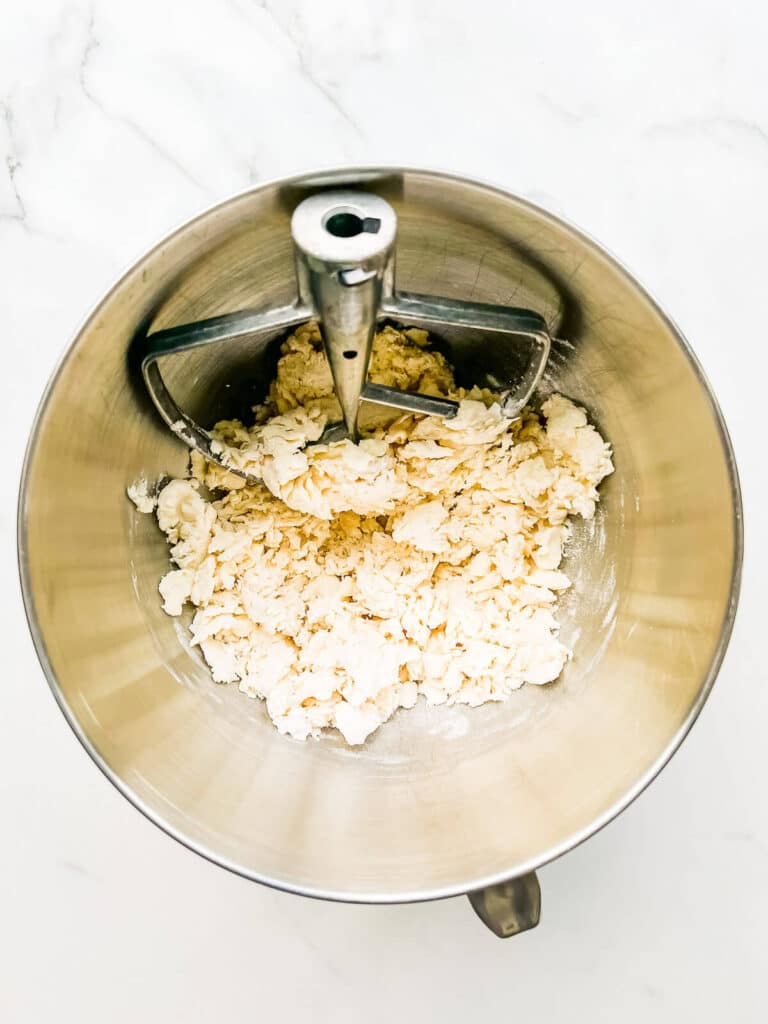 Mix the dry ingredients in your mixer bowl with the cubes of cold butter to form a crumbly mixture, and then incorporate the water to make a shaggy dough.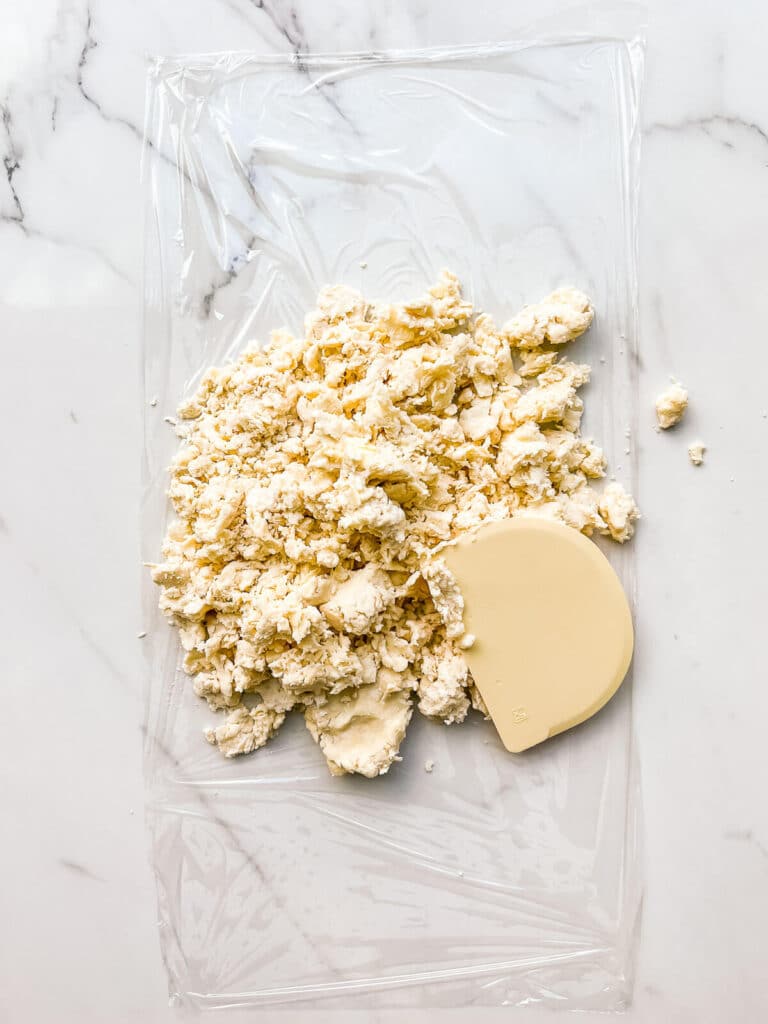 Dump the shaggy dough onto a big sheet of plastic wrap to shape it into one flat disk. Chill it for at least 30 minutes before rolling it out.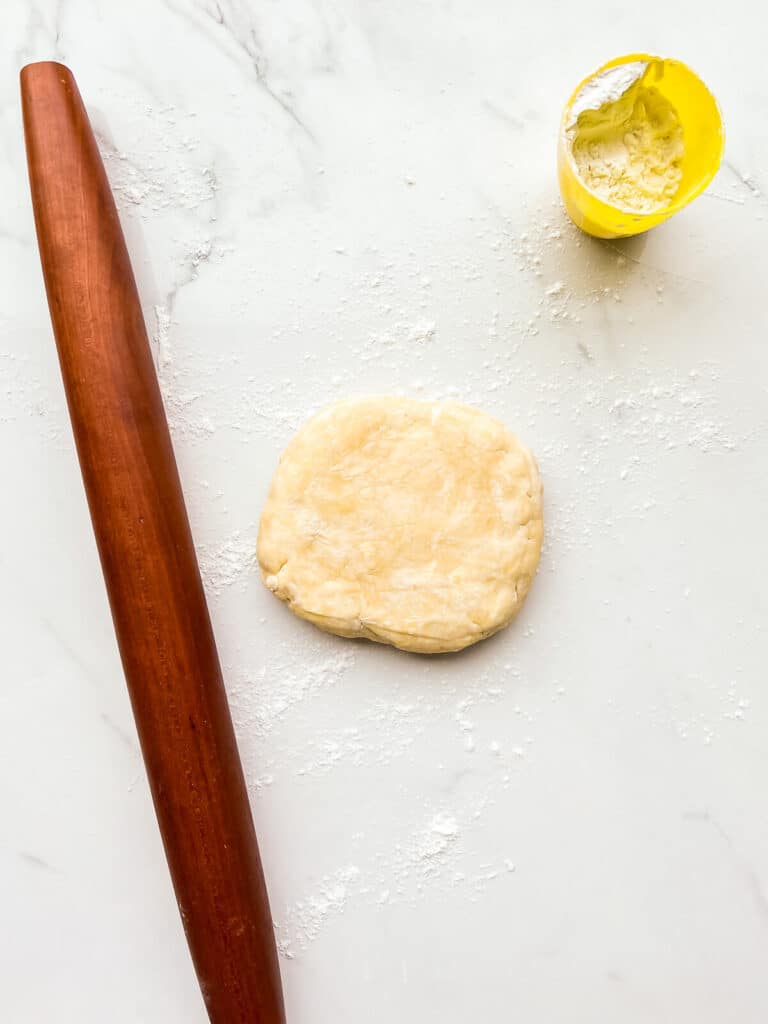 Roll out chilled dough with a rolling pin on a floured surface.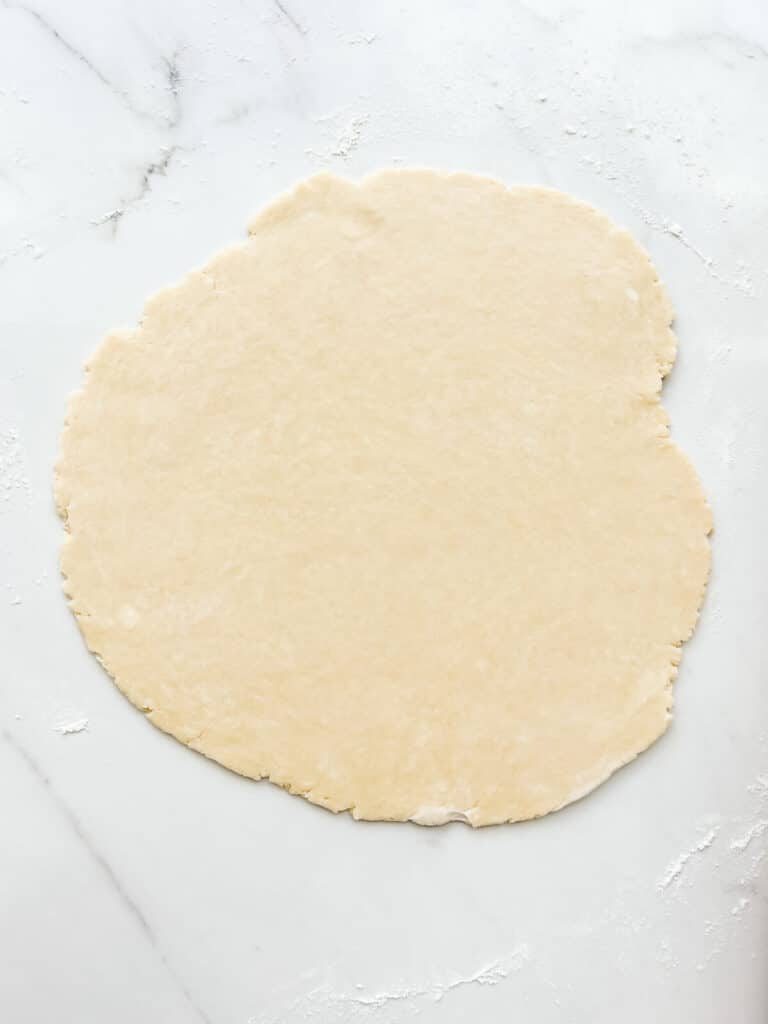 Roll the dough to at least a 16 inch diameter in order to be able to line a 9-inch springform pan properly without stretching. If the dough is too soft or warm, transfer it to a parchment-lined sheet pan and chill it for 20 minutes or so to firm it up.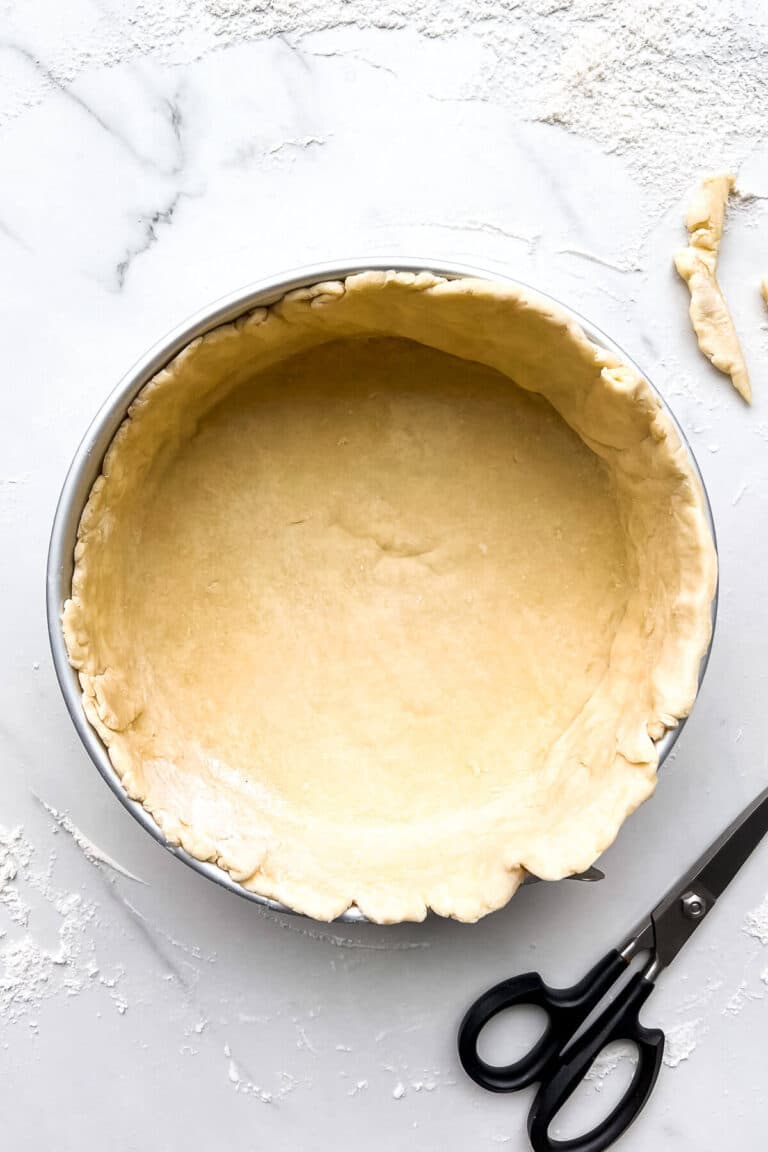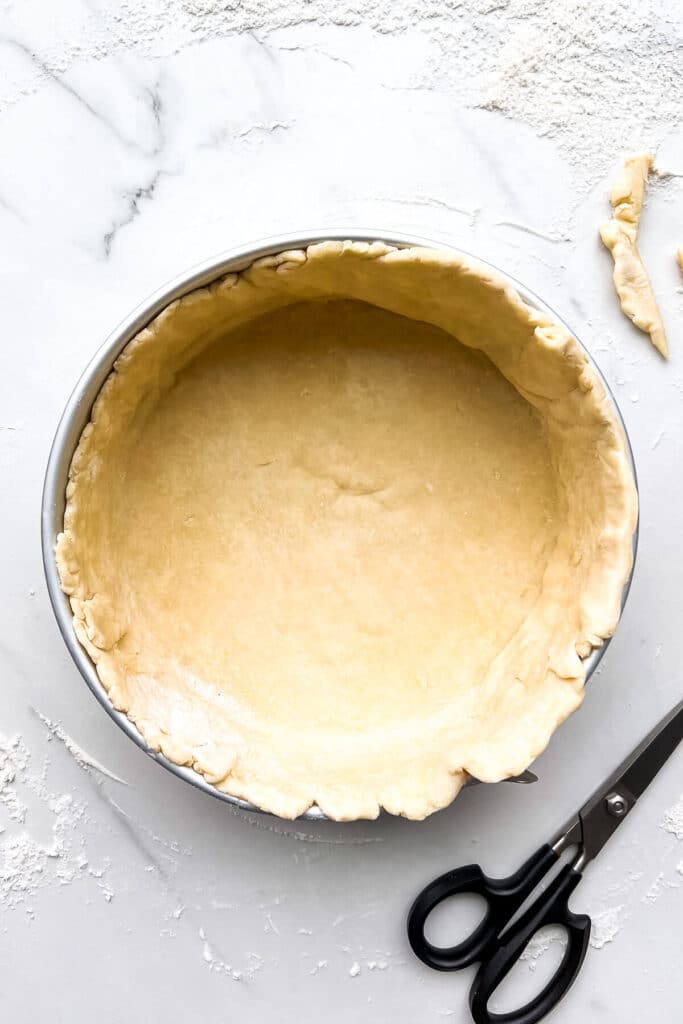 Fit the dough into the springform pan as best you can. It can be awkward but if you are patient, it will fit the pan snuggly from edge to edge.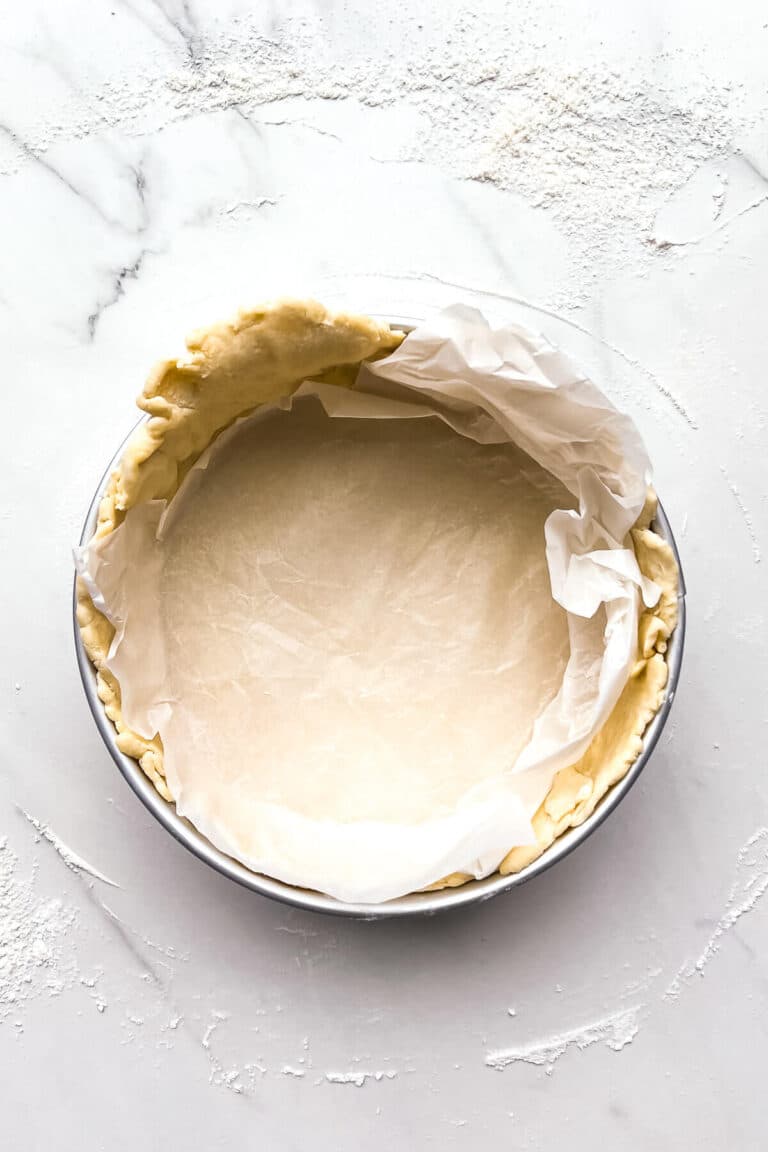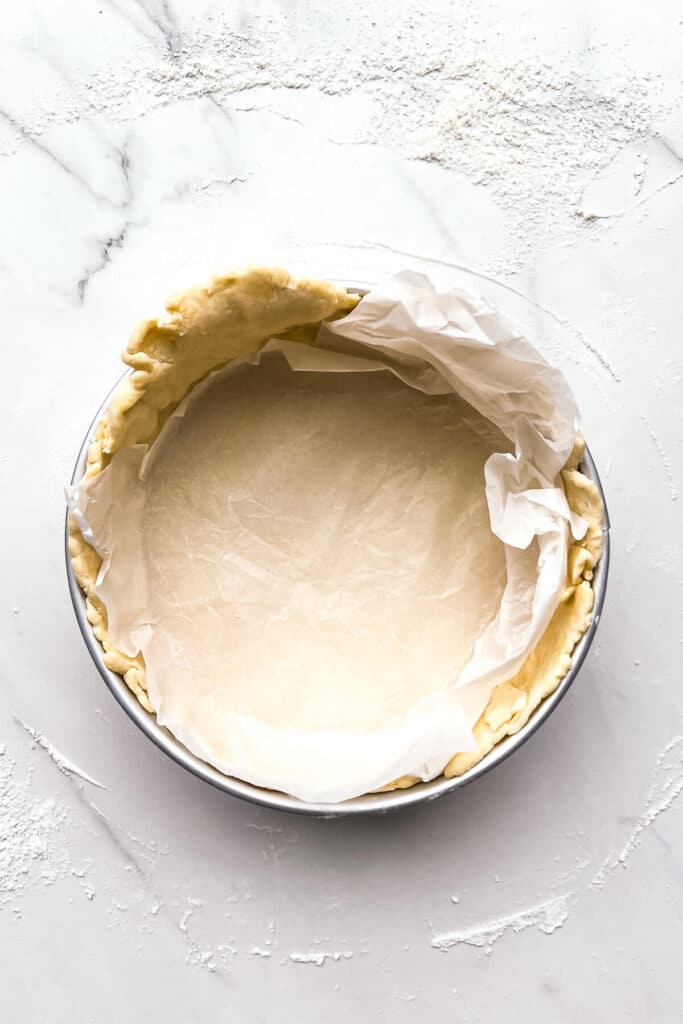 Fit a crumpled piece of parchment paper across the pie dough for blind-baking.
Blind-baking the pie crust
It's better to take the time to blind bake the crust for quiche to ensure it is baked completely on the bottom. Otherwise, if you don't blind bake it, the bottom crust may be gummy or underbaked, and it won't brown.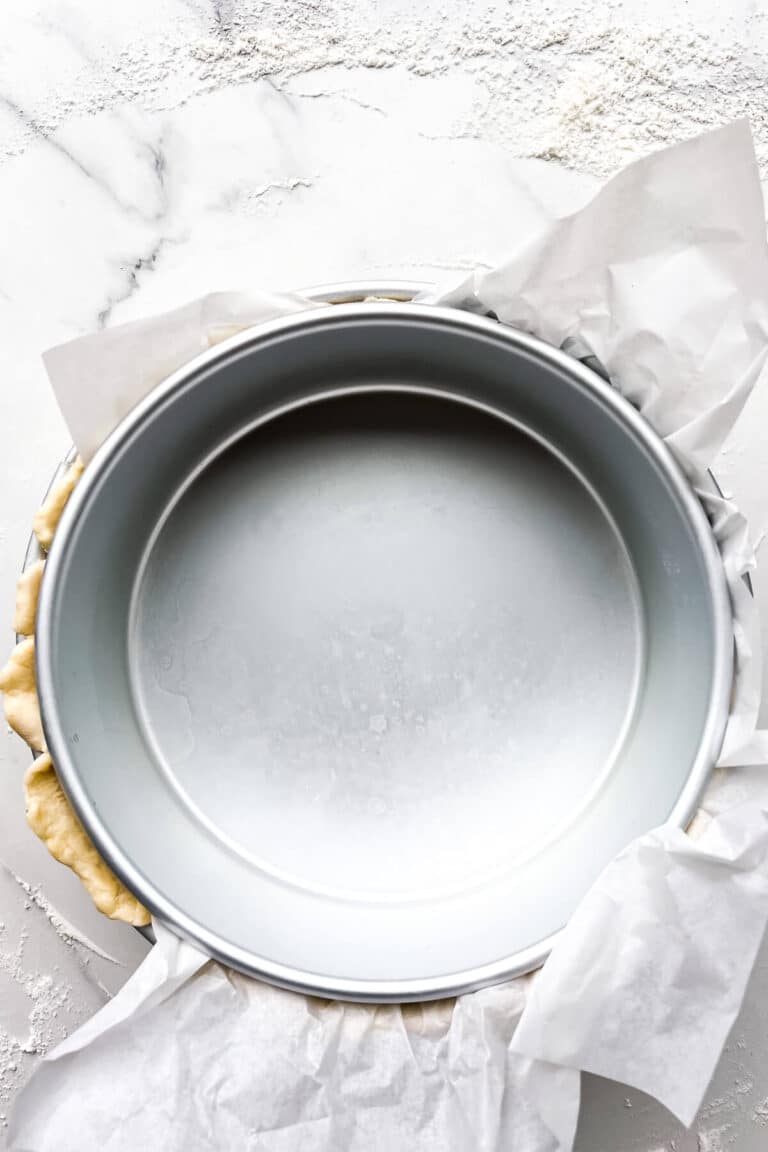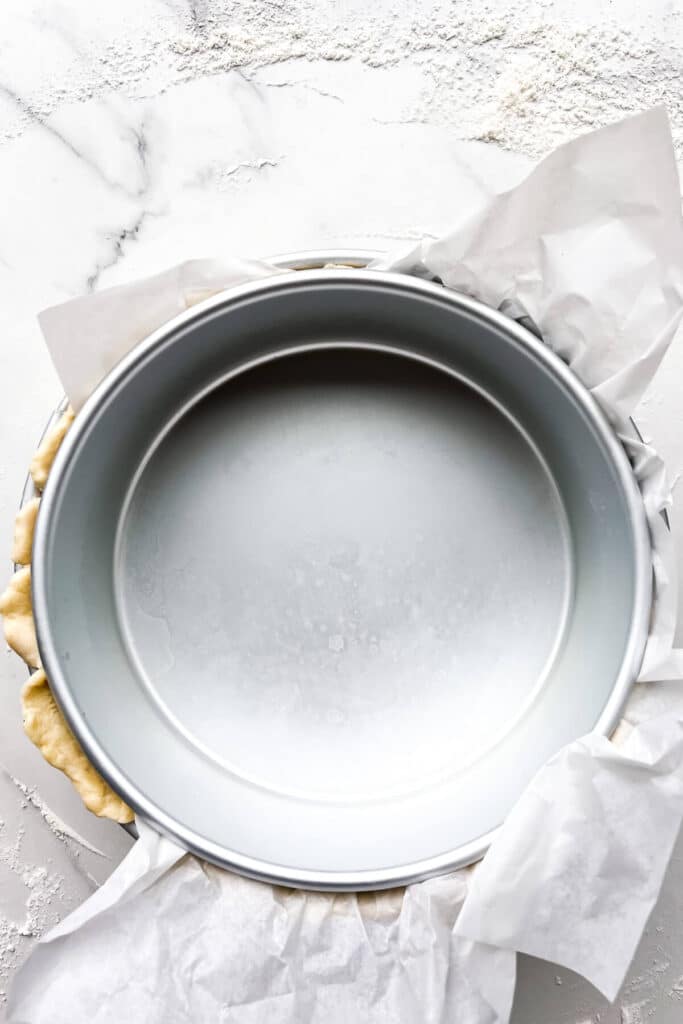 Chill the unbaked crust in the freezer for 20 minutes to set and freeze the pastry. Then you can fill the parchment-lined pie crust with pie weights, dry beans, or even a tall 8-inch cake pan to weigh down the crust for blind-baking.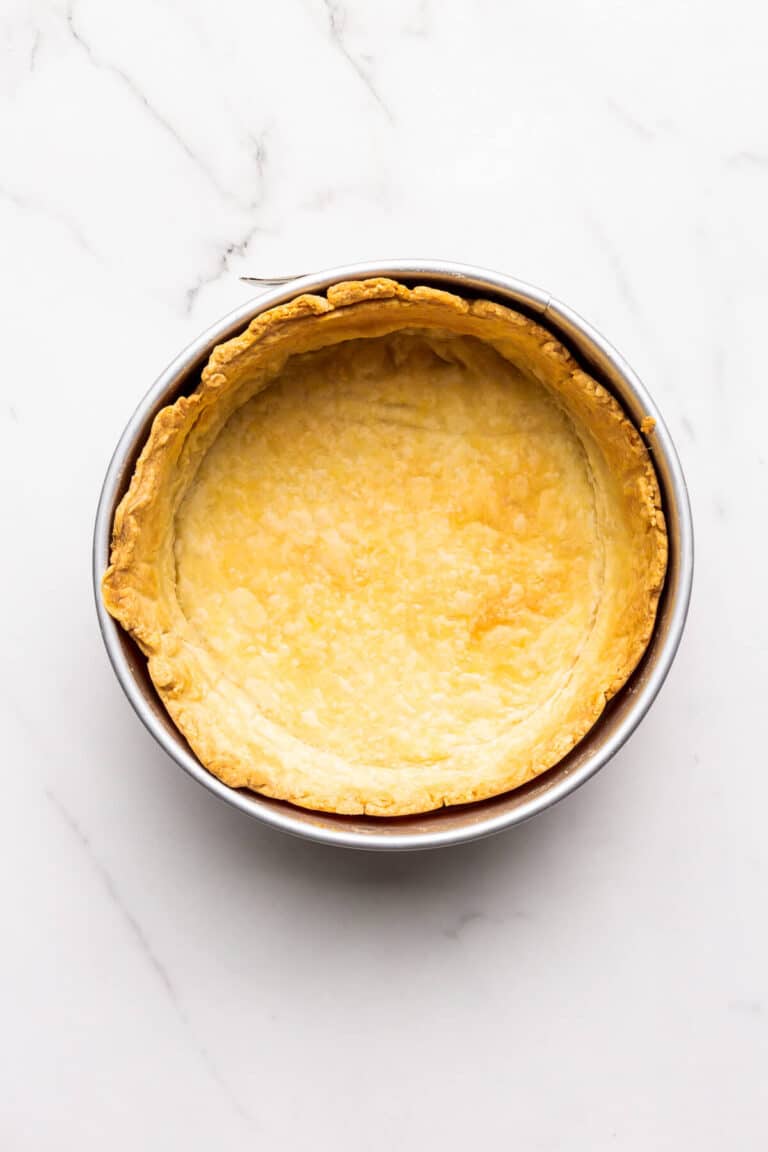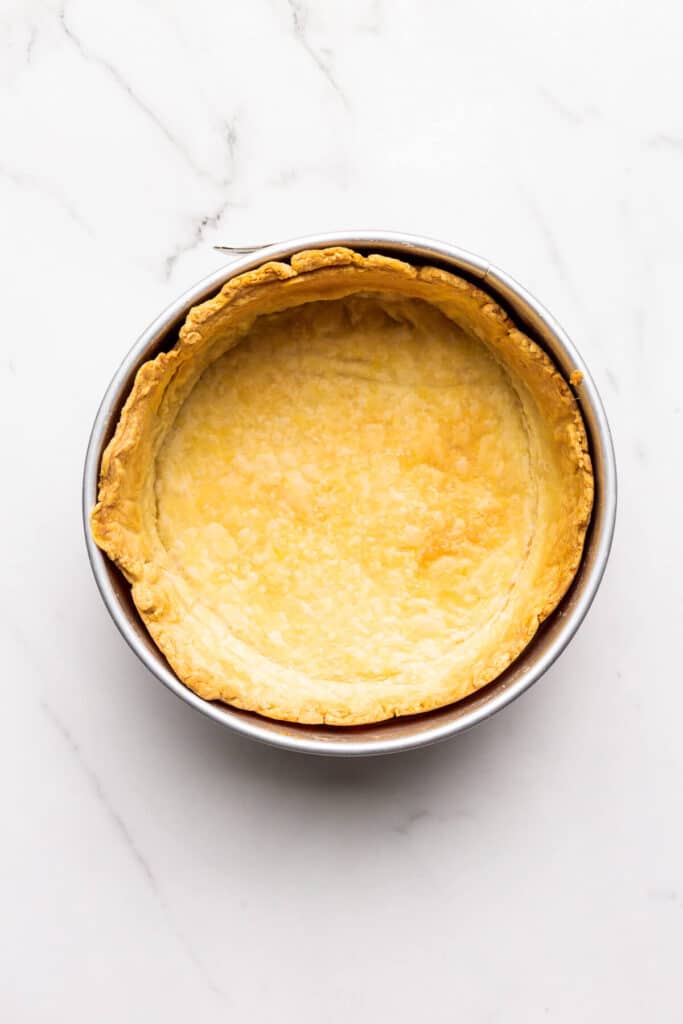 Blind bake the crust on a sheet pan with the weights until completely set, then remove the weights and parchment, and continue baking until the crust begins to turn a lovely golden brown.
Take your time to make the crust and fit it in the pan nicely. As you can see, I didn't line the pan evenly with pie dough and one side of my pie was taller than the other. This meant I couldn't use the full volume of filling and had to hold back 125 mL (½ cup) of the custard. Not the end of the world, but something to keep in mind when making and shaping the crust.
Hint: Remember to use your fridge or freezer at any point if the dough gets too warm, otherwise, you will struggle to line the pan with the pie dough. Cold dough is easier to work with and will hold its shape better.
Preparing the quiche filling
The veggies are sautéed to cook them and release the water. That water can make the quiche filling watery and give it a curdled appearance.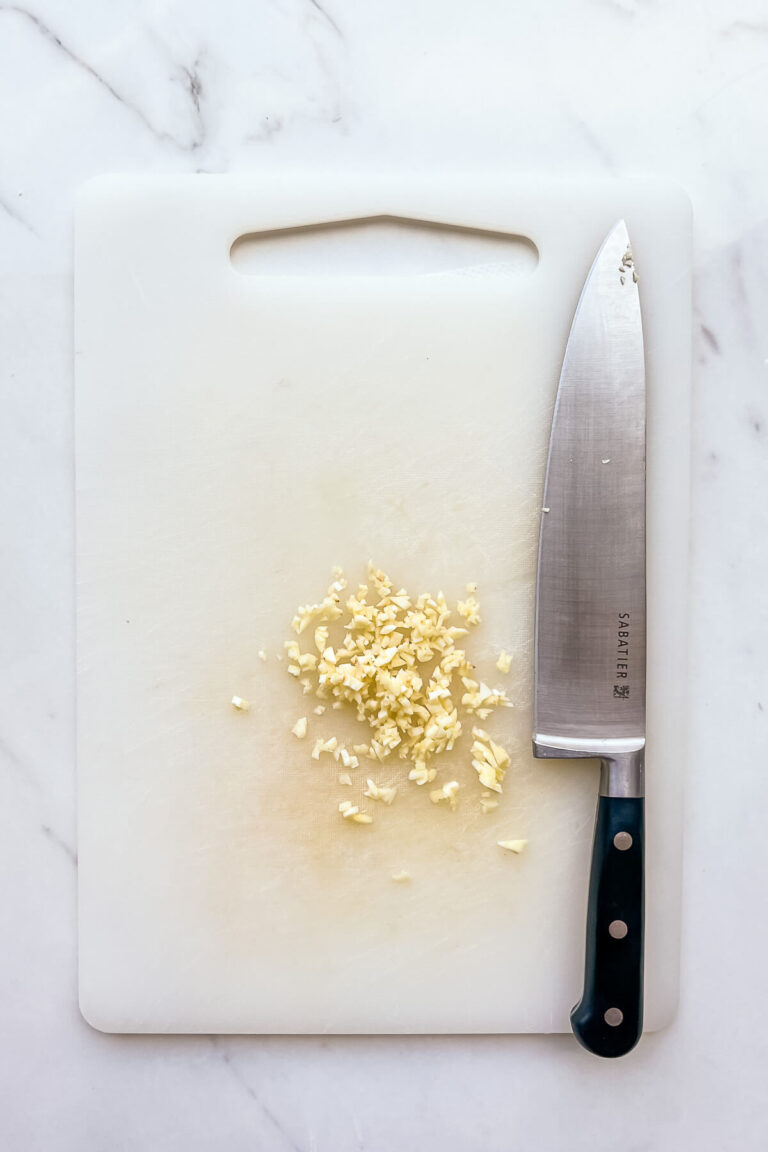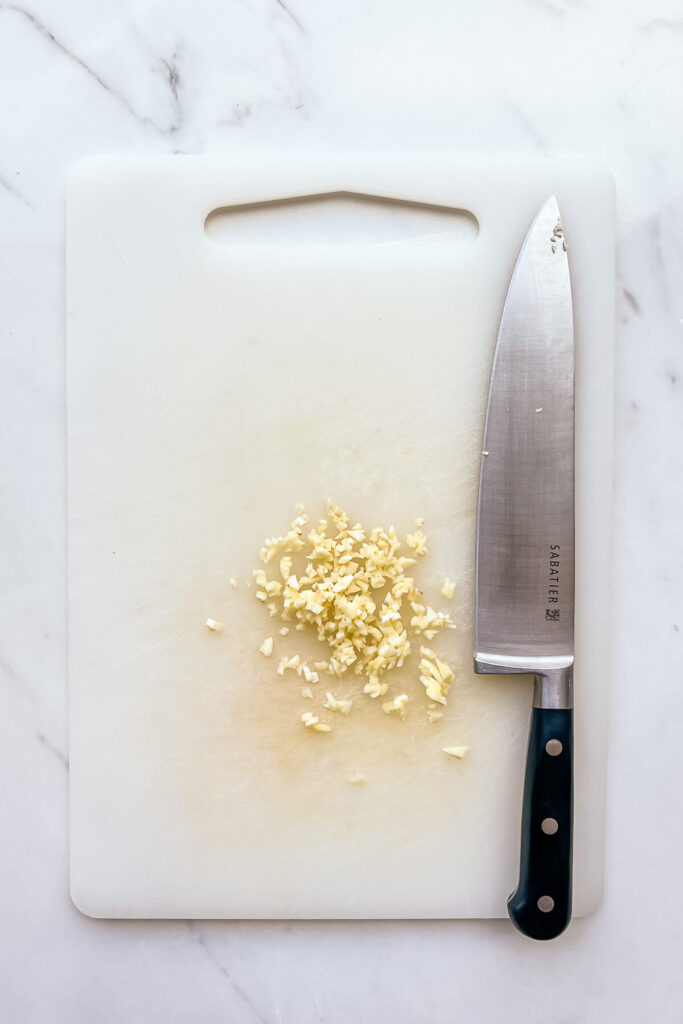 I like to hand chop the garlic for the filling, but by all means, you can use a garlic press, or even just use store bought chopped garlic or even garlic paste. Use as much or as little as you like. There is a lot of filling to flavour so you can be heavy-handed with the garlic and seasonings!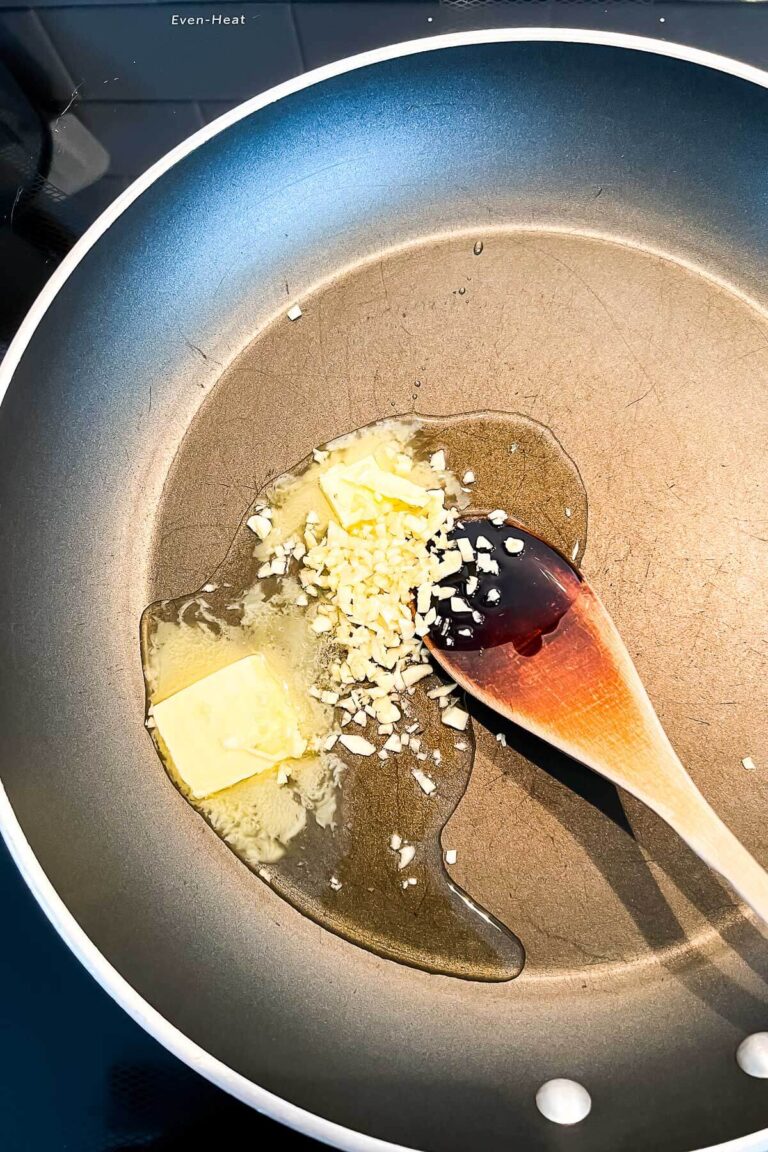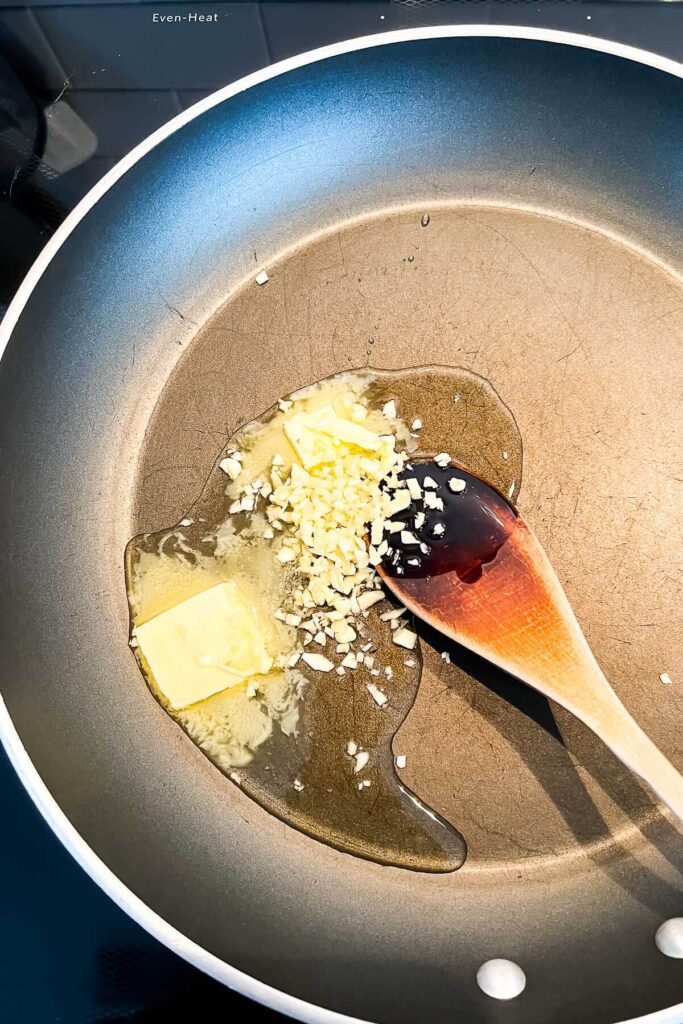 Sautée the garlic in a combination of olive oil and butter, bringing both flavour and a slightly higher heat tolerance so the butter won't burn.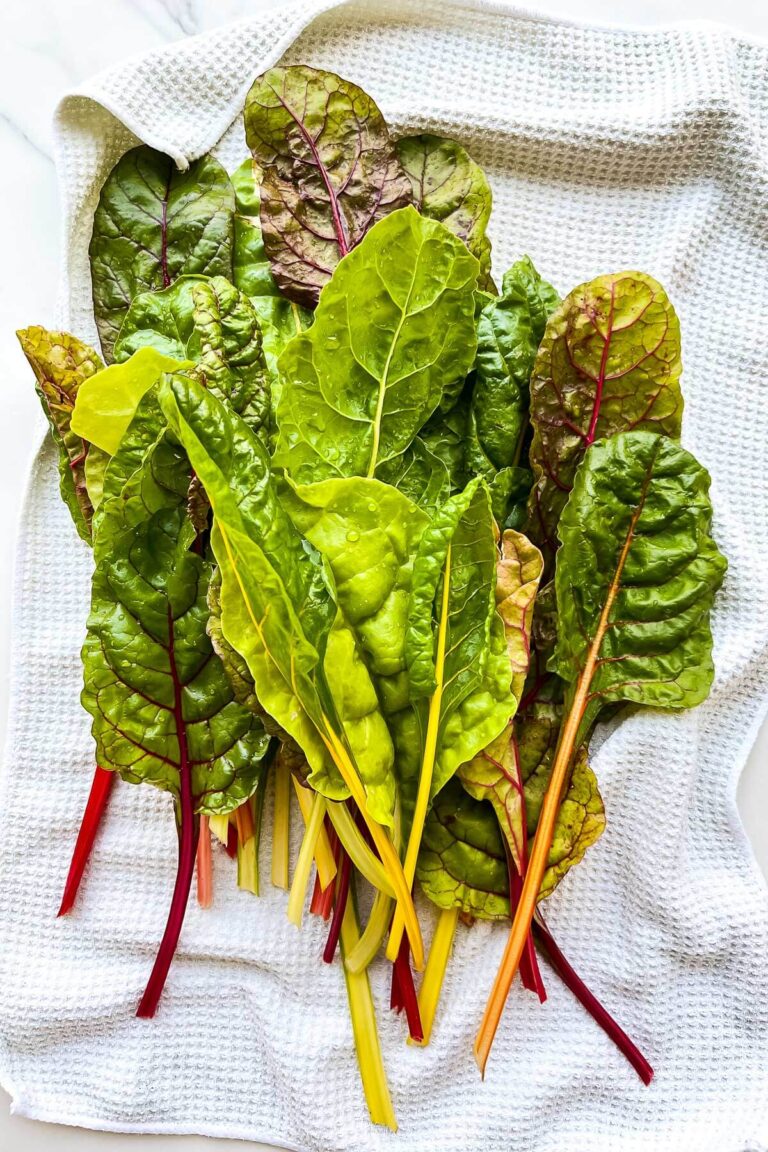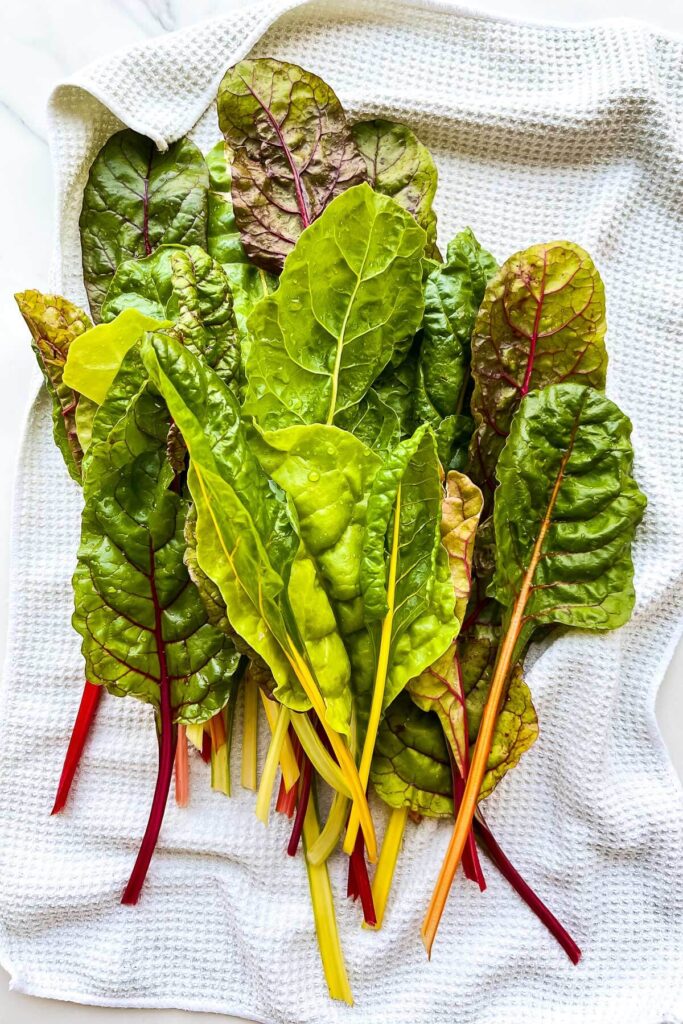 Make sure to wash the Swiss chard for the filling very well. I like to inspect every leaf to check for bugs or cobwebs since I picked the Swiss chard from my garden. Dry the leaves well before proceeding.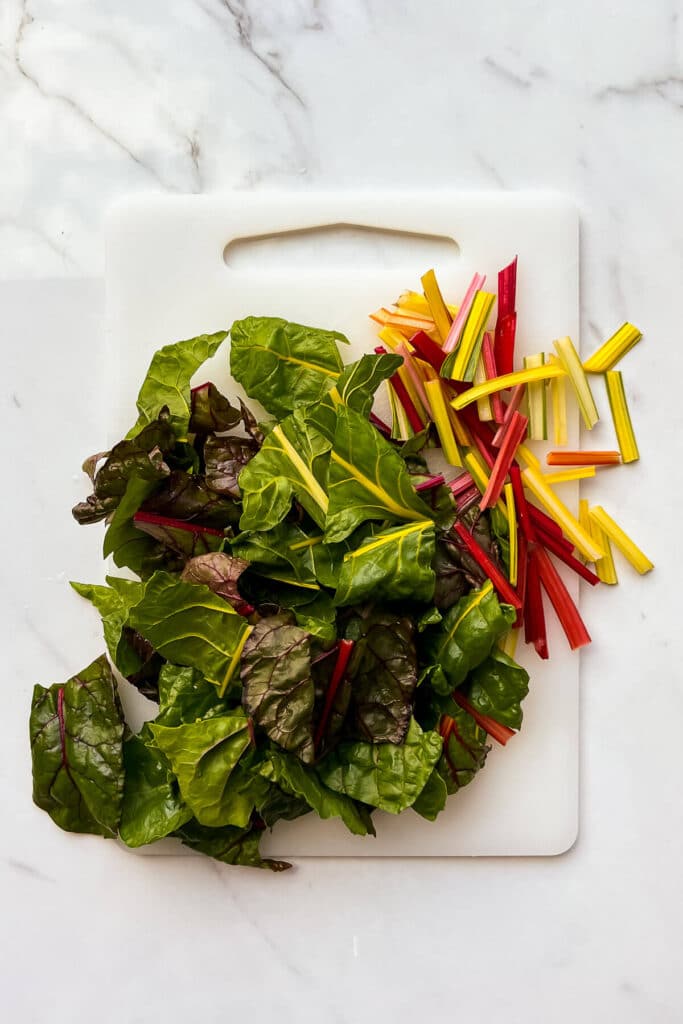 Roughly chop the Swiss chard. You can keep it coarse with bigger pieces or chop it finer for a more refined filling.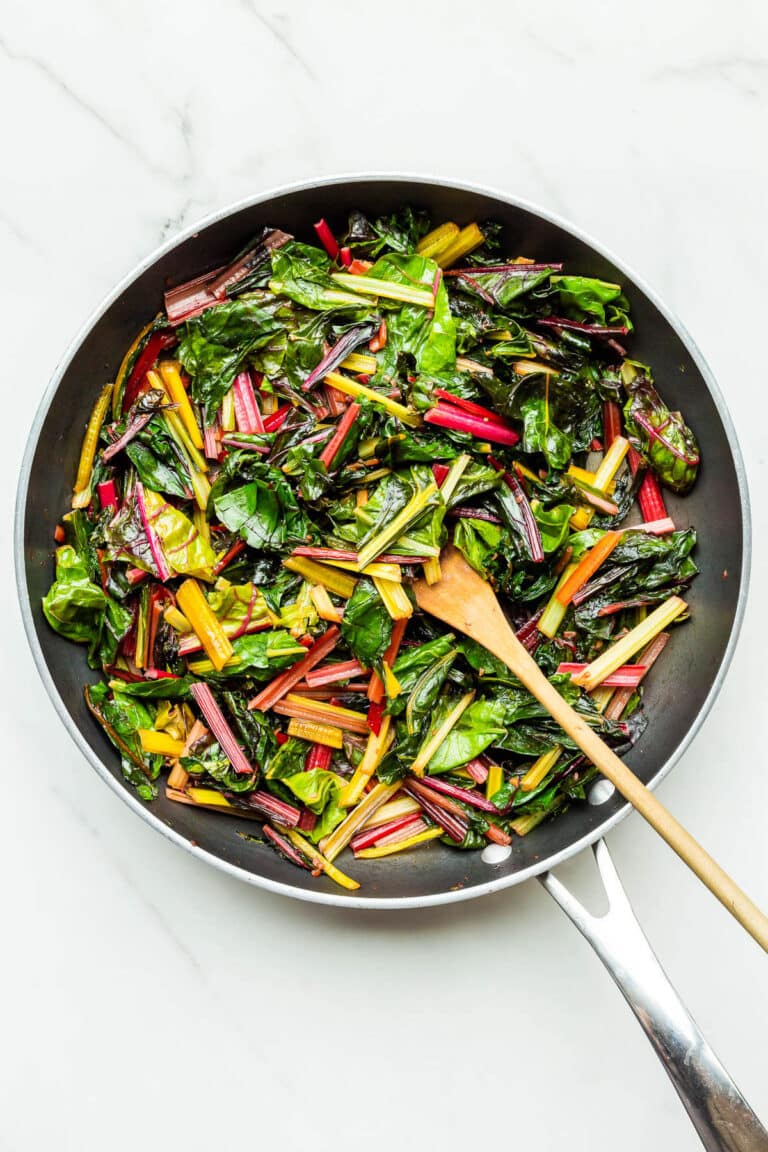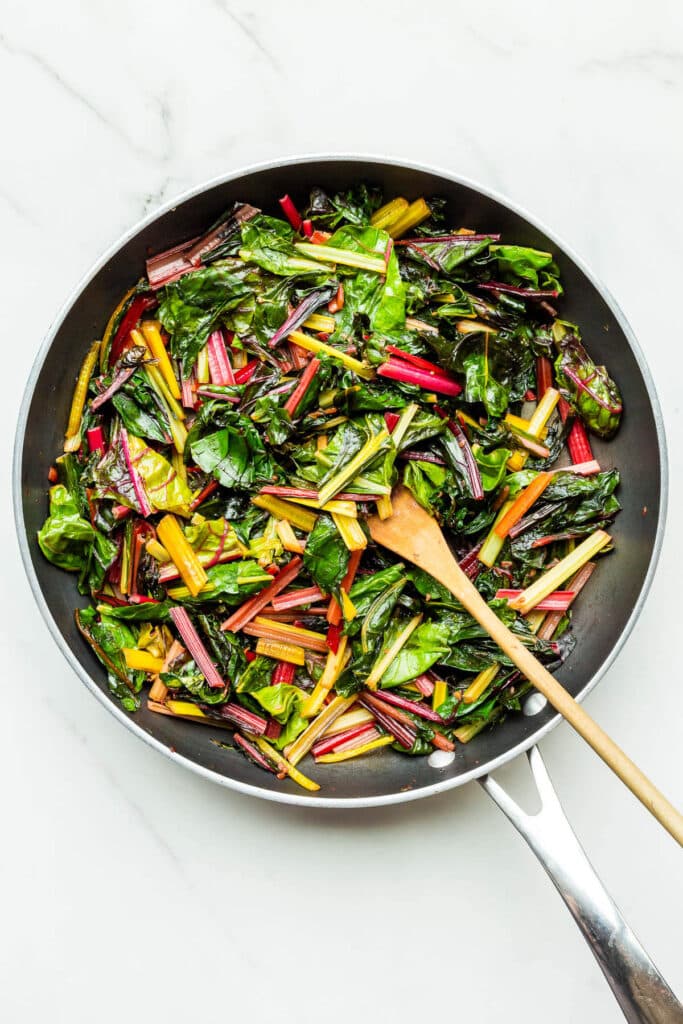 Sautée the greens in the garlic, butter, and oil, using lots of salt and pepper. Since you have a large volume of Swiss chard, it won't all fit in the pan at once, so sautée a little at a time, adding more to the pan as the greens wilt down and make space. Eventually it will all fit in your 12 inch skillet as shown.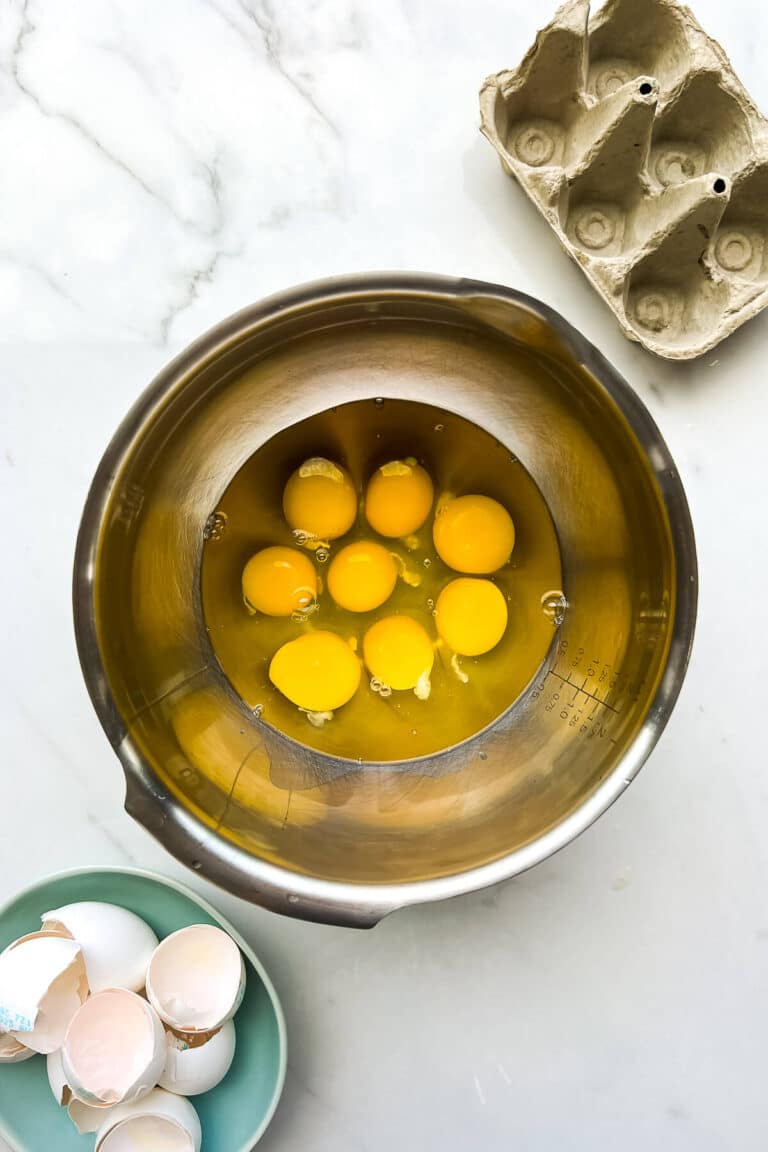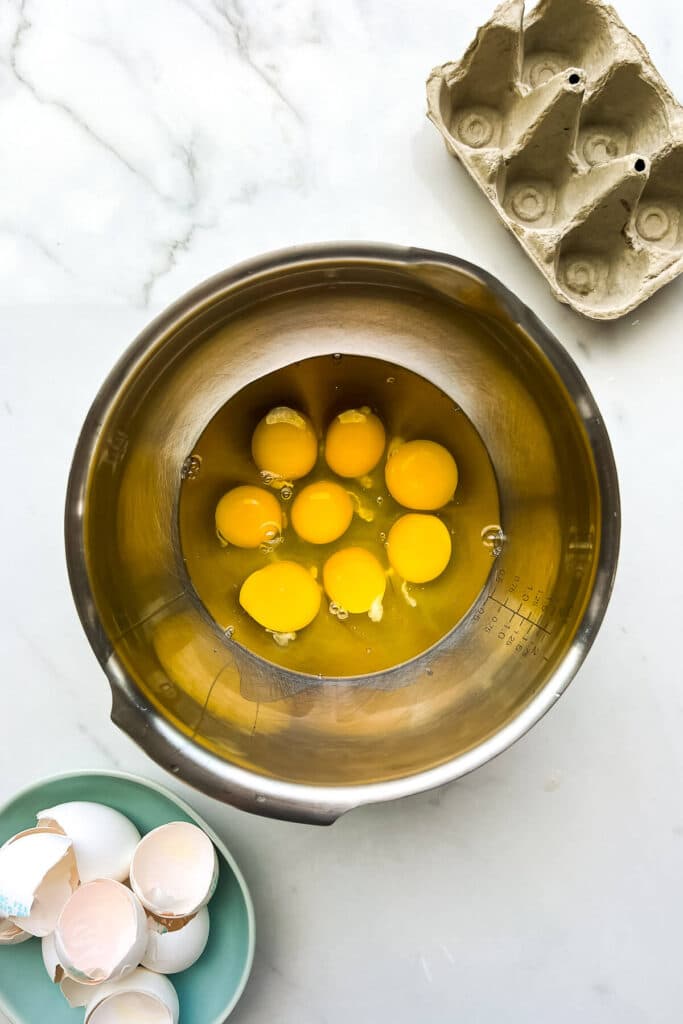 To make the savoury custard filling for quiche, you need to start with a lot of eggs. Crack them first into your mixing bowl, making sure to remove any broken pieces of shell before continuing.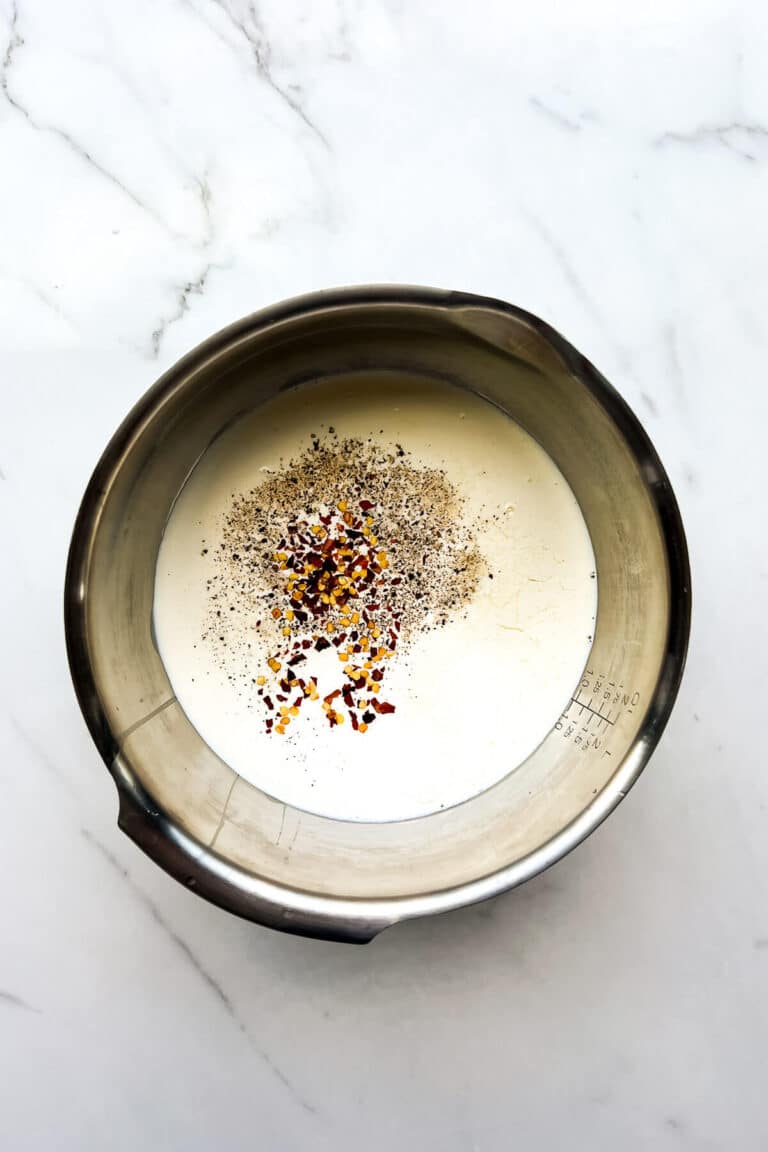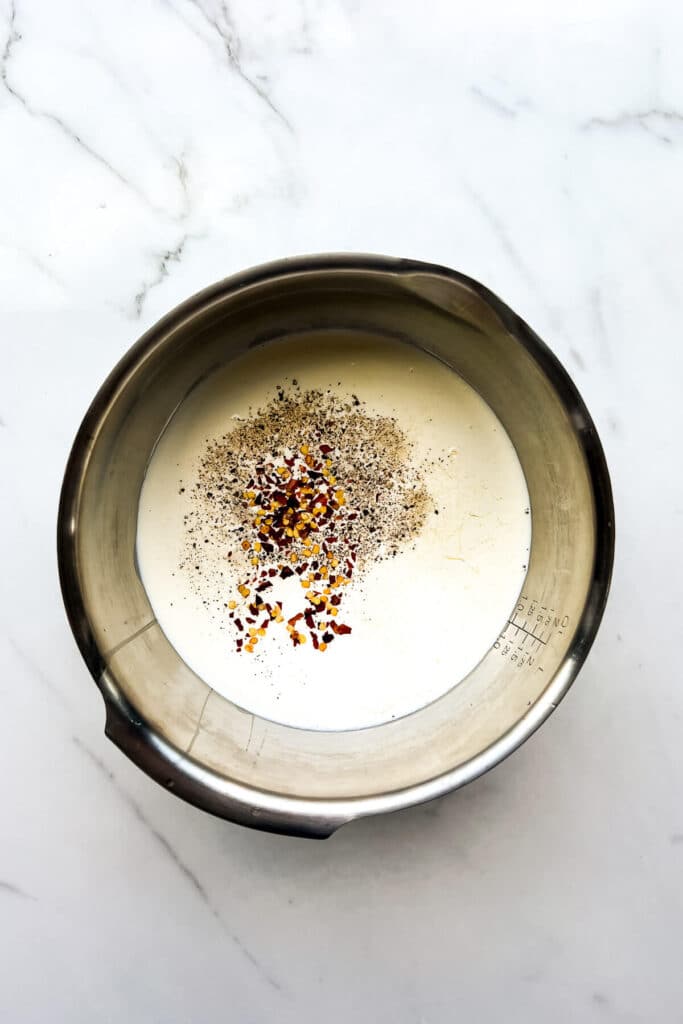 Add cream, milk, and lots of seasoning to flavour the savoury custard.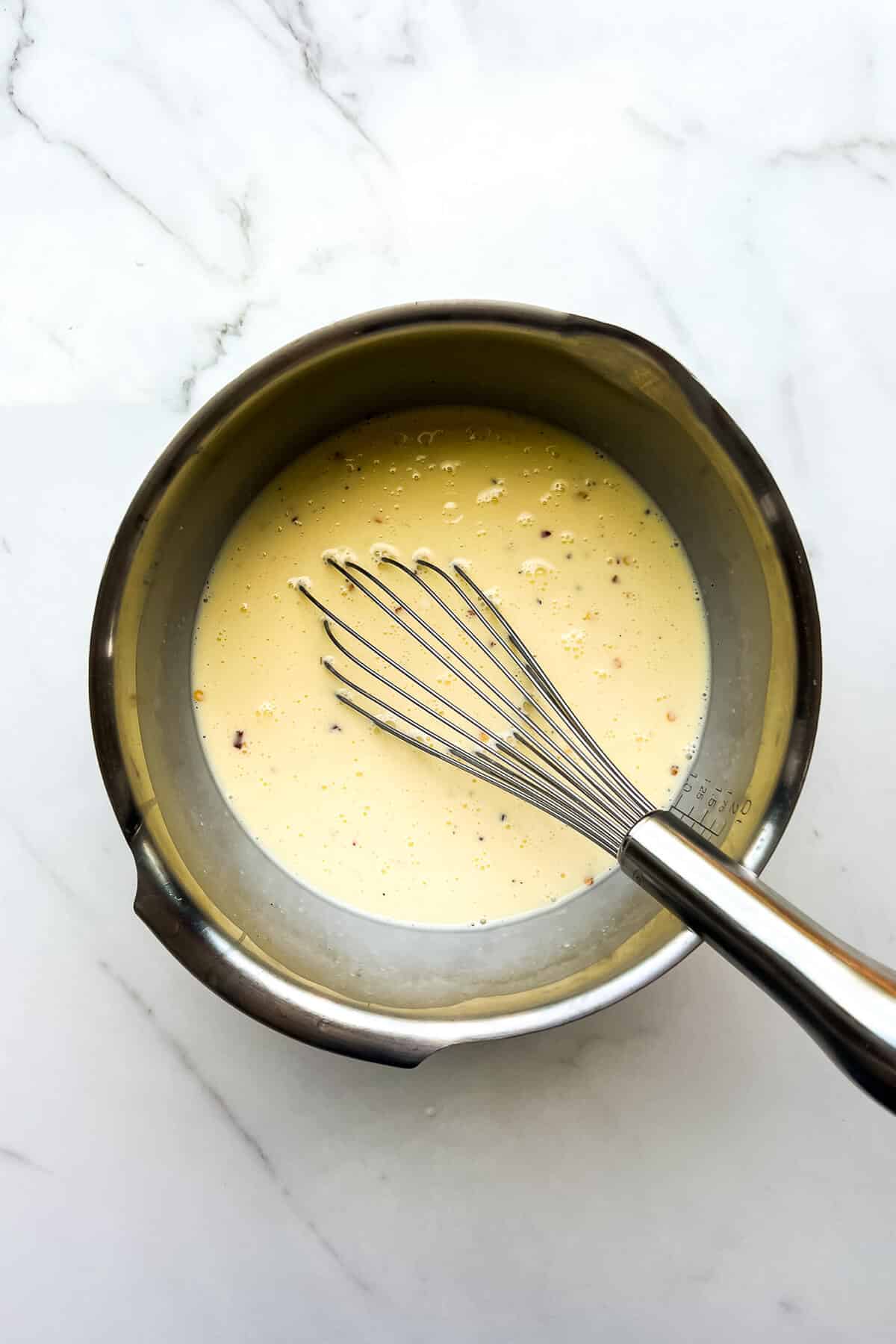 The whisked custard filling for quiche should be completely smooth and homogenous (except for the flecks of pepper and spices). There should be no streaks of egg. If it doesn't look even and creamy, continue whisking. The goal is not to incorporate air, so just whisk gently to evenly incorporate and combine the egg, milk, and cream.
Seasoning the custard with salt not only adds flavour, it helps break up the globular proteins in the egg white so that the filling is more smooth and even. Diluting the eggs with milk and cream also has this effect on the egg proteins.
Filling the quiche and baking
There is an order to filling a quiche for success. You start first with all the add-ins (the sautéed veggies and the cheese), and then you pour the custard over them to fill the crust close to the top edge, but not overflowing. You can have a gap of a couple millimetres.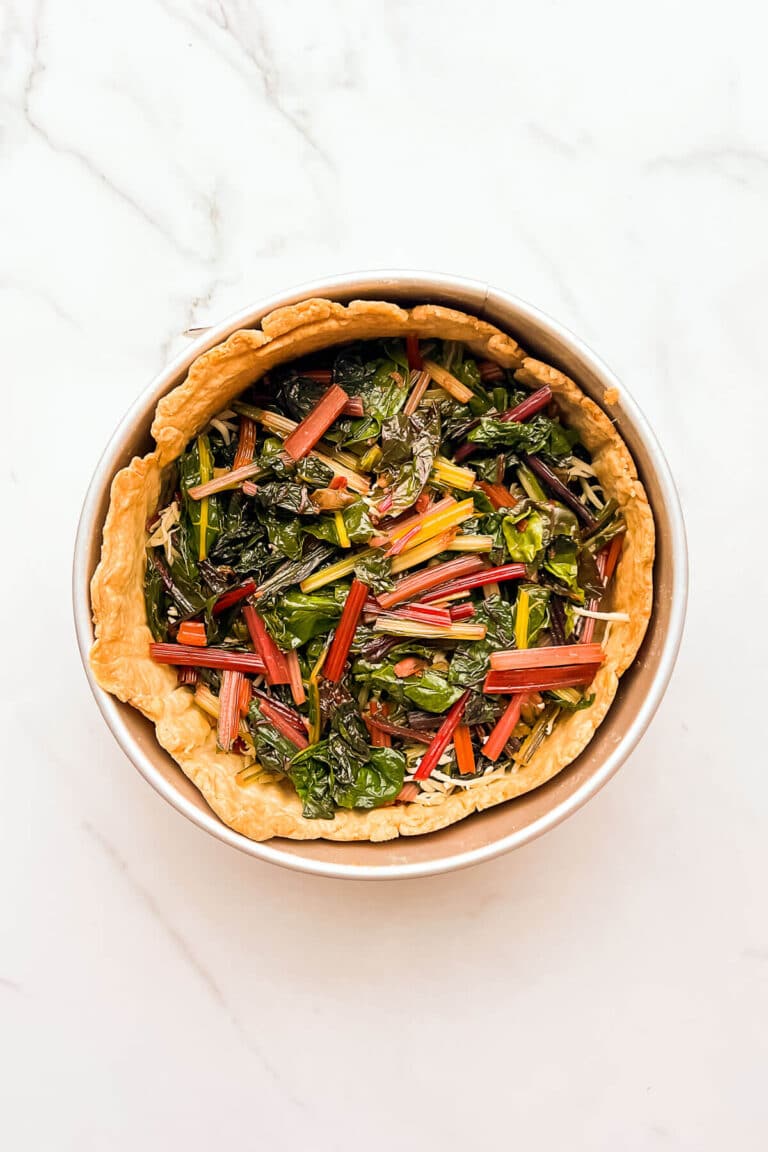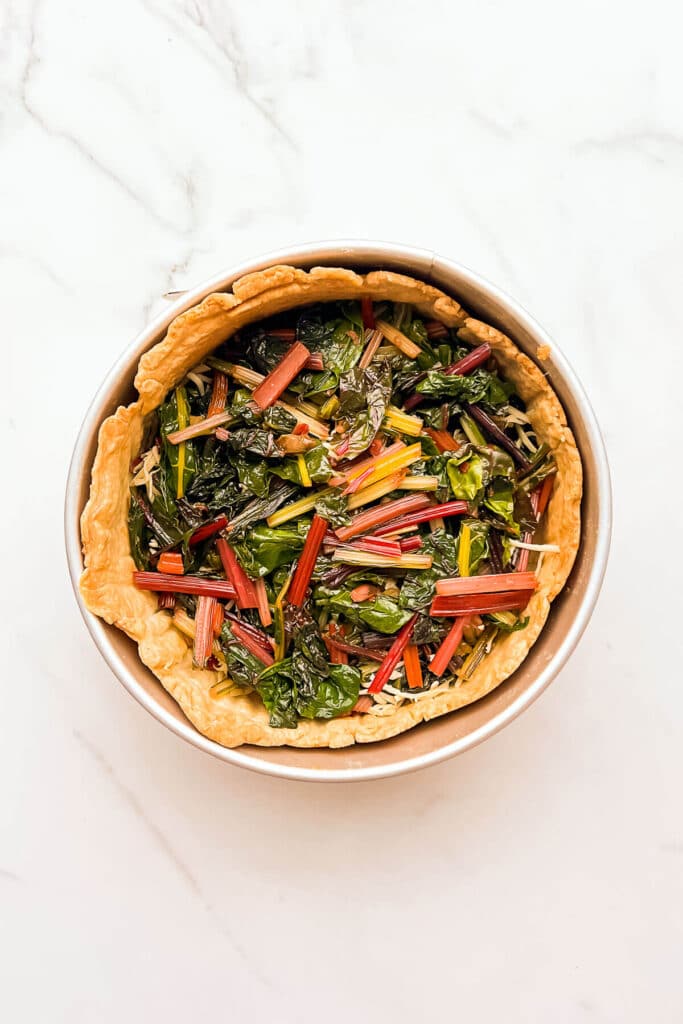 I start with a layer of Swiss chard at the bottom of the blind-baked crust.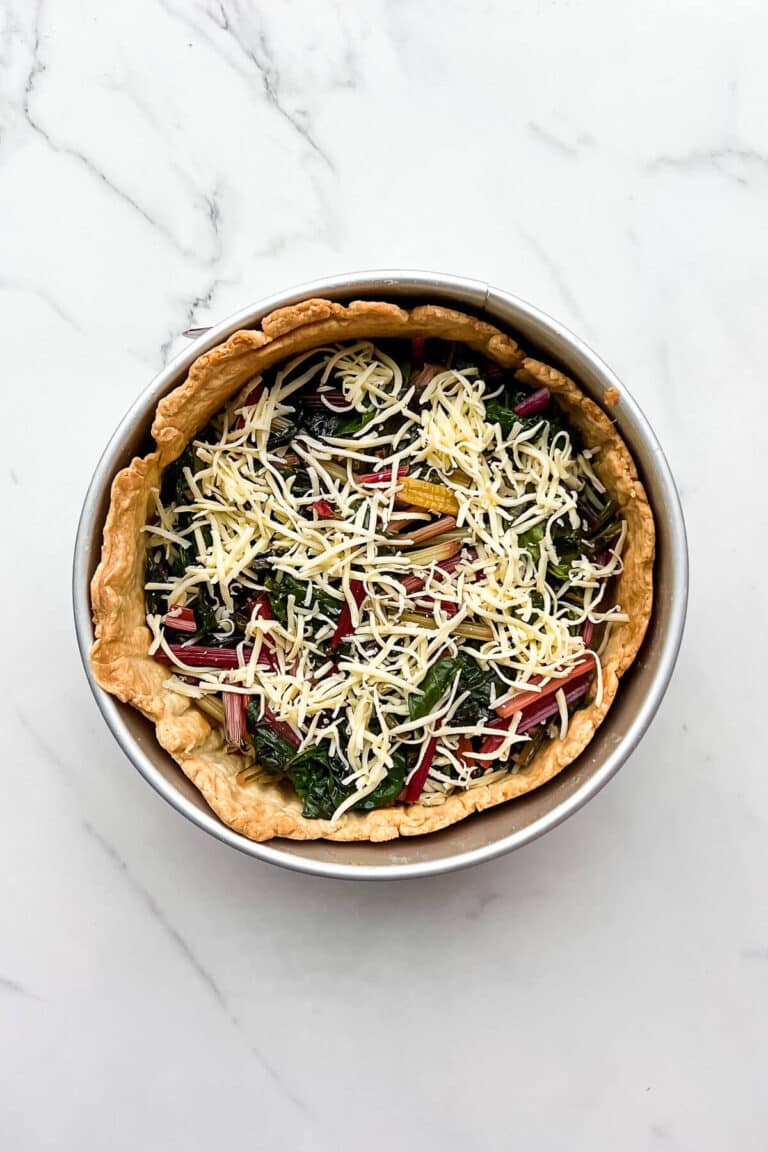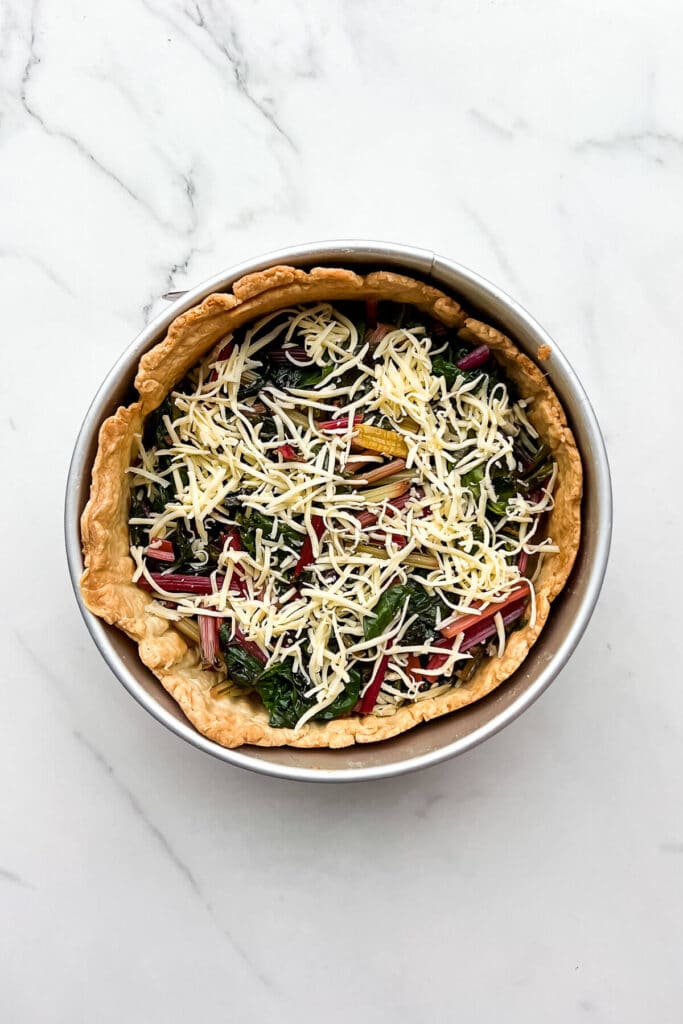 Sprinkle cheese on top. Then repeat the process, layering the sautéed greens and shredded cheese until the pie crust is full.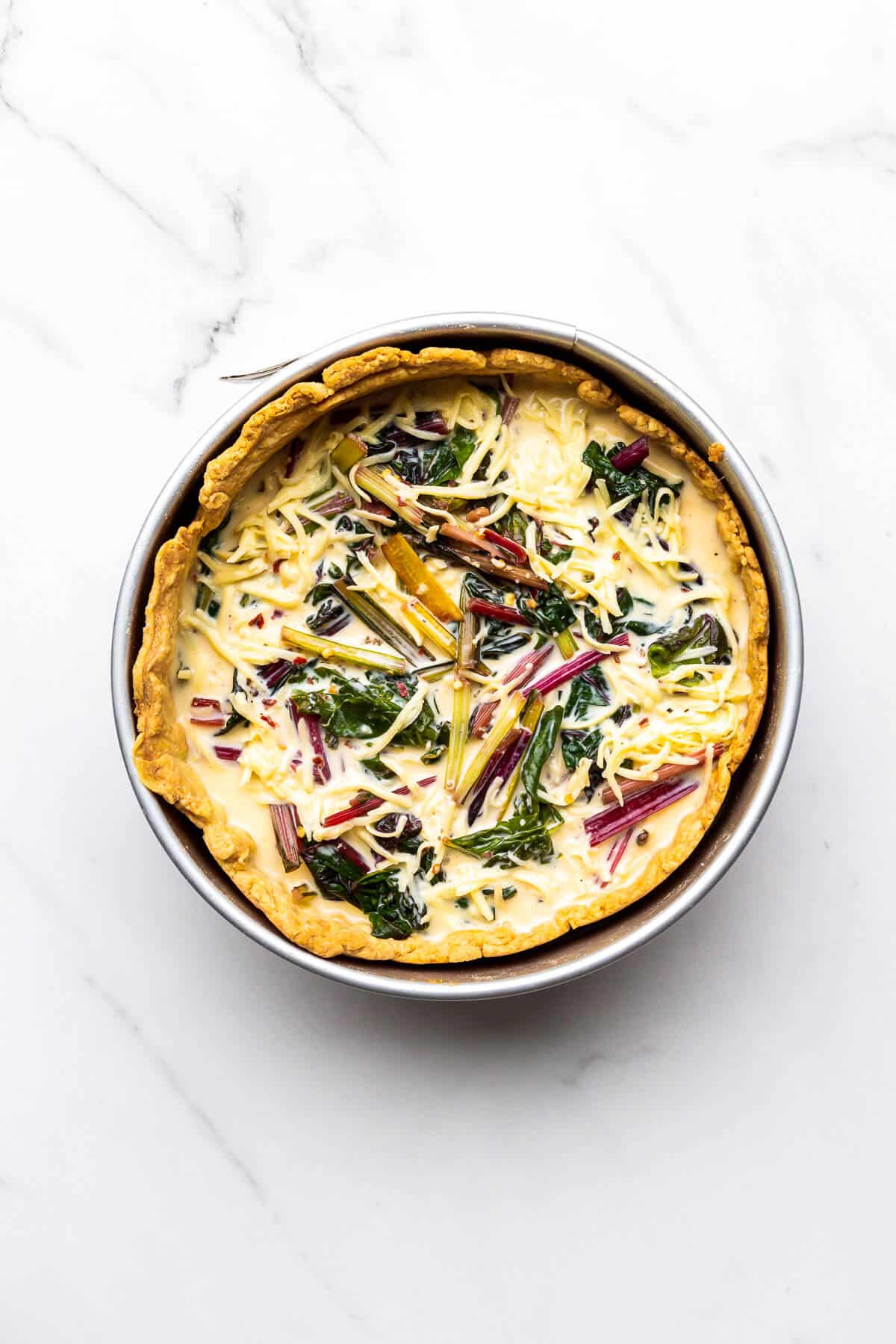 Pour the custard over the filled pie crust, holding back about 250 mL (1 cup). Use a chopstick to help lift and move the greens gently to make sure the custard flows all the way to the bottom of the crust. Continue adding custard until the quiche crust is filled almost right up to the edge of the crust. Don't let it overflow and leave yourself a couple of millimetres at the top just so that you can move the quiche to the oven without spilling.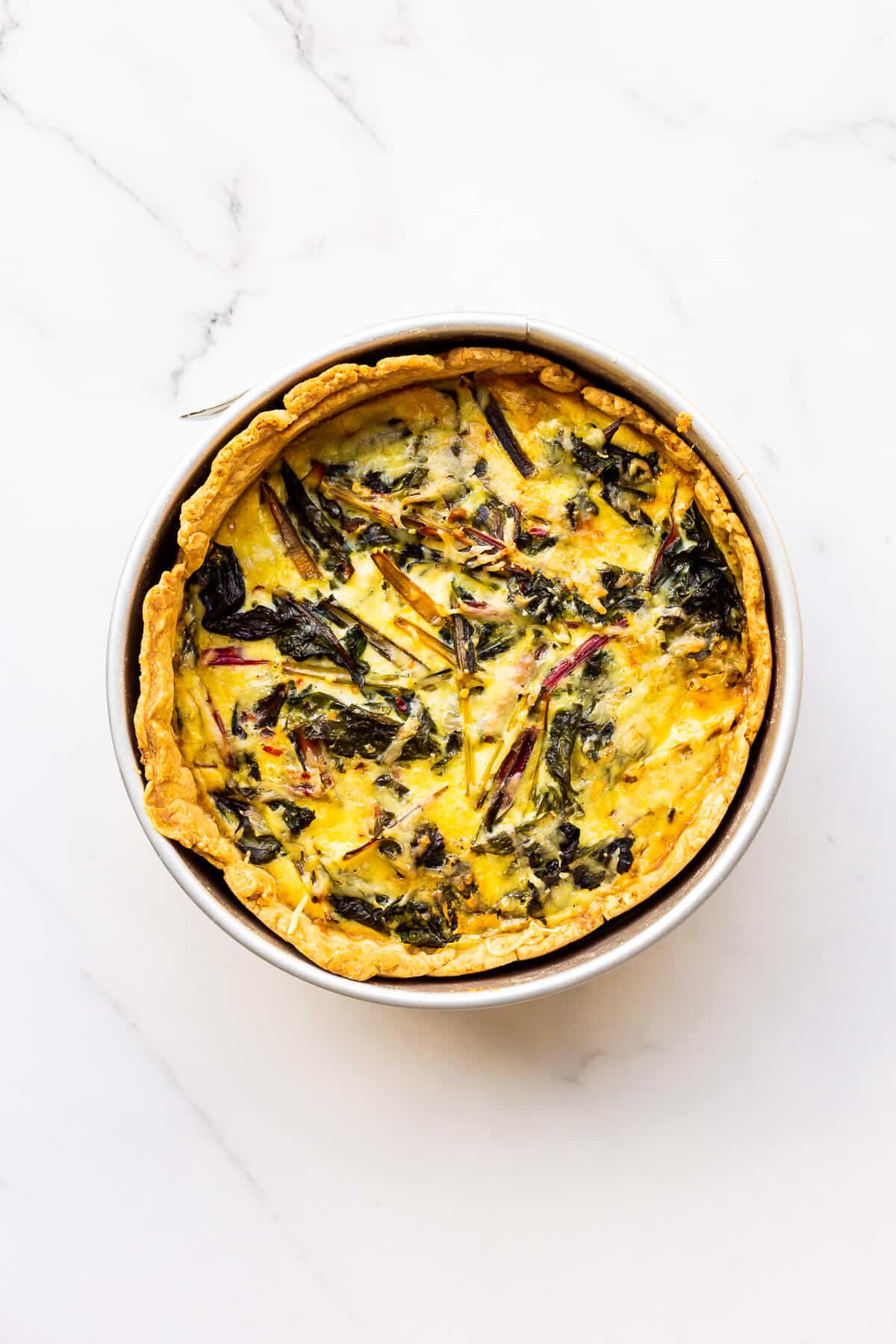 I bake quiches low and slow, especially when they are so tall. So while the crust is baked at 375 °F, the filled quiche is baked at 325 °F. This allows the filling to stay creamy, without curdling or becoming lumpy.
Substitutions
You can make a few careful substitutions with a deep dish quiche, such as:
Pie crust—the recipe includes how to make a pie crust in a stand mixer, but you can always get all-butter pie dough from your local bakery and use that. You will need about 500 grams of dough (roughly 1 pound) to line a 9-inch springform pan and make this deep dish quiche.
Jarlsberg cheese - if you don't like Jarlsberg, you can replace it with any of your favourite cheeses, even crumbled feta or goat cheese would work and would add a lovely salty flavour to this quiche. Replace gram for gram.
Swiss chard—this is a quiche where Swiss chard is the star, obviously, but you can replace it with sautéed fresh spinach. Just make sure that you cook off all the water in the spinach before proceeding to avoid a soggy filling that curdles. You could also use frozen chopped spinach. Defrost it first and squeeze out as much of the water as you can before using it.
Cream plus milk—I always have 35 % fat whipping cream and milk (ranging from skim to 3.25% fat) in my fridge, so I tend to make quiche custards with both of these to end up with around 15 % milk fat. You could therefore easily replace both the cream and milk with the same total volume of coffee cream or half-and-half. Use what you've got!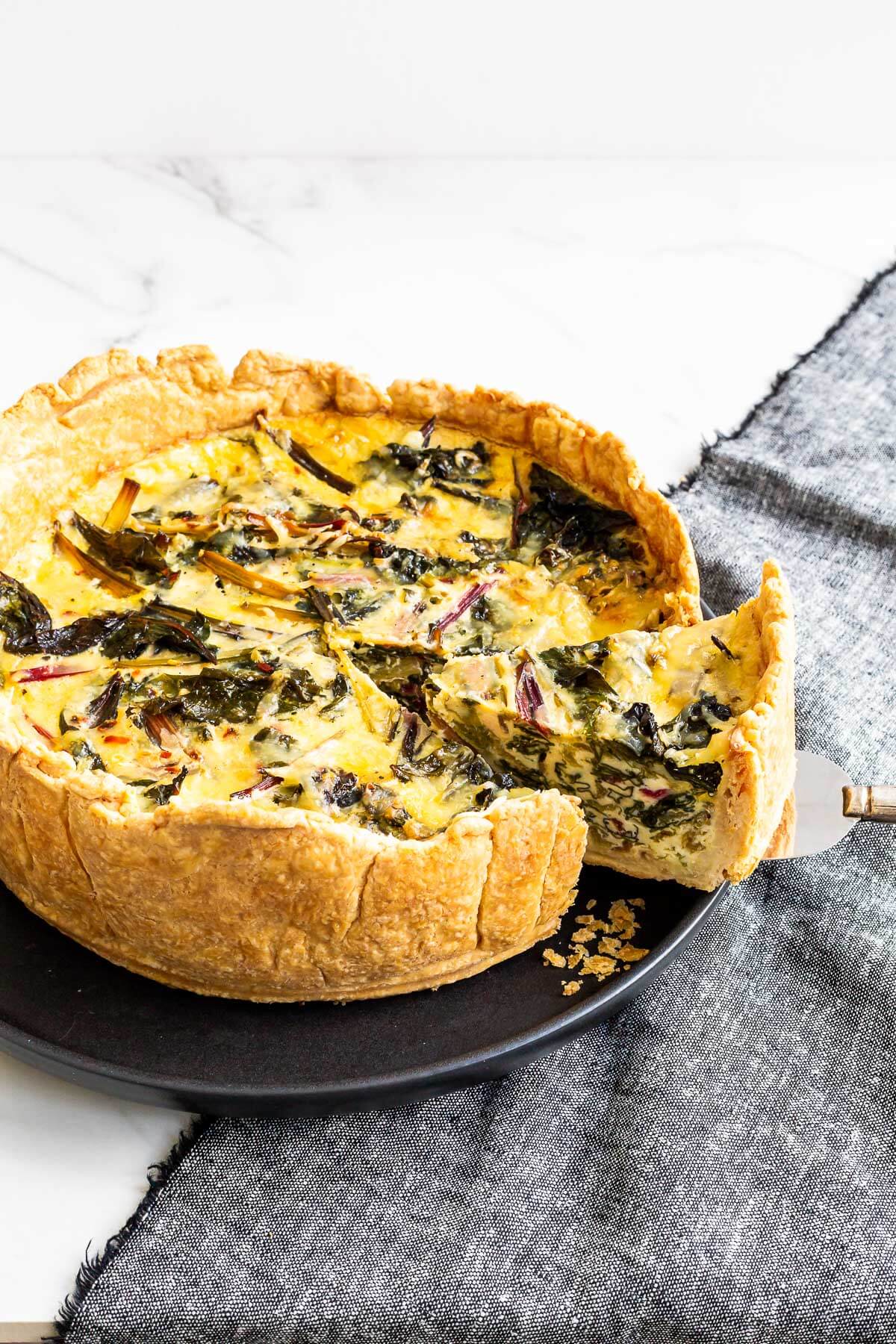 Variations
A deep dish quiche is basically a blank slate and you can make so many changes
Meat-lovers quiche—add chopped cooked chorizo or cooked crumbled spicy Italian sausage, for example. Even chopped ham or other cured cold cuts or bacon bits. Chopped cooked bacon or lardons work well!
Veggie-lovers quiche—You can add other veggies or get creative. Try shredded Brussel sprouts instead of the Swiss chard. You can even sautée broccoli instead, or cauliflower. Chop it fine enough so that you can cut the quiche cleanly when serving.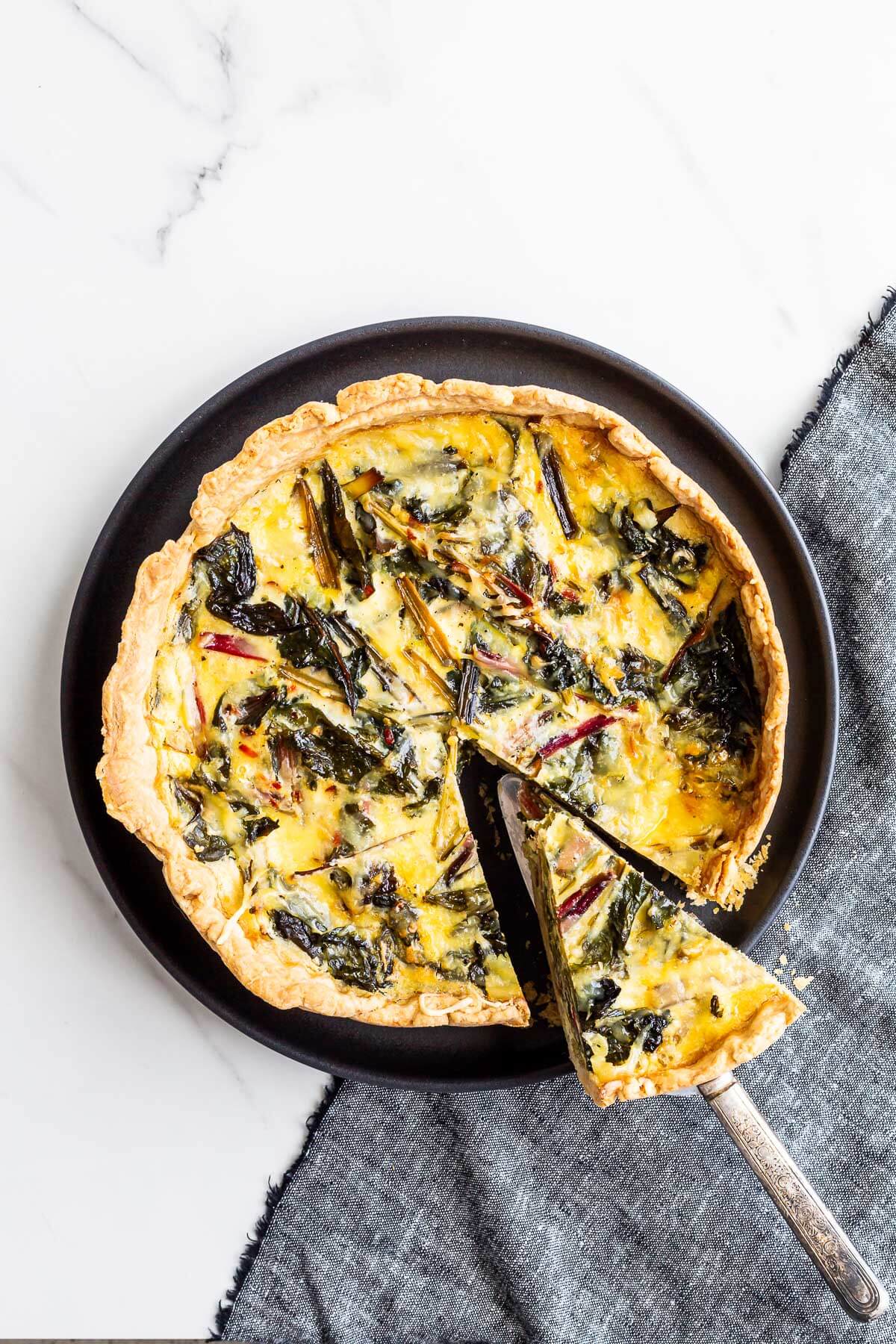 Whatever variations you make, just don't pack the quiche crust too tightly with add-ins because then you will have less space for the custard. If you have too much custard, it's not the end of the world. You can bake it in buttered ramekins or cook it in a fry pan and eat it as a snack.
Equipment
You need a minimum of tools to tackle this deep dish quiche recipe: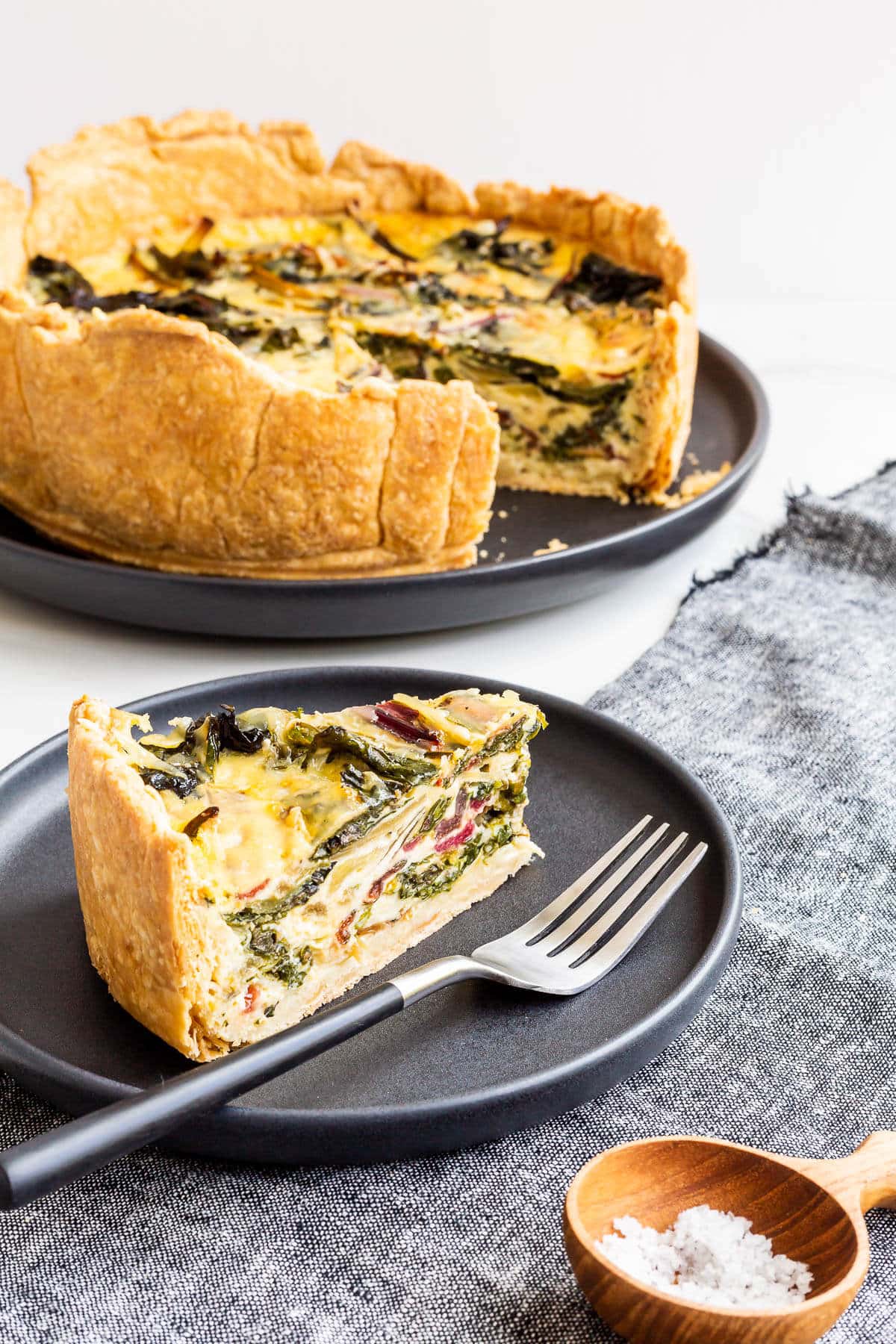 Tip: Use a second cake pan to blind bake the crust instead of pie weights or dry beans. The cake pan is slightly smaller than the springform. For a crust baked in a 9-inch springform, I used an 8-inch professional cake pan with 3 inch sides. The pan supports the sides and weigh down the bottom of the pie shell as it blind bakes. This worked perfectly.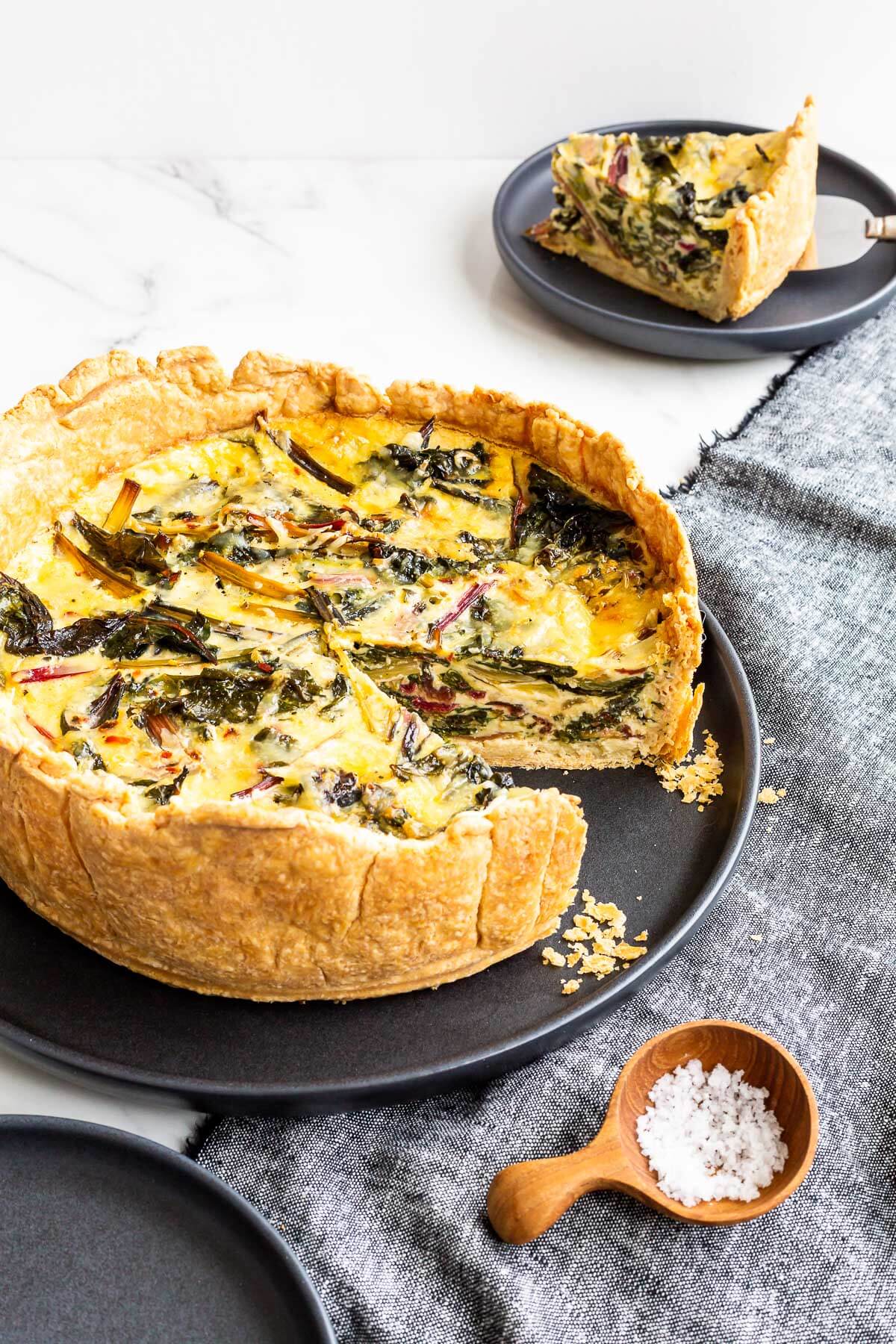 Storage
Store your baked quiche covered in the refrigerator after unmoulding it and letting it cool down. I cover it with foil to protect it. I actually like to refrigerate quiche overnight before slicing it into portions that I can reheat during the week.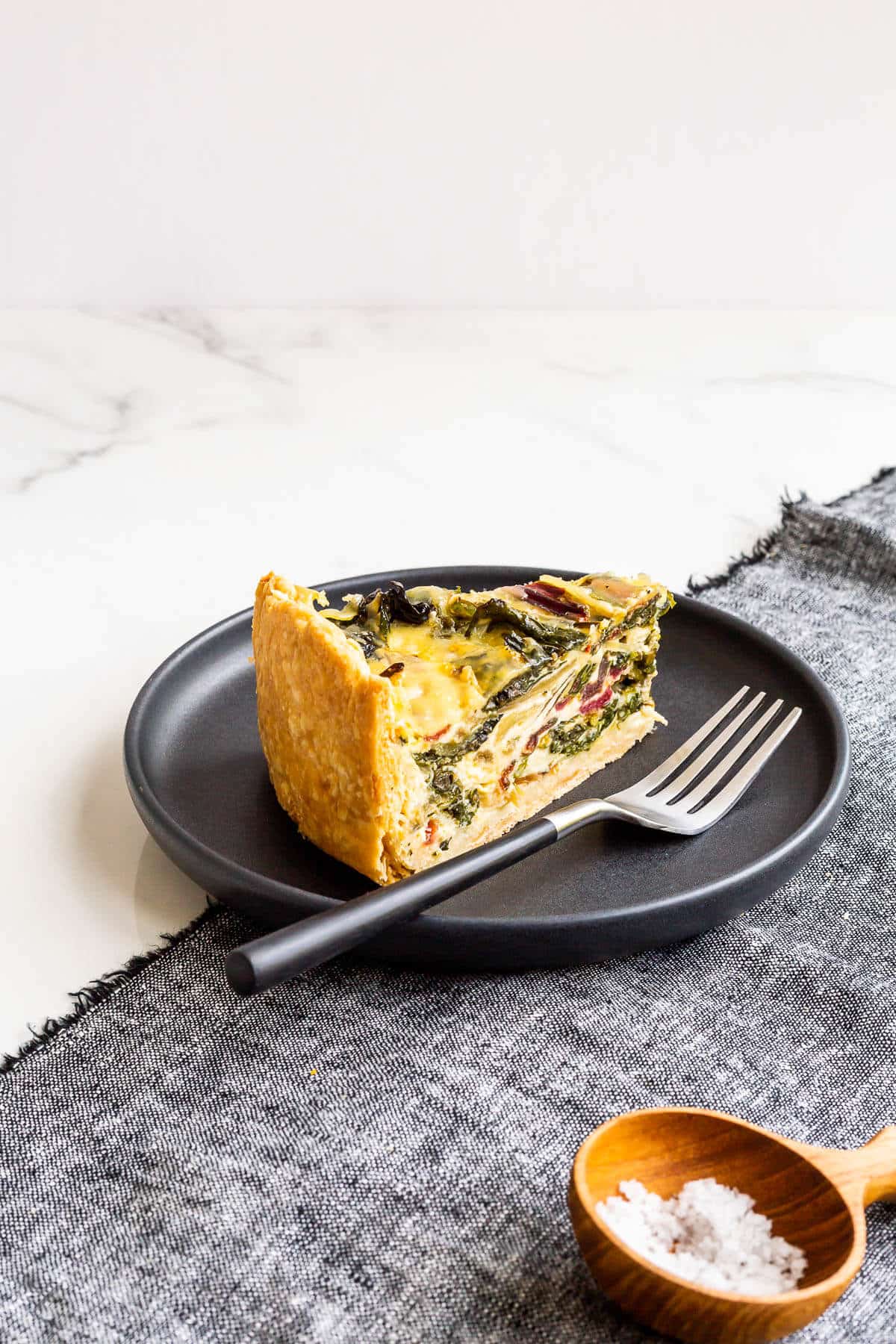 Serving
Serve quiche with a lightly dressed fresh salad. A crisp and bright salad is a welcome contrast to a warm, creamy quiche that is quite rich.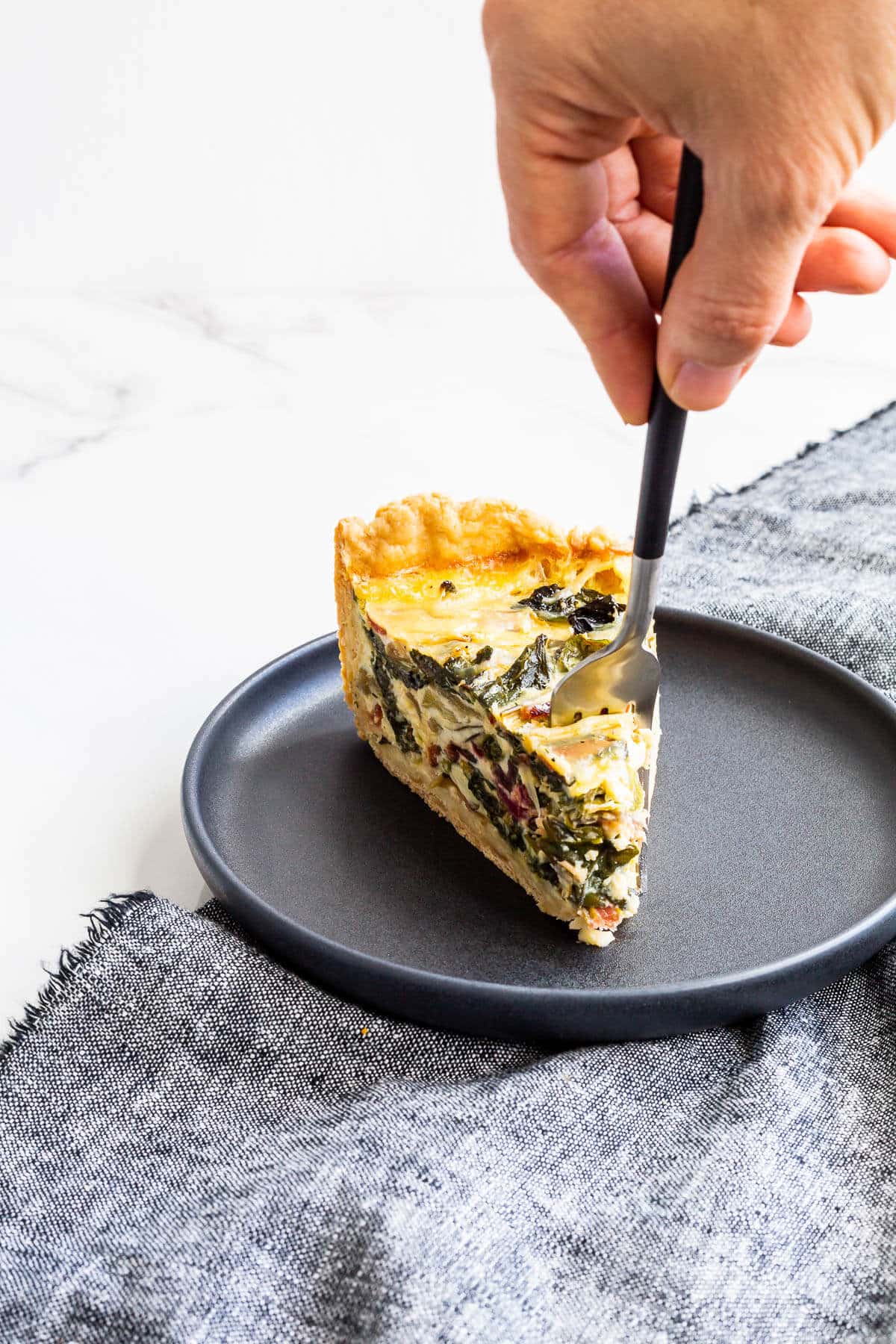 Top tip
If you aren't sure when a quiche is done baking, use the internal temperature as your guide. A quiche is done baking and perfectly set when it reaches somewhere between 74°C and 85°C (165°F and 185°F). I use a Thermapen to quickly check the temperature in the middle of the filling in seconds.
📖 Recipe
Deep dish quiche with Swiss chard and cheese
Learn how to make a deep dish quiche with Swiss chard and cheese. The crust is made in a stand mixer with this easy recipe and it's blind-baked in a springform pan so that it is crisp and flaky!
Ingredients
All butter pie crust for quiche
250

grams

(

2

cups

)

bleached all-purpose flour

5

mL

(

1

teaspoon

) Diamond Crystal fine kosher salt

173

grams

(

¾

cup

)

unsalted butter

,

cut into cubes, very cold

80

mL

(

⅓

cup

)

water

,

cold
Quiche filling
675

grams

(

1½

lb

)

Swiss chard

,

washed and dried

2

garlic clove(s)

,

peeled

15

mL

(

1

tablespoon

)

extra-virgin olive oil

15

grams

(

1

tablespoon

)

unsalted butter

Diamond Crystal fine kosher salt,

to taste

freshly ground black pepper

,

to taste

2.5

mL

(

½

teaspoon

)

crushed hot pepper flakes

8

large egg(s)

250

mL

(

1

cups

)

whipping cream (35 % fat)

190

mL

(

¾

cups

)

whole milk (3.25 % fat)

120

grams

(

1

cups

)

shredded Jarlsberg cheese

,

more or less
Instructions
All butter pie crust for quiche
In the bowl of a mixer fitted with the paddle attachment, combine the flour and salt.

Add the cold butter and mix it in to form a coarse crumble with thin sheets of butter.

Add the water and stir it in on low until a shaggy dough forms.

Shape the dough into a disk, then wrap it in plastic wrap.

Chill the dough in the fridge for an hour or until quite firm.

On a lightly floured surface, roll out the dough until it's a 16 inch diameter disk. If the dough is too warm and soft at this stage, slide it onto a parchment-lined sheet pan to chill until firm.

Line a 9-inch springform with the dough, fitting it into the corners and up the sides evenly. It should fit the pan snuggly.

Chill the dough in the pan for 30 minutes in the freezer. Preheat the oven to 375 °F while the crust chills.

Line the dough with parchment paper and completely fill with pie weights up to the top or weigh down with an 8-inch cake pan. Place on a half sheet pan.

Blind bake the crust for 40 minutes.

Remove the pie weights (or the cake pan weighing down the crust) and the parchment paper, and continue baking the crust until light golden brown (another 15 minutes or so).

Set on a wire rack to cool.

Lower the oven temperature to 325 °F.
Quiche filling
Roughly chop the Swiss chard into approximately 1-inch pieces (more or less). Set aside in a big bowl (or two).

Finely chop the two garlic cloves.

In a large non-stick fry pan, melt the butter with the oil on medium heat.

Add the garlic and sautée lightly.

Add a portion of the Swiss chard and season with salt and pepper. Stir until wilted, then add more.

Continue cooking down and adding more chard to the pan until it's all cooked. Season often. Sprinkle with hot pepper flakes.

Take the pan off the heat and set aside.

Make the quiche custard by whisking the eggs with the cream and milk in a large bowl with a pouring spout. Season generously with salt and pepper.

Once the Swiss chard is cooked, the quiche custard is made, and the pie crust is blind baked, assemble the quiche.

Layer the Swiss chard and shredded cheese alternately until the crust is filled almost to the top.

Pour the quiche custard over the veggie filled pie. You can use a chopstick or a pairing knife to gently nudge the veggies to allow the custard to flow below them and fill the pie completely.

Fill the pie crust almost to the top, but not overflowing. If you have too much filling, hold back some of the custard to bake in ramekins.

Transfer the sheet pan with the quiche back to the oven at 325 °F and bake for 1.5 hours until golden brown and set.

Let cool slightly before slicing and serving.
Give back
If you enjoy the free content on this website, say thank you!
Nutrition
Calories:
552
kcal
|
Carbohydrates:
30
g
|
Protein:
16
g
|
Fat:
42
g
|
Saturated Fat:
24
g
|
Polyunsaturated Fat:
2
g
|
Monounsaturated Fat:
11
g
|
Trans Fat:
1
g
|
Cholesterol:
263
mg
|
Sodium:
664
mg
|
Potassium:
492
mg
|
Fiber:
2
g
|
Sugar:
3
g
|
Vitamin A:
6687
IU
|
Vitamin C:
26
mg
|
Calcium:
238
mg
|
Iron:
4
mg
FAQ
Do you cook vegetables before putting in quiche?
Fresh vegetables hold a surprising amount of water and so it is very important to cook them to remove the water. You also have to cook the vegetables before making quiche because the internal temperature of the custard only gets to about 74°C and 85°C (165°F and 185°F), which isn't sufficient to take the bite out of them.
How do you keep quiche from getting soggy on the bottom?
Always blind-bake the crust and bake that crust until it is completely baked through before adding the filling to bake the quiche. Otherwise, the bottom will be gummy.
Should I prebake the crust for quiche?
You definitely want to prebake the crust before making quiche because the quiche filling is insulating and will prevent the crust from baking and browning, leading to a bland crust with a gummy texture.
How much should you beat eggs for quiche?
You don't have to beat the eggs long to make a quiche filling. The goal is not to incorporate air, but you need to whisk the filling long enough to break up the globular egg proteins so that you have a silky smooth filling with no streaks of egg white.