Learn how to make the dough for a flaky all-butter pie crust in a stand mixer with this easy recipe. This pie dough doesn't crack and rolls out beautifully for gorgeous pie crusts that hold their shape as they bake!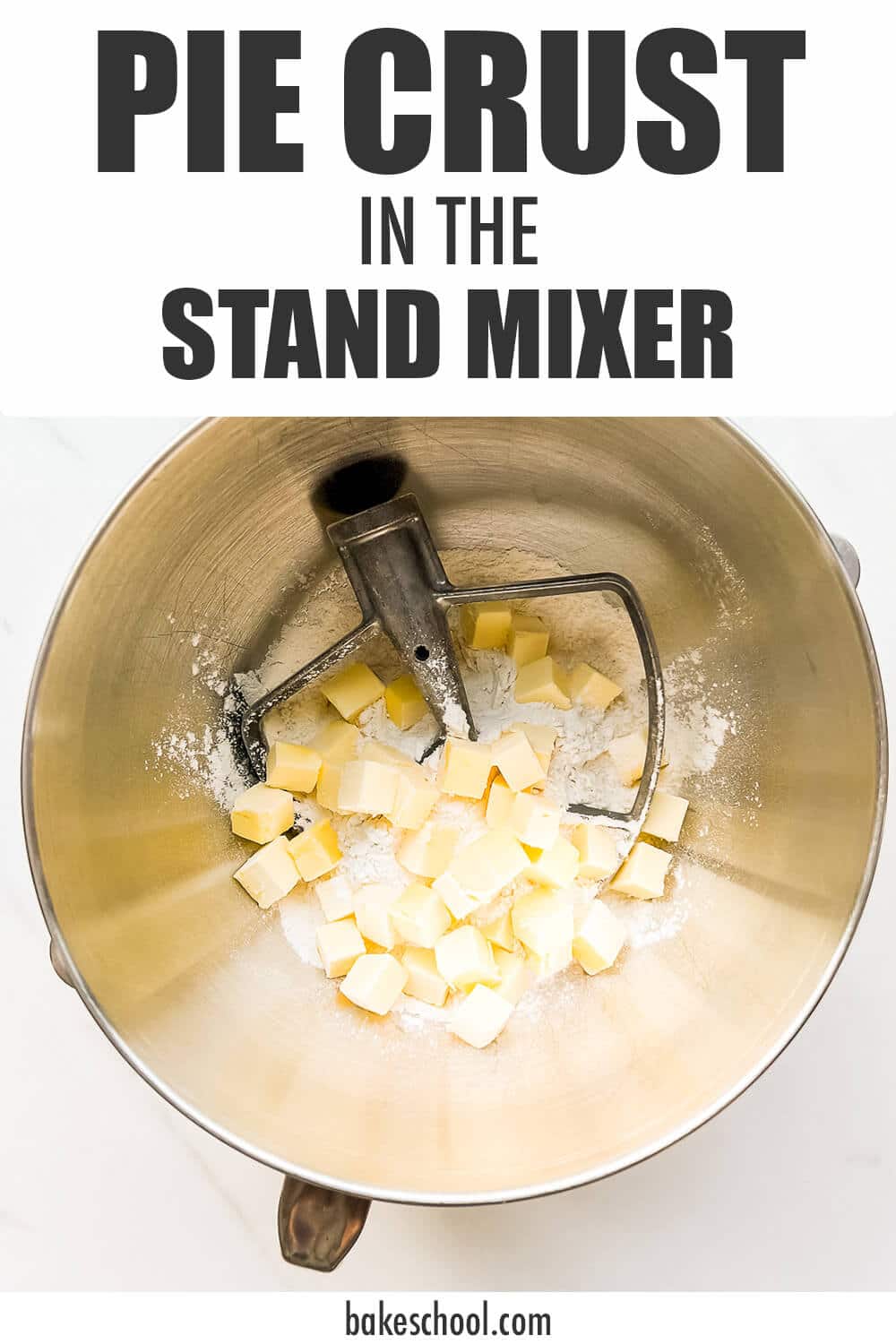 Disclosure: As an Amazon Associate, I earn from qualifying purchases.
Let the mixer do the work should be your motto whenever possible, especially when it comes to longer pie recipes that may have a lot of steps. And while you can't use a mixer to make an entire pie, you can make pie crust with a stand mixer very easily, and the results will be a flakier than a pie crust made in a food processor. I used this pie crust to make this deep dish quiche with Swiss chard, which is baked in a springform pan.
Jump to: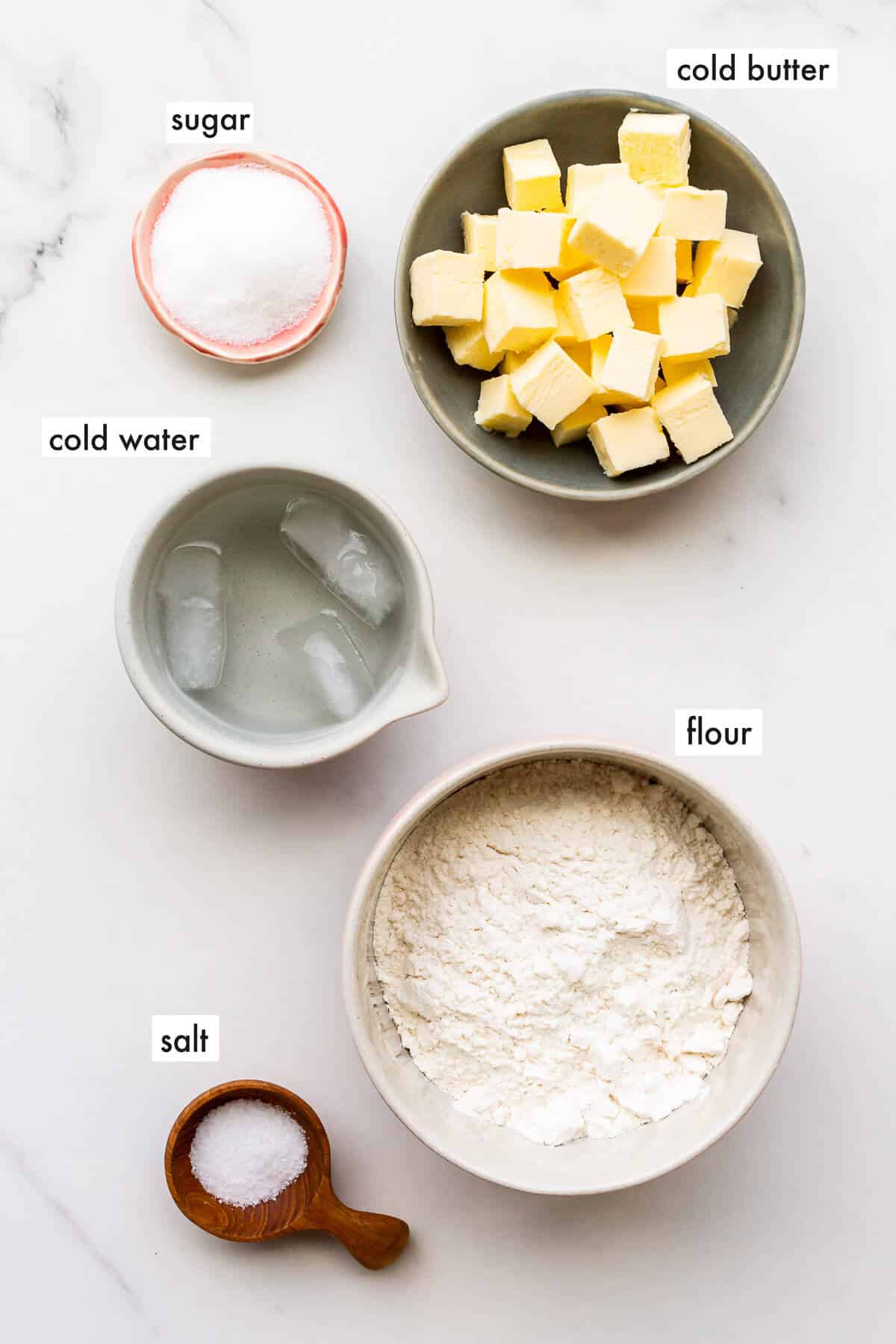 Ingredients
You only need a few ingredients to make pie dough and you likely have them all in your pantry and fridge! Here's what you need:
Flour—bleached all-purpose works great in doughs like this
Sugar—it isn't enough to make the crust sweet, but just a little sugar helps to bring out the flavours and also help with browning (sugar is optional and you can skip it if you want)
Salt—I use Diamond Crystal fine kosher salt, but if you'd like to use regular table salt, use half the amount, otherwise the crust may be too salty
Butter, specifically unsalted butter, though salted will work too (adjust the salt in the recipe accordingly)
Cold water or even ice water to ensure that the butter stays cold, making it easier to handle and to create a flaky crust that isn't overly greasy.
See recipe card for quantities.
Instructions
The beauty of using a stand mixer to make pie crust is that the machine can flatten the fat (in this case butter) into thin sheets into the flour, without the butter warming up much (like it would if you did this step with your hands). This creates a more flaky pie crust.
For this recipe, you will use a regular stand mixer with a paddle attachment. Make sure your butter and water are cold. Keep them in the fridge until you are ready to make your pie crust.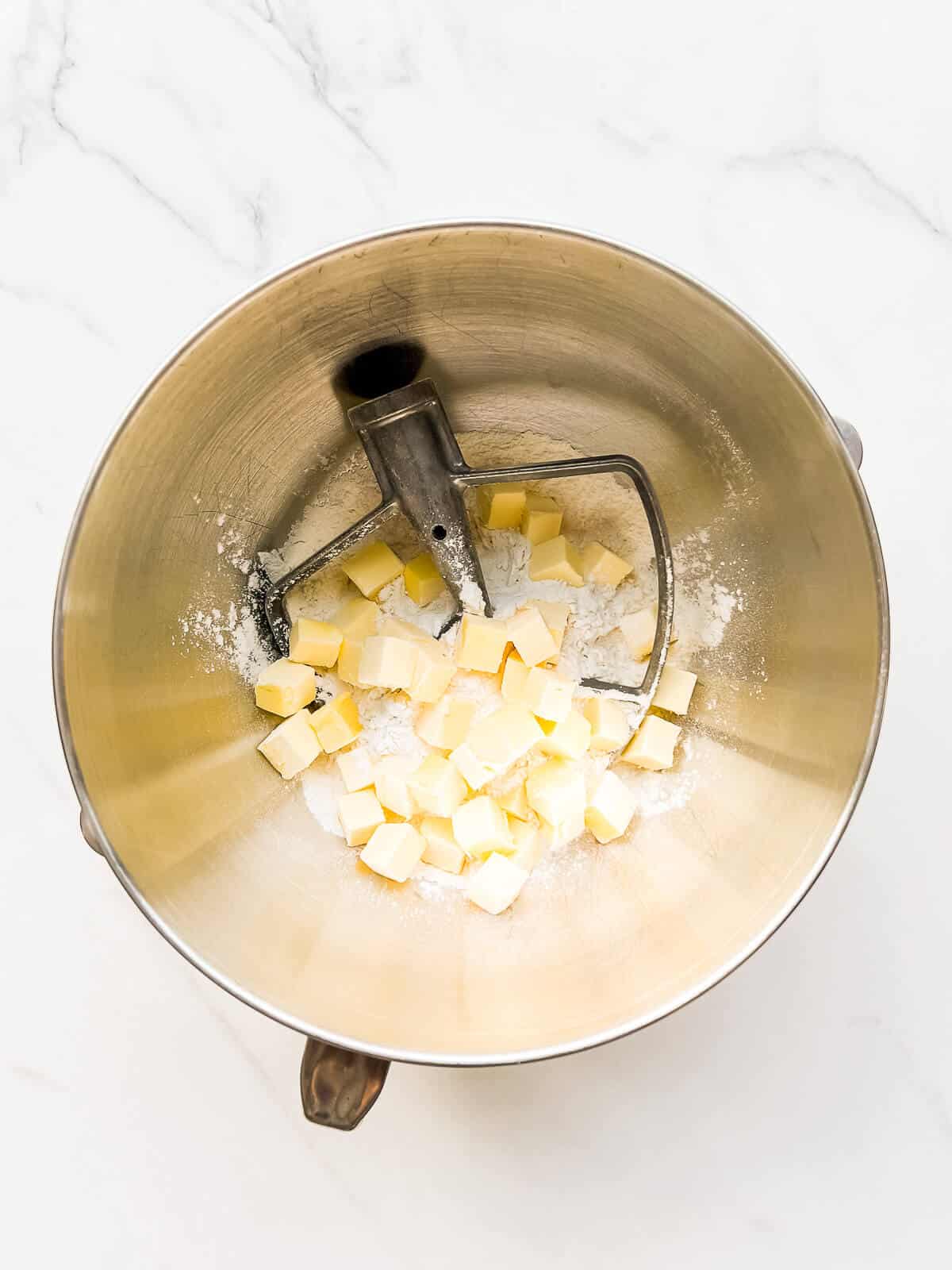 First mix the dry ingredients in your mixer bowl, then add the cubes of cold butter.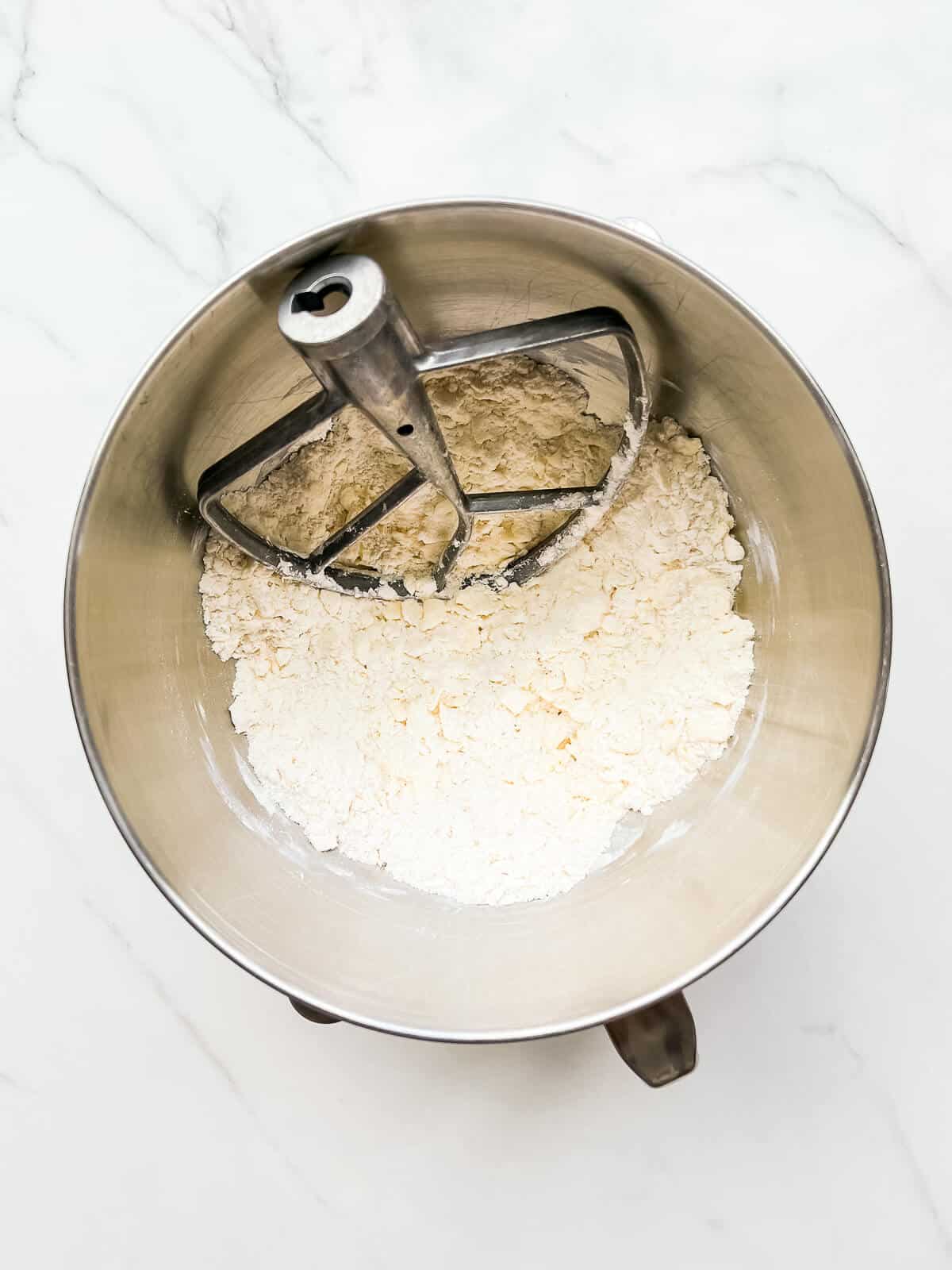 Mix the butter into the dry ingredients to form an uneven, coarse crumble. You will notice some slightly larges pieces of butter that are flattened into thin sheets and smaller pieces.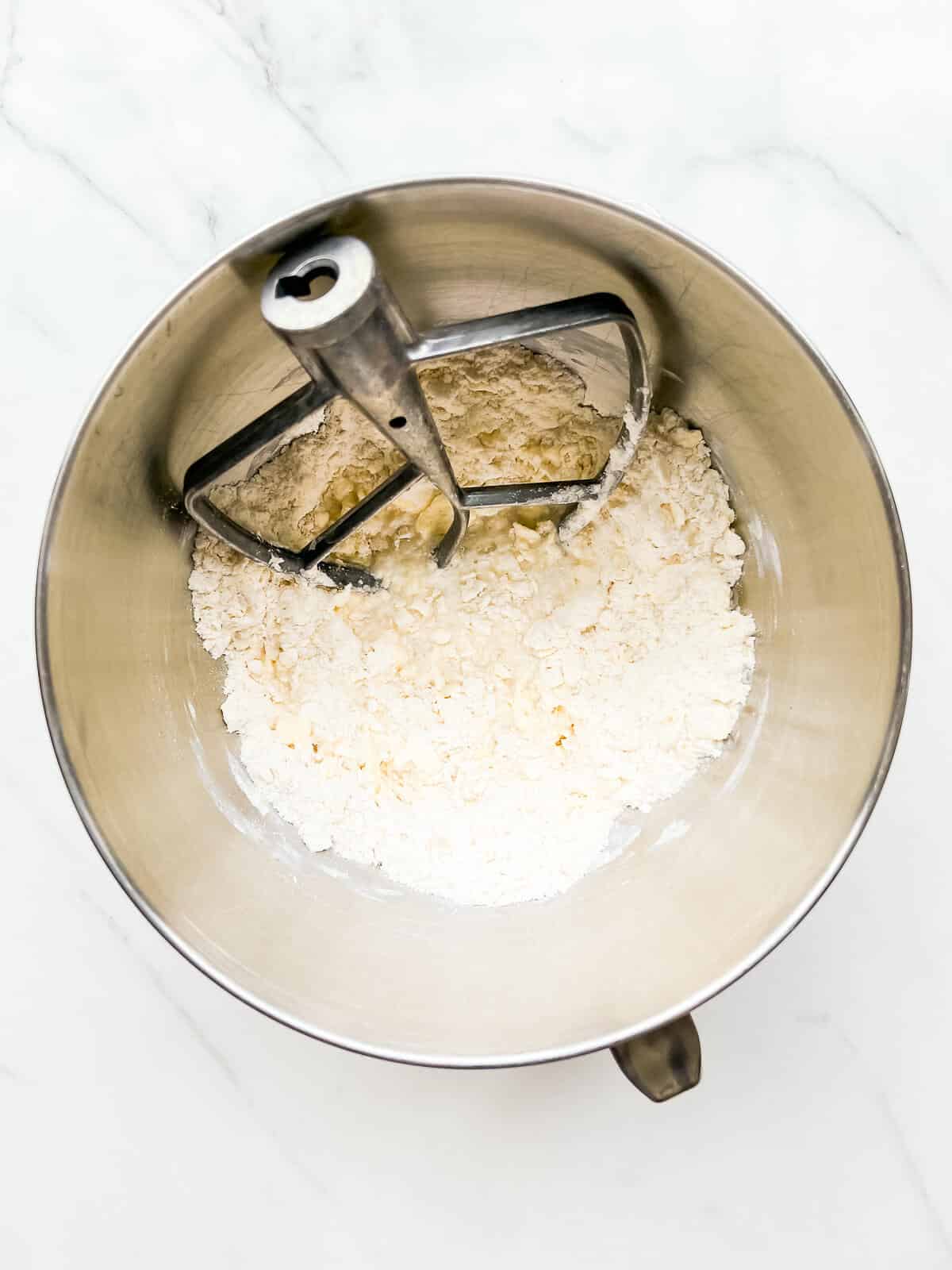 Add the cold water to the mixer bowl.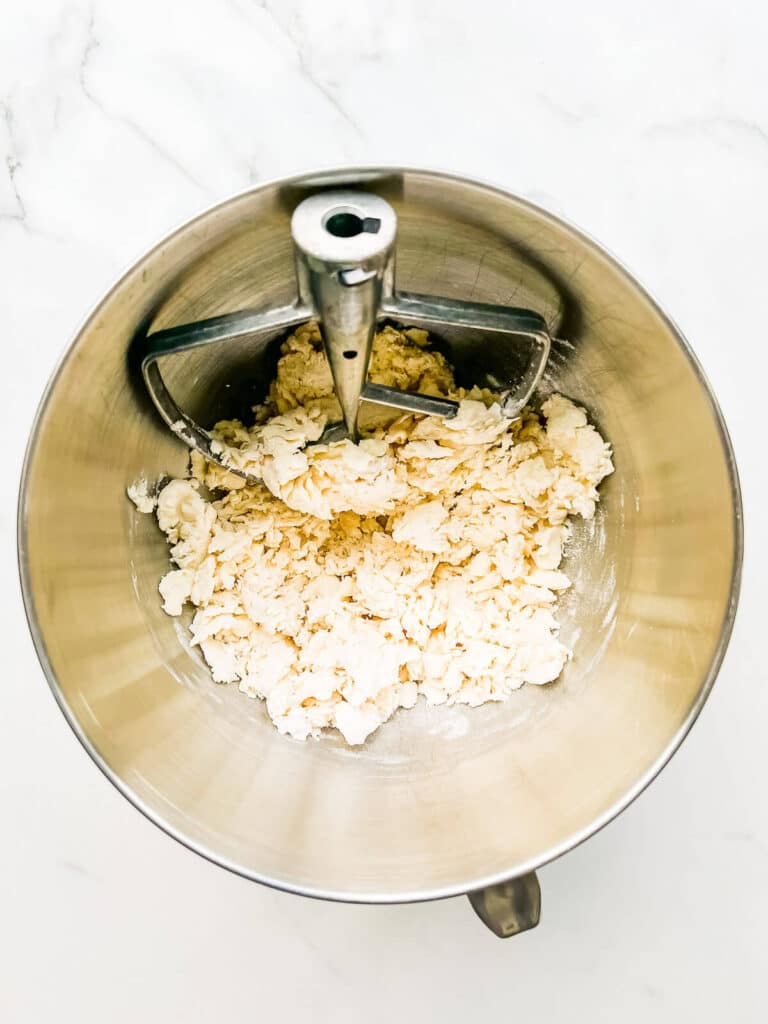 Mix the water into the dough until it becomes to clump. The dough will look very shaggy with a few dry spots at the bottom of the bowl.
Hint: Use the lower mixer speed settings to incorporate the water into the dough. The dough should clump together and the flour should look moistened, with very few dry bits left.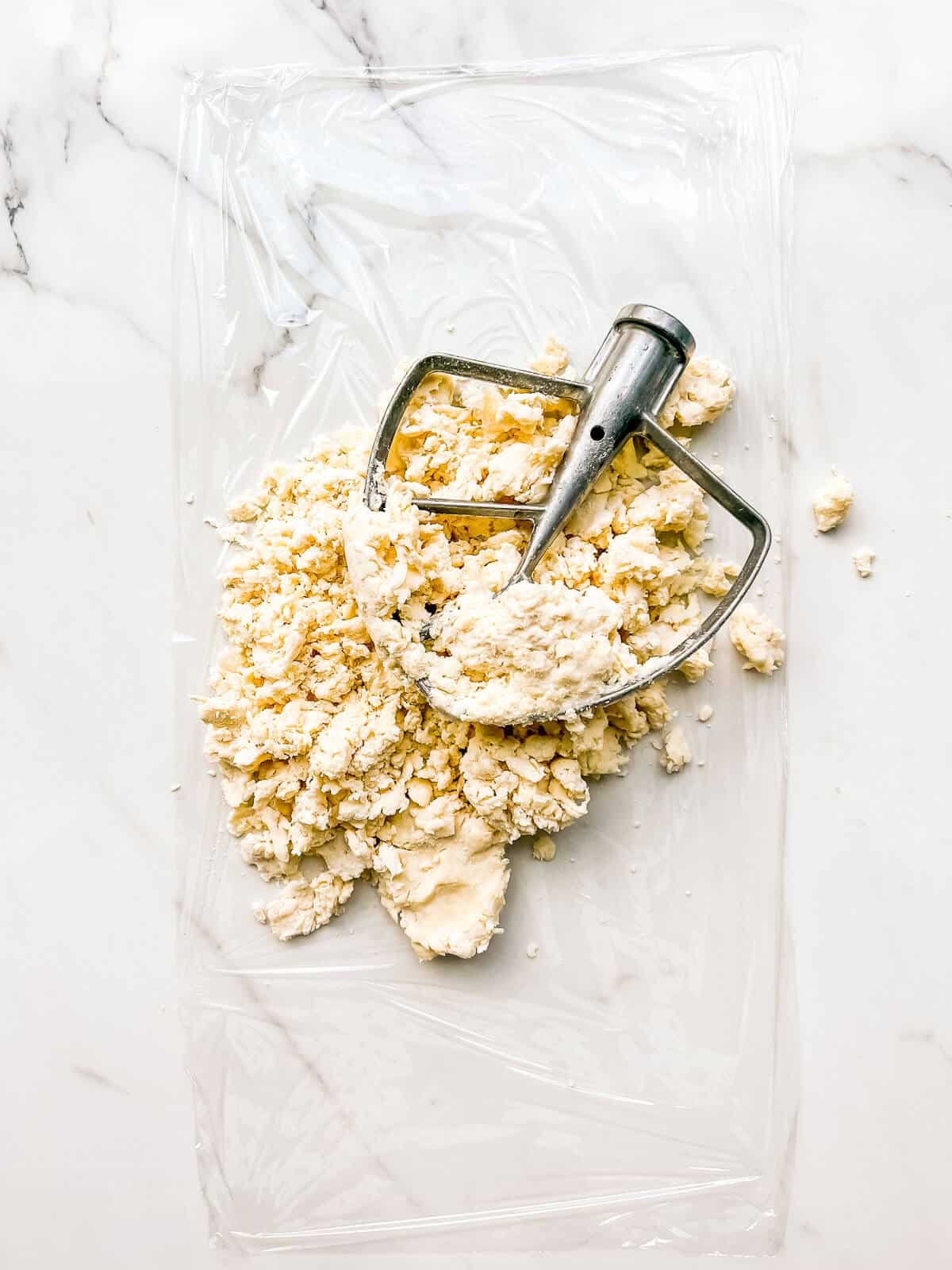 Dump the shaggy dough onto a big sheet of plastic wrap to shape it into a disk (or two disks if you are making a double crust).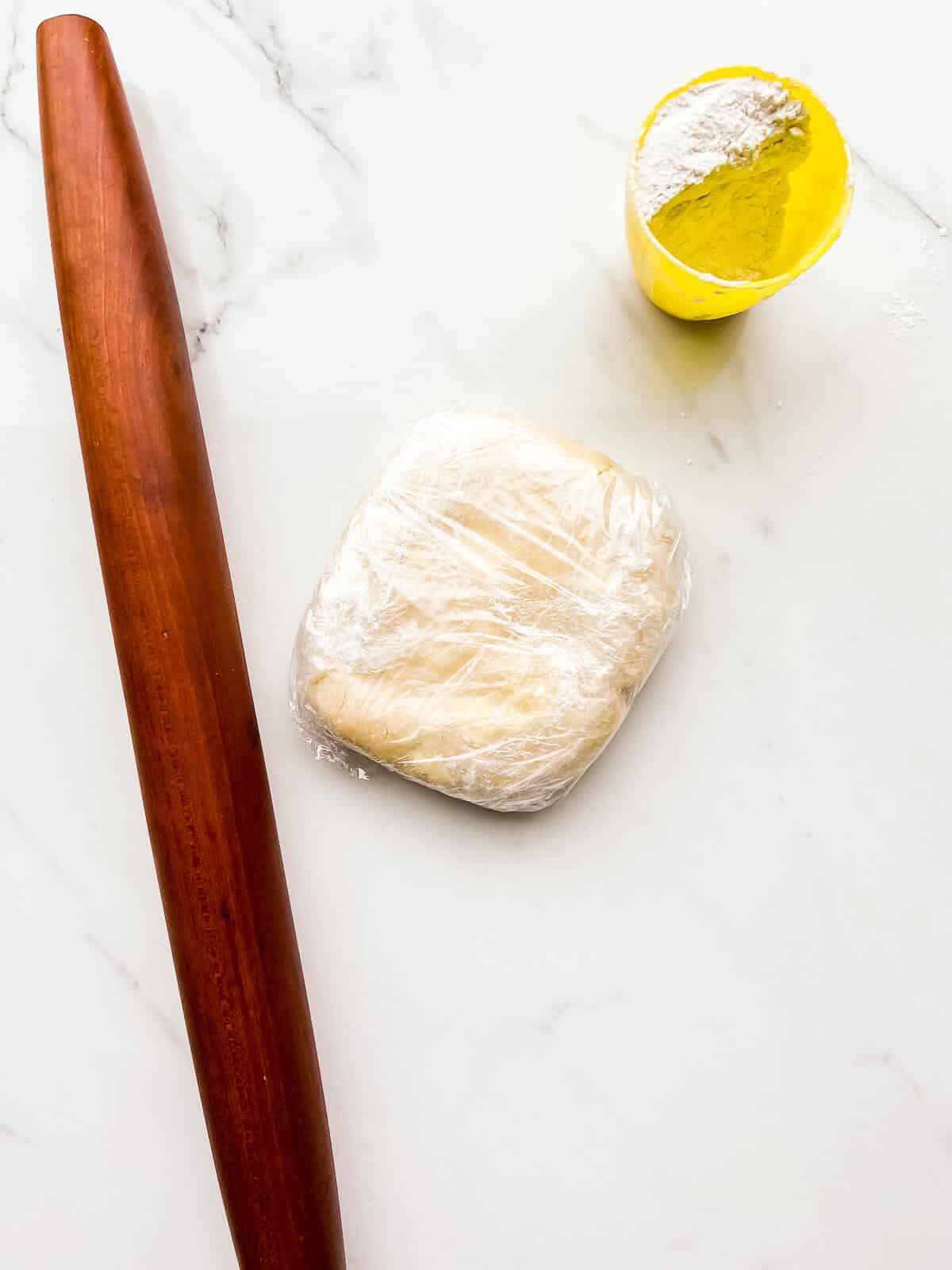 You must chill the dough for at least 30 minutes to solidify the butter before rolling. Otherwise your dough will be too soft to handle when it's rolled.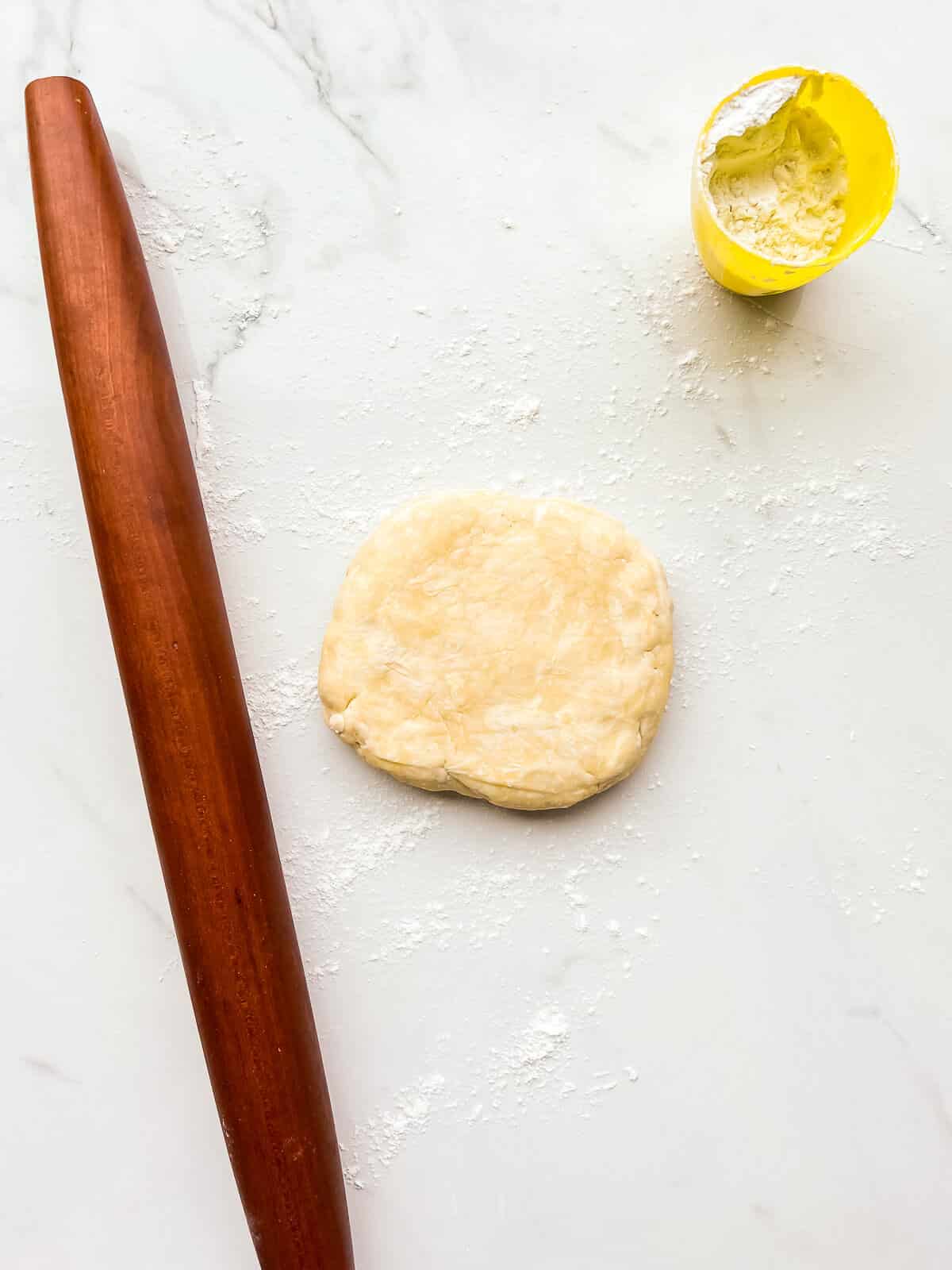 Roll out pie dough on a floured surface to prevent it from sticking, using a rolling pin, like a French rolling pin with tapered edges.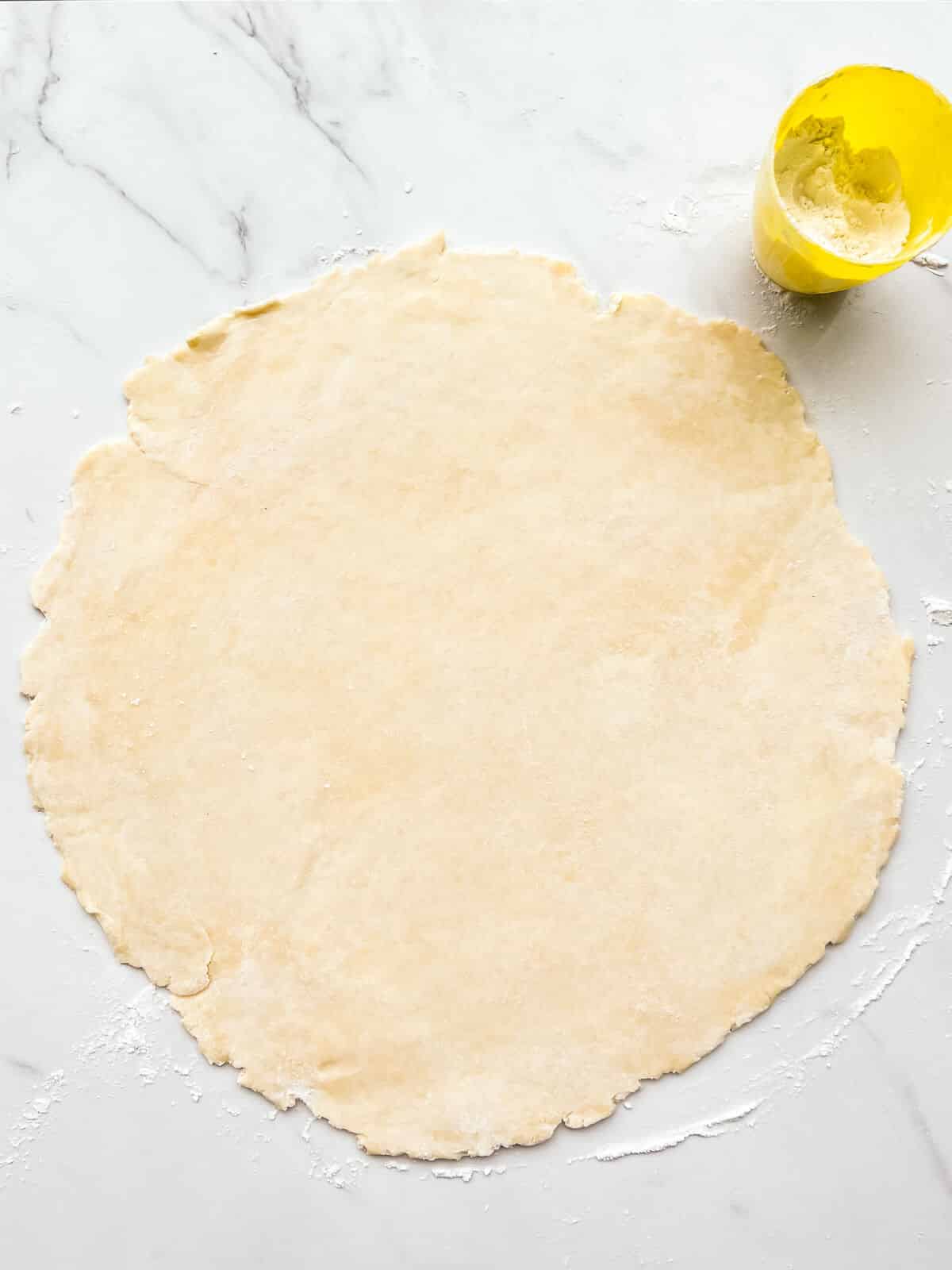 Make sure to roll the dough to a thin, even layer, rolling out the dough from the middle of the disk to the edges. Continuously slide the dough around to make it even and also to verify it's not sticking. Use more flour as needed.
Hint: If your dough becomes too soft to handle, put it back in the fridge. Some people like to roll out pie dough on a piece of parchment for this reason: it makes it easier to slide the parchment paper with the dough onto a sheet pan to chill in the fridge at any moment!
Substitutions
With only a handful of ingredients, your pie crust substitutions are limited:
Butter—you can replace the butter with leaf lard or shortening (like Crisco), but the texture and flavour will be different. You can also replace unsalted butter with salted butter, but to do so, you will have to reduce the salt in the recipe to compensate, or else the crust may be too salty.
Flour—you can use a mix of flours, like use part all-purpose and part whole wheat or rye, just don't replace 100 % of the flour with an alternative because the dough may be more difficult to work with and behave different, especially if the gluten is lower (or if there is none).
Water—some people will use cold vodka instead of the cold water or cold water with a splash of vinegar. Either way, the goal is to reduce gluten formation in the dough, but in my experience, gluten development isn't much of an issue with the food processor method.
As always, if you decide to try a substitution, take note of what you did, your experience, and the results so that you can learn and make modifications next time.
I cannot guarantee that changes or substitutions will lead to the same results.
Variations
Once you know how to make pie dough, you can start to get creative:
Warm spices—add a little cinnamon and ginger to the flour before adding the butter (try 2 teaspoons ground cinnamon and 1½ teaspoons ground ginger)
Cheese—some people like to add shredded cheddar cheese to the dough to make a cheese-flavoured pie crust, especially for apple pie.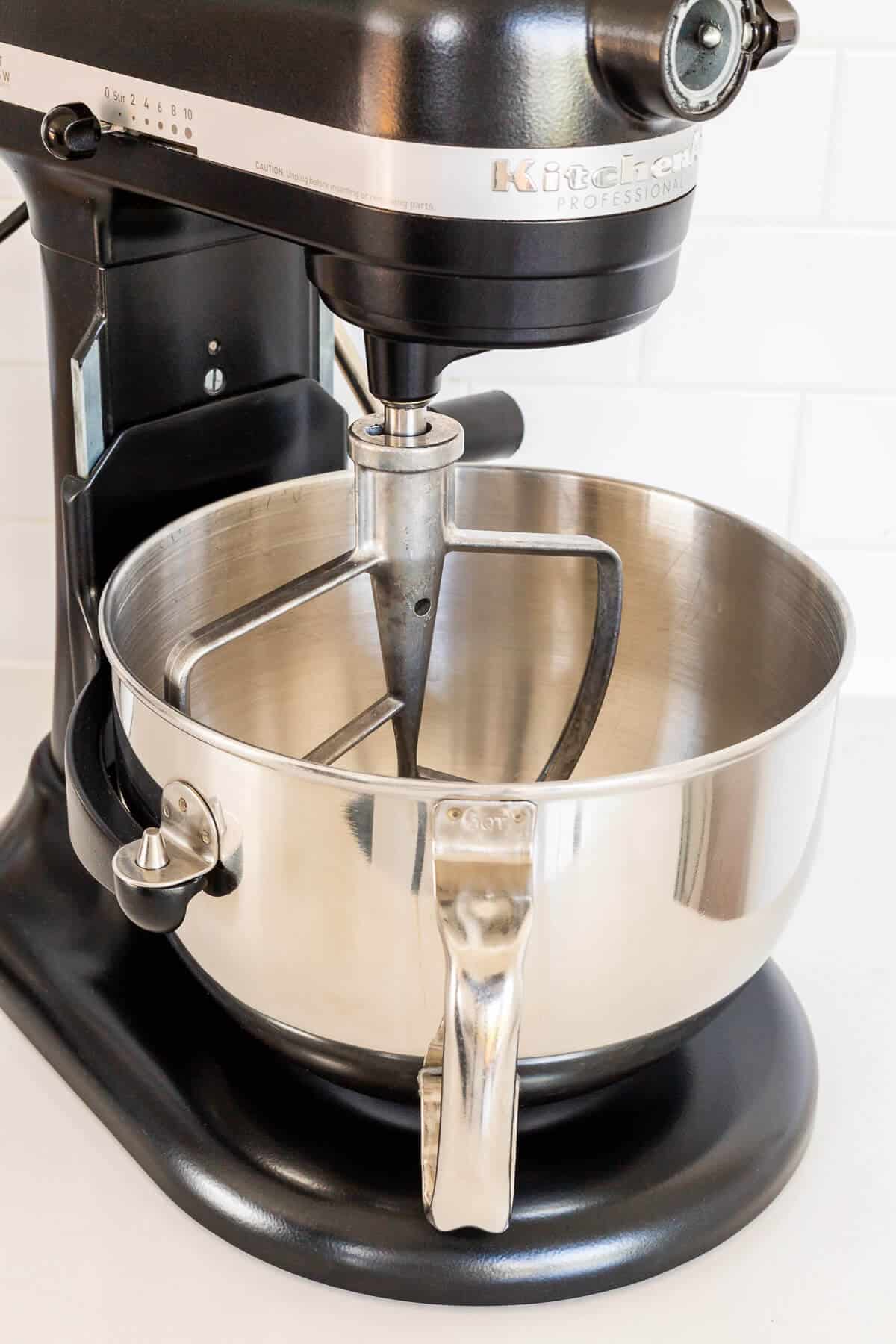 Special equipment
You don't need many tools to make pie. In order to make pie crust in a stand mixer, obviously you need an electric mixer. This recipe fits a standard 5-cup (or larger) stand mixer. I use a KitchenAid Artisan mixer (5-quart bowl size) or a Pro mixer (6-quart bowl size). A 4.5-quart bowl size would also work, but the smaller mini 3.5-quart mixers may be too small for this volume of flour and butter.
Once the dough is ready, you will need a rolling pin to transform the disk of dough into an even sheet, and a pie plate to assemble and bake your pie.
Storage
I always divide double-crust recipes into two disks of dough to store wrapped in plastic wrap in the refrigerator for up to a week (7 days).
For longer storage, you must refrigerate the dough. To refrigerate disks of pie dough, wrap them twice in plastic wrap and then store them in a freezer bag with the air removed. I store several disks in a large bag and pull out one or two as needed.
To defrost pie dough, leave it in the refrigerator overnight to slowly thaw before using. Do not defrost on the counter as it may sweat, and the outside may soften and warm up too much before the inside has a chance to defrost, leading to trouble when you have to roll it out.
Top tip
For a flaky dough, work the butter into the flour less so that there are bigger pieces that will make distinct layers when rolled.
For a mealy dough that holds lattice work and cut shapes well, work the butter into the flour more so that the pieces of butter are smaller for a more sandy texture. It is easier to achieve this texture by using a food processor to make your dough.
📖 Recipe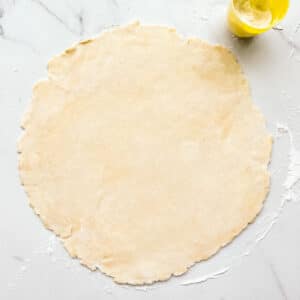 Easy All-Butter Pie Crust Made In A Stand Mixer
Learn how to make a flaky pie crust in a stand mixer with this easy recipe. This makes enough dough for a double crust pie. It rolls out beautifully, without cracking, and holds its shape in the oven.
Ingredients
312

grams

bleached all-purpose flour

15

mL

granulated sugar

215

grams

unsalted butter

cut into cubes, very cold

100

mL

water

cold
Instructions
In the bowl of a mixer fitted with the paddle attachment, combine the flour, sugar, and salt.

Add the cold butter and mix it in to form a coarse crumble with thin sheets of butter.

Add the water and stir it in on low until a shaggy dough forms.

Divide the dough in two and transfer both pieces to your work surface. Shape each piece into a disk. Wrap both in plastic wrap and chill for 30 minutes to 1 hour before rolling out on a floured surface with a rolling pin.
Notes
You can halve this recipe to make a single crust pie.
If the dough gets too warm at any point, put it in the fridge.
Nutrition
Calories:
202
kcal
Carbohydrates:
21
g
Protein:
3
g
Fat:
12
g
Saturated Fat:
7
g
Cholesterol:
31
mg
Sodium:
196
mg
Potassium:
31
mg
Fiber:
1
g
Sugar:
1
g
Vitamin A:
360
IU
Calcium:
7
mg
Iron:
1
mg
FAQ
Can you make pastry in a KitchenAid stand mixer?
If you want to make a flaky pastry, use your KitchenAid stand mixer (or another brand of stand mixer). The mixer will allow you to create flattened layers of butter in your pastry, which will bake into flaky layers. The dough will stay colder in the bowl than if you did this by hand with your fingertips.
You can also make pie crust in a food processor, but the crust will be less flaky and more mealy.
What attachment do I use for pastry?
To make the dough for pie crust in a stand mixer, you will need to use a paddle attachment, also called a mixer paddle attachment or a flat beater. The paddle attachment is strong enough to mix heavy doughs, and in this case, to incorporate and flatten cubes of cold butter in a bowl of dry ingredients.
Can you rub butter and flour in a mixer?
The paddle attachment will mimic the action of rubbing butter and flour together, which is needed to create flaky layers in pastry crusts. By using the mixer, there is less risk of the butter getting too warm, unless you overmix the dough, which can lead to the bowl warming up from friction. This is unlikely to happen because the mixing time is very short.
Recipes to make with this dough
Once you've mastered making pie crust in the food processor, you can make so many different recipes!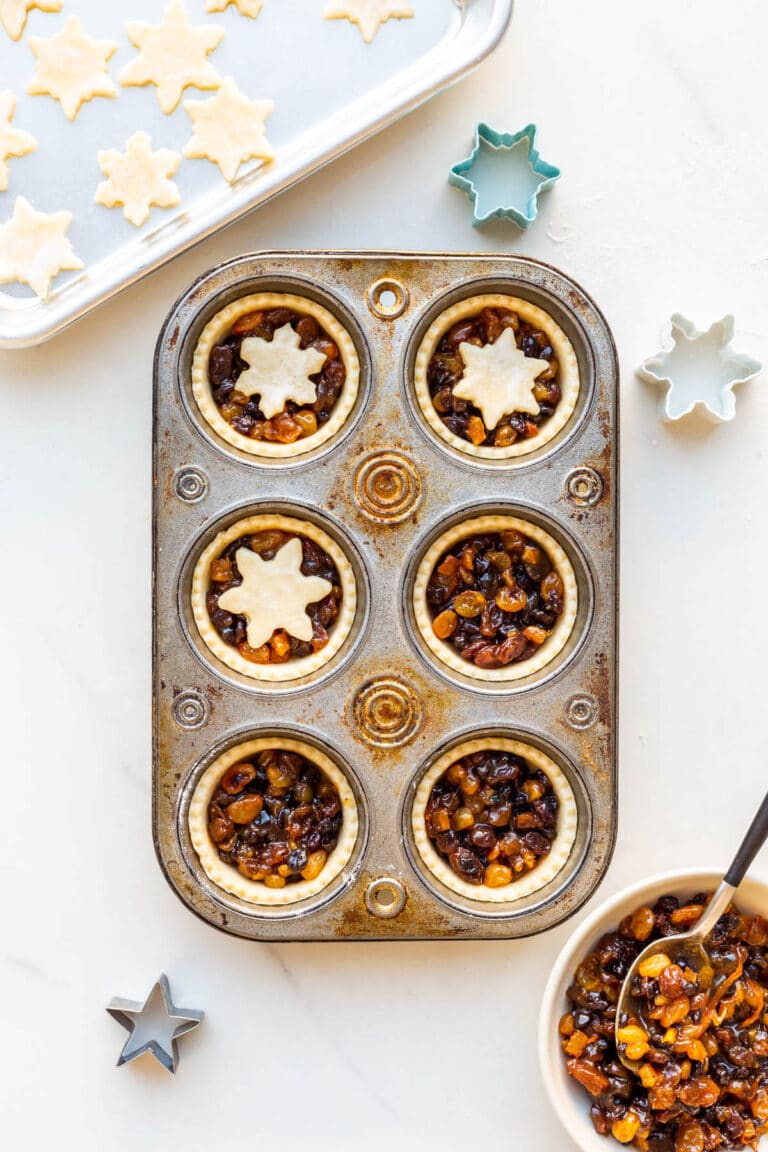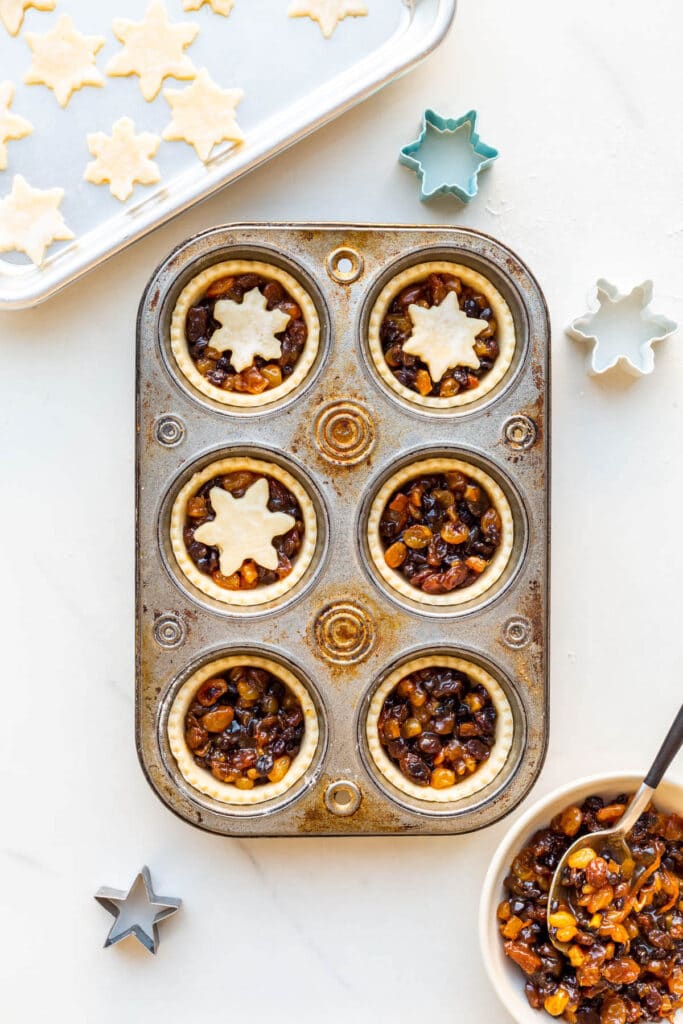 Here are a single crust pies to try: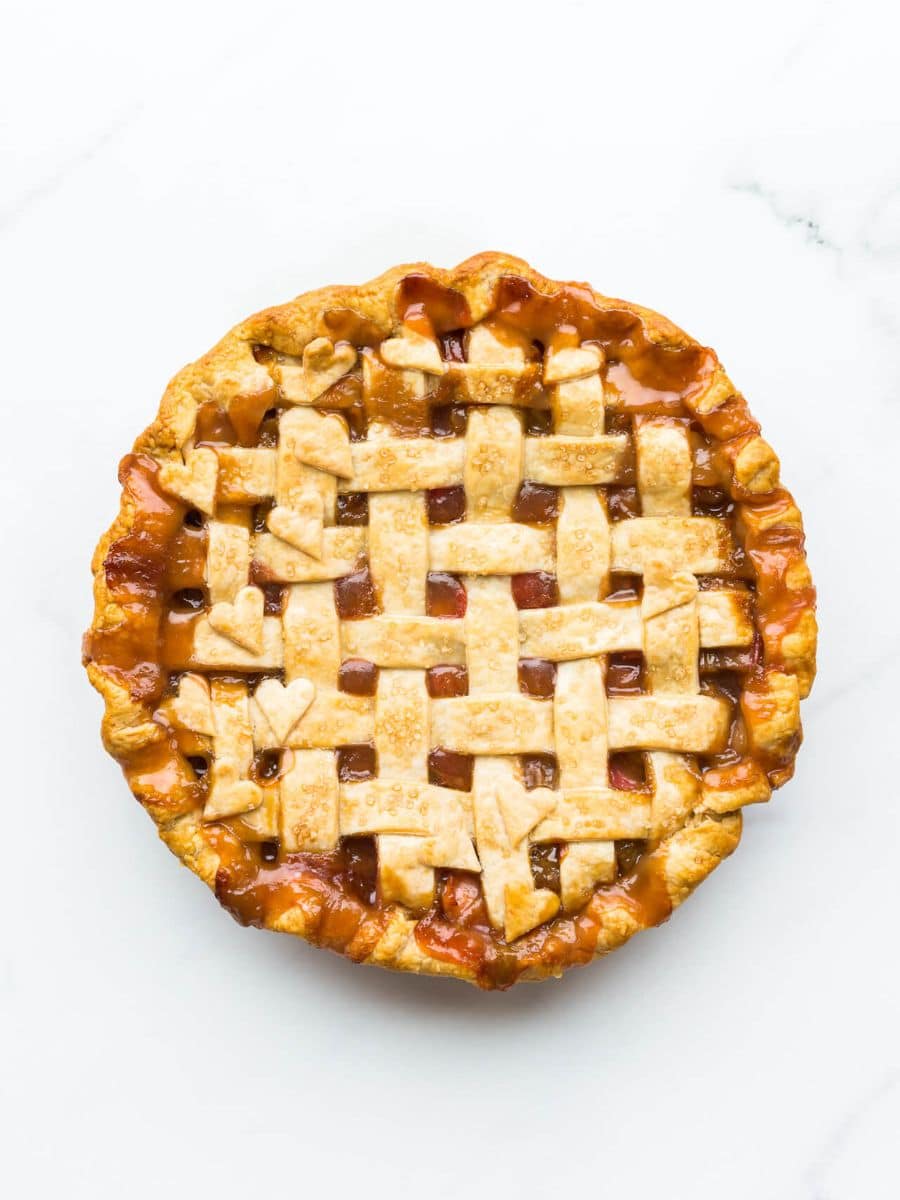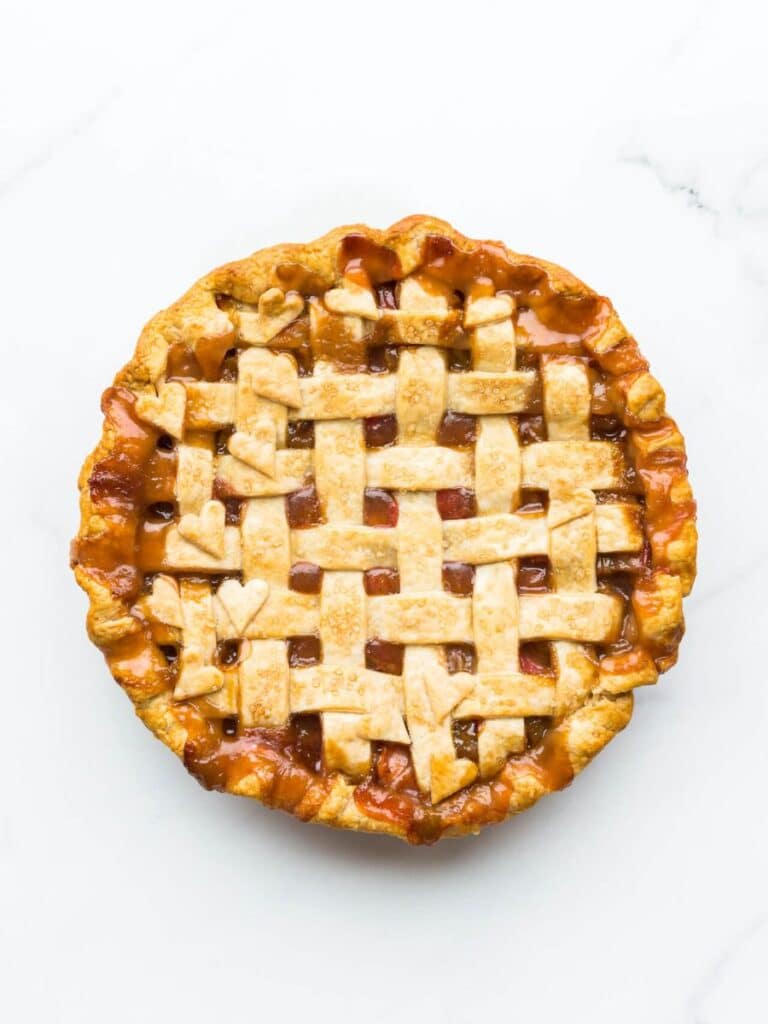 And here are a few double crust pies to try:
See more pie recipes.
Don't forget to save your pie scraps to make pie crust cookies sprinkled with cinnamon sugar!