This peach mango pie recipe has both fresh mango and fresh peaches in the filling, which is set with a little cornstarch to make a super fun summer pie that everybody will love!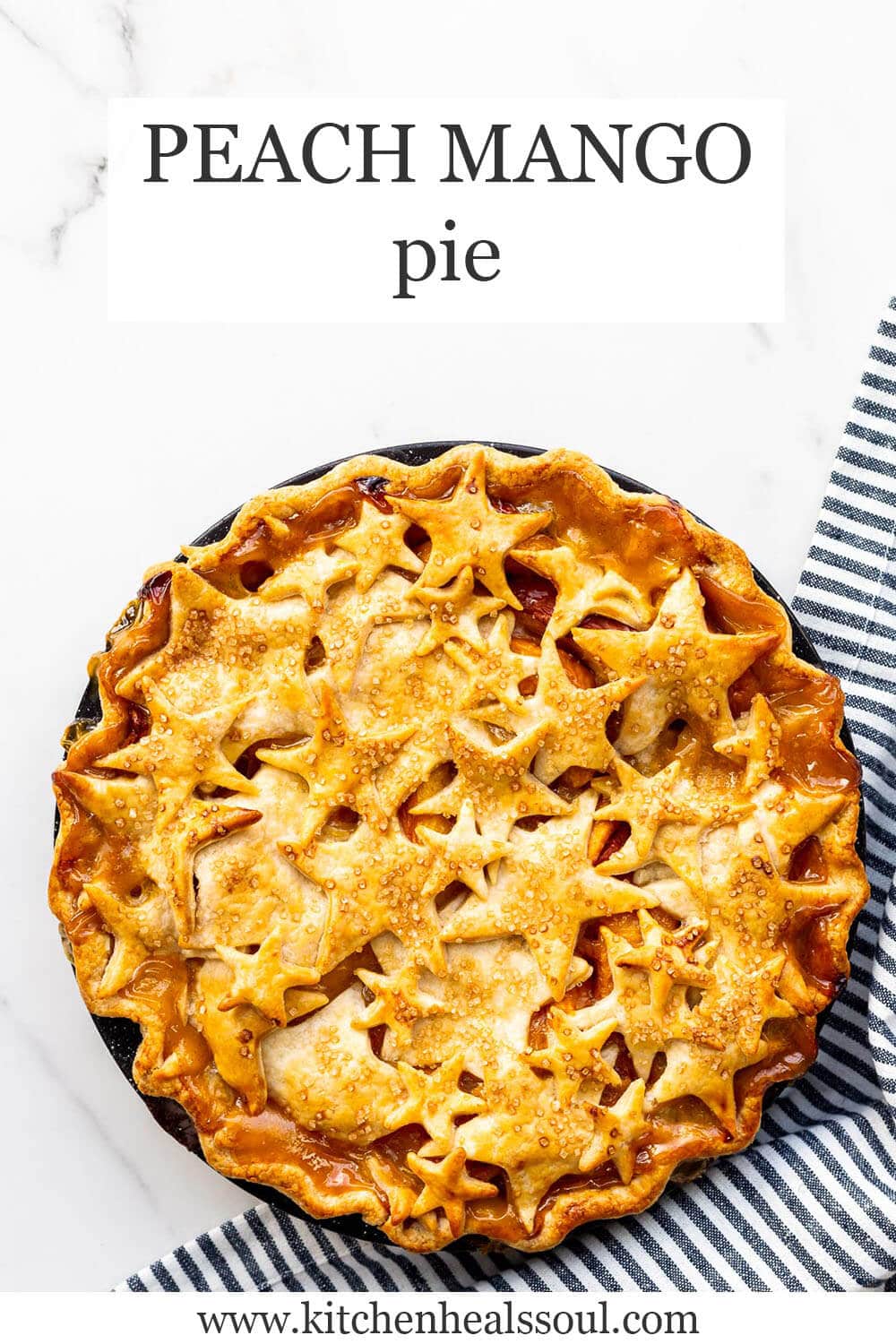 Disclosure: As an Amazon Associate, I earn from qualifying purchases.
The pairing of peaches with mangoes is actually quite common. Growing up, we used to love drinking "orange peach mango" juice at breakfast, but I find the orange in that mix can be a little overpowering. Still, my childhood juice favourite was the inspiration for this pie.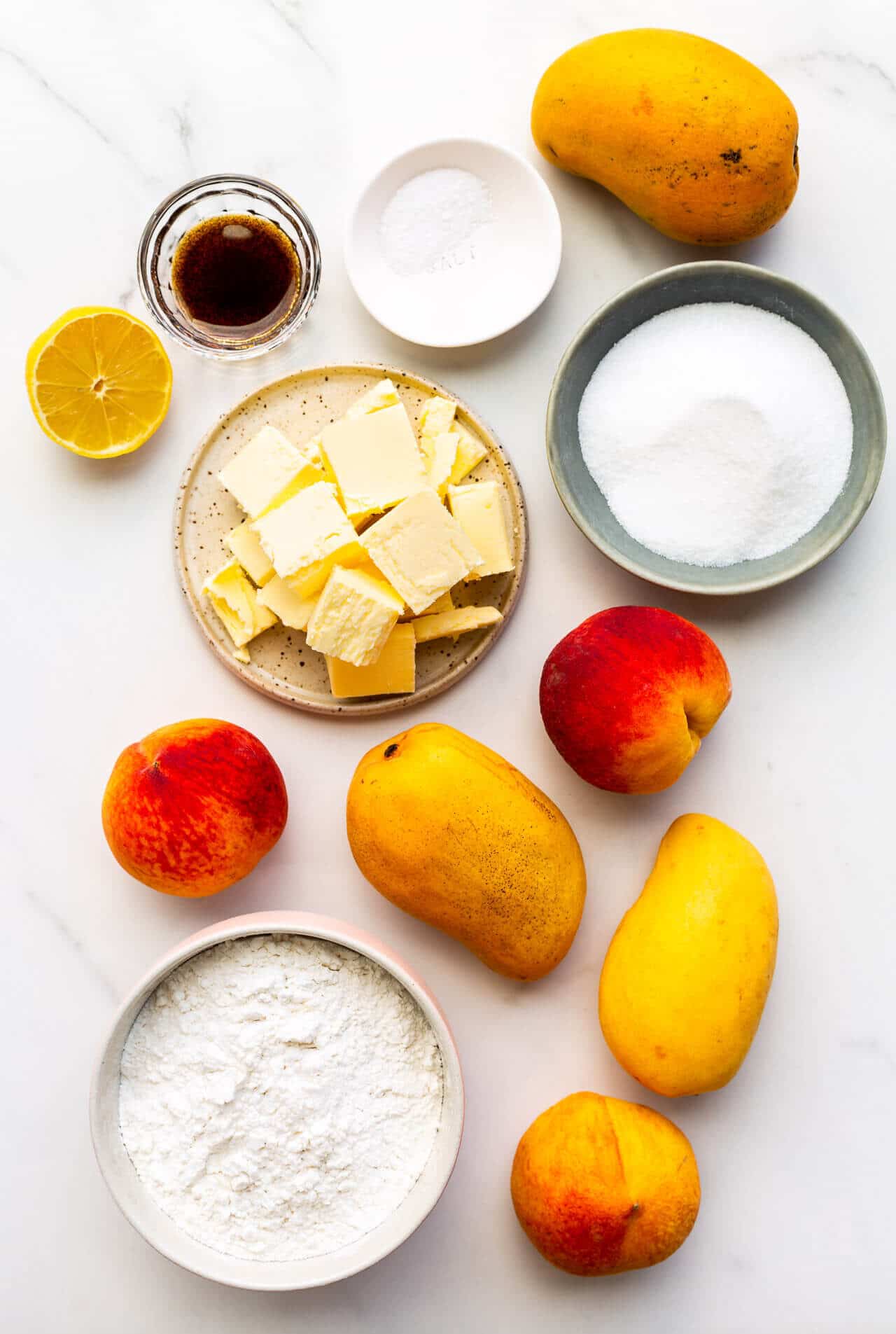 Types of mangoes
There are a lot of different types of mangoes that you can buy to make a pie, and in North America, we only see a fraction of what other areas of the world grow. Personally, I prefer the Ataulfo mangoes, which usually come from Mexico. These mangoes have a more floral flavour and the flesh has almost no fibres or strings. Some of the cheaper mangoes can be extremely fibrous and I wouldn't want to throw that into a pie filling because those fibres might make the filling stringy.
Those fibres can make mangoes tough to eat and difficult to work with, and the absence of those tough fibres is why I love Ataulfo mangoes so much.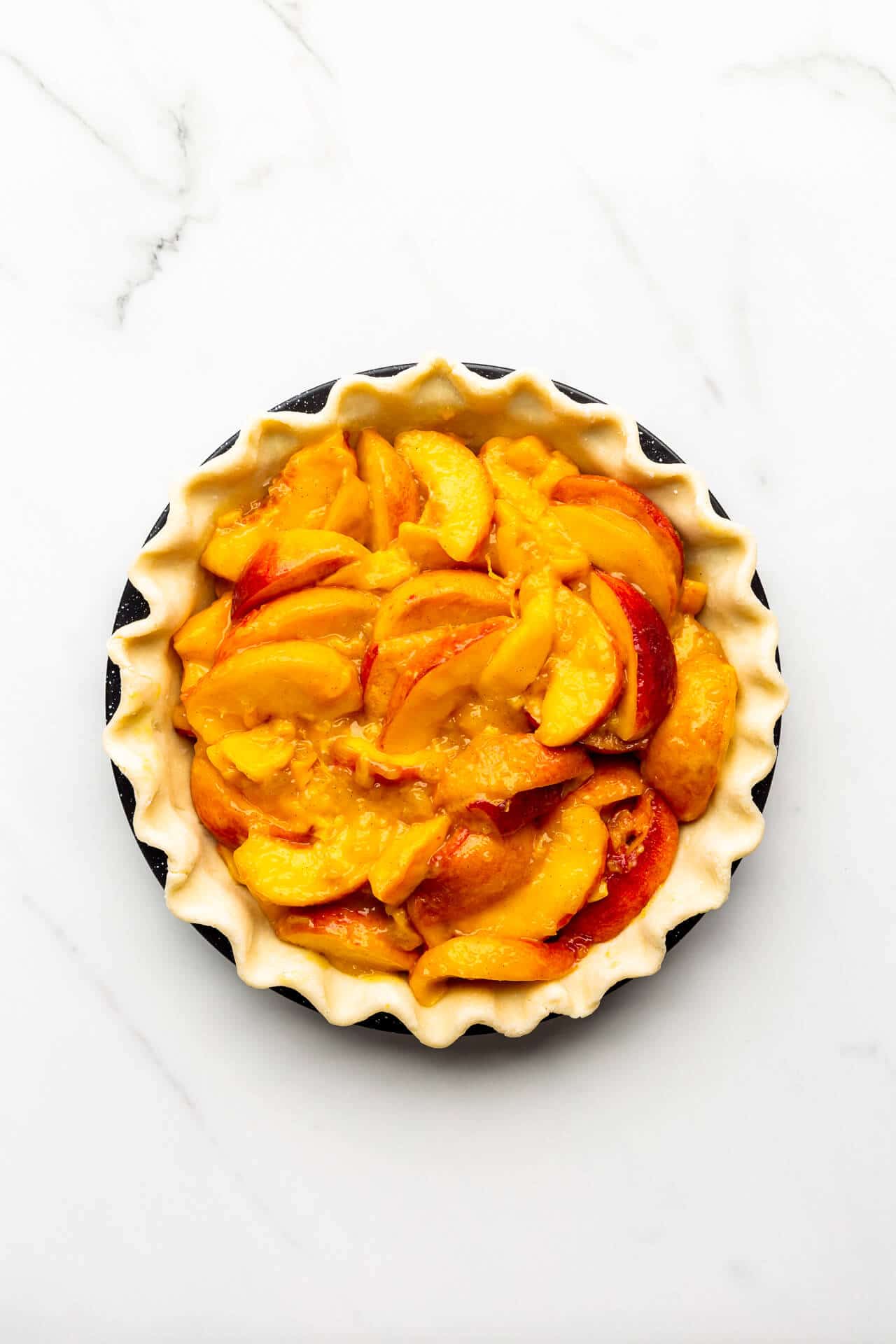 Ataulfo mangoes are small and their skin is golden yellow verging on orange. The flesh of the mango is a deep orange, soft and sweet. Unripe Ataulfo mangoes are green or bright yellow and hard. You have to let them ripen until the flesh of the fruit is more supple. The outside may wrinkle slightly as the fruit ripens, and that's okay! Sometimes you may notice black spots appear on the skin, but usually, the fruit inside is unaffected.
The other great thing about Ataulfo mangoes is the pit is narrow and rather small compared to other mango varieties, where the pit can be quite large. There's a reason why Ataulfo mangoes can be a little more pricey than the others, but they are well worth it!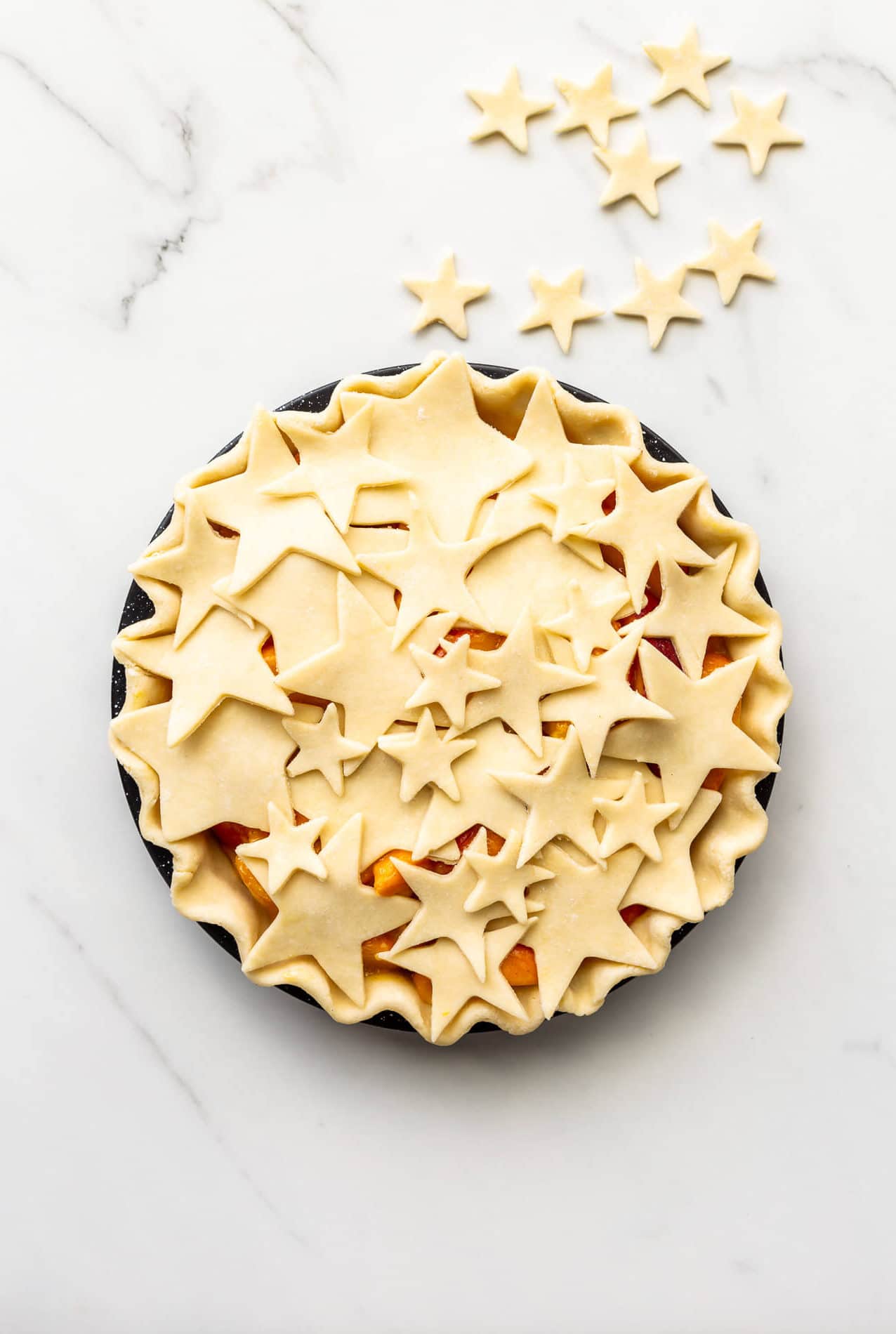 How to make a pie without a gap between top crust and fruit
Sometimes, with double-crust pies, you'll notice that there can be quite a large gap between the fruit layer and the top crust after baking. Then when you cut into the pie, the top crust collapses, which can make for messy serving situations. When baking pies with fruit fillings, there are a few tricks to making sure there's no gap:
pre-cook or par-cook the fruit in the filling so that it is softer. This way the fruit will be more pliable, allowing you to pack more fruit into the bottom crust. I've done this for the maple apple pie and the rhubarb lattice pie.
macerate the fruit with a little sugar, which makes the fruit pieces more supple. Again, this allows you to completely fill the bottom crust, without any big air pockets or gaps in the filling that may collapse when you bake and serve the pie.
With both of these tricks, the goal is to make the fruit pieces softer, so that you can stuff the fruit into the pie shell more tightly.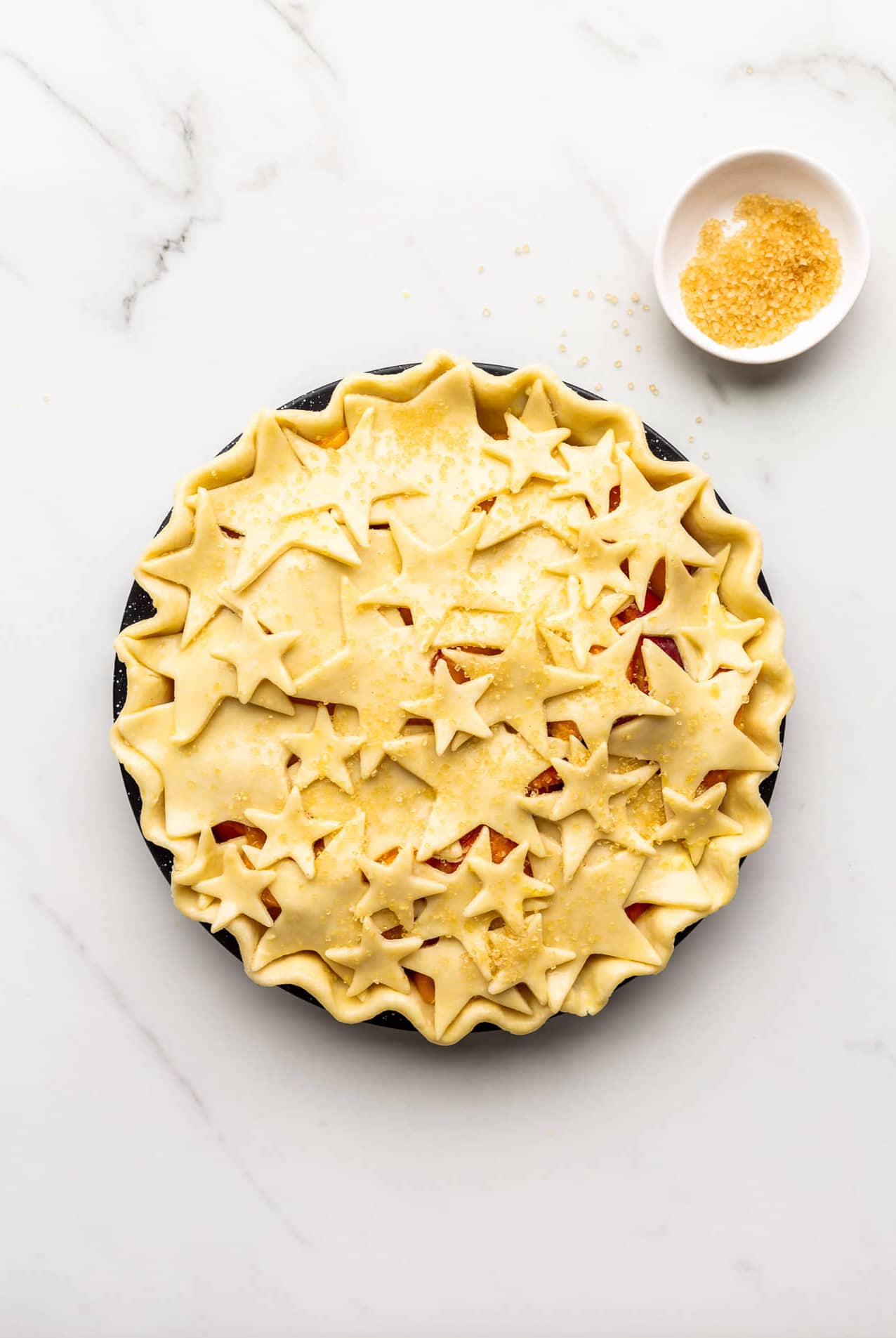 Cooking down the fruit juices before assembling the pie
For this pie, I chose to macerate the fruit in sugar and cornstarch, drawing the water out of the fruit pieces and forming a very soupy filling. Sure, you can just dump the mixture as is into the pie shell, but this might lead to a gummy bottom crust that is so wet it can't bake properly.
Instead, you can gel the water the macerated fruit releases: less free water in the filling means a thicker, less wet filling that gives the bottom crust a chance to bake properly and also makes for a less soupy filling after baking. This makes serving the pie easier and allows you to get nice even slices that hold their shape and don't collapse.
This also means that when you serve the pie, the juices are properly gelled and set so they don't run off as you serve the pie, as you can see in the photos. The set is rather perfect. The filling isn't dry, but it's not runny either.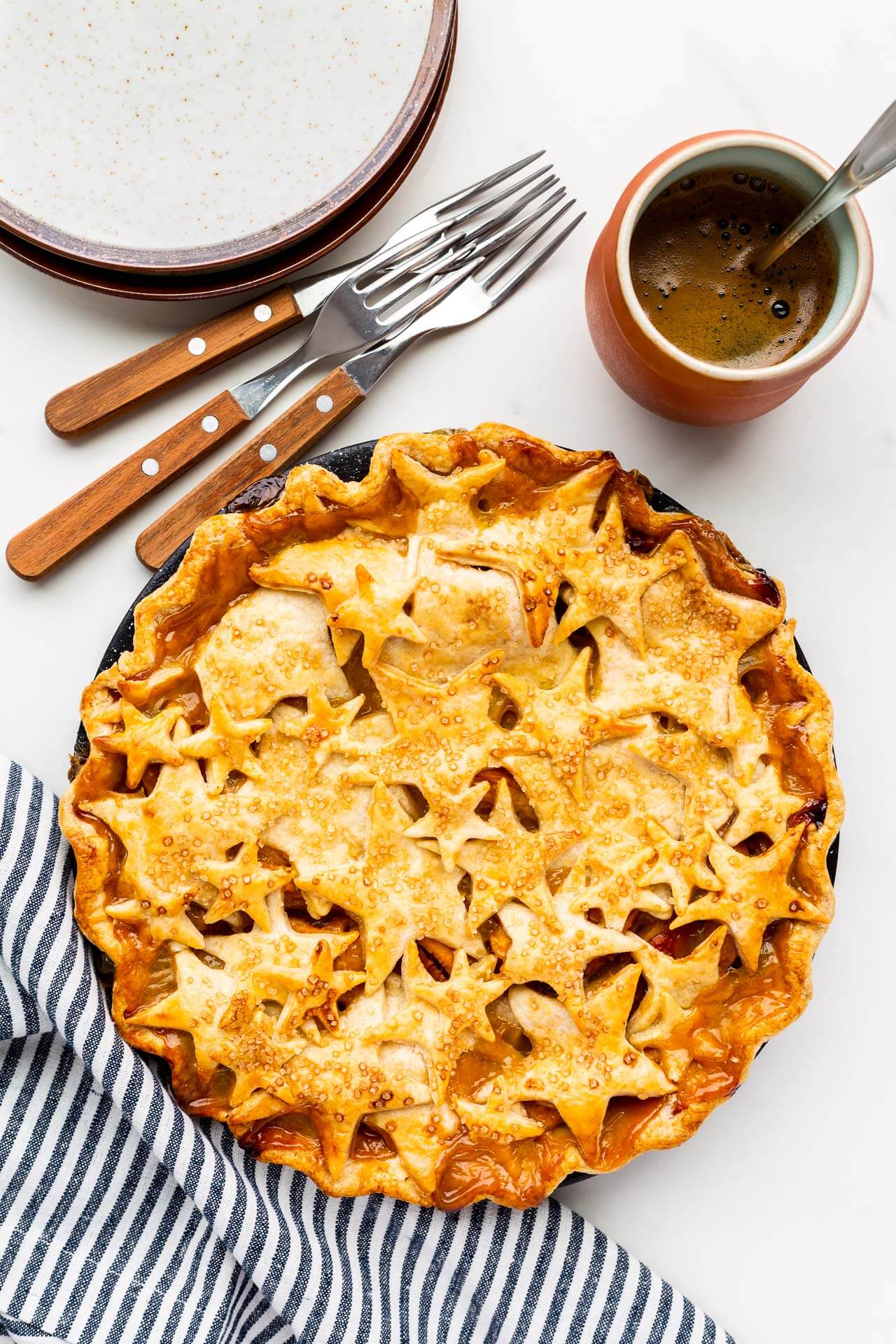 Achieving the perfect gel for pie filling
For this pie, I used 15 mL (1 tablespoon) of cornstarch per 80 mL (⅓ cup) of fruit juice released when the fruit pieces are macerated. So for this pie, my fruit pieces formed about 170 mL (⅔ cup) of juice, and I used 30 mL (2 tablespoons) of cornstarch. If after macerating your fruit, you find you've collected even more juice than that. Feel free to use more cornstarch.
The type of thickener you use is entirely dependent on the fruit. An apple pie doesn't need much thickening powder, so just a little flour is plenty to help the pie filling set properly without being soupy because apples aren't so high in water content. Flour is the least powerful thickener you could use.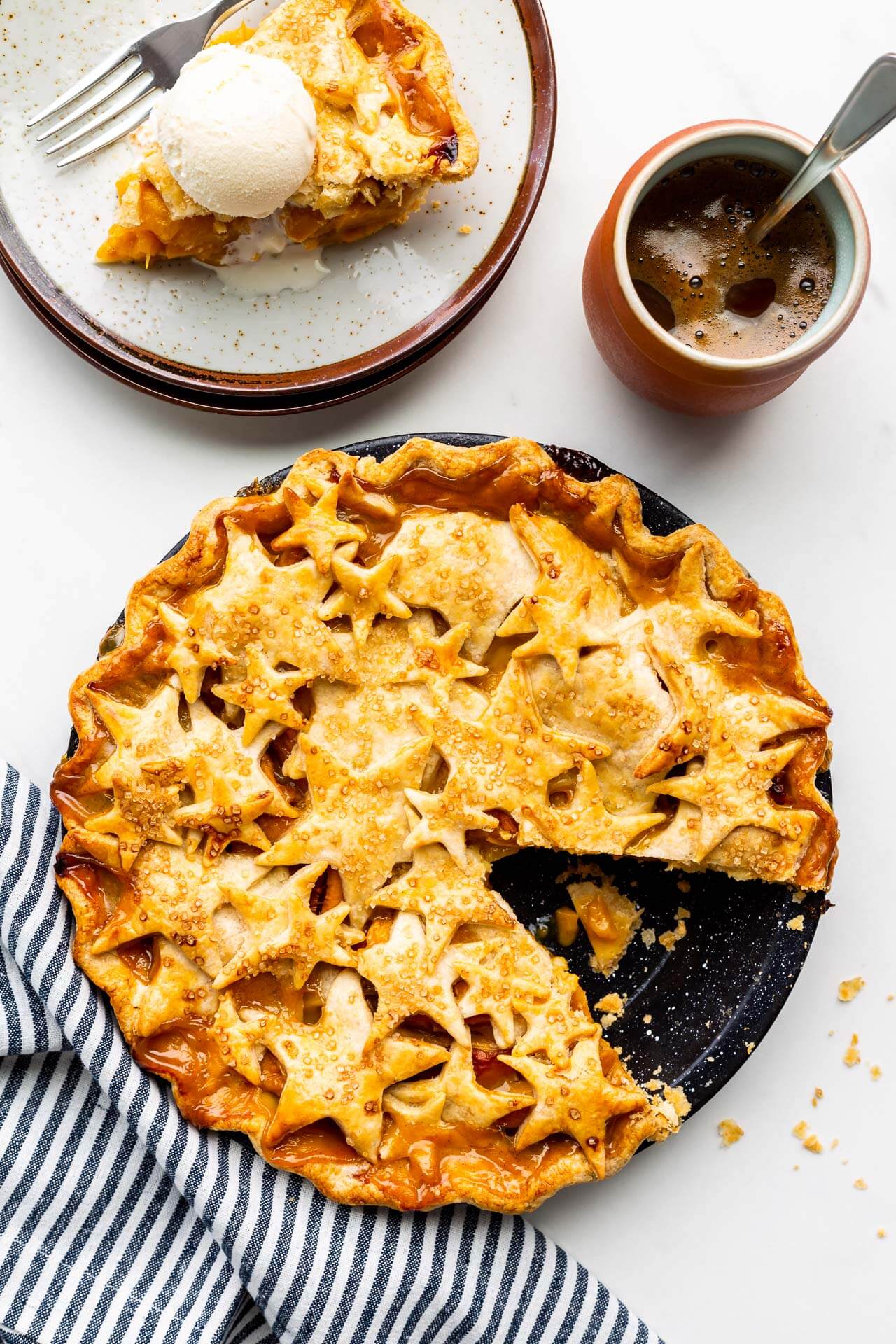 On the other hand, a rhubarb pie requires tapioca starch, which has the strongest gelling power. Remember, rhubarb is mostly water and as soon as the fruit is heated, the cells will break down and release a ton of water into the pie filling.
With peaches, both flour and cornstarch work. Cornstarch falls in the middle of the spectrum of pie filling thickeners, but one important difference between flour and cornstarch is that when flour gels, it's opaque. When cornstarch gels, the gel is clear. You'll notice with this whiskey peach crumble pie, the filling looks a little opaque: that's because I used flour.
There's nothing wrong with using flour in a pie filling, but if you don't want to "see" the thickener, opt for cornstarch or tapioca starch. And don't forget, with both of these, a little goes a long way!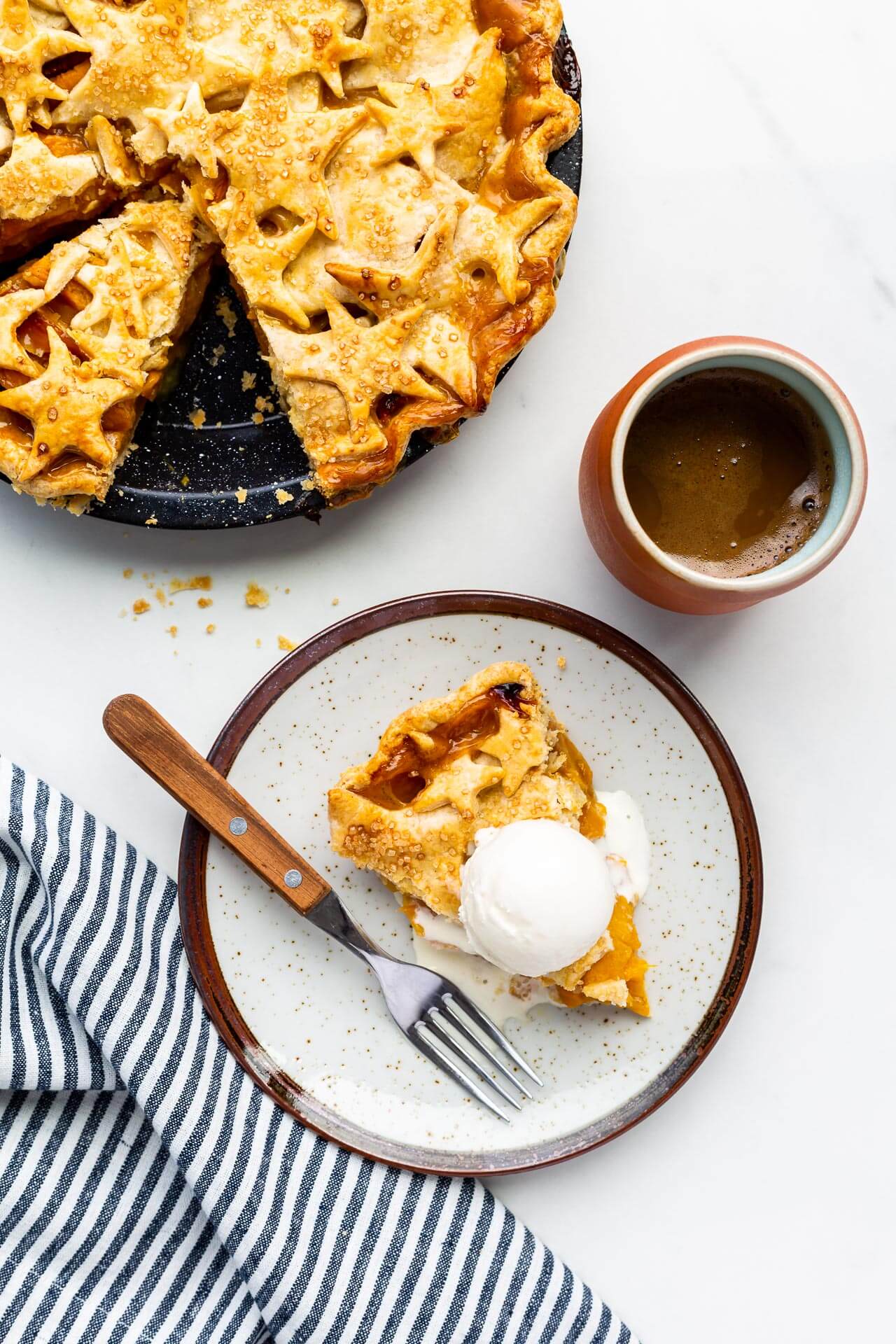 Pie dough recipe that holds cut-out shapes well
For pies with intricate designs, you want to use pie dough that holds shapes well, especially cut-out shapes. I find in general, this type of pie dough is easier to work with. It is a little less flaky than some, but you have to compromise if you want to make a pie that holds its crimped edge well and holds the cut-out shapes.
To do so, I tend to "over-process" the dough. I work the ingredients together a little more so that the butter pieces are smaller, the size of coarse sand or very tiny pebbles (really very small pebbles). This way, when the butter melts, it doesn't have an impact on the shapes you've worked so hard to create.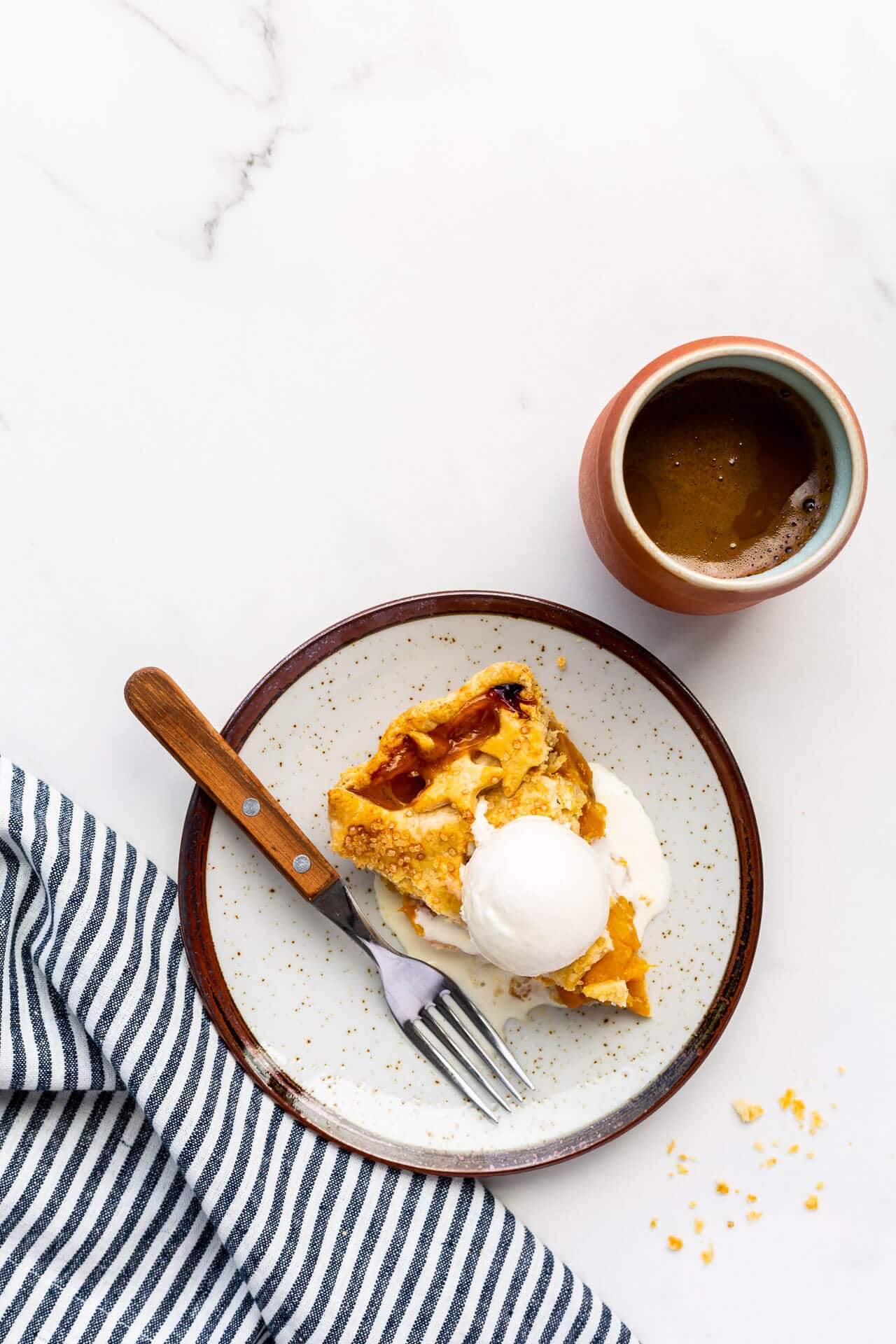 Another trick is to freeze the pie briefly before baking. Even just 15 minutes in the freezer before popping the pie into the oven will slow the melting of the butter just enough that the outer layer of the pie shapes will set and dry out before the butter has time to melt.
Decorative Top Crust For Pies
For this peach mango pie, I opted to top the unbaked pie with layers of cutout stars. If you would like a more traditional look, read about how to make a lattice pie crust so you can do that here.
Special tools and equipment
Pie doesn't require that much equipment if you make the dough by hand. Still, this list of pie tools will make baking pies a lot easier for you. Here's what you need: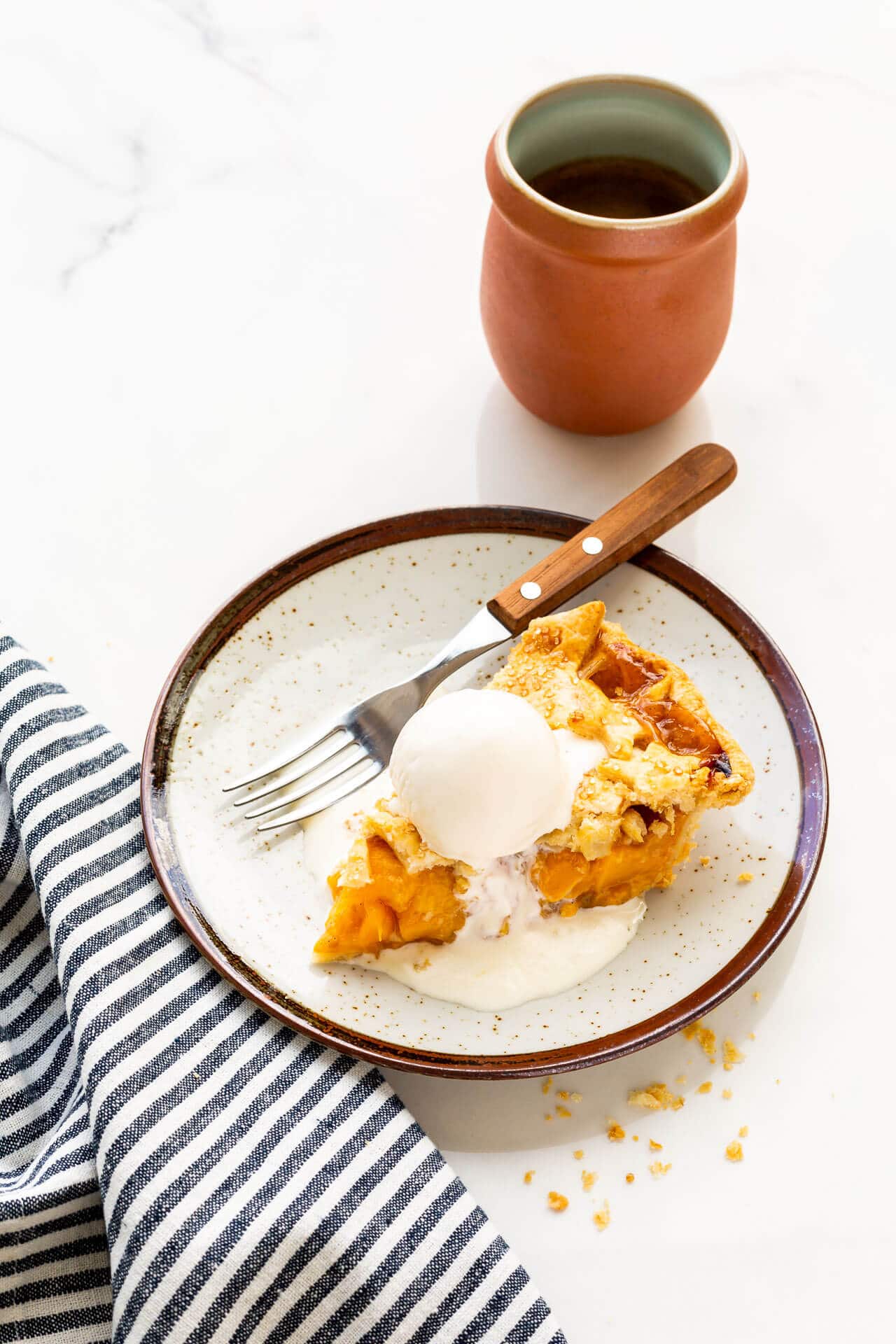 What to do with pie dough scraps
Inevitably, when you make a pie, you will be left with a pile of pie dough scraps. Gather them up and press them together to shape them into a disk and use them to make pie crust cookies!
What to serve with pie
Serve this mango peach pie à la mode with scoops of homemade ice cream! You're going to love it with:
📖 Recipe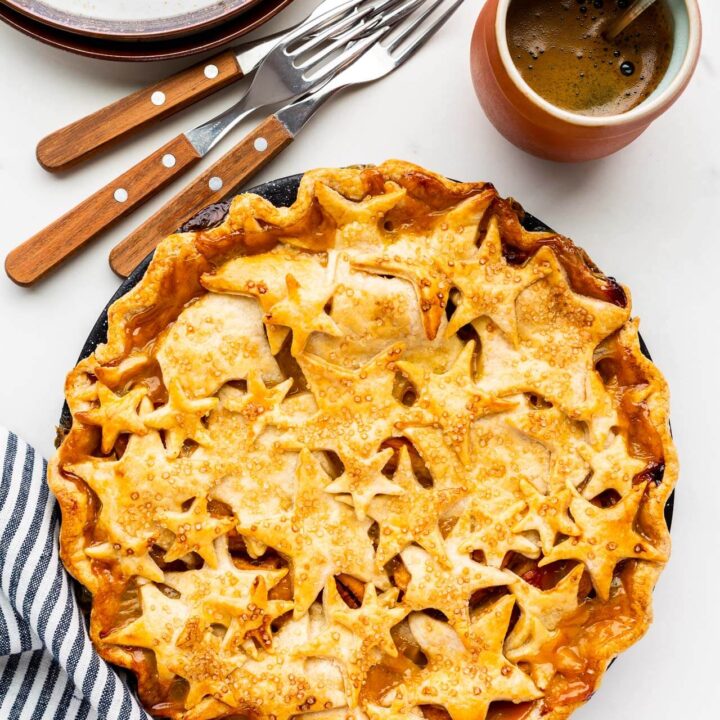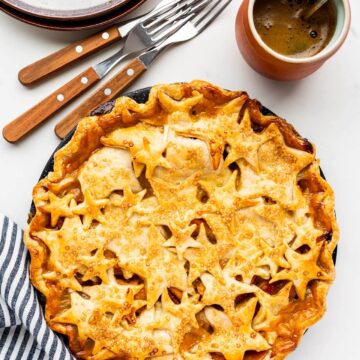 Peach Mango Pie
This peach mango pie is made with an all-butter pie dough you make in the food processor, making this recipe easy, even if pie dough makes you nervous!
Ingredients
All-butter pie dough
312

grams

bleached all-purpose flour

173

grams

unsalted butter

100

mL

cold water
Peach mango pie filling
900

grams

large peaches

see notes 1 and 2

900

grams

mango

see notes 1 and 3

100

grams

granulated sugar

30

mL

cornstarch

15

mL

fresh lemon juice

1.25

mL

Diamond Crystal fine kosher salt
Instructions
All butter pie dough
In the bowl of a food processor fitted with the metal blade, combine the flour and salt. Add the cold butter and pulse to form a coarse crumble. I use a Cuisinart Food Processor I got on Amazon.

Add the water and pulse it in, then let the food processor run just until the dough comes together.

Divide the dough in two and transfer both pieces to your work surface. Shape both pieces into a disk. Wrap each in plastic wrap and chill for 45 minutes to 1 hour.
Peach mango pie filling
In a large bowl, stir together the sliced fruit.

Add the sugar, cornstarch, fresh lemon juice, and salt. Stir well.

Let the fruit macerate for at least 30 minutes. The fruit will release juice so be sure to stir the mixture periodically. This is a good time to roll out the pie doughs and get them ready to go.

When the fruit is softened, strain the juices and place them in a measuring cup.

If you have 180 mL (⅔ cup) of fruit juices, you probably have enough cornstarch so transfer the juice to a saucepan. If you have closer to 250 mL (1 cup) of fruit juices, add in another 15 mL (1 tablespoon) cornstarch to the mixture before transferring the juice to a saucepan.

Cook the juices on medium heat until the mixture gels and forms a very gluey thick paste.

Scrape the gelled paste into the bowl with the fruit and stir to combine. Set aside.
Roll out the dough and assemble the pie
After 45 minutes of chilling, retrieve one disk of dough. Roll it to a 10x15 rectangle on a floured surface. Transfer to a big cookie sheet and chill again.

Roll the disk to a 14" circle. Transfer to metal pie plate and fit it in place.

Trim the overhang of dough to neaten up the edge. If you want a crimped edge, leave roughly a 1 inch overhang so that you can tuck it under to create a thicker edge of dough and you can then crimp it with your thumbs and forefingers.

Pour the gelled filling into the pie and smooth it so it's an even, tight layer. Place in the fridge.

Retrieve the rolled out rectangle of dough from the fridge. Using a variety of star-shaped cookie cutters of different sizes, cut out as many stars as you can.

Take the pie out of the fridge and decorate with the star shapes, allowing them to overlap in places.

Brush the entire surface and edges evenly with a thin layer of egg wash. Sprinkle with turbinado.

Freeze the pie for 15 to 20 minutes while your oven heats up.

Preheat the oven to 425 ºF (220 °C) for about 20 minutes or until you are sure it has reached the desired temperature.

Place the cold pie on a sheet pan and bake it in the centre of the oven for 30 minutes.

Drop the oven temperature down to 350 ºF (175 °C) and continue baking the pie for 60 to 75 minutes, until it is evenly golden brown all over and until the filling is bubbling even in the centre of the pie.

Remove the pie from the oven and let it cool completely before cutting into it to ensure it's set (at least 4 hours, if not overnight).
Notes
To fill the pie crust, you will need 1.5 L to 1.75L or 6 to 7 cups of sliced fruit. Make sure to measure the volume of fruit to make sure you have enough before you macerate the fruit.
I am lazy so I left the skins on the peaches. I honestly don't think you even notice them in the filling in the end, so why bother blanching them to peel them first? 
For the mangoes, I prefer to use Ataulfo mangoes which are golden yellow in colour on the outside and they have less fibre. They are larger than the small Alphonso mangoes and the Ataulfo mangoes are also a little more affordable.
Nutrition
Calories:
482
kcal
Carbohydrates:
74
g
Protein:
7
g
Fat:
19
g
Saturated Fat:
11
g
Polyunsaturated Fat:
1
g
Monounsaturated Fat:
5
g
Trans Fat:
1
g
Cholesterol:
67
mg
Sodium:
401
mg
Potassium:
384
mg
Fiber:
5
g
Sugar:
39
g
Vitamin A:
2154
IU
Vitamin C:
46
mg
Calcium:
32
mg
Iron:
3
mg