Learn how to make pie crust cookies from leftover pie dough with this easy recipe. Now you will never let leftover dough go to waste again!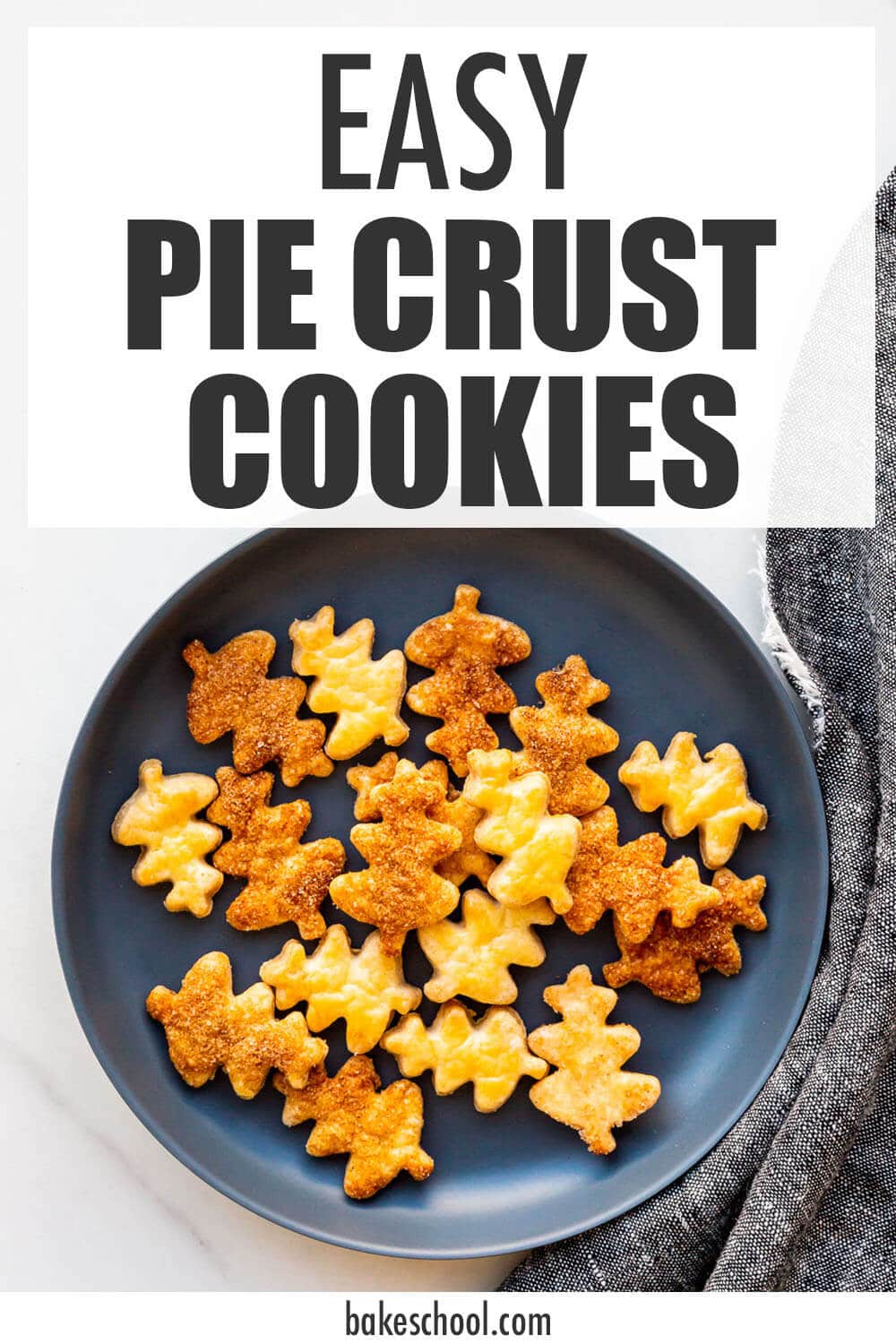 Disclosure: As an Amazon Associate, I earn from qualifying purchases.
Let's get real: any leftover pie dough that you may have often gets neatly wrapped in plastic wrap and refrigerated, never to be seen again until you clean out your fridge and unwrap the surprise.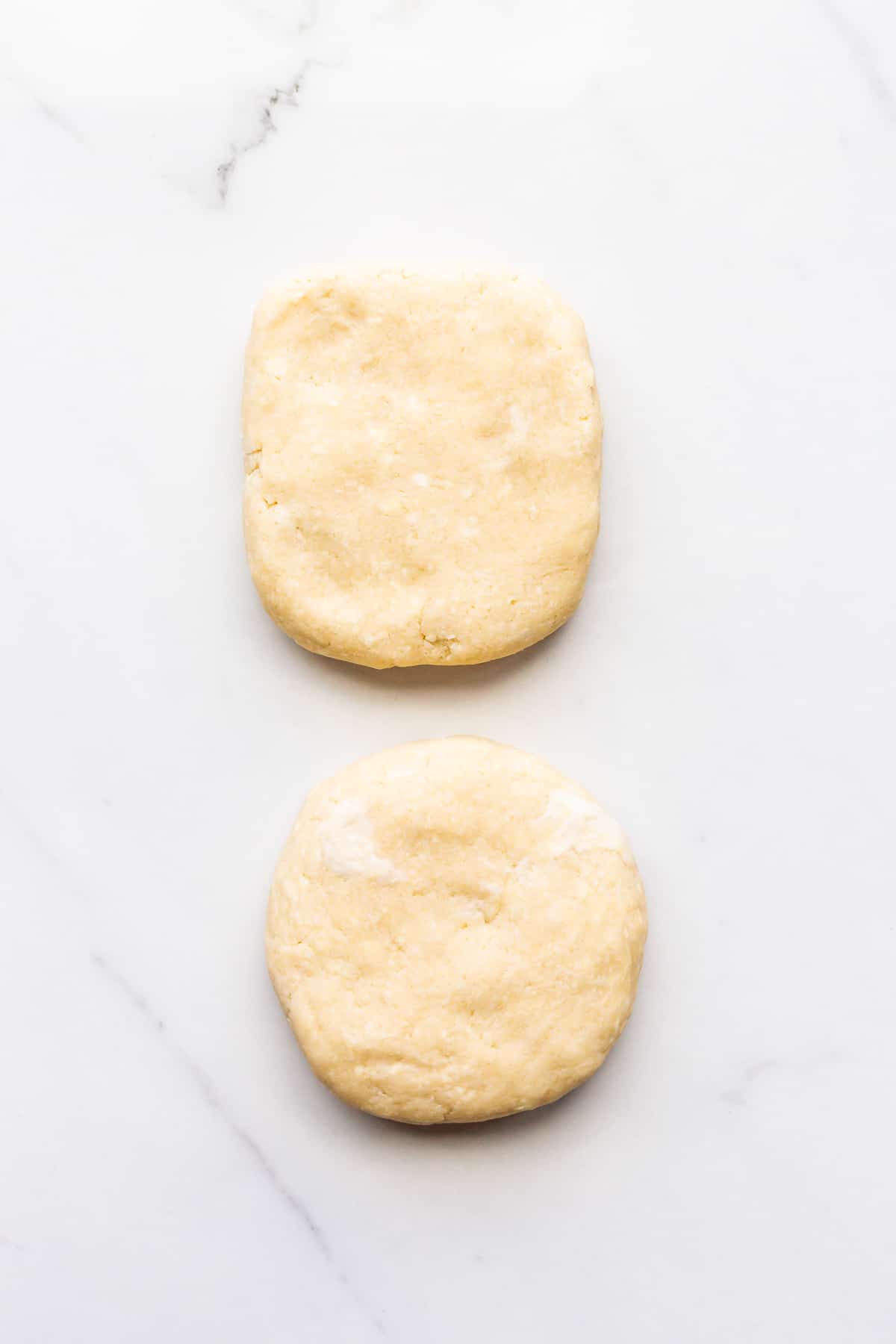 Instead of storing the leftover dough for never, why not use it while you've got the oven turned on baking that pie? Make cookies out of leftover pie dough! It's so easy!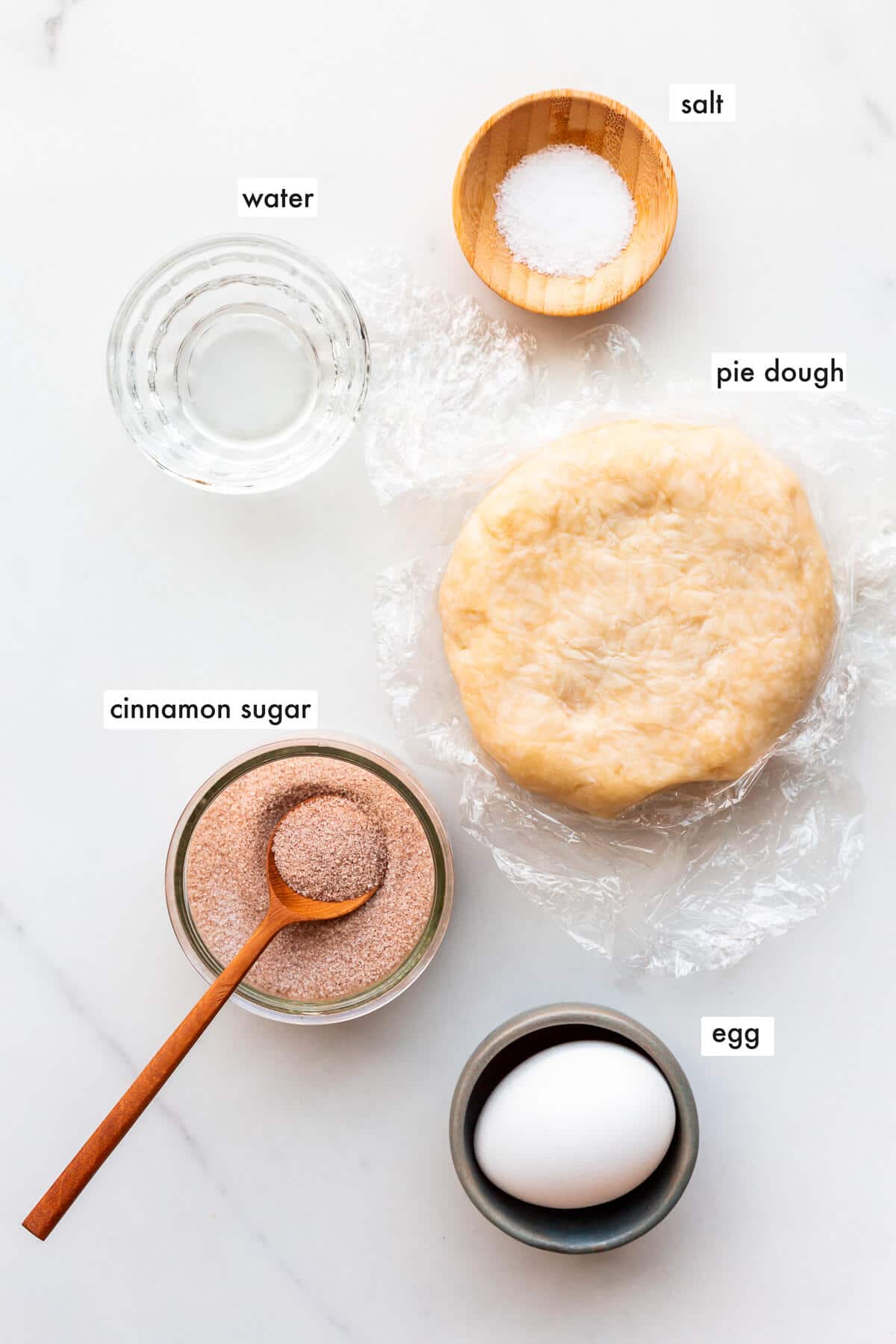 What you will need
To make cookies from leftover pie dough, you only need three ingredients!
(leftover) pie dough (duh!), preferably chilled to make it easier to roll and cut
(leftover) egg wash to brush onto the cookie cutouts before baking, helping them brown and also acting as a glue for flavourful toppings
turbinado sugar or cinnamon sugar to add sweetness and flavour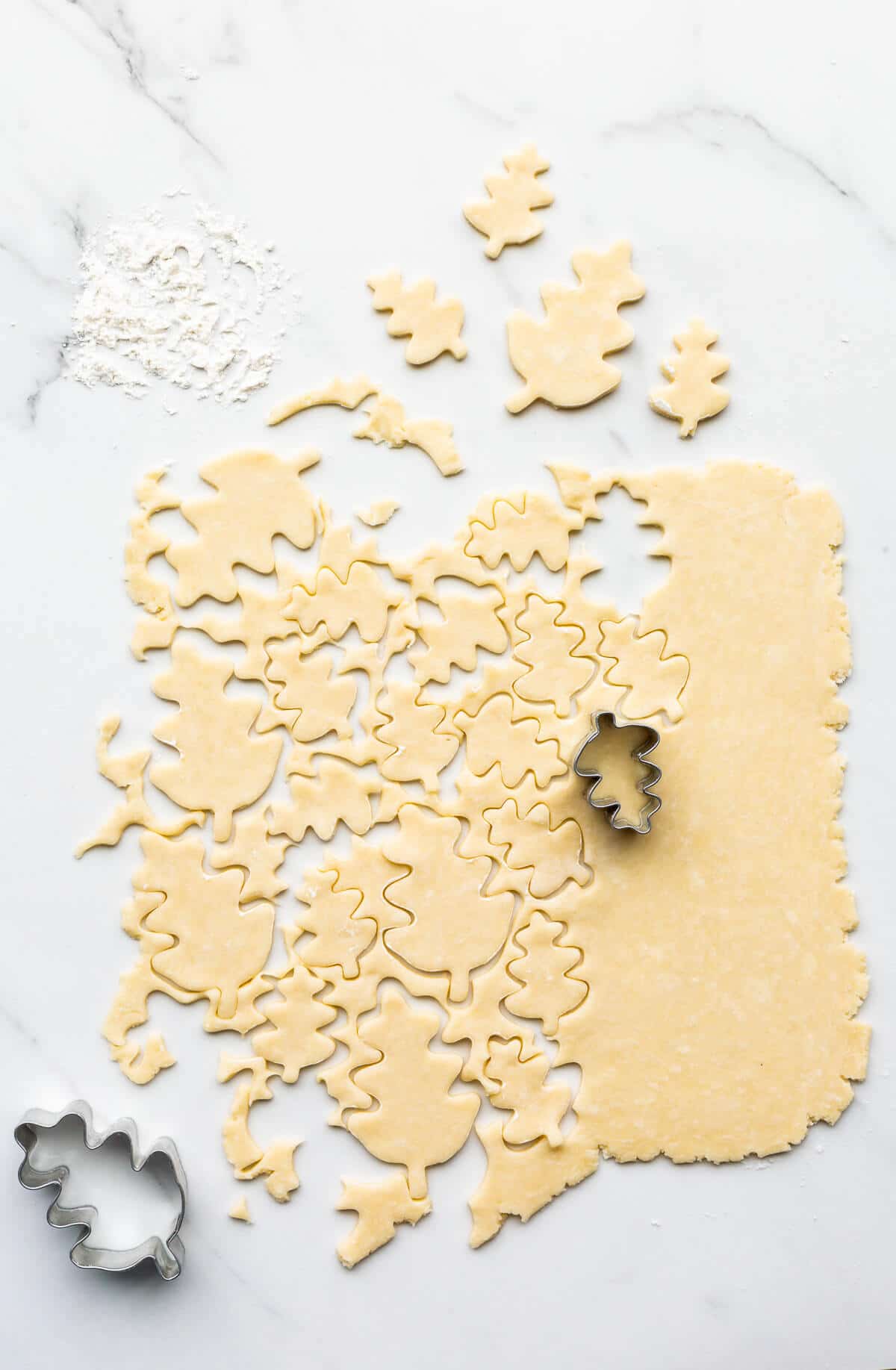 Turning leftover pie dough into cookies
These pie crust cookies are so easy to make! All you have to do is:
roll out the dough on a lightly floured surface
use cookie cutters or a pastry wheel to cut out shapes
place the unbaked pie crust cookies on parchment-lined sheet pans, spacing them out
brush with egg wash and sprinkle with cinnamon sugar or coarse turbinado
bake until golden brown
The beauty of using up leftover pie dough to make cookies is that you will never let leftover dough go to waste again! Plus you can use a few of these to decorate your pies and tarts (or hide imperfections if need be). I used these to decorate this pumpkin pie made without evaporated milk, for example, and the result is stunning!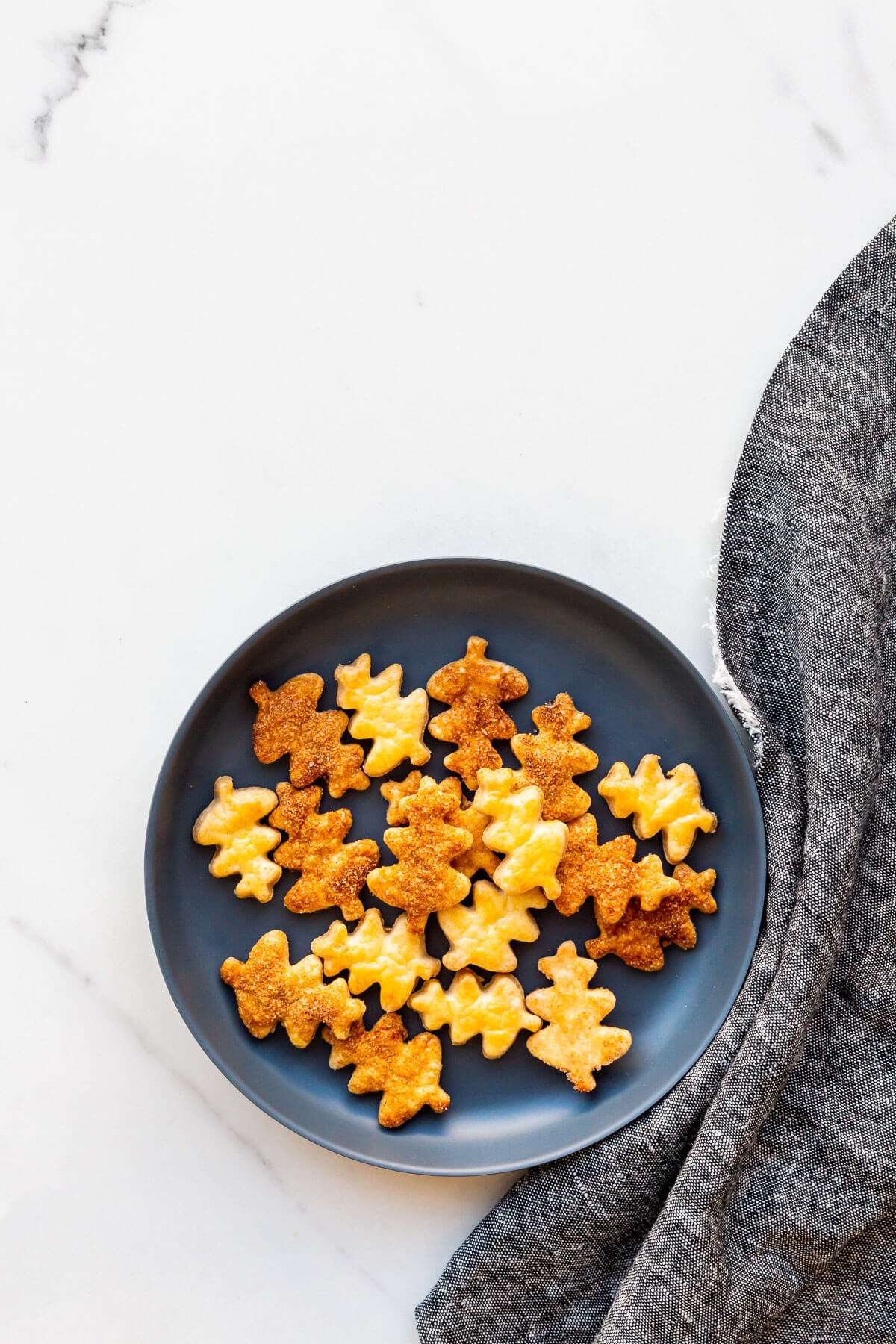 Alternative toppings
I love to sprinkle pie crust cookies with cinnamon sugar before baking, but you have other options:
granulated sugar to add sweetness without extra spices
turbinado sugar to give them more crunch
salt and savoury spices to make savoury pie crust cookies, like for example, steak spice mix, za'atar, freshly ground pepper, sesame seeds or poppy seeds, nigella seeds, shredded cheese, etc.
Another sweet option is to roll a sheet of leftover pie dough with jam and make slice-and-bake pinwheel cookies.
Other recipes to make with leftover pie dough
Leftover pie dough isn't a problem. It's a life saver! You can make so many small-batch versions of your favourite recipes:
📖 Recipe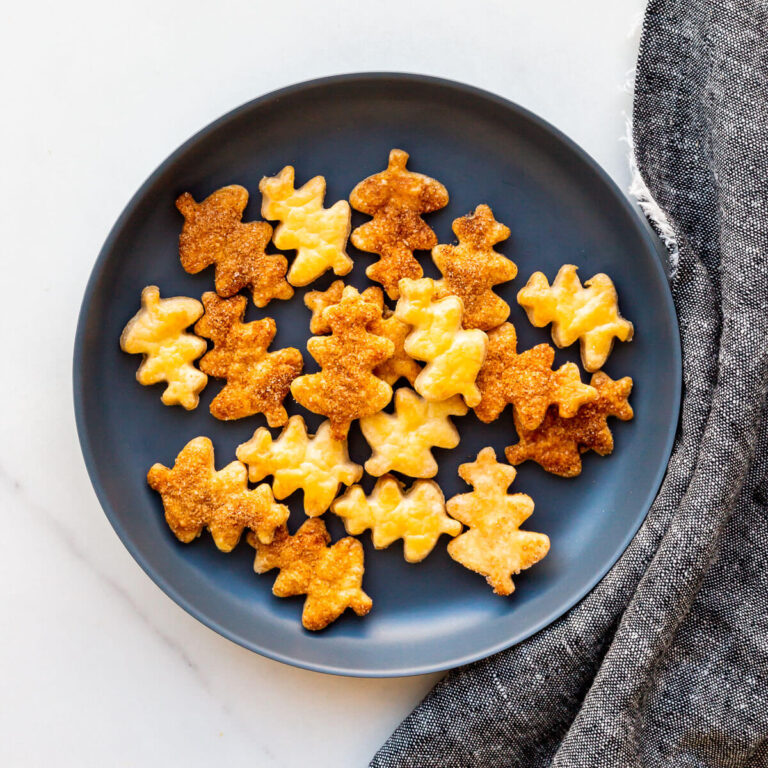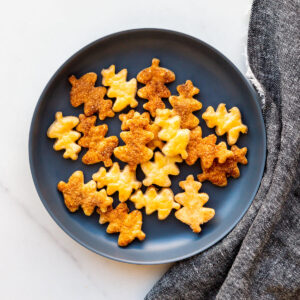 Pie Crust Cookies
Learn how to make pie crust cookies from leftover pie dough with this easy recipe. All you need is a little pie dough, some cinnamon sugar, and an egg wash to make these. They are light, buttery, and crispy, and not too sweet! You can use these to decorate pies and tarts too!
Ingredients
Pie crust cutouts
300

grams

all-butter pie dough

or whatever leftover amount you have

30

mL

cinnamon sugar

more or less depending on amount of dough
Instructions
Egg wash
In a small bowl, whisk together the egg, water, and a pinch of salt. Set aside.
Pie crust cutouts
Preheat the oven to 425 ºF (220 °C). Line a few sheet pans with parchment paper.

On a lightly floured surface, roll the leftover pie dough out until it's ¼–⅛" thick.

Cut out cookie shapes (or whatever shape you want). Place them on parchment-lined baking sheets, leaving a little space between them for air circulation.

Brush the cutouts with a thin layer of egg wash and sprinkle with cinnamon sugar.

Bake the cutouts until evenly golden brown and baked through, about 15–20 minutes.

Let the cutouts cool completely before eating. You can store the leftover crust cutouts in an airtight container or use them to decorate a pie or tart.
Notes
I like to use the harvest cookie cutter set for fall pies and you can buy it on Amazon.
Nutrition
Calories:
26
kcal
Carbohydrates:
3
g
Protein:
1
g
Fat:
1
g
Saturated Fat:
1
g
Polyunsaturated Fat:
1
g
Monounsaturated Fat:
1
g
Trans Fat:
1
g
Cholesterol:
3
mg
Sodium:
22
mg
Potassium:
6
mg
Fiber:
1
g
Sugar:
1
g
Vitamin A:
4
IU
Calcium:
1
mg
Iron:
1
mg