Learn how to make the best chocolate pinwheel cookies with this easy recipe with step-by-step photos to show you how one dough can be split into two for separate chocolate and vanilla doughs. Then layer the chocolate and vanilla doughs to roll them together into a log for slice-and-bake cookies. This recipe makes perfect pinwheel cookies every time and the dough can be made ahead and stored in the freezer until you are ready to make them.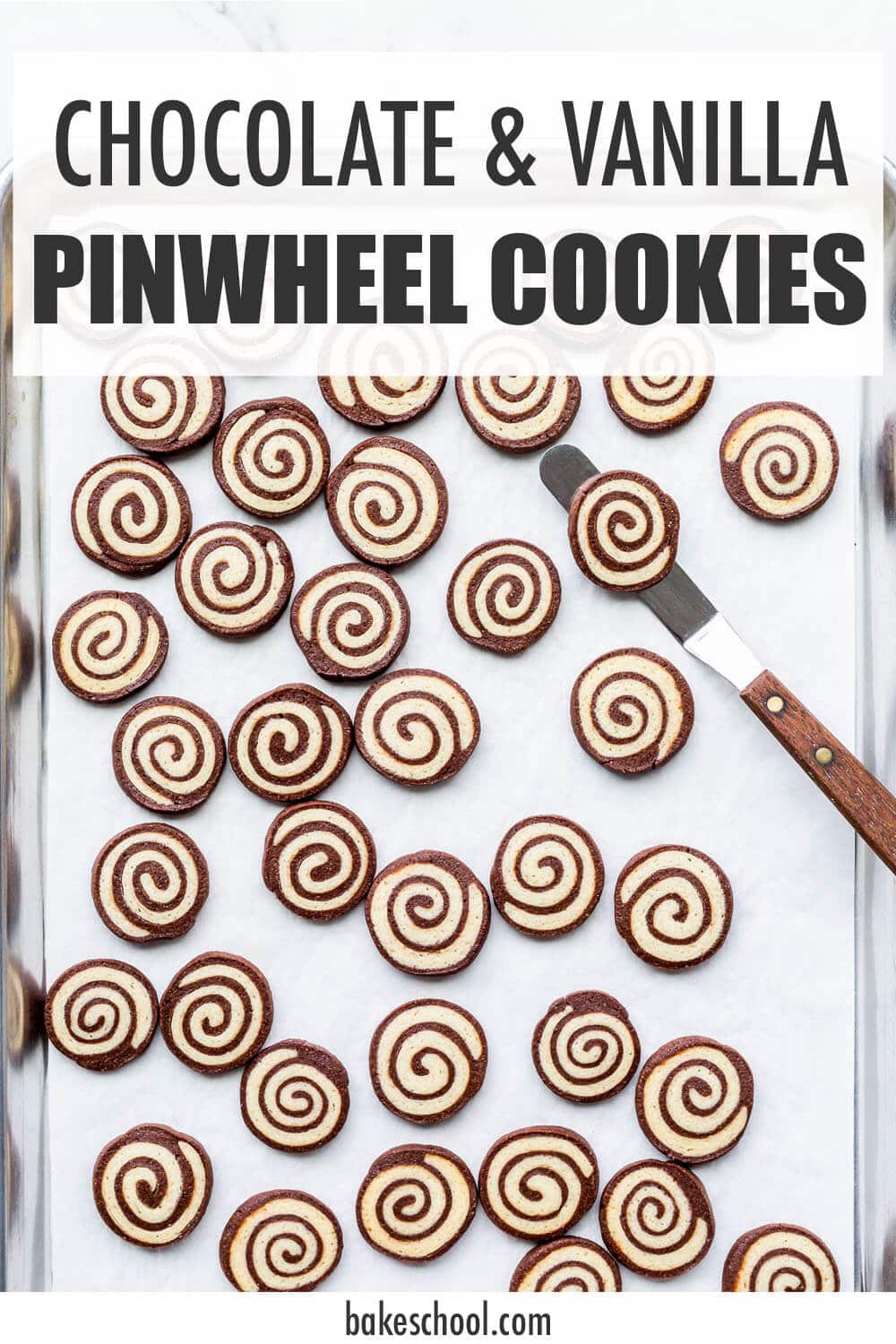 What are pinwheel cookies made of
Pinwheel cookies combine two cookie doughs, usually of contrasting flavour and colour, which are rolled together to form the swirl pattern they are known for.
If you want to make chocolate and vanilla-flavoured pinwheel cookies, you will need the following ingredients:
butter, preferably unsalted butter because you will add salt to the dough, but if you have salted butter, it will work. Just adjust the salt in the recipe accordingly, otherwise, your cookies may be too salty
granulated sugar though brown sugar would also work here and would add to the molasses flavour. Brown sugar may also lead to a slightly thicker cookie
large eggs, don't use smaller eggs because your cookie dough may be too dry and your cookies won't spread enough, but don't use extra large eggs because they could cause the cookie dough to puff too much as it bakes, leading to a more cakey cookie
all-purpose flour is needed to bind all the ingredients together and give the cookies structure, contributing to the chewiness of the cookies as well. If you don't use enough flour, your cookies may spread too much as they bake
salt is really important to balance out the sweet molasses flavour. Don't skip it. I like to use Diamond Crystal fine kosher salt, but table salt will work, though the cookies will be saltier and you may want to halve the salt in that case.
cocoa powder, specifically Dutch-processed cocoa powder, contributes the dark chocolate flavour that you need to balance out the sweet flavour of sugar cookies. Don't use natural cocoa powder because the colour of the cookies will be lighter and the flavour won't be as good. I like to use Cacao Barry Extra Brute cocoa powder, which is a dark cocoa powder with a rich flavour.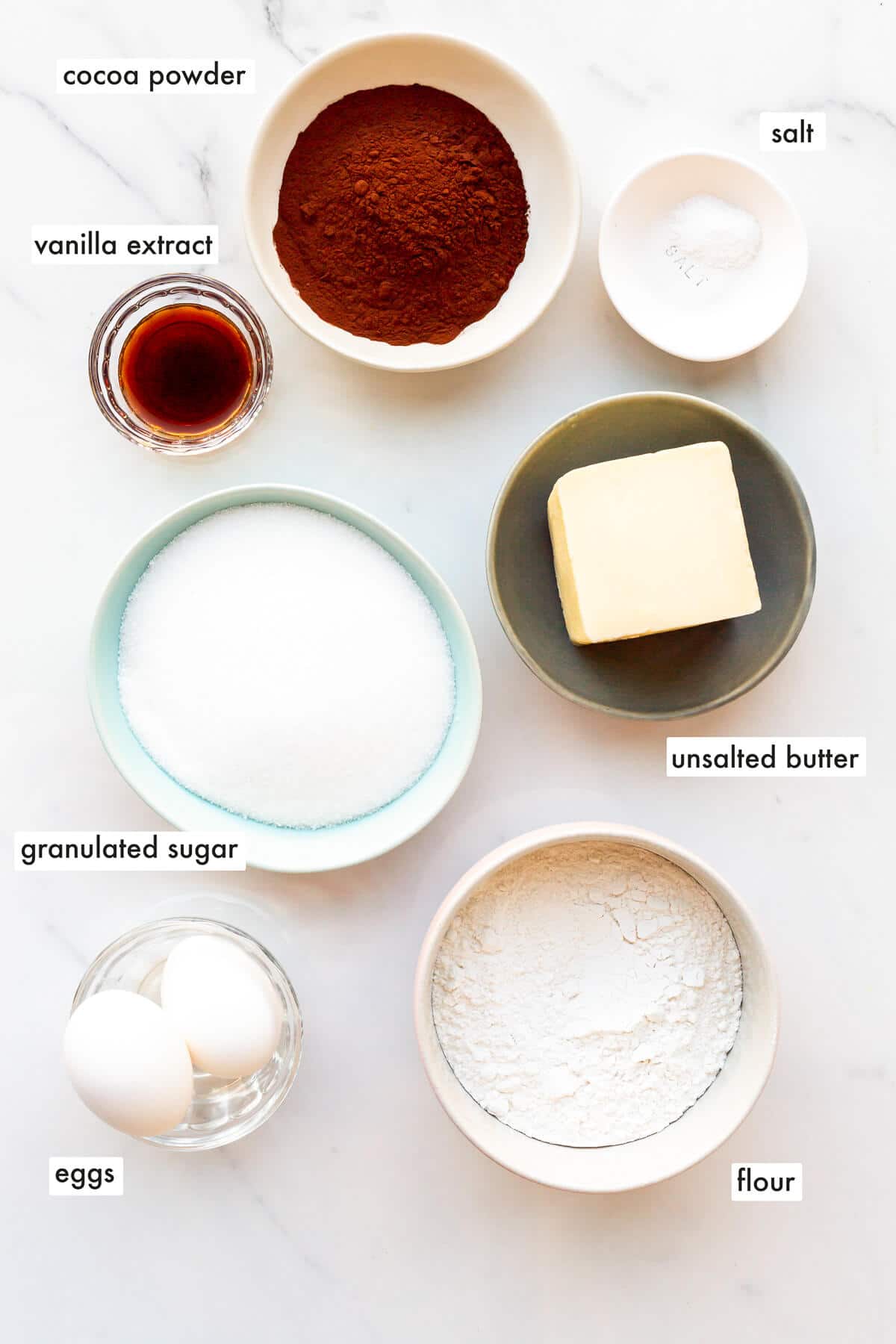 Disclosure: As an Amazon Associate, I earn from qualifying purchases.
Chocolate vs cocoa powder in cookies
For this pinwheel cookie recipe, we are using cocoa powder, specifically Dutch-processed cocoa powder. Dutch-processed cocoa powder has a richer, more pronounced chocolate flavour that is strong enough to stand out when the chocolate cookie dough is layered with the vanilla dough.
Some recipes will call for using melted chocolate instead, but to do so, it's best to use unsweetened dark chocolate with a high percentage (greater than or equal to 90 %). This type of chocolate is appropriate for imparting a deep chocolate flavour without adding more sugar. If you used semi-sweet or bittersweet chocolate in the dough, the chocolate flavour would likely be muted by all the sugar in the recipe.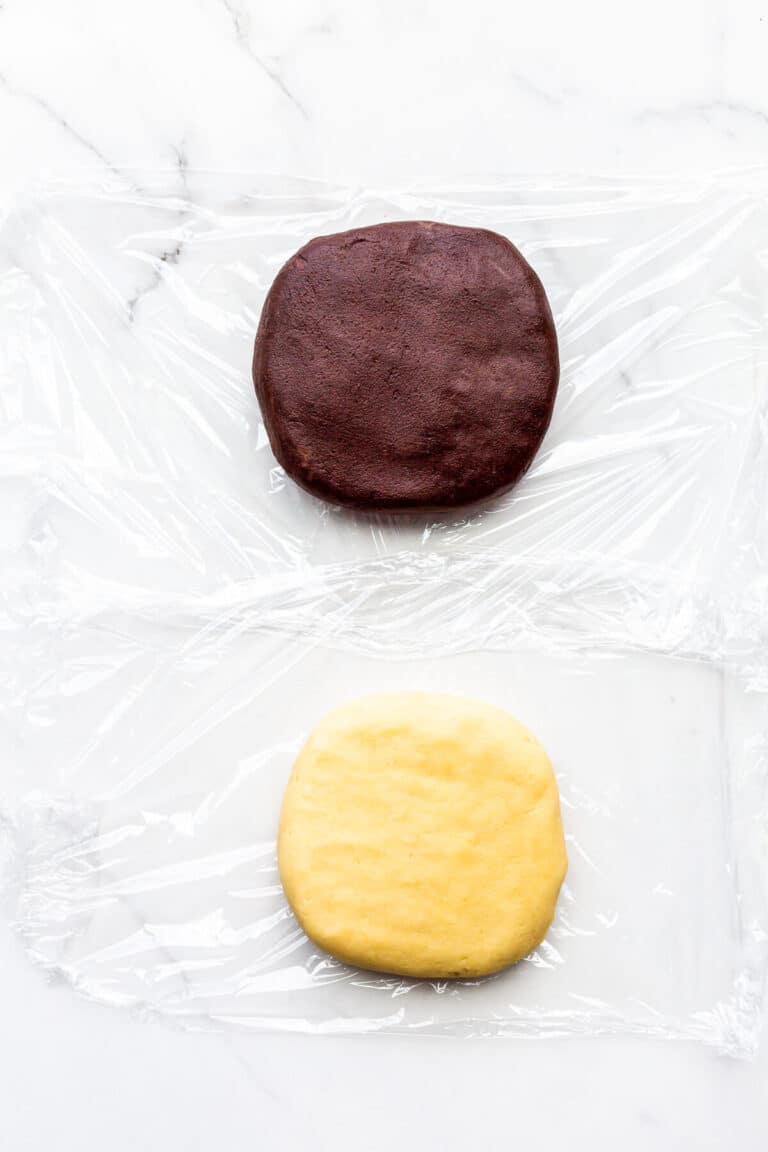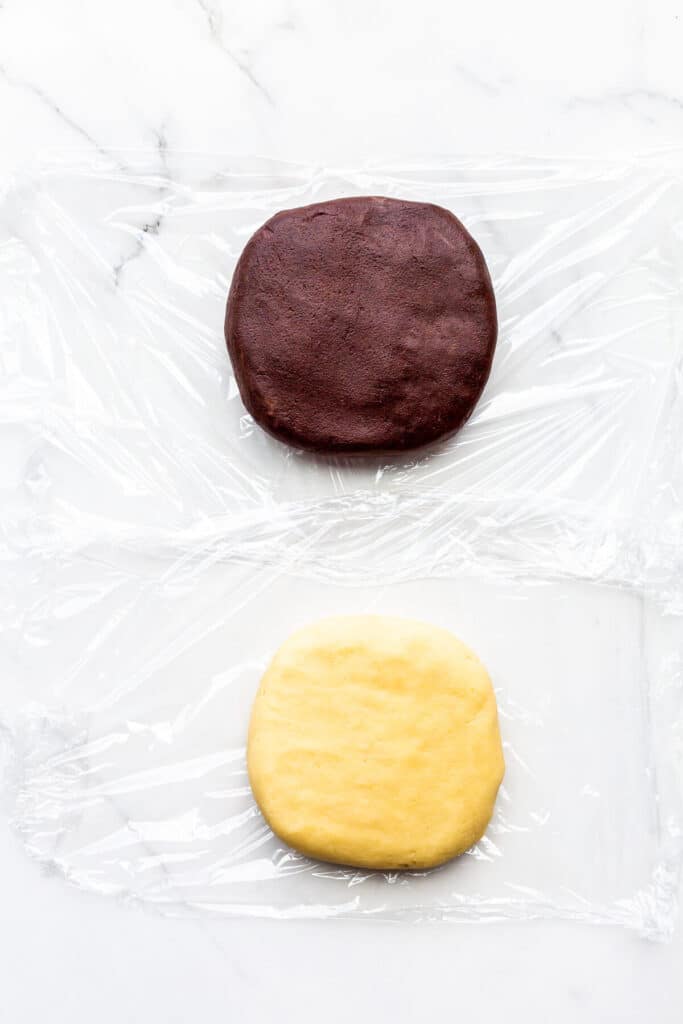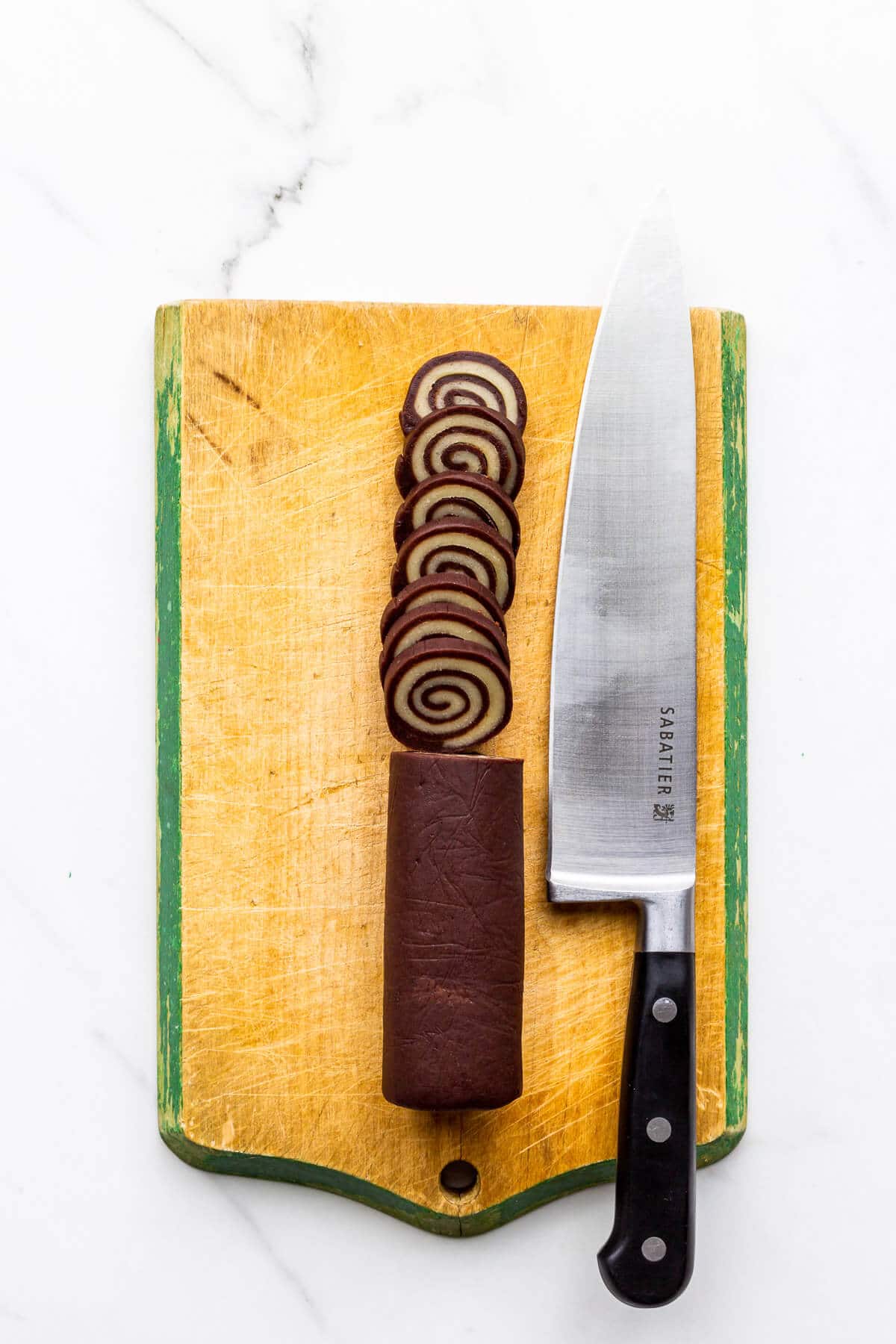 Tricks for forming perfectly round slice-and-bake cookies
It can be difficult to bake round slice-and-bake cookies because as the log of cookie dough warms up and with the pressure of the knife as you slice, the round cylinder of dough is compressed, forming oval-shaped cookies. Here are a few tricks for baking perfectly round slice-and-bake cookies:
before chilling the dough: make sure the logs of slice-and-bake cookie dough are round. Roll the log back and forth several times to tighten any seams and to smooth any bumps
while chilling the dough: take the logs of dough out of the fridge and roll them back and forth on the counter to make sure they are still round. If you don't do this, the weight of the dough in the early stages of chilling will cause the log to be flat on one side
to chill the dough, store them in empty toilet paper or paper towel rolls, which will help maintain the round shape of the log as the dough chills
after chilling the dough and while slicing the cookies: make sure to rotate the dough every few slices so that the pressure is evenly distributed on all sides as you slice the log. Otherwise, you will end up with a flat side from the pressure of the knife.
Tips for making sure the layers of cookie dough stick to each other
The trouble with layered cookies like these pinwheels is that you are having to work two doughs separately, which you then layer to form the pinwheel. There are some key steps to making sure these two separate layers of dough stick together:
when rolling out the doughs, minimize the flour you use, or better yet, roll out the doughs on wax paper (or parchment paper). This will make handling the dough easier and also will make sure the layers will stick once stacked.
when stacking the doughs, make sure to brush off any flour from the top and underside of the doughs (if you rolled the doughs on a floured surface). Otherwise, they will not stick together
when the two doughs are stacked, take the time to press them together using a sheet pan and/or a rolling pin to press the doughs together to fuse them
if all else fails, brush an egg white wash on the doughs before stacking them. The egg white will wet the surface and also act as glue to fuse the layers together.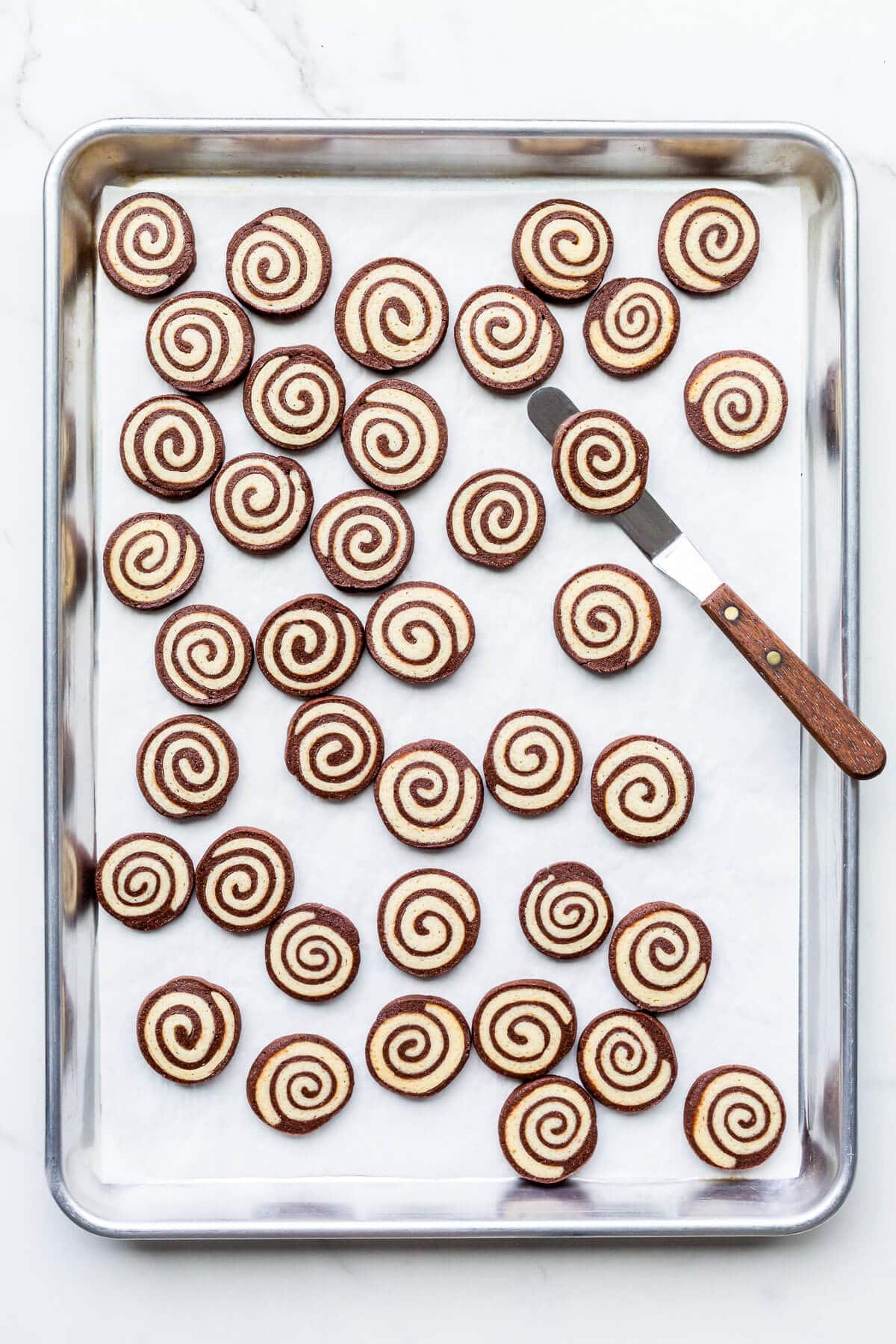 Once you've made the chocolate and vanilla cookie doughs, you can use them to make many different cookies, including checkerboard cookies, zebra cookies, or even marble cookies. It's just a matter of layering the doughs in different ways to achieve the desired pattern.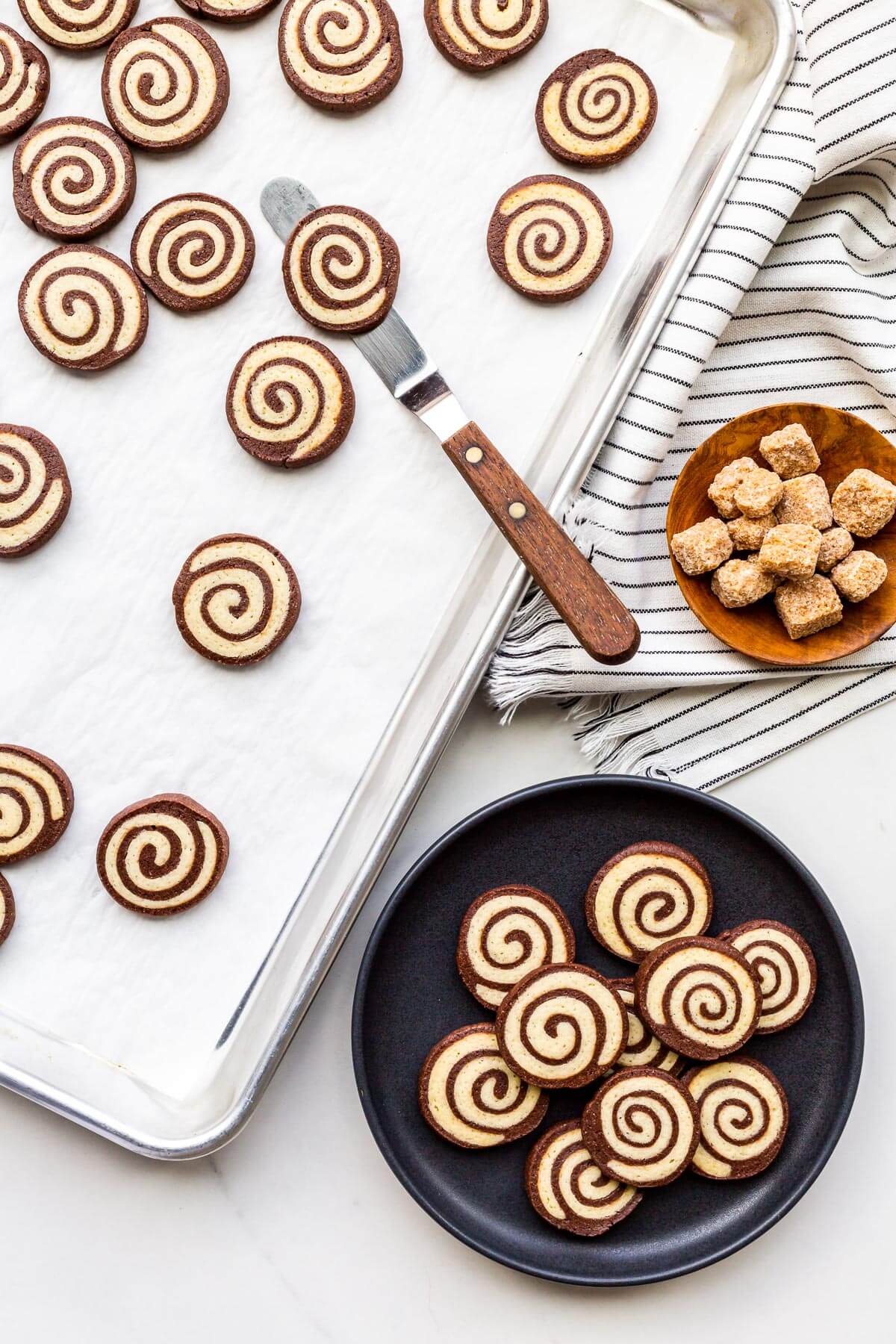 Chocolate and vanilla pinwheels are always impressive on a cookie platter, but I think most people don't bake them very often. They aren't as hard to make as most people would expect. All the more reason to make them!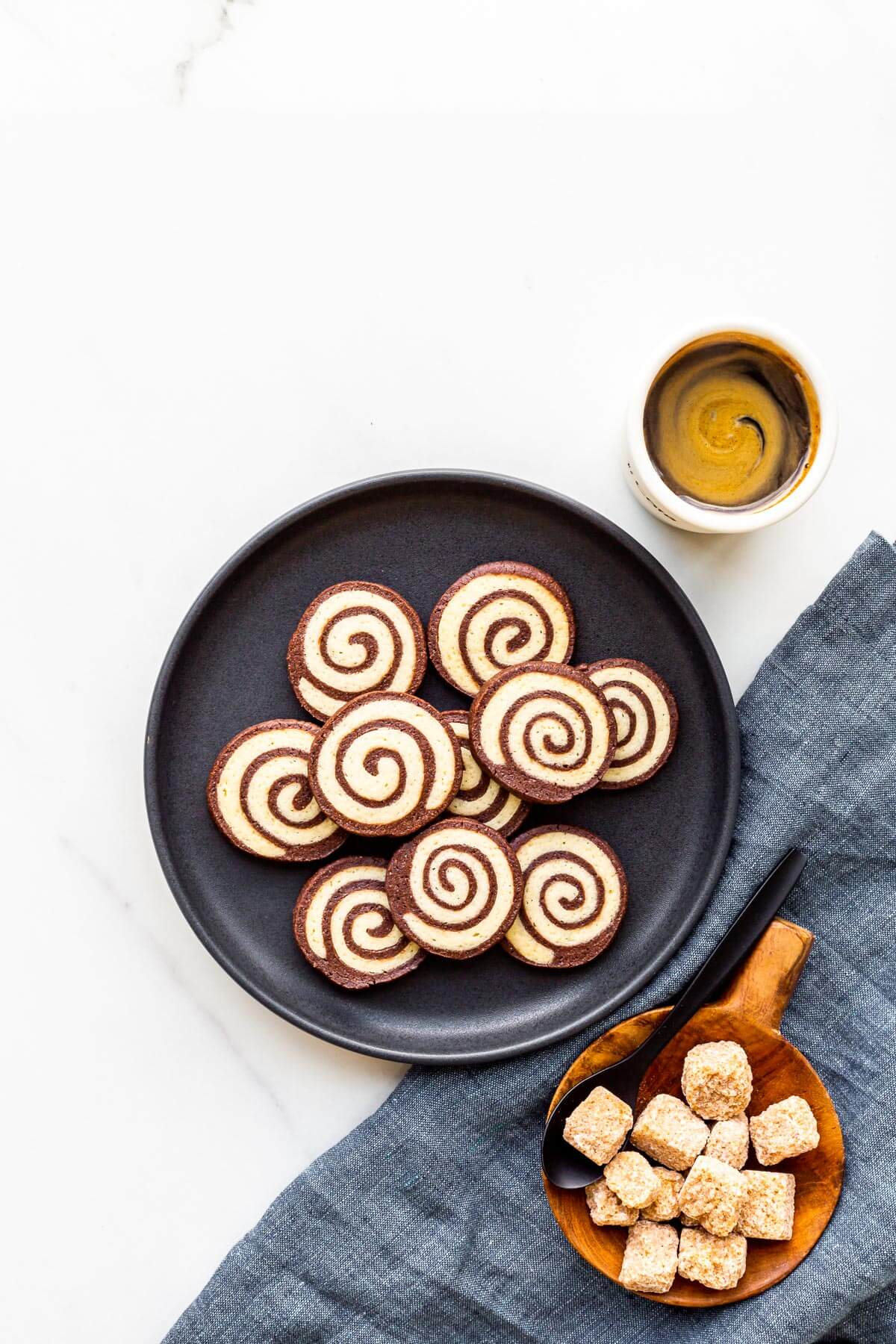 📖 Recipe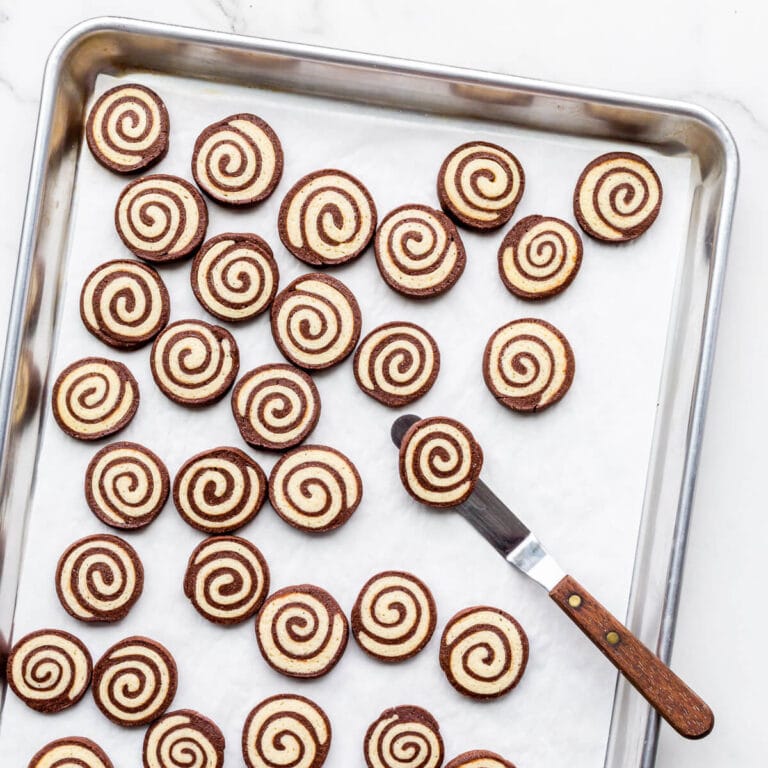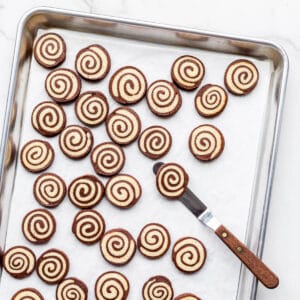 Chocolate Pinwheel Cookies
Learn how to make chocolate pinwheel cookies with this easy recipe. You only have to make one vanilla dough, which you split into two to flavour half with chocolate!
Instructions
In a bowl, whisk together the flour and salt. Set aside.

In the bowl of an electric fitted with the paddle attachment, beat together the butter with the sugar until fluffy. Add the eggs, one at a time, beating between additions and scraping down the sides of the bowl as needed. Mix in the vanilla. The mixture should be smooth and light.

Add the flour and stir it in on low. Mix until just combined.

Remove half oof the dough (roughly 450 grams or 1 lb of dough). To the dough left behind in the mixer bowl, add the cocoa powder and stir it in.

Pat each dough into a disk, wrap in plastic wrap and chill at least 1 hour.

Divide each disk into four pieces.

Roll one piece of chocolate dough to a 6x7-inch rectangle between pieces of wax paper.

Roll one piece of vanilla dough to a 6x6 square between pieces of wax paper.

Chill both doughs for 10 minutes.

Remove wax paper from both sheets of dough. Place the vanilla dough over the chocolate dough, leaving a half inch border on top on bottom. Press together with a cookie sheet or using a rolling pin.

Roll the dough tightly into a cylinder to form a pinwheel using the paper to help keep the roll tight. Roll the log back and forth to seal the layers together and form a perfect cylinder.

Repeat with remaining doughs to form 4 logs of pinwheel dough. Wrap the logs in plastic wrap and chill overnight.

Preheat the oven to 350ºF.

Slice cookies to about ¼ inch (or even a little thinner). Place 1 inch apart on parchment-lined baking sheets. Bake for approximately 13 minutes.
Notes
Yield entirely dependent on how thick or thin you slice the cookies....
Nutrition
Calories:
50
kcal
Carbohydrates:
6
g
Protein:
1
g
Fat:
3
g
Saturated Fat:
2
g
Polyunsaturated Fat:
1
g
Monounsaturated Fat:
1
g
Trans Fat:
1
g
Cholesterol:
10
mg
Sodium:
14
mg
Potassium:
12
mg
Fiber:
1
g
Sugar:
3
g
Vitamin A:
78
IU
Calcium:
2
mg
Iron:
1
mg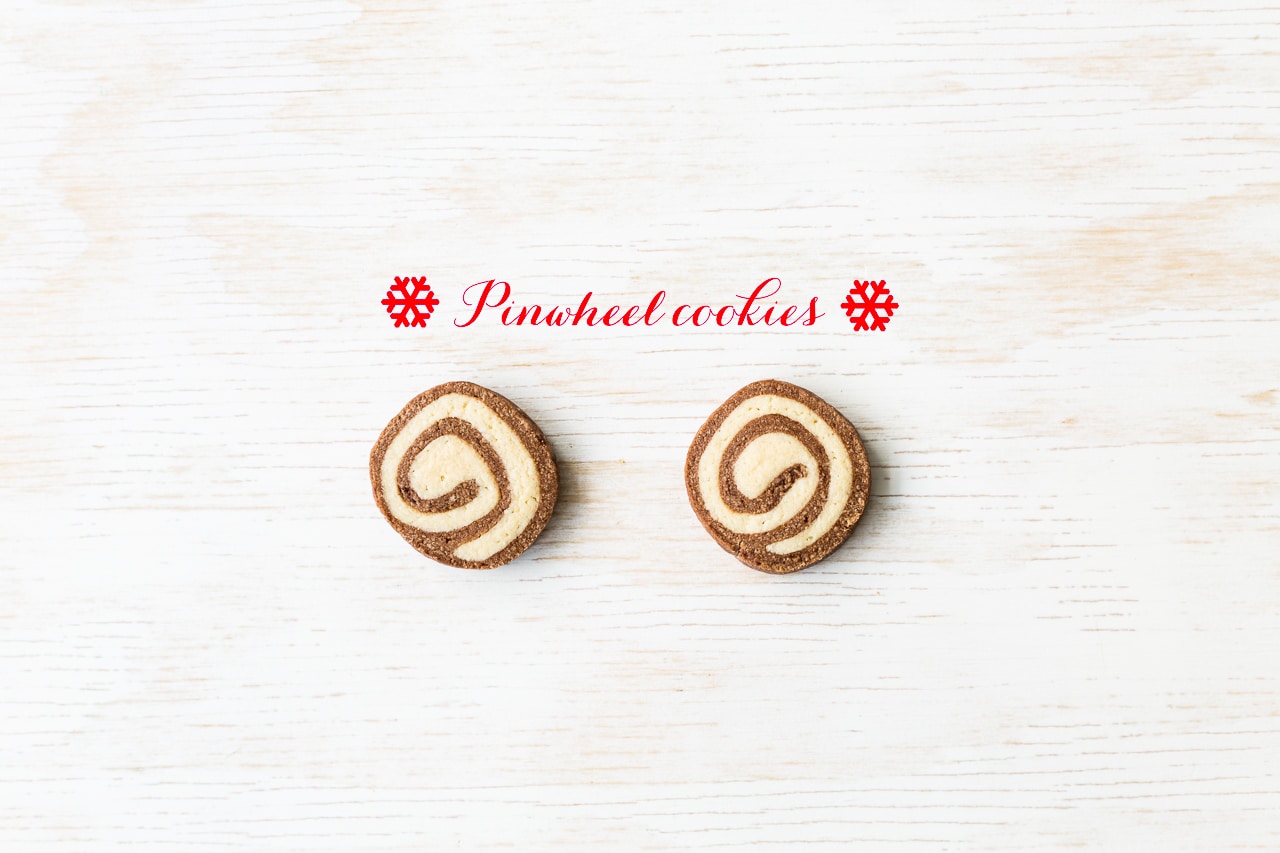 Adapted from the book Great Cookies. This is a fantastic cookie book that we've been baking cookies from for over 10 years.