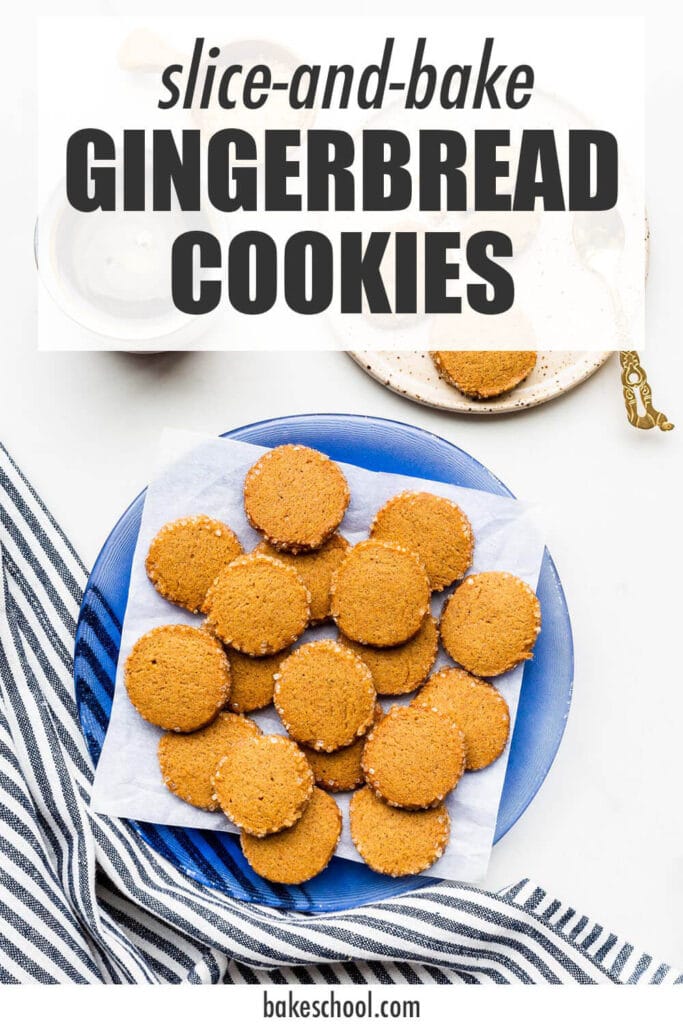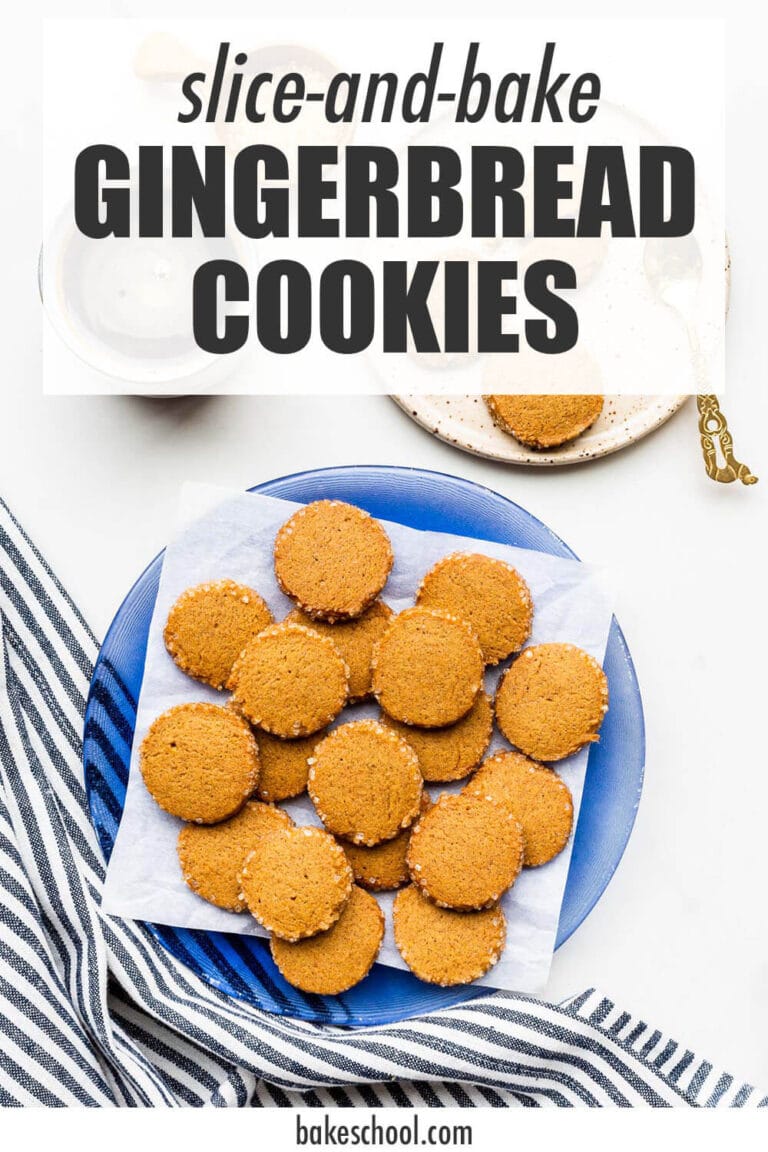 Disclosure: As an Amazon Associate, I earn from qualifying purchases.
Why slice-and-bake gingerbread?
There are so many Christmas cookie recipes that you can bake, and some are more challenging or demanding than others. The trouble is that the holidays are hectic, and you may not have the time, the patience, or the energy to roll out disk after disk of cookie dough to cut out shapes with cookie cutters. Cue slice-and-bake cookies.
Slice-and-bake cookies, also known as icebox cookies allow you to easily produce hundreds of cookies without breaking a sweat. The beauty of this type of cookie is that the recipe is just like rolled out cookie doughs, but the dough is shaped into logs that are easy to store, wrapped tightly. You can make slice-and-bake cookie dough months ahead and store it in the freezer.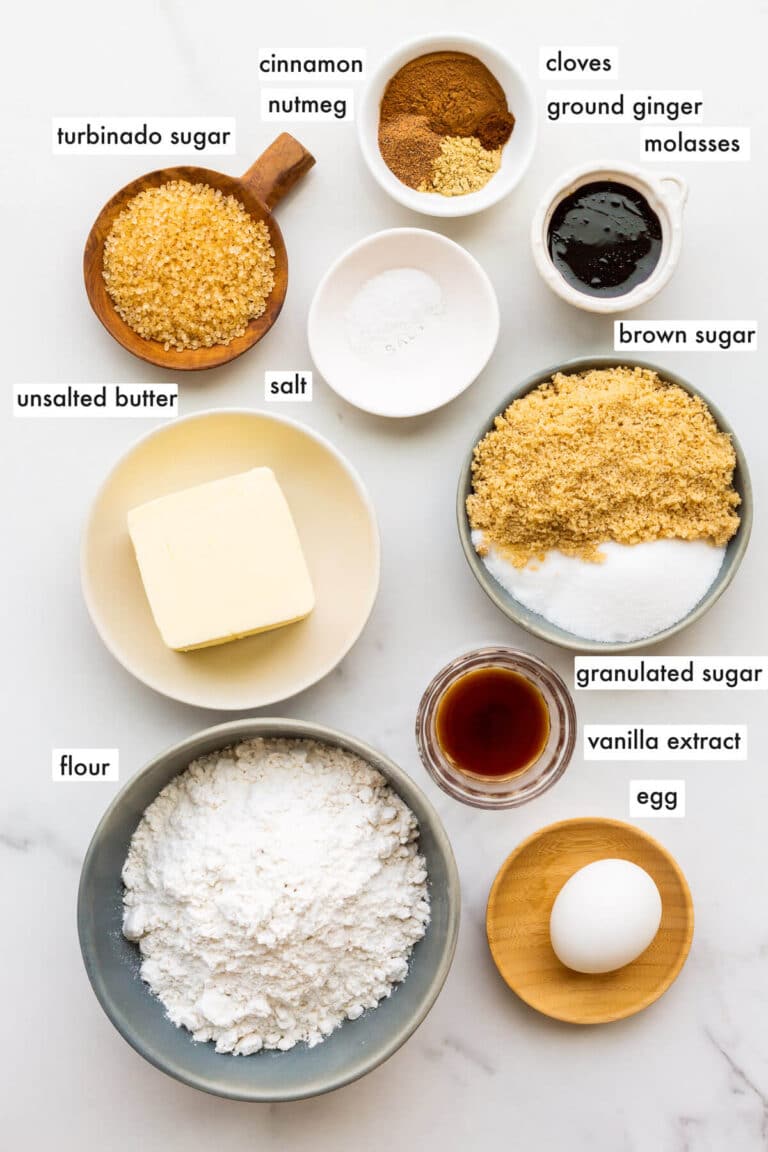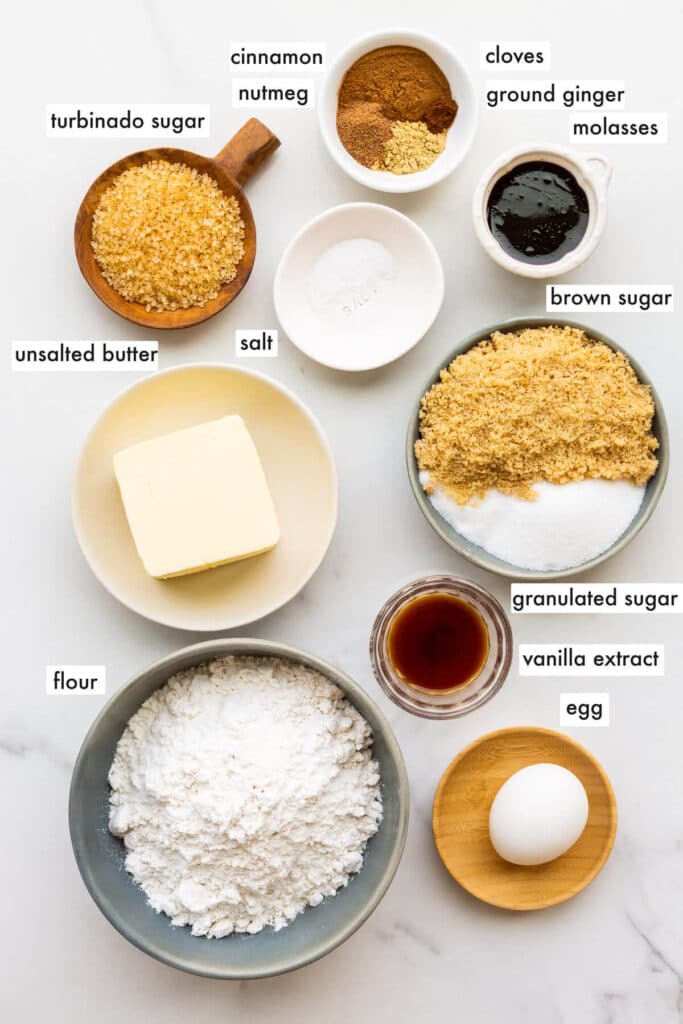 What are slice-and-bake gingerbread cookies made of
If you want to make these easy gingerbread cookies, you will need the following ingredients:
butter, preferably unsalted butter because you will add salt to the dough, but if you have salted, it will work. Just adjust the salt in the recipe accordingly, otherwise your cookies may be too salty
light brown sugar and granulated sugar, the brown sugar will add flavour, while the granulated sugar will contribute to the texture of the cookies
molasses, specifically Fancy molasses or baking molasses. Do not use blackstrap molasses, which is too bitter for this recipe
large eggs, don't use smaller eggs because your cookie dough may be too dry and your cookie dough won't roll out nicely, but don't use extra large eggs because they could cause the cookie dough to puff too much as it bakes, leading to a more cake-y cookie or a spread out cookie.
all-purpose flour is needed to bind all the ingredients together and give the cookies structure. If you don't use enough flour, your cookies may spread too much as they bake
ground ginger, cinnamon, nutmeg, and cloves are added to the dough to make these cookies very flavourful—these are the usual spices in gingerbread, though some may add anise or even ground pepper
salt is really important to balance out the sweet molasses flavour. Don't skip it. I like to use Diamond Crystal fine kosher salt, but table salt will work, though the cookies will be saltier and you may want to halve the salt in that case.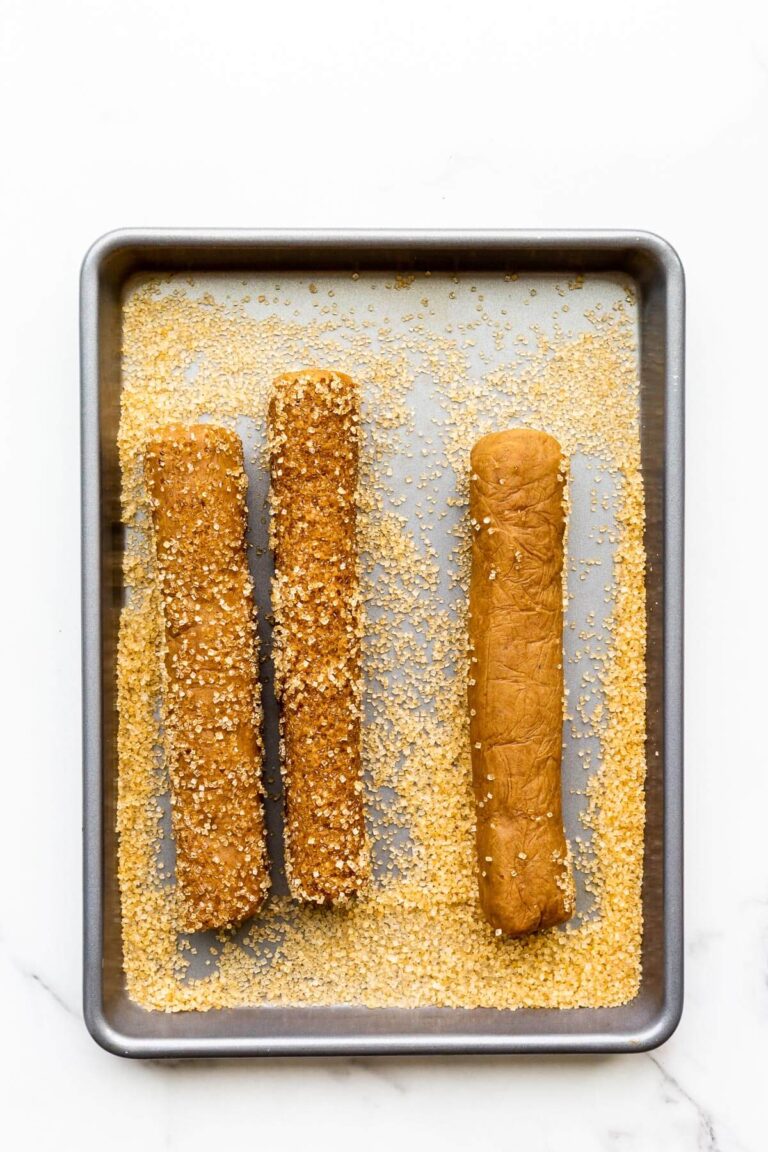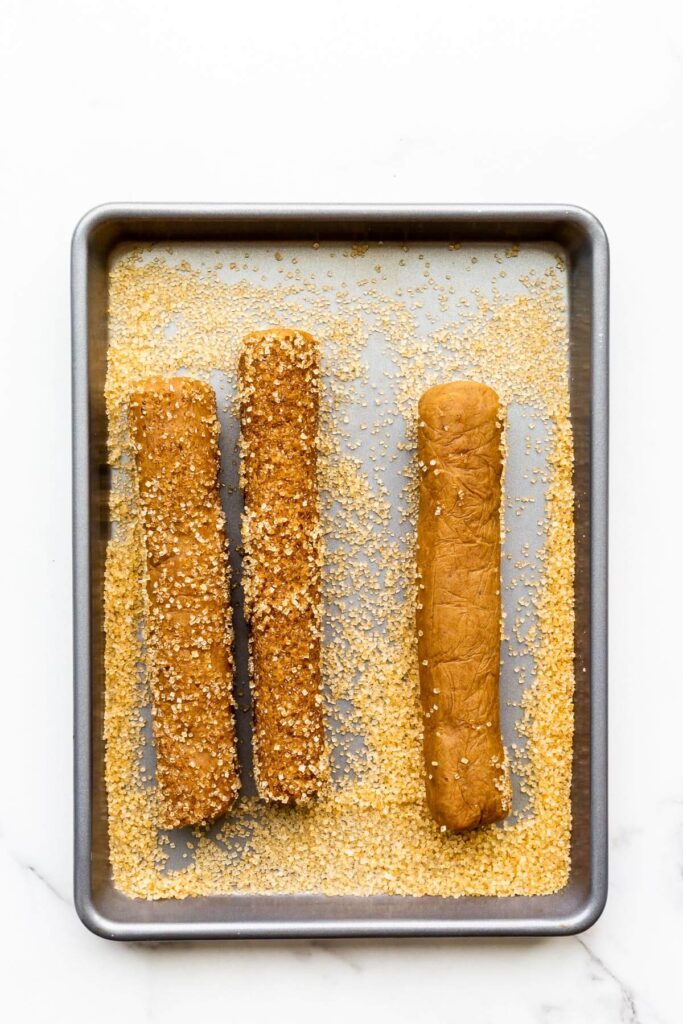 Type of molasses and substitutions
In this recipe, we are baking with Fancy molasses (which you can find on Amazon), which is sometimes called baking molasses or original molasses in the US (available on Amazon). Mild molasses also works.
Another option worth exploring would be black Treacle, which I used in these soft gingerbread cookies. Lyle's Black Treacle is very popular in Great Britain and it's used to bake instead of molasses. You can also order it on Amazon.
Do not use blackstrap molasses. Blackstrap molasses is very dark and has a more bitter taste, whereas Fancy molasses has a milder taste that is more suited for Christmas cookies.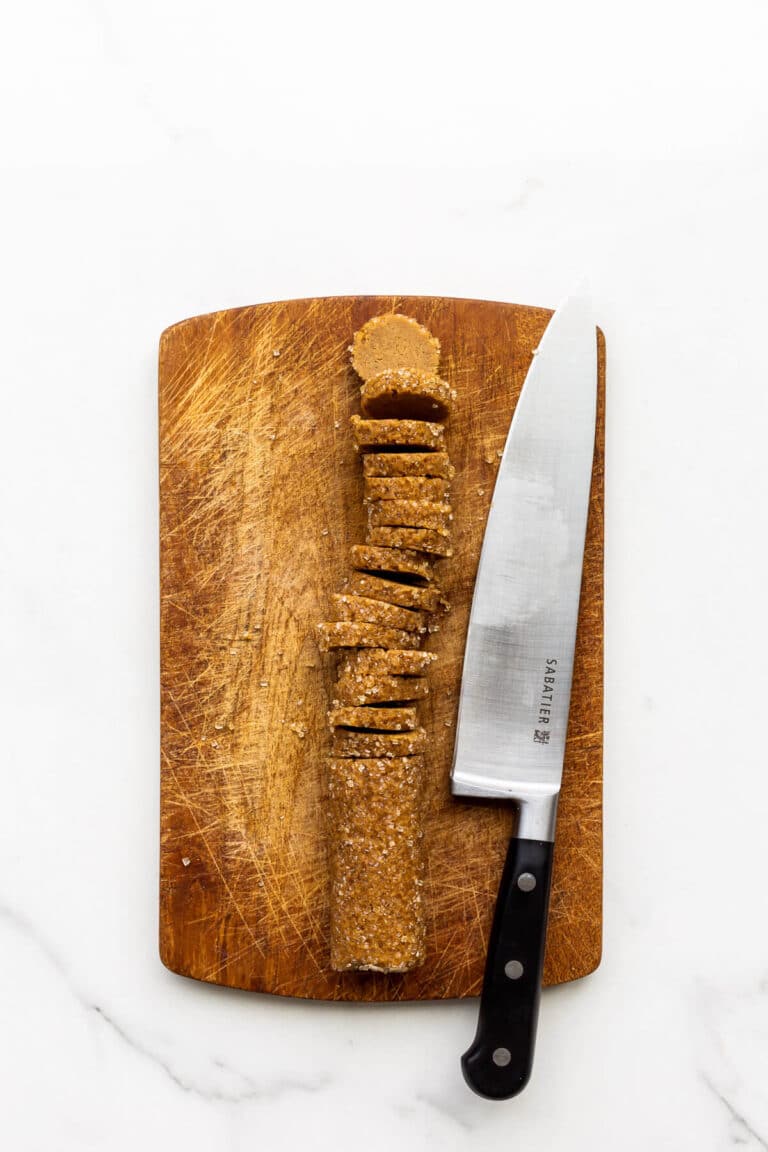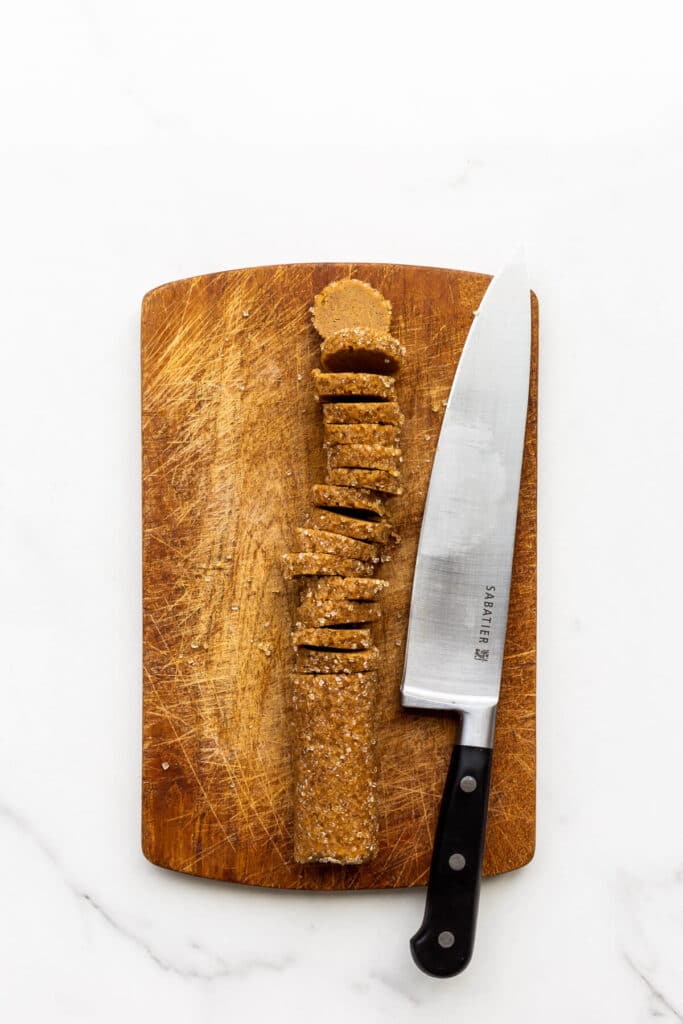 Ways to jazz up slice-and-bake cookies
Slice-and-bake cookies can seem "boring" but there are so many ways to make them special:
Roll the logs of cookie dough in a coarse sugar like turbinado or a white or coloured sanding sugar: these types of sugar don't melt so they add sparkle to the edges and a crunchy texture that people love.
Roll logs of cookie dough in chopped nuts: the nuts will toast in the oven as the cookies bake, adding so much flavour and giving them a rustic look
Glaze the baked cookies with a royal icing or a simpler lemon icing (made from icing sugar and lemon juice). This type of glaze will harden and allows you to add sprinkles before the icing sets.
Dip in melted chocolate: based on these ginger cookies with white chocolate, we know that white chocolate and ginger go well together, so why not dip these easy gingerbread cookies in white chocolate? You won't regret it! Dark chocolate also works too!
Keeping gingerbread soft
These gingerbread when freshly baked may seem a little firm the day they are baked, but once you transfer them to a storage container they will soften. To speed up the process and/or to keep them soft, you can add a marshmallow to the storage container. Actually, the tricks for keeping a container of brown sugar moist are the same as the tricks for keeping cookies soft, which means you can add a marshmallow, a piece of white sandwich bread, a slice of apple, or a moistened terra cotta disk to keep these ginger cookies soft.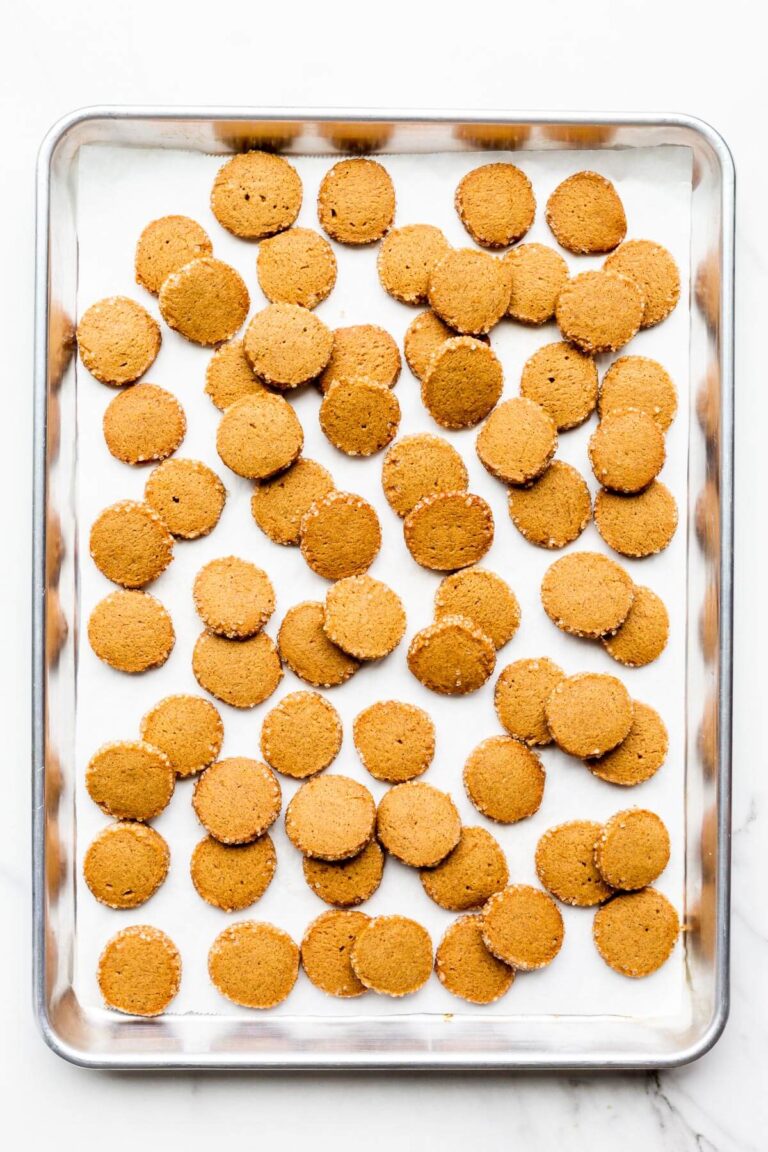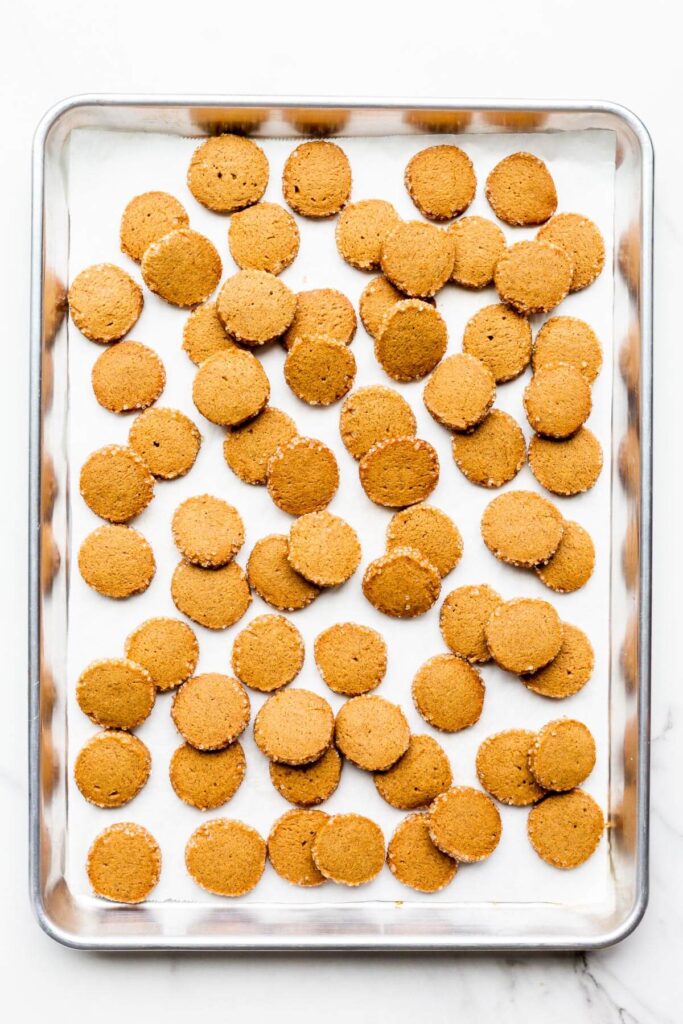 Other gingerbread recipes and alternatives
If you still prefer to roll and cut out gingerbread people, great! Here's my fave recipe for classic gingerbread cookie cutouts and also a matcha gingerbread cookie variation. Simple sugar cookies are also always a hit, whether you feel like decorating or not, and feel free to modify them to make spiced sugar cookies! So many cookie options if you want to use those Christmas cookie cutters in your stash.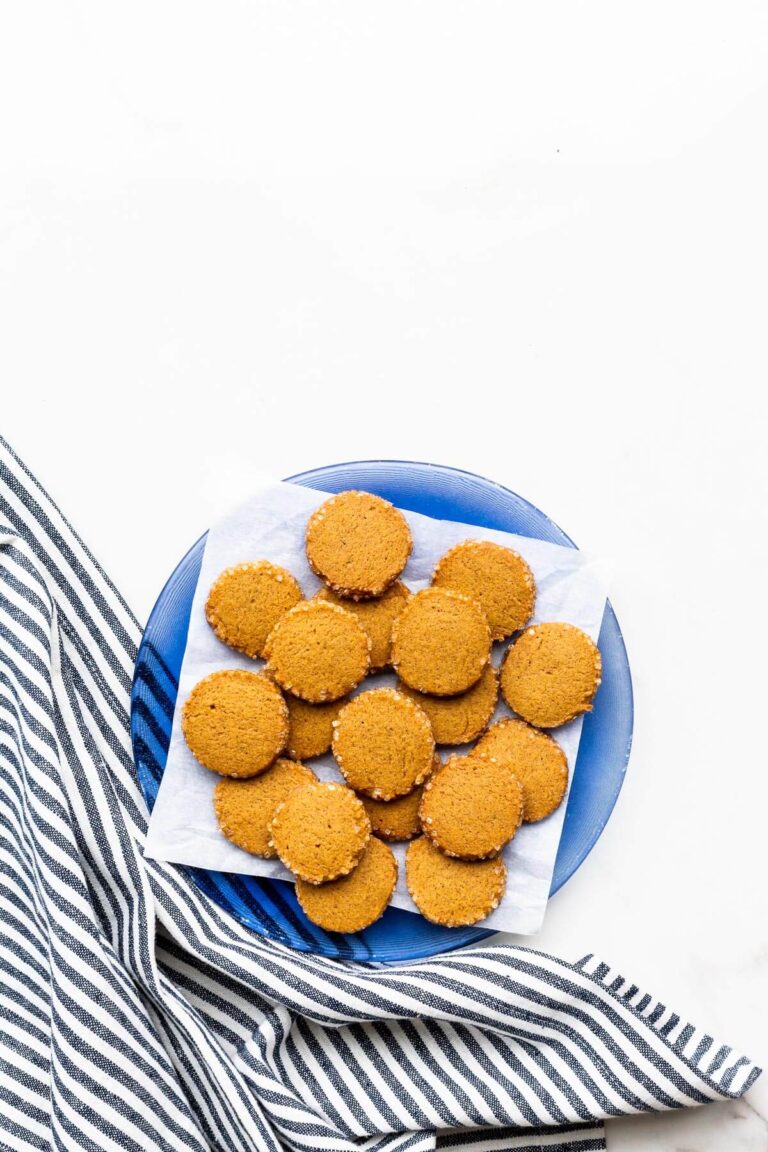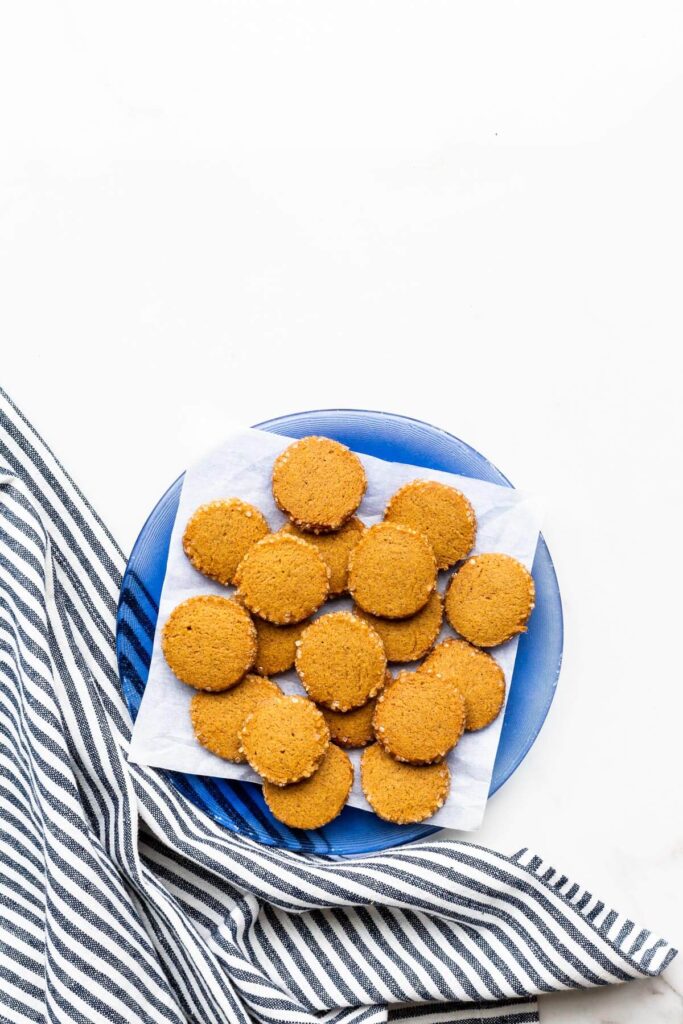 Here's a recipe for gingerbread "coins", basically gingerbread cookies that are slice-and-bake. This way, you can make the dough ahead and slice and bake later. These slice-and-bake gingerbread cookies have a really festive flavour from the fancy molasses, cinnamon, ginger, nutmeg, and cloves. Rolling the logs of cookie dough in turbinado sugar gives a lovely crunch to the edges of each cookie.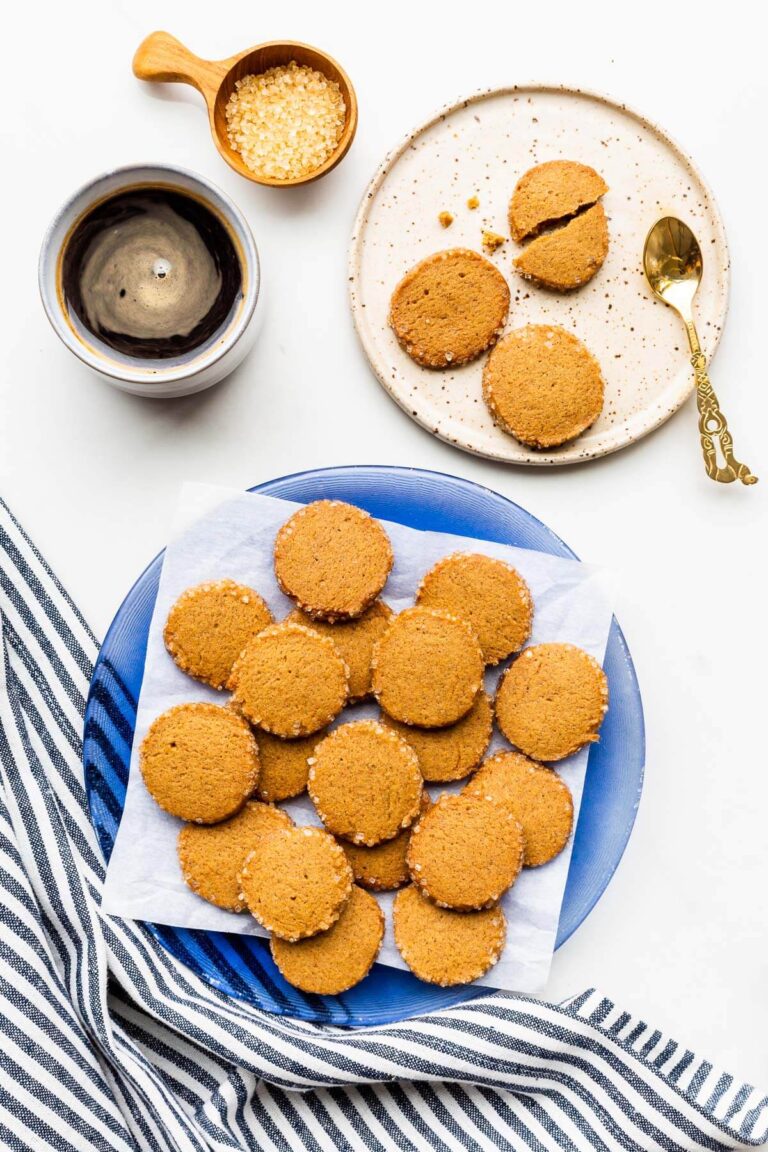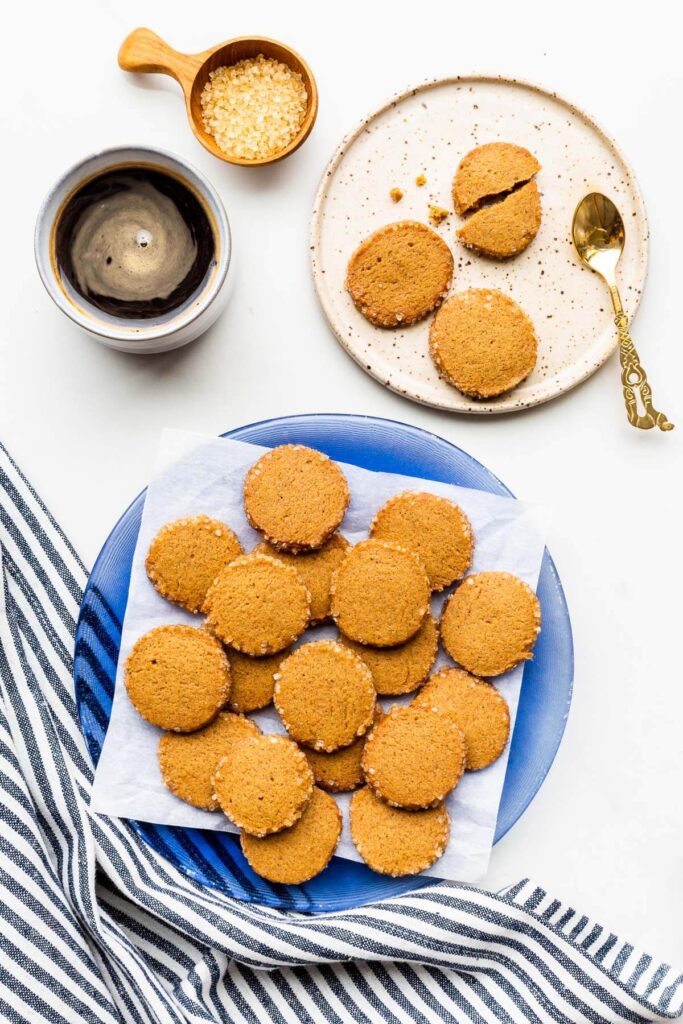 📖 Recipe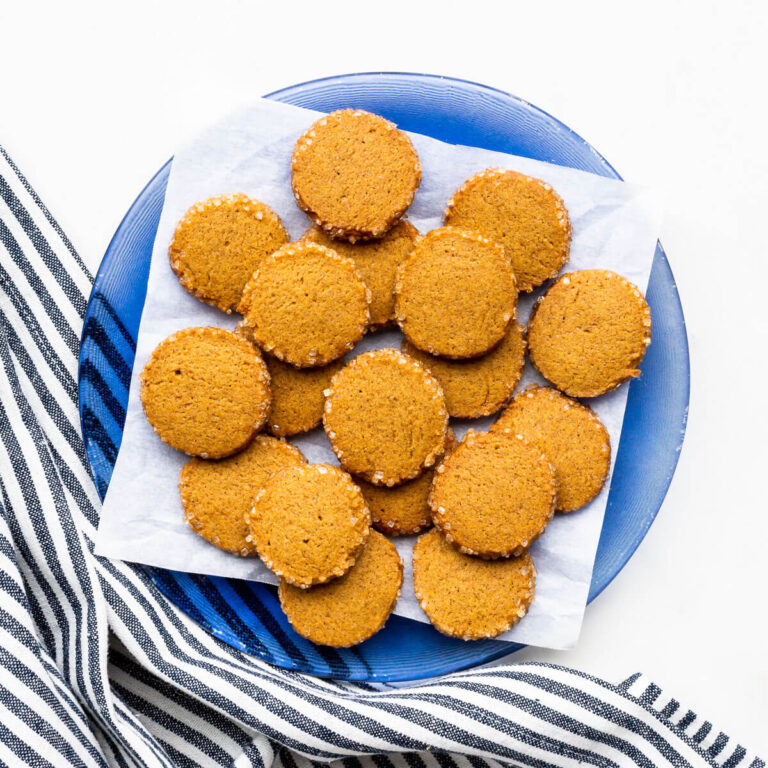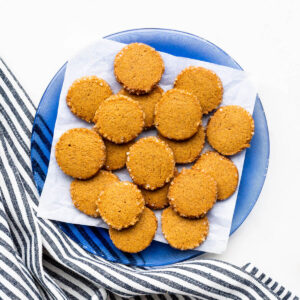 Easy gingerbread cookies (slice and bake)
These easy gingerbread cookies are a twist on the classic, but in slice-and-bake format to make your life easier! Make the dough ahead of time, then slice and bake when you are ready for cookies!
Ingredients
250

grams

bleached all-purpose flour

15

mL

ground cinnamon

3.75

mL

ground ginger

2.5

mL

ground nutmeg

0.625

mL

ground cloves

115

grams

unsalted butter

room termperature

100

grams

light brown sugar

50

grams

granulated sugar

30

mL

Fancy molasses

1

large egg(s)

5

mL

pure vanilla extract
Turbinado sugar

lots
Instructions
Whisk together the flour, salt, and spices. Set aside.

In the bowl of an electric mixer fitted with the paddle attachment, cream together the butter and the sugars until light and fluffy. Mix in the molasses, the egg, and the vanilla, and beat everything together for 2 minutes, scraping down the sides of the bowl as needed.

Add the dry ingredients to the mixer bowl, mixing on low until everything is evenly combined and you have a soft dough.

Divide the dough into three and roll each dough into a log of about 8-inches long. Wrap each log in plastic wrap and chill overnight.

Preheat the oven to 375ºF and line a couple of baking sheets with parchment paper.

Just before baking, remove one log of dough from the fridge, unwrap it and roll log into a shallow plate of turbinado to coat sides.

Slice cookies fairly thin (¼ inch) and place them on the prepared baking sheets. Chill in freezer for 15 minutes.

Bake until the edges begin to brown a little, about 13 minutes. Repeat with remaining logs of dough.
Notes
Calories calculated per cookie
Nutrition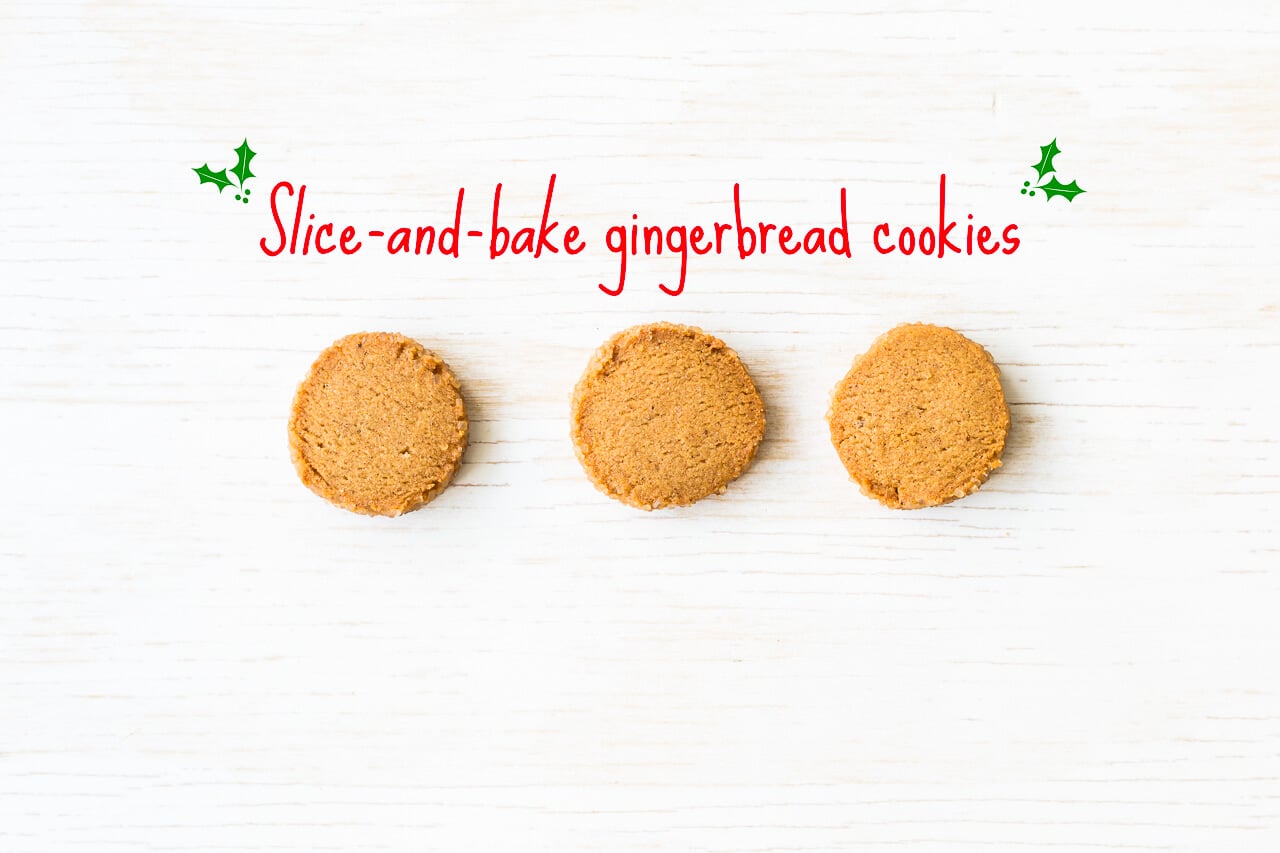 Adapted from Bon Appétit's "Speculoos buttons" recipe.