Learn how to make molasses cookies with this easy recipe that makes thick chewy molasses cookies with a crunchy turbinado sugar coating.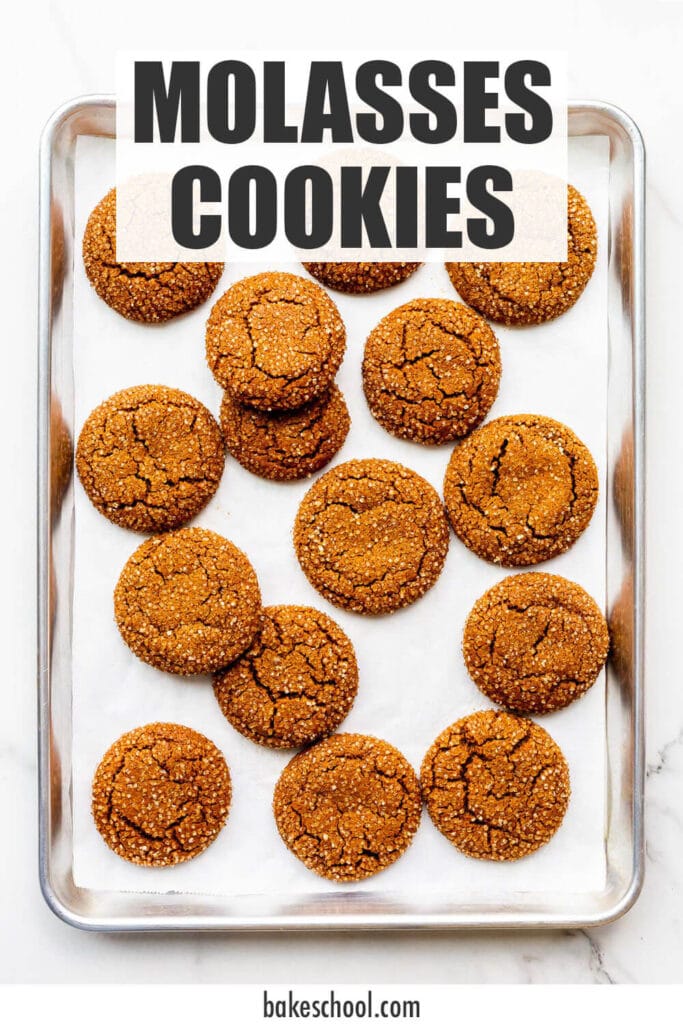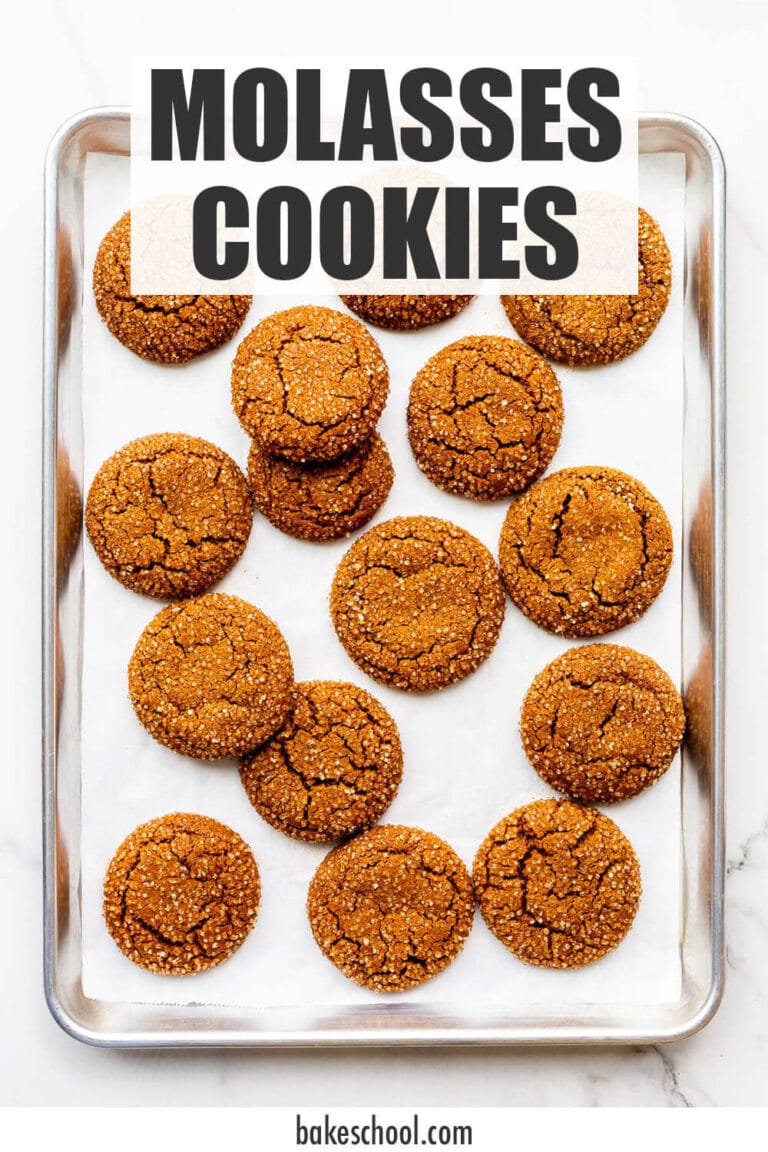 Disclosure: As an Amazon Associate, I earn from qualifying purchases.
I have been searching for the perfect molasses cookie for a long time. I was looking for a cookie that was chewy and not too soft. Most importantly, I wanted it to have that crackled finish. I think this is pretty darn close to what I had in mind.
Molasses cookies are quite different than ginger cookies. They get most of their sweetness and depth of flavour from molasses, instead of granulated or brown sugar. Molasses cookies in the most classic sense are not flavoured with warm spices, like ginger or cinnamon, though some recipes do feature it.
Molasses cookies tend to have a cracked or crinkled appearance on the surface of the cookies, so they may be called molasses crinkles or molasses crackle cookies.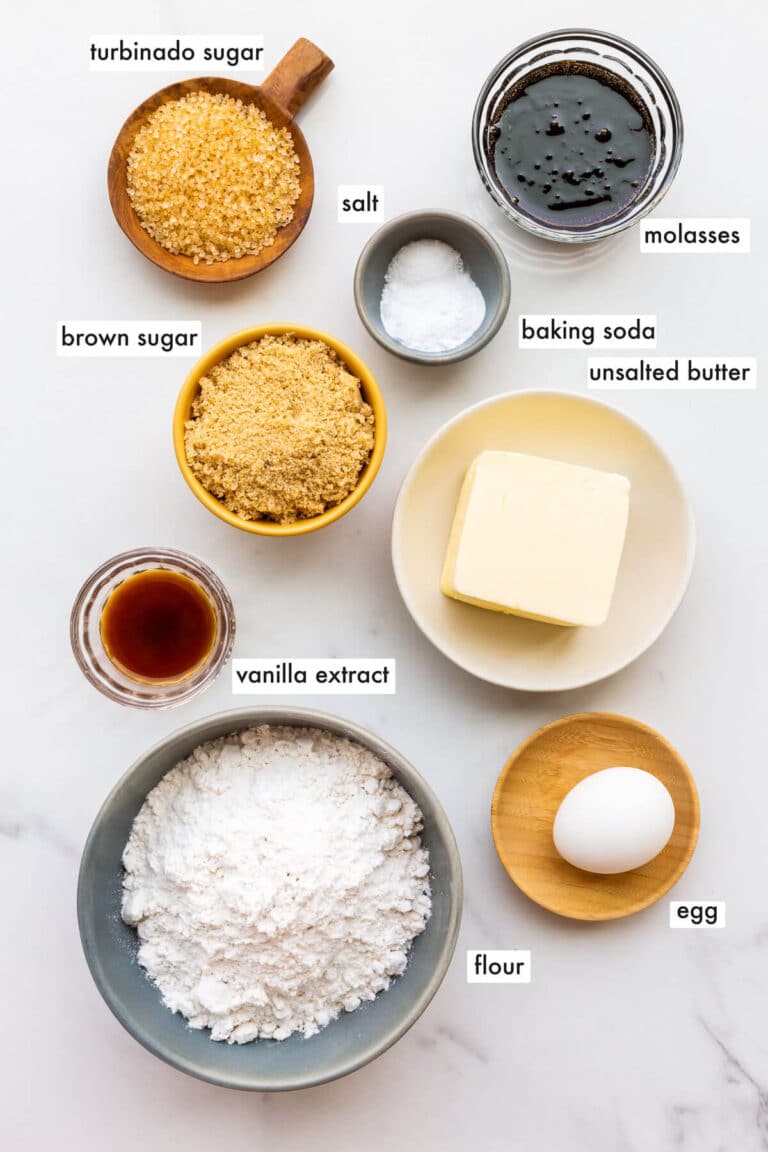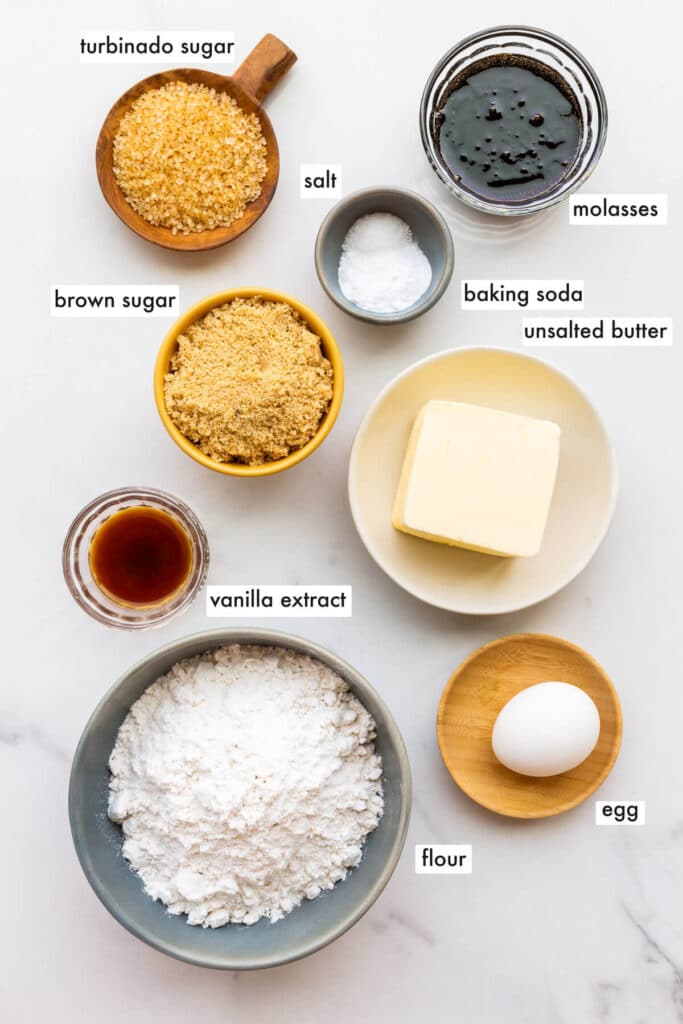 What are molasses cookies made of
If you want to make molasses crinkle cookies, you will need the following ingredients:
butter, preferably unsalted butter because you will add salt to the dough, but if you have salted it, it will work. Just adjust the salt in the recipe accordingly, otherwise, your cookies may be too salty
light brown sugar, which adds to the molasses flavour and also helps make a slightly thicker cookie that has a chewy texture
molasses, specifically Fancy molasses or baking molasses. Do not use blackstrap molasses, which may be too bitter for this recipe
large eggs, don't use smaller eggs because your cookie dough may be too dry and your cookies won't spread enough, but don't use extra large eggs because they could cause the cookie dough to puff too much as it bakes, leading to a more cakey cookie
all-purpose flour is needed to bind all the ingredients together and give the cookies structure, contributing to the chewiness of the cookies as well. If you don't use enough flour, your cookies may spread too much as they bake
baking soda is a base (alkaline) and contributes to that signature cracked finish that we expect of the best ginger cookies. You need baking soda for the cookies to spread properly and to crack. Do not use baking powder. Read up on baking soda vs baking powder if you are unsure
salt is really important to balance out the sweet molasses flavour. Please don't skip it. I like to use Diamond Crystal fine kosher salt, but table salt will work, though the cookies will be saltier and you may want to halve the salt in that case.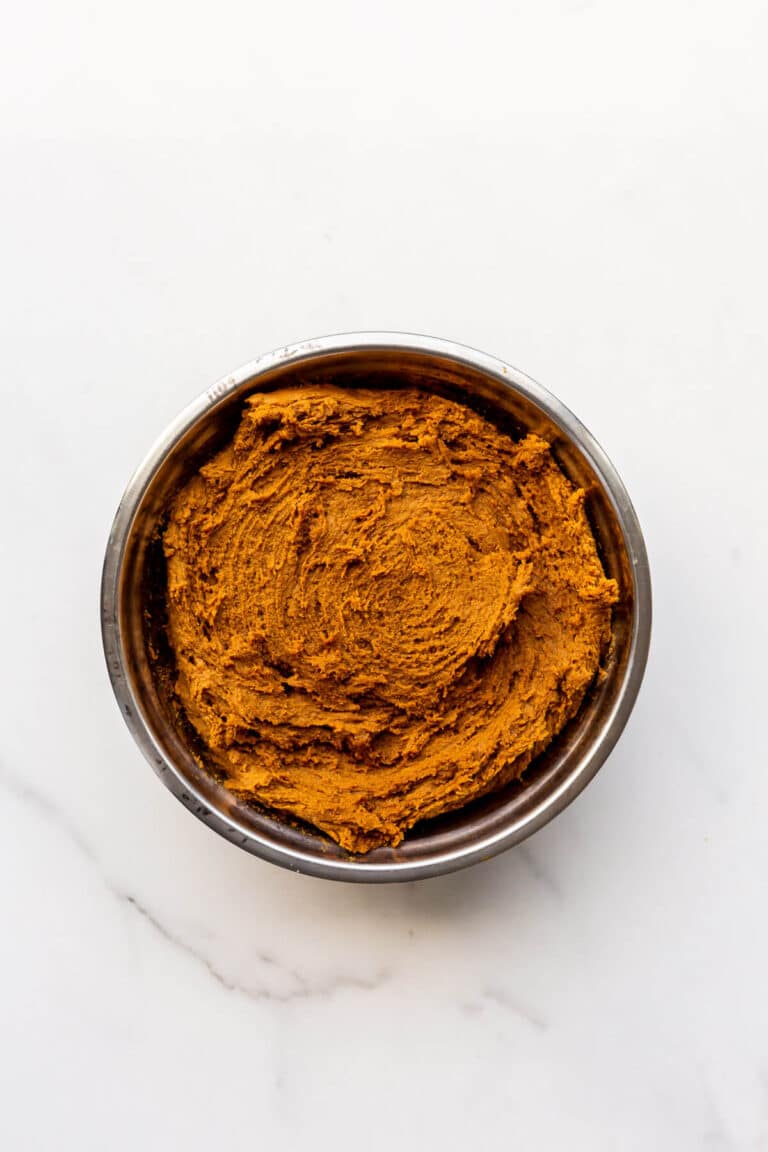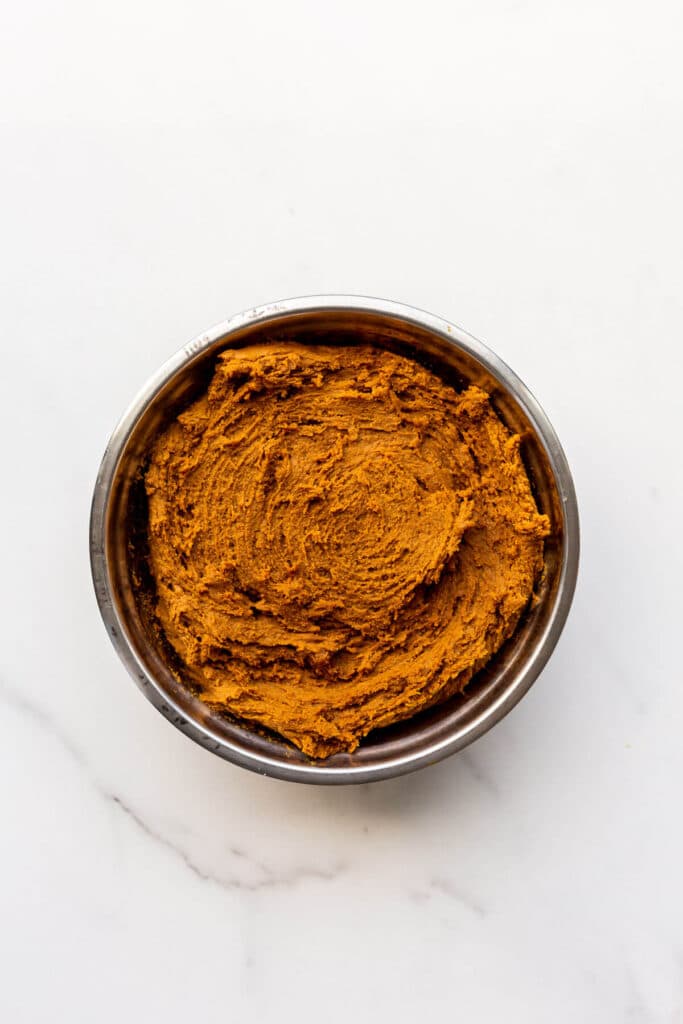 Note that we are not baking with ground ginger or cinnamon, or adding any warm spices to the dough. This cookie is all about the flavour of molasses and by eliminating the typical spices that we use in gingerbread cookie cut-outs and crystallized ginger cookies, we are giving the chance for the molasses to shine through.
Type of molasses and substitutions
I adapted this recipe from Canadian Living magazine. The original recipe called for a mixture of fancy molasses and "cooking molasses". I doubt that you want to have to go buy two kinds of molasses to make these cookies. So this new version of the recipe calls for one kind of molasses, and hopefully that is the kind you usually bake with.
In this recipe, we are baking with Fancy molasses (which you can find on Amazon), which is sometimes called baking molasses or original molasses in the US (available on Amazon). Mild molasses also works, as does black treacle, which I used in these soft gingerbread cookies. You can also order black treacle on Amazon.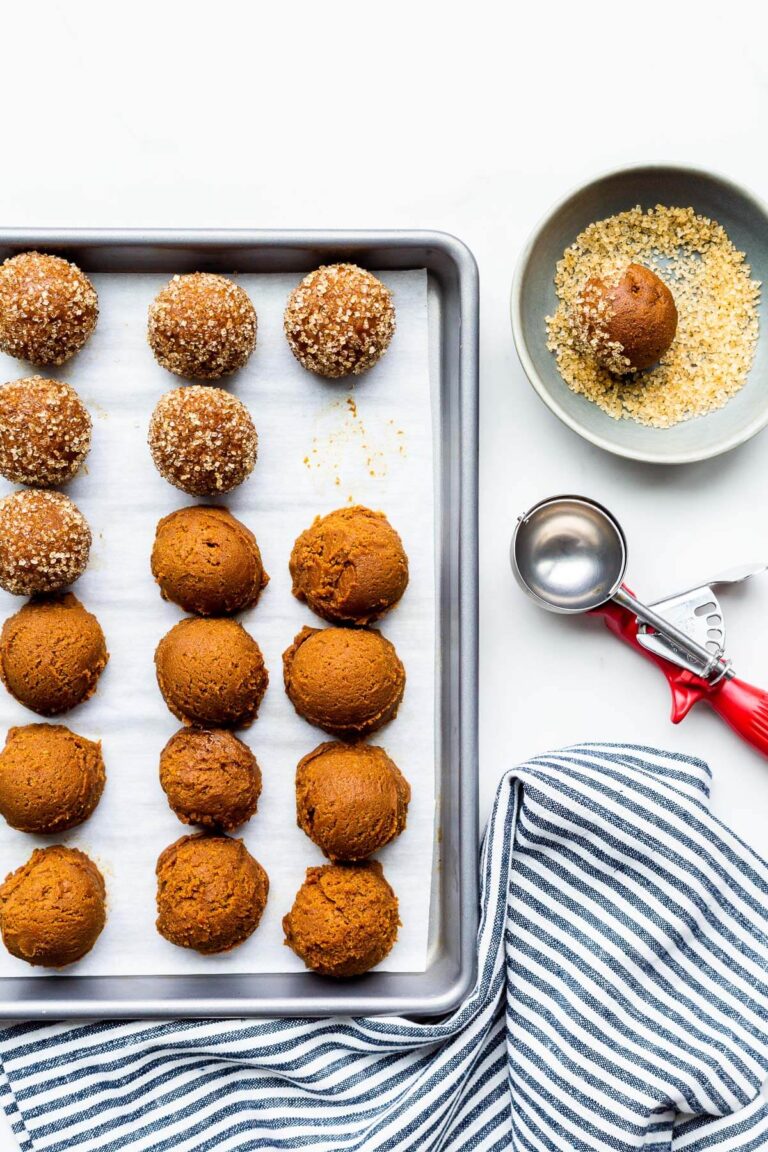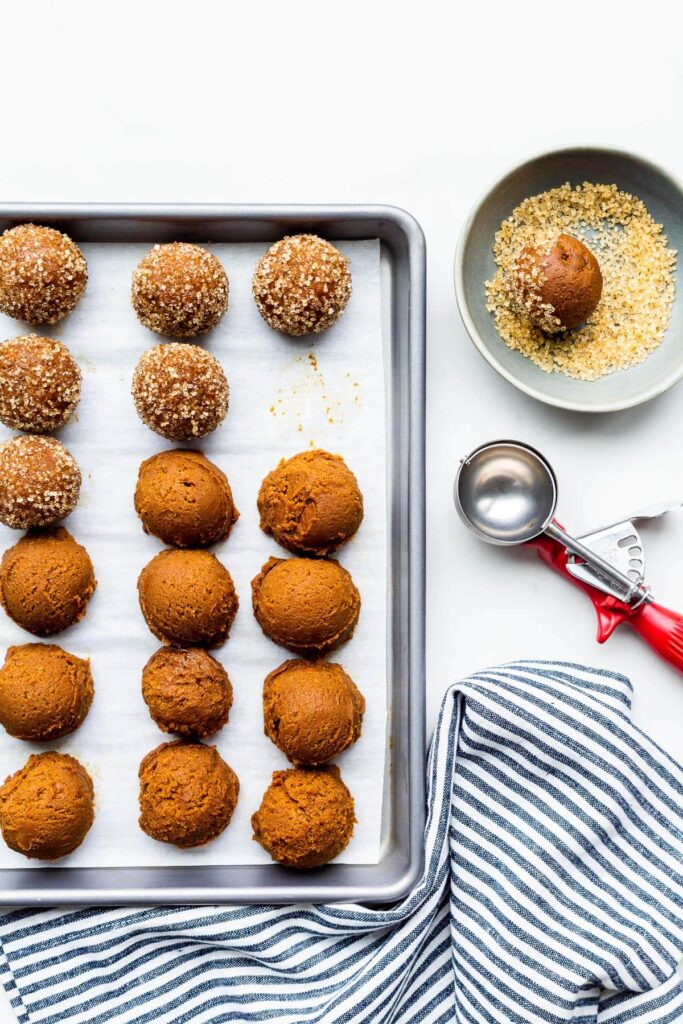 Molasses and black treacle are a by-product when sugar is refined (in the transformation of sugar cane).
Do not use blackstrap molasses. Blackstrap molasses is very dark and has a more bitter taste, whereas Fancy molasses has a milder taste that is more suited for Christmas cookies.
Frequently asked questions
Why did my molasses cookies bake flat and spread in the oven?
If your molasses cookies spread in the oven, the cookie dough (and/or your kitchen) may have been too warm. Warm butter is very soft and will melt quickly when the cookie dough hits the oven. This means the cookies spread and your molasses cookies will be flat. Try chilling the cookie dough before baking to minimize spread.
If this doesn't work, you may want to add more flour. Even just 30 grams (¼ cup) can have a huge impact on how the cookies bake) so that you have thick molasses cookies. Read all about why cookies spread flat and what you can do to fix it!
Can you substitute butter for shortening in molasses cookies?
Replacing butter with shortening is another trick to bake thicker cookies because the melting point of shortening is higher. On the other hand, if you replace shortening with butter, you may find that your cookies bake thinner. Again, chilling the cookie dough will help but also a little extra flour could do the trick if you want thicker cookies. And if you are replacing butter with shortening and the cookies are too thick, next time, try reducing the flour by 30 grams (¼ cup) and see if that helps).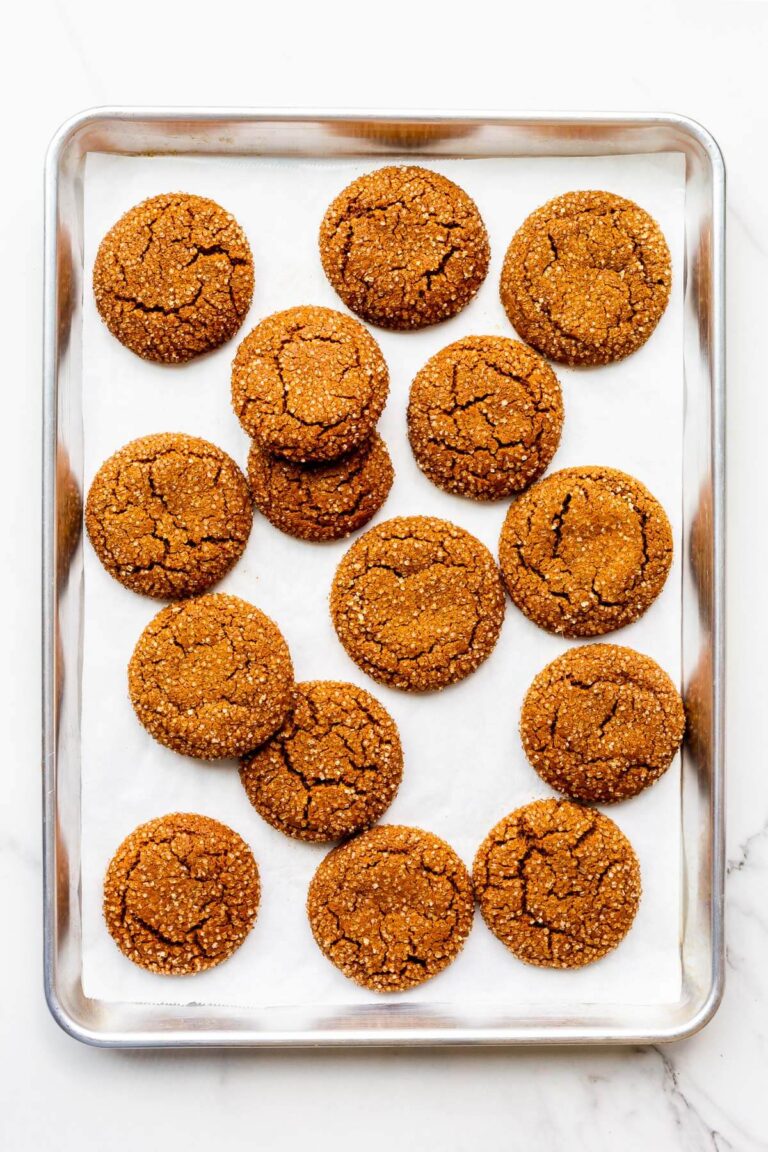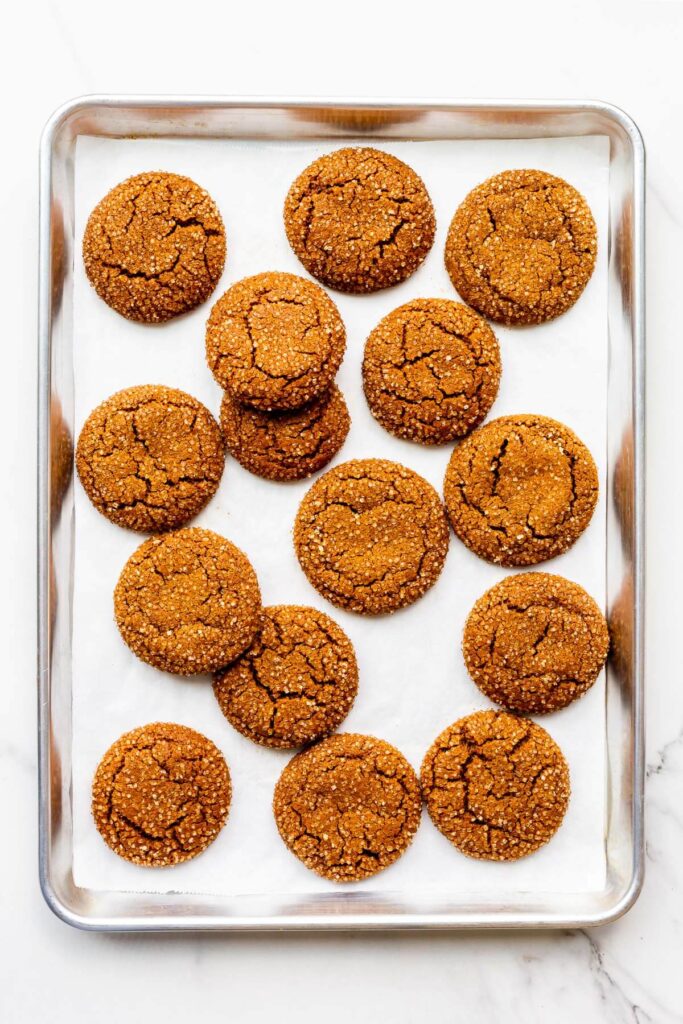 Tips for a better crackle finish
To achieve the perfect crackle finish:
chill the cookie dough properly so that the edges will set before the baking soda reacts, which will lead to cracking when the leavening kicks in
use the correct amount of chemical leavener: in this recipe, we use baking soda, not baking powder, and we use a lot of it to achieve the right flavour, browning, and cracked finish
roll the cookies in turbinado sugar, which adds a coarse crunch to the outside of the cookie and a little sparkle.
You could also opt to roll in granulated sugar, like for the classic ginger cookies, or icing sugar. You need to make sure to really coat the scoops of cookie dough thickly with sugar to achieve an even crackle finish.
If you want a thicker powdery white crinkle on the outside, you can roll the balls of dough into granulated sugar first before coating them in icing sugar (powdered sugar). The granulated sugar will help absorb the moisture on the surface of the cookies, drying them out and helping the cookies crack in the oven when they are baked. Really coat the cookies generously in a lot of powdered sugar so that they are well covered in a thick layer of icing sugar.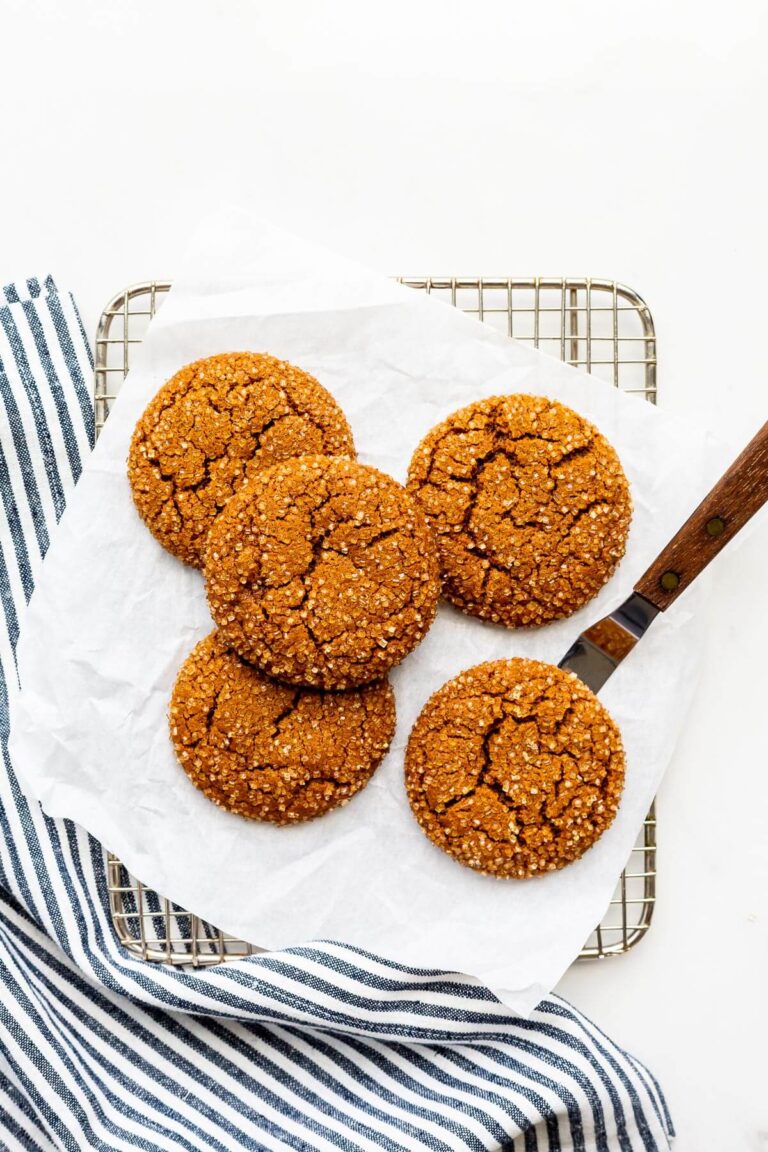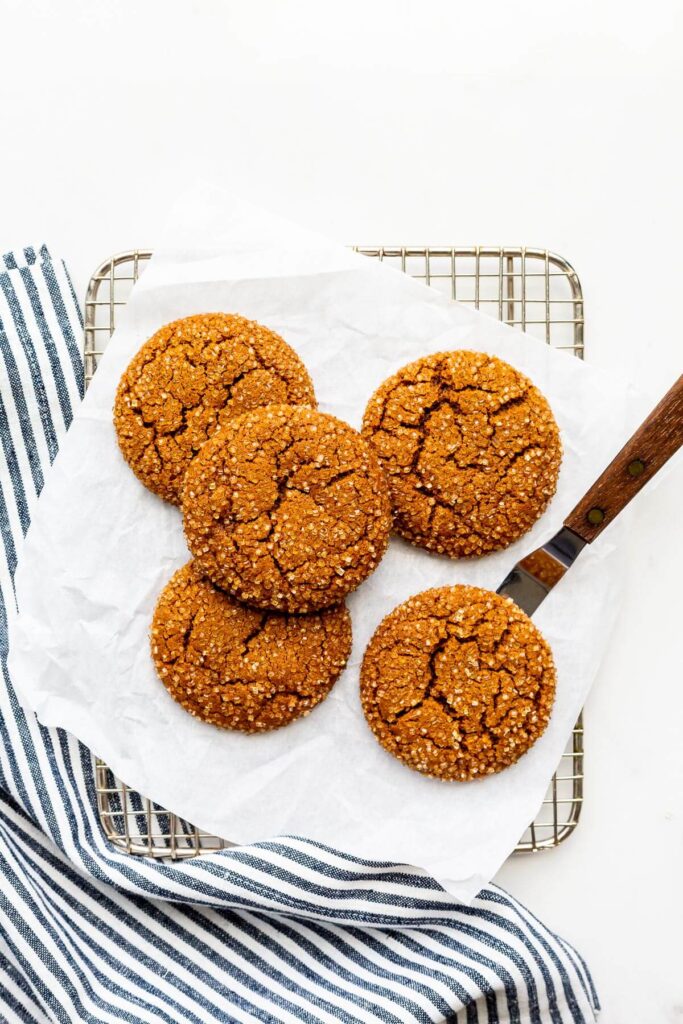 This easy recipe yields the best molasses cookies: they are thick and chewy with a strong molasses flavour and a cracked crinkle finish and a crunchy turbinado exterior.
📖 Recipe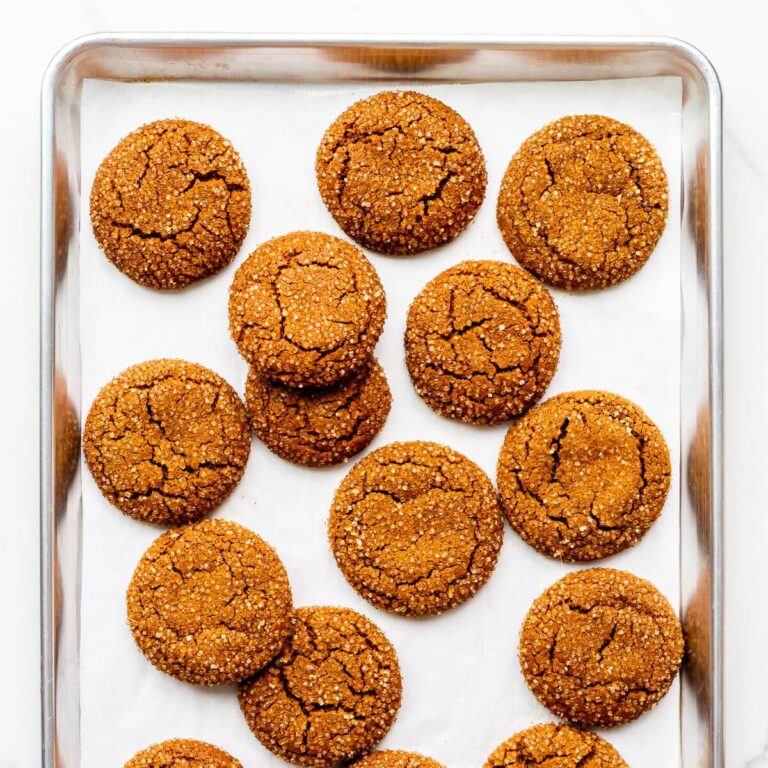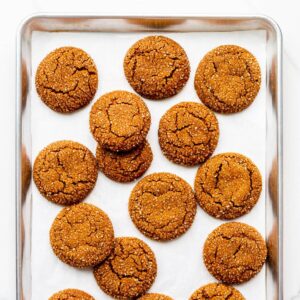 Molasses cookies
These sparkly molasses cookies have a bold molasses flavour and a great chewy texture. These cookies are thick with a crunchy exterior because the scoops of cookie doough are coated in turbinado sugar before baking.
Instructions
In the bowl of an electric mixer fitted with the paddle attachment, cream together the butter and the brown sugar until light and fluffy. Mix in the molasses, then beat in the egg, scraping down the sides of the bowl as needed.

In a separate bowl, whisk together the flour, baking soda, and salt. Add half this dry mixture to the mixer bowl and stir it in on low, then mix in the rest.

The dough is soft so cover the bowl with plastic wrap and chill it in the refrigerator for at least 1 hour.

Preheat the oven to 350ºF. Line a baking sheet with parchment.

Roll 40 grams of dough into round balls, then roll them in the turbinado to coat them on all sides. Place the cookies on the prepared baking sheet, spacing them about 2 inches apart. Bake the cookies for about 11 minutes or so, the edges will be firm. Let cool 5 minutes on the pan before transferring to a cooling rack.
Nutrition
Calories:
189
kcal
Carbohydrates:
34
g
Protein:
2
g
Fat:
5
g
Saturated Fat:
3
g
Polyunsaturated Fat:
0.3
g
Monounsaturated Fat:
1
g
Trans Fat:
0.2
g
Cholesterol:
21
mg
Sodium:
74
mg
Potassium:
196
mg
Fiber:
0.5
g
Sugar:
21
g
Vitamin A:
156
IU
Calcium:
33
mg
Iron:
1
mg