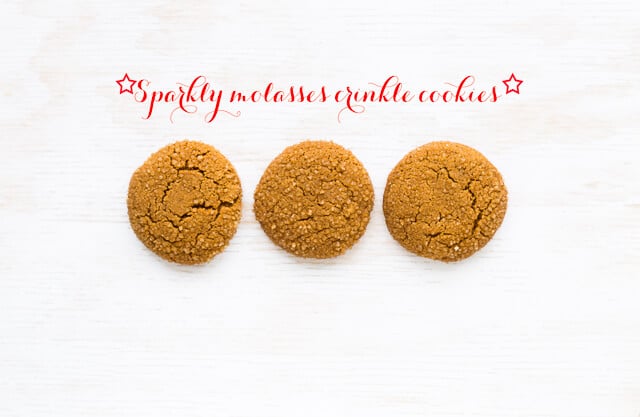 I have been searching for the perfect molasses cookie for a long time. I was looking for a cookie that was chewy and not too soft. Most importantly, I wanted it to have that crackled finish. I think this is pretty darn close to what I had in mind. I adapted this recipe from Canadian Living. The original recipe called for a mixture of fancy molasses and "cooking molasses". I have no idea what "cooking molasses" is and honestly, I didn't want to go buy a different kind of molasses to make these because I don't want to store it in my already overloaded pantry. More importantly, I doubt that you want to have to go buy a second kind of molasses to make these cookies. Right? So this new version of the recipe calls for one kind of molasses, the kind that I have in my pantry, and it's also the kind that I expect you have in yours. Well, if not, then I've completely misjudged the original recipe. That happens too, sometimes. All that to say, these were a huge hit. These molasses crinkle cookies have a really good chew to them, a little crackle, and that crunch of turbinado sugar gets me every time.
Sparkly molasses crinkle cookies
These sparkly molasses crinkle cookies have a bold molasses flavour and a great chewy texture.
Instructions
In the bowl of an electric mixer fitted with the paddle attachment, cream together the butter and the brown sugar until light and fluffy. Mix in the molasses, then beat in the egg, scraping down the sides of the bowl as needed.

In a separate bowl, whisk together the flour, baking soda, and salt. Add half this dry mixture to the mixer bowl and stir it in on low, then mix in the rest.

The dough is soft so cover the bowl with plastic wrap and chill it in the refrigerator for at least 1 hour.

Preheat the oven to 350ºF. Line a baking sheet with parchment.

Roll 40 grams of dough into round balls, then roll them in the turbinado to coat them on all sides. Place the cookies on the prepared baking sheet, spacing them about 2 inches apart. Bake the cookies for about 11 minutes or so, the edges will be firm. Let cool 5 minutes on the pan before transferring to a cooling rack.
Nutrition